Best Under Armour Running Shoes Reviewed & Rated for Quality
last updated
Feb 25, 2019
Under Armour has not been on the clothing market for very long, but they are quickly making a name for themselves that put them on the same level as brands like Adidas and Nike. That reputation is well-deserved given that every new type of product they put out matches the quality of the compression clothing that made them a household name. This trend continues with their shoes. Under Armour shoes do a great job of making you roadworthy on any kind of trip that you want to take. Their history as a producer of clothing that is supposed to fit snugly and comfortably is actually a natural fit for the footwear industry. All Under Armour shoes do a great job at being a s comfortable as you could hope for from a pair of shoes. Check this list out for ten of the best Under Armour shoes around.
In a Hurry? The test winner after 13 hrs of research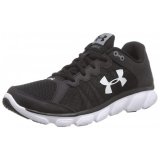 Micro G Assert 6
Why is it better?
Breathable mesh
Cushioned insole
Good grip on foot
Perfect traction
In a
Hurry? Editors choice: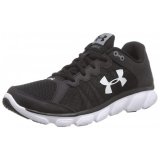 Test Winner: Micro G Assert 6

13
Researched Sources
1367
Reviews Considered
13
Hours Researching
14
Products Evaluated
Upper
Outsole
Comfort
Responsiveness
Traction
By Default
In Depth Review Top 10
Micro G Assert 6
HOVR Phantom
HOVR Sonic
Charged Bandit 3
Speedform Gemini 3
Speedform Slingshot
Speedform Apollo 2
Dash 2
Charged Lightning
Speedform Europa
Table of contents
Criteria Used for Evaluation
Other Factors to Consider
Frequently Asked Questions
Sources
10 Best Under Armour Running Shoes
Breathable mesh
Cushioned insole
Good grip on foot
Perfect traction
Order a size up if you have wide feet
The Assert 6 is a sleek looking, and classic, running shoe that also houses all of Under Armour's innovations in comfort and shock absorption.
Read more
Comfortable Upper
The upper of the Assert 6 has been designed to be as comfortable and breathable for your foot as possible. The shoe outer layer is made up of a breathable mesh that does a great job of allowing the air to flow in. On top of that, there is an interior layer of foam that grasps the foot and keeps it cushioned and comfortable in the shoe.
Effective Outsole
The sole of the Assert 6 is made of a rugged rubber that can withstand a huge pounding on the pavement. This runner has a smooth bottom that gives you just enough grip so that you can effectively push off with every step. The insole is made of very cushioned foam that will absorb all of your impacts, but leave enough of a floor for you to push off, as well.
Cost and Value
The Assert 6 costs about the same as many other mid-range runners on the market. This is a shoe that is best suited for street running and other flatter, uncluttered surfaces. It will give you a very comfortable ride that will stop your foot from overheating. It will also do a good job of giving you the perfect amount of responsiveness for every step.
Zero loss of energy
Wicks away moisture
Good grip on foot
Breathable material
The Phantom is designed to feel light as a pillow on your feet, and help you better connect to the terrain that you are running on.
Read more
HOVR Technology
The Phantom is designed with Under Armour's HOVR technology, which does a great job of keeping you with the most effective stride possible. It is a technology that is designed to keep your foot moving with as little loss of energy as possible. This means that the cushioning doesn't dampen any of your foot strikes on the pavement so you can reach your full potential.
Feels Great
The Phantom also gets its name because it is trying to be like a ghost when it comes to the fit that it has on your foot. The Phantom does a great job of staying out of your way, and letting your own efforts do the talking when it comes to going for a run. The Phantom uses a microfibre mesh on the upper that keeps a good grip on your foot, while also making it possible for the shoe to be very breathable. This microfibre is also great at wicking away the moisture from both the outside and the inside of the shoe.
Cost and Value
This is another shoe that will give you even more than its money's worth. This is a great shoe if you want a shoe that won;t become sweaty and uncomfortable over the course of an extended run. The HOVR technology also does a great job of making sure that you are running to your full potential.
Maximum breathability
Great price for features
Great response on midsole
Good grip on foot
Durability issues with the sole
This is another shoe that takes advantage of Under Armour's HOVR technology while also emphasizing the gravity of your foot strikes.
Read more
HOVR Technology
The HOVR technology in the Sonic manifests itself as a foam in the midsole and insole that does a great job of making sure that the energy you use to push off the ground isn't lost in the cushioning of the shoe. It does this with a mesh web material in the midsole that absorbs your foot's energy for comfort, and then bounces it back up towards you for maximum push off.
All Around Breathability
The Sonic is an incredibly comfortable shoe that does a great job of keeping a good grip on your foot, while also allowing the excess moisture and hot air created by all that hard work that you are putting in to be expelled through the microthread upper. The upper is aided by the panel that is notched into the side of the midsole that allows for even more hot air to be vented out of the shoe.
Cost and Value
This shoe is quite cheap for all the advanced features that you are getting when you buy it. This shoe is designed to give you the most efficient, and the most comfortable, ride that you can imagine when using a high quality running shoe. This shoe will ensure that you can run for hours straight without ever feeling uncomfortable or tired.
Fits tight to the foot
Breathable upper
Cushioned midsole
Great style
Grip is specifically designed for pavement and running
The Charged Bandit 3 is all about using Under Armour's Speedform technology to create the perfect fit for your foot.
Read more
Speedform Technology
The Charged Bandit has been designed so that it completely molds yo your foot when you are wearing it. This will help keep you sturdy when you are running, and it will also make sure that you have a perfect interaction with the road through your shoes. Speedform will quickly mold to the contours of your foot to improve your confidence on the road.
Comfort and Breathability
The tight fit that the Charged Bandit will quickly achieve on your foot doesn't mean that your foot will overheat or feel cramped. The upper is designed of a very breathable, and sturdy material. This means that you do not have to sacrifice comfort for security in this shoe. The molded midsole will also mean that you have improved responsiveness to the pavement, as well.
Cost and Value
The Charged Bandit has a wide variety of prices for you to choose from. It all depends on the kind of style that best suits you. The Charged Bandit 3 is a very stylish shoe that has a pixelated look that blends two colors. This shoe does a great job of keeping your foot secure and comfortable at the same time so you can feel confident in your shoes while you are running.
Very comfortable
Extra support for heel
Molded fit
Good breathability
Not as responsive as others on list
The Gemini 3 is another Under Armour shoe that uses Speedform technology, but this time it is in the pursuit of absolute comfort.
Read more
Speedform Technology
The Speedform technology that does such a good job of keeping your feet molded into the shoe in the Charged Bandit is also in play in the Gemini 3 . In the Gemini 3, that technology is put to good use as something that will keep you completely comfortable at all times when you are out running. Speedform technology with an emphasis on some extra cushioning as well, will have your foot feeling mighty fine.
Comfortable and Structured
The Gemini 3 does a great job of being the best kind of shoe when you just want to feel comfortable when you go out. There is an extra emphasis on making sure that your foot is completely supported on all sides when you wear this shoe. The Gemini 3 has a specially made cushion in the midsole at the heel to give your foot that little bit of extra support.
Cost and Value
This shoe costs about the same as the other Under Armour shoes. It completely depends on the style that you would like. This shoe looks a little more like a skate shoe than the other shoes on this list. It is a great runner, but put much more focus on the comfort and support of the ride, rather than the speed of it. These shoes would also be great for walking around, as well.
Quick heel to toe movement
Very responsive
Great fit on foot
Sleek design
The Speedform Slingshot is a shoe that is designed to be aerodynamic, as well as to be able to really get you moving forward.
Read more
The Slingshot
The Slingshot refers to the design of the shoe's ability to move your foot forward as you run. The indentation at the heel propels your foot forward as it falls, which gets you moving even quicker. This shoe has been designed with as much responsiveness as your foot can manage. You will feel quicker when you are running in these shoes.
Tight Fit
The Slingshot takes advantage of Under Armour's Speedform technology to keep a tight fit on your foot that reduces your foot's profile as much as possible. This will improve the speed that you can move forward, as well as increase your responsiveness through the maximum coverage of the midsole. The tongue of this shoe is quite thin and designed to wrap perfectly around your foot to keep it pressed down against the shoe's sole.
Cost and Value
The Slingshot is a bit more expensive than the other Under Armour shoes on this list. This shoe is a little more devoted to being a performance running shoe when compared to the other shoes on this list. This is the sort of running shoe that will make you feel faster when you use it. The responsiveness and also the design of the outsole, make this a very effective runner.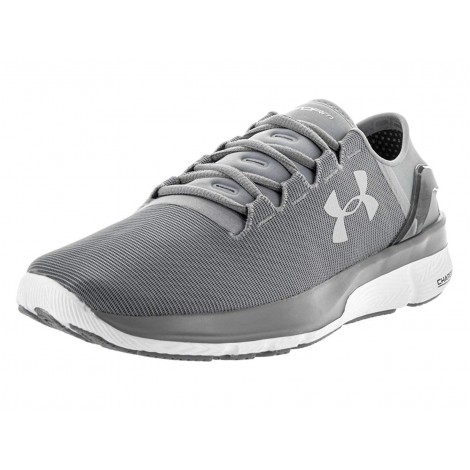 Comfortable heel
Guided outsole design
Breathable mesh
Great price
Can take a little to break these shoes in
The Apollo 2 is like a more cushioned version of the Slingshot. This shoe will increase your performance on the track, but without the sacrifices in cushioning and comfort.
Read more
Speedform Comfort
The Apollo 2 is designed to do a great job of keeping your foot comfortable while it gives you peak performance and responsiveness. The heel of the shoe has had extra foam imbued into it so that it gives some extra comfort at the heel, which is where the heaviest amount of wear on your foot will take place. There is also a sockliner in the shoe that fits to your foot perfectly for some extra comfort.
Performance Shoe
The Apollo 2 has also been designed to give you as much responsiveness as possible so that you can keep yourself moving down the surface of the road. This shoe has been designed with a guided arch in the middle of the outsole that helps keep your foot in perfect alignment for the most useful kinds of strides.
Cost and Value
The Apollo 2 is an older shoe from Under Armour, so its price has become very reasonable. This shoe is a great balance between a performance shoe, and a comfortable one. If your feet aren't quite what they used to, then the Apollo is a great choice. This shoe will keep you moving fast, but not at the expense of the comfort of your foot problems.
Lots of support in outsole
Good fit in upper
Breathable upper
Lightweight materials
Might be too simple for some
The Dash 2 is a stylish and comfortable running shoe that provides a good deal of support for your foot so that you can keep running for as long as possible.
Read more
Traditional Design
The Dash 2 takes a more traditional approach to being a runner, in comparison to the other entries on this list. Under Armour has been known for the innovations it has brought forth in responsiveness and comfort. Those are here, but under the guise of a more traditional runner that you could find at many other stores.
Durable Support
The Dash 2 is made out of a rubber outsole, an EVA midsole, and a stitched synthetic and leather upper. It has a solid design in the outsole that emphasizes durability and support for your foot while you are running. The EVA foam does a great job of keeping the sole of your foot very comofrtable inside the shoe. This is aided by the supportive straps on the sides of the shoe's upper that do a great job of keeping your foot secure while you run.
Cost and Value
This shoe is a great deal if you want to buy yourself an Under Armour shoe. These shoes sport a very traditional ride as far as Under Armour shoes go, but they still do as great a job of it as the other Under Armour shoes. This shoe is great for someone looking for something simple and with a healthy dose of support as well.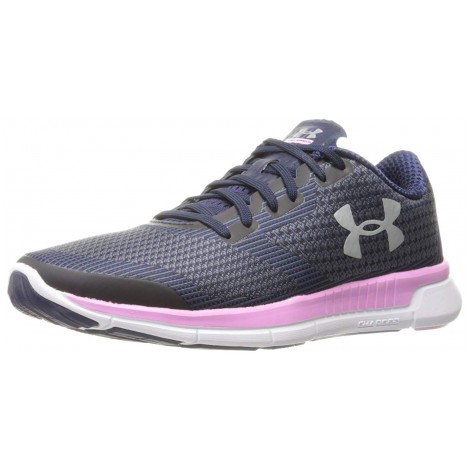 Feel low to the ground
Extra layer of foam for comfort
Good, tight fit
Good price for level of performance
Might have too little support
The Charged Lightning is a shoe that is designed to keep you going fast with a thin midsole that will still keep you comfortable and supported.
Read more
Quick and Light
This shoe has been designed to have you feeling as fast as possible. The shoe is made of very lightweight materials that make sure that you don't feel weighted down by your shoes. It also stays light by having a thinner than usual midsole that will keep you low to the ground. This improves your responsiveness and will have you moving efficiently and quickly.
Comfortable and Supportive
The upper of the Charged Lightning is made up of a tightly woven fabric that remains breathable even as it gives your foot a firm and supportive fit. There is also an extra layer in the midsole that works as a sockliner. This layer of foam is specifically designed to help keep your foot comfortable in the face of the thinner outsole of this shoe.
Cost and Value
The Charged Lightning is a reasonably priced running shoe that is as effective as some performance shoes on the market. It has a good level of support and comfort for a shoe that is as minimal as it is. If you like to feel low to the ground when you run so that you can have a better feel for the pavement, then the Charged Lightning is a good choice for you.
Good support in heel and arch
Many styles
Fits well
Breathable mesh
The Europa has been designed by Under Armour as a bit of a support shoe for those who want to keep running, but who have begun to experience pain in their arches.
Read more
Effective Support
There are extra spots of support designed into multiple spots on the Europa. It has been designed to enhance the stability of your foot so that you will always feel comfortable while wearing it. This shoe has added support put into the heel as well, which will keep your foot feeling comfortable, even after many footfalls.
Breathable Fit
This shoe also uses Under Armour's Speedform technology to give your foot the most custom fit possible. your foot will fit very close to the exterior of the shoe so that you can have better responsiveness while you run. The upper is also designed out of an effective mesh that will keep your feet from feeling uncomfortable, even after long runs.
Cost and Value
The Europa's price depends a lot on the size and style that you want to get it in. it comes in many different styles, and it has a good variety of colors in each individual shoe's design. The Europa is a great choice for people who like running, but have begun feeling a bit of pain in their arches and heel.
Criteria Used for Evaluation


Upper
The uppers of Under Armour shoes are pretty specific in how they are made. They are usually made for the tightest fit they can achieve while remaining very comfortable and breathable. The uppers are also usually made of some kind of fabric. The fabric will also improve the weight of the shoe, as well as the breathability. A tight upper will help you feel more stable when you are running. Being sure of foot makes it much easier to fully commit to each of your foot falls. The higher the rating in this category, the better quality the upper is. Under Armour shoes have very well-made uppers that you can trust to do a very good job of giving you a comfortable ride. The breathability of these shoes is very useful for being to run extremely long distances.


Outsole
Under Armour has implemented a few different technologies so that their outsoles do a very good job of keeping your feet supported and well fitted. The technologies usually steer toward responsiveness, and also to a complete molding of the shoe. That tight fit that is the signature for all of Under Armour's clothing extends itself into all of their shoes as well. The midsoles of these shoes always do a great job of fitting onto your foot and contouring themselves to the specifics of your foot. This is useful because it will increase the support to all the part of your foot, and it will also make for a more comfortable ride. The midsoles are usually made of some kind of complex webbing of EVA foam, which is widely accepted as the best material to make a midsole out of. The outsoles are usually made of rubber, which is highly durable, and highly responsive.


Comfort
There are a few things that Under Armour do that contribute to why their shoes are so incredibly comfortable. They implement technologies in both the upper, and also the outsole of the shoe. In the upper, Under Armour focuses on both the material and the fit of that material. The material is usually some kind of fabric that is arranged into a mesh. Their use of fabric makes for a more comfortable feeling on the skin, but it also allows the shoes to be much more breathable. Having overheated feet is one of the most uncomfortable things that can happen to a runner. In the outsole, the molding that occurs when you wear an Under Armour shoe does a great job of making every shoe that you buy from Under Armour, a comfortable shoe in its own way. It really lends itself to an individual comfort that is hard to find anywhere else.


Responsiveness
Under Armour running shoes are great for just that, running. they are always designed with having your foot move through the air as quickly possible. The complexity that goes into their midsoles means that a shoe from Under Armour will always give you the most bang for your buck in each foot strike. The HOVR technology that they implement in many of their shoes mitigates the amount of energy that is wasted from your foot strikes dispersing out into the cushioning of the shoe. These shoes do a great job of letting the power of your strides translate perfectly into your running results. This is especially true of the HOVR shoes, but it is also true of Under Armour's other shoes. The other shoes just also put some focus into your comfort as well, so keep that in mind.


Traction
These shoes from Under Armour are all design to be sued as road shoes. Road shoes will often have less traction than many other kinds of shoes, including regular walking shoes. This lets you keep your forward momentum going. Try to use these shoes on surfaces that are not slippery, and are also completely free of debris. The traction on these shoes is usually built through rubber texturing on the bottom of the shoes. With Under Armour, this is usually a mild amount of traction, but it is a good enough amount of traction to get enough of a grip for a solid push off. These shoes do not have traction pads like you would see with trail running shoes.
Expert Interviews & Opinions
Most Important Criteria
(According to our experts opinion)
Experts Opinion
Editors Opinion
Users Opinion
By Default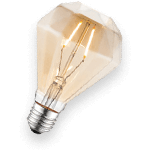 A Focus on Breathability
The shoes that come from Under Armour are also surprisingly breathable. This is one of the features that you will find all the way across the board with Under Armour shoes. They are a great choice for running over large distances because they are great at making sure that your feet never overheat. These shoes always use some kind of mesh fabric in their uppers, which is useful for keeping your feet cool. Fabrics are naturally breathable, which makes them great for keeping your feet cool. There are other features that some shoes use, such as vents in the midsole, that make them especially cooling for your feet. Nothing is worse for you when running than when your feet start feeling sweaty and overheating, and you won't have to worry about that with Under Armour's shoes.
The UA Benefit
Under Armour do have a unique approach when it comes to making shoes, which does help them stand out from the competition. It is actually the same reason that Under Armour stands out in other fields of clothing. These shoes are designed to fit your feet very tightly. Under Armour's specialty actually translates very well to the world of shoes, as a tight fit adds to both stability, and performance. Under Armour shoes are unique in other ways as well. They use a lot of fabric in the interiors of the shoes, which makes them very comfortable and breathable. The fabric sockliners that they use are a great touch when it comes to improving the shoes fit on your foot, as well as making it more comfortable for your foot.
Other Factors to Consider


Support
The level of support in Under Armour shoes varies greatly. They try to have a kind of shoe that will fit every kind of person, and that means that they also have more than a few examples of shoes that are fit for those who need support. However, there are also shoes that aim for a more minimalist style, so keep an eye out. The shoes that are support shoes on this have a variety of functions as well. Some of the shoes are designed with an accented amount of arch support, which will help those with flatter arches. There are also a few shoes on this list that are designed with a bit of extra heel support in mind, which is great for those who are stringent heel strikers.


Value
Something really great about shoes from Under Armour is that they perform far above their price range. Most of these shoes can be bought at the price of a mid-range shoe, but these shoes have many of the features that you would find in performance shoes. If you want to get yourself a good deal, then look no further than Under Armour's line of shoes. No matter what kind of shoe that they tackle, Under Armour brings high quality materials and techniques to the equation. Another important thing to remember is that Under Armour shoes have a wide variety of functions and styles. They do a great job of fitting into those styles, so it can be a good idea to check with Under Armour's line before going anywhere else. Finally, always check to see if the seller gives out a warranty. Under Armour will make it easy enough to send you a new pair of shoes if anything goes wrong, but there are many third party sellers of Under Armour shoes, so make sure to double-check their return policy.
Frequently Asked Questions
q:

How do Under Armour shoes fit generally?

a:

As has been noted before, Under Armour shoes fit your foot very tightly. This is helpful for your foot, but it is something that people are often uncomfortable with. This may be a case of you just needing to let the shoe work its magic, and allow it to mold to the contour of your foot for a perfect fit. On the other hand, Under Armour does also just make their shoes a little narrow. There are many comments online about people having trouble fitting into their shoes in both the midfoot, and into the toe box. If you consider yourself someone who has a wider foot, then consider getting your shoes in a half size up for the most comfortable fit. There are people who recommend going a full size up as well, which means that if you have a very wide foot, you might want to skip yourself the discomfort, and just get the extra-sized shoe.
q:

What style of shoe should I buy?

a:

Under Armour's running shoes run a wide gamut of shoes. They have shoes that are great for those who want to feel the road, then they have shoes that are great for walking, and then they have shoes that are a good choice for those with weak arches or heels. If any of these things apply to you, then Under Armour shoes are a good place to start.

Minimalist shoes are good for people who are not worried about the amount of support in their shoes. They are designed with a minimal amount of cushioning in the midsole, as well as a small amount of difference between the toe and the heel of the shoe. Many people who run strike the ground with their heel first, and then let the rest of the foot fall. The further distance that your foot naturally falls when you are running, the more of a difference you want between the heel and toe of your shoe.

On the other side of the spectrum are support shoes. These shoes are designed for people with specific issues in their feet, such as pronation, suppination, or plantar fasciitis. These foot conditions can often cause you pain when you use a standard running shoes. Under Armour does have shoes for both people with pain in their heels, or plantar fasciitis, and also people with flat arches. They have shoes with extra support in the heel, which should add some comfort to your sore heel. And then they have shoes with over pronounced arches, which is good for those with flat ones.

Of course, there is also those who fall in between those two categories. Under Armour has many options for those who just want a standard running shoe. These shoes have a moderate amount of support in the arch and heel, and a good deal of cushioning as well. Under Armour even has shoes with enough cushioning and support that they work better as walking shoes.