Best Under Armour Running Shoes Reviewed & Rated for Quality
In a
Hurry? Editors choice: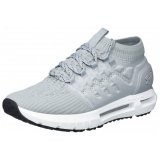 Test Winner: HOVR Phantom

Under Armour has not been on the clothing market for very long, but they are quickly making a name for themselves that put them on the same level as brands like Adidas and Nike. That reputation is well-deserved given that every new type of product they put out matches the quality of the compression clothing that made them a household name. This trend continues with their shoes. Under Armour shoes do a great job of making you roadworthy on any kind of trip that you want to take. Their history as a
producer of clothing
that is supposed to fit snugly and comfortably is actually a natural fit for the footwear industry. All Under Armour shoes do a great job at being a s comfortable as you could hope for from a pair of shoes. Check this list out for ten of the best Under Armour shoes around.
Standout Picks
Criteria Used for Evaluation
Upper
The uppers of Under Armour shoes are pretty specific in how they are made. They are usually made for the tightest fit they can achieve while remaining very comfortable and breathable. The uppers are also usually made of some kind of fabric. The fabric will also improve the weight of the shoe, as well as the breathability. A tight upper will help you feel more stable when you are running. Being sure of foot makes it much easier to fully commit to each of your foot falls. The higher the rating in this category, the better quality the upper is. Under Armour shoes have very well-made uppers that you can trust to do a very good job of giving you a comfortable ride. The breathability of these shoes is very useful for being to run extremely long distances.
Outsole
Under Armour has implemented a few different technologies so that their outsoles do a very good job of keeping your feet supported and well fitted. The technologies usually steer toward responsiveness, and also to a complete molding of the shoe. That tight fit that is the signature for all of Under Armour's clothing extends itself into all of their shoes as well. The midsoles of these shoes always do a great job of fitting onto your foot and contouring themselves to the specifics of your foot. This is useful because it will increase the support to all the part of your foot, and it will also make for a more comfortable ride. The midsoles are usually made of some kind of complex webbing of EVA foam, which is widely accepted as the best material to make a midsole out of. The outsoles are usually made of rubber, which is highly durable, and highly responsive.
Comfort
There are a few things that Under Armour do that contribute to why their shoes are so incredibly comfortable. They implement technologies in both the upper, and also the outsole of the shoe. In the upper, Under Armour focuses on both the material and the fit of that material. The material is usually some kind of fabric that is arranged into a mesh. Their use of fabric makes for a more comfortable feeling on the skin, but it also allows the shoes to be much more breathable. Having overheated feet is one of the most uncomfortable things that can happen to a runner. In the outsole, the molding that occurs when you wear an Under Armour shoe does a great job of making every shoe that you buy from Under Armour, a comfortable shoe in its own way. It really lends itself to an individual comfort that is hard to find anywhere else.
Responsiveness
Under Armour running shoes are great for just that, running. they are always designed with having your foot move through the air as quickly possible. The complexity that goes into their midsoles means that a shoe from Under Armour will always give you the most bang for your buck in each foot strike. The HOVR technology that they implement in many of their shoes mitigates the amount of energy that is wasted from your foot strikes dispersing out into the cushioning of the shoe. These shoes do a great job of letting the power of your strides translate perfectly into your running results. This is especially true of the HOVR shoes, but it is also true of Under Armour's other shoes. The other shoes just also put some focus into your comfort as well, so keep that in mind.
Traction
These shoes from Under Armour are all design to be sued as road shoes. Road shoes will often have less traction than many other kinds of shoes, including regular walking shoes. This lets you keep your forward momentum going. Try to use these shoes on surfaces that are not slippery, and are also completely free of debris. The traction on these shoes is usually built through rubber texturing on the bottom of the shoes. With Under Armour, this is usually a mild amount of traction, but it is a good enough amount of traction to get enough of a grip for a solid push off. These shoes do not have traction pads like you would see with trail running shoes.
10 Best Under Armour Running Shoes
Subscribe to our Newsletter