Best Trapper Hats Reviewed & Compared
In a Hurry? Editors choice: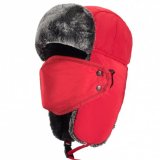 Test Winner: MySunTown Winter Trooper

Trapper hats. While they may look unconventional, and are usually only seen on TV in a comedic fashion, they are known to be exceptionally warm. It's because of this reason, along with the trend of odd items of
clothing
becoming fashionable for a season or two, that the trapper
hat
is now starting to be worn by more and more people. Their ear flaps, that can be tied up out of the way or let down for maximum protection, and lined interiors make them perfect for outdoor winter activities. In this guide, we will call out 10 of the top trapper hats out there.
Standout Picks
Criteria Used for Evaluation
Comfort
Trapper hats can be the warmest, most insulating products in the world, but that means pretty much nothing if it's not comfortable enough to have on your face for more than a few minutes at a time. In the past, this was a bit of an issue due to the limited materials that were available at the time, which was almost exclusively some type of fur. Fast forward to the twentieth century and the introduction of the hat to American shores, and the access of cheap to produce, the man-made filler would eventually introduce the world to unparalleled comfort.
Another factor is taken into account when discerning comfort is the bulk of the hat. The original Ushanka style hats are big, cumbersome monoliths made from heavy materials and weren't very comfortable. The style still exists today, and while they have gotten lighter, they are no less bulky and obtrusive. A good alternative is the bomber style hat that has pretty much none of the bulk and weight, while still maintaining the high level of comfort.
Materials
The types of materials used by the manufacturer mean everything to the hat. Think about it. If you want to make a trapper hat that is accessible to people from all walks of life, you will most likely choose a shell of nylon or polyester, and fill it with a faux fur lining. If you want to stand out a bit, yet still be affordable, an alternative material for both the shell and liner is cotton. Cheap to produce, soft, breathable and durable, you can use it to produce a high quality, low-priced hat.
If, however, you want a product that is fashionable and desired by the social elite, and the price will be no object – opt for natural materials such as sheepskin for the outside, and real fur, such as rabbit for the lining. You'll wind up with a very attractive, functional hat that unfortunately will only be bought by a smaller sample size.
Cost isn't the only thing impacted by the material choice. Depending on what you choose, you can customize everything from comfort, level of warmth, breathability, wind, and waterproofing, and durability.
Size
Size is deceptive when it comes to trapper hats. While it may seem that a hat that is just a tad too large can be easily remedied by the addition of a beanie or a toque, what it actually does is offset the temperature that it is meant to achieve. A hat that is larger than it needs to be, also runs the risk of not sitting properly, thereby being easy to knock loose and fall off, which could be catastrophic in the dead of winter.
A trapper hat that fits a bit small actually hides benefits. It may feel a bit snug, but it is going to keep your head warmer and more protected from the elements. Unfortunately, this increased warmth comes at the price of comfort. On a tighter fitting hat, the straps and buckle used to hold the ear flaps in place can dig into the skin, greatly reducing the amount of time you'll want to have it on your head.
In order to have the optimum balance of comfort, warmth, and versatility, the best option would be to find a hat that offers a wider range of sizes than S, M, and L, and try it on, if possible. More sizes will raise the chances of the hat fitting true to size, eliminating the risk of having the hat not perform when you need it to.
Insulation
These hats are designed to be some of the warmest out there. Think of how warm animals keep in the winter and cold climates with their fur. Trapper hats do the same for your head. The fur, sherpa and other warm materials work to keep the heat trapped in.
Style
When it comes to being cold or looking cool, which is more important? That said, there's nothing wrong with the "style" of these trapper hats. They are first and foremost designed to keep you protected and warm. If you like fur, sherpa or other faux-fur materials, then these will have a style you like!
10 Best Trapper Hats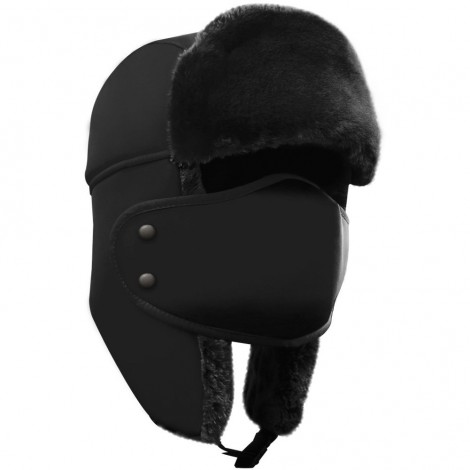 We're going to start off the list with a very sleek looking offering from Akasko. Designed more for daily use as opposed to an occasional fashion statement while out grocery shopping, this hat provides top-notch comfort, waterproof construction, and the functionality of adjustable ear flaps (of course) and a removable face mask along with the great look, giving the consumer a high-quality product without the traditional bulk.
Keeps water out
Not every winter climate is just about snow and wind. In certain areas, the bitter cold is accented not by snow, but instead by rain, or in some cases, slush. This can be disastrous with typical headgear, weighing you down and just being downright uncomfortable. The polyester shell here prevents all that.
Does what you need
I haven't seen a lot of trapper hats that offer a detachable face shield until I happened upon this one. This is extremely handy because it offers an extra element of protection without having to wear additional gear.
Cost and Value
By combining comfort and style with such a low price point the way they do is sure to put the AKASO Trooper Trapper Hat on the map and make sure it stays there. The amount of use that you're likely to get out of this hat absolutely makes it worth it.

2

. Mysuntown Winter Windproof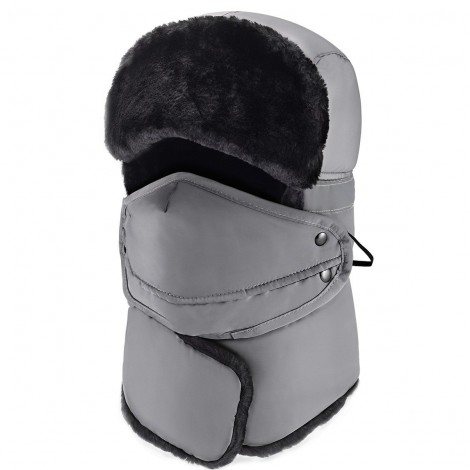 Presented in a variety of colors, this fully lined hat and removable facemask from MySunTown is another more streamlined trapper hat variation that gives almost 100% face coverage without weighing you down with overbearing size. That's part of what makes these hats so versatile: they've been modernized enough to make carrying them with you convenient without sacrificing any warmth in the process.
Be seen
A neat little feature that shows they like to go the extra mile, the makers included a reflective stripe on this hat. This makes it perfect for those gloomy winter days where visibility isn't always great, or for when you're out at night. This is a handy safety measure that wasn't expected but is certainly welcome.
Covers everything
Trapper hats are known for keeping your head and face away from the wind and cold, but what about your neck? Historically, no, for that you would have to wear another piece such as a balaclava. Not so with this one, as it extends beyond your head to keep your neck just as toasty.
Cost and Value
How these companies manage to update these hats to modern aesthetics while keeping all the warmth and coverage without having, or wanting to ask for an exorbitant amount of money is beyond me. Coming in much cheaper than you'd expect, these are a great value.

3

. MySunTown Winter Trooper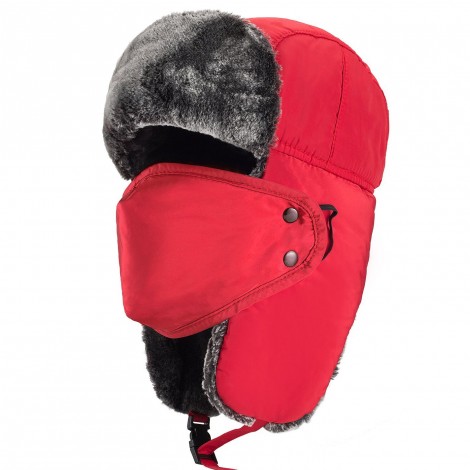 Another trapper hat from MySunTown. This one has a more familiar look to it and offers even more coverage than the previous one, which was pretty ridiculous in that department, to begin with. On top of that, this unisex hat contains top-notch comfort and warmth with complete interior lining and increased water resistance. Perfect if you happen to be out in the most extreme conditions.
Holds up
This hat offers tear resistance, which is a very good feature to prolong its lifespan, especially if used extensively in the bush. This keeps it not only looks good but also maintains the integrity, which is critical to keeping the warmth inside the hat.
Hates water
I keep mentioning how this hat is extra waterproof. Essentially this means that the outer shell and inner workings are constructed from sturdier materials than most, so this hat becomes virtually waterproof.
Cost and Value
The features and construction of this hat are more geared toward heavy-duty use in uncommonly harsh weather conditions, which means extra care had to be put into the build, yet that is definitely not reflected in the meager price.

4

. Zavelio Shearling Sheepskin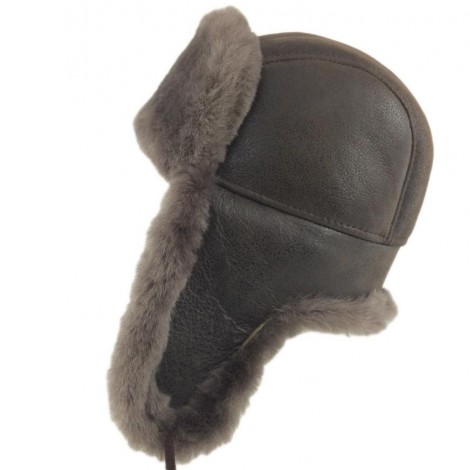 This is a nice one, like the champagne of trapper hats. This time, not only id the lining made of top quality natural materials, the outer shell is constructed entirely from shearling sheepskin, making it waterproof to the point of wicking the water away. On top of that, it has a very elegant look to it. It just screams premier craftsmanship.
Fashion icon
Even if this hat didn't keep you as warm as you need it to, the high fashion appearance it gives off would almost make it worth the purchase. Luckily, it keeps you very warm as well as the center of attention in your social circle.
No sweat
For a product whose primary selling point is how warm it keeps you in the coldest conditions, the lining and breathability of this aviator hat combine to keep sweat at bay, increasing comfort and keeping you out for as long as you need to be.
Cost and Value
I`ll say it right now: this hat is an exceptionally good value. Any time you find a product made from the finest materials with intricate skill and attention to detail, buy it without question. Just know, even in this case, you pay for what you get, as this one is up there.

5

. Vbiger Trooper Trapper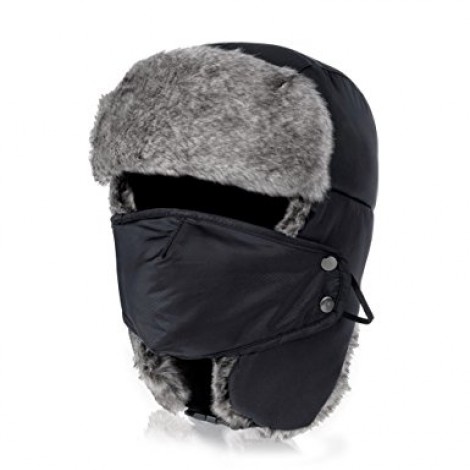 Now, this is more like what you've probably come to expect when you think of a trapper hat. This more traditional style nonetheless still offers the same level of protection for your face, and this one also includes a face mask, so there is no functionality lost either. It does add a bit of bulk, like the hats of old, but that surprisingly isn't a hindrance, but rather gives some peace of mind where warmth is concerned.
Anyone can wear it
I mean that too. Despite its fairly general design, the trapper hat can be made to appeal strictly for men or women, but in this case, the makers went for a look that is right at home on any head.
Go away wind!
I`ve talked about ht e removable facemask a bit already on other products, but aside from being convenient, the greatest bonus they offer is the superior wind protection that keeps it from stinging your face.
Cost and Value
While not as sleek a modern looking as the last couple hats we looked at, it's still stylish in its own right and helps keep you more than warm enough, all while coming in more affordable than most of the others you'll see.

6

. SIGGI Faux Fur Trapper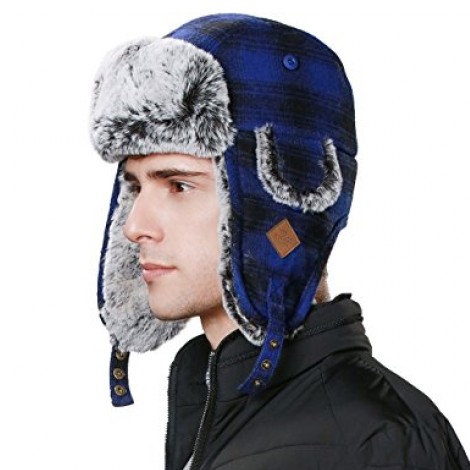 Siggi certainly made an interesting design choice with this one. Electing to go with multiple exterior fabrics gives their hat a unique and stylish appeal all its own while managing to come in at a very respectable cost. This hat is perfect for those who don't mind standing out a bit but can't justify the extreme nature of the higher end ones, both in cost and functionality.
Take it anywhere
Most trapper hats, due to their size and bulk, are generally reserved for hunting, or even just going out around town. The smaller footprint of this hat makes it an ideal choice as well for skiing, hiking, snowmobiling, anything really.
It`s cotton
An interesting choice for the outer shell, especially considering that most other hats in the same range usually opt for nylon or polyester. The choice of cotton lends to the hat's visual appeal and keeps it light and soft.
Cost and Value
On a scale of one to ten, build wise this hat gets an easy eight, and price wise it's a two. Two`s a good number in this case because it expresses a very low price. Not the cheapest, but still very reasonable.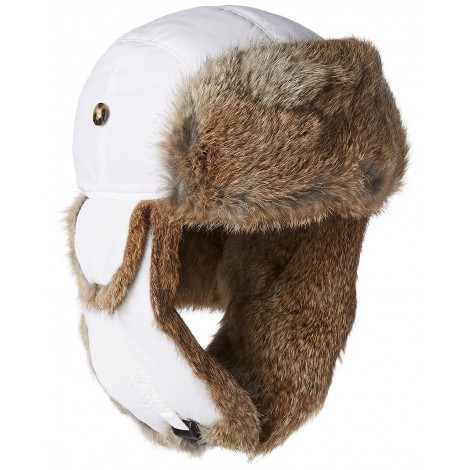 Now we`re getting into some more high-end offerings in the world of trapper hats. The high end usually denotes the type of liner used for warmth. In this case, it`s rabbit fur, which provides amazing natural insulation from the cold. Also, this is more in the aviator hat style, which is a variation of the old school trapper hat built for military pilots during the second world war. This means it has to stand up to a whole range of adverse conditions, which it does well.
You won't know it's cold out
Again with the rabbit fur. I know, it's getting old, but it's completely true. The inclusion of the real fur makes the hat superior when it comes to keeping the warmth right where it needs to be: circulating around your head.
High quality
This trapper hat is very well made, which makes sense considering how much I've mentioned the better materials that comprise it. Mad Bomber went all out in an attempt to be the leaders in their market, and it paid off.
Cost and Value
This hat does find itself on the pricier end of the spectrum, but that is largely thanks to its use of natural materials as opposed to the faux fur found in a lot of others. It's still a great value, as the natural products have been evolved over thousands of years to hold up to the worst that winter can throw at it.

8

. Kbethos Winter Trooper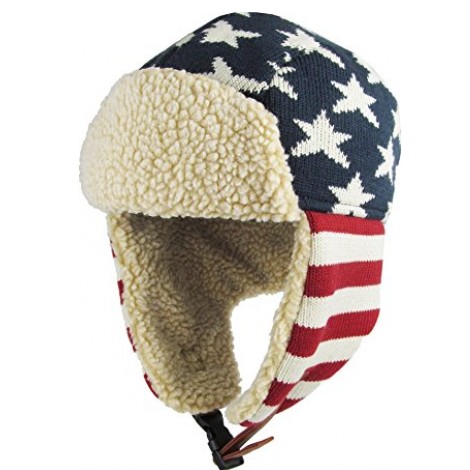 The KBETHOS Winter Trooper Hat, aside from some of the color and pattern choices, doesn't really do anything that will make the world take notice. The makers evidently aren't too bothered by that. They put together a well-made product for the working man. Sturdy, reliable, and versatile, it may not stand out, but that doesn't make it any less impressive.
It works
It does sound pretty mundane when I say it, but it does work. It will do exactly what you bought it to do, and really, what more do you want. It doesn't have a lot of extras, which keeps the cost way down, while still being a great hat.
Any color you want
This feature isn't about the warmth or performance of this hat, it`s purely about appearance. This is worthy of a mention because this hat comes in several different colors, giving you complete freedom to stand out the however you want to.
Cost and Value
The most affordable hat on this list is also the most cost-effective, putting it right up there in terms of value. You won't find real fur or leather, and it won`t revolutionize the industry, but you will get a solid reliable hat at a great price.

9

. City Hunter W200n Premium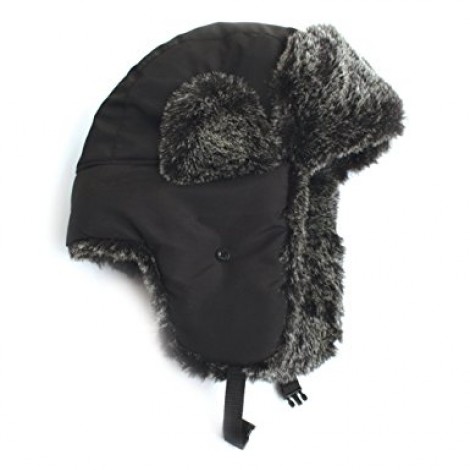 Another trapper hat that comes in about a thousand colors, though this one does a bit more to separate itself from the pack. Designed almost exclusively for everyday use in town, it may not offer the same versatility of the other choices, yet it's very urban stylings make it perfect for getting to and from work during the week, and for hitting the slopes on the weekend.
Looking sharp
This hat is built for urban use, and it has a great look that suits its increased exposure perfectly. It will keep you warm, it just so happens to make you look extremely sharp and well put together in the process.
Value for your money
When you buy this hat, make no mistake that you're not getting the best quality in the world. For the price point though, What you do get is a functional, well-built product that will more than hold up to whatever you put it through.
Cost and Value
This hat was built for a specific demographic, and for such a niche product, it carries a good price point. It does what it's meant to do very well for its specific segment, which makes it a smart choice.



It's a "Fargo" hat! Not actually, but it would be right at home in that frigid Minnesota climate since this one was built with warmth in extreme climates in mind. The N-Ferno 6802 Thermal Winter Trapper Hat is wind and waterproof with a liner containing 60 grams of Thinsulate insulation, N-Ferno held nothing back when it comes to beating back the bitter cold.
Sturdy
Being built solely for warmth requires solid construction in order to keep it all together, and this hat has that in spades. The stitching is solid, and looks it too, giving you the peace of mind to get out there do what needs to be done.
Classic
I called it a "Fargo" hat in the introduction, and I had a good reason to say that. It has a very classic look that immediately harkens back to images of rugged pioneers working hard in brutal conditions seemingly unfazed.
Cost and Value
The N-Ferno 6802 Thermal Winter Trapper Hat is more expensive than the more bargain-priced options, though it still falls well below the price of the higher end models. Good thing it's not a bargain quality product, and goes the extra mile in terms of performance, so the value is definitely there.

Subscribe to our Newsletter