Best Fur Slippers Reviewed & Rated for Quality
In a Hurry? Editors choice: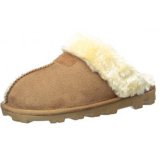 Test Winner: CLPP'LI

It's freezing cold outside, you've worked hard all day likely leaving home before the sun comes up and getting home after it has set. You're shivering and exhausted and go to take a hot shower to decompress the day. But how do you lock in all the comfort, warmth, and security of that
hot shower
? Fur slippers, my friends. Fur slippers.
For thousands of years, humans have been using fur to keep themselves warm during blistery months. And though most of the fur slippers on our list won't exactly resemble the styles of our ancient ancestors, they will still provide warmth and comfort during these long winter hauls.
So peruse our top 10 list of the best fur slippers. And if you're not into real fur we've provided a nice mix of faux and true fur slippers so you can get just the style for you.
Standout Picks
Criteria Used for Evaluation
Style
When compiling our list for the best fur slippers of course style was one of our main focuses. When you think fur, you think fashion, so we made sure to make selections that were fun and playful.
Our favorite fur slippers on our list were those slippers that provided actual functional warmth and style. These slippers typically come with rubber soles that allow the user to wear them inside and out. Most of these are lined with fur and feature a fur cuff. These slippers are both warm and fun to wear.
That being said, we did feature several fur slip-on options that are more slides and meant for fashionable purposes rather than keeping your feet cozy and warm. But we love these slippers all the same because they are super current and in right now, and because they can be worn year round. All you need to do is find a few pairs of fashionable socks to darn during winter time and boom--you've got a whole new fashionable look to sport.
Comfort
Comfort was a main consideration as we compiled our list. Slippers are meant to be comfortable and if they weren't reviewed as comfortable, they didn't make our list. Because feet are so different and fit is so personal, we poured over thousands of reviews to make sure we brought only the most comfortable slippers to our list.
We do note that some of our more versatile slippers (those with thicker rubber soles meant to be worn outdoors as well) do not give the cozy, squishy comfort of a typical indoor-only house slipper. However, they're still warm and cozy and users report them breaking in well.
We love slippers that feature memory foam and extra padding so you can feel like you're walking on a cloud. And we also loved slippers that provide extra arch support and heel padding so that you can wear the slippers all day without ending up with aching feet.
Versatility
We also looked at versatility as we were making our list. We mainly highlighted slippers that you could wear inside and outside. The very nature of slippers is that they're easy to slip on and off, so they must be convenient to wear. That means if you have them on in the house and you need to run to the mailbox or take out the trash that you should be able to do so in your comfy slippers. We made sure to mention which slippers were only meant to be worn inside so you don't mess up your new purchase.
We not only considered versatility in indoor and outdoor wear but also in the times of year you could wear your slippers. The slip-on slippers that we have on our list are great for wearing year round because all you have to do is add a cushy pair of socks in the winter to transition them from summer shoes to winter shoes.
Materials
Of course, we looked at the materials used to make each slipper. Most of our slippers are made from faux fur, so no animals were harmed in the production of the slippers. Only one of our slippers is made from fox fur. The majority of our products are made with real suede and sheep's wool and sheep's skin. These products are super warm and soft. Only a few of the products were made from faux suede.
Additionally, most of our slippers feature rubber soles so that they are versatile and sturdy. Only some of the slippers' soles were made from synthetic materials.
Value
Finally, we looked at value. We always want to make sure that we're listing products that are providing the best value possible. Almost all of our slippers featured ring up at under $100. We gave better value scores to shoes made from genuine materials that were cheaper than shoes mode from non-genuine materials. We also gave high-value scores for those shoes that were versatile and allowed the user to wear them indoors and outdoors, as well as during all times of the year. Of course, those products that came with warranties and 100% customer satisfaction guarantees also received a high-value rating from us.
10 Best Fur Slippers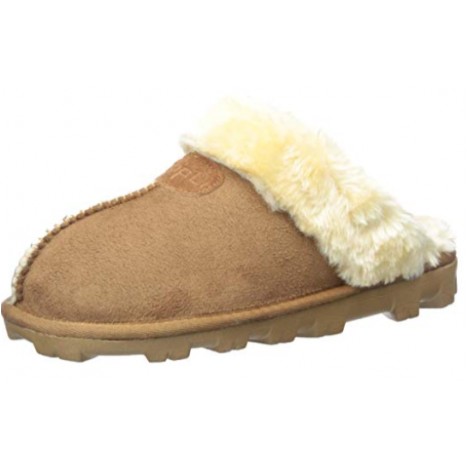 These insanely comfortable slip-on slippers come in a wide range of colors and are made from faux fur. With a cozy closed toe, your tootsies will be toasty and warm all winter long.
9 Color Options to Choose From
These slippers pack in style and supreme comfort all in one beautiful punch. They are so warm and cozy. The slip-on slipper is lined with faux fur and features a collar of fur on the outside of the slipper. There's also a cute seam down the front for an extra touch of flair. With 9 color options to choose from, you're bound to find the one that is just right for you. There's black on black, pink on pink, sand on sand, sand on tan, brown on brown, white on black, white on dark gray, gray on gray, and finally white on pink. These slippers come in size options 6-10 in women's sizes, though we think these are a nice option for fellas too.
Made from Faux Fur and Synthetic Suede
These slippers are made from faux fur and synthetic suede so no animals were harmed in the process of their making. They come with a rubber sole that offers a lot of traction so you won't have to worry about slipping and sliding in winter conditions. You can wear these around your house and even outside to check the mail or run out for a quick errand.
Cost and Value
These slippers ring up in the lower end of our price range and boast an almost 5-star rating on Amazon after 2,500 reviews. People love these slippers. They also come with a 100% money back satisfaction guarantee and a 1-year warranty so you know you are getting a product that you can rely on.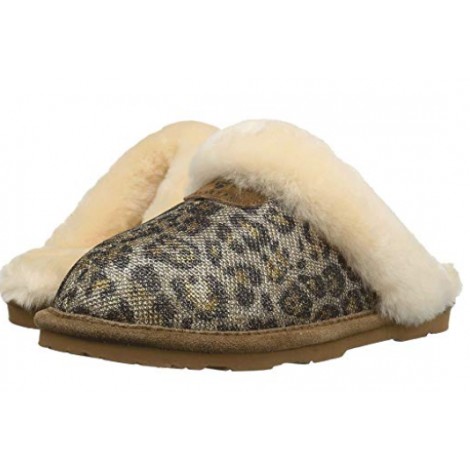 These 100% suede slippers by BEARPAW are comfort, versatility, and fashion at its finest. They are easy to slip on right out of the shower and are sturdy enough to handle outdoor wear as well.
Over 35 Colors to Choose From
These beautiful slip-on slippers provide warmth and versatility all in one package. The slippers are lined with sheepskin fur and have visible trim for an extra pop of style. Additionally, they feature a seam down the middle as a nod to traditional fur slippers. But that's not all, people. They come in 36--yes 36--different color options. Some of our favorites are the gold li suede, pomberry, deep purple, chocolate champagne, russet, silver, gold, and navy with champagne trim. These are unique colors that we didn't see offered by many other companies. The slippers come in 5-12 women's and even come in half sizes, but sizes have different availabilities based on the color you select. The company suggests that you order one size up from your true shoe size when you order.
Made from 100% Suede
These slippers are made from 100% suede. The company uses both cow suede and sheepskin and fur to give some dynamics to the slippers. They are finished with a rubber sole which provides traction and allows you to use them both indoors and outdoors.
Cost and Value
These slippers range in value based on the color and design that you choose. That being said, they ring up anywhere from the low end to the middle of our price range. Considering they're made of real suede, they are a great value and they have hundreds upon hundreds of raving customer reviews.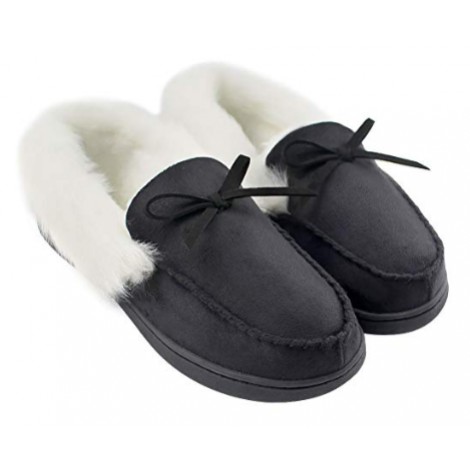 These faux fur lined true suede moccasins are so comfortable that you'll never want to take them off. And because they are rubber soled, you never have to!
Traditional Moccasin Style
These slippers are styled after traditional moccasins and come with a faux fur trim collar on the outside and topped off with a cute little bow. They come in 5 different color options: brown and white, space black and white, gray and white, dark gray and white, and wine and white. They come in whole sizes between 6 and 12. This company also recommends that you order one size up from your true shoe size because of all the extra luxurious padding that is added for your comfort.
Memory Foam for Comfort
These moccasins are made from real suede that holds its shape and lined with luxurious white faux fur that won't leave your feet feeling sweaty. They also feature 4 layers of memory foam (5mm), spongey elastic and extra sponge in the heel (12mm), and EVA cushion (4mm). It feels almost as though you are walking on a beautiful cloud that has molded to your foot. Plus, the wonderful anti-slip rubber soles allow these moccasins to be versatile for indoor and outdoor use.
Cost and Value
These moccasins ring up in the low end of our price range. Because they are so fluffy and still versatile for indoor and outdoor use, we give these slippers a great value.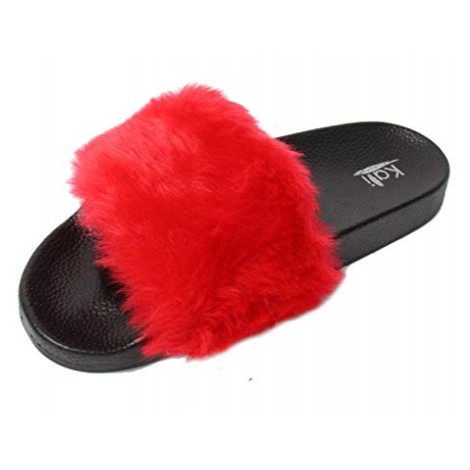 Who doesn't love a high-fashion faux fur slide? And who doesn't love that alliteration?! These slip-ons may not keep your toes from freezing to death but they will keep you in style.
High Fashion Look
These slippers are so cute we can't stand it. They are simple yet classic and I want a pair in each color. They have a simple black sole and 8 different faux fur color options: black, camel, grey, navy, wine, red, chocolate brown, and purple. They are lightweight and easy to clean. They come in sizes 6-11, and the company suggests that if you are between sizes you order the next size up (ex: a size 6.5 should order a size 7).
Can Wear Year Round
So these slippers may not provide the kind of warmth some readers are looking for but you will be able to wear these slippers year round. Plus, it's not out of style to select a fashionably printed sock and rock those underneath your slippers in the winter time. With the rubber sole, they are meant to be worn indoors and outdoors and can stand up to outdoor use better than some of our other slippers that can't get wet.
Cost and Value
These slippers vary slightly in cost depending on the color you select, but either way, they stay on the low end of our price range. They are super durable and super cute, and since you can wear them all year round we give them a great value.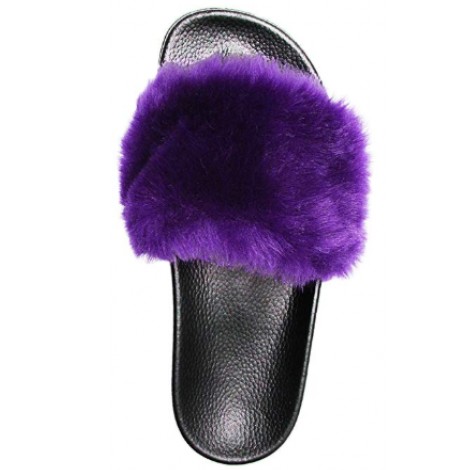 Here's another pair of fashion over function faux fur slip ons that you can sport all year long. With fun colors to choose from at the lowest price point on our list, you're sure to fall in love.
Vivid Color Options
These slippers come in 6 vivid color options: black, new black, wine, navy, purple, and light pink. They have a simple sole that is both durable and lightweight and comfortable. They even boast substantial arch support so that you can wear these puppies the whole day long without experiencing discomfort. They come in sizes 6-11 US women's, though size availability varies based on the color selection that you make.
Satin Foam Backing
The rubber soles on these slippers make them great for indoor and outdoor use, and they can stand up to outdoor use better than some other more expensive slippers on our list. The faux fur strap features a backing of satin foam for supreme comfort. They are flexible and easy to clean and take care of.
Cost and Value
You will literally be shocked at how inexpensive these slippers are, especially considering how cute they are to boot. Because they can be worn all year long (remember adding a seasonal sock underneath for added warmth in winter), they will get a lot of use and that's a lot of bang for your faux fur buck.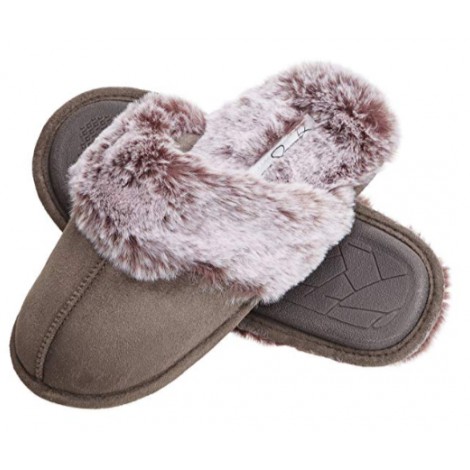 Now we're back in the fashion plus warmth zone. No one knows how to incorporate fashion into functionality like Jessica Simpson. Her shoe line is always current, and these babies will keep your tootsies looking good and feeling cozy.
Thick Memory Foam
These slippers are so fun and they provide a ton of comfort. With an ultra thick memory foam layer in the sole of the shoe, you will be able to wear these all day long without any aches and pains in your feet. They come in 6 beautiful color options: black, grey, tan, burgundy, pink, and purple. The slippers are available in sizes small, medium, large, and extra large. Small is 6-7 US Women's, Medium is 7-8, Large is 8-9, and Extra Large is 9-10. These shoes tend to run wide so if you have narrower feet, go with the next size down.
Anti-Slip Sole
The anti-slip sole is textured on the bottom to make sure you can traverse wintery grounds without slipping and falling. They are great for both indoor and outdoor purposes. These slippers are made from polyester so your feet are going to be warm, warm, warm.
Cost and Value
These slippers ring up in the mid-range of our price range. They are incredibly comfortable, incredibly durable, and incredibly cute so we love their value.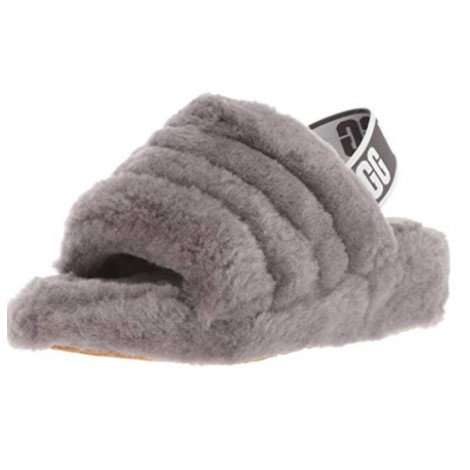 Get on my feet now! These hot and cozy UGG Women's Fluff Yeah Slide Sandal are maybe the most rocking slippers on our list so far. We literally want every color now, now, now. And what's more, because UGGS were originally meant for surfers to pull out after getting out of frigid water, these gorgeous slippers can get wet and stand up against even the harshest weather.
Unique Style Design
These slippers are literally the cutest. They come in 5 different very current colors: pink dawn, charcoal, black, seashell pink, and lantana. They feature a platform base (measuring 1.5 inches in height) and 4 ribbed front strap that leaves space for a peek-a-boo toe. All of this is covered in luxurious sheep's wool and sheepskin by the way. They come in sizes 5-12 in US Women's, and if you are between sizes, it's recommended that you get the next size up.
Back Strap for Security
These slippers are designed with comfort in mind to a T. The lining consists of 17mm pure wool and the outer of 10mm sheepskin. With rubber soles, the shoes won't slip in wintery weather and are ideal for indoor and outdoor use. They feature a black back strap for security flashing the UGG logo so your slippers won't go slipping off.
Cost and Value
These slippers are among the most expensive on our list but you really get what you pay for. The quality of these slippers is beyond any we've listed so far and they will last for years longer. But you're also paying for a brand name look. We think these are amazing values because they will last for years and years of use.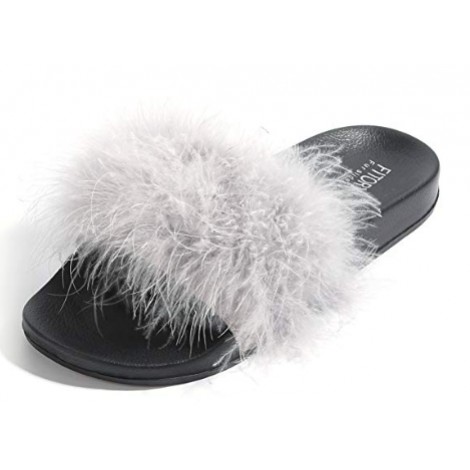 These slippers are whimsical and fun, all while providing a lot of great arch support to eliminate those achy feet pains after a long day of wear.
Whimsical Fur Design
The fur style on these slippers is a little different than the styles we've seen so far. It is sort of whispy and whimsical and it gives the slippers a lighter feel. The slippers come in black, grey, and pink, but the black and grey slippers are our absolute favorites. The underneath of the strap is lined for easy slipping on and off and for comfort while wearing. The slippers come in size options 5-6, 7-8, and 9-10. They fit true to size so the company recommends you simply order the size that you normally would.
Lots of Great Arch Support
These slippers come with tons of great arch support and ergonomic design shape. The soles are flexible yet durable and provide enough support during the day so that you won't be left with achy feet.
Cost and Value
These slippers are at the low end of our price range. Their super cute design, plus all of the loving arch support mean that these slippers pack in great value. And if that wasn't enough, these slips come with a 100% customer satisfaction guarantee so you know you're going to be happy with your purchase no matter what.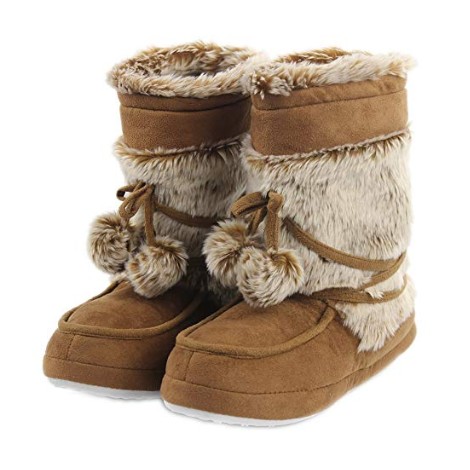 These are the first pair of heavy duty boot slippers that we feature on our list. They are for those extra cold places during those extra cold months and are bound to keep you cozy and warm.
Extra Warmth with Multiple Design Options
These slippers will provide so much warmth during those frigid winter months. They come in multiple different design options where some are fashioned more after little booties and some are full-length boots. They are padded with a thick lining on the inside for supreme comfort and warmth. They come in sizes 6-7, 7-8, 9-10, and 11-12. It's safer to order these slippers on the larger side if you're in between sizes.
High Boot
The high boot design is made of fleece and suede and is extremely soft to the touch. The bottoms are made of synthetic fibers and are not intended for any outside wear. These are designed specifically to be lightweight and comfortable for use around the house. These are slippers you could literally wear in bed, as they are meant to be flexible and super warm.
Cost and Value
These slippers ring up in the mid-range of our price range. The pricing varies a bit depending on the exact style you select, but overall they have good value.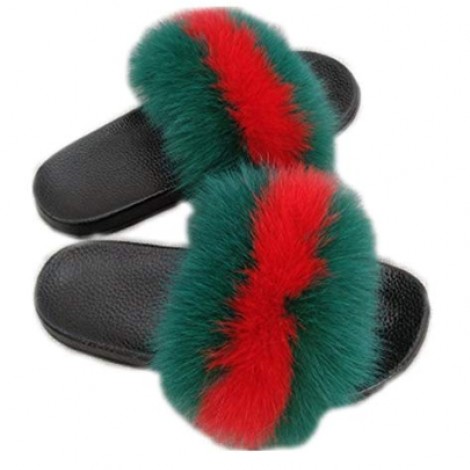 We finish off our list with a pair of high fashion, real fur slip ons that will make you squeal with delight. And you may be shocked when you see the price tag and realize that they won't break the bank.
Multi-Color High Fashion Options
These beautiful slip ons come in some amazing color options: green and red (as a Gucci knockoff), black, brown, natural, green, pink, red, grey, pink and blue, and finally multi-colored fox. They are gorgeous and it will be hard for you to pick just one pair. They feature a lightweight yet durable sole that is flexible and formed to mold to the foot and provide ample arch support. That means you'll be able to wear these slippers all day without experiencing pain. The company provides its own size chart and strongly stress that you should reference their chart before making your purchase. The size chart allows you to reference the USA, European, and Brazilian sizes and also gives the size you should select based on foot length.
Made from Real Fur
These slippers are made from real fur. The company posits that raising animals for fur is no different than raising livestock, though the strap is made from vegan leather it's worth noting. Because the slippers are made from real fur, they feature a softness like many other of our slippers do not.
Cost and Value
Surprisingly, these slippers ring up in the middle of our price range despite being made of real fur. That means we give them a great value stamp. Couple with that the durability and long lasting rubber sole and the fact that you can wear them all year, and you've got a deal that can't be beat.

Subscribe to our Newsletter