Best Waist Packs Reviewed and Rated for Style
In a
Hurry? Editors choice: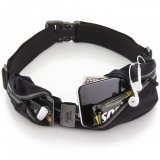 Test Winner: Sport2People

Ah, the 80's. The era of shoulder pads, perms,
bright colors
, and leg warmers. When times were more colorful than the 90's, and fashion united with function. Just thinking of the style back then takes me down memory lane, but a recent emergence in a short-lived 80's trend reminds me that fashion recycles, and what was popular back then can definitely make a comeback to be a part of your today. What I'm talking about specifically is the waist bag, or what you may know more familiarly as the fanny pack.
Standout Picks
Criteria Used for Evaluation
Materials
Material
Waist packs are meant to wear snugly against your waist, or even around your shoulders, but they should always be made from high-quality material, preferably waterproof. If you consider that you're storing your most valuable possessions in there (wallet, ID's, smartphone, keys, etc), you want a waist-pack that is not made from flimsy and cheap material, and can provide protection in the harshest of climates, especially from rain. If you are using a waist pack at the gym, running, or hiking, you want one that is made from moisture-wicking fabric, as you most likely will be sweating. Because the waist pack is meant to be secured against your waist, you don't want your sweat to be trapped in the waist pack, causing uncomfortable chafing and smells. Furthermore, if you are using the waist pack for athletic purposes, you want to make sure that the waist pack fabric is waterproof, or easily able to be cleaned. If you want to get the most uses out of your waist pack, then look for materials that are machine or hand washable. If they are colored or patterned, also consider that the dye is not going to wash off easily. If you purchase a hot pink waist pack, you don't want the dye to smear against your skin or attire, or even bleed onto your laundry when you throw it in with all your other clothes. That could be a disaster!
Versatility
Function
Before purchasing a waist pack, consider what you will be using this for. The event or environment that you are using this waist pack for should factor into the type of style and material you will want to consider when making the purchase. You definitely want a waist bag that is comfortable and able to store your necessities, but a smaller money waist pack may not be appropriate when you're say, camping or fishing, and need to carry snacks, water, and tools with you. Vice versa, you don't want a large, bulky waist pack that is meant for hiking and storing water bottles with you when you're traveling or spending the entire day on your feet. If you're simply going for a walk with your dog, you may want to opt for a smaller, compact waist pack to hold all your necessities like your cell phone, keys, and doggy bags. Purchasing my own tiny waist pack for this sole purpose saved me a lot of annoyance and provided freedom in movement when going for walks or runs with my dog. A bonus is also if the waist pack comes with an headphone jack hole, making it the perfect accessory to run with.
Fit
Lightweight
You definitely want to consider the size, weight, and bulk of the waist pack. Like the functionality of the waist pack for the activity you are using it for, the size should be appropriate. Waist packs can come in small, medium, and large sizes. You want to look for lightweight waist packs before anything else. One of the primary purposes of a waist pack is to limit strain on your hands and shoulders and keep them happy and free. Once you experience the freedom in having all your belongings attached to your waist and not dragging along your back or shoulders, you will be converted. However, you want to make sure they are lightweight to limit strain on your waist, as this can cause muscle strains and uncomfortable posture. A lightweight waist pack should provide better balance as you are not toggling the weight back and forth from a backpack or handbag. If you are hiking and sporting a day pack or a backpack, you are adding weight and pressure on top of your back, most likely causing your shoulders to sag or your head and waist to lean forward. That, over time, can cause damage to your spine. A lightweight waist pack can limit pressure and cause a more natural and upright posture, the way that humans spines are supposed to be aligned. Furthermore, a lightweight waist pack causes you to consider what is important to bring along and what isn't. I can't tell you how many times I found my shoulders starting to hurt, only to look inside my giant purse and see all the unnecessary items I was choosing to bring along with me everywhere I go. I would find portable hard drives, bottles of hot sauces, planners, you name it! These were definitely not necessities that I needed to bring with me when I'm just going grocery shopping! With a lightweight and compact waist pack, you only bring along your necessities with you like your wallet, phone, and keys.
Comfort
Comfort
Although waist packs are naturally more comfortable to use than the average handheld bag, you do want to make sure that the one you choose is comfortable for you. Make sure that the waist pack has adjustable buckles and straps that can fit your specific shape. Some waist packs can run smaller or larger for the average person. If it's smaller, they can cause unnecessary pain by digging into your sides, and if they're larger, they can cause constant adjustment which is annoying. The best waist bags should be able to be adjusted, with flat belts to lay against your skin. You also want to make sure that they are not bulky or jutting out. This can cause discomfort as well as be unflattering. Because you're freeing up your hands for your activities, you want to make sure that you are as comfortable as possible.
Style
Style
Because fanny packs are now rebranded as "waist backs" and have made a comeback, you can find a variety of different styles in colors to match your personal style and match with different outfits. You don't have to wait for an event to wear a waist pack- you can even find some designer handbags that have waist pack subsets, which are chic and perfect for a night out! I've seen designer waist packs, studded waist packs, neon-color waist packs. You might even find companies that custom design your own. These style of waist packs are extremely popular among music festival attendees as they are perfect- for both men and women- to carry their personal items that they may need without having to carry around with them all night. You also want to consider certain reflective styles for visibility- this can not only be helpful for finding your friends at night in large crowds, but can also help for those who like to run at night and maintain visibility to drivers for safety purposes.
Top 10 Picks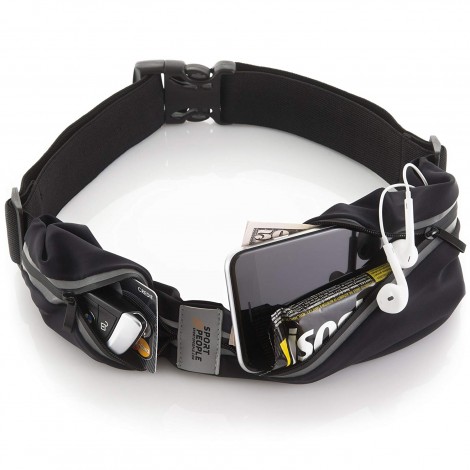 To start off our list at #1 is the most modern "2018" version of the previously bulky, clunky fanny pack. With a sleek design that looks more like a belt, you'd be surprised at how many items can fit into it, freeing your hands for all your activities. This belt is perfect for running, hiking, or any gym or outdoor activity.
Slim Design
This waist pack is slim and inconspicuous enough to look like a belt but has deep enough pockets to fit your phone, cards and keys. Although the waist bag itself is small, it is able to fit all shapes and sizes, from 27.5 inches to 40 inches, and stays in place for all your activities!
Headphone jack Hole
This comes with a hole for your headphone jack to slide through, so this is a perfect accessory to wear for runners or gym goers who like to listen to music and getting that extra motivation. The hole makes the headphone wire secure so you don't have to worry about dangling wires in your way.
Cost and Value
This is a very popular waistpack that even comes with an extended warranty. Given that this waist pack is also sweat and water resistant, you'll get many uses out of this. It is also pretty affordable, considering the modern design and durable material, making this a worthy purchase.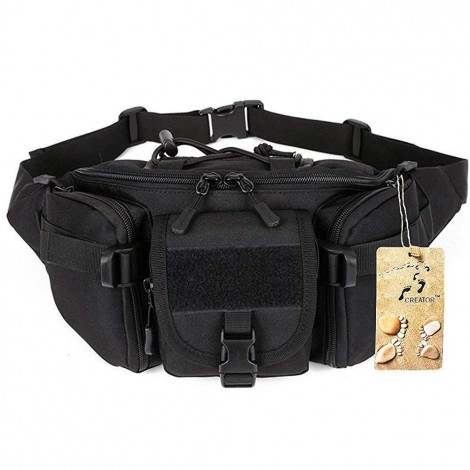 Switching gears on size now, we introduce a highly durable waist pack that is truly meant for the outdoors. One look at this and you can imagine this as a perfect companion to your hiking, fishing, and outdoor adventures. This is not only practical but also comes in a variety of styles, which can make this a unique Father's Day gift that can fit his personal style.
Functional Pockets for Extra Usage
This comes with one front pocket with a zipper on the outside of the pack, two side compartments, a close-fitting zippered pocket, and an interior pocket. This is perfect to fit all your outdoor gear os you can take everything with you.
High Density Nylon
Since this waist pack is meant for the outdoors, the quality of fabric is meant to last under the toughest of conditions. Every waist pack also comes with a high-grade buckle and is lined inside with waterproof silky cotton.
Cost and Value
This comes in 8 different colors and styles, and the price point can vary by a few dollars based on the style you choose. Given the lifetime support guarantee and 1-year warranty, along with the durability and multi-functionality of this product, this is a solid purchase at an affordable price point.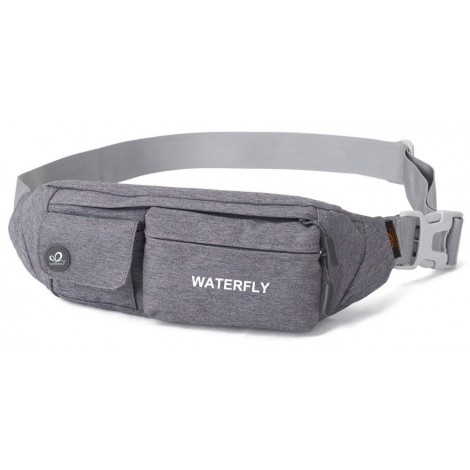 If there's a waist pack that we would purchase personally from this list, it's this one! With a slim, compact, and fashionable design, this product can work for any occasion and with any outfit. I can picture myself using this for running, at the gym, at outdoor festivals, or when traveling!
Water Resistant Nylon Material
This product boasts of its water-resistant fabric that you can even try splashing water on it to test it. This is especially important for outdoor activities, rain, and sweat.
Small but Roomy
This comes with one main pocket, two front zipper pockets, and a hidden rear pocket. This is perfect for storing your cards and passport when traveling along with your cell phone and other necessities! The size dimensions are 7.8 inches by 2.1 inches by 9.4 inches.
Cost and Value
This comes in 8 different colors (black, brown, dark grey, green, grey, pink, purple, and red), so you can find one that fits your personal style. Prices remain the same for all colors, and given that this material is waterproof, it's well worth the price, which is very fair.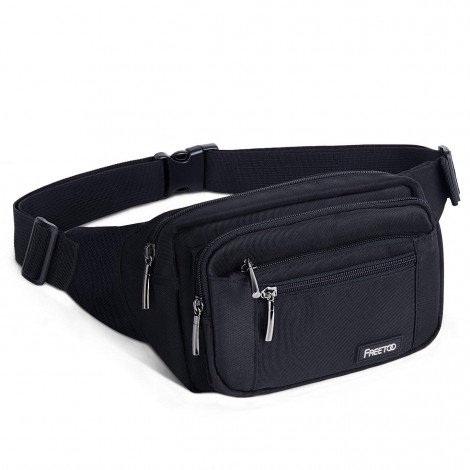 This waist pack has a no-frills, classic style that not only pairs for any occasion, but also provides the functionality you need. With ample room, durable material linings, quality zippers, and adjustable straps, this waist pack can work for virtually anyone.
Very Roomy
There are 5 separate zippered compartments in this waist pack in different sizes to fit your different needs. The largest pocket can even hold a standard 16 oz water bottle, and the smaller hidden pocket can hold keys for extra security, making this the perfect hiking accessory.
Wear Resistant Material
This is made from a highly durable 1000D Polyester that is meant to last for years. Although this bag is sturdy, it is not rigid and can be pliable. It also comes with heavy duty zippers that won't break easily.
Cost and Value
This is a risk-free purchase, coming with a 100% satisfaction guarantee, or your money back. This also has an 18-month warranty, so this tells you that the waist pack is made from quality material. This comes in two colors, black and grey, and is considered low-cost for the quality.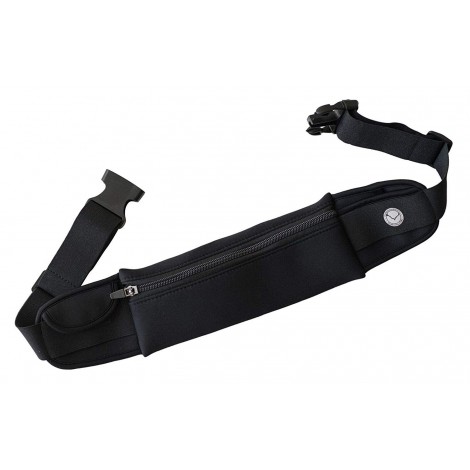 When you think of the Belt of Orion, simplicity and sophistication should come to mind. This waist bag is clearly designed to provoke that aesthetic, with it's sleek, discreet look. For those who want to have minimal bulk while having a place to store their goods, this item is perfect.
Subtle, Discreet Look
Some waist packs or fanny packs are known to add bulk or discomfort around the waist due to their large circumference, but this one is designed to be a perfect waist fit that lays flat against your hip and can even be worn under your clothes discreetly, making this the perfect travel companion.
Compact but Spacious
This has a compartmentalized main pocket which can fit most phones, along with two side pockets and a key clip. You can fit your money, cards, keys, and headphones to keep your hands completely free.
Cost and Value
This comes in two different sizes, the classic (16 inches X 3.5 inches) and the travel edition (16 inches X 4 inches) but both are the same price. These come in a little pricier than the ones on this list, but it may be worth the few extra dollars for those that like the subtle look.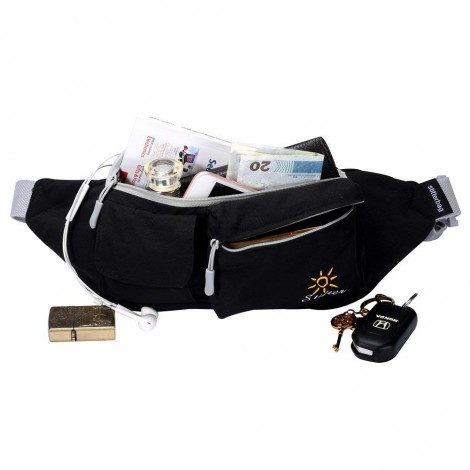 This has a modern looking twist on the classic fanny pack, but provides the basic functionalities and more. With a large capacity, comfortable design, high quality materials, and a variety of colors, this waist pack is a classic that anyone can enjoy.
Large Holding Capacity
This waist pack has 5 different compartments and can hold up to 2L, even though from the outside it doesn't look like it! The separate compartments allow you to keep your items organized and safe, and even comes with a separate back pocket for your smartphone to keep from scratching.
Top Quality RAW Materials
For the environmentally conscious, you'd be glad to know that this item is made from eco-friendly material which are REACH standard. This is also made from waterproof material, keeping your items safe from the rain. The cotton fabric also supports air flow so that your waist is not heating up from trapped air.
Cost and Value
This comes in 4 different colors- black, peach, red, and yellow- and prices can vary according to the color you choose. Stifter is known to be a sewing manufacturing company, so you know that the stitching on this product will be high quality. This also comes at a modest price point.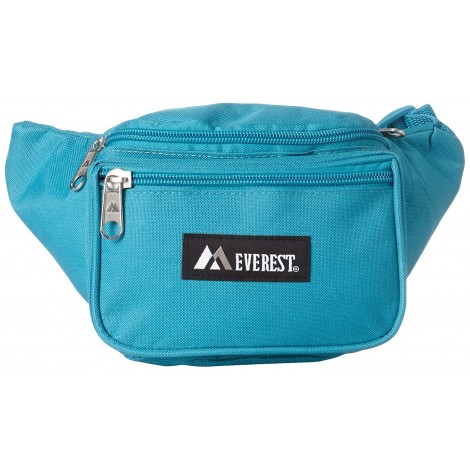 Everest brand fanny packs are considered to be the leader among waist the bunch, and can be considered the most recognizable style. This is a classic, no frills waist pack that is designed to be the perfect accompaniment to anyone's daily journey.
Designed for Everyday Use
Forgo your purse or "murse" and pick up this signature waist pack! This is designed for everyday use- no muss, no fuss. It is 3 compartments to keep your wallet, phone, and keys organized, while coming in a variety of different colors to fit your daily use.
Roomy
One customer states that she can fit a wallet, 3 smartphones, sunscreen, a granola bar and two pairs of sunglasses with room to spare! This makes this the perfect companion, especially when you're going to be out for long periods of time and you might need a snack with you.
Cost and Value
Given that Everest is one of the leaders of the waist packs out there, you'd expect this brand-name accessory to be higher in cost. It is actually the lowest price on this list, with a variety of different colors, making this one of the best value products.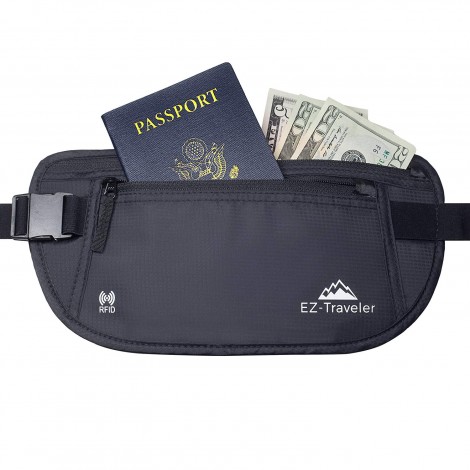 What's the worst thing that you experience at the airport? Other than the excruciating line at the TSA, it's probably fumbling around in your purse or wallets, scrambling to retrieve your ID's and pockets every time. This waist bag is specifically intended for the traveler, getting rid of all the annoyances that come with traveling.
Theft Protection
You never want to be a victim of identity theft when traveling. This comes with two RFID blocking layers built right into the material, which mean that your credit card and identity information cannot be scanned through the layers, which is a common method of theft by digital pickpockets in large, crowded spaces.
Comfortable and High Quality
This comes in a moisture-wicking and ventilated mesh panel, which is designed to keep you cool and be sweat-proof. This money belt will hold its form even in the toughest and hottest of conditions, while laying flat against your skin.
Cost and Value
You can't put a price tag on security. With the anti-theft technology of this money belt, you'd expect that this waist bag would be very costly, but it is actually very economical. This comes in 3 different colors- beige, black, and safari green. You'll be glad to have this as your next travel companion.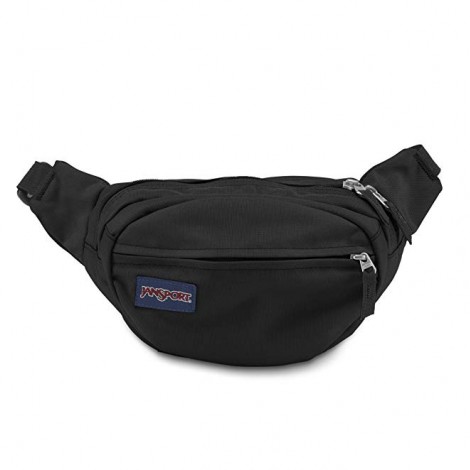 Ah, Jansport. Taking me back to simpler times in elementary school with my Jansport backpack that all my classmates wore. JanSport is definitely a leader in the baggage industry, so it's no surprise that the waist pack is widely popular as well. Similar to the Everest Signature Waist Pack, this is designed for everyday use.
Variety of Styles
You don't have to stick with a boring black or militaristic waist pack. This comes in over 20 different styles, with some bringing you back the 80's nostalgia with their funky patterns and neon colors. You can definitely find one that will fit your personal style or event.
Ample Room
This is a 150-inch cubic pack that holds enough for daily or active activities. The compartments are large enough to hold snacks, a book, and other basic essential items, so you can use this waist pack for just about any occasion.
Cost and Value
Jansport is the leading backpack brand since 1967, so they definitely know what they're doing when it comes to creating the perfect backpack accessory. The prices can vary depending on the style or color you choose to get, and also comes with a defect warranty, so you know that you're paying for quality goods.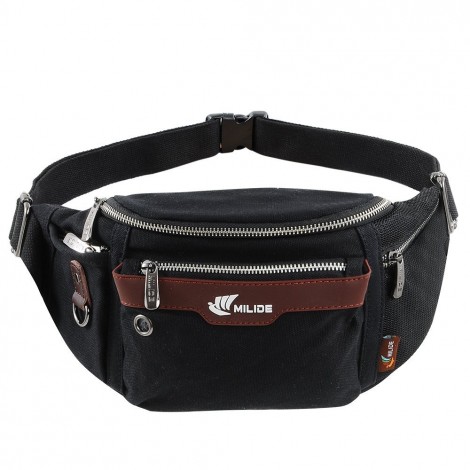 This unisex waist pack has a classic, almost vintage look with it's black fabric and mahogany colored leather straps. It is both elegant and modern in style while being made from heavy-duty thick material that is mean to last for years. If you're looking for a classic waist pack that can be worn for athletic purposes or even for work, you won't be disappointed with this waist pack.
Heavy Duty Material
You don't want to purchase a cheaply made fanny pack made from poor quality material, only to repurchase another one several months later. This is made from high quality, waterproof material that will keep all your items safe.
Very Roomy
You can definitely forgo your other carrying items with this waist pack as it is large enough to hold all your belongings with room for more! This can even hold with largest smartphone with a titanium cover in the smartphone pocket, with room to spare!
Cost and Value
This product has all the qualities of the waist packs listed- quality material, roomy, adjustable waist straps, and a classic, stylish look. Customers are very satisfied with this product, and the price point is very fair.

Subscribe to our Newsletter