Best Scratch Maps Reviewed & Rated for Quality
In a
Hurry? Editors choice: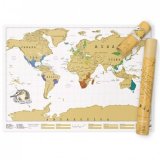 Test Winner: Luckies of London

Everyone has a bucket list for where they want to travel to. That bucket list very quickly becomes a pipe dream that get s tucked under the bed when it isn't engaged with. If traveling is important to you, and if you want to see all the corners of the globe, a scratch map is the right choice for your next buy. A scratch map is a lot like traveling itself, where you will find yourself filling in all the strange and far away places that you have gone. A scratch map is a good way to inspire you to keep trying to get out there and see something new. This list ten of the best scratch maps that you can find on the market. There are lots of little extra features that can transform your scratch map into something special and personal.
Standout Picks
Criteria Used for Evaluation
Ease of Use
It can be a tricky balance to achieve when it comes to making sure that the scratch map holds onto its top foil. It should be able to come off easily, but it also needs to retain the layers when it is getting rubbed by things other than a coin or scratcher. The best ones use a latex-based layer that is great for holding on just enough. The simplicity with which it can be removed is also important. It should be as easy as finding any kind of coin that is lying around, or the scratcher should at least have a compartment to hide out in. It should also be very easy to read the map, and that means that the map should have easily defined lines for where every country is. This category is a rating of how easy it is to scratch off the map, and for how easy it is to read the map in general.
Durability
It's important to find a scratch map that will last. It can be difficult for the scratch map to keep itself together for a few reasons. It isn't just a paper or cloth map. There are usually layers of laminate and scratching material on the map. All these things need to be able to keep their shape for the scratch map to be a good purchase. It is possible for the plastic that encases the map to come undone or grow bubbles in the heat of a hot car. It is also possible that the map could become permanently bent when it is being rolled and unrolled. For the maps that don't use laminate to protect the colors, it is easy for your scratching of the surface to damage the picture that is hidden underneath. This category is a rating of how durable the materials of the map are.
Style
If you are getting a scratch map then you are probably going to want to present it somewhere so you can show off your travels to the world, and just so that you can look at it once in a while. The style of the map is very important to getting you excited to use the scratch map. This is true for the unscratched parts, and for the scratched parts of the map. It would be a good idea to like the style of both before you decide to buy a map. The world is a very big place, and some of those countries are going to remain unscratched, sadly. There are multiple styles that these maps go for. Some use different colors for each of the countries, while others use things like flags or important landmarks to show off the country underneath. This rating is for how nice the maps look, in general.
Features
A scratch map is a simple concept, but there are many things that these companies can do to improve the experience for the person using it. The most obvious example is the Luckies of London journal, which combines a scratch map with a travel journal. There are tons of other useful features too, though. Some of the maps are designed so that you can put stickers and other markers on them. This makes the map double as a way of remembering your adventure, and for planning on where you want to go next. Another great feature is that some of the maps can be marked with dry erase markers, which completely transforms the way that they can be used. The is category is a rating for how many extra uses you can get out of your scratch map.
Value
The wide variety of prices among these maps can be explained in a few ways. One is the size changes a lot of what you are getting out of the map. Some maps are small and made for travel, while others are made for the wall. Speaking of that, the most expensive map on this list costs as much as it does because it comes with a frame. It is a high quality map, and it goes all the way down to the wood it is framed on. Another thing that can affect the price of the map that you want to buy is the materials that make up the map itself. Some are built on card stock, while others are built on laminate, or have maps that are made out of cloth. Build quality and size are the biggest factors in the price of these maps. The amount of value that you get for each dollar is the deciding factor in this category.
Subscribe to our Newsletter