Best Scratch Maps Reviewed & Rated for Quality
In a
Hurry? Editors choice: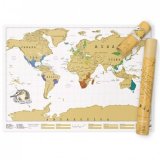 Test Winner: Luckies of London

Everyone has a bucket list for where they want to travel to. That bucket list very quickly becomes a pipe dream that get s tucked under the bed when it isn't engaged with. If traveling is important to you, and if you want to see all the corners of the globe, a scratch map is the right choice for your next buy. A scratch map is a lot like traveling itself, where you will find yourself filling in all the strange and far away places that you have gone. A scratch map is a good way to inspire you to keep trying to get out there and see something new. This list ten of the best scratch maps that you can find on the market. There are lots of little extra features that can transform your scratch map into something special and personal.
Standout Picks
Criteria Used for Evaluation
Ease of Use
It can be a tricky balance to achieve when it comes to making sure that the scratch map holds onto its top foil. It should be able to come off easily, but it also needs to retain the layers when it is getting rubbed by things other than a coin or scratcher. The best ones use a latex-based layer that is great for holding on just enough. The simplicity with which it can be removed is also important. It should be as easy as finding any kind of coin that is lying around, or the scratcher should at least have a compartment to hide out in. It should also be very easy to read the map, and that means that the map should have easily defined lines for where every country is. This category is a rating of how easy it is to scratch off the map, and for how easy it is to read the map in general.
Durability
It's important to find a scratch map that will last. It can be difficult for the scratch map to keep itself together for a few reasons. It isn't just a paper or cloth map. There are usually layers of laminate and scratching material on the map. All these things need to be able to keep their shape for the scratch map to be a good purchase. It is possible for the plastic that encases the map to come undone or grow bubbles in the heat of a hot car. It is also possible that the map could become permanently bent when it is being rolled and unrolled. For the maps that don't use laminate to protect the colors, it is easy for your scratching of the surface to damage the picture that is hidden underneath. This category is a rating of how durable the materials of the map are.
Style
If you are getting a scratch map then you are probably going to want to present it somewhere so you can show off your travels to the world, and just so that you can look at it once in a while. The style of the map is very important to getting you excited to use the scratch map. This is true for the unscratched parts, and for the scratched parts of the map. It would be a good idea to like the style of both before you decide to buy a map. The world is a very big place, and some of those countries are going to remain unscratched, sadly. There are multiple styles that these maps go for. Some use different colors for each of the countries, while others use things like flags or important landmarks to show off the country underneath. This rating is for how nice the maps look, in general.
Features
A scratch map is a simple concept, but there are many things that these companies can do to improve the experience for the person using it. The most obvious example is the Luckies of London journal, which combines a scratch map with a travel journal. There are tons of other useful features too, though. Some of the maps are designed so that you can put stickers and other markers on them. This makes the map double as a way of remembering your adventure, and for planning on where you want to go next. Another great feature is that some of the maps can be marked with dry erase markers, which completely transforms the way that they can be used. The is category is a rating for how many extra uses you can get out of your scratch map.
Value
The wide variety of prices among these maps can be explained in a few ways. One is the size changes a lot of what you are getting out of the map. Some maps are small and made for travel, while others are made for the wall. Speaking of that, the most expensive map on this list costs as much as it does because it comes with a frame. It is a high quality map, and it goes all the way down to the wood it is framed on. Another thing that can affect the price of the map that you want to buy is the materials that make up the map itself. Some are built on card stock, while others are built on laminate, or have maps that are made out of cloth. Build quality and size are the biggest factors in the price of these maps. The amount of value that you get for each dollar is the deciding factor in this category.
10 Best Scratch Maps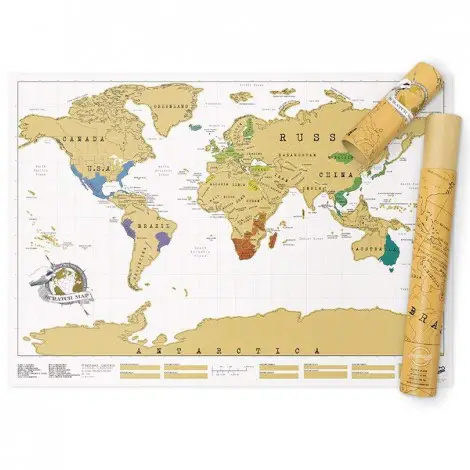 This option from Luckies of London is the original scratch map. It gives you the feeling of being an explorer discovering the world for the first time.
Original Scratch Map
There are lots of different variations on the theme that have come out over time, but this map does it best by keeping it elegant and simple. It is made out of premium materials that are very durable, so you don't have to worry about bringing it with you. It has a very accurate map that makes it easy to see exactly where you want to go and where you have been.
Other Features
There are lots of other things to love about the Luckies map. It comes with a carrying canister that is very easy to put the map into. This makes it easy to bring the map along with you. It also has a features that lets you plan your trip, which makes it a great tool for rolling out when you are on your journey so that you can see where it is you are going next.
Cost and Value
Another great thing about the Luckies map is that it costs a lot less than many other options on this list. It is designed to keep it simple, but effective. It is easy to store away, but it is also easy to take out for both planning, and commemorating all the successes of a journey around the world. The classic stylings of the map only add to its mystique.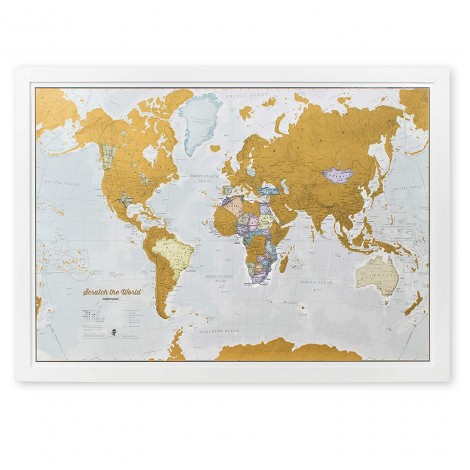 The Luckies of London map is a simple travel map for commemoration, while this map is a good choice if you want a functional map that just so happens to be scratchable.
Detailed Map
The map from Maps International prides itself on being a fully developed and accurate map. It comes with very detailed cartography that you would find on a professionally made map. Something great is that you get extra details about the country once you scratch off the top layer, such as things like the mountains and capitals of the countries.
Other Features
There are lots of other things to get excited about when you buy the Scratch the World map. It is designed to be hung on the wall, instead of travelled with. It is perfect as a large poster to hang in your room. It is thirty-three inches across, and twenty-three inches high, which is great for putting in the living room or bedroom as an interactive art piece.
Cost and Value
For such a large and detailed poster, the Scratch the World map is quite a good deal. It does cost more than the one from Luckies, but it is for the sort of person who is looking for something more detailed. If you don't want to be able to travel with your map, and just want something that you can show off on the wall in your home, then this is the right choice for you.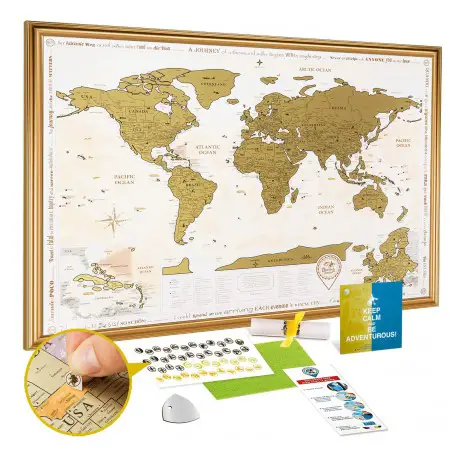 This map from Discovery Map is great for those who want the presentation of their map to be impeccable, given that it comes framed for you.
Framed Scratch Map
This is the real premium stuff when it comes to finding the right scratch map for you. It has a beautiful design that is centred on the wooden frame that it hangs on. The frame is incredibly large, and comes in a large amount of different styles so you can choose the right one for you. The map can easily be removed from the frame too, for if it wants to come traveling.
Other Features
There are lots of other good things going on with the Discovery Map. It is a very large map that is perfect for hanging up on the wall. It is three feet across, and two feet tall. The map itself is quite detailed, and has lots of extra features like capitals of countries, and important parks and highways in some of the countries. It also comes with a tote bag.
Cost and Value
The Discovery Map is quite a bit more expensive than the previous two options. That is because it comes with a beautiful frame. The level of elegance that comes with the display of the Discovery Map is hard to discount. This is a good choice if you are planning on buying the map as a gift for somebody, or want a centerpiece for your home.



The GoGoUnique gets rid of the simple style of the previous maps, and instead goes for something brighter and educational with the addition of maps.
Scratch Map with Flags
The flags on this map give it a much more colorful appearance that makes the entire map pop. Every space on the map that you scratch off is rewarded with that country's flag. This is great for helping hit home the travels that you have gone on, but it is also a great educational tool. You will find yourself knowing the maps of the world in no time.
Other Features
The GoGoUnique comes with lots of other things that make it a good choice for anyone who is even a little interested. It comes with lots of useful tools to help you scratch off the countries, including scratchers for both small and large areas. A very clever addition is a microfiber cloth that you can use to clean up the area that you have scratched too.
Cost and Value
If you are looking for something a little more colorful, then it would be a good idea to go with the GoGoUnique. Its eye-catching design will have you excited to go on more adventures as soon as possible. It comes with lots of tools, and even a list of all the flags in alphabetical order so you can see the flags in all their glory. It doesn't cost too much, either.

5

. Luckies of London Deluxe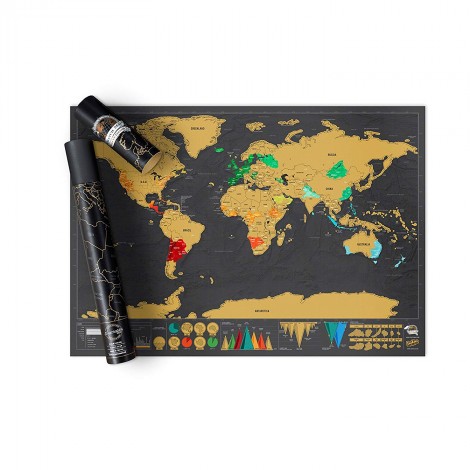 Luckies of London has a few different spots on this list. The Deluxe edition of their scratch off map comes with some bonus features for those who want something more detailed.
Deluxe Map
There are a few differences with the deluxe map that make it a good sell for someone who wants a little more. It has been designed on thick card stock so it is extra durable when compared to other maps. It also has more detail designed into the nap. There are now lines for all the states and provinces in North America, and there are other extra details.
Other Features
The Deluxe map has a lot more going for it, too. It has a new finish on it that makes it really stand out. It is now gold laminate on top of the card stock. The card stock has been recolored in black, which makes it a very pretty map to hang up on the wall. It also comes with stickers so you can plan out a trip for yourself right on the map, which gives it a dual purpose.
Cost and Value
Although it costs more than the standard map from Luckies, this map is a really good deal. A lot of it is what kind of map you prefer. This map is probably better to hang in a home, given the reliance on style it has, while the standard map is a good choice for anyone who wants to be able to take their map traveling. The Deluxe map form Luckies is a great addition to any traveler's home.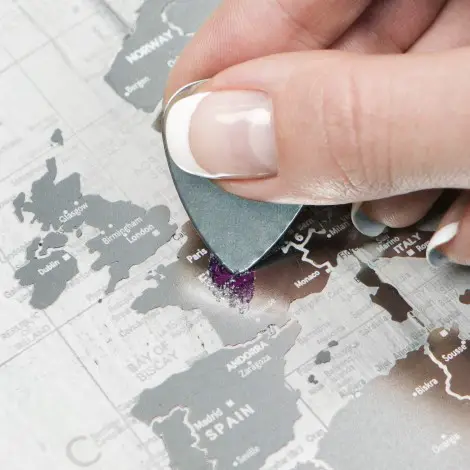 For a totally different sense of style, think about getting the map from 1DEA. It is transparent, which really makes the places you have been pop out.
Transparent Scratch Off Map
This map is a little different than the others on this list. It is made out of a clear plastic. This has a ton of advantages that are worth getting excited about. It has a totally different look than the other options on this list. It is also markable. If you want to do any planning for future trips, then this map works like a whiteboard, where you can use dry erase markers for planning and wish lists.
Other Features
The 1DEA map is also well-constructed enough to get it for other reasons. It comes with all the accessories that you could want to make your map your own. It comes with a scratcher, pins for hanging and choosing place, and a marker and cloth for keeping the surface clean. It also comes with thousands of landmarks to give a very detailed map.
Cost and Value
The 1DEA map costs a bit more than the other options on this list. It will probably be the biggest thing that holds it back from the top of the list. The fact that it doubles as a whiteboard makes this a great map with multiple uses. It can be a travel portrait so you can track where you are going, and remind yourself of where you have been.

7

. Luckies of London Journal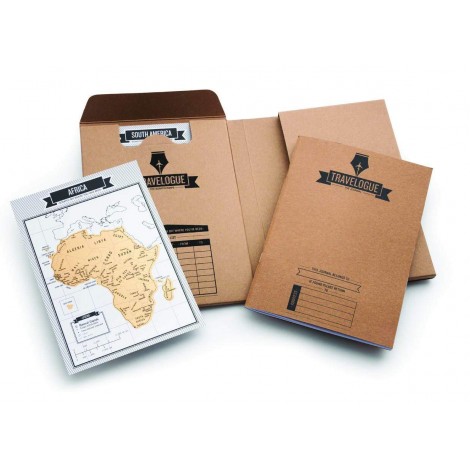 The Luckies of London make another appearance on this list. This is a little bit of a different choice. It is a travel journal that includes scratch maps so you can keep progress of your journey.
Travel Journal
Everyone should have a travel journal with them when they go on a journey out into the world. It makes it easier to remember the sights and sounds that you have taken in. The travel journal from Luckies is even better because it comes with eight different maps for each of the continenets that you can record your journey on as you go.
Other Features
The Luckies of London journal is a great idea for anyone who wants to be able to take their scratch map with them on the road. The journal is divided into different sections that make it very easy for you to find all the things that you want to do, and to keep yourself organized. There are also handy pockets in it so you can store all your important travel documents.
Cost and Value
The great thing about the travel journal is that it has a lot of utility and portability. This is the perfect addition to any traveler when they are planning on hitting the road. Even better, it doesn't cost very much at all. This pocket-sized notebook will make your travels easy to celebrate, and easy to bring along with you.

8

. Awesome Maps Bucket List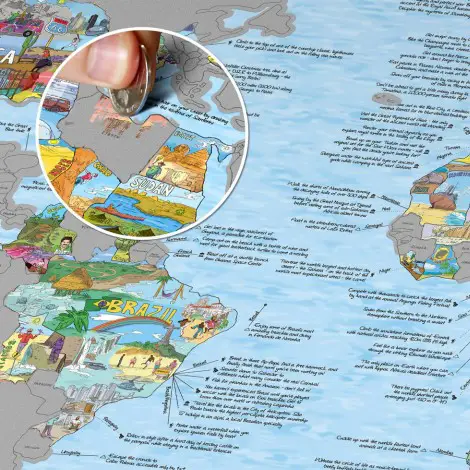 The Bucket List map comes with a new addition compared to the other maps. It gives you tons of recommendations on places to go in each of the places on the map.
Bucket List
One of the hard things about traveling is that you are always concerned about missing out on the good stuff, whether it is the big tourist draws, or the smaller hidden gems. The Bucket List map is a scratch map that will give you tons of pointers on places you should go and things you should do in all of these places.
Other Features
There are lots of other reasons to buy the Bucket List map. It is made out of very high quality material. It has a silk layer that is then covered in laminate for the scratching layer. This gives the map a high quality look that also makes it very durable. The other great thing is that it has very colorful illustrations under each of the scratchable parts. This makes it very rewarding every time you go somewhere.
Cost and Value
The biggest draw of the Bucket List map is that it gives you tons of ideas on where you should go when you get somewhere. It is perfect for inspiring you to travel. It costs a little bit more, but it has such high quality construction that you won't feel like you have been ripped off. This is a great choice if you want to get someone something as a gift.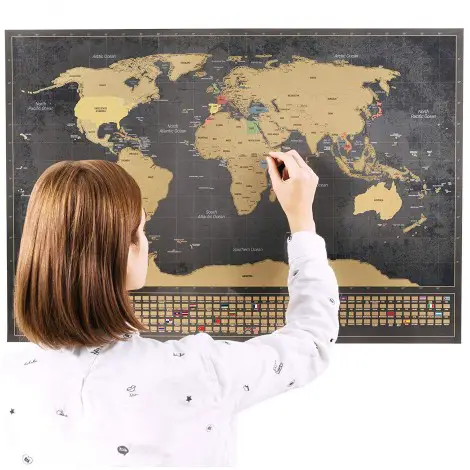 The Enno Vatti map is a simple and elegant choice that does a good job at being a good map for just about anybody who wants a nice decoration for the wall.
Elegant Scratch Map
The Enno Vatti has a very nice display that makes it a good choice for anyone who is thinking about presenting their map on the wall. All the countries have a different color that makes it a very nice thing to slowly reveal. The color scheme of the unscratched parts are also very nice, and use a gold flake on black background that is visually impressive.
Other Features
There are other reasons to think about getting the Enno Vatti beyond its looks. This map is actually a great cure for the issue of if you should get a map with divided state lines by just giving you a second map that is just for the United States. This is perfect for being able to track your adventures abroad, and at home.
Cost and Value
The Enno Vatti is a very simple map, but it has such a nice presentation that it is worth putting on this list. It does a good job of being a great centrepiece for any home. Another great thing about this map is that it doesn't cost too much either. It gives you great presentation and a simple design, and it does it all at a very low price.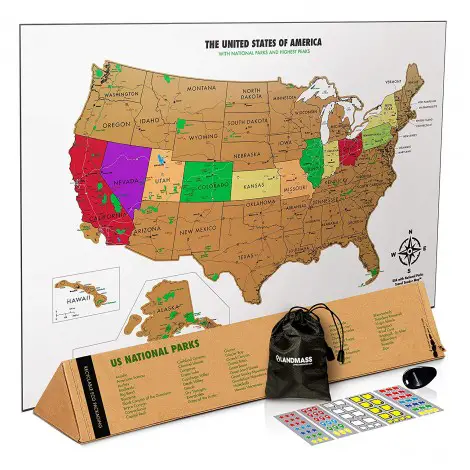 The final entry on this list is a good way to capture that niche of the local traveler. The Landmass map is a good scratch map that focuses on the United States.
United States Map
This map of the United States will make it very easy for you to plan your next trip, or to remember the one you just went on. It has a high level of detail. This includes all of the capitals of the states, some of the highest mountains in the country, and over fifty different national parks, so that you can show exactly where you have gone.
Other Features
The Landmass map has some other features that make it a good addition to anyone's home. It comes with different colors for all of the states so that the map has a very pretty look as it is revealed. It also comes with a convenient bag that makes it very easy to package everything away. It comes with stickers so you can easily mark out your next trip.
Cost and Value
The Landmass map is a good idea for anyone who is more focused on remembering their trips within the United States. It is a great thing to bring along on a road trip as you color in the entire map. Another great thing about it is the very reasonable price you can buy it at. It also has a frame that you can buy separately for when you get home from your journey.

Subscribe to our Newsletter