Best Toe Socks Reviewed & Rated
In a Hurry? Editors choice: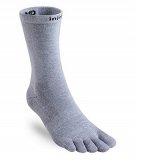 Test Winner: Injinji Liner Crew

Did you know that blisters are one of the most common problems runners have to face? How many times did you have to deal with a blister in between your toes? Socks are one of the most important things you put on your feet when running, working out, or even just walking. Picking out good socks are sure to keep your feet comfortable. We only get one pair of feet our entire life so why not take care of them and make them last. Toe socks are just one of the many
socks
offered on the market and have many benefits to wearing them. With toe socks, you won't have to worry about those unruly blisters or unwanted friction. Toe socks are designed to have each toe encased in fabric just like a glove! Check out our top ten list to find the best toe socks for you!
Standout Picks
Criteria Used for Evaluation
Materials
The original toe socks were plain white socks. These socks were made from cotton, the original style. As time progressed, toe socks got more and more advanced, switching to different materials as time passed. The majority of toe socks are now made out of polyester and acrylic materials. Some even include spandex material, for the more compression style socks. The best material really depends on your intended use, If you need something to keep you warm, then cotton, fleece, or wool is the way to go. If you need something for your active lifestyle, something more lightweight and breathable is the way to go.
Fit
Fit and comfort go hand in hand. Although the material also plays a role in how comfortable the socks are, the way it fits your feet is also very important. Uncomfortable socks can cause blisters and make your feet and toes hurt, which in turn makes it hard to walk and perform. You don't want socks that are too tight or too loose. Look for something that fits snug, yet allows you to easily move your toes around. One of the main purposes of toe socks is to improve your feet's overall health by providing you with more comfort, better performance, and great breathability. But if they don't fit right, then it can't do any of this!
Breathability
Most toe socks are made to appeal to athletes, they are made out of a breathable mesh top to ensure the sweat leaves and ensure your foot stays dry. Blister prevention is another exciting benefit to owning toe socks, with the breathable mesh top it allows any moisture to leave quickly to prevent blisters and any other foot issue you can acquire with the wrong socks.
Did you know that your feet are the sweatiest part of your body? You rely on your feet a lot throughout your life. Why not make sure you spend the time and money on finding a good sock to take care of those feet. You only get one pair in your entire lifetime. This is why breathability is such an important factor. It will help prevent bacteria, fungi, and bad odors from forming and growing.
Use
It is said that toe socks serve many purposes that the original sock cannot, for the athlete. Tension, compression, and friction will be a thing of the past when wearing toe socks. These socks can also be more breathable, allowing air to circulate better than a traditional sock. A few of these benefits can take you a long way when it comes down to performance, allow you to meet and exceed current goals.
Friction is an ongoing issue when it comes to runners. Typically, toe socks are designed to separate the toes, preventing friction and reducing the risk of uncomfortable blisters. Once you obtain a blister, the rest is history, there is no want to run or even walk as the discomfort becomes so extreme. Not only do these socks prevent the risk of friction from the toes to the shoes, but they also assist in the prevention of the toes rubbing on one another, causing more discomfort.
Value
By wearing toe socks, you have the ability to separate the toes, also preventing the friction that will cause blisters. If you are a waitress or work on your feet, blisters are a common occurrence. So, preventing the issues before they start is always the smart route. Also, toe socks can be purchased as compression socks, which will also help sore feet and legs. With the help of the compression style socks, you can recover your legs faster than wearing normal socks. With these simple tips, you have a great benefit to wearing these toe socks.
A lot of athletes use toe socks to prevent the friction between the toes. Distance runners are a big fan of toe socks as well, for the simple fact that a good pair of toe socks eliminate blisters and friction. Toe socks offer many benefits. Toe freedom, being one of them! Think about this, your hands are most beneficial when all of your fingers can move independently, think about if you were to put mittens on your hands well you can't quite grab something as well as if your hands were in gloves, so why do the same thing to your feet? I realize putting a shoe on over your foot is like a mitten but think of your toes on the inside of your shoe, you're bound to get more stability with toe socks than just socks in general.
10 Best Toe Socks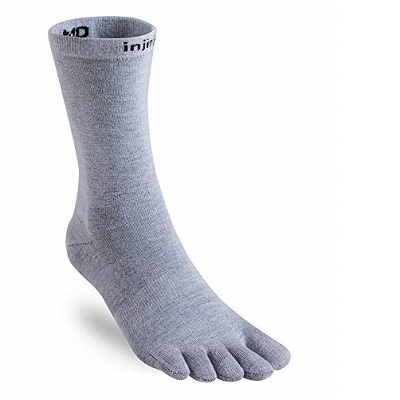 These socks are to be worn as the first line of defense against moisture and blisters. The Injinji Crew Toe socks Liner is an extremely thin 5 toe base layer to be worn with your favorite sock. Liners offer superior moisture management and eliminate skin on skin friction which is one of the primary factors in causing blisters. These liners offer proper toe alignment and hot-spot protection.
Breathable
Injinji sock liners are light and breathable. Use them as a first layer paired with a thicker outer layer or you can wear these toe socks alone as well. Each toe is wrapped in sweat-wicking material so your foot will be drier and therefore more comfortable than in traditional socks.
Durable
The more needles the better, the Injinji liners are made with a 200 needle count. Making these Toe sock liners lightweight breathable sturdy and more durable. The fiber content used to make these Injinji liners are made with 75% COOLMAX 21% nylon and 4 % Lycra making this one comfortable Toe sock.
Cost and Value
The Injinjis Toe sock liners are on the expensive side of toe socks. That does not mean that they aren't a steal or worth every penny. Injinjis are a universal toe sock. They can be worn either inside another sock or just by itself. The Injinji toe liners are good to lock moisture out and keep your toes from rubbing together and causing those nasty in between the toe blisters. The value is definitely worth it. Injinji toe socks seem to be the go-to sock for durability.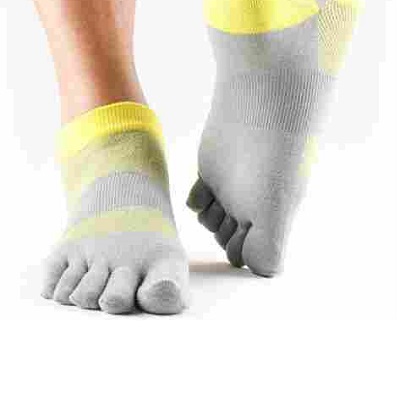 Toesox are better for your feet. Whether it be barefoot running, yoga, pilates, or just wearing them in shoes. Toesox help spread your toes, increasing stability on your feet. Better blood circulation and also strengthens certain foot muscles. The Toesox help enhances your performance in any sports activity. Barefoot runners can use these ToeSox in minimalist shoes and ensure a lightweight feeling. ToeSox help naturally exercises your feet while allowing each toe freedom of movement. Encouraging toes to spread for, stronger, healthier, and happier feet.
Organic Cotton
Toe Socks are made with organic cotton, spandex, and fiber blend. All cotton is sourced and certified as organic cotton. It's like your barefoot but even better. These socks are made for all barefoot activities. The hygienic aspect of these socks is amazing. Designed as an open footed sock it still covers all the necessary requirements need to make sure you are protecting your feet from foot fungus and friction.
Grip
The 5 toe design allows the foot and toes to move with much freedom. The fitted heel on these ToeSox is to make sure the sock does not bunch or twist when doing your sports activities. The arch band ensures gentle lift and minimum pressure. The ToeSox patented grip lock technology provides nonslip and secure foot placement.
Cost and Value
A little more on the expensive side, these toe socks are great for any indoor work out activity. They are definitely worth the higher cost than the other toe socks especially if you are looking for a toe sock that is dedicated to yoga, pilates, or indoor working out. They are lightweight to the point you don't even realize they are socks on your feet. With soft fabric and breathable material, you are sure to enjoy these toe socks. For the little extra money, they are worth it all and you can have confidence in knowing your ToeSox are the right fit for any indoor activities.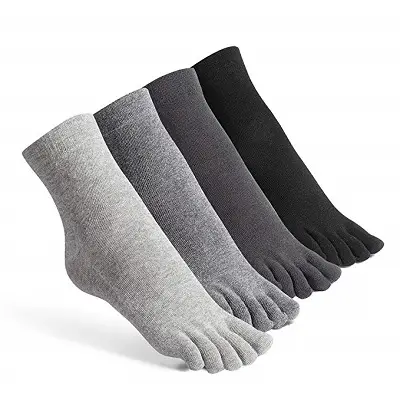 Looking for a traditional cotton sock, only unique? This incredibly helpful sock is in place to prevent sweaty feet and also to prevent the friction caused by rubbing. Having a traditional style, you can pair these socks with anything and wear them for any occasion. Being that these socks are versatile, wearing socks has never been easier until now!
Cotton
When it comes down to choosing a great material, cotton is a perfect route. These socks are made from 100% cotton, which is a natural moisture-wicking material, promised to keep your feet dry.
60 Day Money Back
There comes a time in everyone's life where they are not pleased with a product they purchased. When you can't return something, it can be frustrating! With the 60-day money-back guarantee, you can buy these socks risk-free! But we know that you won't return them, they are that great!
Cost and Value
The traditional style in these socks is definitely one to love. Keep several pairs of these socks on hand and you are sure to use them as your go-to. Cotton material and a great price, you have no reason to sweat.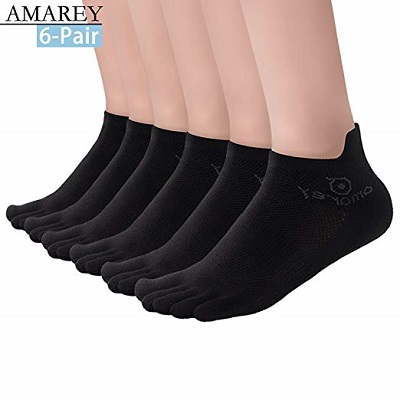 Are you tired of the friction of rubbing toes? Take a step into these to socks and feel the relief that they bring by protecting your feet and toes from friction. The in style, no show effect makes this sock incredibly versatile and brings a new meaning to fashion. Be on your toes with this latest style of toe socks!
Slip Resistant
If you are tired of the same song and dance and have a sock that is uncomfortable, then you have come to the right place. These socks offer a non-slip construction that makes running simple and easy. With the ability to keep your feet in place, these socks are one of a kind.
Great Fit
Sizing up socks can be incredibly difficult. What is so great about this product is they are made to be true to size. No more fears of ill-fitting socks. These socks fit true to their measurement and will leave you in comfort and style, all day long.
Cost and Value
This is a great option for when you are looking for comfort and protection, especially in running. Each sock is designed to fit your feet perfectly while maintaining a slip-resistant sole. For a price this great, you can't resist.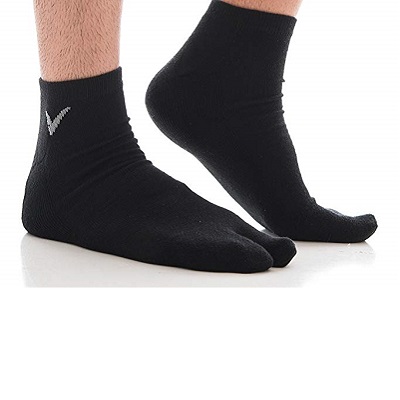 Socks and flip flops are not taboo anymore. The V-toe Tabi Toe sock offers socks to the people who enjoy wearing socks with flip-flops. These socks are sure to keep your feet warm in the colder weather while also still sporting your flip-flops. Offered with over 20 styles and colors. Solid stripes, patterns, and colors they offer it all to be stylish in any weather. Also made with a breathable cotton blend.
Comfortable
Their casual line of socks is made with 80 percent cotton,17 percent polyester, and 3 percent spandex. The blend of fabrics used to make these socks ensure a comfortable heel fit and ready to wear in any activity. Promises of staying on your feet securely without slipping off or twisting and bunching.
Stylish
Although some say it is completely taboo to wear socks with flip-flops that's the thing of the past when wearing these V-toe toe socks. These V- toe socks come in all sorts of colors, patterns, and designs to ensure trendy wear. Carter to anyone looking for a comfortable stylish breathable V-Toe sock. They have designed their style in mind of everyone.
Cost and Value
The cost is a little higher on these V-Toe socks. Keep in mind though they do come in a 3 pack. Most toe socks are offered as a single unit but you get your money's worth when you order these socks for the simple fact u get 3 pairs for pretty much the price of one toe sock in other brands. Designed for flip flops these Toe socks keep you warm and comfortable in any weather while also staying stylish. Offered in many different colors and sizes these are the sure way to go if you are looking for toe socks for your flip flops.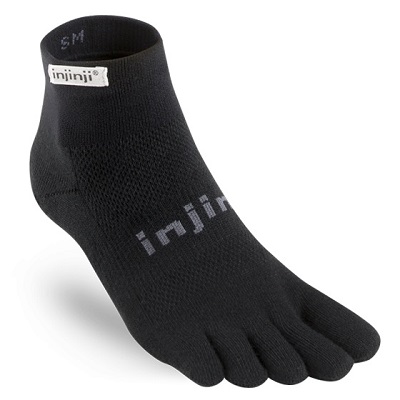 The Injinji Toe socks are a lightweight running sock but really built for anything. They offer a snug fit for those who want minimal weight but maximum protection for this 5 toe design. Injinji Toe socks offer proper posture and balance. The mesh top on these Injinji socks provide maximum breathability and ventilation and are made with a stretchy elastic top to ensure no slip with these socks. The heel and toes are reinforced for increased durability.
Breathability
Made with the Injinji CoolMax fabric blend, these toe socks ensure a lightweight fit and keeps your feet dry and sweat-free. The mesh top on the toe socks allows for your feet to breathe. These socks feature padded heels and metatarsal arch support.
Max Support
Injinji Toe Socks are designed to provide maximum support. Made so that each toe is separated to avoid the friction you may endure with running or working out. The toe socks ensure that your feet are dry and blister-free. Made with 55 percent polyester and 40 percent nylon, these socks are compatible with really anything. Whether it's working out, running, walking, or just standing around these socks will cater to your feet with full comfort.
Cost and Value
For being the bread and butter of socks, this company offers a very affordable toe sock for any need. They really aren't much more cost wise than the average traditional sock. These are ideal socks for most sports, as well. They curve blisters, friction, and are made lightweight. Also, these socks help with placing that toe push off experience. A great sock for so many needs and affordable.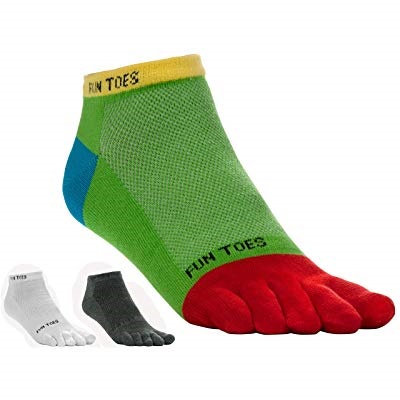 Fun Toe socks are a must-have in any toe sock wearer. With a 5 toe, design Fun Toes offer a number of benefits. They help keep your feet cool and dry, protect against friction, invisible against your shoe providing a no-show sock. Fun Toe socks also offer proper toe alignment. Also, Fun Toe socks come in a 6 pack that's affordable for anyone's budget.
Material
Fun Toe socks are made out of 83% cotton 14 % polyester 3% spandex. Made lightweight enough to not even feel them on. Made with these types of fabric it is designed to protect your toes against friction and those unruly blisters. They are also a no-show toe sock meaning they are practically invisible underneath your shoes.
Toe Alignment
Fun Toe socks offer proper toe alignment. It is important to have proper toe alignment when participating in any kind of sport. Having proper stance and feet alignment allow for a better and safer sport activity whatever that may be.
Cost and Value
Moneywise the Fun Toe socks are worth the price. With having in mind one of the best-designed toe socks you don't have to pay the high price to own them. With so many different designs and colors, you can be in fashion with these inexpensive toe sock.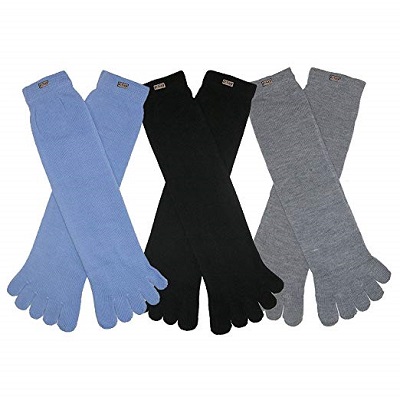 RSG Hosiery is a toe sock offered to anyone. They are durable comfortable and a snug fit. RSG Hosiery is made out of ayric and spandex. They offer a long or short fit towards the cafe depending on your shoe size. They come in a 3 pair and you can mix and match colors and styles.
Fabric
RSG Hosiery is made out of 97% acrylic and 3% spandex. They offer a nice snug fit around your calf area. With so many color and patterns to pick from this RSG Hosiery are a fun way to go. RSG Hosiery makes all its products in Thailand.
Breathability
Made with a light fabric these toe socks are a lightweight fit. Super lightweight, you will forget you are even wearing them. Easy for your feet to sweat out but drys and leaves feet moisture-free so you don't get those blister or fungus does not start growing.
Cost and Value
The cost of RSG Hosiery is quite a fair price. You also aren't just paying for one pair of toe socks. RSG Hosiery offers them from 3 packs and up and the more you buy the cheaper they get. Who couldn't go wrong with that? Plus u can mix and match colors and patterns. So you won't be buying the same color sock over and over because that's never fun.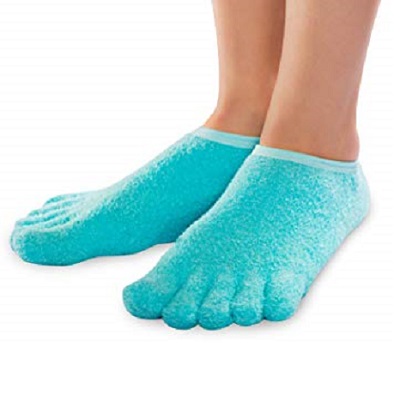 The NatraCure offers a toe sock that moisturizes your dry cracked feet. They help with eczema and calluses. The inner lining of these socks releases oils and moisturize to your feet, for that in-home spa feeling. Just slip these comfortable toe socks on around the house or even to bed for maximum foot repair. Wear these socks 2-3 times a week for the best results.
Moisturises
NatraCure socks have an inner lining to their socks that releases a variety of botanical oils and medical mineral oil to help with your hard dry rough feet. From heel to toe these toe socks moisturize your entire feet.
Dermatologist Tested I
Dermatology tested for those unruly cracked dry feet, these are the socks to go to. With deep moisturizing technology and gel lined for comfortable wear in your house or even at bedtime. They are also made for sensitive skin as well with hypoallergenic material.
Cost and Value
The cost of the NatraCure toe socks are on the high end but definitely worth the price. You only get one pair of feet and why not have them looking and feeling like a million bucks. Slip these booties on at night or when hanging around the house and they are sure to keep your feet soft and looking nice. These socks are comfortable to wear and cover the entire foot from heel to toe.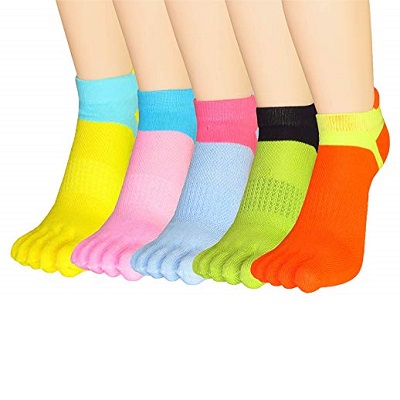 What is better than art, fashion, and comfort all built into one? Nothing! These socks are a low cut style that will support your toes throughout the toughest of runs. Being that your toes are supported, you can get through a run, with increased performance. Set your path straight, get a pair of these toe socks today!
Low Cut Style
With the low cut trend being more popular, these socks are definitely in style. Not a runner? You can wear these socks with any pair of flats or with a set of tennis shoes and no matter what, your toes and feet will feel on cloud nine.
Non-Slip
This pair of socks is great being that they are low in style, which contributes to a non-slip feature while your foot is inside of the shoe. Be at ease knowing your feet will stay in place, supporting you for your entire day.
Cost and Value
With a great style comes a great price! Being that these socks are low cut in style, you can be sure that they are hidden to leave your ankles and legs looking clean but also leave a sense of comfort, supporting your heels, toes, and soles!

Subscribe to our Newsletter