Best Workout DVDs Reviewed and Rated for Quality
In a Hurry? Editors choice: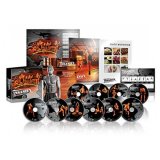 Test Winner: Beachbody INSANITY Base Kit

We all want to get in shape and take care of our bodies, right? But we all also have these little things called...lives. It's hard to get to the gym and maintain commitments when we have jobs and mouths to feed. But there are ways to make it easier on ourselves.

Investing in a home workout routine is one of the best ways to jumpstart a fitness plan and to maintain your fitness goals. The products that we feature on this list come with multiple workouts and calendars so you never actually have to plan or think about your next fitness move--these programs do it for you. They provide variety and researched fitness routines that, when followed, are guaranteed to deliver results.

And since we don't all start at the same fitness level, we offer lots of variety here so you can find the program that's right for you.
Standout Picks
Criteria Used for Evaluation
Features
When making this Ten Best List, we considered all of the features that each program has to offer. We love programs that not only provide workouts, but that also provide calendars and training programs so you don't have to think about which workouts to do when. These calendars are designed to make sure you're not working one part of your body too hard and that your body and muscles get the rest it needs in order to actually build muscle (instead of breaking it down) and avoid injury.
We also love programs that come with full nutrition guides--especially those that are paired purposefully with the fitness program. When embarking on any fitness journey, it's important that your body gets the fuel and nutrients that it needs to complete workouts at a higher level than you're accustomed to. Your body's needs will change and your nutrition needs to keep up with that. Most of the programs on our list feature nutrition guides with balanced meals and recipes to keep you on track.
Ease of Use
When thinking about ease of use, we considered how easy the program was to complete. Some programs are only meant for those who are already pretty fit and have experience in fitness routines. Some are meant for beginners. Our favorites are those that offer multiple different levels and modifications so that users of any ability and age can enjoy the program.
This is also where a fitness calendar comes in. Programs with calendars are easier to use and take the guesswork out of choosing your day's exercise.
Effectiveness
Of course, we don't want to include programs that don't work! That's why we poured over tons of reviews and brought you only the best of the best programs that actually work.
Most of the programs on our list are backed by research and proven science to give you the best burn in the least amount of time. These methods are proven to be effective and if the programs are followed, you are guaranteed to get insane results.
Versatility
When considering versatility, we looked at who could use the product, where the product could be used, and what areas of the body the product served. Programs with varying ability levels, programs that require little space and no extra equipment, and programs that hit the whole body scored highest on our list.
Value
While some of the programs on our list are a bit pricey, most of them are extremely affordable, especially considering the cost of home gym equipment, gym memberships, and your average yoga class. The programs with the most diversity and features at the lowest cost scored highly in this category.
10 Best Workout DVDs
1

. Beachbody INSANITY Base Kit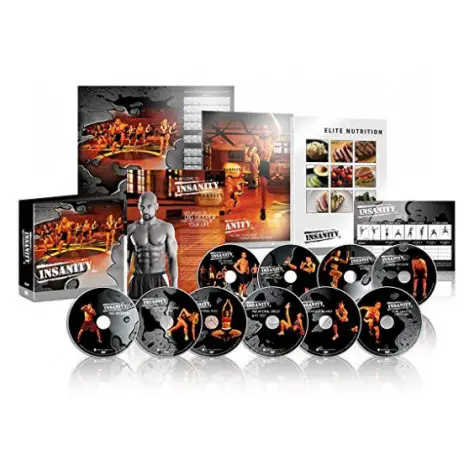 The first product to make our list is backed by perhaps the most renowned home fitness company--Beach Body. INSANITY is exactly that: insane. It is not meant for those recovering from injuries or for those with little athletic experience. While you can always pause a video to catch a breather, these moves are high-intensity and they demand quite a lot out of the participant. So if you're looking for a challenge, this is this kit for you.
Complete with Nutrition Guide and Calendar
The Beachbody INSANITY Base Kit comes with everything you need to jumpstart your fitness routine right in the comfort of your own home. The kit includes a detailed nutrition guide that gives multiple different balanced meal and recipe options for each meal of the day (breakfast, lunch, and dinner) and for 2 snacks during the day. This allows you to mix and match your meals all the while ensuring that you're getting the proper nutrition that you need in order to complete the program safely.
The kit also comes with a calendar telling you which exercises you need to do each day and, of course, your 10 workout DVDs. Plus, with the Beachbody website, you gain access to round-the-clock support and to an amazing community of people who are trying to get their shred on as well.
Plyometrics with Anaerobic and Aerobic Intervals
INSANITY comes with 10 workout DVDs. Each DVD features a different style of workout. Follow the calendar to make sure you are getting the intended mix of workouts every week. Most of the videos feature HIIT (high-intensity interval training) workouts that have you performing long intervals of heavy work with short intervals of rest. These plyometric exercises with anaerobic and aerobic intervals help you to burn the most calories in the least amount of time, and who doesn't want that?
The program asks for 60 days, and if you give it your 60 days you will see results. The first month features intense workouts, and to make sure you don't plateau, the workouts ramp up again for the second month with even more intense programming. You do not need any additional equipment for this program, though you may choose to use a mat.
Cost and Value
INSANITY rings up at the very top of our price range but we love its value because it is literally your one stop fitness shop. With tons of different programs as well as a nutrition guide and access to all of Beachbody's online support, this is a value that's hard to beat.

2

. Zumba Fitness Exhilarate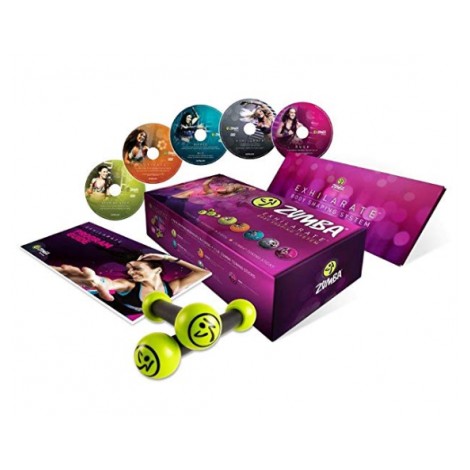 Zumba Fitness is by far one of the most enjoyable and entertaining fitness sets on our list. Not only will you get to burn calories and blast fat, but you will also get to learn different dance moves and styles from around the world--and have fun doing it. This is a low impact workout routine so it's great for everyone, though it does require a bit of coordination.
Comes with Zumba Toning Sticks
The Exhilarate Body Shaping System comes with 5 DVDs loaded with dances, a program guide so that you can be sure you're getting the most out of this fitness program, and a set of Zumba toning sticks.
The toning sticks are part maraca and part shake-weight so you will be able to keep rhythmic time all while adding a bit of extra toning to your arms and upper body muscles.
Dances from Around the World
Each of the 5 disks that you receive with this set contains 5 different dance styles to work up a sweat to. From cumbia, salsa, and merengue to hip-hop, calypso, and reggaeton, you will be able to expand your dance knowledge while getting a top-notch aerobic workout.
This program does not require a lot of space and can be done from the comfort of your small living room. You will also not need any additional equipment for this set.
Cost and Value
The Exhilarate Body Shaping System rings up at the lower end of our price range and we love its value because they have effectively made exercising fun and because you will broaden your dance skills while you're burning through calories.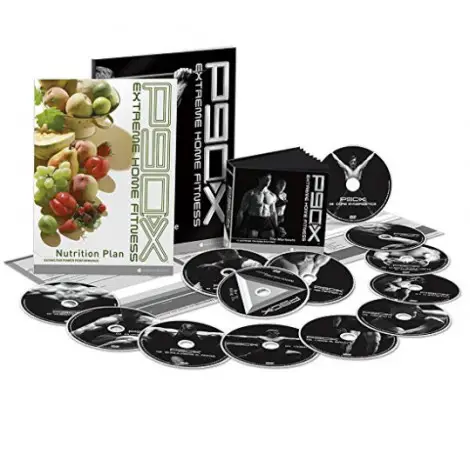 P90X is a revolutionary workout method that guarantees to get you in the best shape of your life in just 90 days. This program combines researched methods along with a great nutritional guide to deliver a 1-2 punch to stubborn fat and to blast away calories while building muscle. While P90X claims to be a workout for everyone, that may be a bit of an over-statement. This is a high-impact program that will ask a lot out of you. If you are injured or have no experience working out before, this may not be the program for you.
3-Phase Nutrition Guide
P90X is another complete health and fitness set to make our list. With the program, you will, of course, get the 12 different workout disks, as well as a DVD that gives an overview of how the system works and how you can set yourself up for success.
In addition to this, you will receive a full nutrition guide that is divided into 3 phases. Why? The P90X program is divided into 3 phases, each ramping up to ensure that you don't hit sticky plateaus. So as your body burns through more calories and engages in more challenging exercises, it needs more energy. Thus, the nutritional guide helps to ensure that you are giving the body all of the fuel that it needs during each phase to keep you safe from injury and to keep your muscles fed. You will also get a workout calendar and fitness guide to help you to keep track of your goals and successes.
Muscle Confusion Philosophy
The P90X program works by using a philosophy called muscle confusion. This basically means that new routines and moves are introduced during each workout so that your body (and brain) doesn't become accustomed to a specific series of moves or to one specific workout.
The reasoning behind this is two-fold. If you have memorized a series of moves, your brain and body will know when to push and when to reserve energy. This typically results in reserving more energy and giving less during your workout. Doing the same sequence over and over again without enhancing the sequence will also result in you hitting a plateau and the number of calories you burn per workout will go down.
Mmuscle confusion is the best way to shed weight and tone muscle all in the least amount of time. To get the most out of this program, P90X suggests you purchase a pull-up bar, dumbells, and resistance bands (sold separately).
Cost and Value
P90X rings up at the top of our price range as well but we love its value because it is a complete program that includes a full nutritional guide so you can be sure you're giving your body everything it needs to perform at its best.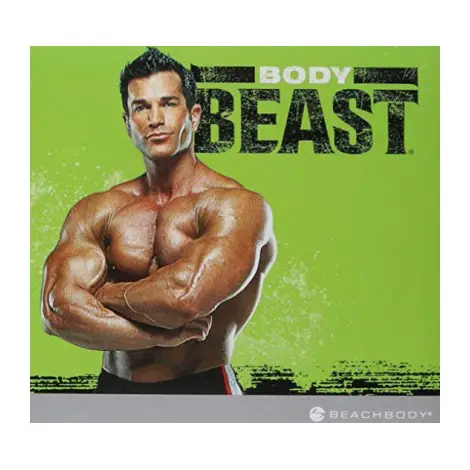 Body Beast is another heavy-duty workout regiment brought to you by team Beachbody. It is the first weight-lifting inspired workout kit that was meant for you to complete in the comfort of your own home. Backed by well-researched science, this program is a great way for men and women to shed fat and develop lean or bulk muscle (depending on the program selected). This set is low impact and you are able to adjust the weights to your specific needs so it's great for anyone looking to tone up and slim down.
Supplement and Nutrition Guide
This full body ripping program comes packed with everything you need to get the most defined muscles in your life (and in your home!). The set comes with 4 disks that include 12 workouts. With your purchase, you also get a "Book of the Beast" program guide that will help you to get the most out of your training and that also includes a full nutrition and supplement guide.
While you do not need to purchase the supplements to get results, they do tend to accelerate results. It's worth noting that you can find these supplements for cheaper on other sites besides Beachbody. The program also comes with a 2-track training guide--track 1 is for gaining lean muscle and track 2 if for gaining "huge" muscle. You can choose 1 program or mix and match to fit your training needs.
90 Days Ramped Workouts
Body Beast is designed to deliver shredded results in 90 days time if you are dedicated and stick with the program. "Dynamic Set Training" is at the core of this program and it targets the amount of time that your muscles experience tension, ramping that up so that you can get the most shred in the least amount of time.
With specific reps and sets, your body will build more muscle fibers and can actually start producing more testosterone which is a leader in body muscle builders. So by increasing tempo, reps, and resistance over time, you're body will resist plateauing and will gain more muscle than you thought possible.
Cost and Value
Body Beast rings up in the middle of our price range and we love its value because it combines old-school weight lifting techniques with new-school research along with a nutrition and supplements guide to bring you a total program that will deliver serious results.

5

. Chalene Johnson's PiYo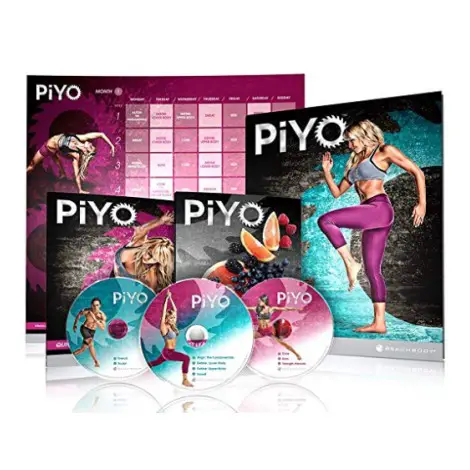 Chalene Johnson's PiYo program combines all of the amazing benefits of yoga and pilates to bring you one incredibly effective and full body sculpting workout. While it's more fast-paced that a lot of entry yoga classes, it is still low impact and a great option for most skill and physical levels. In fact, the program comes with an "Align: The Fundamentals" video that will talk you through most of the moves before you begin and each workout features modifications so that you can build up your strength over time.
Comes with Tape Measure and Workout Calendar
With this program, you get 10 workouts that target the core, buns, upper body, and lower body, as well as workouts that ramp up the heat with different types of interval and endurance training. It comes with a suggested programming guide in the form of a 60-day calendar that tells you which exercises to do on which days so that you can keep your body on its toes and prevent sticky plateaus.
The program also comes with the "Get Lean Eating Plan" that will guide you towards nutritious and filling foods that will power you through your workouts. And because the best way to measure your progress--apart from how amazing you'll feel--is through inches, the program also includes a free tape measure so you can physically track those inches falling away.
Actually Great for All Users
The program comes with an introductory guide to showcase all of the moves you'll see during the training and to help ensure your form is safe and effective. And with modifications during each training video, you can work your way up to the final poses and exercises if you're not quite able to do them when you begin.
Each training ranges between 25 and 45 minutes and some are definitely more challenging than others, so be sure to follow the training calendar so that you don't over-extend your body. Folks of all ages and sizes have seen some really amazing results with this program and because it is really low-impact, users remained healthy and were able to complete the program.
Cost and Value
The PiYo Base Kit rings up in the middle of our price range and we love its value because it really is a program that can work for most ages, body types, and fitness levels, and because you don't need to purchase any additional equipment to complete the workout.

6

. Zumba Incredible Slimdown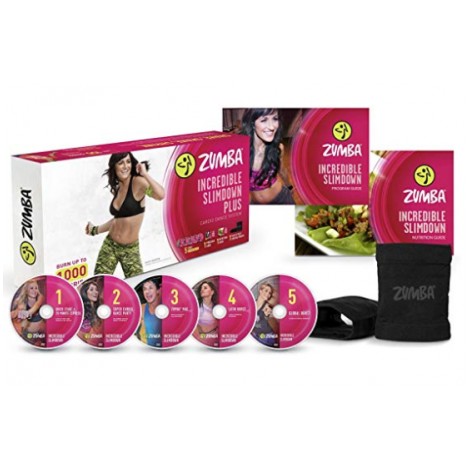 The Zumba Incredible Slimdown features incredibly fun dance routines that were scientifically engineered to burn calories faster than you thought possible. By using the "Cardio Burst" method, your body will alternate between intervals of high intensity and lesser intensity to keep your heart rate up and to encourage the most amount of burn in the least amount of time.
Wraps for Easy Gliding
We love this program because it comes with everything you need to dance your way into a smaller dress or pant size. It comes with 5 different DVDs that feature different dances to keep your body on its toes. You also get a workout calendar with suggested exercises for each day to keep your muscles guessing for what's going to come next.
Plus, the nutrition plan that comes with the package gives tons of recipes and meal suggestions and even features a 7-day weight loss guarantee plan that will help you to drop 1 pant or dress size in just 1 week.
And if that wasn't enough, the package also comes with wraps that you can pull over the most comfortable dance shoes that allow you to glide and pivot over the ground making some of the Zumba moves a whole lot more fluid and easier to complete.
1,000 Calorie Burn Potential
This program features a "Quick Start" guide that will introduce you to a lot of the Zumba moves that you will see in subsequent dances and workouts. If you are totally new to Zumba, this is the best place for you to start. You can always slow down, pause, and repeat videos if they're moving too fast.
There isn't a lot of jumping involved with this program so it is relatively low-impact, but some of the dances move rather quickly and require moderate coordination.
According to a study done with 24 men and women who were healthy and moderately in shape, the "Super Cardio Dance Party" DVD had them burning between 350 and 1,000 calories per person per workout.
Cost and Value
The Zumba Incredible Slimdown program is the most inexpensive program on our list and we love its value because it features variety and meal planning like other more expensive packages on our list about less than half the price.

7

. Jillian Michaels Body Shred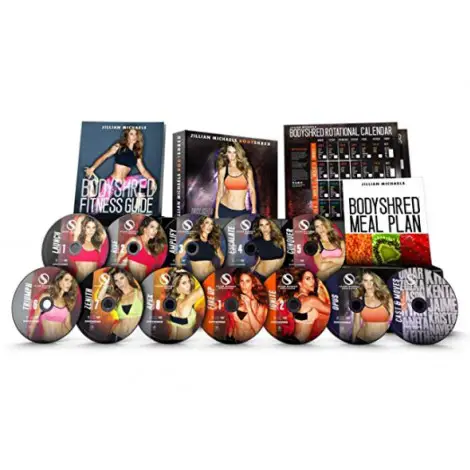 Jillian Michaels' Body Shred is an endurance-intense 60-day plan designed to hit all areas of fitness and whip you into amazing shape. Her specially designed interval format that follows a 3-2-1 structure keeps your body guessing and keeps your heart rate up so that you can burn calories and achieve toning all at the same time. This fitness plan is demanding so it isn't for everyone, especially for those recovering from injuries or those who have little fitness experience in the past.
60-Day Meal Plan
When you purchase this program, you will not only receive 10 scientifically proven workouts, but you will also get a full 60-day meal plan. While other programs on the market provide meal suggestions and ways to power your body through your workouts, this program actually pairs nutrition with its 60-day workout plan so that you know what to eat every day of your program.
Plus, it comes with a lot of tips about how to stick to your program and how to make planning for your meals easier. Combined with the fitness guide and the calendar structured to rotate exercises to give you the best shred possible, this kit comes with all that you need. In fact, you won't need to purchase any additional equipment though you may enjoy using a mat.
Interval Format Following 3-2-1 Structure
As we mentioned before, this program is high-intensity and not for everyone. It features workouts that are targeted at specific muscle groups and at whole-body cardio. None of the fitness routines exceed 30 minutes so you get the maximum amount of burn out of your time, and all of the videos follow the interval format 3-2-1 structure.
This basically means that you'll be doing 3 minutes of resistance conditional for your muscles, 2 minutes of HIIT intervals, and 1 minute of active core based recovery. This method is proven to keep your heart rate up and all areas of your body activated so that you can burn more calories.
Cost and Value
Body Shred rings up towards the bottom of our price range and we love its value because it features tons of variety as well as a nutrition plan that is totally paired with the fitness plan.

8

. Mark Lauren You are Your Own Gym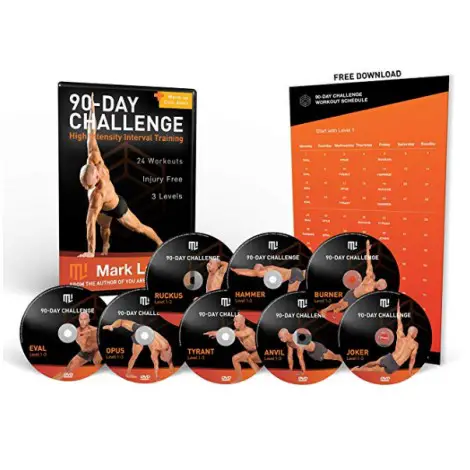 Mark Lauren's fitness program will help you get the body you've always wanted in the comfort of your own home without any additional weights required. His philosophy is that "you are your own gym," and that you shouldn't need anything but yourself to get the shred you want. His program has 3 levels of difficulty so you can meet the program at your level and his moves are backed by orthopedic and PT research so you can feel safe using this program.
90-Day Fitness Plan
When you purchase Mark's fitness plan, you will receive a training guide that outlines workouts for 90 days. That's right--you will get 3 whole months of different workouts to complete as well as access to online resources that will help you to meet your goals.
And because his philosophy dictates that you won't need anything but your body, this workout is easy to complete anywhere and you won't have to sink more money into expensive at-home equipment.
3 Ability Tiers
Mark has designed his program to feature 3 ability tiers. This not only serves to allow more people to enjoy this program, but it also gives you the ability to move up through tiers until you reach your peak performance level. With 24 rotational workouts, you will keep your body from hitting plateaus by mixing up target areas and moving through levels.
Cost and Value
Mark Lauren's program rings up at the very bottom of our price range and we love its value because it's a great long-term option for all fitness levels. Plus, if you like his style, he has a ton of other inexpensive programs targeted at different athletic groups seeking different end-goals.

9

. XTFMAX: 90 Day Program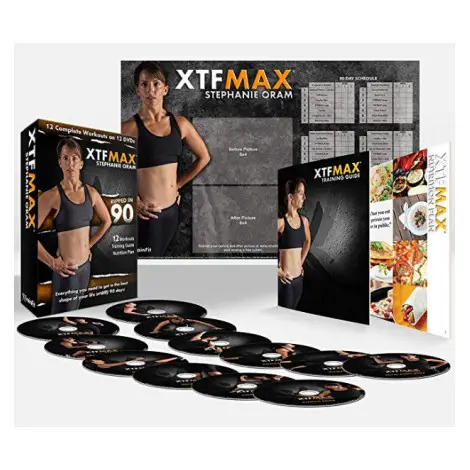 The XTFMAX fitness program provides you with everything you need to get shredded in less than 45 minutes every day. It is high-intensity but offers tons of modifications for every move so it accommodates many ability levels.
90-Day Training Calendar and Guide
This program comes complete with a 90-day training calendar and guides so that you can set yourself up for success and keep pushing even when it gets tough.
You will also get a nutrition plan with 35 recipes and meal suggestions so that you can power your body with all of the balanced nutrition that it needs. You may choose to purchase additional equipment like resistance bands or dumbells.
12 Diverse Workouts
This program features 12 diverse workouts that target flexibility, strength training, and sculpting to get you the body that you want. Each workout has 4 different ability levels from advanced to the beginner so you can adjust them to your needs.
This function makes it a great program for those looking to move up through levels even after the initial 90 days is complete.
Cost and Value
The XTFMAX is one of the most inexpensive programs on our list and we love its value because it has 4 different ability levels to accommodate folks with different fitness levels right from the start.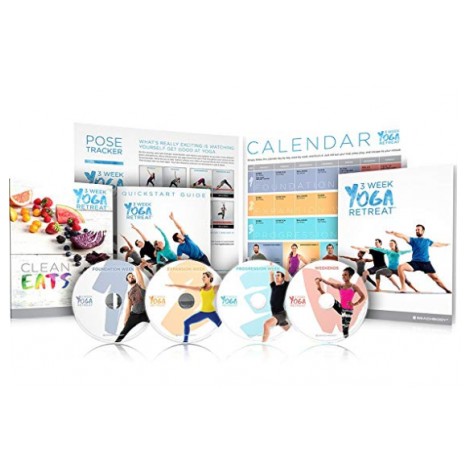 The 3 Week Yoga Retreat program gives you all you need to begin and improve your yoga practice in just 21 days. This program is great for all ability levels and will help you to track your progress through poses and flows.
Pose Trackers
With this program, you will get a quick start guide and a beginner's basics guide so it doesn't matter if you have no experience doing yoga at all--this program will get you started off right.
You will also get a class calendar and a pose tracker to guide you through which programs to complete on which days and to help you to track your progress through the poses. Finally, you will get a clean-eating nutrition guide to make sure you're body is getting all it needs to complete your workouts.
3-Week Program Design
This program is broken down into week-long segments. The first week provides you with flows that will give you all the foundations you need to get your yoga practice started.
Week 2 will help you to expand your flows and practice and week 3 will open up your practice so that you can progress to the next level.
While each week feature 7 days of workouts, the weekends provide workouts that are a little more relaxing. Each program is only about 30 minutes long.
Cost and Value
The 3 Week Yoga Retreat rings up in the middle of our price range and we like its value because it really is a program designed for beginners and because it is low impact.

Subscribe to our Newsletter