Best Truck Bed Covers Reviewed & Rated for Quality
In a Hurry? Editors choice: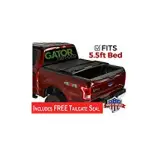 Test Winner: Gator Tri-Fold

With the right truck bed cover, you can haul anything in your truck bed without fear of anything getting dirty, wet, faded, damaged, or even falling out of your bed completely. Truck bed covers are unparalleled when it comes to protecting your cargo from harmful UV rays, keeping them safely inside the bed, and keeping your cargo safe from any dirt, dust, or other grime that may collect from time on the road. However, the level of protection that you need can vary from one hauling scenario to the next, leaving you wondering: what truck bed cover will best suit the needs of this situation?
Standout Picks
Criteria Used for Evaluation
Ease of Use
Criteria Used in Choosing the Best Truck Bed Covers
Protection
No matter what you are transporting in the bed of your truck, you will need to ensure that your cargo is protected from the outside elements, regardless of what the weather might bring. If anything that you are transporting faces exposure to the outside weather, it can easily become faded, corroded, or otherwise take on damage that could otherwise be prevented with the appropriate bed cover. Choosing the right cover for the weather that you experience in your area can help you to ensure that everything in your bed is adequately protected. For example, if your area experiences frequent snowfall, a soft cover will probably not offer enough protection. If you live in an area with heavy precipitation, you will be served better by a cover with seals against the weather.
Compatibility
If you have important aspects in your bed that you do not want to be inaccessible, ensure that you are choosing the best option to accommodate these necessary components in your truck bed. A bed cover is an important addition to any truck, but these other features in your bed can be just as important to safe transportation. For example, some truck beds may feature anchoring points that enable you to safely secure your cargo. Some truck bed covers may conceal these anchor points, or make them inaccessible entirely, preventing you from safely tying down your cargo inside your truck bed. When choosing your truck bed cover, be sure that you are taking any accessories and other important aspects of your bed into consideration. A truck bed cover with a low profile can be a good option to provide you with the accessibility that you need. Additionally, if you have already invested in a truck bed cover but are considering installing anchoring points, there are options on the market available to accommodate these needs as well. If you have a bed liner, you will also need to ensure that you are choosing the right option that will be compatible with your bed liner. Most standard liners will not inhibit the installation of a truck bed cover, but some over-the-rail liners may potentially pose an issue with the installation process which can, in turn, mean that your cargo is not fully protected.
Maintenance
Most reputable truck bed cover models will require little in the way of maintenance. However, the main exception to this rule is a retractable bed cover which may require some upkeep in the mechanical department. This is merely to ensure that it stays within good working conditions. Additionally, some models of retractable bed covers may need to be regularly lubricated to assist with movement. If this goes undone, your bed cover may have some trouble moving smoothly or its movement may be inhibited entirely. Some vinyl covers or other soft covers may require protection from UV rays on occasion to prevent fading. No matter what model you decide to purchase, be sure that you are fully comprehending all maintenance requirements before committing to your choice.
Installation
In conjunction with always checking your maintenance requirements, it is crucial to make sure that you are familiar with the required equipment and process of installation before committing to your purchase. The installation process and difficulty can vary vastly from one cover to the next, even if they are the same type. Some can be completed in as little as ten minutes while some may take you up to an hour to complete, some require you to have the capability to drill while others will require only minimal tools. Familiarizing yourself with the process and the requirements will ensure that you have the ability to install your truck bed cover yourself and do not need to worry about the potential for damage. In addition to installation, it may also be pertinent to research your bed cover further to find out if it is as easy to remove as it is to install. For example, if you will have to transport any type of cargo that is taller than your bed, you may need to remove your cover. Be sure that you are familiar with the process to remove your bed, as you may need to remove it unexpectedly.
Affordability
The type of truck bed cover that you choose to purchase will have the greatest impact on price. Often, the cost of the product is what will make or break your commitment to following through with the purchase. For example, a soft cover will not set you back nearly as much as a hardcover. If you are looking for an entry-level truck bed cover with very little upfront price, then affordability may affect you more than someone who is more experienced and needs something a little more robust. If you are regularly transporting cargo in your truck bed and need a reliable, durable cover, you may be willing to spend a little bit more to ensure that your cargo is protected consistently.
Top 10 Picks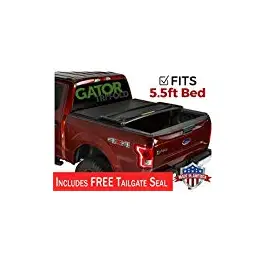 This truck bed cover model tops the list for a number of reasons. Each of these covers is custom-fitted to your vehicle's specific make and model and is available for different bed lengths. It is quick and easy to install and offers a simple, straightforward design to help protect your cargo.
Easy Installation
This model boasts an installation that will take less than ten minutes to complete, making use of a "quick latch" system. The installation process does not require any additional tools from your toolbox. Additionally, because of the quick latch system, you can adjust the size of the cover for the perfect fit.
Durability
The cover itself is made from a type of vinyl that is resistant to tears. The frame of the cover is made from aluminum and is supported by a system of cross bows to add strength. For a soft cover, it really can compete with the best hard cover!
Cost and Value
With so many ways to customize this truck bed cover, the price really could not be fairer. Additionally, some online sellers may offer free shipping options on this product. All in all, it is priced very well and appropriately for the product that you are receiving.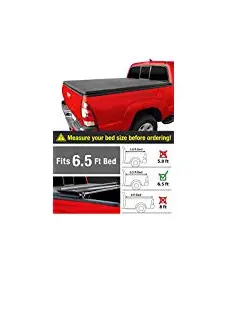 This model from MaxMate will arrive pre-assembled and, as if that was not already enough of a perk, installation will require no drilling. It can start protecting your cargo in no time at all. Available for many different makes and models, this truck bed cover cannot be beat.
Compatibility
With any under the rail bedliner, this truck bed cover will still be easy to install and secure. The manufacturer also anticipated any over the rail bedliners potentially posing an issue, but have readily prepared instructions to accommodate for this fact.
Dependable
This bed frame comes complete with a ten year warranty, so you will rarely need to worry about replacing your cover. Additionally, the hardware is stainless steel, making it less likely to wear out over time.
Cost and Value
This truck cover is priced ideally for the product you are receiving. A modest investment that gets you ten years of service? What could possibly beat that!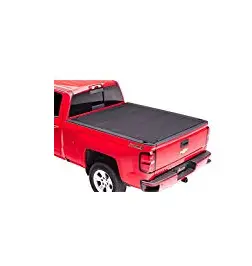 The first hard truck bed cover on this list is the BAKFlip MX4, which comes as a tri-fold hard top option. This truck bed cover offers superior durability as well as a simple, unobtrusive design that can compliment any vehicle's aesthetics.
Versatility
This bed cover makes it easy to access your bed and its contents. The newly introduced design allows for the tailgate to be opened at any time, even when the cover is closed and latched into place. This allows you hassle-free access to your bed at any time.
Reliable
If you live in an area that frequently experiences inclement weather, this is a great option for you. This bed cover has been tested for every season and is designed to perform even in the worst of weather conditions.
Cost and Value
Because this is a hard top truck bed cover, it is one of the pricier options on the list. However, if you need something a little bit more robust to get the job done and stand up to any task no matter the weather, look no further.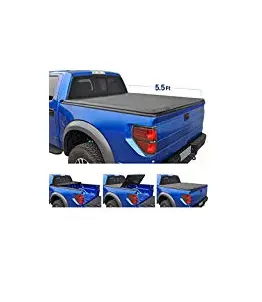 This truck bed cover boasts a host of features that many covers can only dream of. Available in four different options, each with the ability to be custom fitted to many different makes and models, the possibilities are seemingly endless! Additionally, this model has many safety features that other models do not come with.
Safety Features
While other models on this list have not featured a single aspect of safety or excelled in this department, this truck bed cover comes with buckles put in place to help ensure that there is no chance that this bed cover will go anywhere that you do not tell it to. This adds peace of mind which, really, you can put no price on.
Many Options
This model comes with four different style options as well as the ability to be built to suit any make or model on the market. All of these options are easy to install, requiring no drilling on your part. They are also all made from quality materials so you know you are always getting a high-grade product.
Cost and Value
This product is a great value, coming it right around average price for the type of bed cover. If you are looking for a good bang for your buck, you have found it!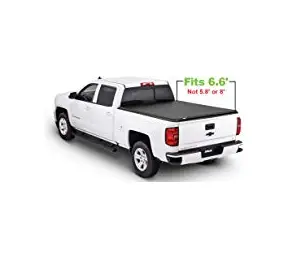 If you are looking for a more economical cover for your truck, that gets the job done and offers most if not all the features that the other more expensive options offer, look no further this one is the one for you. The Tonno Pro Fold 42-108 is a tri-folding truck bed cover that was constructed with easy installation in mind, so much so that it comes already assembled for you, all you have to do is install it on your truck, which will take approximately 10 minutes to do. Additionally, it comes with a patented slide-lock design to provide extra security for your belongings.
Tear-resistant material
When you are seeking a bed cover for your truck, the first thing you may want to take into consideration is what material it's made out of. This particular, bed cover is made out of double-sided tear-resistant high-quality material, that has been paired with a weather tight Q-seal gasket. Additionally, it comes with a front flap in order to keep your truck bed dry regardless of how the weather might be.
Different Options
Because no truck or truck owner is ever the same, the brand offers three different options to choose from; hard fold, lo-roll, and tonno fold. Having these options allows you to select which one would not only work best for you but will help you get the most out of your truck. The one you choose will depend on what you want to get out of your truck cover.
Cost and Value
As previously mentioned, this is a more affordable option. It provides everything you would want from a bed cover with high-quality materials. Therefore, you are instantly getting a bang for your buck; however, you want to keep in mind that since there are three different options to choose from you will have three different price points. Nevertheless, the pricing is still very reasonable and cost-effective.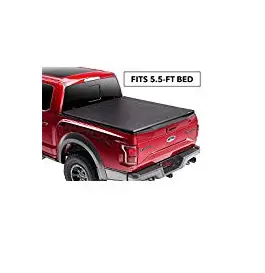 This option is by far the most lightweight model, employing high-grade aluminum to keep the bed cover from weighing down your vehicle. This model also uses a different style of clamp to add a new level of security to your bed, ensuring the safety of your cargo. Additionally, these clamps are guaranteed to cause no damage to your bed frame where they are attached.
Ease of Use
This is one of the most user-friendly options on the list. Because of the different clamp style, the bed of the truck is more easily accessible, as if there were no bed cover at all! It only takes seconds to change the configuration of your bed cover, opening, closing, and locking into place with ease.
Smarter Clamps
These newly designed clamps allow you to tighten your bed cover into place without the fear of causing damage to your frame or tightening the clamp too much. This model clamps into place automatically, requiring minimal effort on your part to promote security.
Cost and Value
For the type of truck bed cover that this is, it may seem a bit on the pricey side upon first glance. However, after you consider the innovation in the new clamp system, the price begins to be more understandable. Not a bad value!

7

. Lund 96892 Genesis Elite Roll Up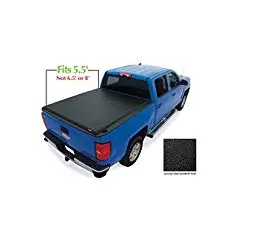 Made to look and feel luxurious while keeping your necessary belongings safe, the Lund 96892 Genesis Elite Roll Up cover conforms to your trucks ridges and edges to help block out moisture. Featuring high-quality velcro hooks paired with latch fasteners, this cover-up feels a bit more upscale, due to having a custom fit for your car. The way you set up this cover up allows you to customize exactly where and how you want it to lay on your car, allowing you to cover up as much space as you would like.
Waterproof
Owning a pick-up truck is always a good time until you have to place something in the back. Unlike most cars who have a trunk, pick up trucks have open space which is where a truck bed cover-up will come in handy, particularly a waterproof one like this one. The brand made sure their cover-up was not only waterproof but mold, mildew, dirt, dust, and UV ray proof as well. This means your belongings will remain safe and dry no matter how long or short your trip happens to be.
Easy Clean up
Not only does it look great, feel luxurious, and offers a custom fit but it is also easy to clean. By simply using warm water and soap you will be able to remove any dust that may have collected on your truck cover. You might even get away with using a warm soap rag to bring your cover back to life after multiple uses.
Cost and Value
As you might already have read, this cover-up is top-notch, and the price is just as great. This cover-up comes at a reasonable price with a limited lifetime guarantee. Therefore, if there is something you do not like you can return it and replace it with another or speak to a representative on what would be the best option for you.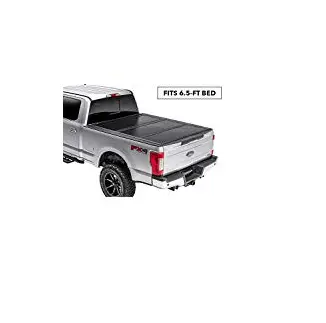 Coming for the eighth position we have another hardcover option. Whether you are seeking a soft, fabric cover up or a hardcover you will want to take a look at this one. Created by UnderCover this truck bed cover up is one of the very best. Featuring a high-quality hard, yet flexible folding tonneau cover, this cover-up helps you not only keep all of your items in place, but it allows you to not have to worry so much if you happen to place an item or two on top of it. A hardcover up is excellent for those that live in areas where it snows on a regular basis, the snow can be heavy and may even try to seep into your cover-up. However, with a hardcover, you will feel secure every time.
Three secure driving positions
This hardcover offers you three secure riding positions, to give you the ultimate control and how you will lose not only your cover up but your truck as well. You have the option of completely closing your cover up to ensure your cargo stays in place, folding the cover up towards the cab, or folding it upward in a 90degree angle to have full access to your belongings. Each foldable panel is made out of FRP composite material, this allows the panels to be lighter, stronger, and even more dent resistant than aluminum.
Easy Installation
To make installation much easier this hardcover comes with a low-profile design, that allows for seamless installation without the use of a drill or heavy machinery. In fact, you could install the entire hardcover by yourself without the need of anyone that's how easy it is to do.
Cost and Value
Due to it being a hardcover the cost is on the pricier side; however, it is still an excellent price when you take into consideration the quality of a product that you are getting and how easy it is to install.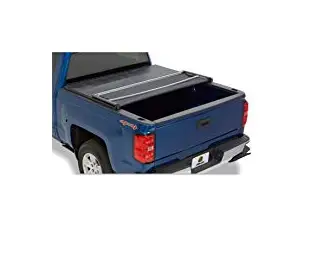 This model is a great option for the no-nonsense truck driver. It is supported by a lightweight aluminum frame which can be easily installed or removed in five minutes or less. Additionally, this model also pays attention to added safety features while also ensuring that the bed is easily accessible.
Ease of Use
Installation of this product is a breeze, and removal is arguably just as easy! This truck bed cover can be easily folded to allow you access to any part of your bed within seconds. The latches are strong but also simple to use, allowing you to lock your cover into place with ease.
Compatibility
This model is unique in that it is compatible with most bed liners (both under the rail and over the rail) and any rail protectors that you may have installed on your truck. This is an outstanding product!
Cost and Value
With a price that is just slightly above average, this model would be a great addition to any truck. Additionally, if you are looking for a good value for your truck with bed liners, this would make a great purchase.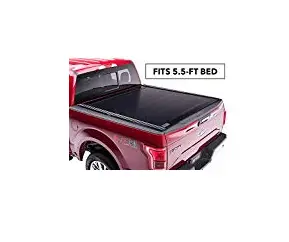 This is the only retractable option featured on this list. For many reasons, retractable truck bed covers tend to be poorly priced, but this one was just too good to pass up. It offers too many benefits, such as security, ease of access, and flexibility, so it had to be included. It is also a great option for any fifth wheel towing!
Security
This might be the most secure truck bed cover option that you will find on the market today. It can be locked with a key in any position. It can also be easily opened with just one hand! It is also protected against any impact and cannot be cut through with a sharp object, further deterring any potential thieves.
Sleek and Minimal Design
This model keeps a low profile. It does not call attention to itself and stays flush with the bed of the truck, creating a streamlined appearance.
Cost and Value
By far the most expensive on the list, this retractable option is not for the bargain hunter. However, if you are serious about the quality of your products, this might be your ideal truck bed cover!

Subscribe to our Newsletter