Best Patio Coolers Reviewed & Rated for Quality
In a Hurry? Editors choice:
Test Winner: Keter Rattan Style

Some fine, sharp, and inventive folks on the internet have designed some fantastic contraptions that get a cold beverage from its normal home in the fridge to the comforting chairs beachside, or on the patio. But the world of patio furniture has finally caught up with our desires. Well, patio coolers have been around for a long time, but as with lots of other markets, it has evolved. Keeping your beverages, or snacks cool or cold is the essential goal of a patio cooler, and while we might have gone out of our way to find a decent variety, we truly wanted to pluck a great cross-section of the best coolers that everyone could want.
Standout Picks
Criteria Used for Evaluation
Capacity
Criteria Used in Evaluation of the Best Patio Coolers
There's no real right answer when it comes to the core of these patio coolers. What we want, as a thirsty culture of outdoors people, is a valuable purchase that will most likely succeed in either matching the rest of our patio or backyard furniture, or be easy to take on the road with us. Everything else is down to specific details, and overall perks.
Whether it be fancy cooler bags or insulated hard-shelled coolers, there are a ton of amazing options out there for your beverage or food needs. We are glad for that because not everyone is going to be happy with that grotesque looking blue plastic hard cooler that haunts us from our childhood.
Build
As with every other consumer-facing product, the build is probably the biggest concern when shopping around through all of your options. A lot of parts go into everything, even simplified patio coolers. With each of those parts, there is a chance for failure, or cheapness that could ultimately spell dissatisfaction for you and your cooling needs.
The main concerns are always a) is the quality of the materials used in manufacturing and building accurately reflective of the price I'm going to pay for my product, and b) what are my best options for getting the most out of my dollar where quality is concerned. Both of those things are blown up in cases where the markup of a product is ridiculously high, but luckily that's not really the case in cooler manufacturing.
Metal coolers are generally made very well, the sturdy steel or aluminum are molded in as few pieces as possible making for a stronger structure. Though it's important to keep in mind that even the metal coolers will most likely have hard plastic lined cooling sections, that's just the case with coolers. Plastics, for scientific reasons, have turned out to be the best materials for keeping air in or out of a space.
Plastic coolers (especially the ones on our list) can usually be considered lower on the budget scale, but those products that use a plastic resin exterior often do so in order to emulate the look or design of an expensive piece of furniture without translating that cost down to you.
Variety
Who knew there would be so much variety in the deep and cool world of patio coolers or coolers in general. The answer? Well, we did. That's why we made this list.
Whether you're looking for something that has a bell, or a flood lamp, or a place for your beach umbrella, or a red wagon bottom, there's an endless array of options, and while it's often difficult to narrow things down for a grab bag list of ten, we went with a premium to budget range that didn't have too much extra. That was important. Because there are a lot of holes you can fall down when searching for extravagant things in any department.
We tried to find a range of sizes, going from eight-gallon capacities all the way up to 20 gallons (which according to some of the product listings, 20 gallons is enough for 70 common-sized cans or 50-ish bottles). It was also key that we chose a wide variety of coolers from the outside too. There are things on this list you wouldn't even clock as a cooler if you walked into a backyard or onto a patio where the rest of the aesthetic matched.
There even had to be a strong variety in price (though we'll get to that in a moment). Thanks to this abundance of variety, we're certain you'll be able to find a cooler for your own patio that hits all of the marks you're looking for.
Price
Oh hey! We're at the price thing that we were just talking about a second ago. Hello!
Price has to fit. It has to be your biggest guideline. Even if it's just a vague one that gets a little fuzzy on one end or the other. Having a price range in mind is key to keeping your sanity during what can become an arduous experience.
As we're putting together these guides or suggestive lists, we try to focus on a wide range of prices. Obviously, some of the more premium price tags (we'd hope) are going to be near the top because that's just the way this works. The more money you pay, the chances are likely that the better the product will be in the end. That's not always the case, however, and budget products can surprise and delight.
But it is key that we also include that other end of the spectrum because some folks are looking for that diamond in the rough. Or, knowingly, they're seeking something they don't have to spend a lot of money on, that will last them one or two trips to the camping spot of choice.
Premium prices, budget prices, and median prices are all important aspects to sharing with you, the best options on the market.
Top 10 Picks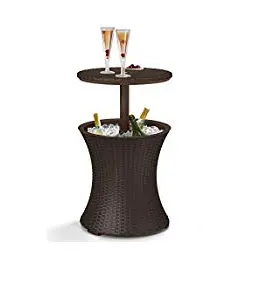 Knocking it out of the park on the first swing isn't always wise. Why do we write out lists in this order? Anyways! This Keter Cool Bar Rattan Style is a wonderful addition to any patio with its sleek design, and hidden cooler area. The Rattan style exterior gives the classic cabin chic that is extremely popular in this decade.
Hidden Cooler
On the surface it looks like an ordinary rattan style side table that wouldn't look out of place in any modern setting, or funky grandmother's house. But underneath the surface is an extremely well-hidden cooler that will fit a ton of beverages and ice. In its opened state, the Keter 7.5 Gallon cooler takes on a more retro mad men style of bartop with a higher tabletop surface hovering above a container of ice and delicious liquids.
Reused Materials
Something that you don't see very often is furniture or cooler manufacturers caring quite a bit about the materials used in their product (note: they do care, but generally in the waterproofing vein, or for the main purpose of ensuring the cool air stays inside the cooler). Keter has built their Cool Bar Patio Cooler Table with one hundred percent recyclable and durable weather-resistant plastic resin.
Cost and Value
Floating around the one hundred dollar mark (the varied group of listed available sellers can't seem to be on the same page), the Keter 7.5Gal Cool Bar Outdoor Patio Cooler Table is just as much of a cool piece of furtniture as it is a cooler. On top of all of that, you get to pull the party trick of lifting the tabletop to reveal refreshments. It's a James Bond kind of table. And you can't put a price or value on that.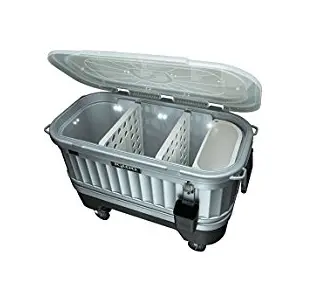 Kind of the opposite of almost everything on this list, the Igloo *bunch of numbers* Party Bar Cooler is a Jetsons type mini cooler for your patio that has so much thought put into every single tiny detail that it may just become the most futuristic and technologically advanced thing in your entire backyard. It's got that retro spaceship vibe that so many designers try to emulate these days, but the Igloo cooler really pulls it off. Far more than others are able to.
LiddUp Power
Did you know that all over the world parties take place during the day? Did you also know that there are some of those parties that don't stop when the great ball of fire in the sky shyly dips below the horizon and the world around you is drenched into the night? Well, the Igloo Party Bar Cooler is "powered by LiddUp" (which doesn't sound like a real thing) meaning that when you open the top of the cooler, sixteen water-resistant LED bulbs light up the entire innards of this cooler. The lights truly give you full vision of the bevvies all through the night.
Durable and Moveable
There's no need to bust your hump in order to enjoy a cold one ("one" being a singular cold beverage of any flavor, not necessarily a "adult" beverage), and that's great because Igloo agrees with that sentiment. The Party Bar Cooler comes on caster wheels that have a quick-lock mechanism for easy movement from the stocking location, to your party, without any of the worry that you'll have to lift it at all.
Cost and Value
Possibly the coolest -- that pun is one hundred percent intended -- and most wickedly futuristic looking cooler on our entire list comes with some valuable perks in the way of wheels and illuminating your drinks of choice. All of that will cost you roughly three hundred bucks, which can seem like a lot, but here you've got a long-lasting and well-made cooler with some neat tricks up its sleeves.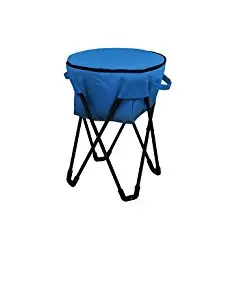 Kind of the exact opposite effect as our last entry, this one, the Sunjoy Folding Frame Outdoor Ice Cooler Bag is essentially just a handheld cooler bag on stilts. And there's nothing wrong with that. In fact, a lot of campers, or tailgaters, or people with an inherent need to have all of their backyard furniture resemble camping gear, prefer the rugged and uncomplicated nature of something like a plain cooler with four legs.
Style Points
Or should we say … points for the lack of style. It's no secret that a large portion of the world's population has begun leaning towards the simple and the minimalistic. There's a fanciness and elegance in getting the exact intended purpose done without wasting anyone's time, or space, or money. It has been a big part in Japanese design for decades. We're starting to catch on though. The Sunjoy Folding Frame Cooler Bag should be heralded for its simplicity and ability to travel with ease.
Indoors and Out
Though we have (most houses in North America do, anyways) a perfectly fine place to chill food or beverages indoors, there's nothing stopping this little cooler bag with legs from invading every aspect of your life. Empty, it weighs in at just over five pounds which means you'll never have a hard time moving it around with you, and to bring a cold beverage vessel along on any trip could be the difference between utter disaster, and delicious thirst quenching satisfaction.
Cost and Value
Under thirty dollars means that there is nothing keeping you from the value of the Sunjoy Cooler Bag. It has everything one would need -- and more so if you're going camping -- to enjoy cool beverages anywhere, it folds down small, weighs next to nothing, and has very sturdy seals and handles. The value (if it's something extremely simple and mobile you're looking for) doesn't get any better than this budget cooler.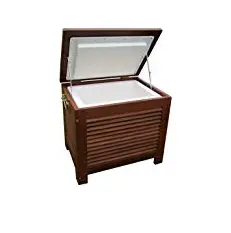 Here's another product that finds a home in your space attempting to look like an object that isn't currently holding and keeping cool a surprisingly large amount of beverages in various containers. The Merry Garden Products Wooden Patio Cooler is designed with a retro cigar shop feel, but shockingly can blend into almost every single setting.
Cocktail or Tiki?
In a weird twist, there's a lot that this style says about the product, and maybe about the person or persons who purchase it. There's kind of this optical illusion going on, where this design that says "classy executive office cocktail bar" in one moment, also scream "put me in a tiki bar!" the next. Perhaps the identity of the Merry Products Cooler is messy, or maybe they've knocked it out of the park with their versatile aesthetic.
Hardwood Easy Work
The beautifully darker stained wood of the Merry Garden Cooler is a stunning shade of brown with a clean, but also rough finish that gives it a strong touch of personality. The wood is made from Eucalyptus Hardwood, and comes delivered from the seller completely assembled. The strength of the wood gives this cooler a top weight capacity of over three hundred pounds, so it will make for a great bench in a pinch.
Cost and Value
Near the median of premium cooler prices, the Merry Garden Products Wooden Patio Cooler comes in around a hundred and fifty dollars and is all of those dollars worth of elegance and style. The wonderfully simple, and beautiful cooler will fit in and look good no matter where you put it.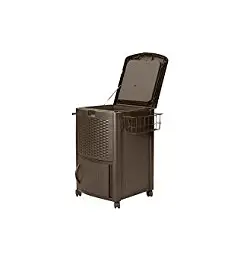 Suncast is one of those design companies and manufacturers that takes their laser focused point of view from one particular product and spread out that vision over the entire backyard. The quality is crazy amounts of standard, but there's something about the design of the DCCW3000 Resin Wicker Cooler that makes a great statement without breaking your bank.
Side Lamps
Made out of almost one hundred percent resin, the Suncast Wicker Cooler is has a "simulated" wicker design on the front of it, but the entire thing looks very much like plastic. But not in a bad way. If everything (design wise) was authentic, the DCCW3000 would be extremely expensive, and Suncast manages to get all of those traits into the basket without hiking up their price.
No Power Consumption
The complete picture is where Suncast really sings their opera. Like we mentioned before, the company widened their focus on your entire backyard space, meaning that this Resin Wicker Cooler will match, and fit in with their entire line-up of backyard furnitures and products like their Hose Reel, the Deck Box, Outdoor Cabinet, Chairs and Outdoor Loveseats. It's a matching game made in heaven.
Cost and Value
Given the fact that you're not getting authentic wicker or wood side panels, this resin with a gorgeous simulated aesthetic should come with a slightly below premium price tag, and it does just that. Floating just north of a hundred dollar, there's a ton of value in putting together a whole set of Suncast backyard stuff.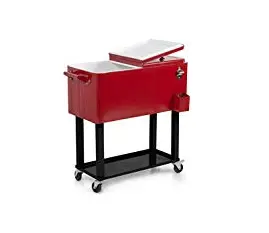 Another version of the simplified standard for barbeque patio cooler types, the Belleze Rolling Cooler is a ridiculously sleek, but barebones example of everyone's cooler dreams. No pomp or undesirable fluff here with the Belleze, but you do get a gigantic outdoor cooler with all of the ability to become your new best friend! Not advertised, the Belleze Deck Cooler is a great listener.
Elegance Simplified
We will always take the time to explain how wonderfully brilliant a simple, clean, and beautiful design or aesthetic can be. Sure, there are places in this world for the complicated and the flashy, but the true happiness that is provided by the simple and the sleek is a concept that far too few companies are picking up on. Belleze's giant twenty-gallon mega gorgeous cooler has a simple opener and catcher, a drain plug, and a bottom shelf. That's really it. It looks like a shiny classic muscle car.
Variety
Even though it might be a simply designed product, Belleze as a designer and manufacturer sure didn't stop at a single option for you all. There are four, absolutely stunning, versions of this beastly beauty of a patio cooler. There's the polished black version (pictured), and cherry red version, a stainless steel version, and a simulated rattan version. All of these are extremely clean looking and don't lose the wonderful edges that this cooler really puts out into your space.
Cost and Value
Just slightly under the average price for a premium backyard patio cooler, the Belleze Rolling Patio Deck Cooler is an astounding value that simply cannot be beat if you're after a classic vibe, and a no frills piece of backyard furniture.

7

. Permasteel PS-206-PEPSI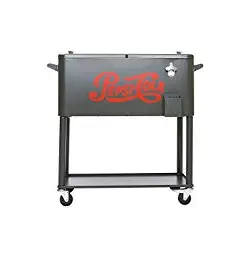 On the topic of retro stylings being the thing that folks want to spread around in their choices for furniture, transportation, or clothing (thank you value village for always continuing to provide deliciously faded wardrobes for farmers market vendors worldwide, you're doing a huge service for humanity) Permasteel has done what a small percentage of us are extremely passionate about; retro branded products.
Cola Caddy
At the base of it all, this cooler is almost identical to those like the previously mentioned Belleze twenty gallon cooler, but it has the one thing that not a lot of people want, but those who want it are feverish about their adoration for old-school branded content. If your someone loves to swipe up old gas station signs, or retro (remade or otherwise) neons, they are going to flip their lid, or pop their top, when they see this. The Pepsi Permasteel cooler is the classic car of the backyard beverage caddies.
Senses and Cover
The essentials are all here, covered in the retro branded matte graphic exterior. You've got a wickedly large twenty gallon cooler space under a double-sided flip-top lid (that can be fully removed). There's a stylish and simple bottle opener and cap catcher. Even the luxury of having a bottom shelf for backup drinks, or things needed for said drinks. The flash comes from the exterior, but the cooler itself does the job you want it too, and does it very well.
Cost and Value
It's an ever prevalent problem in consumer equipment, furniture, and all sorts of products; retro or classically branded things cost more. Whether or not Permasteel has the official license for the old Pepsi-Cola logo or not, slapping a recognizable character or logo on something immediately raises the end-users price. Generally this is because of the costs pertaining to the license. The Permasteel Pepsi cooler is a fantastic product, but at nearly sixty bucks more than the Belleze cooler (which is nearly the same thing) for it to display the name of an old product, is going to be a little hard to swallow for some.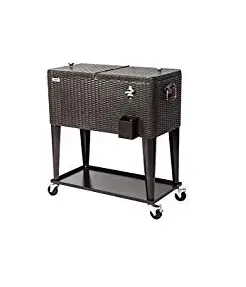 Football season has been underway for a while now and summer will be back before you know it. VINGLI makes a rolling cooler that will keep your food and beverages cold for 48 hours or it can be used to keep things warm for up to 8 hours.
Attractive Construction
The VINGLI rolling ice chest is constructed of Rattan, which is wear resistant and environmentally friendly, on the exterior which gives it an attractive appearance which is sure to go with any décor.
Large Capacity
The VINGLI is an 80 quart sized cooler which will hold 96 cans or you favorite beverage or 20 gallon of total space. The multi-directional rolling wheels will allow you to effortless move the chest from place to place.
Features/Accessories
The VINGLI comes with a two side access lid for accessing your items. The bottle opener is located above the convenient bottle-cap catcher. On the bottom of the chest card is a metal storage tray for additional items. The drain plug allows easy removal of excess water and easy clean up.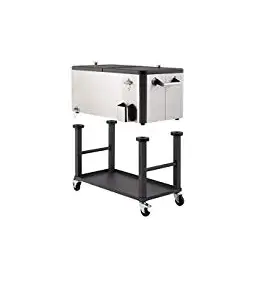 Now here's a patio cooler that will make even the cleanest and elegant backyard barbeque blush. There's always something to be said for keeping things simple. There's something to be said for keeping the design of something clean. Well the Trinity TXK-0802 Stainless Steel Cooler does both of those things, with a bit of a retro flare. This is the your clean, cool, and fancy-ish uncle that always shows up to Thanksgiving wearing a very suitable fedora.
Elegant Flare
Everything on the exterior of the Stainless Steel Cooler from Trinity is well thought out. Going all the way down to the tiny bits of flare they added to simplify the maintenance, without skimping on the absolutely lovely design. The bottle opener and cap catch tray on the front of the cooler looks more like it belongs than the drinks inside. It has this industrial seamlessness to it that you just can't beat. Even the drainage plug on the backside of this cooler looks amazing and clean. The steel chic of this Trinity cooler truly stands out.
Bottom Lines
One thing that a lot of coolers on the market forget is that they are essentially making a storage unit that is intended to keep things at a desired temperature (which is usually cold). Trinity offers that, but in addition to their massive twenty gallon cooler capacity, they also have a flat bottom shelf where you can store much more. Cases of beverages yet to be chilled? A boat load of snacks? Your fedora uncle?
Cost and Value
We seem to be seeing the reflective average window for price ranges on semi-luxurious backyard or patio coolers. The Trinity TXK Stainless Steel Cooler is around a hundred and fifty dollars, and comes packed with an astonishingly large heaping of style. The company offers single packs, two packs, four packs, and five packs. Why there is no love for three, we will never know. But also, who's buying five fairly large patio coolers? (prices reflect the amount you purchase, scale accordingly).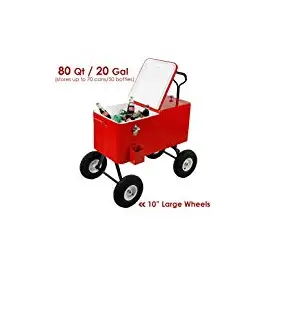 Putting the finishing touches on a long list of awesome options for your backyard patio cooler needs is this gigantically wicked wagon of deliciously cold beverages! The Clevr "Party Wagon" as it is dubbed takes the joy of being a kid in the nineteen forties, and throws a ton of cold drinks inside that dream. The Red Wagon aesthetic isn't lost on anyone, as the gigantic wheels of the Party Wagon ensure that terrain won't get in the way of quenching your thirst.
On The Wagon
The origin of the phrase "on the wagon" comes from prisoners on their way to jail or the noose being taken, by wagon, at the hands of the hangman who was permitted to allow the prisoner to enjoy a final beverage at the tavern. Once drank, the bartender would ask (as a courtesy) if he could give the prisoner another, to which the hangman would have to say "no, they're on the wagon" meaning they've got a destiny to get to. With the Party Wagon, all of the drinks you might need, in their glorious coldness are actually on that wagon, so this doesn't super apply here. But we thought the story would be great.
Infrared Detector
Giant rubber wheels (ten inches to be precise), a long metal pull handle, and the brightest red in all the land all combine to truly help one relive the days of their youth when the wagon was a real treat. Some of us got more modern style wagons, while others simply dreamt and never had. The cooler itself is the great standard we've come to know from our time writing this list. It's a 20 gallon, double flop top with a bottle opener and cap collector, but instead of an extra shelf underneath, there are wheels! Wheeeeee!
Cost and Value
The build of Clevr products is far more premium and clever than their 'e'-less name could even do justice. Though, we wouldn't say that this cooler is clever, just merely awesome. The value lies in the make and materials, with a bit thrown on the price for the unique wagon design and high-quality wheels. It's truly a premium cooler, on a cart, ready for your expedition to delicious liquid town (this is why I'm never asked to name towns). Thirst-Buster-Ville? Drankton? Refreshmonton? … I'll stop.

Subscribe to our Newsletter