Best Inflatable Chairs Reviewed & Rated for Quality
In a Hurry? Editors choice: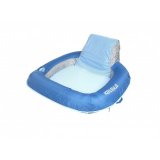 Test Winner: The Kelsyus Chaise Lounger

Inflatable chairs are the ultimate convenient option for when you're shorthanded on chairs when company is coming over, or if someone has
back problems
that a more solid chair would not help or any number of other reasons to make you seek out an inflatable chair as a backup for your other
chairs
. And we're counting down the top 10, here today.
Standout Picks
Criteria Used for Evaluation
Durability
It would be quite the bummer for your summer sun tanning session to end with you taking an unwarranted dip in the pool because a stray pool toy tore a huge hole in the side of your chair, sending you into the briny deep. You need to make sure that the inflatable chair you're buying can withstand being exposed to the elements. This goes double for inflatable chairs that are meant for activities such as camping or even just lounging on solid ground where there may be a pebble or two. These things on average don't look like the most durable things on the planet, but in fact, a lot of them are made of very high-quality materials. While you won't find military grade PVC like that which you find used to make inflatable paddle boards, there are still some high-quality fabrics and other materials being thrown at these things to make them the best that they can be. So when you go to buy an inflatable chair, take a good look at the box or info section, and try to discern what kind of materials the chair is made out of. This will decide just how long this investment actually lasts you.
Support
When it comes to anything you're meant to sit and/or lay on top of, how much weight that object can handle becomes a very high priority. The average weight limit of an inflatable chair, though exceptions are available on this list, is around 250-300 pounds of continuous weight. Some inflatable chairs, however, can take up to 750 pounds of weight, which is definitely recommended if you can find one that takes that kind of weight for a good price. How much weight it can take will also determine how fast the air will leak from the chair from the pressure. Air leaking is natural with these chairs, by the way, so don't worry about that.
Value
Simply put there should not be an inflatable chair that costs more than $50, period. These are not like inflatable paddle boards or other complexes, high-grade inflatable items that require those high price tags to make back the money that was spent on them. Not to say that no amount of money goes into the production of these inflatable chairs, but the average price range of $30 tends to be more than enough to make back the money poured into production. While these are high-quality items on this list, they are not as expensive to make as other inflatable items, and so anything that costs more than around $50 or so is probably trying to pull a fast one on you.
10 Best Inflatable Chairs
1

. The Kelsyus Chaise Lounger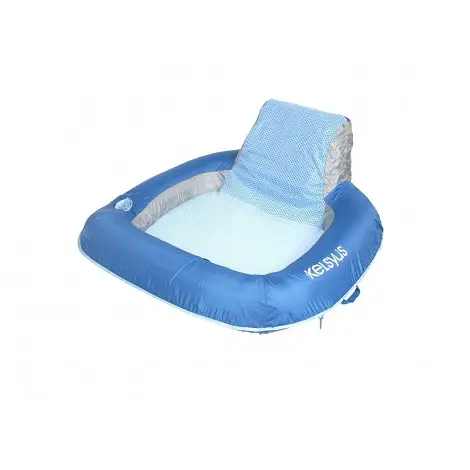 Kicking off our list, we have the Kelsyus Chaise Lounger. While not necessarily a big name in this business, that hasn't stopped the Chaise Lounger from reaching critical acclaim from many of its customers, due to its high-quality performance and variety of other features.
The inflation/deflation process of these chairs is always among the low points, isn't it? Mostly because of all the waiting you have to do. But thankfully, the Chaise Lounger gets around this problem with Kelsyus' own patented jet valves, which expel and take in air faster than any other valve on the market.
If you're in a pool chair, then it stands to reason that your intent isn't to get wet as much as it is to lounge on a nice chair and let the gentle waves of the water soothe you. Which is why Kelsyus made sure to specially design the Chaise Lounger in such a way that your head and shoulders are guaranteed to remain dry.
The price range of this inflatable chair depends on the retailer you consult. But either way, it's not a bad deal at all for such a high-quality chair.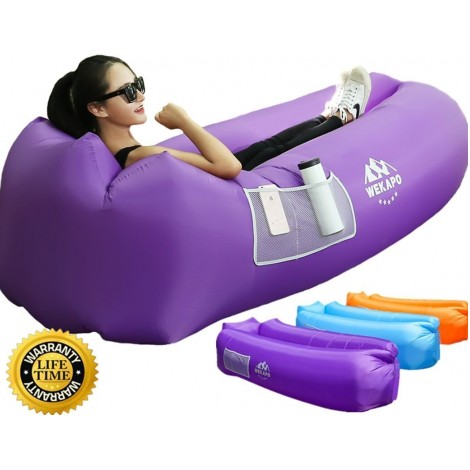 Anyone who grew up in the country knows the pleasure of lounging around in a hammock, rocking back and forth and feeling the wind blow by. For those who want a taste of what that's like without having to uproot their entire lives and move to South Carolina, there's the Wekapo Inflatable Air Lounger.
Anything resembling a hammock that lacks a pillow as a headrest is akin to a hoodie without cotton, it's less comfortable, you know it can be better than it is right now, and you're left scratching the back of your head constantly. Thankfully the Wekapo understands this, and thus includes a pillow-esque headrest attached to the inflatable lounger.
This inflatable chair has proven quite difficult to poke holes in, according to customers. That's all thanks to the material used to make it; namely 210T ripstop polyester, with an added dose of synthetic fibers woven in to make for an almost completely puncture proof surface.
The Wekapo inflatable lounger can be yours for a very reasonable price if you're buying it off of any major online retailer. Prices may vary in other stores, but for the most part, this chair is priced very reasonably.

3

. The Intex Color Splash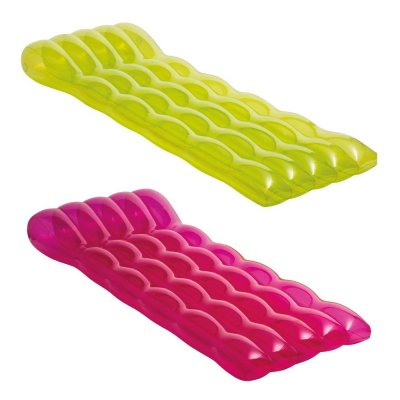 This is one simple lounge, Basically, it's pool float made to withstand a bit of ground wear. That is, we believe why it comes with its own repair patch. It has a separate pillow and body air chambers to keep the pillow from deflating and while this can serve double duty on land and sea, really this is going to do its best work in the pool. Still, the price is right so we're tossing it into the general mix.
If sitting around the campfire becomes, or degrades to laying around the campfire this'll do just fine to let you soak in the night sky and stay warm and prone. In a pinch it'll also do as a mattress if it's just too nice to move.
Not just a good idea, it's really a necessity. All of these plastic floats have a puncture problem so the fact that they're basically assuming you're going to pop a hole in it at some point is a nice little touch. If things go south, just pop that patch on there, get your battery powered air blower and you're back in business, no harm no foul.
Yep, this belongs in our best value category hands down. And while we admit we are playing with the definition of inflatable "chair" with this choice, you gotta go with what you know and if the goal is relaxing well then this is the chair for you.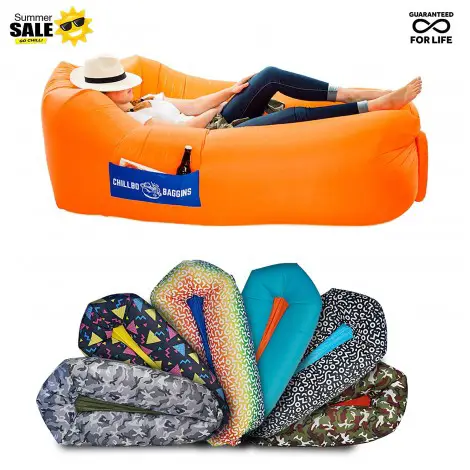 We'd make the joke, but to be honest, you've probably already made the best ones upon seeing that name. Oddly placed Tolkien references aside, this is still a very high-quality inflatable chair. In fact, if you want to, it could even be an inflatable bed. That is, if you don't have a tendency to roll around in your sleep.
Whether with an air pump or by mouth, this chair's simplistic design means that blowing up is practically child's play usually taking no more than a few minutes at most.
With the other inflatable chairs on this list, they are understandably only built with one purpose in mind, but the Chillbo Baggins can be used as anything from a chair, to a pool float, to even a blanket when deflated.
The major downside to this product is its cost, which considering that there are better inflatable chairs out there for much less, as we've seen in previous entries, that does not give many prerogatives to buy this chair instead.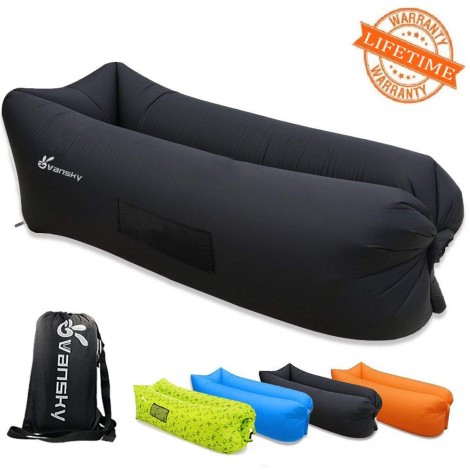 Now when it comes to inflatable chairs, the name Vansky isn't too far behind most of the time, and there's a good reason for that. Their products tend to be the best on the market or at the very least the most interesting. And the Vansky Inflatable Lounger is certainly interesting.
Any inflatable chair should be at least decently easy to fill with air, seeing as how this is the 21st century and we've been doing this for a while. But the Vansky has almost everyone else beat at their own game because you can fill this chair with air just by holding it behind you and running. The air from how fast you're going will then fill it up for you within seconds, a minute at most.
From the methods by which it's filled, and from its appearance, you wouldn't think it would be very comfortable, but then you would be very wrong. This inflatable lounger is incredibly comfy to sit or lay in, due to the soft pillow-esque material it's made out of.
This inflatable lounger isn't just comfortable, easy to sleep in, and easier to inflate, it's also very affordable on top of that.

6

. Intex Floating Recliner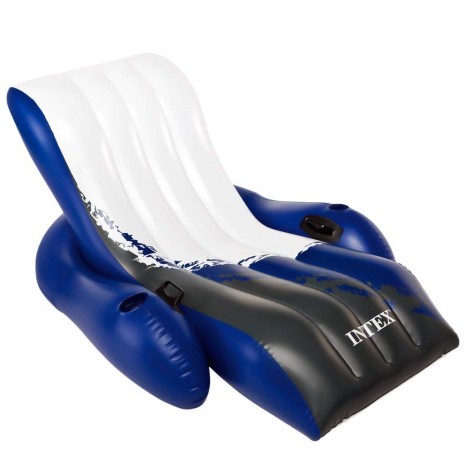 Again this is primarily a pool recliner but we like it so much we thought we'd include it in the chair category because it's just so dang comfortable. Plus the extras really get us with this chair. You've got your cup holders, and heavy duty handles so you can throw it around, and it's strong vinyl so it shouldn't pop like a balloon.
Yep, the design is what sold us on this. Well one of the thing that sold us, it sits like a chair, and allows for you to take your ease on land or sea, plus did we mention cup holders. I mean if this isn't meant for a simple campsite or a day by the pool then nothing qualifies.
Don't even get us started on the necessity of cup holders in a lounge chair. We love the inflatable chair sacks that are presented in this list but we love our cup holders because if your life doesn't involve cold beverages of any kind then we think you're missing out. So YAY cup holders.
Pretty cheap, less than a 20 spot before taxes is a great price point for this nice baby. The heavy duty vinyl should allow it to serve you for some time plus cup holders, plus handles for easy slinging of this chair. Plus we like the colors and actually, we're sitting in this as we write. We're kidding but we kinda wish we were.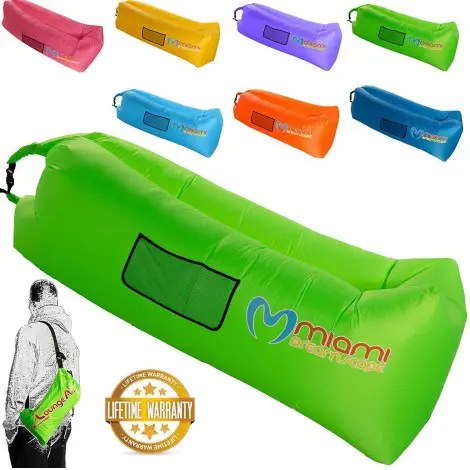 In the #7 spot, we have the ZLoungeAir Inflatable Couch from Miami Dreamscape. If you're out camping all by yourself, this is a great inflatable bed with which to lay on and watch the stars. Does it have any other functionalities besides, though? Let's find out.
Easy to transport
This is easily the easiest of these inflatable chairs to transport, simply because of the means of transportation. The chair folds up neatly upon deflation and fits into a small, easy to carry bag with a shoulder strap that you can carry as easy as any purse.
Supports heavy weight
The highest a lot of other inflatable chairs go in terms of weight is around 250-300 lbs. Meanwhile the ZLoungeAir can support weights up to 450 lbs. Obviously quite an improvement over the average inflatable chair. Though prolonged exposure to such weight for long periods of time will cause it to lose pressure, that's just something you have to expect as an inevitability with these sorts of chairs.
Cost and value
This easy to carry, weight resistant, all around really excellent inflatable couch is a really good deal all things considered.

8

. GoFloats Lazy Buoy Floating Lounge Chair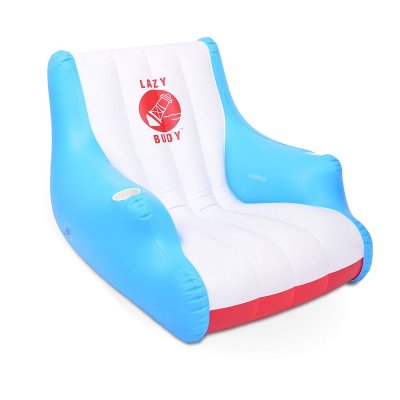 Yep, this works too. Cup holder alert! And we're suckers for a lounge with cup holders. Again, we think this is primarily meant for pool flotation but in a pinch, it'll work just fine around the campfire or the fire pit. It also holds its shape pretty well if you inflate it correctly so once you're in you won't automatically look like a moron when you're trying to get up and out of it.
This has a pretty cool valve system that allows for quick inflation. All we can say is thank you. When you get to that point where you're air blower has run out of batteries this allows you to keep that chair moving. We just like to have the ability to blow this up if you need to.
This is a pretty cool extra that lets you link your chair to other stuff, primarily other chairs. And granted this is likely most useful in the water, but with a bit of twine, you can use this attachment to keep this from blowing away if a wind comes up.
This is a bit pricey but we like it. The contour of the chair, the cup holders, and the ability for this to do double duty and stay in shape is a selling point even though the price point it a bit high.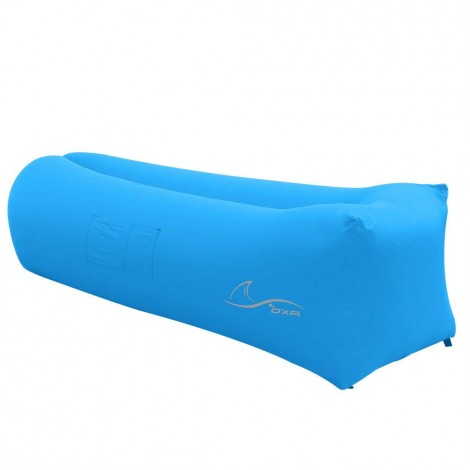 In our second to last place is the OXA Inflatable Lounge Bag Hammock. Despite its place near the bottom rung of the list, make no mistake, this is still an excellent inflatable chair and a great addition to your collection.
This inflatable chair has the best weight lifting ability on this list. The highest amount of weight this chair has been recorded to handle is around 750 pounds at least. Meaning that the average person can flop onto this inflatable chair as many times as they want without worrying about the thing giving out on them. Provided they've properly filled it to capacity, of course.
With most other inflatable chairs, even ones on this list, you have to keep a constant watch for any kind of deflation because they will inevitably deflate on you. And while yes, that is true for the OXA as well, for this chair, the wait is much longer, extending for upwards of 12 hours before showing any signs of deflation.
Regardless of the retailer you consult, you'll be paying a perfectly fair price for an inflatable chair.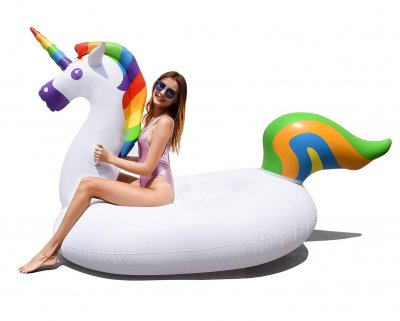 One for the kids, or for anyone who believes in unicorns. This giant unicorn will not only work in the bool but if you have the guts to bring it to the fireside it should hold up pretty nicely. And it's so darn large that honestly you can pretty much stretch out comfortable or lay down easily. Plus Unicorns.
This comes with four Inflation valves. This allows quicker partial filling and faster inflation and deflation in general.
Well it is a unicorn so the color really is part of the deal so like we said if you're going to go unicorn, go big or go home. Also, if you take this camping please send pics.
Crazy cheap for the size of lounge you're getting. This lounge is bigger than some cars and it's designed pretty well for basic lounging and contrary to popular opinion it's not just a conversation piece.

Subscribe to our Newsletter