Best Metal Detectors Reviewed & Rated for Quality
In a Hurry? Editors choice: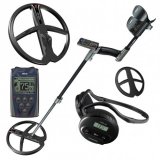 Test Winner: XP Deus

When you think metal detectors, likely you conjure up images of airport security lines, TSA officers, and overly aggressive pat-downs. Yes, a metal detector is technically a device that helps you to pick up on metallic objects. However, when we think of metal detectors we think of vital instruments that allow scientists and archaeologists to do amazing fieldwork and let amateurs dig around open fields for 'stuff,' very often really cool stuff, and sometimes financially lucrative stuff. So, we're big fans of the metal detector. And we think you should be a big fan as well, so we've put together a list of our favorite portable metal detectors.
Standout Picks
Criteria Used for Evaluation
Features
One of your top considerations when choosing your new device should be the type of objects you intend to search for. Whether you simply want to see which treasures lurk buried in the earth or whether you're looking for a specific metal, this question will more or less dictate which device is your best option. Novice detectors who simply want a device to indulge their hobby can get away with buying a general device that detects basic metals and limited device sensitivity. However, professional users might need a device with much higher sensitivity as well as more detection modes to effectively eliminate trash objects from their chosen search object. When purchasing your device, you should ensure that your chosen device can effectively seek out your desired metal. For example, not all devices are sensitive enough to seek out silver and gold, if you want this feature, you should ensure that your chosen device has a high enough sensitivity to find gold and silver objects. For the novice owner who is unsure of which objects are most likely found in their area, it would be a good idea to research your immediate area. This allows you to gain a broad overview of the area's history and subsequently of which objects you are likely to come across most frequently.
Application
Of course, you would like ideally to use your new tool in as many new and different environments as possible. However, when selecting your new device, it's a good idea to keep in mind in which kind of areas you will predominantly use your device. This consideration can play a large role in guiding your decision making to choose the device most suited to your needs. The first thing to consider about your environment is the weather conditions. Will your device frequently be exposed to harsh weather conditions such as heavy rain, snow or hail? If so you should take care to select a rugged, durable and weatherproof device that can effectively withstand the elements.
The second consideration should be water. Do you live near a body of water such as the beach or a river where you'd like to use your device? If so, you should choose a device that is waterproof, or at the very least as a waterproof coil. When using the device, you should take care to note until what depth the device is waterproof. Lastly, it is important to note the kind of soil that is predominant in our immediate environment. Some detectors work better in loose, sandy conditions such as beaches, while others thrive in environments characterized by densely packed soil.
Ease of Use
Whether you're buying a detection tool for the very first time or whether you are looking to replace an existing device, you should always keep in mind your level of skill and knowledge in the field of detection when selecting your device. Any activity's skill or experience level can broadly be divided into three different groups: novice, intermediate or expert. The same goes for metal detecting. Your level of skill will have a great influence on your chosen device.
The novice requires a device that is very versatile and performs well in detecting a wide variety of metals in a wide variety of environments. This is mostly because the novice needs to be exposed to a variety of detection experience and environments before starting to hone their craft. More importantly, the device should be easy to set up and to use. The ideal device for the novice would be user-friendly, offer great value for money, and would be able to pick everyday metallic objects. This device won't necessarily offer specialized features but instead would offer the user a great entry-level experience. The intermediate or expert would prefer a device that has a higher sensitivity and that offers more specialized features such as a metal discrimination tool, the ability to adjust the device's frequency, better detection depth, and adjustable ground balance. In addition, the intermediate or expert user might prefer investment tools instead of devices that are priced lower but are less sophisticated in their features.
Battery Life
This is a factor that is often overlooked by novices and experts alike: how often will you be using your device and for how many hours at a time? This consideration is important as it could be a determining factor when you think about your intended device's durability and design. The frequent user will have different needs than that of the occasional user. The occasional user who uses their device only every other weekend in mild weather will not necessarily worry about wearing down their device or caring for their device. In comparison, the frequent user might require a rugged and durable design for frequent use.
Frequent users should ensure that their chosen device was manufactured using only high-quality materials known for their durability such as aluminum. In addition, the frequent user might benefit greatly over an extended product warranty. There is also the issue of battery power to consider. The average metal detector operates using batteries. However, some devices drain batteries more quickly than others. If you intend to use your device for long stretches of time, you should ensure that your batteries won't suddenly die. Lastly, the frequent user should consider investing in a carrier bag to transport their device safely, and ensure that they clean and care for their device after every use to ensure its longevity.
Value
Generally speaking, your personal budget is a huge determining factor when making any decision. However, this becomes even more significant when purchasing a metal detecting tool. Of course, no device you buy should exceed your budget, but this does not mean that you have to compromise on quality or detection power. Professionals or experts might have more incentive to invest in highly specialized and sensitive detection tools. Professionals can generally expect to be reimbursed by their company, while experts have enough confidence and knowledge to establish whether an upmarket product is truly worth the price. However, novices can find plenty of great entry-level devices that offer excellent value for money.
Best Metal Detectors Reviewed & Rated for Quality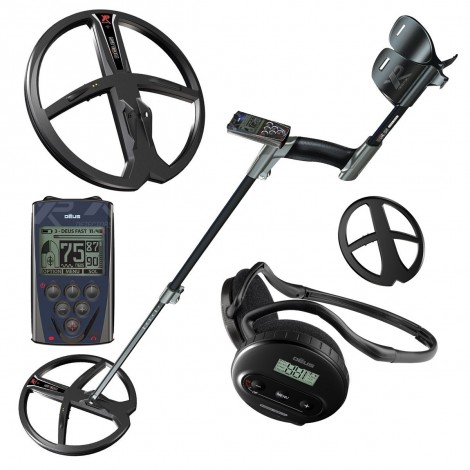 The XP Deus has quickly become one of the most revered tools in the field both of its immense detection power as well as the thought and innovation behind its design. The XP Deus comes with a double 9-inch coil for accurate detection, 18 different detection programs, and operates using three different lithium-powered batteries. This device is powerful enough to be used on a professional level, while still being user-friendly enough to be enjoyed by entry-level enthusiasts.
Wide Variety of Settings
The Deus features a wide variety of settings to suit your every detection need and terrain. The device comes pre-programmed with 10 different settings and an added 8 customizable settings. No matter what your skill level or your environment, the Deus' sheer variety in settings makes it a highly versatile tool.
Operates at Different Frequencies
The Deus is capable of quickly and seamlessly switching between frequencies which gives you a more accurate detection experience. The Deus can easily switch between 4 kHz up to 18kHZ which means that you'll be able to detect a wider variety of objects.
Cost and Value
The XP Deus is definitely perhaps better suited to the skilled or professional detection specialist considering its sensitive detection power and technology. The device is highly durable, completely weatherproof and includes batteries, headphones, and 5-year warranty.

2

. Garrett Pro Pointer AT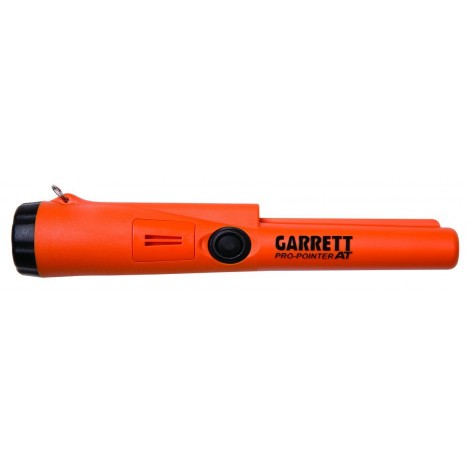 The Garrett Pro-Pointer AT is a unique device in the world of metallic detection since it's much smaller than traditional devices and is fully waterproof. This product is ideal for beginners since its smaller and easier to manage. However, this device also offers plenty of perks for experienced enthusiasts. This device is waterproof, making it perfect for underwater detection and offers three sensitivity settings for optimal detection.
User-Friendly
The Garrett Pro-Pointer AT is the perfect choice for entry-level detection enthusiasts since its small size and simple set up make it very user-friendly. This device is much easier to handle than traditional devices, moreover, it is easy to set up and immediately start detecting.
Waterproof
This device is waterproof up until a depth of 10 feet. This makes it ideal for use at the beach, lake, or riverside. In addition, the device has a bright orange color to easily see in an underwater setting.
Cost and Value
The Garrett Pro-Pointer AT is one of the most cost-effective devices available on the market. Despite its low price, the device was made by a reputable manufacturer and the device itself is extremely durable. It may not be as sophisticated as some other devices but is definitely the perfect entry-level detector.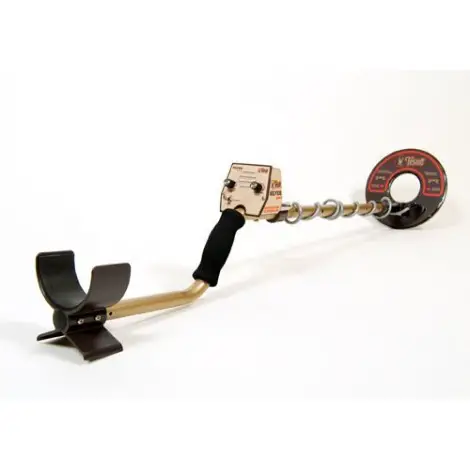 The Tesoro Silver uMax has a rich history of being one of the world's favorite hobby detection devices. Ever since its inception in 1983, the Tesoro Silver has been known for being strong, simple, and silent and this still rings true today with its latest model, the Silver uMax. This device features an 8-inch concentric coil that is interchangeable, a 10 kHz frequency, and silent search mode. This device is simple enough to be ideal for newbies and powerful enough to please pros.
Versatile Detection
The Silver uMax allows you to truly tailor your detection experience by its discriminate level and sensitivity level control. This allows you to easily switch between various settings to best suit your terrains and detection needs.
Long Battery Life
This device operates using a drop in 9V battery that can easily last anything between 10 to 20 hours depending on your sensitivity and discriminate level. In addition, the device has a built-in battery test feature so that you can easily determine how much battery power you have left.
Cost and Value
Tesoro is renowned for their quality products and this is no different from the Silver uMax. For a modest price, you'll receive a great device that works well on any terrain. Moreover, this device comes with a lifetime warranty that you can count on.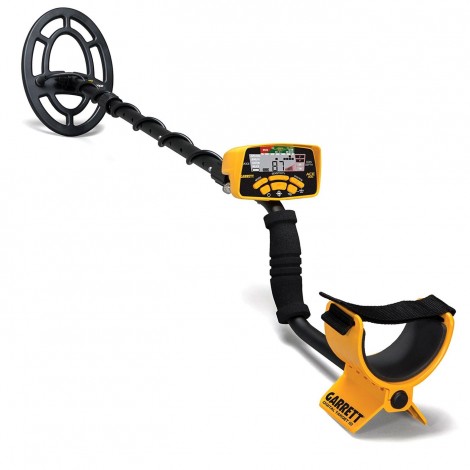 Garrett is one of the leading manufacturers of detection devices which makes it unsurprising that the Ace 300 is a device that delivers high performance in any given environment. This device features a submersible coil, five different search modes, and eight different sensitivity modes. This powerful device can easily detect objects eight to ten inches below surface level and will delight novices and experts alike.
Customised Detection
The Ace 300 offers the user ultimate control when it comes to customizing their search experience. This device allows you to choose between five different search modes, and eight different sensitivity and depth settings. You can easily adjust your settings using the device's included LCD screen controls.
Enhanced Iron Resolution
The Ace 300 offers an enhanced iron resolution feature which is vital for the machine to discriminate between important objects and other pieces of general rubbish. This feature allows you to enjoy a more streamlined detection experience.
Cost and Value
This device has enough detection power to please any professional, yet despite this is very moderately priced. You also receive three free accessories when purchasing the Ace 300 such as a search coil cover, and headphones.

5

. National Geographic PRO Series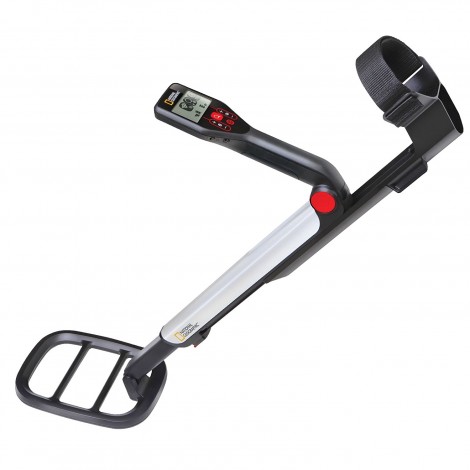 National Geographic's PRO series enjoys fun and lightweight design to appeal to kids, while it has just enough detection power to satiate the pros. This device features a 10-inch waterproof coil that can detect objects up to 12 inches below surface level. This device is very simple to set up and use immediately. It offers a variety of operation modes and sensitivity levels that can be adjusted using the device's LCD screen.
Versatile Searching
This device features a fully waterproof coil which makes it a great fit for any environment. In addition, the PRO series is fully collapsible meaning that you can take your device with you wherever you go.
Variety of Operation Modes
The PRO series allows you to choose between three different operation modes as well as four different sensitivity settings. This allows you to create a more rewarding detection experiencing by filtering out any possible rubbish objects.
Cost and Value
The PRO series is very reasonably priced considering this device's surprising detection strength. This device has a waterproof search coil for durability in tough terrains and has a two-year warranty.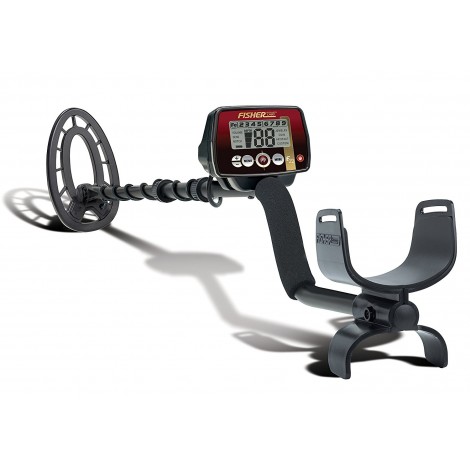 The Fisher F22 is a lightweight and reliable device that will surely thrill beginners and experts alike. This device operates using a 9-inch waterproof coil that can detect metallic objects up to 9-inches below surface level. The device is highly customizable as it offers seven different detection modes and allows you to adjust the length of the rod itself. This is a comprehensive yet user-friendly device that can accommodate most terrains with ease.
Four Search Modes
To make things even easier for the entry-level hobbyist, the F22 allows you to choose between one of four different search modes: jewelry, coin, artifact, and custom. By selecting one of these modes, your device will automatically configure its settings for an optimal detection experience.
LCD Screen
The Fisher F22 device includes an LCD-screen that gives you information about your device's current settings as well as some information about your current environment. Moreover, this LCD screen makes it easy for you to adjust your device's settings to suit your need.
Cost and Value
Considering its considerable detection power, the F22 is very competitively priced compared to most other available products. The device is durable and has a 5-year warranty. Considering the device's features and a great price, this is the ideal solution for the entry-level hobbyist.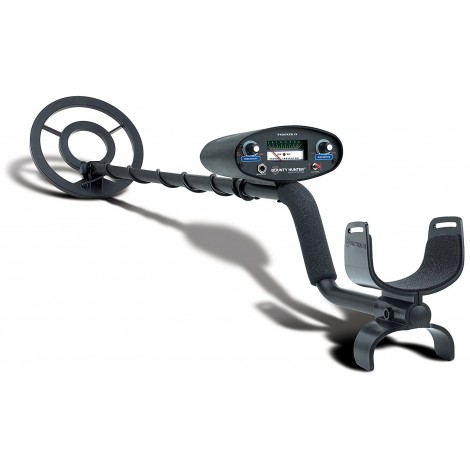 The TK4 from Bounty Hunter is a tough device suited for a wide variety of terrains and metallic objects. Thanks to its user-friendly design and relatively low price this device is ideal for newcomers to the field to get a feel for detection. The TK4 operates with an 8-inch waterproof coil and two alkaline 9V batteries. The device offers the user 3 modes of operation as well as a sensitivity control feature.
Different Modes of Operation
The TK4 includes an LCD screen that allows the user to configure their settings before getting started. The device allows you to choose one of three different modes of detection for a tailored detection experience.
Rugged Design
This device was made to withstand all sorts of conditions and terrains. With its waterproof coil and overall durability, this device can withstand harsh weather conditions. In addition, this device's sturdy design ensures that it can perform well in almost any environment.
Cost and Value
The TK4 is one of the cheapest devices available on the market which makes it perfect for entry-level detection. Despite its low price, this device performs well under any circumstances, is made from durable materials, and includes a 5-year warranty.

8

. Bounty Hunter Gold Digger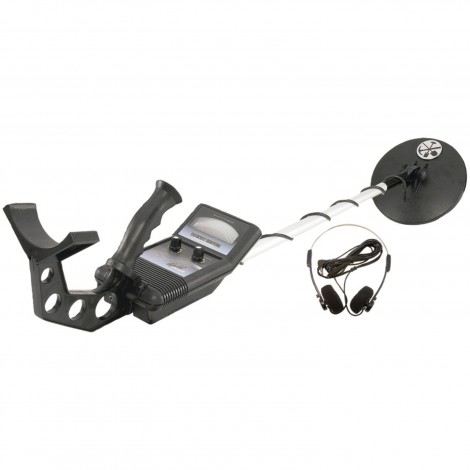 The Gold Digger from the reputable manufacturer, Bounty Hunter, is one of the most versatile devices when it comes to seeking out hidden treasures. The device uses a 7-inch weatherproof coil to find metallic objects up to 2 feet below surface level. The device includes a variety of sensitivity and detection of power control for optimum use. In addition, this device features a trash eliminator mode for effective detection.
User-Friendly
This device was definitely created with the novice in mind. This device is incredibly easy to set up using its user-friendly knob interface that allows you to adjust the device's sensitivity and power.
Versatile Detection
This device can pick up on a wide variety of metal with ease, including iron antiquities, coins, silver, and gold. This device can detect small objects up to 6-inches below surface level and larger objects up to 2 feet below surface level.
Cost and Value
The Bounty Hunter Gold Digger is one of the cheapest devices available on the market. However, the low price does not compromise on quality or performance. This device is weather resistant and offers surprisingly powerful detection for this price range.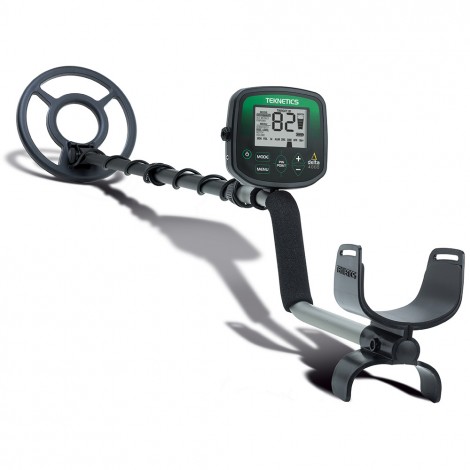 The Delta 4000 from Teknetics was made with the user in mind. This device is lightweight and features an easy to read LCD screen and user controls. The device uses an 8-inch waterproof coil and can detect objects up to a depth of 8 inches. In addition, the easy to read LCD screen allows you to easily navigate between the device's different modes and to adjust the device's settings.
User-Friendly
The Delta 4000 is one of the most user-friendly devices available on the market. Weighing in at just 2.6 pounds, this device is easy to move around and features an adjustable shaft to suit your own height. In addition, the device features a padded armrest for comfortable detection.
Waterproof Search Coil
This device features an 8-inch waterproof search coil that can be completely submerged in water. This makes it ideal for rainy environments or detection terrains that include any body of water.
Cost and Value
The Delta 4000 is moderately priced considering its high performance. This device is weatherproof and includes several features for optimal ease of use. In addition, this device features a 5-year warranty from the manufacturer.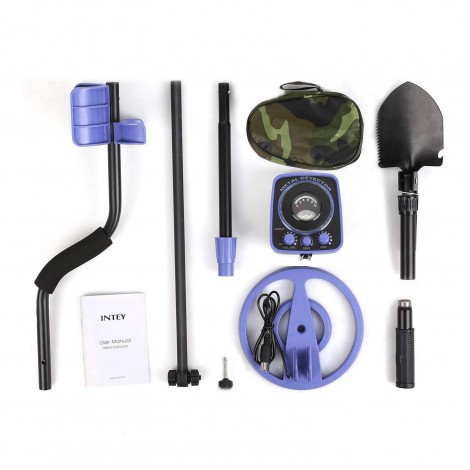 This product from INTEY is bound to delight metal detection enthusiasts thanks to its quirky design and accurate detection capabilities. The INTEY GC-1065 features a waterproof search coil as well as several search modes that allows you to enjoy a streamlined detection experience. The device features a retro knob display that allows you to adjust the device's search mode and sensitivity settings. Furthermore, the device emits a beeping sound and lights up when you're close to your target. This is a fun device that's sure to inspire kids and novices to become lifelong enthusiasts.
Discrimination Mode
The GC-1065 has two different modes to tailor your detection experience. The All Metal Mode allows you to pick up on all kinds of metal and minerals, whereas the Discrimination Mode eliminates minerals and trash objects.
Waterproof Search Coil
The device's search coil is fully waterproof which makes it ideal for outdoor use. You can safely use your device in rainy or wet environments such as the beach to detect hidden treasures without fear of compromising your device.
Cost and Value
The GC-1065 is definitely more suited for the novice detector, and the price reflects that. This device enjoys a very reasonable price and offers more than adequate detection power for the entry-level enthusiast. This device also comes with added accessories, such as a carrier bag and a 90-day warranty.

Subscribe to our Newsletter