Best Kitchen Scales Reviewed & Rated for Quality
In a
Hurry? Editors choice: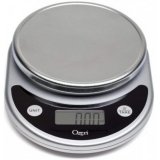 Test Winner: Ozeri ZK14-S

Kitchen scales can be an incredibly useful tool in every kitchen. Using them is really much more accurate than using units like a teaspoon, tablespoon, cup, etc. Fluid is easily and successfully measured using these types of measurements, but it becomes a lot trickier when you are talking about things like flour, spices, or herbs. Variation is just too great and you ultimately get a better end product when you have a more controlled amount of ingredients going in. That being said there are several reasons other reasons why you may be in the market for a kitchen scale. While the reasons are as wide and varied as the scales we will discuss, they are all valid and deserve a scale that is tailored to their needs.
Standout Picks
Criteria Used for Evaluation
Accuracy
Required Units
One thing you absolutely need to consider is what type of units you will be measuring in. Do you use ounces and pounds or some combination of both? Or, maybe, you use millimeters? These units are pretty standard and can be found in all the scales listed here. Depending on the recipe you are using, it will be incredibly helpful for you to have a scale handy that can read in both Imperial and Metric units.
There are a couple other unit options that are less common. Some of the scales also include a fluid ounces option. This will allow you to weigh any liquid that you may need to without making you do funky conversions. Just pour and go!
The other unit option found among the scales listed here is percentage, and it is actually only on one of the scales we've included. The ability to weigh in percentage is very helpful for bakers, particularly those who run a larger scale operation than the standard kitchen is. It allows your recipes to turn out better because you are actually weighing more exactly. When percentages are used, scaling recipes is much easier and more accurate.
Accuracy Requirements
Depending on what you plan to use your scale for will help to determine how accurate you need it to be. Some things – like weighing food for your diabetic pet – require much precision and their life literally depends on it. Other things, like you need about 2 pounds of potatoes for the Shepherd's Pie you are making can be a little less right on.
It can also be very helpful to have accurate measurements if you are getting this scale with portion control in mind. It helps a lot to be able to see and track everything you are eating and get it down to a science. Not only does it help you to be more successful, it really helps you to tailor your food to fit your needs, whatever they may be.
Most scales will increment at pretty low values – around 1 gram or 0.04-0.1 ounces. However; most also require a starting weight to be able to get that accurate. This means that you will need a bowl or a plate on the scale first, then tare it, then measure whatever it is you need. If you don't want to waste your time on setting up a bowl first, there are scales that go that low, but they are much fewer and farther between so make sure that you know for sure that it has the ability to start at that low of a weight.
Style
Shape of The Scale
Not every scale is created equally and they certainly aren't shaped the same. Some have the standard look of a scale – thick base, round plate on top. This is a classic look that obviously works well and has for a long time. That being said, it can take up a lot of space and be somewhat bulky.
However; a very popular and common style is simply a flat scale. They are flat all the way across and shaped similarly to a plate, The display is typically at one end with buttons on the very small side. These are incredibly easy to store and take up very little space in your kitchen. They are a great option if space is limited or you don't want to commit any to a scale.
Ease of Use
Analog vs. Digital
This is a very important question. Do you want a digital or an analog scale? They use different technology and can accomplish different goals.
An analog scale is a mechanical scale. It has a rotating pin that shows the weight and is moved by an innerspring based on how heavy the item is. This is how the first scales and millions of scales thereafter were designed. It is a classic design that works very well. However; it does not display an exact weight. It also won't give decimal places. You simply have to judge about where the pin is at.
A digital scale is a far more common sight these days. They are typically battery operated and will display very accurate weights, down to hundredths of an ounce. That is a big deal if you need to measure very exactly for whatever reason – soap making, medication, etc. They can also be shaped and designed in different ways that you can tailor to fit the form and function of your kitchen. Of note, all of the scales on this list are digital scales. There is a lot of good in an analog scale, but they're just not as popular or functional as a good digital scale is.
Top 10 Picks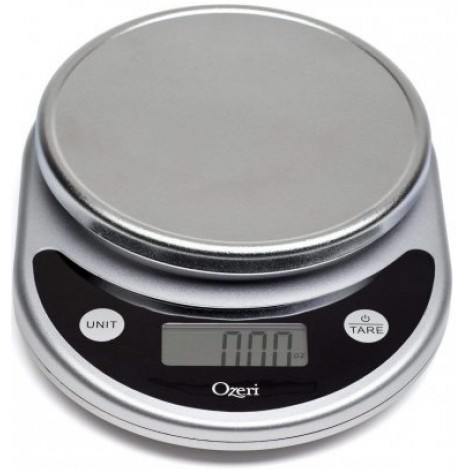 This is a highly functional Kitchen Scale. It will weigh items over 11 lbs and can do so in several different types of units including mL, pounds, grams, ounces, and pounds:ounces. The screen is very easy to read and easily switches between units. It also features a tare function and a nice, large platform for weighing food.
All Sizes
This scale is perfect for all sizes of items to be weighed. It will weigh with an accuracy of 0.05 ounces, or 1 gram - which is pretty tiny all things considered. It's higher limit is 11.24 pounds, which is heavy enough that everyday use won't come near to touching. This allows you to measure out your cilantro or potatoes and know that either way you are using exactly as much as you want to be.
Battery Usage
The power in this unit comes from 2 AAA batteries. The scale comes with a trial set, but they will need to be replaced fairly soon after purchase. The batteries are easily accessed and changed without needing any tools besides your hands. It is also programmed to turn itself off after 2 minutes to preserve the batteries for as long as possible.
Cost and Value
This scale is very inexpensive. You will get a lot of use out of it, particularly if you are someone who needs to weigh and measure everything. It will last a long time with ease and you will get a lot of value out of it. It's definitely worth the price.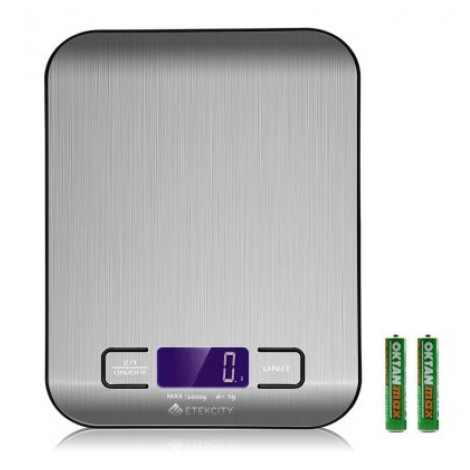 Weighing your food has never been easier or more convenient that with this scale. It is thin and lightweight with a violet backlight. It is easy to use, easy to tare, and will weigh clear up to 11 pounds accurately. It also includes several different units - ounce, gram, pound, and ml - and switches between them with ease.
Functional Design
This scale was designed with the busy cook in mind. It seamlessly and quickly transitions between units and will weigh food quickly and easily. It had big, easy to read numbers and even includes a battery indicator. It is thin and lightweight so can be stored almost anywhere and barely takes up space in a crowded kitchen.
Stainless Steel Finish
Not only does it work well, it also looks good. It is finished with stainless steel which gives it a nice shine and helps it to look elegant in your kitchen - which means you don't have to store it if you don't want to or use it often enough. Stainless steel is also super easy to clean, which is another big win here.
Cost and Value
This is another very reasonably priced scale. You can rest easy knowing that starting to weigh or portion your food isn't going to break the bank. You can get a quality scale that has all the functionality that you need at a very good price. This is a purchase you will not regret.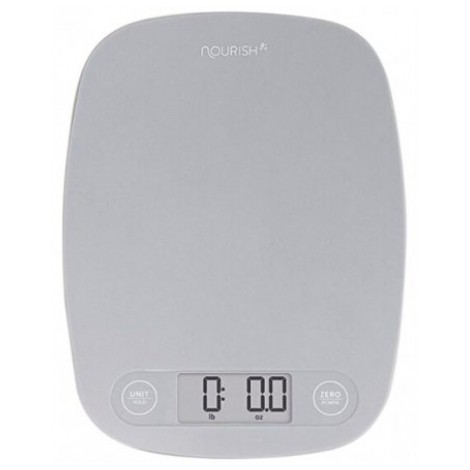 This scale is simple, straightforward, and will perform everything you need a kitchen scale to with ease. It is made of easy to clean durable plastic, is thin and lightweight, and also has easy to clean hygienic buttons. It offers a tare function and will measure in grams, fluid ounces, pounds, ounces, and milliliters.
Community
When you purchase a Greater Goods scale you are not only helping to get yourself healthy, you are also helping others in need. A portion of every scale sold goes to help orphaned children through providing both long term support and helping with basic essentials. Not only that, the company itself is there and ready to help if ever you should have a question or problem.
Size
Measuring in at 6 inches by 6 inches, this scale is the perfect size. It is easy to store and fits nicely in your kitchen, but is also big enough to effectively weigh almost anything you need it to - up to 11 lbs. The entire surface can be utilized by putting the food directly on it, or even making it bigger by putting a bowl or plate first and taring it before weighing your food.
Cost and Value
This is the most inexpensive scale thus far, and that's saying something as nothing on this list could really be deemed expensive. You definitely get your money's worth and can know that your money is also going to something good in the process.

4

. Etekcity With Removable Bowl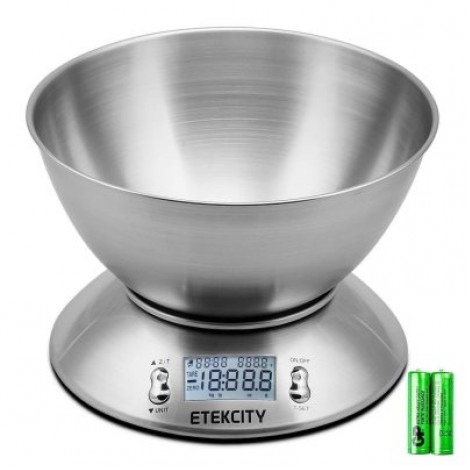 This is a nice, multifunctional scale. It comes with a stainless steel bowl that is easily detached. It delivers precise measurements up to 11 pounds in as small as 0.1 ounce/1 gram increments. It easily tares and has a clear display with a blue backlight. It will measure in lb(oz) or kg(g) and even degrees fahrenheit if you are looking for the perfect temperature.
Multifunctional
Is your kitchen space a little limited and you want to get a kitchen scale but aren't sure how it is going to fit? No problem here! There are a couple elements that address that issue on this scale. No only does this scale measure the weight of your food, but it will also tell you the temperature. No additional thermometer necessary. Another thing it includes is a kitchen timer. This eliminates another necessary kitchen tool by combining it with the scale.
Detachable Bowl
This scale comes with a heavy duty stainless steel bowl that is easily detached and reattached. This means that you can prepare your food right in the bowl of your scale and weigh it as you add things. No need for an additional bowl. You can use the scale both with and without the bowl, whatever best fits your needs at the time.
Cost and Value
This scale is more expensive than many on this list but still very affordable. It has some cool features that make it worth the extra money, and really is saving money that would be spent on other kitchen tools anyway. This is a good scale that you'll get a lot of use out of and be very happy with.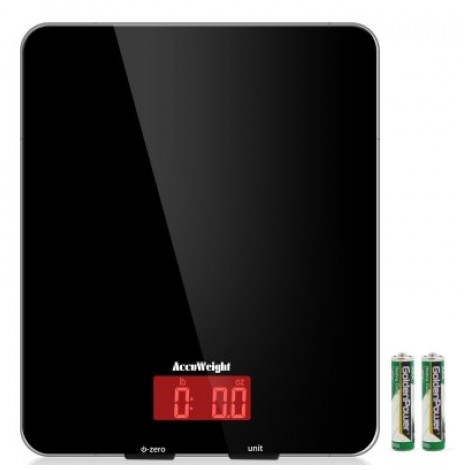 This scale will easily perform everything you need it to in the kitchen. It is easy to use and looks good. Because of the sleek, thin design, it is easily stored and takes up minimal space. It will measure in grams, pounds, ounces, and even fluid ounces. It also includes an overfill indicator, low battery light, and an automatic shut off after two minutes.
Tempered Glass Surface
Unlike any others on this list thus far, this unit has a tempered glass surface. Heat treating the glass makes it three times stronger than standard glass. It also really helps to give the scale a beautiful and reflective surface that won't be easy to break.
Warranty
AccuWeight is so confident that they have made a quality product that they warranty it for at least a year. That number jumps to three years if you register your product online. It is nearly unheard of for companies to warranty items in this price range at all, much less for up to three years.
Cost and Value
The price of this scale is very reasonable. You will be able to pick it up on a whim even, no real need for thought out planning or budgeting when you decide you want a scale to be one of your kitchen tools. It works well for a long time and is definitely worth the cost.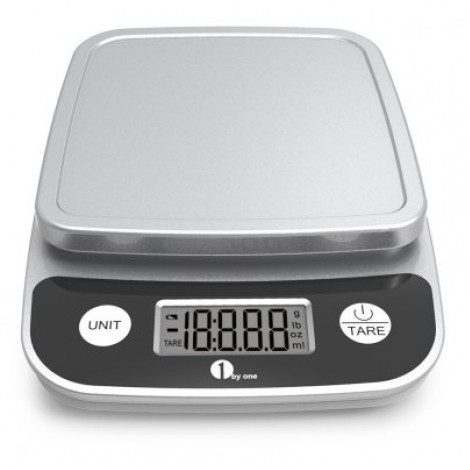 If you want a scale with more of an actual scale surface rather than just a flat top, this 1byone scale is a great option. It works well, will last a long time, and gives very accurate measurements in grams, ounces, pounds, and milliliters. Like most others on this list, it also tares easily, includes an auto-off function, and is basically ready to use when you pull it out of the box.
Weight Range
Again, like most of the others on this list, this scale will weigh up to 11 lbs. Unlike most others on this list, it will weigh as little as 0.04 ounces. Most have to have some sort of starting weight - even if that means you put a plate or bowl on and tare it first, but this one allows you to weigh tiny amounts right on the scale.
Easy To Clean
As this has a plated platform, you might be worried about how easy it is to clean. Rest assured that it will give you no issues at all. The plate is chrome plastic, which means it looks good but cleans easy. There are no worries about rust or having a dirty scale.
Cost and Value
This scale falls right in line with most on this list. It is very inexpensive and will really help in tracking the weight of your food, your pet's food, or anything else you may need to weigh. It will work well for a long time and you will be more than satisfied with it's cost.



This is a great kitchen scale that will weigh all the way up to 11 pounds. It will display weights in ounces or grams and features a pull out display to prevent it from being covered. It is easy to tare, includes an auto-off function as well as a standby function in which it will store your last weights until it shuts off completely. It also comes with an indicator of how close you are to the 11 lb capacity, as you may reach it without knowing thanks to the tare function.
Pull-Out Display
In a sea of scales that perform largely the same functions, companies need to add design elements that make their scale stand out. OXO has done just that with the pull-out display. If you happen to be weighing something in a large bowl or on a plate, that can simply cover the display making it impossible to see. With this scale, however; you can simply grab the display and pull it out so that you can continue on your merry measuring way without any interference.
Removable Plate
While the pull-out display may have you wanting to weigh everything in a bowl, pot, or plate, another great design element included here is a removable plate. It is made of stainless steel and can be easily taken off to clean. That means no leftover food hanging around and no stress about messing with electronics and water.
Cost and Value
This scale is significantly more expensive than others on this list. Generally speaking though, you get what you pay for and if you want one of the best you will have to pay the price. It works well and will perform all the functions you need it to for a long time.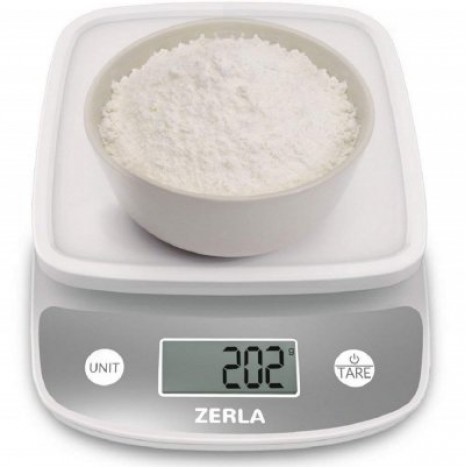 This is a small, lightweight, and very portable scale. It is white in color and will really help you get a handle on how much food you are taking in. It weighs accurately and precisely in 0.05 ounce or 1 gram increments and goes up to 11 lbs. The tare button is easy to use and works well.
Compact Design
This scale is designed to be used in more than just the kitchen. It is small and compact enough that you can take it with you wherever you go. It'll easily slide into your purse or other bag and will help you maintain control even when you are out and about when that gets exponentially harder.
Unit Options
Not all scales are the same when it comes to units. This one offers almost all the measurements that can be found in others on the list - grams, milliliters, ounces, pounds, and pounds:ounces. This ensures that no matter where you live or how you like to measure things, this scale is up to the task.
Cost and Value
This scale is actually just a tiny bit cheaper than other options on our list. It is white and plastic so that likely has something to do with it. Don't let that lead you to believe it isn't functional though - because it is, in fact, very functional and will serve you well and help you to reach your weight loss or management goals.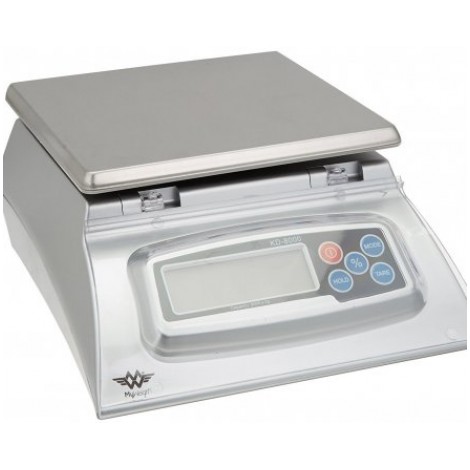 This scale is built to be a little heavier duty that the others on our list. It will weigh more total volume, up to 8 kg or 17 ½ pounds. It will weigh in pounds, ounces, pounds:ounces, grams, and even percentage which can come in very handy if you run a larger scale baking operation.
Hinged Gunk Shield
Sometimes you make a mess, plain and simple. When you are using something in the kitchen in an area and with ingredients that tend to get messy often then you are cleaning a lot. That cleaning can rub numbers or words off and make it hard to read your scale. This one comes with a gunk shield to protect that precious information. You can simply lift it up and clean it off. Nothing rubs off and the scale itself is still as good as new.
Percentage Weighing
Not only does this scale include the typical weighing options, but it also gives a percentage weighing mode. This has large application in commercial baking as many recipes are more easily scaled when all ingredients are considered in terms of a percentage of the flour.
Cost and Value
This is one of the more expensive scales listed here. However; it is heavier duty, made of stainless steel, and is meant to work harder than your standard scale. It offers features that others don't and ultimately, lives up the the price it sells for.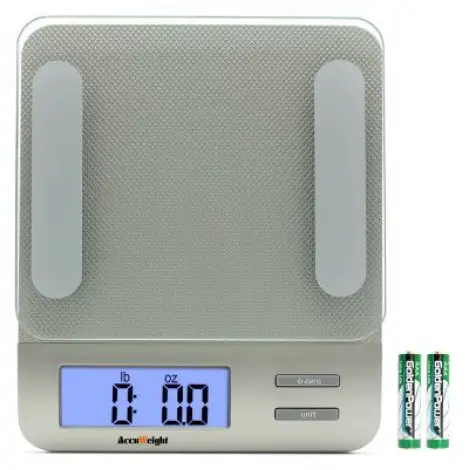 This is a highly accurate, easy to clean, and cost effective kitchen scale. It features a large, bright blue back light with easy to read numbers on it. It will read out in milliliters, pounds, grams, and even fluid ounces! It is thin, lightweight, easy to store, and makes a great addition to your kitchen.
Hygienic Surface
The surface of this scale is made of tempered glass and as such, is very easy to clean. The tempered glass is much stronger than standard glass and can still be wiped down with a washcloth or bleach wipe or whatever you use to clean. You can rest easy knowing that you aren't spreading dangerous germs from meal to meal.
Overload Indicator
You will always know when you are reaching the capacity of your scale, even if you have used the tare function to clear it out and it is displaying a very small number. When you approach 11 pounds, a light will turn on letting you know that it's about as full as it can get.
Cost and Value
This scale falls midrange of all listed here. Not too expensive, but certainly not the least expensive either. It does have some neat features and is built to be a little hardier than some of the cheaper options. It will weigh things as you want them weighed and will work for you for a long time.

Subscribe to our Newsletter