Best Toasters Reviewed & Rated for Quality
In a Hurry? Editors choice: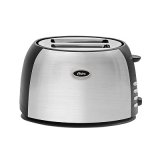 Test Winner: Oster

Do you love a well-toasted bagel? Or what about a great piece of bread toasted to perfection in the morning with some butter and jam? Or maybe you just like to toast everything! I mean who doesn't like the convenient option of being able to throw something in the toaster and it is perfectly toasted to your liking in just a matter of minutes? Well if you really like to get your toast-ing on, then we have the perfect top 10 list for you- a list of all of our favorite toasters on the market today. So we did all the research so you don't have to. We rated each toaster for quality and value while highlighting the benefits and pros and cons. That way you will be on your way to making great toast in no time.
Standout Picks
Criteria Used for Evaluation
Brand
When you are picking out a toaster for your kitchen, you are going to want to decide which type of toaster is best-suited for your needs. There are pop-up toasters, which are mostly referred to as just toasters. These are usually affordable, easy to use, and come with quite a few bells and whistles to recommend them. The other type of toaster out there is the toaster oven, which sits on your countertop and can be used for a variety of foods, other than toast, bread, bagels, English muffins, and frozen pastries. For the list here, the pop-up toaster was concentrated on, but so you know, there are other choices of toasters out there for you to consider.
Size
The next metric used to develop this buying guide was the size of the toasters offered. Most of the top-rated toasters come in either 2-slice or 4-slice options. Most of the time, the type of toaster it is will be apparent in the title. For you to determine which is the right size for you, decide whether you will be toasting two or four slices of bread at the time, how big you want the slots to be on the toaster, and how much counter space you have to devote to the toaster itself. Most of the top-rated models are compact and able to fit easily on a countertop and are also compact enough to be stored easily as well.
Application
While you want your toaster to work well, and maybe even have a few of the bells and whistles mentioned above, design and appeal play a huge part in choosing the right toaster to meet your needs. The top-rated toasters come in a variety of different styles, colors, and can even be gotten in the shape of the Star Wars Death Star. Whether you are looking for a toaster that is sleek and modern or one that is retro to fit your art-deco kitchen decor, there is a toaster out there to meet your needs.
Use
The best-reviewed toasters come with a variety of settings to create toast that is to your liking. Many have six to eight different toaster settings, so you can choose the correct brownness and crispness you want in your toast. It's also common for these toasters to come with a defrost, reheat and cancel button as well, so you can stop the process of toasting whenever you want. Many options come with a bagel setting, so you can toast bagels as well. Consider which settings you want on the toaster you are considering carefully.
Value
One of the biggest metrics considered in this list was the cost of the toasters reviewed and rated. The average price of a no-frills toaster can cost anything from $20 to $40. Some of the high-end toasters, however, can run you anywhere from $100 to $300 a piece. There are a few factors to consider when deciding the cost you are willing to pay. Do you want the toaster to have the bells and whistles? Then you will pay more, if not, then you can usually go with the low end of the price scale. Make sure to consider the durability of the toaster when making your decision.
Durability
A good toaster should last you a good number of years. The top-rated ones on this list, as stated by reviews, last a good long time. The best way to ensure the toaster that you are considering will last you for years is to do some research on the brand and read the reviews on the product.
Ease of Use
No one wants a toaster that they have to squint at to use or be a rocket scientist to toast their bagel first thing in the morning. The top-rated toasters have LED indicators and easy to push buttons, so that toasting your English muffin at 6 am, doesn't take a master's degree. When it comes to cleaning, you want a toaster with a removable crumb tray, so that cleaning the toaster only takes a few seconds, and then a quick wipe with a rag to complete the process.
Features
While the list has already determined the proper bells and whistles that come on many of the top-rated toasters, that's not the same as the features many come with. Some of the best features to watch out for when you are considering the best toaster for you are listed here.  An extra lift lifts the toast up so you don't have to dig smaller pieces out with a fork or your fingers. Bagel settings are becoming more and more common and are designed to toast bagels, English muffins and other breads that are thick. A sandwich toasting cage could be considered a bell and whistle, but it does come in handy. They are designed to help you make toasties, (sandwiches,) easily and have a solid bottom to stop cheese from dripping down into your toaster and making a mess.
Safety Hazards
No matter what type of product you are considering buying, looking at the safety features for that product should come first and that includes toasters. The top-rated toasters on this list have safety features, such as crumb trays that catch the crumbs and make it easy to empty them, to prevent them from being a fire hazard. Other features include retractable cords that don't get tangled on something and pull the toaster off the counter when not in use and cool touch sides, so you don't have to worry about burning yourself or melting the bread bag if it touches the side of the toaster during or after use. These safety features are important and looking for them when searching for the perfect toaster for your kitchen is a must for the safety of you, your property and your family.
Top 10 Toasters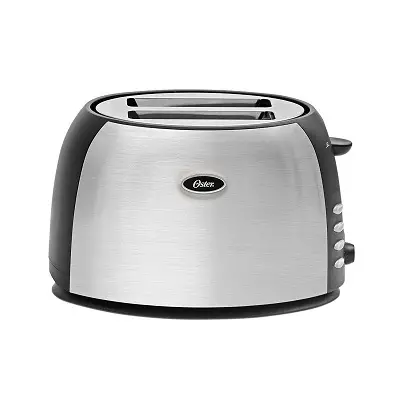 The Oster is a two-slice toaster with extra wide slots. It has seven toast shades, so you will never have to guess when your toast is the right shade of brown again. It features a removable crumb tray and a retractable cord for safety and easy storage. Enjoy toast, bagels, English muffins, or even crispy, golden waffles with this toaster.
7 Adjustable Settings
Toast isn't the only thing that's put in a toaster in the mornings anymore. You can turn the settings up and down on the dial to get the desired shade for your toasting pleasure. This toaster even includes a bagel option, that will adjust the time it toasts according to the thickness of the bagel.
Extra Wide Slots
The toaster features extra-wide slots, so you no longer have to cram bagels down into the slots and hope they toast. The extra-wide slots can accommodate different varieties of food and the slots are also extra-long to help as well.
Cost and Value
The sleek design and metallic finish add to the value of the toaster, as it will not look out of place in any kitchen, traditional or modern. The added bonus of extra-wide slots and 7 adjustable settings catapulted this toaster to the top of the list for cost and value.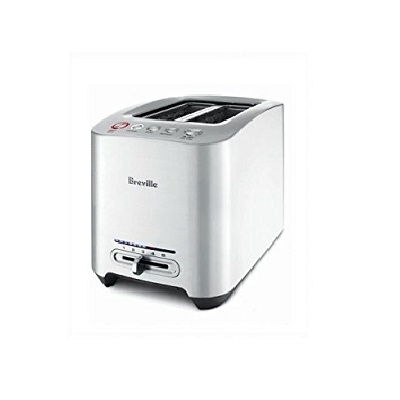 The Breville is a lift and look toaster that has push-button controls and a motorized carriage. It also features an LED toasting indicator that lets you know how your toast is browning. With its adjustable browning control of 110 to 120 volts, this toaster takes all of the guesswork out of making that morning toast.
LED Toasting Indicator
One of the best features about this toaster is the LED toasting indicator that lets you know how your toast is doing. No longer do you have to stand and lift the lever to check your toast for brownness.
5 Settings
This toaster features five settings to ensure your toast is done the way you like it, then it has something a little different. It has settings for "lift and look" and "a bit more." With its one-touch technology, this toaster is one for the ages.
Cost and Value
With its five setting, LED toasting indicator and one-touch design, this toaster is well-worth the money you spend. It takes the toaster to a whole new level of performance. This one is worth it in value and cost.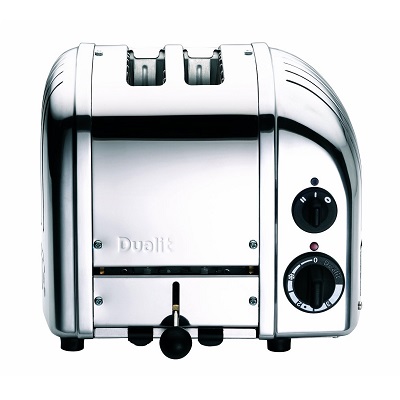 The Dualit two-slice toaster comes in 26 color options, so you shouldn't have a problem finding one to match the theme and colors of your kitchen. The toaster features award-winning ProHeat elements that will increase the efficiency of the toaster and make for even browning. Also features a removable crumb tray for easy cleanup.
Old-Fashioned Design
While it comes in different color choices, the toaster has an awesome old-fashioned look to it. It combines sophistication with simplicity in a way that can't be copied anywhere else.
Extra-Wide 28mm Slots
The best feature about this toast is the extra-wide 28mm slots that are perfect for toasting anything from homemade bread to sandwiches.
Cost and Value
With the extra-wide slots for toasting and the fact that you have a choice of 26 color varieties, this toaster is worth it in cost and value. Combined with the ProHeat elements, removable crumb tray, and the adjustable rear foot and you have a winner for sure.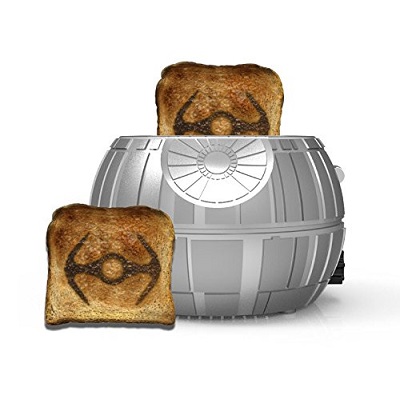 If you are a Star Wars fan, then you are going to love the Pangea Brands, Star Wars Death Star toaster. The toaster is a two-slice and features cool-touch housing reheat, a defrost function and a quick stop function as well. It also comes with a removable crumb tray, to make cleaning up a breeze, and a thermostat that can be adjusted.
Extra-Wide Slots
This toaster features extra-wide slots that are perfect for toasting any type of bread. Put your bread in and watch it pop out of the Death Star, perfectly browned and ready to eat.
Removable Crumb Tray
The removable crumb tray on this toaster makes for easy cleanup for everyone in the house.
Cost and Value
Just the fact that the toaster is shaped like Star Wars Death Star is enough to give it value and make it well-worth cost. Add in the extra-wide slots, adjustable thermostat, and the removable crumb tray and it deserves to be on the list!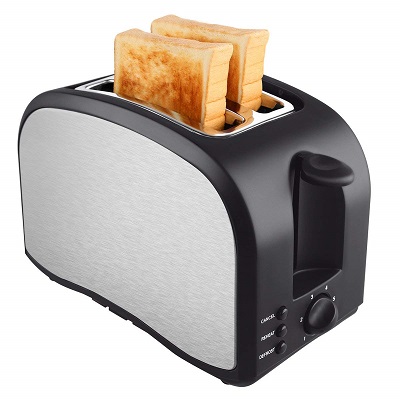 The ToBox CB-ST002 CT-ST002 2 Slice Toaster features a defrost and reheat button, so you no longer have to get busy and eat cold toast or pastries when you remember you made them, to begin with! It also has two extra-wide slots and a removable crumb tray. The self-adjusting guides adjust themselves to the size of the bread for even toasting, in the perfect position. No more having to dig the toast out of the toaster with a fork, it stays put!
Multifunctional Setting
The toaster features a shade selector that lets you choose from six settings for light to dark toast, so yours is always just that perfect shade of brown. Other features include defrost, reheat, and cancel controls for easy use.
Sleek Design
The design of this toaster is sleek and elegant, a welcome addition to any kitchen. The brushed stainless steel body of the toaster is not only eye-catching, it helps the toaster to cool down as well after toasting is completed.
Cost and Value
With the multifunctional settings, sleek design and LED indicator lights, it's no wonder this toaster made it on the list. For cost and value, this one can't be beaten.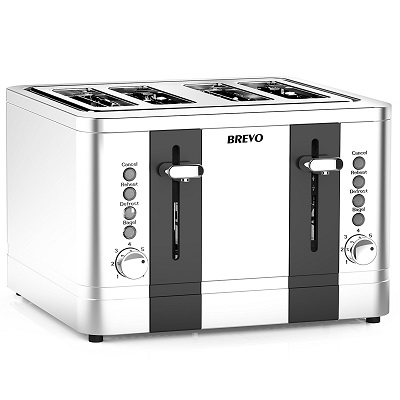 The Brevo four-slice toaster is sleek and modern with a bagel function that allows for single side toasting. The toaster features manual cancel, reheat and defrost buttons for control over your toasting. Customize any piece of bread to your liking with the 7-shade control option.
Futuristic Design
This toaster features a futuristic design that will look great in any modern kitchen. Take your toasting to a different level with this sleek 4-slice toaster. You can toast two pieces of bread if it's just you, or four pieces of bread if you have a friend come over!
User-Friendly
Breakfast becomes simple with the bagel function, manual cancel, defrost and reheat buttons, and the removable crumb tray for easy cleaning after breakfast.
Cost and Value
From the separate bagel button to the 7-shade indicator, this toaster is worth the money that you will spend to purchase it. Combined with the sleek, modern, yet compact design, this is one you don't want to miss.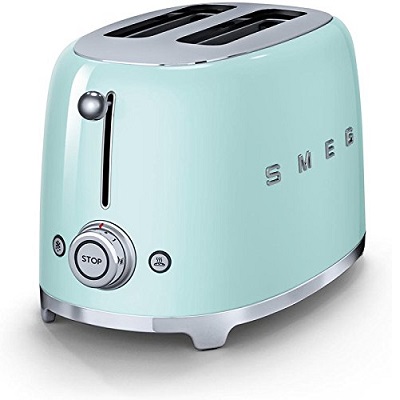 The Smeg 2-slice toaster features a retro design and comes in a choice of six different colors. It has self-centering racks, so your toast stays securely in place and non-slip feet for added safety. It also has six different levels of browning and 3 preset programs, for defrosting, reheating, or toasting a bagel.
Retro Style
This toaster is designed with a retro look that will fit well in any retro kitchen. However, its old-fashioned look doesn't take away from the functionality.
Stainless Steel Crumb Tray
The toaster comes with a stainless steel crumb tray that makes cleaning up after breakfast, or even just a snack, a breeze, as it's removable.
Cost and Value
Just the retro design and choice of six colors, make this toaster well-worth the price. Add in the removable crumb tray, the three preset programs, and the six shade browning functions and this toaster is one for the ages.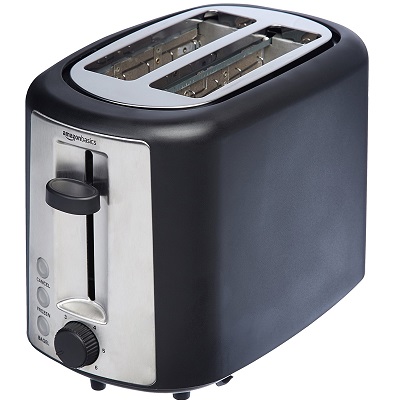 The Amazon Basics two-slice toaster features a bagel setting for toasting, a frozen setting so that you can defrost your bread if you forget to take it out of the freezer the night before, and a cancel function that allows you to stop the toasting at any time. It also features an extra-lift lever and buttons that are illuminated so you can see the settings easily.
Extra-Lift Lever
No longer do you have to worry about digging out smaller items from the toaster with a fork, that is dangerous because this toaster comes with an extra lift lever that allows you to lift the smaller items so they can be retrieved with ease!
Extra-Wide Slots
It's possible to toast everything from bagels to frozen pastries and much more in this toaster due to the extra-wide slots included.
Cost and Value
With the extra lift lever and extra-wide slots, this toaster is already worth the money. Add in the bagel setting and the sleek, gorgeous design and this is one you will want to keep in your kitchen for years.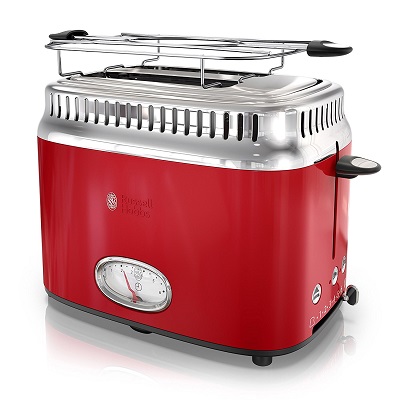 The Russell Hobbs two-slice toaster is the height of retro fashion and will look amazing in any kitchen. Available in two colors, it comes with three functions, a bagel function, a frozen function, and a cancel function. It also features a removable warming rack, a toasting timer, and a lift and look lever. If you love retro and toast, you are going to want this toaster.
Removable Warming Rack
One of the best features with this toaster is it has a removable warming rack. Keep your pastries, buns, and even rolls warm, while you are getting the rest of your meal ready. The wire rack can be attached to the top of the toaster when needed and removed when you want to use the normal toasting function.
Toasting Timer
This toaster has a toasting timer that counts down exactly how much time you have left until your toast is done. No more, standing by the toaster hoping it doesn't burn before the lever pops it up.
Cost and Value
The removable warming rack and toasting countdown timer add value to this toaster more than anything else. The retro design and choice of two colors make it well-worth the money spent.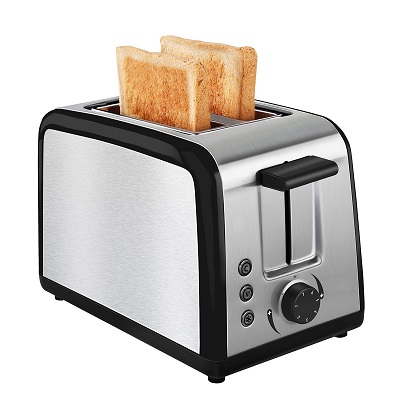 The Keemo two-slice toaster comes with extra wide slots, self-adjusting racks, and a manual high lift lever. The toaster also features three basic functions, bagel toasting, cancel, and defrost. Make your everyday life easier with this quality toaster.
Extra Wide Slots
This toaster features extra-wide slots so that you can toast anything from bagels to thick bread, with ease.
6 Browning Settings
The toaster features 6 different browning levels, so you can get the perfect shade and crispness to the morning toast you love.
Cost and Value
This toaster is worth the money spent with its extra-wide slots and even browning capabilities. It's a product that will look great in your kitchen.

Subscribe to our Newsletter