Best Snowboards for Kids Reviewed & Rated for Quality
last updated:
Aug 13, 2019
Winter sports have been growing in popularity, but none more so than snowboarding. And while many parents would prefer their kiddos to choose a less adventurous sport, kids are clamoring to pick up and master the art of snowboarding.
There's just one problem--outfitting your little dudes with the latest gear can come with a hefty price tag which can seem a little daunting, especially if your child is the try everything once (and only once) type.
Thus, we've compiled this list of the best snowboards for kids that run the full price gamut so you can select the product that is best suited for your kid. We've got shrunken-down versions of adult quality boards that are cleared for ski resort use, and we've also got plastic trial boards for the younger ones that are meant for cruising around the neighborhood. The shred is just a click away.
This is the best product on our list that is currently in stock:

AIRHEAD SNOW RYDER
Why is it better?
Made from real hardwood
Adjustable velcro bindings
Symmetrical design for easy riding
Cool graphics
Super cost efficient entry option
In a
Hurry? Editors choice:

Test Winner: AIRHEAD SNOW RYDER

16
Researched Sources
2400
Reviews Considered
11
Hours Researching
10
Products Evaluated
Features
Durability
Materials
Application
Value
By Default
10 Best Kids Snowboards
Light, dual wood inner for flex
Totally symmetrical construction
Flexible fiberglass outer
No foot bindings for safe learning
Cool graffiti graphics
Pretty pricy for an introductory board
We kick off our list with one of the best snowboards for kids out there--the Burton Chopper. Burton is a leader in the snowboard industry, and they have cut no corners on this youth board. With quality craftsmanship and tons of sick features, your kiddo will blend right in with the professionals on the slope. This is a must-have gift for the snowboarder in your life.
Fiberglass and Wood Construction
The Burton Chopper does not skimp on construction just because it was designed for kids. This board is made of high-quality materials that will prove worth the extra investment.
The Chopper has a certified FSC Fly wood core that combines two different wood types in order to bring down the total weight of the board by about 10%. The lightweight wood reaches from the tip of the board all the way to the tail that allows the board to pop and flex.
This wood inner is wrapper in Blax Fiberglass which provides a super-soft ride along with tons of flexibility. The base is extruded which gives the board more strength and speed. Plus, the Chopper requires very little maintenance and is super durable.
And of course, we would be remiss if we failed to mention the cool blue and black graffiti graphics on the front of the board that is begging to be paired with a snazzy new pair of snowboarding pants.
Totally Symmetrical
The Burton Chopper is designed to be totally symmetrical so it doesn't matter which direction you're riding, you will get the same smooth feel. The design makes it super easy to begin to learn how to turn and to link turns, so this is a truly amazing option for beginners.
The board is flat between the feet to give superior edge control and allow for easier balance. It is worth noting that there are no foot bindings, but this is ideal for learners as they will be easily able to fall off the board if they lose control. There are stomp guards that come pre-installed on the board to provide foot grips.
The board rises up early just past the feet on either side to ensure that the tip of the board doesn't catch on any debris in the snow, causing a wipeout.
This board is 115 centimeters long.
Cost and Value
The Burton Chopper Snowboard rings up towards the top of our price range but we love its value because it is constructed with all of the detail and attention of an adult board, but made specifically with the needs of new riding kiddos in mind.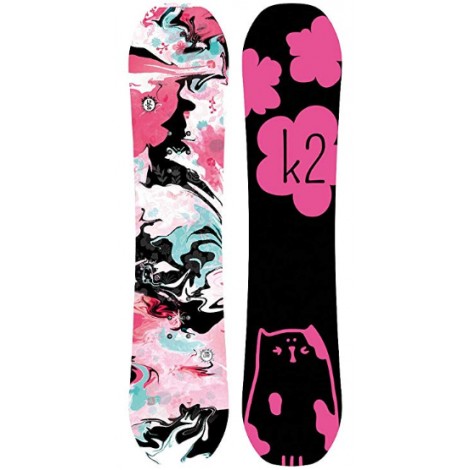 Comes in multiple size options
Incredibly bright and fun graphics
Aspen wood core for flexibility
Symmetrical on either side
Catch-free nose and tail
Very pricy for a child's board
The K2 Lil Kat is one of the coolest kids snowboards for sale on the market today.
With beautiful oil paint swirled designs of black, pink, blue, and white, your little rockstar will be grinding the slopes in style. A pop of a cartoon kitty sets this board off and will be a perfect complement to any girl's snowboarding gloves.
Plus, its specialized design will ensure that your learner has just the board she needs to develop her skills safely.
Twin Board Shape
The K2 Lil Kat has a standard board shape design and features a twin shape that is symmetrical across the board. That means your little rider will be able to get the same feel whether she is riding with her left foot or her right foot forward.
This board features a nose and a tail that lift slightly more than you would see on a standard board to ensure that the ends are catch-free. This helps to prevent wipeouts when coming into contact with chunks of ice or uneven snow on the slopes. This also allows the board to turn with more ease.
Multiple Size Options
The K2 Lil Kat features an Aspen wood core. This wood is flexible and durable and works to make the board easily maneuverable. The outer shell is comprised of Biaxial fiberglass which also adds to the overall durability and lifetime of the board. In fact, this board is designed to grow with your little rider and to be useful for longer than just one season.
We love that this board comes in multiple different size options so that you can get just the right fit for your child. You can choose to purchase this board in 90 centimeters, 100 centimeters, or 110 centimeters.
Cost and Value
The K2 Lil Kat rings up at the very top of our price range but we love its value because it is designed for a safe ride while your little rider is learning, and because it was built to last for longer than just a few rides or even just one season.
3

. Lucky Bums Plastic Board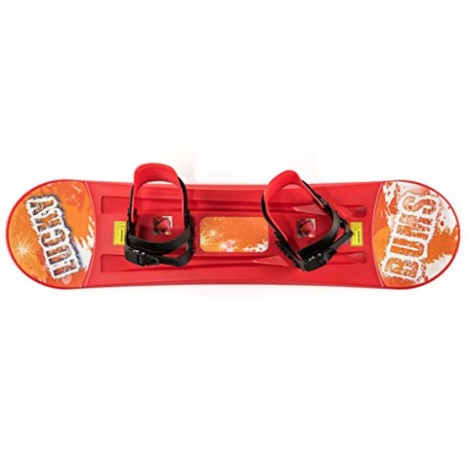 Super cost efficient option
Comes with pre-installed bindings
Hypergloss bottom for a smooth ride
Different size options
Great for practicing around the home
Screws on bindings come loose
The Lucky Bums Plastic Board is one of our favorite snowboards for kids with bindings. It is a perfect introductory board for even the smallest kiddos who are looking to explore the world of snowboarding on a smaller scale first. This board is great for practicing in the backyard or on snow-covered sledding hills in the neighborhood or park.
Great First Introductory Board
The Lucky Bums Plastic Board is not intended for the grand slopes of a ski resort. Rather, this is a great introductory board for learning around your home in winter. If your little one is showing interest in the sport and would like to get some practice in before they actually hit the slopes for real, then this is a great option.
Comes with Bindings
The Lucky Bums is made from durable plastic with a bottom that is super glossy for smooth rides. Softened edges make controlling this board a breeze.
This board comes with durable bindings already installed. The bindings are designed to accept snow boots and have sturdy latches that won't pop open as your child rides. This is not a symmetrical board and the binding for the front foot is installed at an angle.
This board is meant to be used by kids who are 9 years of age and up. It comes in a few different size options so that you can get the best fit for your child. You can purchase this board in 95 centimeters and 120 centimeters.
Cost and Value
The Lucky Bums Plastic Board rings up at the very bottom of our price range and we love its value because it is a great way to practice around the home before you hit the major slopes and to test out your child's interest all at a price that won't break the bank.
4

. Best Choice Products Scooter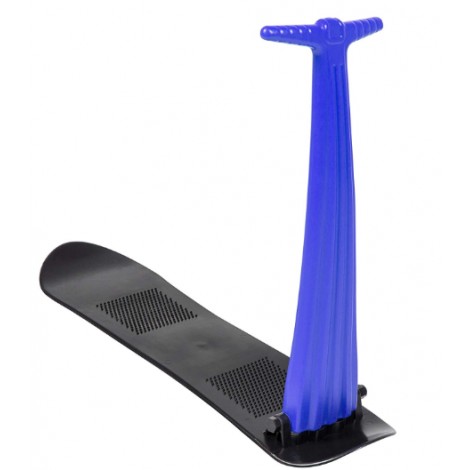 Comes with handlebars
Anti-slippage footrests for security
Catch-free nose and tail
Handlebars fold down when not in use
Perfect for youngest riders
Handlebars don't click in the up position
The Best Choice Products Snow Scooter doesn't look like your standard snowboard, but that's sort of the point! This product is designed for even the youngest of riders with the attached handlebars serving as a sort of set of training wheels to help with steering and balance.
Comes with Handlebars
The Best Choice Products Scooter is a combination of snowboard and scooter. This product comes with handlebars attached to it so even the youngest riders can feel safe and maintain balance as they get their bearings on the board. These handlebars have the ability to fold down when they are not in use making this product easy to store practically anywhere.
The handlebars function as training wheels would on a bicycle. They allow the rider to be able to steer more easily and to maintain balance without toppling over. While the base still has a footprint, you can remove the handlebars later when your child has more balance.
Anti-Slippage Footrests
This features a base that is shaped like a typical snowboard. The middle is flat and the nose and tail are raised to make the catch-free. This product comes equipped with footrests that work to grab onto the foot and prevent slipping while you are riding.
This product is made from durable plastic. It is intended for use around the home and not on major slopes at the ski resort. It measures 36 inches long, 28 inches tall, and 9 inches wide.
Cost and Value
This item rings up at the very bottom of our price range as well and we love its value because it offers up a sort of set of training wheels on the snowboard to help introductory riders get the feel for the board while still maintaining balance and safety.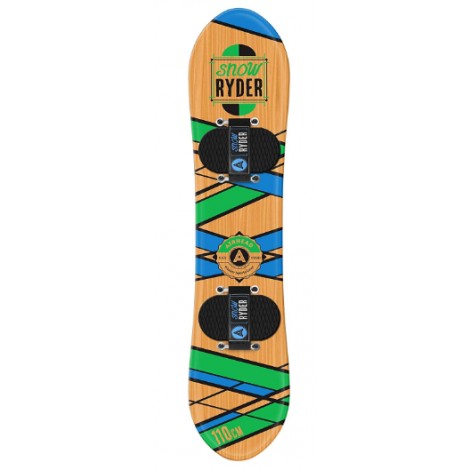 Made from real hardwood
Adjustable velcro bindings
Symmetrical design for easy riding
Cool graphics
Super cost efficient entry option
Doesn't come with metal edges
The AIRHEAD SNOW RYDER is another incredible introductory option and is one of those really cool snowboards for kids that won't cost you an arm and a leg in the process. This is great for kids who weigh between 50 and 100 pounds and is ideal for use on smaller hills around your home.
Velcro Bindings
The AIRHEAD SNOW RYDER has some pretty cool features that are great for new riders. With velcro bindings that are a breeze to adjust, your child will be able to ride with their snow boots or with regular shoes.
Made from Solid Hardwood
It is made from solid hardwood that is super durable and can handle a beating from your little one. The board is constructed symmetrically and can be ridden either way with ease.
This product does not come with metal edges which help when turning the board. Therefore, it is suggested that you do not use this product at ski resorts.
This product measures 110 centimeters long.
Cost and Value
It rings up at the bottom of our price range and we love its value because it's an actual hardwood at about the same price as the plastic boards above, which makes it a longer lasting introductory option.
6

. Emsco Group ESP Freeride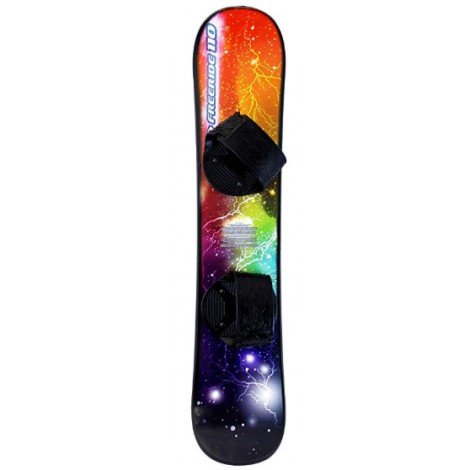 Comes with bindings pre-installed
Made from durable polypropylene
Great graphics for the slopes
Middle of the road price point
Usable by large age range
The Emsco Group ESP Freeride is another great introductory option, though it is a little bit more heavy duty than the previous couple of items on our list. Complete with bindings and cool graphics, your kid will fit right in on the slopes as they work to develop their skills.
Made from Durable Polypropylene
The Emsco Group ESP Freeride is not composed of flimsy plastic or high-quality wood. This is a middle of the road product that is constructed from highly durable polypropylene. This choice has flex to it, while also offering stability and support for new riders.
You will also enjoy the bindings that come installed on this board. It is important to note that this product is not symmetrical and that the front binding is installed at an angle. You can adjust the bindings around various different boot sizes and the binding will snap into place when secured.
Novice Tricks Welcome
It is approved to be used at resorts, though it is important to always use caution and stick to learner's slopes in the beginning so as not to run into the path of high-speed skiers and snowboarders.
Your child will enjoy learning the ropes on this board and even attempting some tricks for beginners as well. And they will look cool doing it with the rad graphics on this product.
This choice is approved for use by children who are between 5 and 15 years of age. The weight limit on this product is 95 pounds.
Cost and Value
This rings up in the low middle of our price range and we love its value because it is a great middle of the road option that offers up durability and functionality all while not breaking the bank.
7

. Winter's Edge Snow Much Fun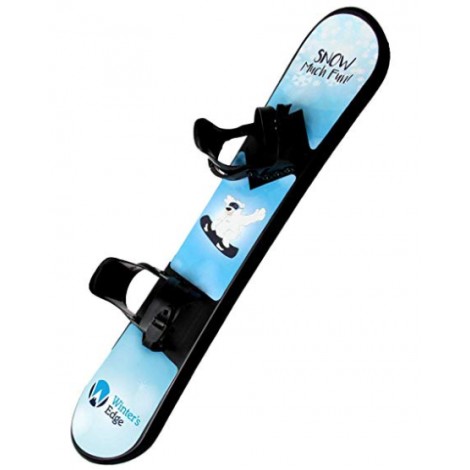 Comes with adjustable bindings
Bindings can be reversed for switch riders
Great for use around the home
Made from thick, durable plastic
43 inches long
Graphics don't stay on for long
The Winter's Edge Snow Much Fun is another option for practicing around the house. Its rugged body makes it a durable choice for riders 9 and up. It comes complete with bindings that will make riding a breeze.
Meant for Home Use
The Winter's Edge Snow Much Fun is a great option for practicing on around the house. While other more elaborate boards are designed for the big resorts and slopes, this product can be used right out of the box around your home--so long as there is snow!
This product does not come with metal edges and it is not approved to be used on large mountains or in resorts. This product measures 43 inches long.
Reversible Bindings
This comes complete with bindings installed already. Because this product is not symmetrical, the front binding is installed at an angle to the product. But if you've got a kid who's wild about riding switch, you can easily reverse the bindings so that your child can ride this way.
The bindings are adjustable at the back of the foot and at the top of the foot, and they lock securely in place so no foot slips occur.
Cost and Value
It rings up on the lower end of our price range and we love its value because it is durably constructed with bindings and is great for practicing around the home. Plus, it won't break the first time you take it out either.
Made of real wood
Comes with multiple holes for bindings
Really nice graphics
Symmetrically designed
Lots of different size options
Have to purchase bindings separately
The Rossignol Scan is one of the more polished and premium items on our list. This product is made from wood and can hold up for seasons to come. However, there are no stomp pads on this product, only places to install bindings. So if you don't feel like purchasing your bindings separately, it is better to go with snowboards for kids packages that include everything you need in one purchase.
Tons of Sizing Options
This is an excellent product that can be used by kids of all ages. It comes in a variety of different size options to suit your child's exact needs. You can purchase this product in 80 centimeters, 90 centimeters, 100 centimeters, 110 centimeters, and 120 centimeters.
Freestyle Twin Board
It is a freestyle twin board. It is symmetrically designed so you can ride with either your left foot or your right foot forward. There are no stomp pads or grips on this board so you will have to install your own bindings. The bindings do not come with your purchase.
However, there are multiple pre-drilled holes to accepts a wide variety of different bindings and that makes installation a breeze.
This product is made with a wooden core that is FSC certified and long-lasting.
Cost and Value
The Rossignol Scan rings up in the high middle of our price range and we like its value because it is solidly made for long-lasting use, making it worth the extra investment.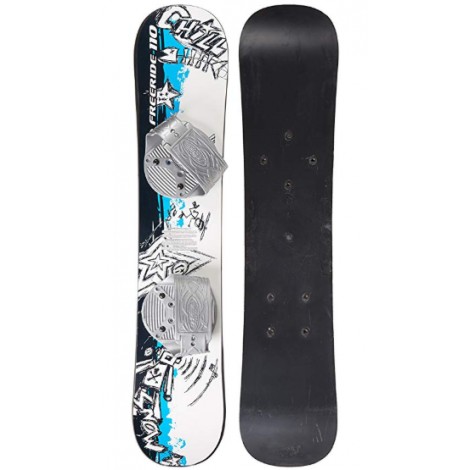 Fun to personalize with own graffiti
Solid construction
Can do entry level tricks on it
Comes with own bindings
Intuitive control
Screws protrude on bottom from bearings
The EMSCO Group Graffiti is the second EMSCO product to make our list. It's another great middle of the road option that won't break the bank but that will hold up. You child will be able to practice and gain confidence while using this product.
Customize the Look
The EMSCO Group Graffiti actually comes with the option to customize the look of the product. How you ask?
The Graffiti comes as pictured. But it also comes with stickers and markers. This is a great option for kids who like to get creative and who are serious about their style and aesthetic. Your child will be able to draw directly on the product and strategically place stickers to make their Graffiti truly one of a kind.
Stong Body
This item is made from sturdy polypropylene. This product features its own bindings which can be adjusted and snap into place around a wide variety of different snow boots.
This is easy to get started on and intuitive to operate so your child will be zooming around in no time. The Graffiti is constructed to even sustain the beating from your child attempting novice style tricks.
This product can be enjoyed by kids from the age of 5 all the way to the age of 15.
Cost and Value
The EMSCO rings up on the lower end of our price range and we like its value because it is easy and fun to personalize and because it is crafted to hold up even when attempting novice level tricks.
10

. Geospace The Original Sledsterz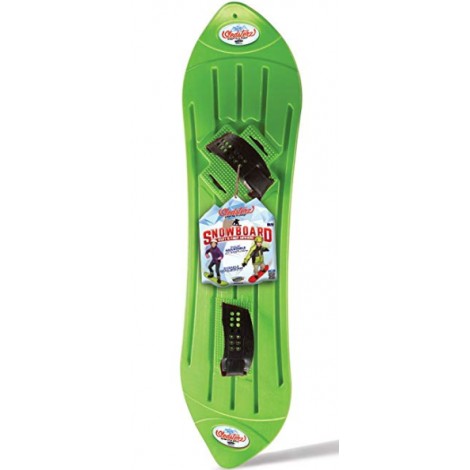 Can reverse the bindings
Comes in 3 colors
Bindings accept regular shoes
Built for speed
Made from strong polymers
Is a little smaller than other boards
We close out our list with the Geospace The Original Sledsterz. This is another that is designed to plow through the neighborhood at high speeds. And what's best is that is had a sturdy design that can be enjoyed for chilly seasons to come. Did we mention this product comes in three super rad colors?
Designed for Speed
The Geospace is shaped and designed for speed. With a more pointed nose and tail, your child will be able to turn on a dime with minimal effort. This will allow them to zip around the neighborhood in style.
This product is made from a strong polymer that can hold up to cold winter temperatures and will remain in commission for years and seasons to come.
Switch Out the Bindings
It also features a versatile binding set up. You can ride normally or switch the bindings around to ride "goofy foot." Making this switch is easy and takes practically no time. Plus, we love that you don't need specialized snowboarding shoes to use this product and that a regular pair of shoes will work just fine.
Cost and Value
The Geospace The Original Sledsterz rings up at the bottom of our price range and we like its value because it's a speedy option for zipping around the neighborhood with no special additional equipment required.
Criteria Used for Evaluation


Features
When selecting the products for this Ten Best List, we made sure we took a good look at the features offered on each product. When considering features, we looked at how the board was designed and what different add ons the product offered.
We value products that have a twin shaped design like a standard snowboard. We also highlight products that are symmetrically designed as these can be ridden with either the left foot forward or the right foot forward without having to change any bindings.
We like boards with catch-free noses and tails. This design offers a little more lift at the front and rear of the board so that the tips don't dig into the snow if there are chunks of ice or other debris. This helps to prevent wipeouts while learning.
We also value boards that are flatter in the middle to aid in balance and control.
And, of course, we like boards that come with their own bindings. We feature boars with an array of different binding styles on our list. However, a few of the more premium boards do not come with bindings when you purchase so you will have to factor that in if you choose a more expensive board as well.


Durability
When considering durability, we took a look at how long each could be expected to hold up.
The premium options on our list are designed after and made from many of the same materials as adult boards. That means they have a super long lifetime of use ahead of them and can make them worth shelling out a little extra change.
We also feature an array of plastic boards that are much more accessible in price. But all of these are not created equal.
The most durable of the plastic options are those that are made from a thicker polyethylene. One of the reason polyethylene holds up longer is because it is tempered to deal with super cold winter temperatures. And honestly, you can pretty much use your eyes to compare the quality of the different plastic options we feature.


Materials
Piggy-backing off of durability, we took a hard look at the materials that each product is made out of. We feature a few true wood options that are comprised of the same certified wood materials that adult boards are made out of. These are incredibly long-lasting and worth the investment if your child is serious about snowboarding.
As we already mentioned, we also hype the plastic options that are made from durable and longer-lasting polyethylene and polymers as these can hold up to the cold winter months far better than cheaper plastics.


Application
When considering the application of each product, we looked at whether or not the product was approved for the ski resort and large slope boarding or if it was relegated to neighborhood entreats. Each of these serves its purpose.
If you are looking for a casual toy for your child to play around with, or if your child is on record for not holding interest in things for very long, then an around the neighborhood board is just the right thing for you.
But if your child has graduated from these around the neighborhood options and is ready for something more serious, you're going to want to go with something that they can actually put to good use on the slopes.


Value
In terms of value, we take a look at how durable the product is based on the materials that it is made out of. The premium wood products are well made and will grow with your little shredder while the plastic options will not hold up for as long. The main consideration will be how your child intends on using the product and for what purpose.
Expert Interviews & Opinions
Most Important Criteria
(According to our experts opinion)
Experts Opinion
Editors Opinion
Users Opinion
By Default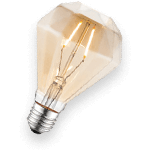 How To Choose the Right Sized Board
It's important that you outfit your child with the right sized board so that they can have the most control and develop their skills successfully. Selecting the right size is easy as long as you know your child's height.
While many boards are listed with age suggestions (based on average height for children at that age) we prefer to go by height as that is a definite. If you are buying a more expensive board, it is better to go slightly bigger so your child can continue to grow into the board.
Here are the basic guidelines:
-If your child is between 40 and 45 inches tall, you should go with a board that is between 80 and 100 centimeters long.
-If your child is between 45 and 47 inches tall, you should go with a board that is between 95 and 110 centimeters long.
-50-55 inches tall needs a board 100-125 inches tall.
-And so on.
How To Take Care of Your Board
You can follow a few simple steps to maintain your board.
Always clean your board after use. And make sure that you apply plenty of snowboard wax. And make sure those bindings are nice and tight before every use.
Other Factors to Consider


Style
Of course, kids are totally into their own style. So that's why we rounded up the coolest looking boards on the market for kids today. It is worth mentioning that what really sets the wildly expensive boards that did not make our list apart are their extra aesthetic design features, but we found the ones on our list to be the best combination of stylish, functional, and affordable.


Size
We love when boards come in multiple sizes as this allows you to get the just-right size for your gnarly little pal.
Frequently Asked Questions
q:

Why do some of these boards come without bindings?

a:

Some boards come without bindings for a few reasons. For one, companies want you to purchase their bindings in addition to their boards. There's also the reason that not all bindings are compatible with all snowboarding boots. Therefore you can buy a pair of bindings to match your boots and then install them on your board.

There's also the reasoning that kids can get injured easily if they are attached to their boards when they wipe out. Having the freedom to simply fall back off the board greatly reduces the risk of getting the board caught on something and taking an awkward fall.
q:

Is it easier for kids to learn how to snowboard or ski first?

a:

This is a question for the ages. After reading some expert opinions, here's what we have for you.

Before your child develops tons of core strength and balance (before the age of 5-6), they will have more success on skis because their body will be facing forward. If your child is participating in gymnastics and dance or is an avid skateboarder already, then they might be ready to snowboard earlier because their core will be more developed.
q:

Does my child need a helmet?

a:

YES! Safety first. Haven't you heard?

Even if your child is just zipping around the neighborhood and they aren't boarding on the slopes, it is always important that they are wearing a helmet.
Subscribe to our Newsletter