Best Ice Cream Makers Reviewed & Rated for Quality
last updated:
Oct 21, 2019
Everyone remembers those long hot summer days when their mom or dad took them out to the ice cream shop for their favorite ice cream. Some of our favorite flavors you could only get if you chose to spend the extra dollar on it, and, today, the flavor fell from sight and we just can't seem to find it anywhere. We crave Superman cones ourselves, but how can we get that delicious blueberry, strawberry and banana swirled soft serve without having to go the extra miles from our house and pay even more than our parents for the same size cone? There is a way to get the flavor you want, making sure to have healthier ingredients, and end up saving money in the long run! Get our own ice cream maker and put it all together ourselves!
In a Hurry? The test winner after 12 hrs of research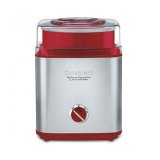 Cuisinart ICE-30R
Why is it better?
3-year limited warranty
Double insulated
Large ingredient spout
Comes with a recipe book
Easy to clean
Easy to store
In a
Hurry? Editors choice: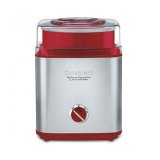 Test Winner: Cuisinart ICE-30R

14
Researched Sources
21
Reviews Considered
12
Hours Researching
44
Products Evaluated
Durability
Value
Ease of Use
By Default
10 Best Ice Cream Makers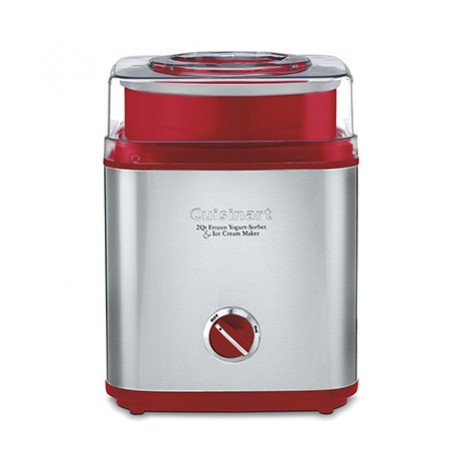 3-year limited warranty
Double insulated
Large ingredient spout
Comes with a recipe book
Easy to clean
Easy to store
The motor can be noisy
Requires bowl to be frozen before use
You scream I scream, we all scream for…. well you know the rest. Cuisinart is a brand well known for its high-quality products and polished look. If you like to have a beautiful appliance that is easy to recognize in your collection then look no further.
Comes with a recipe book
We didn't think a recipe book would be needed for this kind of gadget, but we were amazed at the variety of scrumptious ideas people at Cuisinart have managed to come up with. While some of us preferred to make up our own, the more adventurous types thoroughly enjoyed using this book for ideas and even bases to create even more interesting concoctions.
Easy to Clean
There are many options for this kind of machine that require a lot of disassembling to be able to get it really clean. Just remove the lid pop out the blades and remove the inner bowl. A rinse with warm soapy water will clean the blades and lid and a simple warm wipeout will clean the bowl. You may want to occasionally wipe down the outside but other than that you are done.
Cost and Value
While the price of this brand is nothing to shake a stick at, it is far from the highest on our list. The bottom line is your also paying for the brand, but what a brand. A name like Cuisinart doesn't make its way onto just anything. As long as you follow the simple instructions when it comes to prep and care you should have nothing but cool smiles when it comes to this appliance.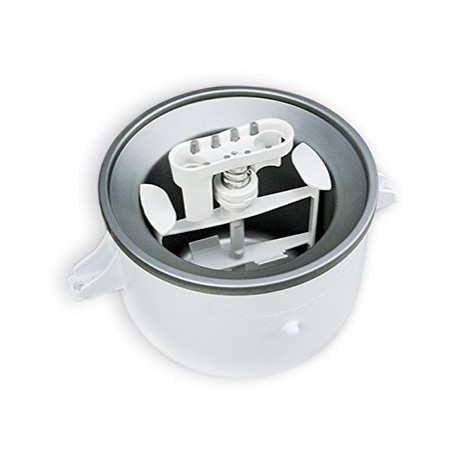 1-year replacement warranty
Durable
A company that listens to issues
Comes with a recipe booklet
Easy to store
Requires same brand mixer
Bowl must be completely frozen
Even though most of this list will consist of standalone machines this one is a bit different. KitchenAid has come up with all the working of an ice cream maker but as an add-on to their mixer. Gizmos are one of our favorite things and we think you will find that this falls into that category.
Easy to Store
A positive side effect of having something that is an add-on to a pre-existing appliance is the lack of space it takes up. Story this is easy since all you have to do is rinse it out with warm water, return the bowl to the freezer and the rest will hit into a cabinet or drawer. 3-2-1 poof, it disappeared, and your counter is now clear.
Durable
There are products out there that are mostly made of fragile materials not meant to stand the test of time. As with all KitchenAid products that's not the case here. Heavy-duty plastic and metal are used to make this contrivance, meaning it will still be useful to you for years. Just as long as you treat it with respect.
Cost and Value
As without previous listing part of what you are paying for is a well-known brand. We would like to point out however that if you consider its effectiveness, materials and the 1-year hassle-free replacement warranty you really cannot do better for the price. Known for their longevity and adaptability in the kitchen this is a deal we suggest you don't pass up.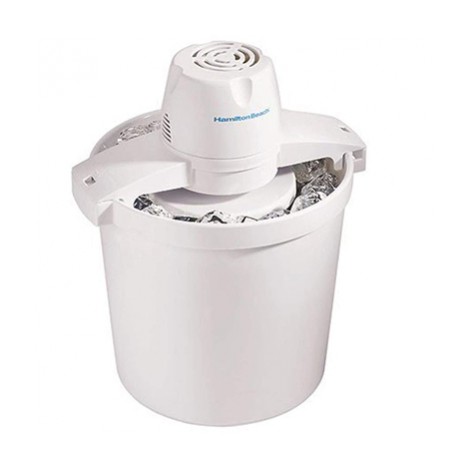 An automatic mixer that stops when done
Includes 20 recipes
Simple to use
Makes a large amount
Extremely durable
Easy to clean
May need to freeze after it's made for a firmer consistency
Hamilton Beach isn't quite as well-known as some of its compatriots, but it is a known brand. It has several features we found interesting and we think you will too. Look out summer you have a new arch nemesis.
Automatic Mixer
When we think ice cream mixer we remember making ice cream with mom as kids and having that darn turn crank that made us think our arms were going to fall off. Luckily for us, manufacturers have moved on from those times and even gone a tad beyond. This maker actually has an automatic mixer that will not only churn the concoction in the bowl but till automatically stop when it is at the correct consistency. If that isn't just a wonderful invention we don't know what is.
Simple to use
We were fully expecting this to be the typical add ingredients as directed type of moment. While this does still technically fall into that category it also manages to simplify it. All you have to do is add everything into it at one time and poof. Soft serve ice cream at your command.
Makes a large amount
Almost every other appliance we found that can do this job was at in the two-quart column this one tops the charts at four quarts. If you are looking for a larger quantity for a party or just to impress someone this machine gives you the ability.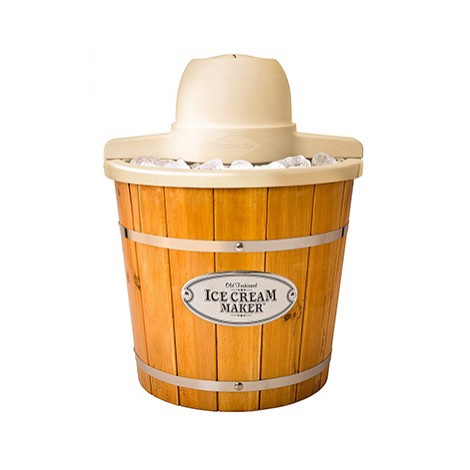 Includes recipes within the manual
BPA free
Easy to clean
No small parts
Lightweight
Durable
If you are someone who appreciates old world charm, then this is the one for you. The exterior is made of real wood instead of metal or plastic. This manages to give you the old-school look without the old school work. Check out the rest of the details to see what else Nostalgia can offer you.
No manual effort
As we mentioned previously we do not appreciate elbow grease being an ingredient in our recipes. This is another example of modern day machinery simplifying a process. Just add in the ingredients and let the machine do the rest. Simple and easy to remember all the steps.
Includes Manual w/ Recipes
We appreciated many things about his gizmo not the least of which is it comes with an owner's manual. Mostly because though we made use of it, it was easy to forget some of the little things. While we were flipping through we also found several recipes that they have included, making it even better. Again, comes the options to let the creativity take you or to follow tried and true.
Cost and Value
This convenient little machine not only stands at the larger than normal production range of our list but also on the cost-effective end. It manages to combine all the modern luxuries and still supply the old school charm, and I mean let us face it if your choosing to make your ice cream you don't mind a little old school being involved.
5

. White Mountain Electric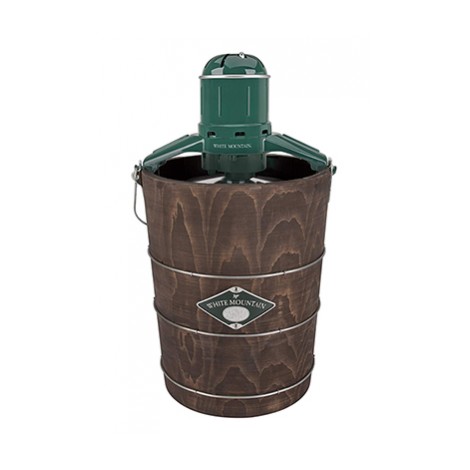 5-year limited warranty
Comes with recipe's
Easy to use
Good customer service
Sturdy wooden design
The motor may have issues
We found this machine to be another chart-topper when it comes to quantity. The outer bucket was attractive, and everything seemed to work as described. Seemingly made for quality as well with the name of White Mountain proudly displayed on the side, we will save the rest of our comments for the blurbs below.
Good Customer Service
Even though we were impressed with the 5-year limited warranty it was the great customer service that really got our motors running. Everything we came up with from questions to concerns was answered quickly and efficiently with no complaints.
Sturdy wooden design
The outer bucket of this appliance is made of New England pine and bound with metal galvanized hoops to make it strong. They even managed to add in electroplated fitting to help bind the whole things together making this the strong man of the list.
Cost and Value
This particular product was at the higher than average end of the cost grid. It has a nice look and the 6-quart bucket makes a bigger than a fair amount of ice cream. The triple action dasher won't warp out of shape and it even has self-adjusting blades. Even with this being a nice appliance with a lot of fine features we strongly suggest being sure it is right for you before purchase.
6

. Lello 4080 Musso Lussino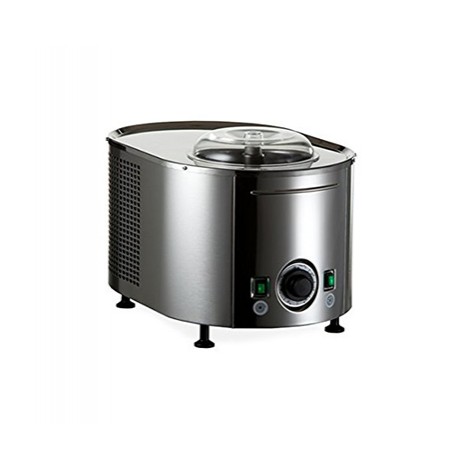 Timer controlled
1-year manufacturer warranty against defects
Durable
Easy to use
Fast
Commercial kitchen quality
Now we move onto the exotic end of things. Lello is an Italian brand made of stainless steel and is the epitome of looking professional. It can make you up to three quarts in an hour and requires very little work. If you want something that looks like the kitchen version of a Ferrari this is what you want.
Timer Controlled
While we found machines that had an automatic shut off and the like this was the first one we found to have its own timer. Another feature we found was that if the batch becomes too hard the machine will sense it and shut off automatically allowing the concoction to soften some for better enjoyment.
One-year Manufacturer Warranty
Even though this is a foreign made product they still offer a nice warranty. You are given a one-year guarantee against manufacturer defects. If something goes wrong, it's a simple process to contact the company and get it taken care of.
Cost and Value
We were mildly surprised when we found the cost of this machine. It is above our normal search guidelines, but we also know that some people would get this with the thought of using it for a small business or if they make ice cream frequently and know they would be too hard on a standard machine. If you are looking for something that is capable of taking some abuse and can be used frequently and quickly this is a great option. If you think you won't use it often or it is going to be more of a novelty than anything else, you may find more satisfaction for your money in a less expensive option.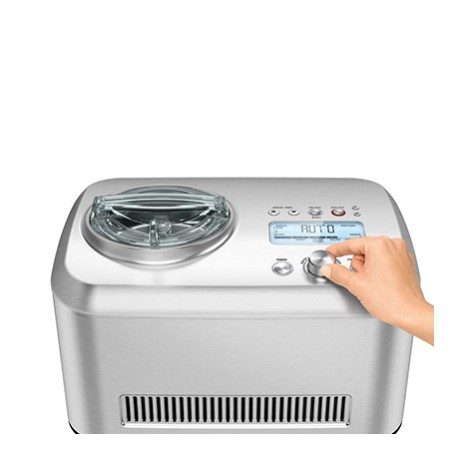 Don't have to set the bowl in the freezer
1-year limited warranty
Makes more than one type of frozen treat
Stainless steel build
There are a lot of great things about this machine. Not the least of which is that it is nice to look at. We understand that a lot of folks don't really care about things like that but if you are willing to spend cash on something like this we think it should be pretty.
Don't have to freeze bowl
Out of all the gadgets that we found for this list this was the one that had what we found to be the coolest feature. This machine had a built-in compressor, so you don't have to freeze the bowl to make your dessert. All you do it turn on the cool down feature and it takes care of the rest getting the bowl to a nice -20 degrees Fahrenheit. The perfect temperature to create your frozen concoction.
1-year limited product warranty
Breville has provided you with a one-year warranty. If anything should go wrong that falls under the terms of manufacturers defects, then they will arrange for the return of the original and send you a replacement. Considering the fact that it is fully automatic and runs off a digital screen we think this is a great thing to have with the machine.
Cost and Value
This stainless-steel machine leaves nothing to be desired when it comes to looks or ability. There were little to no concerns about it and with the warranty, there was no point in worrying anyway. Though the cost is a bit on the steep side for the average consumer, it wouldn't be if you knew you were looking at a solid investment towards professional usage. Aside from the cost, this seemed a strong well-made appliance that can make all your ice cream dreams come true.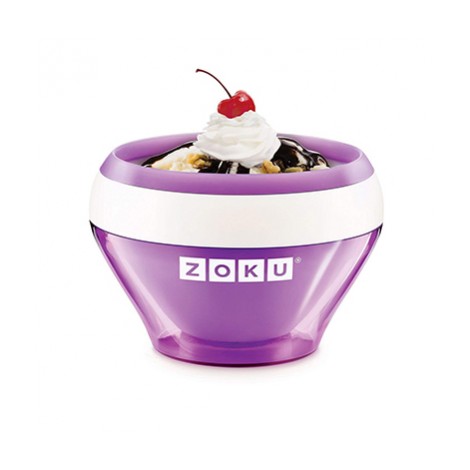 6 colors
BPA free
No electricity needed
Individual portion sizes
Everything is done by hand
Have to pre-freeze the bowl
If you are looking for the personal touch or a way to get everyone involved this is the one you want. This specialty bowl may require the dreaded addition of elbow grease but it is so cute that we chose to look the other way.
Available in 6 colors
Although this isn't a machine like most of our list it does come with the widest variety of color options. If you have a personal preference or just enjoy the idea of colorful additions to a theme this is a great choice. Lightweight and easy to deal with is also a check in the positive for this.
Makes personal size servings
If you are not really into making larger batches of ice cream and were looking for something smaller then we found it. Although you have to do all the work you can make it fun by setting up ingredients buffet style and letting people create their own inspirations. We think this is something the kids will especially love, and the best part is the easy cleanup. Just let them lick the table.
Cost and Value
This one luckily falls on the cheaper end of our price range. Of course, you basically have to do everything yourself but we honestly didn't mind that much. It was more fun than we expected to put everything in and watch as our delicate stirring turned the creamy concoction into a frozen treat. If you want the personal touch to give this a try.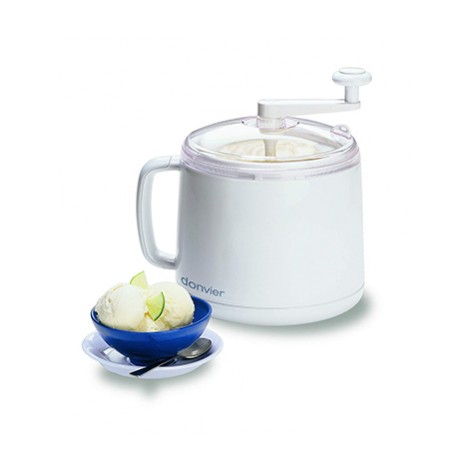 Ice cream fast
Easy to clean
Comes apart easily for storage
Price
Require up to 7 hours to freeze bowl
When we think of the way our moms made ice cream this is what we picture. White and plastic with a manual turn crank that would require us to run in every 20 minutes and give it a partial spin. It always seemed to take forever, and it was always some of the best ice creams that ever touched our lips.
Easy to Clean
This comes apart easily, just take off the lid pull out the paddle and remove the inner bowl. Once that is done it's just a matter of using warm soapy water to clean everything out and wipe it down. We do suggest you do not put this in the dishwasher if you are going to get a manual maker don't ruin it with mechanical cleaning.
Ice cream in 20 minutes
As long as you have prepped your inner bowl in your freezer to the appropriate temperature, so the liquid had solidified in its walls you can pop this together and have ready to eat ice cream in about 20 minutes. Even if you do have to make the occasional spin of the handle how cool is it to do this kind of thing yourself.
Cost and Value
This is a nice solid product. If you are someone that prefers this method to the automatic machines, then it is a good buy. If you are looking for the larger batches you may want to expand into a slightly bigger machine that doesn't run on arm power, but for the average user, we think this will get the job done.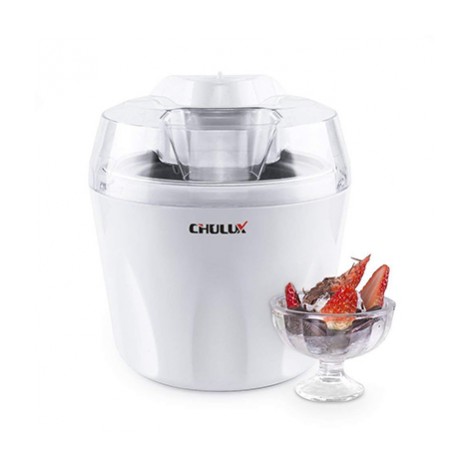 Price
Easy to clean
Easy to use
Easy to store
Automatic shut off
Timer
Must freeze bowl before use
Coming in at number 10 on our list is the CHULUX automatic. We can appreciate the fact that you don't actually have to do much to get your dessert ready to go with this appliance. It isn't doesn't have a large footprint which is nice for your countertop and you can keep the inner bowl in the freezer so it's ready to go anytime.
Easy add spout in the lid
This little doodad had a nifty feature we hadn't noticed at first. While your mix is being made you can add your favorite after thought treats to this through the spout built into the lid. We had seen the see-through lids before but not one that allowed us to add in without stopping the machine. Well done CHULUX.
Countdown timer
This lovely convenience allows you to set the timer for up to 30 minutes. Simply give it a turn based on how firm you would like your treat to turn out and, Ding it's ready. The timer will cause the machine to stop working automatically when it is done another nice bonus to this.
Cost and Value
This is small enough to be able to take on the road but steady enough you can leave it sitting on your counter. The cost is totally affordable, especially for what you are getting. With this being easy to maintain and easy to use it really seems for the occasional treat you can't go wrong with this purchase. Put in your base ingredients add in something special even if you come up with it part of the way through then sit and enjoy your creation.
Criteria Used for Evaluation

Durability
As with any product we looked at durability as the very first thing on our list of criteria. If the machine can't even produce the amount of ice cream that the price it is at would give you, then it obviously isn't worth the dimes. Since a few of these products are quite a bit of money, we held those at an even higher standard than those that cost much less- after all if it wants an entire paycheck, while the others are only asking for a fraction of that, and both only make the same amount before having issues, why pay more?
Well, when set out, we felt that these machines held up to their place in the overall scheme of things. The pricier ones only ended up lower on the list because of their price, but truthfully held up to every single penny in how long it lasts and how much it can do. Those that appeared to have issues that were on the list have either had parts redesigned in the last two years to rid itself of the issue, or the parts are easily replaced through the company at low to no cost at all. Every single one of these lovely devices made our cut on durability.

Value
Wow. Here is where we get to explain the truth of an expensive item being on our list and yet still meeting this bit of criteria. With cost and value, we are taking into consideration not just the amount of money, but if the product offers enough to truly pay for itself over time. We feel that all of those listed do this. The more costly ones actually have added benefits, tend to last years and have the capacity to pay for themselves especially after they have produced enough ice cream for you and your family to have saved you the money you might have spent on the premade. Of course, there is also the larger argument of value that each and every one of these machines offer that no amount of premade ice cream can save you: health.
While ice cream is not a health food in the traditional sense, you can make healthier versions. Less sugar and fat, actual natural ingredients and if you have allergies, you will know whether or not the ingredients you need to avoid being in the ice cream you, yourself, make. So, in the end, do they cost more than they are worth? We don't think so. Nothing is worth more than knowing what you eat won't cost you your life.

Ease of Use
Some of these are easier to clean than others, but all of them are easily cleaned with warm water and soapy cloth. This is important because, as with any food production equipment, you don't want to risk the chance of bacteria build-up. With dairy especially, this can be an easy thing to have happen, so we wanted to make sure that we knew you would be able to enjoy your tasty treat without the worry of getting sick after.
Expert Interviews & Opinions
Most Important Criteria
(According to our experts opinion)
Experts Opinion
Editors Opinion
Users Opinion
By Default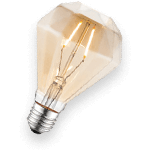 Product investment
We all want to know that our money isn't just going to end up being spent on something that if there is a defect, the product simply becomes a trash bin. Thankfully we were able to confirm that every product on our list offers a warranty, some are limited to manufacturing defects, and others include you to register your item with the company to receive the warranty. All of them, however, offer some form of guarantee that your money is being wisely spent and should there be any issue with your machine, you can get the help you need to either fix or replace the item if it is being used as intended and the problem is in the makers design rather than with misuse.
Ice cream is actually healthy!
Ice cream itself is actually beneficial to health. Many of its ingredients are things most of us don't get enough of, like dairy and even egg, but if you have an allergy, you might not be able to use the traditional ingredients. Controlling what goes in your treat means you control the other parts of the recipe as well. Many store-bought ice creams (even dairy and sugar-free) actually aren't as healthy as they might seem. Knowing that you can use fresh fruit to flavor your creamy goodness means knowing you are getting exactly what you want and need.
Several options
There are also several types of machines to consider when purchasing one. If you prefer hands-on, there are the manual machines, but if you prefer to enjoy as much relaxation with your treat as you do the treat itself, there are also automatic machines. It all depends on what you want out of your ice cream and what type of effort you want to put into it. Here's the fun part for all of us creative chefs: the number of recipes out there and the flexibility to create our own!
Other Factors to Consider

Bottom Line
We hope something on our list caught your eyes and that you are soon to enjoy every bowl you can come up with! We're pondering the thought of getting a new one ourselves. The sound of making blackberry cobbler ice cream is just too tempting- or maybe some strawberry rhubarb, hmmm….
Frequently Asked Questions
q:

 How do these work?

a:

Most use paddles to stir the ingredients until they meet a certain consistency if they are automated, and then shut off. If you are doing it by hand, it is up to you whether you think it is where it needs to be. Be sure, though, that if it requires a frozen bowl, that you turn the machine on or start churning before you add the ingredients- otherwise they can stick to the sides of the bowl.
q:

How can you best clean these?

a:

Most machines are not dishwasher safe and should not be submerged, however, they aren't hard to clean. A sponge, clean warm water, and some dishwashing soap will do the trick. We have a source below that helps you go through the process, so feel free to check it out!
q:

Can you make ice cream without using milk?

a:

Yes! There are many recipes out there that involve using soy and other dairy replacements. Not only can you replace milk, but many of the other ingredients that you can't find in store-bought are able to be used to replace other common ice cream allergens.
Subscribe to our Newsletter