Best High Chairs Reviewed & Rated for Quality
In a Hurry? Editors choice: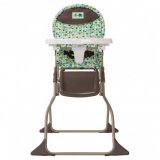 Test Winner: Cosco Simple Fold

There is no doubt that kids spend most of their time feeding, be it breakfast, snacks, dinner or lunch, a high chair is, therefore, an
essential piece of furniture
for your babies feeding needs. Babies are squirmy and will do all sorts of things in a high chair, feeding, playing or taking a nap; it is an adorable and
unforgettable moment that every mother will treasure
for a lifetime. As your baby starts weaning, there will be splashes and spills which can cause frustrations and such you need a high chair that will make feeding time to be fun for both you and your baby. There are many high chairs for your little bundle of joy, and we have selected the best ten that will make your search experience a small feat.
Standout Picks
Criteria Used for Evaluation
Comfort
Have you ever noticed that kids eat well when they join adults at the dinner table? Why? Meal times are fun and enjoyable as they are keen on copying what adults are doing. Also, as they grow up, they want to feed on what the family members are eating and the child becomes extremely fussy on being fed the usual baby food which is monotonous and boring. It is therefore essential for your kid to join you as you dine. How do you achieve this? You need a high chair so that he can be at the same level as you at the dinner table. As you go shopping for such a chair, you want to be sure that the chair you pick is adjustable and that which will guarantee comfort and safety to your baby. Adjusting the chair as the kid is seated will also create some fun moments and if the kid is a poor feeder, such fun will add some joy which will make him enjoy his meal with the others.
The seats should be well padded to offer your kid some comfort. The material should be firm and one that is durable and not likely to fade out. It's no doubt that spills and slashes will be a common feature during mealtime and as such, the material should not be bright. However, it should match your home décor. Bright colours often get stained easily, and where the stains become stubborn, it makes the chair appear ugly and old. However, kids are naturally messy and can't distinguish good or bad. The high table is for daily use, and the material should be durable.
Adjustability
A feeding chair should have adjustable features for optimal use. Some of the features are an adjustable tray, restraining seat belt, which should be a t-trap where the kid's legs are firmly and comfortably placed on the seat. Kids are different; there are those who are hyperactive and those who are less active and do not move a lot. However it is difficult to tell what is in a child's mind. It is essential to put up preventive measures to prevent your child from slipping out of the chair by ensuring the chair has a crotch port which will confine him to the seat.
The reclining seat is adjustable to a lying position to enable your baby take a nap as you walk him around or even relax. The footrest should also be flexible to a flat position to extend the full-length flatness of the chair. Check out on these features before you buy the chair to establish its comfortability to your kid at different positions.
The food tray enables your kid to enjoy meals as you dine. How should the food tray appear? In the process of feeding the kid, there is a likelihood of the food spilling over on the surface. For easier cleaning or wiping the food tray, the surfaces should be made of sturdy plastic, and the design of the tray should be in such a way that it can be folded when not in use. At no instance should you buy a chair with a breakable surface that can hurt your baby. Most kids enjoy banging the table with spoons and toys and enjoying the fun from the cracking sound. Glass fibre surface is stronger and does not break easily.
Value
Your choice on the type of feeding chair you want for your child will entirely depend on your budget. When your child starts to wean, you will definitely need a comfortable chair and table for their feeding and as part of their development milestones. A high chair serves as both as a chair and a table since it has a tray and a cup holder. If you are on a tight budget, there are some chairs out there that will serve the purpose. However, even as you pick one, ensure it has been certified as safe since your child's safety should be your number one priority. In the same breath, there are chairs out there which are pricey and offer a lot when it comes to adjustability and comfort. If your budget can allow it, well, go for it. In a nutshell, the perfect seat is one which will offer meet your baby's feeding needs while ensuring your child is comfortable and safe. It should be portable, adjustable and easy to use and most importantly, give you value for money.
Effectiveness
When you acquire a chair for feeding your baby, you need one that will get the job done. Do you need a multipurpose chair or just a simple table for dining purposes? It would be wise to select a chair which you can convert into a low chair for regular use and one you can use at several stages of a child's growth. This chair will train your kid to dine with others as he grows up and feels as part of the family during meal times. Children have feelings, and where a child is fed alone, he may protest and even refuse to eat the food. By sitting with the adults at the dinner table, it will lighten up the kid's mood, and feeding will be fun and not lonely. Your kid will not feel confined to his monotonous child food but will feel he is eating the same food with the adults and will feed better. The chair should grow with the kid and can also be used as a toddler booster.
Ease of Use
The best type of feeding chair is the one that is easy to use, safe and one which will bring some fun moments at the dinner table. Ensure the chair meets the safety requirement and is strong enough to hold the weight of the baby as he grows from one stage to the other. It should be stable when adjusted to the height of the dinner table and the adjustability of the joints free and collapsible after use. It is critical for the recliners to be easily adjustable and the chair foldable for ease of storage. The wheels should be free to move the chair to the desired location for safe storage. A lock lever is an essential feature since you can lock the chair and ensure your kid stays in a fixed position during dinner time. The restraining safety belt is also essential especially while walking around with your baby as it will contain him into a safe position.
10 Best High Chairs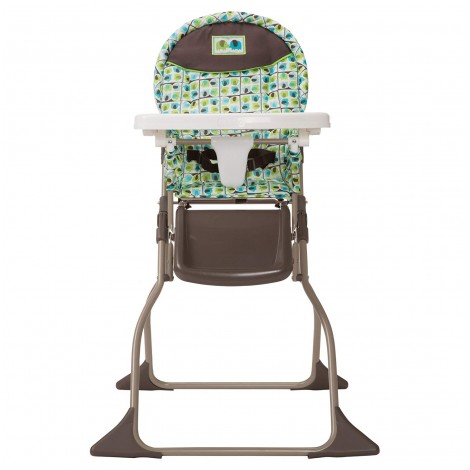 The Cosco is a simple fold chair that will make mealtime for your baby a fun activity. It is easy to set up and pack and is also lightweight, foldable and portable. You can, therefore, carry it along if you are traveling. It has a removable, washable fabric that is easy to clean and maintain. It also has a three-point harness for added safety and can hold a child up to 50lbs.
Comfortable
While shopping for a meal chair for your baby, it is essential to pick one which is adjustable to suit your children's growing needs. The Cosco chair has a three position tray that can be easily adjusted depending on baby's size and a built-in cup holder that provides plenty of space. The chair is made from soft and durable fabric gentle on your baby's skin and the leg rest is firmly built and provides your baby with comfort and luxury as they feed, whereas the seat pads are long and extend over the footrest. It is JPMA certified and meets all safety standards set by ASTM.
Easy of storage
One of the main reason we chose the Cosco is because it has a collapsible design and is elegant, lightweight thus making it easy to fold and store. It folds to a small size just like a garden chair; therefore you can easily tuck it away anywhere when not in use. Another advantage is that, if you are planning on traveling, it is incredibly portable and occupies less space in your trunk or luggage space.
Cost and value
If you are on a tight budget or you are planning for an excursion with your family, the Cosco is a reliable option. It is sturdier, safe and compact than most pricey chairs or other similar chairs. It's a good option that will give you value for money.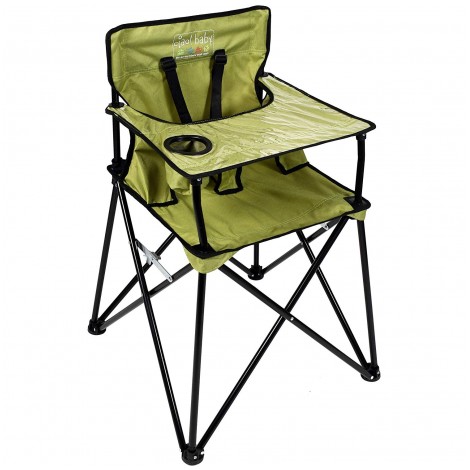 The Ciao is a comfortable, stylish and portable baby chair and ideal for home use, travel and family outings. It features a foldable design for easier storage, a cup holder for convenience and a sturdy steel frame for support and stability. The package includes a carry bag for ease of travel and holds your child firmly with no risk of sliding. This comfortable chair is made of polyester, plastic, and metal.
Easy to carry
The Ciao is a portable piece of furniture, lightweight with a flexible design that unfolds pretty easy like a lawn chair and locks well into place. If you want to fold it back, it will do so in a flash of a second. It comes already assembled thus no need for screws or bolts. The compact design also makes it easy to transport and is a solution if you are always on the go. You can carry it for picnics and vacation.
Durability
This feeding chair will last long from the time your child starts weaning to toddler years with no signs of wear and tear. It is made of nylon which is a durable fabric and will last for long. The tray has a clear vinyl cover which is easy to clean, and you only need to wipe with clean water and mild detergent. The cup holder is inbuilt and caters for all your baby's needs. It has five-point safety measures and meets ASTM and EU and CPSIA regulations in regards to children safety standards. Thus you are assured your little bundle of joy is safe at all times.
Cost and value
For the price, the Ciao is a fantastic concept for baby's feeding needs. It is made with some creativity and brilliance and will offer much in terms of convenience. It is a good buy worth every penny.



The Graco Blossom is an easy to set up and easy to clean comfortable baby feeding chair that ensures meal times are fun moments. It is a versatile piece of furniture in that it has a 4 in 1 framework and a 6 point height adjustment that allows both small and older kids to sit comfortably. It has wheels that make it easier to move around even on tiles. The blossom is an easy to use chair and has an intuitive design that will not in any way compromise your baby's safety. The shoulder straps safe keep your baby in place without the risk of sliding. It is easy to set up with clear instructions on how to assemble.
Versatility
The Blossom will grow with your baby since it has a four in one feature that can support up to 60 pounds. Thus you can use it for many years and can accommodate two children at the same time. With the booster chair, you can have two kids, for instance, a big and small child can make use of the chair at the same time. Alternatively, you can remove the seat and clip it into the booster so that the baby can join you at the dinner table.
Easy to clean
It is easy to clean, and the extra feature in the seat is removable for easy cleaning, and you can wash the snack tray in the dishwasher. Food remains under the seat cushion can easily be wiped on the plastic base.
Cost and value
The Blossom is a highly priced baby feeding chair which is made of high-quality material with a solid and sturdy frame that does not bulge even when a big kid is sitting on it. It has an elegant finish with the feat having a shiny metal polish, and the seat fabric is soft and gentle on your baby's skin. It is an excellent product worth the price and which will give you value for money.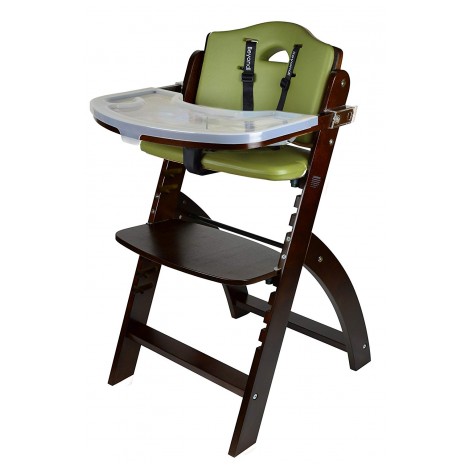 If you have been searching for a baby chair that is a perfect size, we recommend the Abiie as the ideal solution for your baby's feeding needs. It is suitable for babies above six months and comes in an elegant package. It is a sturdy chair that provides stability; setting up is a pure breeze with easy to follow instructions.
Easy to clean
The Abiie has state of the art EZ adjustable seat that uses a button to adjust the child sitting angle. It is flexible with easy access points so that you can clean easily and the food tray is detachable and has a dishwasher friendly cover; In addition, the seat is waterproof and the cushions are stain resistant you only need to clean with a wet cloth to remove spills and splashes.
Safe to use
It is exceptionally safe made from high-quality beech wood that is also eco-friendly. It has a five-point and three-point restraint system; thus it's a stable structure that your child will use for years to come. The adjustable straps are ideal for ensuring your baby does not slide and for added safety. The gap between the legs is wide enough to ensure the child does not push it under the table which is also an added security future. The chair is manufactured under an anti-microbial sterilization system that ensures your child is using a product that has met safety standards.
Cost and value
For the price, we would highly recommend the Abiie since it's a high-quality chair that will last for many years. It costs you more as compared to other chairs. However, it is worth every penny. You will not regret buying this product; it's a budget bargain.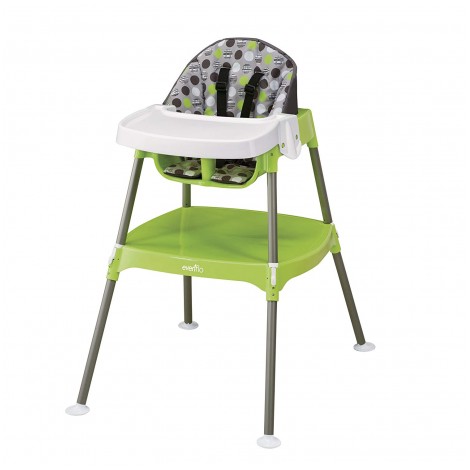 Evenflo has always been on the forefront in the provision of high quality and stylish baby feeding chairs. This chair is an innovative product with a five-point harness and a removable tray. The recommended age for weaning your baby is six months since that is when he is approximately 40 pounds and can sit upright on his own. This product is an ideal solution for your baby's feeding needs.
Easy to use
The Evenflo is easy to assemble and does not require brain power to have everything in place. It is an ideal chair for feeding your baby and offers a lot in terms of convenience, and you will be amazed at how easy it is to clean. It also has a detachable tray for easy wiping and cleaning and the seat is made from a high-quality fabric that is also easy to clean.
Three in one chair design
It has three seating positions absent in other such chairs. It helps transition your child from baby to a toddler who can independently feed on his own. For stage one, the chair is elevated to adjust well with the height of the dinner table. For stage two you can customize the chair so that the child can place his feet on the floor. For stage three you can detach the seat from the small table and allow the baby to feed independently.
Cost and value
The Evenflo is an easy to convert seat, high quality with a stable design and unbelievably cheap. It is a steady piece of furniture that features a harness to ensure your baby is safe. For the price, you will have more than you can bargain.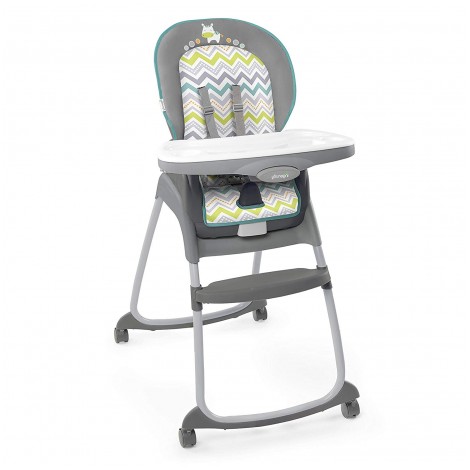 The Ingenuity is made with the baby in mind. It is a three in one chair that allows you to have a full-size chair, a toddler chair, and a booster chair. It is versatile, and you can use it at home or outdoors for a family outing. It is stylish and elegantly made to complement your decor.
Safe for the baby
The Ingenuity features a seat which has a four locking position with a removable support feature for a perfect fit as the baby grows. The high chair and the booster seat has a high point harness while the toddler seat has a three-point harness to ensure your baby is safe. It is stable and made from sturdy material to accommodate up to 50 pounds.
Easy to clean
The Ingenuity is easy to clean with a removable tray which is also dishwasher safe. It has built-in cup holders that you can use to hold drinks and snacks for your baby. The seat pads are removable and machine washable, and the straps are also made from easy to clean fabric.
Cost and value
The ingenuity is stable and available in multiple colors that complement your style and personality. It also is affordable and strikes a balance between quality and convenience. It is a good buy worth the price.

7

. Fisher-Price SpaceSaver


If you hate clutter, this is the answer, and indeed is a super space save that adapts to your baby's age. You can attach the Fisher-price to a kitchen or dining room chair and is made like a standard chair that complements your dining room and kitchen. No matter the size of your house or the type of furniture you have, it will fit well remarkably.
Easy to use
For starters, the Fisher-Price is easy to set up and comes in an elegant package. It features a removable tray that is dishwasher friendly, and the seat pad is easily detachable to resist food stains and is also machine washable.
Adjustability
It has a five point and three-point harness system that helps keep your baby to sit securely. The height is adjustable to three positions and can also incline to offer your baby a comfortable sitting position. You can convert it to a booster seat as your baby grows and is a sturdy structure that will last for many years and has a capacity of 50 pounds.
Cost and value
The Fisher-Price is a super saver and will not take too much of floor space. If your baby is ready for weaning and is operating on a tight budget, We would suggest this chair since it is fairly priced and will cater to your baby's feeding needs.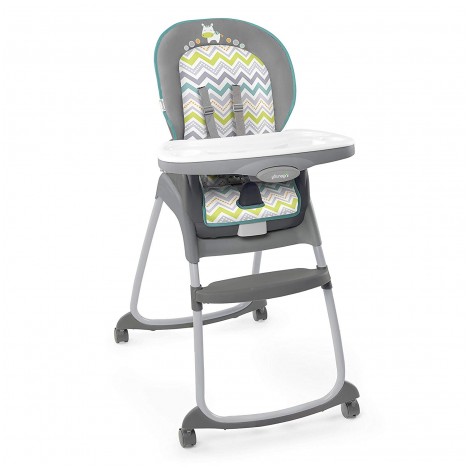 The Joovy Nook is user-friendly and has an adjustable design that grows as your baby grows. It is made to cater to your baby's feeding needs and is built for convenience. This product has a four-level detachable tray that swings open with just one hand for easy cleaning and maintenance. It has a leatherette top cover that is easy to clean and to wipe off any food remains.
Safe to use
It is BPA, BPS, Lead, and Phthalate free with no traces of flame retardants, therefore you are at peace knowing your baby is safe from chemicals and toxins exposure. It is a solid and steady piece of furniture that is ideal for children above six months and can support up to 50 lbs. It is also dishwasher safe, and all you need is pop it into the dishwasher, and it comes out clean just the way you like.
Adjustable
The Joovy Nook comes with four height adjustments that can hold children of different ages, your child will use until their fifth birthday. It comes pre-assembled and folds pretty easily thus easy to store and you can even carry it in your trunk quite easily for outings and picnics. One unique feature is the pivoting tray that you can easily customize to suit your baby's needs.
Cost and value
The Joovy Nook is reasonably priced and an adjustable piece of furniture that adapts as your baby grows. It is an excellent seat that folds well, portable with a swing tray that makes it extremely easy to use and store. You will not regret the purchase since it is a great value for money.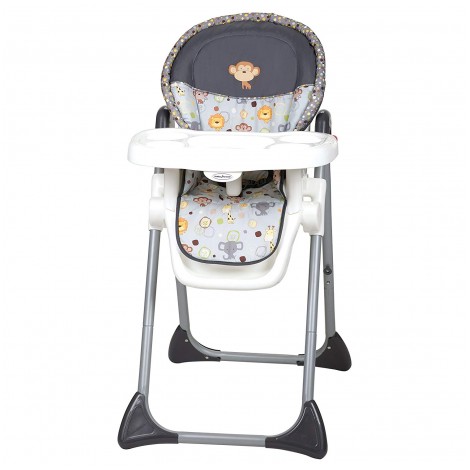 This chair is the epitome of style, convenience, and safety for your little bundle of joy. Meal times will be fun, and your little one will be comfortable with this elegant piece of furniture. It is easy to assemble and has a compact design that is foldable and easy to store.
Ease of use
This elegant chair is easy to clean and the adjustable tray which you can wash using the dishwasher. The chair is versatile and has three positions that also makes it easier to operate with one hand. It has a three-point connect, three position chair recline including six levels height adjustments that will offer maximum comfort and safety.
Sturdiness
The Baby Trend is made from solid steel construction that makes it stable to support up to 40 pounds. It is a high-quality chair that will see your baby through several birthdays and is durable.
Cost and value
If you are looking for a product that will last for many years to come, the Baby Trend is the ideal choice. It is fairly priced and costs less as compared to the Joovy Nook, yet it performs exceptionally. It is a budget bargain and is 100% money back guarantee.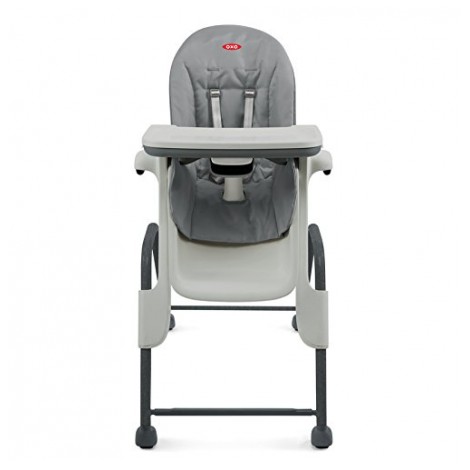 If you are looking for a chair that will adjust as your child grows, the OXO is a stylish, foldable and sturdy chair that is made for babies starting their weaning journey all through to their toddler years. It is a five-point seat and three points of recline adjustability. You will be impressed by the packaging and the assembly which is pretty easy and does not require any hardware such as screws and bolts. It will take you less time to set it up, and the instructions are clear and easy to follow.
Portable
The OXO is foldable; thus you can tuck it somewhere in your house when not in use and has wheels that makes it easy to move around the house. Transporting is also easy since it is portable; therefore you can carry it along during your family trips and outings.
Ease of use
The OXO has a padded seat that makes it comfortable to the baby. It has a five-point harness for extra safety, and the seat cover is easy to remove, stain resistant and washable too. The tray is detachable and easy to clean; and has smooth outlines, ensuring that bits of food do not get stuck. It is also dishwasher safe. The chair is absolutely safe to use, and the cushion is made from washable fabric that is breathable and long-lasting. The straps ensure your child is safe and are also easy to adjust and clean.
Cost and value
The Oxo costs more than other chairs, however, it is made of high-quality material and is meant to grow with your child. It is ideal for children above six months and below 45 lbs. Therefore your child will use this stylish chair to his fourth birthday. It is, therefore, a 100% money back guarantee and a good buy worth the price.

Subscribe to our Newsletter