Best Hammock Stands Reviewed & Rated For Quality
In a Hurry? Editors choice: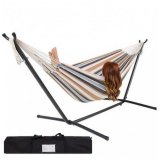 Test Winner: Best Choice Products Double

Spring has officially sprung, and that means the return of leaves budding on the trees, fresh, verdant green returning to the
lawn
, and the sun's warm rays melting away the remnants of winter. If you're interested in adding a new addition to your patio, deck, backyard or even indoors, you may be interested in investing in a hammock, complete with a sturdy, reliable stand.
Perhaps your hard lacks enough trees to support a hammock with stability; or, perhaps you have very limited outdoor space. If that's the case, don't worry. Thanks to standing alone hammock stands, you no longer need to hang your hammock from the base of two strong trees; you can set up your hammock wherever you choose. In this article, 10 popular hammock stands are reviewed and compared for your consideration. You will find the perfect hammock to fit in your backyard after this.
Standout Picks
Criteria Used for Evaluation
Durability
A hammock stand that is not durable is virtually useless. The stand is responsible for supporting the hammock itself. It the stand should fail in one way or another, it can result in a serious injury. The majority of stands are made of steel. Imagine suddenly falling onto a metal stand. There could be serious, if not deadly repercussions.
Unfortunately, hammock-stand related accidents do indeed occur and have been the subject of several tragic events, resulting in recalls. Retail giant Lowe's had to recall a hammock stand for that very reason. Further information about hammock stand-related injuries can be found here.
Without a doubt, hammock stand durability is of the utmost importance. They must be carefully designed and engineered, and manufactured to meet the highest quality standards. Otherwise, they pose a very real risk to the public.
Ease of Use
Hammock stands can be somewhat difficult to put together the first time, no matter who is doing it. However, it should not be frustrating to the point where hammocks and their component parts are being thrown left and right amidst a tirade of expletives.
Rather, assembling a hammock stand should be a simple and logical task that is easily accomplished. The instructions should be easy to follow. All hardware and tools should be included with the purchase of the stand, and it should not be necessary to take any trips to the hardware store. It should be easy to assemble, disassemble and reassemble a hammock stand; a feat that can be accomplished within a matter of minutes.
Adjustability
Hammock stands need to be easily adjustable. This does not just depend on the length of the hammock itself. It also depends on personal preference. Some people like their hammock to be higher off the ground and kept a little more taut and rigid. Others prefer a lower hanging hammock that is easier to rock and swing.
It should not be difficult to adjust your hammock's height and tautness. It should simply be a matter of selecting the hole you want to put your hook into on opposite sides of the hammock. It's a process of trial and error in order to determine optimal comfort for you. If your hammock cannot be easily adjusted, you will not be able to get the most pleasure and enjoyment out of it; it would be like sitting in an uncomfortable chair.
Portability
Portability is a huge bonus when it comes to hammock stands. While some people buy hammocks to keep in their backyards or within their homes, others specifically buy them with traveling in mind.
Whether you're going camping, to the beach, on vacation, or to someone's barbecue, it can be great having your own personal hammock with you. That is, unless it takes an hour to disassemble and reassemble the thing, and it's a struggle to remember how to do it. There are many options reviewed in this list that are easily assembled, disassembled and reassembled and transported easily. In fact, the majority come with carrying cases.
Size
Size is yet another major consideration. Will you be using your hammock by yourself or with someone else? Is the hammock stand you are considering rated to accommodate your combined weight? You certainly don't want to wind up with a weak stand that will fail after a few uses.
Also, measure the length of your hammock prior to purchasing the stand. Make sure you're not purchasing a stand that's too small. Remember, the length of your hammock does not match the distance between the two trees (or two ends of the stand).
10 Best Hammock Stands
1

. Best Choice Products Double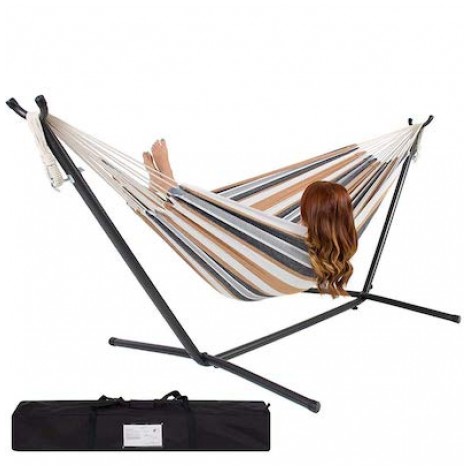 As its name suggests, the Best Choice Products Double Hammock stand supports a hammock made for two. The stand is self-supporting, so there is no need to worry about trees, poles or otherwise. It's easy to assemble and comes with a carrying case, so you can take your hammock with you on a camping trip, to a barbecue, or wherever you so choose.
Fun for Two (or Three)
The stand accommodates a hammock made for two and safely supports up to 450 lbs. You can cuddle up and share your hammock with someone, or you can stretch out and enjoy having the hammock all to yourself. Whether gently swaying in the breeze alone or in a friend, a swing in the hammock can make any day better (weather permitting)! In fact, two adults of average weight can also accommodate the weight of a small to medium-sized dog.
Versatile
One customer wrote that he bought a hammock (and stand) for each of his two children, both of whom have severe problems falling asleep in a traditional bed. Another customer bought a hammock and stand for his daughter, a college student, and set it up for her in her dorm and she is absolutely enjoying it.
Value
The stand is sold at a very reasonable cost. The reviews are overwhelmingly positive and enthusiastic, with customers encouraging prospective customers to buy a hammock and stand for themselves. The cost is so fair that this would make an ideal gift for the person in your life who loves the outdoors, or even a great wedding gift for an outdoorsy couple. That is, of course, after you pick one up you for yourself.

2

. Best Choice Products Portable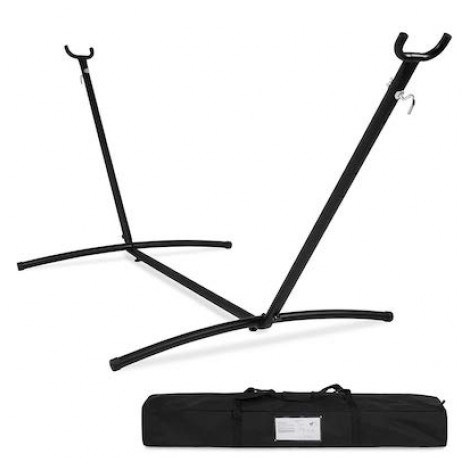 This near perfect stand is meant to allow the pleasure of a hammock to be enjoyed indoors or outdoors. It offers unmatched comfort and support. The most durable, machine-tested materials have been used to construct the hammock, offering unmatched stability. All of the necessary hardware is included, making assembly a breeze. Plus, it is extremely convenient and portable, compactly folding down so it can fit in its small, space-saving carrying case.
60-Day Warranty
With the hammock stand, you are given a sixty-day window with which to try the hammock stand out and see if you like it. In the unlikely event that you are unhappy with the stand, your money will be refunded in full. However, the company fully stands behind its products and its policies, so if you should be less than satisfied with the stand, it won't be a problem; no questions asked.
Intuitive Assembly
Assembly is accomplished by fastening together a series of bars in a logical way. Once all the parts and hardware are laid out in front of you, the actual assembly process becomes quite obvious and logical. All the requisite hardware is provided, and putting the stand together does not require the exertion of a great amount of human strength. Rather, as long as the instructions are correctly followed, an extremely durable and stable stand will be the end result.
Value
The value of this hammock stand is quite high. It is easy to assemble, sturdy, reliable and portable. It works well in a variety of different environments. It does not corode when exposed to the elements, and carries an impressive amount of weight. The stand is sold at a low, budget-friendly price, making it a true high-value item.

3

. Best Choice Products Metal C-Style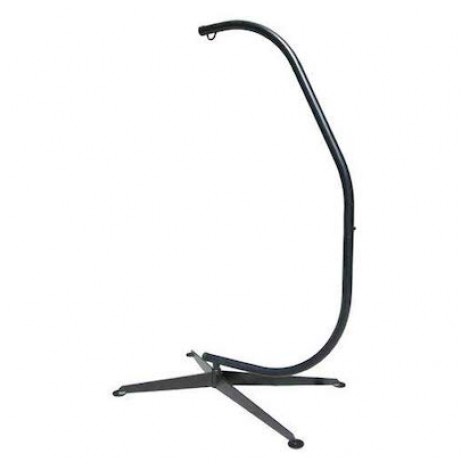 The C-Stand is designed specifically for hammock air porch swings. Two pairs of crisscrossed legs form the base, like those typically seen on an office chair, minus the wheels. This construction was designed purposely to allow for maximum stability; allowing the chair to swing in all directions freely without any risk of tipping over. Sturdy and free from weight-pulling, this C-Stand removes previous hazards that once made swinging chair hammocks a danger to children and adults alike.
Heavy-Duty
The construction of the stand is made with heavy-duty, industrial-grade steel. Specifically, it's 12-gauge 2-inch steel capable of holding up to 400 lbs. It is constructed with a sort of spring pin construction that bolsters the strength of the poles where they interlock. Finally, welding the joints at 360 degrees provides increased safety and durability.
Finish is Weather-Resistant
You can easily take simple steps to ensure that your hammock stand stays in good condition regardless of the weather conditions outside - all year long. Fortunately, the std is coated in corrosion and rust-resistant black powder. This powder is designed to handle the elements, whether it's cold or hot, sunny or snowing.
Value
The value of this hammock stands slightly above average. It does a good job of remaining stable when the swing moves in all different directions; ensuring no accidental tip-overs will occur. It also stands up to harsh weather conditions. It is moderately priced and has mixed reviews. All in all, it is a product of the average value.

4

. Lazy Daze 9ft Portable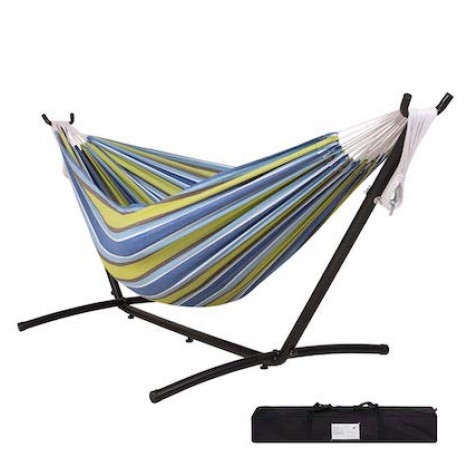 The Lazy Daze stand is accompanied by a beautiful, spacious, striped hammock for two that accommodates up to 450 lbs. The stand itself measures 9' in length; the perfect distance for two people to comfortably stretch out and leisurely sway back and forth in a hammock. The stand is made with heavy-duty steel. The steel is then coated with a powder that protects the finish from rust, corrosion and so forth.
5 Easy Pieces
The hammock is easily assembled, disassembled and reassembled. It is broken down into five main component parts, all of which fit together in a logical, simple way. This makes it easy to carry and transport the stand to another location so that you can bring your hammock with you on every trip to the country, outdoor adventure, camping expedition and so forth.
Extreme Comfort
Scrolling through the customer reviews, there certainly appears to be a common theme: how ultra-comfortable this particular hammock is. From the canvas material of the hammock itself to the way the stand allows the hammock to gently swing you back and forth in the breeze, this hammock is undoubtedly the one you'll be tempted to immediately take a nap on.
Value
The majority of customer reviews of the Lazy Daze are positive; however, there are roughly 72 negative reviews, thus resulting in a score of 4.2 out of 5 stars, which is good, but not excellent. One comment that appears rather frequently is that the Lazy Daze does not offer sufficient support for a) men with tall frames; and b) men with large builds. Supposedly, it does not live up to the weight capacity as advertised. As such, this hammock stand is of average value; slightly above mediocre, but nothing to get excited about.

5

. Best Choice Products Steel Beam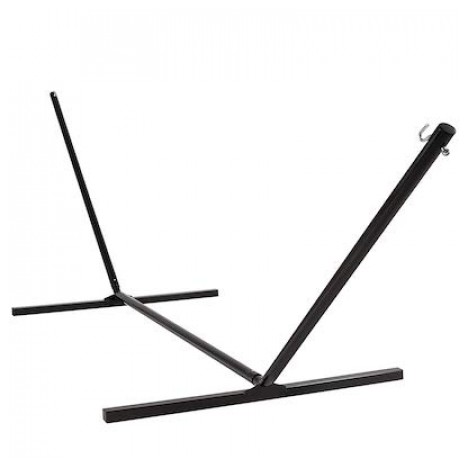 The Steel Beam stand is made with heavy-duty, industrial-strength for the ultimate support. It extends a massive 15 feet in length and features the superior safety offered by 360-degree welding. The stand has two metal hooks from which the hammock can hang. This can be completed with or without spreader bars. It is easy to adjust the height and tautness of the hammock with this stand, making it convenient and versatile.
15 Feet
The Steel Beam extends to a massive 15 feet in length. This allows you to accommodate a wide variety of hammocks. You can take the 15 feet to its full advantage and select a huge hammock, or you can adjust the hooks so that two adults can swing back and forth normally. The two heavy gauge hooks are easily adjustable, giving you plenty of options until you find the perfect fit.
No Spills
The hammock stand is designed to avoid spills, tumbles, falls and tips. The design is specifically engineered to withstand shifts in the distribution of weight. Imagine lying back in a hammock, swinging leisurely, when all of a sudden, a rambunctious child decides to come to join you and catapults in like a cannonball (which is absolutely not recommended). Normally, due to plain and simple physics, the hammock would immediately flip over, dumping everyone on the ground or sending them flying. The Steel Beam is designed to avoid that sort of accident; keeping the hammock as stable and steady as possible, even under sudden, violent circumstances.
Value
Overall, the Steel Beam would be a good value, were it not for the negatives discussed below. Those who have positive experiences with it tend to have great experiences with it. However, there is a multitude of negative customer reviews complaining of everything from the hammock stand not meeting its weight rating to the original packaging containing defective parts and/or missing hardware. With this in mine, the Steel Beam is of mediocre value.

6

. PG Prime Garden 9' Double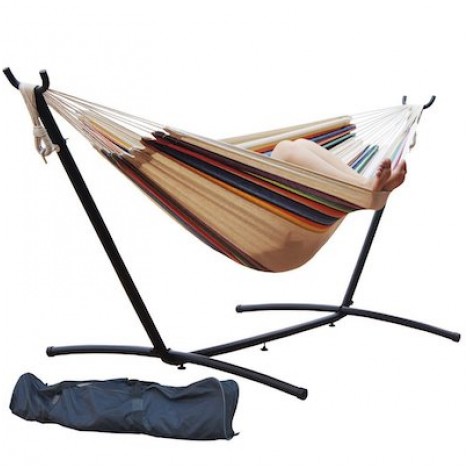 The stand, as its name suggests, supports a double hammock which is included with purchase. The free-standing stand supports the weight of up to 450 lbs. It's not fancy, but it is strong, reliable and well-received by customers. The stand is made of steel and is coated with a powdered finish which includes charcoal. The stand is a tried and true workhorse that does its job and does it well.
An Amazing Bargain
The PG is by far the least expensive stand reviewed here, but by no means does that reflect negatively on its quality. In fact, the majority of customer reviews are overwhelmingly positive. Some customers even commented that the deal seemed too good to be true but actually wasn't. The stand is sold at a very low price and is a very impressive product.
Simple, Convenient
Assembly is completely hassle-free. The instructions are easy to follow; there have been no reports of the order arriving missing hardware. Assembling and disassembling the stand is also easy, and it is quite portable. The stand comes with its own carrying case and a shoulder strap, allowing you to transport it hands-free. Like the hammock itself, setting up and using the stand and the hammock is simple, relaxing, and a nice escape from life's aggravations.
Value
As described above, the PG is sold at an extremely reasonable price. However, there is no correlation between the price of the PG and its quality. Rather, the PG is the exception to the rule. It is a truly well-built, easy to assemble, long-lasting, reliable, transportable, maintenance-free hammock stand. Overall, it's an excellent value.

7

. Sunnydaze Universal Multi-Use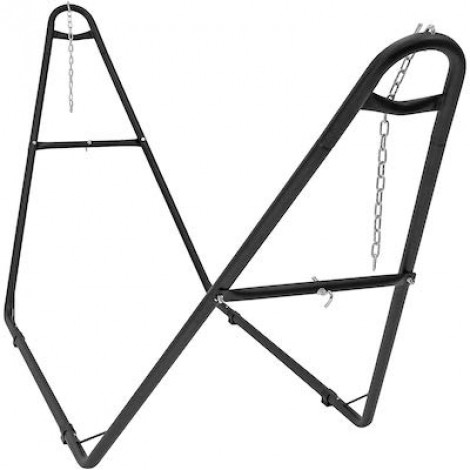 The Sunnydaze Universal Multi-Use Stand is best known for its versatility and universal fit. It can accommodate small to large hammocks; hammocks as small as 9.5' all the way to 14' long. On top of that, it boasts an incredible weight capacity of 550 lbs. The Sunnydaze essentially does it all.
Universal Fit
The stand measures in at 124" x 40" x 52.5". It comes with a wide variety of chains and hardware. This allows it to be adjusted to accommodate hammocks of all sizes, from 9.5" to 14'. This includes spreader and Brazilian bar style hammocks.
Amazing Assembly
Assembly is quite simple and there are no special tools required. Mechanisms known as "spring snaps" securely lock the joints together. This is ideal if there are not any suitable trees around. Spring snaps are very secure and more than capable of supporting 550 lbs. of weight, as advertised.
Value
The Sunnydaze Universal is the most versatile stand reviewed here. It can be modified to fit virtually any hammock. Assembly is easy, the instructions are simple to follow and customer satisfaction is overwhelmingly positive. The price is reasonable, and the seller does include a warranty program. All in all, the Sunnydaze is a very good value.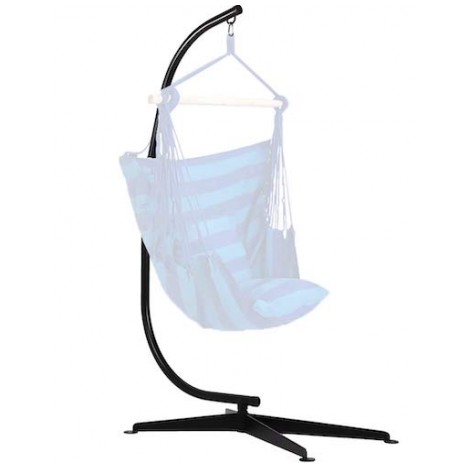 The FDW stand is intended for hanging hammock stands. It allows for 360-degree rotation, making the person sitting inside it feel completely weightless. Its base is reinforced with steel and offers maximum safety and stability. It can be used indoors and outdoors. Overall, it's a nice, well-built stand that offers a lot of enjoyment.
Sturdy
Based on several customer reviews, the chair stand is quite sturdy. It withstands weights close to 300 lbs. with no trouble at all. It also is stable during windy weather and stands up well against poor weather conditions without sustaining damage. The bottom line is that the stand is sturdy, well-built and trustworthy.
Therapeutic
Several customers commented on the therapeutic nature of the chair. Due to the chair's shape, it naturally cradles you, providing comfort. The stand allows the chair to gently rock back and forth. The stand, which is quite sturdy, is a key player in this therapeutic process. This can reduce stress and anxiety while providing comfort.
Value
The FDW is a very good value. The customer reviews are good and it gets high marks across the board. It is reasonably priced and seems to have a lot to offer. Perhaps not the stand itself, but what it provides. Swinging hammock chairs are quite therapeutic and can provide comfort to those who are in distress; a priceless service.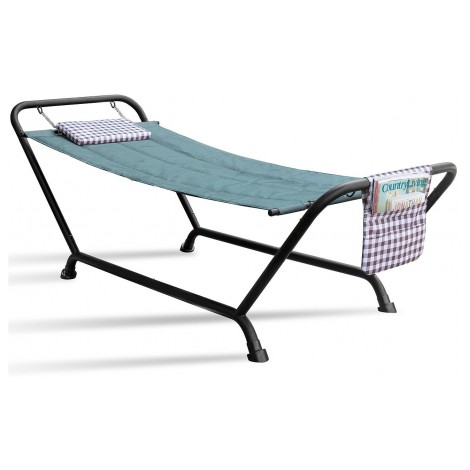 While this article focuses primarily on hammock stands, not the hammock itself or related accessories, the Sorbus' stand comes as part of a package deal, and it's a fantastic package at that. The green, self-standing base is easy to assemble and looks great on your patio, in your backyard or elsewhere.
No Trees Required
The Sorbus is self-supported. This means no trees are required whatsoever. The stand can be used indoors or outdoors, all year round. This means you can finally fulfill your adolescent fantasy of having a hammock as a bad. Or, more likely, you can have a nice looking, affordably priced hammock in your backyard.
Beautiful Features
The hammock itself is quite plush, padded and weather-resistant. It includes a soft pillow to facilitate a leisurely, relaxing nap and has a front pocket where you can store a book, magazine or tablet. The Sorbus is intended for one person and accommodates up to 500 lbs. The stand and hammock are designed to be low to the ground so that it is easy to lie down, as opposed to climbing in, for an immersive, cocoon-like feeling of ultra comfort.
Value
Sorbus is a fantastic product at a decent price. The stand itself is sturdy, durable and aesthetically pleasing; it's dark green color makes the hammock an overall attractive piece of furniture. The extra features of the Sorbus make it a cut above the rest, from the pillow to the storage pocket. All in all, the Sorbus is an excellent value and a very tempting buy.

10

. Classic Accessories Montlake Hardwood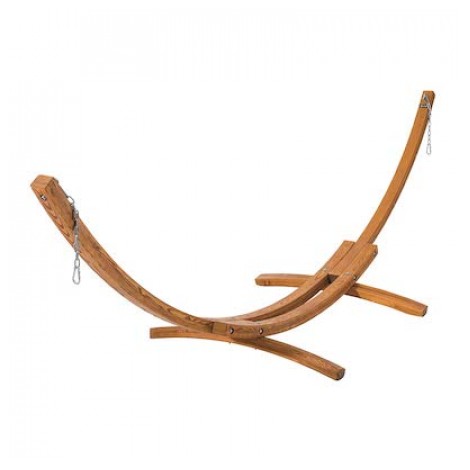 The Montlake stand is a beautiful piece composed of Russian larch hardwood. The wood is resistant to damage caused by exposure to the elements, as well as normal wear and tear over the years. The wood is incredibly strong, resulting in a stand that is both practical and pleasing to look at, with its attractive arch design.
Russian Larch Hardwood
For obvious reasons, the wood used to construct the stand itself has to be extremely strong and durable. Russian larch hardwood is extremely strong and able to bear up to 450 lbs. The risk of wood breaking or splintering is disastrous, to say the least. Strong and durable Russian pine trees have been selected to construct the stands, and their strength is further reinforced by a non-toxic coating that seals and protects the wood from the elements. Overall, the appearance of the stand is rustic, with a classic design that is quite different from the metal stands that dominate the market.
Beautiful Curved Design
The Montlake features a beautiful, aesthetically pleasing curved design that is as practical as it is attractive. The curved stand forms the perfect base for the hammock to sit on, that naturally fits and cradles the human body. The arched shape allows the hammock to gently sway back and forth while you rest, providing wonderful comfort as it conforms to the shape of your body.
Value
The stand is one of the more expensive options on this list, but that is to be expected, considering the Russian larch hardwood and careful construction. When fully assembled and finalized with a hammock, the Montlake is a handsome showpiece that will look fantastic wherever you put it, while also offering the relaxation and leisure you've come to expect from a top of the line hammock.

Subscribe to our Newsletter