Best Glass Coffee Tables Reviewed & Rated for Quality
In a Hurry? Editors choice: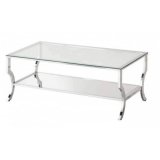 Test Winner: Coaster 720338-CO

Glass coffee tables are trending as furniture pieces that are now used in everyday homes. They bring a sense of elegance and style to the traditional living space. Their sleek look brings in a fresh design to your home and provides an excellent area to enjoy your coffee, pastries, and beverages. These tables come in different shapes and designs found on the market. Selecting the one that best matches your needs can sometimes prove to be challenging for most individuals.

A coffee table will be a part of your furniture decorum for a long time. In addition, you will be seeing it every day. Therefore, take your time to pick one that is easy to maintain and blend with the interior of your home.

Some the top products on the market are enlisted below to help you in your decision-making process.
Standout Picks
Criteria Used for Evaluation
Application
Will you be needing your coffee table for a living room or a family room? A living area and a family area are for different uses. Coffee tables placed in a family room will get more use. Take this into consideration when choosing a table. If you are looking for a more formal design, a coffee table in a living room is recommended.
Family rooms need a durable coffee table. You may need to look for a table that features storage space like drawers. The surface should withstand abuse. Snack, spilled liquids, or placing feet on the table tend to be common in these settings. Glass top surfaces are not ideal for family areas, not because scratches and finger marks, but due to their fragility. For glass top tables without the frames, there is a chance for injury with smaller children, due to the sharp corners. In addition, surfaces can end up being scratched in a heavy-use area.
Style
When choosing a coffee table, make sure you factor in style, color and value when adding to a room.
It is okay to break the rules and mix things up. When considering your own home's decor style, there is no set rule against breaking the rules. You can start by finding a design you love. If the table has multiple colors, this can allow for more alternative of matching and mixing different types of furniture.
Overdoing one thing can come off as simple. Modern, rustic, and vintage tables can work together to design something personal and distinctive, yet chic. Match that 17th-century table with a modern sofa, and you will have a whole new look.
Accept your differences. Most people have different preferences when it comes to decorating a home. Everyone has a strong sense of what they like or dislike. Since the best interior areas are about combining style and looks into a single space, designing can lead to an epiphany. Take risks and try out unconventional blends. This is when you will find your unique decor style.
Go for quality. Buy the best quality coffee table you can afford according to your budget. Sturdier coffee tables can be more costly, actually lasts a lifetime! They can be passed from generation to generation.
Size
The ideal size of your glass coffee table factors on its arrangement, size, and use of the room.
• A coffee table can be useful in a smaller sitting room. Make certain that it does not overpower the room, otherwise it will be in the way and hinder flow. If you have a larger room, on the other hand, choose a larger table in a solid wood, which brings out the true appearance of the room.
• The coffee table's length must correlate with your longest couch. While you would want a coffee table that is long enough to be in your reach, it should not resemble a banquet table, as you want enough space area to move around the table when walking around the room. The rule of thumb is choosing a table that is two-thirds the length of the main sofa.
• For a corner sofa, choose a rectangular or a cubic table. The cub shape is appropriate if you entertain friends often or enjoy eating in front of the television regularly.
• Do you have kids? You should then consider rounded edges (these tables help to protect the corners) and provide adequate space between the pieces of furniture.
• Your glass coffee table must not be too low or too high with the height of the couch. There is room for a little leeway, as the table can be 1 to 2 inches shorter, although it cannot be higher than the sofa itself. The average height of a table can be anywhere from 16 to 20 inches. It can run in between since the height of mostly all seat cushions on loveseats and sofas is around 18 inches.
Materials
When shopping for a coffee table, you will notice how many options you have when it comes to the material. The most obvious is wood, but you do not have to limit yourself to just that.
Take a look around your room. Consider your furniture to decide what material would look best. Glass and clear acrylic can make a tiny room appear more open. Metal or chrome can achieve the same purpose. Acrylic, metal, glass, and stone can also blend in a modern room.
Darker woods, such as walnut or mahogany, or materials such as metal and marble can look blend in a traditional room.
Leather, faux leather can blend well in different settings, and they are also very simple to maintain.
Consider the material's safety and durability especially when you have smaller children.
Features
There are valuable features that are designed into some glass coffee tables. Depending on how you will be using yours, will you get the most benefit from it. While the majority of coffee tables are constructed with a flat surface and a sturdy base, there are plenty that has built-in features.
Choose coffee tables that are designed with added compartments, drawers, or shelves. These tables are valuable storage savers.
Some tables have storage trunks made into them.
Some coffee tables can be elevated up for working and eating.
Casters and wheels are useful if you need to move the coffee table for any reason.
10 Best Glass Coffee Tables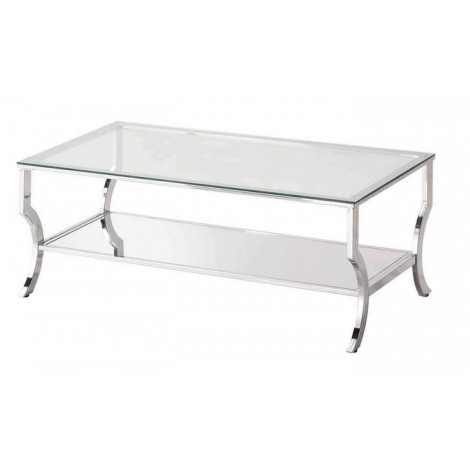 The Coaster 720338 coffee table by Coaster Furniture can be the perfect addition to add to a contemporary home. A clear, tempered glass top is featured, along with a mirrored storage shelf that sits underneath. The frame is designed with a shiny chrome finish. Product dimensions are 47.25"W x 23.5"D x 19.25"H, and weighs 77.9 pounds.
Tempered Glass
This product is constructed with tempered glass. The differences between tempered and standard glass are in how they are made. Tempered glass is structured differently. Normal glass breaks into uneven pieces and tempered glass breaks into tiny pieces. This decreases the danger of being injured by sharp edges, thereby making it a safer option. This is known by the term "safety glass".
Mirrored Glass Shelves
The Coaster is designed with a mirrored shelf that sits underneath for storing remotes, books, and magazines. The design gives this table a stylish, but practical appeal.
Cost and Value
Coaster Home Furnishings have a policy in place for all merchandise. This glass table is readily available for purchase. It will bring you much value to your living space. You can contact the seller regarding any questions about the item; and for rules regarding the return policy and warranty.

2

. Flash Furniture Greenwich Collection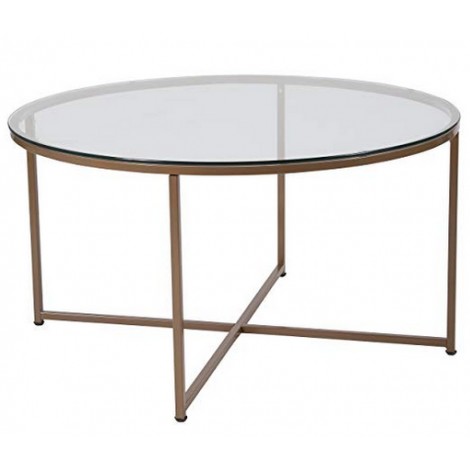 This coffee table by Flash Furniture provides a touch of contemporary design to your home. It comes with a tempered glass, circular top held up by a metal frame with a gold finish. The table measures 35.5 x 35.5 x 19.2 inches, and weighs 30 pounds.
The Table is Durable
The table's cross brace frame is constructed from joined metal and has a wide base attached to it. In addition, this product comes in a design that will blend perfectly in every home.
Designed with a Roundtable Top
The most popular feature of rounded tables they are ideal for smaller areas. While a round table generally takes up less space when compared to other shapes, it has an appearance of taking up more space for an open floor plan. This allows you to add on more tables.
Cost and Value
The circular shape of this option offers a refreshing appeal. The clear, tempered glass top alludes to an airy feel. The Greenwich Collection glass coffee is available for purchase. Flash Furniture has a policy in place and in full effect if for any reason you are not satisfied with your item. You can reach out to the seller for more information.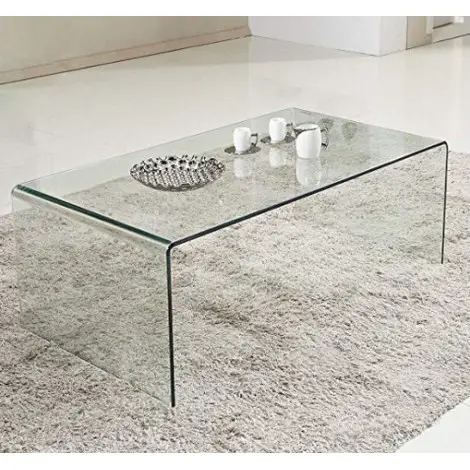 Measuring at 42.5 x 14 x 20, the Tangkula provides your room with an international appearance with its U-shaped style. The table is made of tempered glass that is covered with a clear finish. Its weatherproof features make it a great addition for a porch. If you are a lover of stylish and sleek home furniture, you will learn to appreciate the Tangkula glass coffee table. The product weighs 57 pounds.
Transparent Tone
Furniture with transparent tones makes it more simple to match up with nearly every furniture. They add a bright, clean, and elegant design to the home. This product can also look great on a porch. Because it is weatherproof, it will last much longer.
Easy Maintenance
The Tangkula is very simple to clean. Very little maintenance is required. All it takes is plain hot water and a microfiber cloth. Hot water works the best because it leaves behind no streaks. To finish, you can use vinegar for cleaning up any stubborn spills or stains. Then, use another dry, clean microfiber cloth for wiping the vinegar away.
Cost and Value
The Tangkula tempered glass table is the ideal furniture for any living room, den, family room, study, or library. The company is committed to providing all customers with the highest standard of customer satisfaction and service. You can reach out to the seller for more information regarding policy rules on returns or exchanges.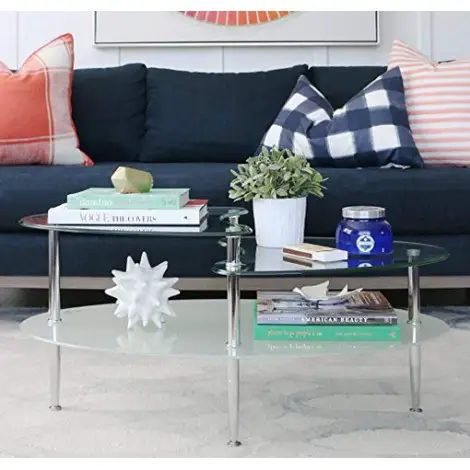 The Walker Edison comes with three strategically placed shelves that are beveled on the edges. Just like a sliding glass patio door or a car windshield, this glass table is tempered for preventing any serious injury. The bottom shelf has a frosted finish. Product dimensions are 20 x 38 x 17 inches and weighs 30 pounds.
Fits With Various Interior Designs
The striking beauty of this oval-shaped glass table is that it can fit into a variety of interior styles. It's stylish, sleek lines fit in with a minimal, contemporary, and modern style. The shelves can also fit into other interior styles; including the shabby chic, retro look, art deco eclectic, traditional or bohemian. We would even consider this option for a rustic or an industrial setting.
Easy Assembly
With Walked Edison, you will not need any tools. You can even use your bare hands to attach the legs into the separate shelves. Assembly time can take less than 30 minutes. Like any piece of furniture should be, this table is sturdy. Wipe down the sides and legs with distilled vinegar and it's ready for use!
Cost and Value
Three levels of this glass table combined the chrome metal legs, provides a stunning modern appeal. All the glass is beveled to give it a softer look and is tempered for safety in case of accidents. This item is available and ready for purchase. Walker Edison offers a return policy that is in full effect. Please refer to the seller regarding their policy rules and regulations.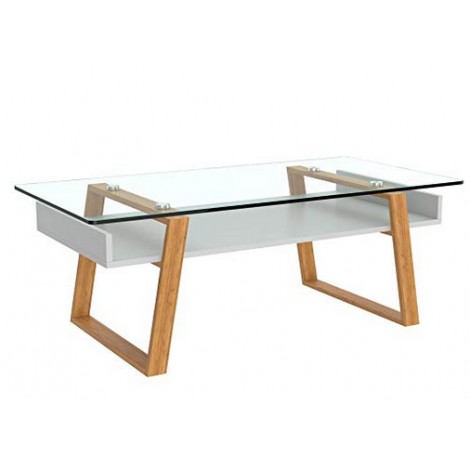 Weighing at 54.9 pounds, the DONATELLA coffee table by bonVIVO has quality components, trendy design elements, and convenient features. Glass and wood are the main features that make up the table's construction. Both of these materials will blend in a vintage or modern home because they offer a room an urban or country vibe. The table is designed from tempered glass and is highly durable. This is some of the key factors that makes this table a quality product. Product dimensions are 46 x 24 x 5 inches.
Versatile
The DONATELLA glass coffee table is the ideal piece for your living room. Whether used as a side table, centerpiece table, or a side table, this model can blend all-round. Thanks to its timeless and modern design, you can use it with any furnishing decor. This means that this glass table is not only practical to use in a contemporary space, it will fit into any style home.
Made From Bamboo
The stylish blend of solid bamboo and tempered glass provide stability while highlighting its design. With the practical glass shelf feature, this product offers extra space for keeping books, magazines, and other items.
Cost and Value
The bonVIVO is constructed by using high quality materials. The glass table is distinguished by its sense of style. It will give your room a touch of class to your daily living. That is why the company focuses on delivering smart designing into every piece of furniture. The DONATELLA is available for purchasing. You can reach out to the seller for more information regarding policy rules on returns or exchanges.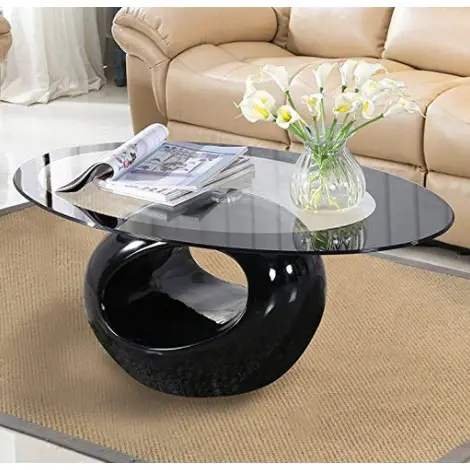 Known for its aesthetic appeal, the Mecor is designed with an oval shape and a black glass top. The attached glass base creates just an added touch of contemporary decor to your living space. It is built for longevity. This table measures 43.3 x 23.6 x 17.7 inches, which is a great value at a marketable price!
Safe and Sturdy
The Mecor glass table is created from quality, safety glass. This type of glass is not easily breakable and measures thicker than typical glass. The beveled corner design prevents any cuts or scratches during use.
Unique and Stylish
Created with modern style in mind, this hollow table offers a round, black gloss base and a unique oval surface. It is versatile, by neatly accommodating a variety of accessories and items.
Cost and Value
The Mecor style coffee table can be used mainly in homes as an ideal side table due to its spacious, surface area. It has a compact construction and appealing design which can be perfect for a living room, bedroom, or in an office setting. This table is available for purchasing. You can reach out to the seller for more information regarding policy rules on returns or exchanges.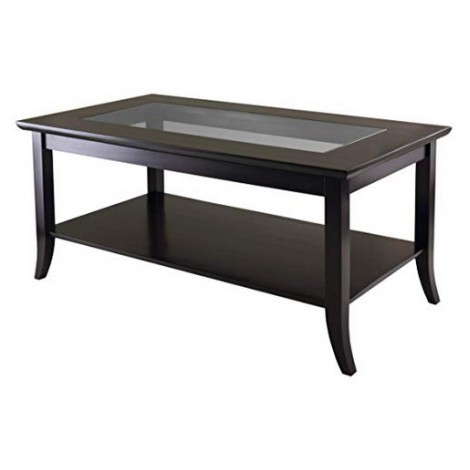 The Genoa by Winsome defined by its design of the flared legs, its style, and cantered lower shelf. It comes with a rectangular top which highlights the tempered glass. The wood frame of the legs and table's edges are incredibly sturdy. The overall product dimensions are 40"W x 22.28"D x 18"H and weighs 43 pounds.
Brown Wooden Frame
This table brings a simplistic style to the area of your living space. A large piece of see-through glass, sturdy legs, and a brown wooden frame create a very sturdy design. The glass is constructed with a smooth surface which makes cleaning the table a lot easier. The legs are convenient to clean; as they are designed with a smooth texture.
Bottom Shelf Storage
The bottom shelf is constructed with a wooden piece for providing storage for magazines, books and other items for home use. The shelf itself has a thicker diameter which is capable for storing many items.
Cost and Value
The Genoa glass table is for those who are looking for something different from the norm, but still want a table that is elegant and exquisite. This sturdy table will last for years to come with proper care and maintenance. It is available and ready for purchasing. Customers can reach out to the seller for more information regarding policy rules on returns or exchanges.

8

. Ashley Furniture Coylin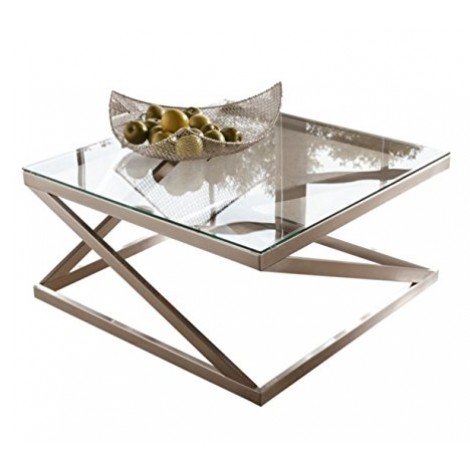 If you prefer a contemporary design, the Ashley Furniture Coylin comes in a chic design finish. The slanted metal base is striking at every angle. This square table is topped with a clear glass surface with a polished edge - giving it a modern look. Weighing in at 84 pounds, the item's dimension is 34.1 x 34.1 x 16.4 inches.
Gorgeously Crafted
This table is gorgeously designed from glass and metal. It is constructed with a beveled surface top. The frames are finished with a nickel-tone coating. The high-shine of the angled metal legs play up to the table's intriguing shape.
Square Shape
This Coylin glass table has the perfect amount of surface area to place a decorative accent or two. Make this accent table work for you in whatever space you place it. It can act as a game table, plant stand, and more.
Cost and Value
The Ashley Furniture Coylin is available and ready for purchase. The company has translated the search of finding the design you want into a practical, affordable piece you will value. The company's return policy is in full effect. Customers can reach out to the seller for more information regarding policy rules on returns or exchanges.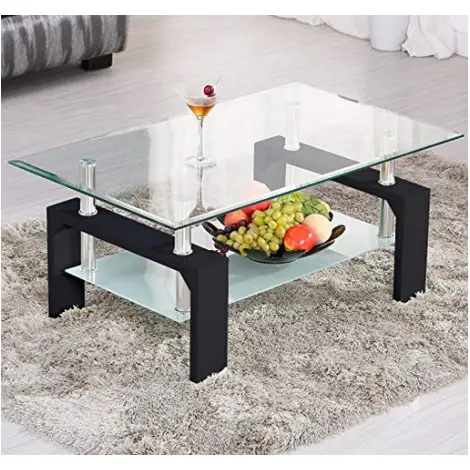 The rectangular design in this glass table has been constructed with materials of high quality. The mix of glass, metal, and MDF materials are crafted into a contemporary coffee table that everyone will notice. Product dimensions are 23.5 x 39.5 x 17.5 inches. weight: 42.53 lbs.
Large Storage Space
Combined with 2 pieces of clear glass and MDF materials, this glass table is designed with a large storage area. You can store various items such as notebooks, remote controls, books, magazines, and other things. The Mecor glass table is very versatile.
Offers Convenience
This rectangular coffee table can be used as a perfect vanity desk due to its spacious area. The beautiful design and compact structure of this table is perfect for your bedroom, living room, or for adding to an office setting. The table is delivered to you ready to assemble with the necessary tools and hardware. The smooth surface makes cleaning and maintenance easier.
Cost and Value
The Mecor rectangular glass coffee table can be used as a centerpiece table due to its spacious, surface area. It has a compact construction and appealing design which can be perfect for a living room, bedroom, or in an office setting. This table is available for purchasing. You can reach out to the seller for more information regarding policy rules on returns or exchanges.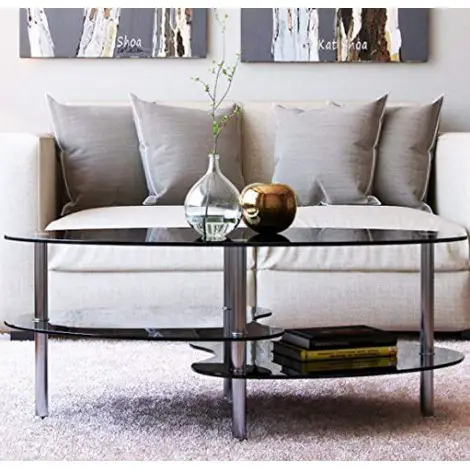 The Elm 38 inch oval contemporary black glass table provides storage levels to place books, magazines, and then some. Its bolstered legs and tempered safety glass is blended into a modern shaped design. Product dimensions are 20 x 30 x 17 inches and weighs 2 pounds.
Offers a Unique Style
Each rack is designed with angled edges for a delicate, smooth finish. It comes with levels of black glass that is joined with steel legs for providing durability and appeal. This particular style is ideal for an apartment, condo, living area, or an office.
Steel Legs
The Elm glass coffee table is designed with durable steel legs to add to the model's contemporary design and multifunctionality. The glass table comes with the necessary tools and hardware for quick assembly. This product was made in the USA.
Cost and Value
Furnish your living space and impress your visitors with this tiered coffee table to add an air of sophistication and class to your coffee breaks. The glass table is available for purchase. Ryan Rove has a policy in place if for any reason you are not satisfied with your item. Customers can reach out to the seller regarding any questions or concerns.

Subscribe to our Newsletter