Best Corner Desks Reviewed & Rated for Quality
In a Hurry? Editors choice: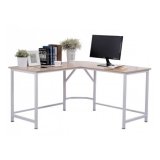 Test Winner: TOPSKY Deep L-Shaped

So, you've moved into a new, smaller house in the suburbs to be closer to work. It's then that you realize that the center of the room computer table isn't going to really fit anywhere. So
where does the computer
go now? The obvious solution is a corner table that lets you set up your gear but doesn't take up that much space. Corner working surfaces are the name of the game when it comes to giving yourself a nice table while still leaving plenty of room for other
things in your office
. So here's our list of favorites that should clear up some space but give you plenty of elbow room.
Standout Picks
Criteria Used for Evaluation
Materials
Of course, one of the most important factors to consider when looking for a good table is the materials used to make said working surface. The most common materials used to make a corner bureau are some mix of wood, glass, and metal. Which materials are in what ratio to each other depends on the surface itself.
Sometimes it will be completely glass and metal, with no wood to be found. Sometimes it will be wood and glass, or wood and metal. None of these combinations are bad, but their implementation can be better than others. For instance, the metal used for the frame of one object might not be as strong as it should be, meaning that, while it can hold up its own weight, it will quickly begin buckling the minute it meets whatever heavy objects you plan on putting on top of it. We looked for entries that made sure to have the best possible materials they could get comprising their structure.
Size
Of course, the main draw of any corner table is its size. After all, you're buying this bureau to be compact, so it would only stand to reason to get one that's as tightly made as possible, so you can better fit it into the corner of your choosing. Fitting is the point, of course, since it doesn't matter how good the table you pick outlooks, if it doesn't fit into the corner you need it to fit into, then the point is moot.
As you can probably imagine, the best way of determining what bureau is right for you is by measuring the space of the corner of your choosing, to see what measurement of the table is best in this scenario. In fact, we recommend that you take measurements of every corner in your study, just in case you change your mind. Besides, the measurement of every corner affects the other corners as well. So, knowing the layout of the entire thing is paramount to making sure that you know what shape, size, and design of working surfaces are actually going to fit there.
Style
Speaking of design, that's also a vital criterion for this list. When it comes to the simplistic design, you'll find few as simple as corner tables. It's a slab of wood/metal/glass etc. that you put in the corner of your room, in order to have a place to put your other objects, such as your computer or books. But that doesn't mean it has to look as simple as it really is.
There's an art to good surface design, making sure that everything fits symmetrically into place, crafting the thing out of the most exquisite wood, and then crafting that wood into beautiful designs that make everything fit together perfectly. For this list, we tried to make sure that we had one type of every design flourish we could think of that you can actually do to a table. From footrests to drawers, pull out keyboard spaces, and so much more. There really is one of everything on this list, and if not, it isn't for lack of looking on our part.
Durability
We don't expect you to go riding down a hill slope with your corner one, but we also expect you to be able to take care of the object you spend all that money on. But that responsibility goes both ways because you can't be expected to be able to take care of something that is determined, in fact, dead set on falling apart.
This is why the nature of the materials used to make your furniture is so important. But it goes beyond that because the really important thing is the implementation of those materials, such as using one material to help reinforce the welding joints, the points of the table's frame where the welding took place, making them the weak links in the entire thing. It's also all about the thickness of the wood or glass, the kind of metal used to make the frame, etc.
Value
The final criteria we used for this list was the price of each table. It stands to reason that surfaces wouldn't be the cheapest things in the world, but here it seemed to flip back and forth between each one. Luckily, a through-line was able to be found, as the price tended to vary on the size of it and the quality of the materials used to make it.
For each entry, we judged not by the price itself, but by how well the entry in question justified the price it was asking for. If it offered a lot of really good service, was well regarded in general by the customers who decided to leave a review, and was at least made of decent materials, then we saw no reason to leave it off the list because of a high asking price. Because at that point, that table became more than worth the money spent.
Best Corner Desks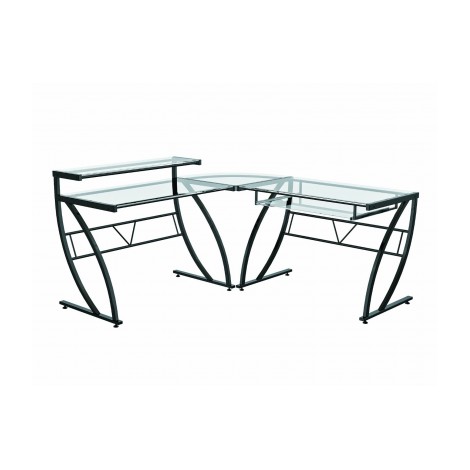 Kicking off our list, we have a unique design for a surface right off the bat, with the Z-Line Belaire Computer Desk. This L-Shaped glass table may seem like the most barebones tables in the world, but trust us, it has every reason to be at the top billing of this list. What got it here? Let's take a look and find out.
Sturdy and reinforced
Being made of metal is only half the battle, you also have to make sure that the metal comprising this surface is properly reinforced and sturdy in its own right. Otherwise, all you've done is make a hunk of scrap waiting to fall apart. Which is why this computer table has reinforced plates on every welding joint, seeing as how those are typically the weakest points of a table like these. And a black powder coat finish makes it harder for rust to form.
All hardware included
One of the most frustrating parts of getting these assembly required surfaces is having the tools needed to actually assemble them. Because it always seems like you're missing that one vital tool needed to keep the whole thing together. Which is why this one includes all the hardware needed to put itself together in the box when you buy it. Making assembly much less of a hassle.
Cost and Value
By being rather large, professional-grade tables, they are pretty dang expensive. Though, as this one demonstrates, not nearly as expensive as its peers since as far as corner desks go, this one is actually pretty affordable.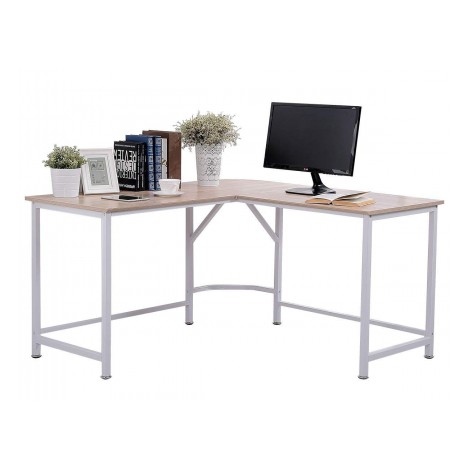 Coming in second place is the TOPSKY Deep L-Shaped Desk. If what you're looking for are modern simplicity and comfortable design, then this is the option for you. It doesn't take up a lot of space, but it does offer a lot of uses besides being a simple computer surface. What are those uses? Let's find out.
Plenty of free space
The main benefit it offers its user is plenty of free space with which to store all of your stuff. Now it may not seem that way at first, but you'd be surprised just how much you can actually fit under this one and still have enough room to move around while sitting at it. And on top of the table, you have more than enough room to have multiple monitors, PC's, and still, have enough room for books and picture frames.
Bevel edge design
Want to get a surface that looks more stylish and classier than any other one on the market or in your neighborhood? Then you're looking at the right one right now, as this option comes with the TOPSKY original "bevel edge" design. A design flourishes around the edges of the table that helps it keep a look that's distinct from its contemporaries.
Cost and Value
Of course, we depart from the previous entry and start looking at more expensive ones. Indeed, this one is quite a bit more expensive than the first entry, but it isn't the worst price on this list by a long shot.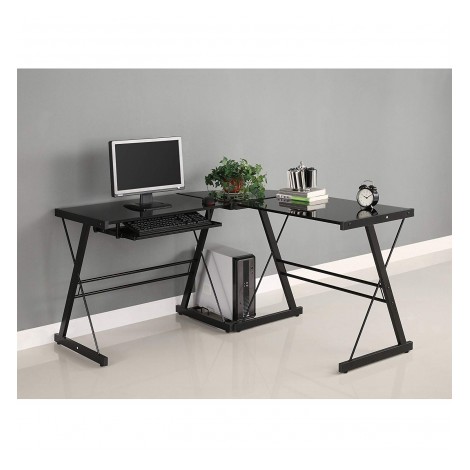 Finishing up our top 3 segment, we have the Walker Edison Soreno Corner Desk. This is the kind of table you want if you live in a lovely upper east side apartment, and you want to complete the look by having a good modern working surface in the corner of your personal study. So, what makes this one so special? Let's take a look and see.
CPU stand
At first glance of the photo, there may not seem to be anywhere to put your PC than on it or on the floor. And if you know one thing about PC's, and if you have a carpeted floor for your study, then you know that that is a bad idea. Luckily, closer inspection will reveal the truth. There is a tiny little stand in between two of the desk segments. This stand is meant for PC's, giving you a good place to put the tower, where it will be easy to access, but out of the way.
Tempered safety glass
GLass desktops may turn some people off and for a pretty good reason. You're putting a lot of stuff on top of the surface normally, and if it shatters, then all of those pieces would go right into your upper thighs, which won't be a fun time for anyone. Luckily, you won't have to worry about that here, as this one is made from tempered safety glass, which is possible to break, but almost impossible to shatter. And even if it does, it will shatter into harmless particles, rather than long sword-like spears.
Cost and Value
The best part about this entry is its price, which is incredibly affordable by the standards set by the previous two entries. And when you consider what you end up getting out of it, it becomes one of the best deals on the entire list.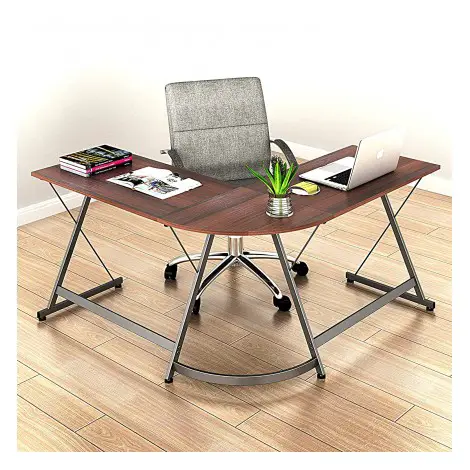 Coming in at #4, we have the SHW Home Office Corner Table. Entering college and moving into a dorm? If so, then you likely don't have a lot of room, regardless of the size of the dorm you move into. You have to share that space with at least two other people, so you need to make some room. For this reason, you get the SHW Home Office Corner Desk.
Efficient size
This one is exactly as big as it needs to be. You can have it in a corner as the name implies, or you can have it in the center of the room. Either way, it won't take up too much space at all, and you can have whatever you want around the room after installing it.
Foot rest bar
If you're like us, then you're not a big fan of the big empty space beneath it that leaves your feet dangling there. And if you're on the petite side, then this problem compounds itself. Luckily, this desk comes with a footrest bar mounted underneath the surface. Now you have a place to put up your feet while working.
Cost and Value
Once more, we have a very good price for an item of very high quality. So, if you want a good one for a good price, you can't go wrong here.

5

. Sauder Harbor View Corner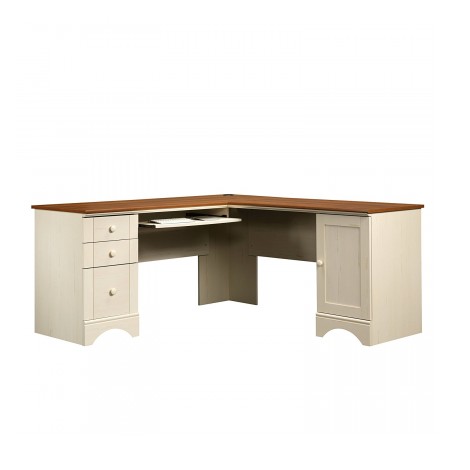 For the #5 spot, we decided to go with the Sauder Harbor View Corner Computer Surface. Looking for a good corner table for your study, but not a fan of the minimalist design flourishes that dominate modern design these days? Then you need this beautiful, real wooden one for the corner of your office.
Grommet hole
Definitely a top contender for the most annoying part of owning a computer table, in general, is finding a way to send all of your cords to the back part of the surface to get to the power strip. So, it's a good thing then that this one, like many out there, uses strategically place grommet holes, to help streamline your cords to the back of it. Now you don't have to move it out of the wall just to navigate the thing into the plug.
Slide out shelf
When dealing with any computer shelf, the first question becomes obvious: where do you put the keyboard? Simple, you put it on the keyboard shelf. Most computers have at least one of these roll-out shelves, on which you put your keyboard and mouse in order to both keep your keyboard at an even level with your arms, as well as keep them in a safe place.
Cost and Value
Of course, if you want the big wooden table with a fine aged texture, you're going to need to pay up, especially if you want the real thing. This is the most expensive entry on this list yet, but you are definitely getting what you pay for.

6

. Tribesigns Modern L-Shaped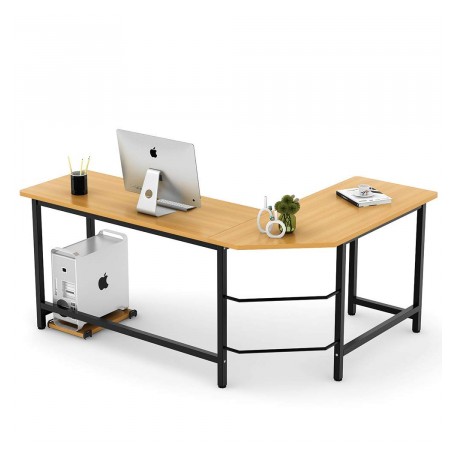 Coming in at #6, we have the Tribesigns Modern L-Shaped Desk. This is more the kind of table that you would find in a modern office space, you might have worked at a bureau like this at your first job, in fact. And as we go through this one, and its various benefits, it will be plain to see why that is.
Very sturdy
While this is not to say that we expect you to go sledding down a hill slope with your corner table, it always helps to have a bit of sturdiness just in case. And this one definitely gives you sturdiness, with its steel frame and rugged, reliable mechanical design. This is one table that may seem flimsy but is, in fact, one of the toughest entries on the list.
Easy assembly
You got things to do. You got places to be. Usually on the computer. Which we imagine you would like to put on top of your computer table as soon as possible. So, you likely aren't the biggest fan of having to spend 2 or so hours putting together the table. Fortunately, an assembly for this desk is exceptionally simple, and you should be done in a half-hour or so.
Cost and Value
While a little pricey, the price for this desk is actually remarkably reasonable. So, if you want a sturdy, simplistic desk for a good price, this is the one for you.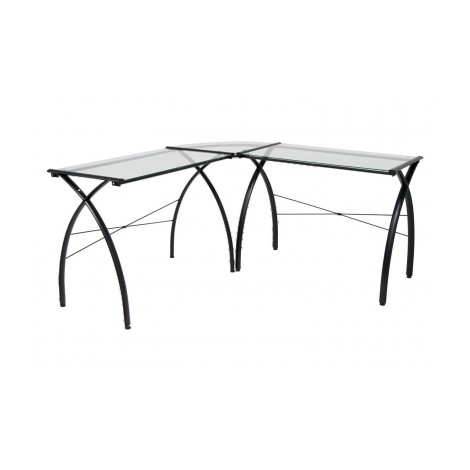 For the #7 spot, we have the Calico Design Study Desk. Being the redefinition of compact, we most recommend this one to younger buyers, who are getting their first studying surface for their room. So, what makes this so great for the young typist? Read on to find out.
Multipurpose
No kid is going to just use their surface for writing, they're going to use it for all sorts of things, especially when they find out that a computer can double as a gaming console. Fortunately, this one can support all kinds of computer types, From tiny laptops to large gaming PC towers. Perfect for the kid who just got their first computer and wants to try all the bells and whistles unimpeded.
Durable design
Anything meant to be handed to kids needs to be durable for obvious reasons. Which is why this object is made from laminated wood, built on top of a powder-coated steel frame that makes it incredibly durable.
Cost and Value
Being smaller in size and more compact in design, this one is, of course, much more affordable than your average corner table shown on this list. Making this one of the best deals on the entire list.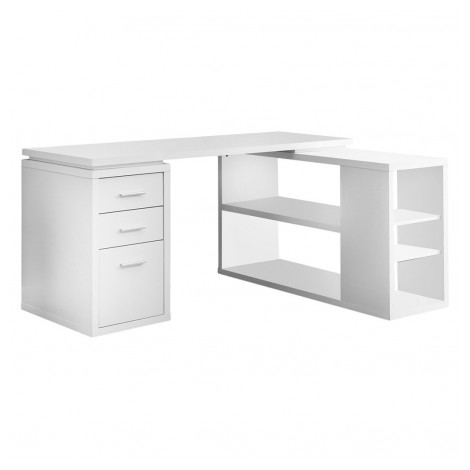 Kicking off our final three entries, we have the Monarch Specialties Desk. Going back to adult-oriented corner tables, we have a very professional grade offering from this manufacturer Monarch Specialties. But what does this one have to offer over the ones that have come before? Read on to find out.
Left or right facing
With other corner tables, there's a certain direction that you're allowed to actually have it facing, which can be a problem when you're trying to fit a table into one specific corner because everywhere else is taken. Which makes this one an even better deal, because of its ability to be put in either right or left facing corners with ease.
Keeps you organized
But what's a surface without a means of keeping everything nice and organized? This one, fortunately, has you more than covered, through the use of five different open shelves on one side, and two large desks and smaller file cabinet on the other. This gives you more than enough room to store whatever you need to be stored in your table.
Cost and Value
Once again, a very decent price for this desk. Usually, a desk like this would cost significantly more, but if you find the right seller, you can get it for a very good deal.

9

. Greenforest Corner Workstation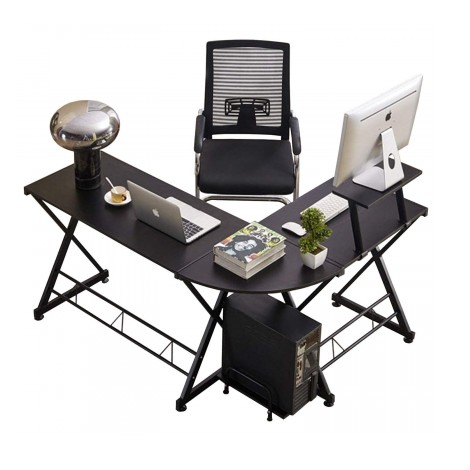 For our second to the final entry, we have the Greenforest Corner Computer Desk. This is a prime example of what you think of when you hear the term "professional office bureau." Don't be shocked if you see one just like this in a secretary's office at work. But as you will see, this table has a lot more going for it than simply looking like something professional.
3 The piece, 2 Sides
This table is a three-piece, double-sided one, on which you are encouraged to have more than one monitor, or even more than one whole computer and PC. So, if you feel like some online gaming, you can turn to one side of your working surface, and if you need to get back to work, just turn to the other side.
Legs are all the same size
Finding a table with legs that are all the same height as each other can be trickier than you'd think it would be. This is because there has yet to be any mainstream available means of keeping all legs in equal size. Except for this one, however, which is equipped with a set of foot cups which adjust the height of each leg to make sure that they are all completely even with each other.
Cost and Value
The best part about this surface is its price, which is incredibly reasonable and affordable, especially for a table of such high quality.

10

. Ameriwood Home Dakota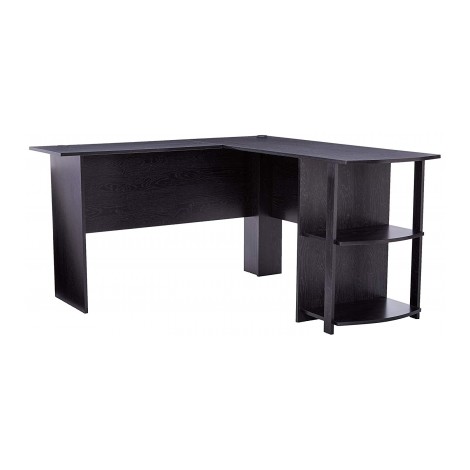 For the final entry of this list, we're looking at the Ameriwood Home Dakota surface with Bookshelves. Quite the mouthful, we agree. But nonetheless, we found this to be an excellent corner surface and could think of no better object to end this list with.
Great storage
Not only does this surface fit wonderfully against any wall or into any corner you please, but it also has a great amount of storage. For one, it sports a large top surface, on which you can fit just about anything you want to put on top of it. And for the books you aren't reading right this second, the side bookshelf on the side of this table will fit as many books as you please.
Grommet holes
One of the many advantages of grommet holes is that it keeps your wires from tangling and getting all wrapped up in each other by keeping them going through a single point. Which is why this desk has two different grommet holes, perfectly situated to be in just the right spot.
Cost and Value
The best part about this entry is the price. This is easily the most affordable entry on the entire list. So, if you need a basic table for a good price, we highly recommend Ameriwood.

Subscribe to our Newsletter