Best Full Face Snorkel Masks Reviewed & Rated for Quality
In a Hurry? Editors choice:
Test Winner: Atlin

If you can't scuba you must snorkel. To fully get a feel for the world underneath the waves nothing beats scuba diving but for those who can't or won't get certified snorkeling can be a very cool way to get a look at what's lying just underneath the waves. And the technology has come so far in just the past few years that we're just thrilled to get our hands on one of these new full-face snorkel masks to enhance your
swimming experience
. The main thing they offer is a full 180-degree panoramic view and a certain level of comfort that regular face masks don't. The goal, of course, is
to be able to see as much as you can
because Mother Nature has a lot to offer, but only if you have the right equipment and know where to look.
Standout Picks
Criteria Used for Evaluation
Comfort
You cannot sacrifice comfort for just any other snorkel mask out there. You should be as comfortable as possible when snorkeling with family, friends and loved ones. The only way to ensure that you keep on snorkeling for a long time is by feeling comfortable throughout the experience. Medical grade silicone masks provide a snug fit and will stick to your face as you snorkel underwater. Top-grade premium injection molding ensures the mask fits tightly onto your face and prevents entry of air and water. The silicone insert is often durable and creates a watertight seal for great comfort to keep users snorkeling all day. In case water manages to enter the mask, it will drain out slowly through the chin valve to empty the mask. Simple tilt your head in a backward position and all the water will instantly drain out. That way you can be sure that this mask will be dry whenever you need it to be.
Ease of Use
Not everyone has the time to learn complex designs and read installation guides. Most people just want to fit the mask onto their faces and start snorkeling immediately. However, some masks can be difficult to use. When shopping for snorkeling equipment, always look for a gadget that you will be able to install easily and begin your snorkeling experience right away. Spending much time fumbling with the equipment can lead to frustration and ultimately a bad snorkeling experience. Modern technology snorkel masks are often easy to install. All you have to do is connect the tube of your equipment to the snorkel mask and everything is ready for use. The ease of assembly makes the mask easy to put together. Everyone, including those with no prior snorkeling experience, can take advantage of the limited assembly and use this equipment.
Size
People have different face dimensions. If you have settled on a particular brand face mask, then you need to be sure that the size will fit your face. It even becomes more important to be keen on the size when shopping for the product online. One problem that most snorkeling enthusiasts have is that of loose snorkeling masks. Note that not all masks are of the same size. Always do your due diligence to ensure that the mask you are about to purchase will fit your face. If you are not sure about the size, you should ask for guidance.
Color
Most people demonstrate their different tastes through colors. However, while color is not a unique feature that differentiates the product brand from the rest of the competition, it provides you with an opportunity to make color choices that represent your taste and preference. Checking the available color options for your next full face snorkel mask would not cost you anything extra. A wide range of color combination options gives the user the chance to select a full-face snorkeling mask that represents their personal style.
Features
When using the snorkel equipment, it is important to maintain good vision. You should be able to see underwater. The essence of diving into the water is to see the fish and several other sea creatures. If you are going to invest in a snorkel mask, make sure it has a wide range of vision to help you see everything ahead of you. A good mask will enable you to see the same way you would without the mask. In fact, you should have a 180° range of vision when wearing the mask. A high-quality snorkel mask features a clear lens to provide a wide field of vision that can make you have fun while enjoying the amazing creatures below the sea.
The design on the front of the mask is also important as far a vision is concerned. A mirror view window on the front means your vision will remain clear even underwater. Most of these masks are designed using a shatterproof transparent material to ensure light transmission rate remains 100% while your face is protected from the harsh elements found in the water. With a 180° viewing area, there will be sufficient field of vision needed to see various species of fish and sea creatures.
If your mask fogs up whenever you have it on then it could mean you have not gotten the best one. When purchasing a snorkel mask, ensure you take a good look at the airflow system featured to determine whether it is sufficient enough to prevent unnecessary fogging when you breathe under the water. The mirror view window on the front of the mask often features a powerful anti-fog function for a clearer and brighter view. The safety of your eyes is of paramount importance, as shattering window view could bruise your face and damage your eyes.
A snorkel mask with unique inhaling and exhaling channels is ideal for snorkeling like a whale without feeling nervous. A mask that keeps fogging up can give you an undesirable snorkeling experience. This makes it even more important to take your time and have a look at the breathing chamber to ensure that air flows far from the main view area before you can settle on the mask. Such a mask will take time before fogging up during your snorkeling sessions.
Manufacturers of snorkeling equipment understand that part of having a good time is recording everything that happens. As a result, many of them have resorted to manufacturing snorkeling equipment with GoPro camera mount to enable the recording of snorkeling events as they occur. You can easily attach a GoPro camera to this unique snorkel design and later share your adventure with the rest of the family. If you are one of those explorers who are rabid about recording or documenting every single aspect of their underwater excursions, then you cannot ignore this feature. You want something with some added value to add more life to your snorkeling experience. If you find a perfect option that matches your needs, you will have to dig deeper into your pocket in order to afford the version that comes with a camera mount. However, it will be worth it the moment you dive underwater and realize that nature below is just too scenic to ignore or avoid sharing.
The regulator valve of the mask has to effectively seal the opening upon diving underwater. This is a very important feature to consider because it is not easy to expel water once it gets inside the snorkel mask. Consider masks with 'Dry Snorkel Technology' if you want to keep the salt water away from your mouth. These masks also do prevent gagging. When there is no water entering into your mask, you will have more time experiencing nature from a different perspective than before and will never have to worry about distractive salt water.
Top 10 Full Face Snorkel Masks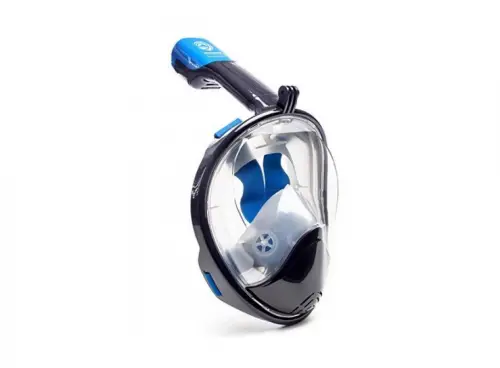 WildHorn Outfitters features yet another original and dependable sea-view 180° full-face mask. This snorkeling mask is designed for water lovers who hate breathing through a mouth tube. If the traditional snorkel is not good enough for you, then you should try the Seaview 180° mask to have a whole new different experience. The innovative design eliminates the need to deal with an uncomfortable tube in the mouth.
180° Full Face Design
This mask provides a 180° field of view to enable you to experience fish and nature from a 'wider' perspective. It is easy to breathe through the nose and mouth while under water.
Dry Snorkel Technology
This mask takes advantage of the dry snorkel technology to allow you to breathe comfortably while snorkeling and prevents a flow of salt water into the mouth. You will focus less on disruptive water and more on the snorkeling experience.
Cost and Value
While snorkeling, this mask will provide you with a magical experience whilst allowing you to breathe comfortably through the nose or mouth. The innovative design helps to prevent saltwater from reaching the mouth. In addition, the cost is affordable.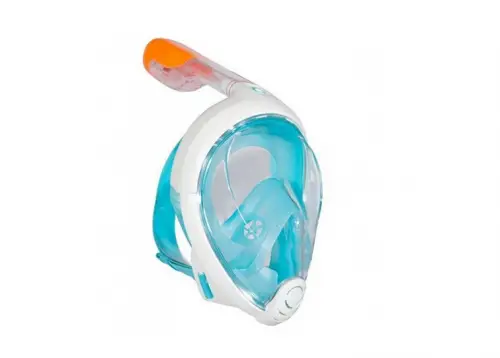 This innovative design snorkeling mask makes it easy to see things and even breathe underwater as if you were on the surface. You will be able to access and discover the beauty of the underworld. Since the snorkel mouthpiece can sometimes be intrusive and unhygienic, this mask enhances breathing underwater in a more natural way whilst providing you with an unobstructed 180° view.
Waterproof Top
The dry top is waterproof to help restrict water entry into the mask via the top. The snorkel system is "Dry Top" to ensure the snorkel's top remains dry throughout the snorkeling experience.
Water Drainage
The mask features a purge valve for water drainage. Located at the bottom, the purge valve ensures dryness by draining water when the user raises the head.
Cost and Value
With a 180° view and a dry top system, this snorkeling mask offers real value for money. It also drains water to ensure the user does not suffocate or become uncomfortable when using the mask.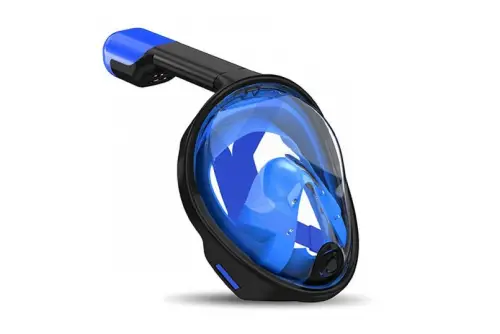 Atlin Snorkel Mask brings a game-changing experience to snorkeling. Using this mask enables the user to breathe quite easily underwater, just as you would on land. Bite-the-bulk mouthpiece common with traditional snorkel masks can be uncomfortable. Therefore, using the Atlin mask will bring the ultimate snorkeling experience you look forward to every time to plan a trip to the underwater world.
Exciting Features
With a detachable GoPro mount, this Atlin mask prolongs users' nautical explorations and ensures they are worth remembering. The defogging technology built into this gadget ensures that no fogging takes place, thereby enhancing every user's underwater experience. Once you have this mask on you will be able to breathe easily only and focus more on the experience rather than on the possibility of salty water leaking into the gadget.
Easy Installation
This snorkeling mask is very easy to connect and use. Simply connect the tube to the mask and you are good to go. The limited assembly feature is for everyone to have the easiest time when planning on snorkeling.
Cost and Value
With easy one-step installation, you can mount the tube to the mask and begin snorkeling. The defogging technology ensures you retain clear visibility when experiencing nature underwater. The cost is pocket-friendly too.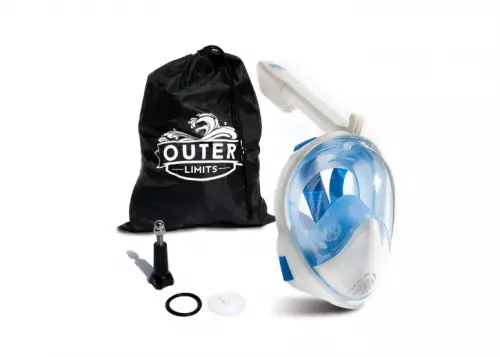 We like the look of this mask and we like the way it works even more. It has a continuous bubble design that keeps distortion at a minimum and a unique anti-fogging design that will keep you swimming around the pond, river, ocean lake of your choice for as long as you'd like. Outer limits also make a point of standing behind their products and promise to deal with any problems you might have within 12 hours of you getting in touch. That's a nice touch that just adds to the positive vibe we get from Outer Limits.
Full Face Design
There are full face designs and then there are real full face designs. In this case, Outer limits have created this mask with a continuous bubble, the goal, of course, is to not have any lines interfering with your perspective or line of sight. The design also naturally redirects your breathing to exit the mask so it's less likely to fog.
Innovative Snorkel
Outer Limits puts great stock in their snorkel which they say is one inch longer than the competition. We think this makes a difference as they say this makes it easier not only to do some diving but also keeps water from entering the mask through the snorkel as it just naturally sits a bit higher above your head.
Cost and Value
A great price for a great snorkel. Right smack dab in the middle of the price range the Outer Limits snorkel also comes with a carrying bag so your mask won't get too sandy and it makes for easy transport. All in all a great addition to our list.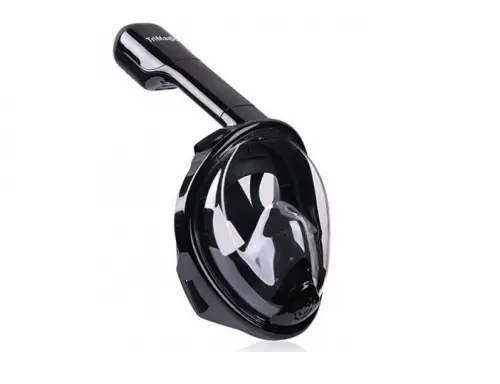 If you want a 180° field of vision that is completely unobstructed, with a comfortable and hygienic experience, then you need to try the Tri Magic snorkel mask. The double air-flow system, which resembles the system applied in the use of domestic extraction fans, is great when it comes to demonstrating anti-fogging capabilities. Enjoy your underwater adventure by investing in one of these 180° fields of vision state-of-the-art masks.
Shatterproof
It features a shatterproof polycarbonate window to ensure users are safe. If you want a gadget that will enhance your safety while snorkeling underwater then you should consider this mask.
Easier Breath
It can be very difficult to hold the snorkel in the mouth while experiencing the beauty that nature has to offer in the underwater world. However, this mask eliminates the need to hold the mask, allowing you to snorkel freely.
Cost and Value
The full face mask ensures you do not have to hold your snorkel while exploring the underwater and allows users to breathe naturally. For a small price of a few dollars, this snorkeling mask can be yours.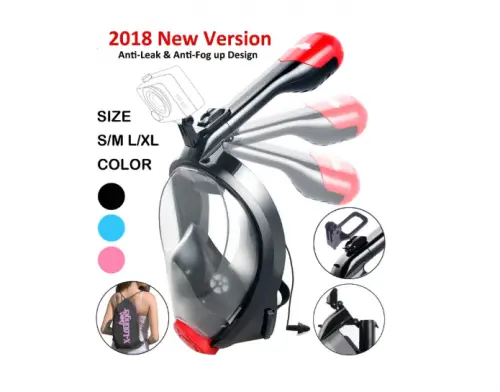 This is a mask that does a lot for not a whole lot. The snorkel is not only adjustable but the mask comes with a really useful camera mount for your go-pro or similar waterproof camera. The snorkel is foldable as well which minimizes the chance you'll catch the snorkel on something and break your awesome face mask in the process. It also promises a panoramic view while keeping a flat lens that will minimize the 'fish eye' effect that you can get with some bubble lenses.
Anti-Fog Design
The mask is designed to let you breathe through your nose or mouth. There's no need for a breathing tube and the separate inhaling and exhaling channels pretty much remove the possibility of your mask fogging up. But just to make sure there's an anti-fog coating on the mask.
Foldable Snorkel
With a gentle push, the snorkel folds into the mask in a way that minimizes the possibility of your mask breaking when the snorkel catches on something. It also makes it generally easier to carry around and less difficult to work with in general. The snorkel also comes with a high-end camera mount and ensures you don't have one more thing to hold in your hand.
Cost and Value
This is a great price for a great mask. The foldable function and camera mount sold us, but the flat lens and the anti-fog coating had us even more excited. Sure they may all look the same but honestly, this is a great product for a reasonable price.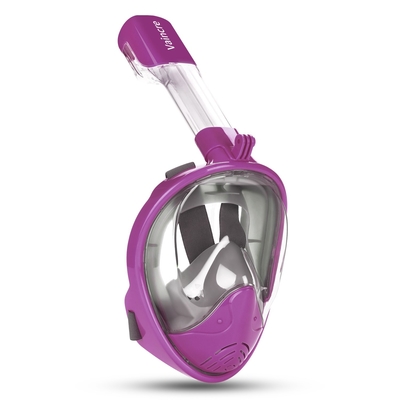 The Vaincre full face snorkel mask is similar to others on this list in that it has a foldable design. This mask offers superior vision underwater because it allows the wearer a panoramic 180-degree view. Not only that, but you can mount a GoPro to the top of it so that you and family and friends can view the same memories over and over again.
Dry Snorkel System
Vaincre's Dry Snorkel system at the top of the mask makes this mask easy to use. Adults and kids can be worry-free in the water. The system allows the valve at the top to close automatically to prevent water from entering the breathing tube.
Anti-Fogging
You do not have to worry about water getting into your mouth when using this mask. In addition, the efficient airflow inside the mask prevents the lens from fogging to help keep your vision clear and prolong your snorkeling experience.
Cost and Value
This snorkeling mask is both easy to use, comes in a few different colors and is moderately priced. The Dry Snorkel system and anti-fogging properties allow for a long-lasting snorkeling experience.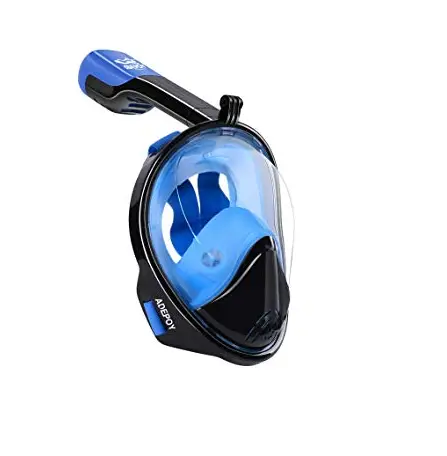 The Adepoy snorkeling mask was created to solve the problems of snorkeling. It is both easy to install and has an innovative design that features a separate breathing chamber that creates an airflow away from your main viewing visor which helps eliminates fogging and will keep you snorkeling longer. This snorkeling mask does not need any accessory replacement and therefore guarantees a longer service life than most other ordinary snorkeling masks. This mask provides the user with a stunning experience.
Medical Grade Material
Made of High-Quality PC and Medical Grade Silicone. Non-toxic and environmentally safe. Being made of such materials means it can prevent skin allergic reactions or other skin problems.
Dry Snorkel and Anti-Fogging
You do not have to worry about water getting into your mouth when using this mask. The innovative design won't allow fog, so you can continue your underwater adventures for longer periods of time.
Cost and Value
This snorkeling mask is both easy to install and use, and the innovative breathing design helps with making the experience all the more easier. It also features anti-fogging properties for a long-lasting snorkeling experience. Moreover, you can get one of these for a modest price.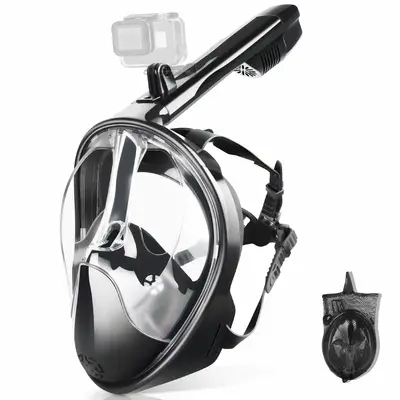 The ZIPOUTE full face snorkel mask offers full-face coverage, easy breathing, and a camera mount so that you can film your experience and live it all again. This foldable mask is easy to take with you. It is intended for surface-level seabed viewing, not for deep dive excursions.
Dry snorkel & anti-fogging
Like many on this list, the ZIPOUTE also keeps your snorkel dry so you don't have to worry about getting water in your mouth. The same goes for lens fogging. This mask is designed to prevent that from happening.
Non-toxic materials
This mask is made non-toxic materials, which means you don't have to worry about breathing in chemicals or other toxins while wearing it. Also, this means that it will not irritate the skin.
Cost And Value
A nice mask for the price. The price range of this mask is affordable. It's designed to be comfortable, non-irritant, keep water out and allow you great vision of the life below the water.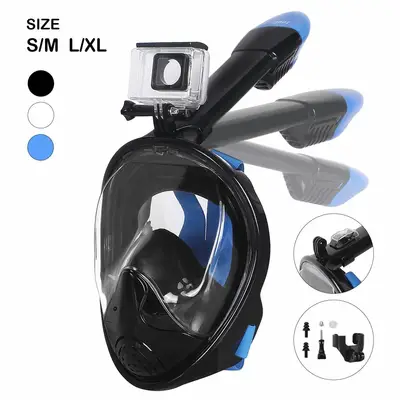 The Unigear full face snorkel mask offers a 180-degree panoramic design like many others on this list. It's a popular feature with full-face masks because you don't want to obstruct your vision. Other features are the foldable design, the anti-fogging and also the dry snorkel technology. While this mask is great for surface swimming, it is not made for deep diving.
Easy to breathe
This mask has similar features to the rest that allow you to breath easy while in the water. The valve at the top auto-seals to keep saltwater out and the mask is designed to keep it from fogging up on you.
Camera mount
What's more fun than re-living great memories? With this mask, you can mount a small camera to the top so you can record and re-watch your adventures in the water.
Cost and Value
The mask is affordable and offers a good fit, anti-fogging properties and is overall designed to make sure you have a good time in the water. Depending on the style and size you get, the price range is still pretty modest across the board.

Subscribe to our Newsletter