Best Kid's Swimming Goggles Reviewed & Rated for Quality
In a Hurry? Editors choice:
Test Winner: Aegend

I am a swimmer, have lifeguarded and been a
water safety
instructor for more years than I care to admit. I do have a pretty strong opinion on the use of kids swimming goggles so I am looking forward to sharing that while exploring all the reasons why (or why not) your child should wear goggles while swimming as well as which brands are the best ones to buy.
Not only is swimming a favorite pastime on vacations or just some downtime but knowing how to control yourself in the water can literally save your life.
Swimming
is also a great way to get your kids to work out without them even realizing that's what they're doing! Swimming will boost your cardio, upper body strength, and help build stronger joints. Basically, teaching your
children
to swim is remarkably beneficial for a myriad of reasons. Let's review our top ten swimming goggles and determine which one is best for you!
Standout Picks
Criteria Used for Evaluation
Comfort
You need to make sure to buy a pair of goggles that are soft and cushioned around the frame. They need to be snug enough to keep the water out, but should not squeeze, or add any pressure around the eyes. The nose piece should not pinch or rub against the bridge of the nose. You can deter that by buying a one-piece frame goggle, but sometimes those don't fit a small face properly. It is not a bad idea to try a couple of pairs and see which one your child likes best. Most of them can be returned or used in an emergency.
UV Protection
The UV protection is essential while your children are outside swimming. You protect their skin with sunscreen religiously, don't forget their delicate little eyes!
Advanced Features
There are several different methods for anti-fog and you will want to find the one that works best for your locale and situation. You will tend to fog up more when swimming in warm water, so consider where you will be spending most of your time before making your choice.
Our Top 10 Best Kid's Swimming Goggles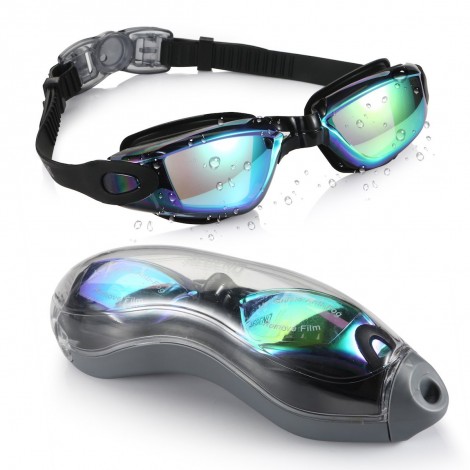 Aegend is a relatively new name in swimming apparel, being founded in 2015. However, this group of entrepreneurs had a great vision and have created high quality, reasonably priced products and assure some of the best customer service skills anywhere. Each product they offer has a time warranty of some sort, depending on the product, and they are efficient in honoring those warranties. These goggles offer a 3D ergonomic design and a double deck seal. They are available in a variety of colors and each pair comes with a carrying and storage case.
UV Protection
The UV Protection in your swimming goggles is essential if you're swimming in an outdoor pool or if you're at the lake or beach. They will not only protect you from the debris or cleanser in the water but will also provide protection from the direct sunlight that you need when not wearing sunglasses outside.
Anti-Fog Design
Nothing is more frustrating than strapping on your pair of swimming goggles just to push off and not be able to see where you are going because you've fogged up like a hot windshield. These goggles feature the latest Environmental Treatment Technology on the inside surfaces which enhances the anti-fog of the goggles and is safe for your eyes.
Cost and Value
I feel that it is important to note that "you get what you pay for" has seemingly never been more true than in the case of swimming goggles. In my opinion, these are very reasonably priced, especially when you consider the full 12-month warranty from the company. You will want the comfort, protection, and anti-fog formula, so go ahead and pay the price for these goggles.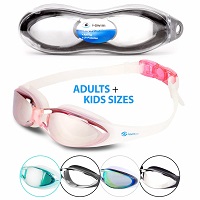 These goggles have more positive reviews than any I've seen on a pair of swimming goggles. I may just need to try them! They come in a variety of colors, all of which have clear lenses. Customer reviews rave that these actually work without fogging up or pinching your face. Customer service is excellent with this company and each pair of goggles come with a carry and store case. They are watertight and comfortable.
Water Tight and Leak Proof
This is huge in the world of swimming goggles. If the water can get in, the entire purpose is ruined. These gaskets have a unique, cushioned design which boasts creating a perfect seal around your eyes. They have fully adjustable straps in order to custom them to fit your head and allow them to sit comfortably and sealed on your eyes.
Crystal Clear Vision
All color selections on these goggles are clear, which will give you a brighter focus and view under the water. They are coated on the inside with the latest anti-fog protection and also have anti-shatter lenses that are specifically designed to ensure your vision is clear at all times.
Cost and Value
These goggles are quite inexpensive and will last for some time. The anti-shatter lense design is a plus and the carrying case will also help ensure a long life for your goggles. These goggles come with a 90-day no-risk money back guarantee, so there is no guesswork in trying them. I am a real big fan of the quick release clasp on the back as well.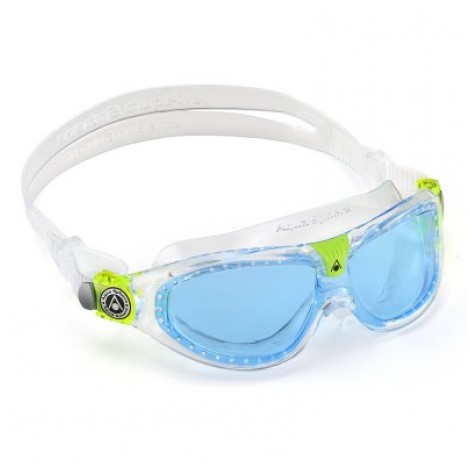 The Seal 2.0 provides a large, wrap-around lens format design which allows you a wide field of vision. They have anti-scratch and anti-fog technology to keep the lenses clear. They do have UV protection and offer a 180-degree view. They have lever buckle strap adjustments and the lenses are made of Plexisol, which makes them very strong. These could be the perfect swim mask for fitness swimmers as well as beginners.
Variety of Colors
Every child you meet will have a different favorite color. AquaSphere realizes that and made these goggle available in a wide variety of frame and lens colors, so no matter your little one's personality you'll be able to find something that appeals to them. The lenses are also equipped with UV protection which is essential in any type of eyewear when outside.
180-Degree Field of Vision
These goggles are slightly larger than the typical image of swim goggles. They set a little wider on your face with bigger lenses, allowing you to experience a full range of vision when under the water. This can be beneficial for a multitude of reasons. The large lenses are also scratch resistant and feature anti-fog coatings to ensure clarity.
Cost and Value
I am always going to tell you to pay a little bit more for a good quality pair of swimming goggles. I don't expect you to donate a limb, but you definitely will appreciate a little more cost for a pair of goggles you can depend on. These are reasonably priced and have great reviews, making their cost and value an excellent combination.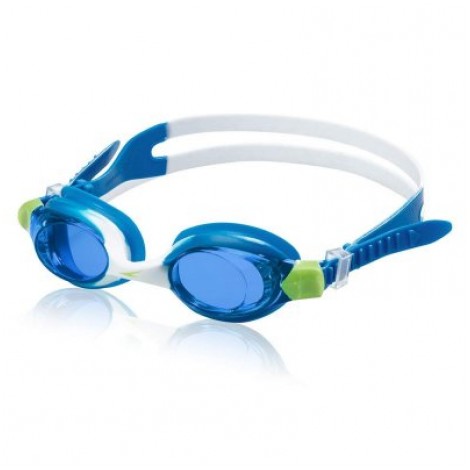 This pair of goggles is specifically designed for those smaller faces among us. They are a basic, yet high quality, goggle made for kids ages 4-6 years. They provide optimal comfort and fit, have a side release Speed Fit clip, UV and anti-fog protection, and a soft comfortable frame. The Speedo brand has been around almost as long as swimming itself and can always be trusted to deliver top quality, effective products.
Middle Eye Fit
This unique G.O. FITa System offers a comfortable fit for a wide range of small faces. The gasket automatically slides itself to the most comfortable spot within the eye orbital and has a non-constricting feel. These have a soft and comfortable frame and are a really great introductory goggle for young children just learning to swim.
Wide Variety of Colors
Pleasing your 4-6-year-old child can sometimes be a daunting task. They would like exactly what they want, please! Speedo is aware of that and has provided several frames and lens color combinations for your tiny human's preference. All of the lenses are coated on the inside with anti-fog technology as well as UV protection which is so essential in those young, developing eyes.
Cost and Value
Speedo goggles are possibly a little more pricey than some of the others on this list. With the benefit of the brand name and warranty, you would be wise to spend just a little more. You will get the money back warranty that Speedo offers on the chance that you encounter any problems. These are sure to be a good fit and worth the money you'll spend.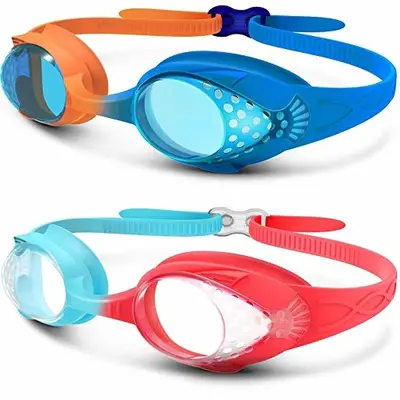 These goggles were created with your children and convenience in mind, featuring extra soft silicone frames in a unique fish style design that comes in multiple different color waves, each child is able of selecting which colors they would like their goggles to have, providing a more personalized experience for them. This is exceptionally great for kids that do not like to use goggles on a regular basis. Not only will they be protecting their eyes from the salt and chlorine that is in the water, but they will be excited to have a fun pair that is personal to them and their personality.
100% UV Protected
We all know how damaging UV rays can be especially to young children who are more sensitive to UV exposure. These goggles are built with PC lenses that provide 100% UV protection even when your child is underwater. Additionally, the lenses are shatterproof and leakproof to ensure crystal clear underwater vision and protection every time your child is wearing these.
Easy Adjustable Clasp
We can not stress enough how important it is to have your goggles fit snug on your children's face. Having that snug fit will ensure no water gets in the goggles and your child's eyes are always protected. Featuring an adjustable elastic strap paired with soft silicone gaskets, these goggles will fit snug on most face shapes.
Cost and Value
These are incredible goggles, and they come in a set which means you are getting two for the price of one! They are dependable, easy to use, adjustable and come in multiple different colors so your child can pick which of these goggles best suits their personality. Not only will your child enjoy their new goggles but you will too.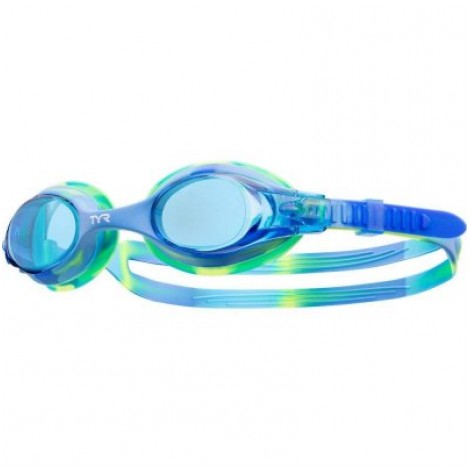 This pair of goggles are a great way to get your child's swimming adventures started! They are great for either training or recreation. They have a kid-friendly secure release button, an easily adjustable strap, and a unique unibody frame to fit many facial sizes and shapes. They are comfortable and hypoallergenic and feature polycarbonate lenses that provide anti-fog and UV protection. TYR is a tested and proven brand name in swimming and you'll definitely be pleased with your purchase of these goggles!
Speed Adjustment Strap
When children are learning to swim using their swimming goggles, it is essential to be able to remove and replace them quickly and easily. The speed adjustment strap on either side will help your child do just that. TYR is another big name in swimming apparel and has worked through the details to get the split back strap with speed adjustment be the best in the business.
Variety of Colors
This specific goggle is the tie-dye version and you can get a fun, and always different, variety of colors. TYR also has several different options of their Swimple Goggles, so your little person will be able to choose any of them that fits their particular needs. Lots of different styles and color variations make for a fun experience that your child will love and be proud of.
Cost and Value
You'll absolutely get what you pay for when you purchase these goggles. They are leak proof, made of high-quality materials, have that speed strap and fit comfortably. The cost is reasonable and your kids will love them. These are definitely a win, win for everyone involved.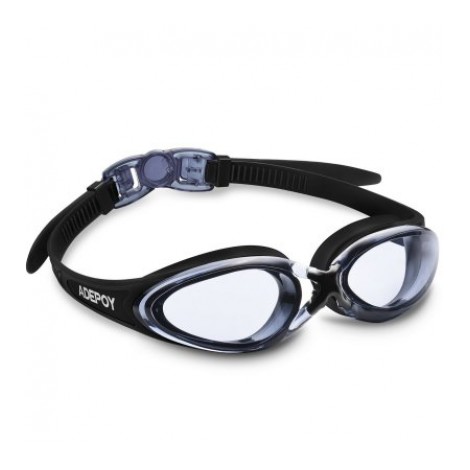 These goggles offer all the qualities you'd look for in a pair of goggles. They are leak proof, have the anti-fog and clear vision technology. The UV protection and comfortable nose piece are unrivaled in competitor's goggles, and they boast a full one-year replacement or refund guarantee. Each pair also comes with a carry and storage case which will keep them in excellent working condition all through the season.
Anti-Fog and Clear Vision Technology
These POY goggles have the clear vision technology that helps with the anti-fog coating which is applied on the inner surface of the lens. I also appreciate the reminder that is quoted right in the introduction about remembering not to wipe the inner side of the lens because that will help keep your goggles in peak performance condition.
Comfortable Nose Piece
No matter your age, but especially when you're first learning to swim, a comfortable nose piece is key. I know I have had some goggles that the nose piece digs into my face when they get ripped off of my head to forever live in the "I can never wear these again" pile. The POY goggle has an improved nose piece that is made of soft material and a very large space so it will not hurt your nose. This is essential.
Cost and Value
The goggles have an excellent price for all of the qualities they offer. The price includes the carry and storage case which will keep them soft and functionable during the down times of swimming season. You'll appreciate the money back or replacement warranty and can be confident you're getting your money's worth when purchasing these goggles.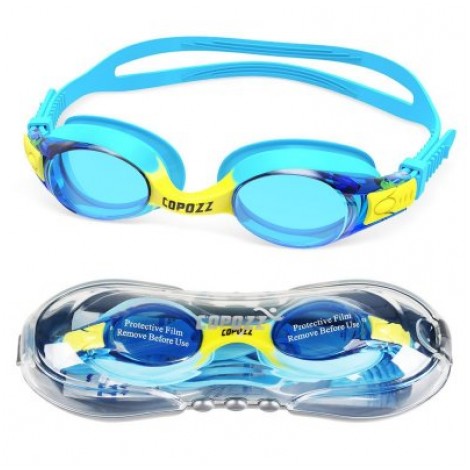 This is a great set of goggles! They are 3D ergonomically designed, more comfortable than most competitors, they do not leak, and fit beautifully. They have a soft, one-piece frame that will cushion your child's face and will provide maximum comfort and protection. They are easy to adjust and include a fast-fit head strap so easy on and off.
Healthy, Safe, and Comfortable Materials
Made of high quality, odorless, and hypoallergenic silicone these goggles are BPA free and shatter-proof. They boast a UV 400 protection which will help protect your kids' developing eyes from the UV rays they will most likely encounter while swimming outside.
COPOZZ Anti-Fog Coating Technology
Titled CACT, this COPOZZ Anti-fog coating technology provides the anti-fog and UV protection which sets these goggles apart from the others. The performance lenses are coated with a thin, protective layer that lasts longer than normal and does no harm to your eyes, besides providing the UV 400, which is so necessary for your children's young eyes.
Cost and Value
These are very reasonably priced and well made. All health issues and concerns have been thought through and implemented in order to give you the safest, most effective, and durable pair of kids' goggles available. With the color varieties available and the money back guarantee, you really cannot go wrong with these goggles.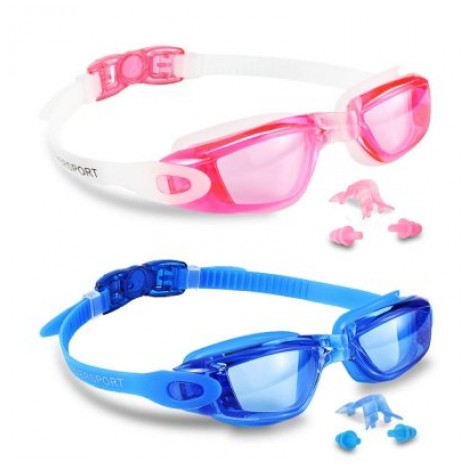 These goggles sport a unique and well designed clasp that makes it simple to put them on and take them off with just one press of a button. They have a flexible silicone frame and gasket for ultimate comfort. I think that the adjustable straps are essential for all swimmers, and especially for kids! These straps remain dry around your eyes and will not get snagged in your hair. The gaskets also have a unique cushion design that helps create that perfect seal we all hope for.
Broader and Clearer View
The lenses are designed to be broader and more clear than others. You will have the ability to see a broader range and the anti-fog protection provides you with a clear view every time your eyes are in the water. The UV protection is essential and will protect your eyes while you are enjoying your time in the water. You should not use these goggles if you have over 100 myopia.
Variety of Colors
I am always a fan of a large color selection. When you are looking for swimming goggles, you want them to match your personality. With these you will have several color options for the frame and for the lenses, or you can choose the basic black with clear lens. There is a color scheme for everyone and no one should leave disappointed.
Cost and Value
You should expect a very small price tag for a very solid product in these. The comfort of the goggles, cushioning of the frame, added UV protection in the lenses, and money back guarantee make these goggles one of the best available. These come with very good reviews and will last for a very long time when taken care of properly.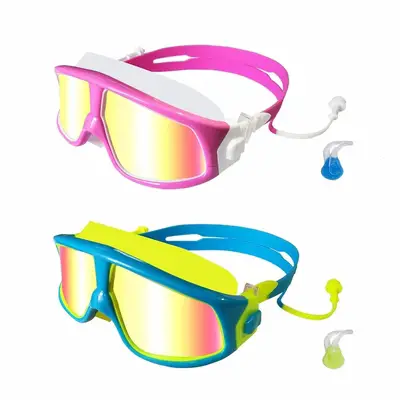 Known for being a top on the market when it comes to outdoor sporting and lifestyle goods MOTOEYE brings forth a different kind of goggles just for kids. These high-quality goggles are constructed out of impact-resistant PC that makes up the lenses for higher waterproof performance and UV protection. Additionally, it offers a simplistic plug-in style buckle and strap making it easier for children to wear and adjust on their very own.
3D Design
These aren't like traditional goggles instead, they present a 3D design. The 3D design features thicker frames and wider silicone suction cups that is scientifically proven to better fit most people and children. Having this design not only increases how comfortable they are, but it also ensures they feel safer and more secure.
Mirrored lenses
As stated previously, these goggles are quite unique they offer a mirrored finish that has been paired with UV 400 protection to help protect your children's eyes when they're underwater. Furthermore, these goggles come with integrated earplugs to help prevent water from seeping into your child's ears. This is an excellent feature to have especially for children who have sensitive ears.
Cost and Value
Here is yet another example of high-quality goggles that children from 3 to 15 can wear they come in multiple colors, and you receive two for the price of one. Additionally, let's not forget these offer excellent UV protection inside and outside of the water.

Subscribe to our Newsletter