Best Fish Attractants Reviewed & Rated for Quality
In a
Hurry? Editors choice: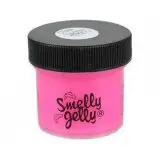 Test Winner: Smelly Jelly 1 oz Jar

Fishing has always been a
zen-like way
to pass the time and a very viable way to
gather food resources
for you or your family. With the modernization of most things comes the adapting of its gear. Fishing has seen the development of crazy over-designed lures, and these, the elaborate,
lab-crafted scents
to enhance the probability of snagging a bite, and scoping down that specific breed one is hunting for. We're going to go over some of the best fish attractants on the market, and talk about what makes them so effective as standalone products, and as general addition to your
fishing kit
.
Standout Picks
Criteria Used for Evaluation
Effectiveness
When it comes to the world of fishing, whether you're doing it for sport, for peace, or for food and nourishment, there will always be a question of natural selection verses using enhancements to shorten your wait, and ease your impatience. Fish attractants, special lures, and lure enhancements are a huge part of the overall fishing experience. Especially when you get into competitive fishing like the Bassmaster Classic. There isn't a fisherman in that house that doesn't use an attractant (one certified fair and sure for use in competition, of course), and there's no reason why that kind of product can't make its way into your fishing outside of competitive tournaments.
It's hard to judge the effectiveness, however, and even if you look up the numbers on bites without against bites with, it's easier to focus our efforts on another aspect of the attractants effectiveness. That is, we judged the effectiveness of the product in its aim, rather than it's output or turnout. Perhaps if we had the time to crunch a bunch of numbers and spend a whole lot of time near varied bodies of water, it would be different.
The effectiveness we often found ourselves looking for was narrowed design and intent. Products with a honed in formula have the ability to be more effective for catching that specific breed. Plenty of the products on our list, and out there in the market, have options for tuned-up breed specific attractants. These come in the same form, but you can choose the type of fish you'd rather attract. Like Bass over Shrimp, or Shad over Steelhead, Catfish or Herring, you get the picture.
Brands like Smelly Jelly put a lot of love into finely tuning their formulas for specific fish breeds, while other fish attractants like the Pro Cure Super Gel are more of an all-around attractant. Which isn't bad in its own right, it's just less refined for Bass, than a purely bass-centric attractant would be.
We suggest either choosing to go for more of a blanketing fish attractant, or a specifically designed attractant right out of the gate to make the brand and product vetting process a lot easier.
Materials
Regardless of the type of fishing we're talking about, almost all of them involve a direct context with the natural world. Whether it be confined, fish-farm fed bodies, or purely natural waters, fishers all over the world impact and imprint their hobby or sport onto nature every single day. There are a few semi-harmful things that can be purchased to enhance your fishing experience, or your bite luck, but for the most part things are made in an attempt to have as little or absolutely no impact on your fish source.
Fish Attractants, being normally liquid, and of a plan design -- they are formulated to replicate the smells that draw fish near, or draw fish to become aggressive and predatory -- can see a lot of manufacturers using synthetic materials, and chemicals in order to do so. And why not, right? We do it for almost all of our cologne and perfumes, all while attempting to put off the right scent. It's easier too, to design the perfect flavor or scent using chemicals instead of trying to replicate that scent with natural materials.
Luckily for us, most of the products we found were very upfront about the fact that they use natural materials, and that many of the fish attractants we've plucked from the market are made up of 100% real baits. This means that the thing said fish are attracted to in the wild nature, is also the thing that makes up the entire fish attractant concentrated compound. Which, at the end of the day, does zero harm to any natural environment that it would or will come into contact with.
We'd be a little off our rocker if we got too preachy here, but it's not hard to ensure that you're picking up natural, non-destructive products in this market, and we think it should remain a priority for years to come.
Value
Something that we didn't really see coming before diving into this buying guide is the difficulty at which it was to judge fish attractant products for their value. There were a few things that we squeezed out of the rag in order to put some distance in between all of these options, but the general difficulty factor was born out of the price tags.
The price scale of the fish attractant game is shockingly small. Everything is roughly the same price as one another -- this is most likely a direct result of this market's seemingly innocuous face, but ravenously competitiveness. So we couldn't really shape the rankings of contenders based on their prices. But there were other ways to look at the value of these products upon reflection over the market and use as a whole.
The biggest and best way to ensure you're getting a good value is by judging the products in terms of the amount of uses it can produce in a single fill, or over the lifespan of the products (if you get a product that you can't refill). This isn't all that hard. Most of these products will have at least a handful of reviews from users that have run out, and if they're generous, they'll include in their review the amount of applications they got out of it. By far the best we saw was the FishSticks solid stick of fish attractant scent, which can cover up to 6000 uses.
Other ways to judge a fish attractant product on value is the materials used, and the effectiveness of the scent. Both of these we go into great detail about in this very section, so poke around to the other criteria.
Doing the math, and evening out the amount of liquid you get in these products, the difference between the cheapest end of the product list and the most expensive was a few dollars, and at that point, with this many amazing options, you might as well throw a dart.
Application
There are a lot of nit-picky things that one has to always be on top of as they continue to partake in their fishing journey. From mounting lures, to hooking baits, to external attractants, and of course there's always ensuring that your beverage of choice is topped up, it's just a juggling act. Which is precisely why the intended method of application and the ease of said application is a key component when judging fish attractants as a market commodity.
A lot of the bottles we've listed in this guide come in those old-school flip top bottles that allow a bit of liquid out at a time, much like an aloe vera oil bottle would. These are probably the worst for application because they do not invite an easy course from beginning to end, and you've probably got to bring in another tool to help coat.
Other bottles are just jars, that open completely at the top. These could be considered the easiest form for application, because all one has to do it dip their lure or bait into the jar and boom, you've got a coated piece. But there is more green, and another fence. And we're not talking about the FishSticks lip balm-like solid stick of fish attractant.
The cream of the crop is the squirt or spray bottle. There are two different common forms of these. One is the tiny spray cap that functions like a mouth spray. They are on top of tiny bottles and create a great mist for coating your needed item. Then there are the full-blown spray bottle tops that resemble those found in a cleaning supply closet. These are flawless at either coating from up close with their full spray nozzle, or from a far with their stream settings. Either way, the spray bottle is the best option for application.
Though we don't think that intended application process should be considered part of the "make or break this product" line of questioning one should do while vetting, it could be a helpful extra weight on a pretty even scale.
10 Best Fish Attractants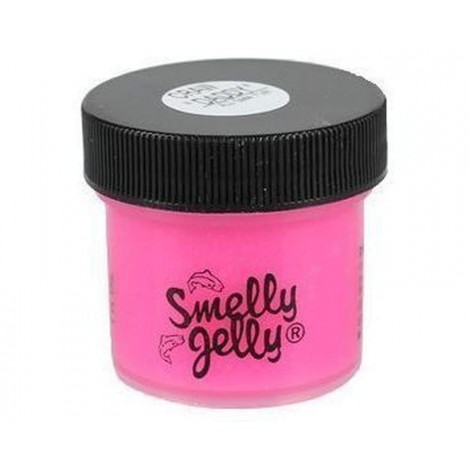 There are a dozen really good reasons that Smelly Jelly is one of the most beloved products in this entire market, and most of it has to do with the abandonment of the common fish attractant appeal. The brand, the jar, and even the product are just a bit different -- more youthful even -- than the normal brands you'll find in this game. It's recent launch to the front of the shelf also has a whole lot to do with this one brand making so many variants for whatever you catch needs are.
Modern
The packaging and product might not look like a whole lot. In fact, it kind of looks like those punky color hair dye gels that were so popular when I was in highschool. But that marks a huge difference between the Smelly Jelly and the other products in this market, because they all look like you'd find them in a preserved cabin against a lake from the 1860's. Smelly Jelly has a modern look, and that's attractive to consumers, not the fish.
Dozens of Flavors
Fish flavors that is. We do NOT suggest ingesting Smelly Jelly, or any of the other attractants on our list. That would be a bad idea. Rather, Smelly Jelly has all sorts of smells for whatever fish it is you're trying to attract. There's Anise, Salmon/Steelhead/Supreme, Herring, Squid, and multiple kinds of shrimp. And that's only scraping the surface of their offerings. There are so many!
Cost and Value
At under ten bucks for a 1 oz jar, you could easily fill your tackle box with all sorts of Smelly Jellys and let the morning or evening dictate which you pursue. There's no lack of value in an attractive attractant product, one that looks sleek, comes in so many variants, and is small and inexpensive enough to hardly make a dent.

I want to take the time right out of the gate to mention that this company missed a huge opportunity to call themselves the Bassassins, but that's not really the point of this guide. And I'm sure that was thrown around their boardroom (or canoe, as I'm sure fishing companies don't have boring boardrooms). Bass Assassin brings a whole lot of flare and a grand product to the market with their Trigger Spray Fish Attractants.
Tournament Tested
One might not think that professional fisherman, or tournament fishers would be aloud to use stuff like fish attractants, and or specialty additions to their fishing game, but it's true. That's probably a huge contributor in those competitions being so exciting. Luckily for you, and the fishing world in general, Bass Assassin's have a tried and true fish attractant that's approved, and tested during competitive fishing events.
Not Synthetic
A lot of the products in this market, being a scent-based product, are developed out of synthetic materials or chemicals. Hopefully, all of them that make it to market are using harmless chemicals. Bass Assassins have developed their scent spray out of natural materials, that are rendered and made from real fish. These naturally concentrated oils make for amazing attractants.
Cost and Value
Though you might be quick to notice that the BANG Fish Attractant Trigger Sprays from Bass Assassins (I think that name is just shy of perfect) is a bit more expensive that the other items around it, but you've got to check that this bottle is more than three times the size as the previously mentioned Berkley Gulp! Alive! Bottle, meaning you get that much more for your dollar. It works out to be very comparable, in fact.

Up until this point, we had done a really great job of finding a whole lot of unique, and well polished products, that fishers rant and rave about without doubling back and dropping the same company name twice. Yes, that was a pat on our back. But now, we're here, showing off the amazing Berkley Powerbait Attractant. Because it's one of the most beloved attractants of the 21st Century, from one of the most trusted companies in lure enhancement.
Pedigree
From the company also stopping the show in the bait and tackle aisles with their tremendous products like the Bait Notebook, or Bait Folders, Shrimp Lures or even high-quality fishing line, Berkley has become one of the most prolific companies in the entire fishing world. They even have a Fishing Cart that folds out and can be wheeled from creekside to pick-up truck.
Narrowed Formulas
A lot of the companies in this market try and get off with just offering simple one-scent fits all kind of routine to the enhancement of your lure game, but Berkley comes with more than that. The Powerbait line of fish attractants and lure enhancements comes in five flavors that cover Bass, Catfish, Panfish, Trout, and Walleye.
Cost and Value
Being that these older bottles of Powerbait have nearly been discontinued, but are still available through third party retailers, you're going to get a whole lot of bang for your buck. Powerbait has adapted a lot to the demands of the market in the 21st century, and you can still pick up these older formulas for next to nothing.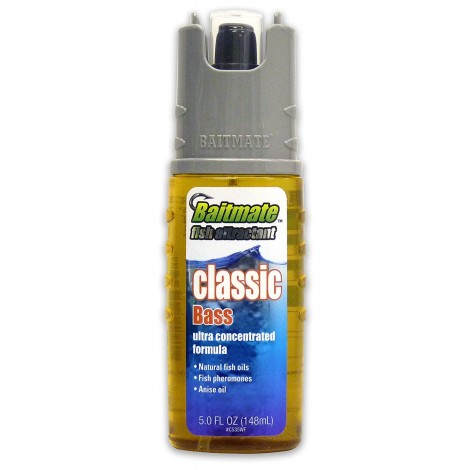 Baitmate is one of those companies that is all over the place, and has an astounding presence in any fish and tackle aisle, in any outdoor or fishing store. Baitmate does all that it can to ensure one can leave for the streams, the open water, or any body of liquid, with all that they need to have an incredibly productive outing. They might have a more narrow approach to their products, and a less varied production of fish attractants, but that hasn't stopped them from making a huge impact on the market.
Spray
A lot of the older products in the fish attractant market are generally lure additions that come in the form of jellys or creams, but the Baitmate Classic Scent Fish Attractant comes in a very handy, a very portable, and easy to use spray bottle. This makes the coating and use of the attractant scent on any lure, hook, or other items.
Anise
Some people -- a lot of people actually -- bombard the comments and reviews for these products and make bold claims about how they do not understand how these work. One of the ways that premium fish attractants work (like the Baitmate Classic Scent Fish Attractant) is by covering scents on lures and hooks that repel fish. Thanks to its Anise base, these fish sprays cover up those undesirable smells that scare fish away.
Cost and Value
You'll see a trend, pretty quickly, in the fish attractant marketplace and that is a fairly desirable price across the board. With the productive designs of their bottles, in both size and in use, Baitmate kicks things up a notch, all while remaining at the price point we've come to expect from a pocketable sized bottle of fish attractant spray.

5

. Fish Sticks Lure Enhancer
Have you ever gone to a fancy restaurant, spend twenty minutes looking at their menu of difficult to pronounce dish names, only to wind up wanting to go home and make some fish sticks? Well, these aren't those kinds of fish sticks. FishSticks, the brand, is a highly recognizable tournament-approved seal of quality that brings these lure enhancements to the market.
No Liquids
It might have taken us until number nine on this list to bring something a little different and funky to the table, but luckily FishSticks gave us the product we needed to do such a thing. Their lure enhancements do one thing way differently than almost every other kid at this table, their fish attractant scent doesn't come in a liquid. Rather, in a tube (think lip chap) form that is nearly completely mess free.
Won't Melt
Part of the worry with sticks instead of liquids is that they will do what everyone's Dr.Pepper flavoured Lip Smackers did in high school, and that's melt in your bag. But FishSticks have developed a formula in solid form that will not soften r melt until it reaches 130 degrees fahrenheit. At that point, you definitely shouldn't be outside fishing.
Cost and Value
At about twice the price of the average small bottle of fish attractant scented lure enhancements the FishSticks dual pack of Crawfish and Shad might seem like a bit of a leap, but each of these sticks of fish attractant have the ability to coat and cover up to 6000 lures before running out. Something that almost every other product on this list would faint upon hearing.

Heading off into a different direction with the products bottle, we've got the Berkley Gulp! Alive! Attractant. Berkley is a company who's branding and products you will see all over the shelves in any fish and tackle store. It's something you can trust to come with a whole lot of love and care for the hobby or sports of fishing. Even the Gulp! Alive! Attractant boasts that it is riding on the shoulders of over 15 years worth of Gulp! Evolution.
Large Bottle
Unlike the majority of the products on our list, Berkley has come to the table with a bottle that is far bigger than most. I suppose the idea is that you get to effortlessly bring more fish attractant to the creekside with you, assuming that you've got a tackle box or cargo big enough to haul it around. It's not gigantic, but it's big enough that you'll get a lot of uses out of it before it gets near empty.
Spray Bottle Cap
Like we mentioned just a moment ago with the Baitmate bottle of fish attractant, having a spray bottle cap can mean the difference between having to get your hands and lures soaked with the jellys, or you can simply spray from a distance. The beauty of having a full-blown spray bottle like this is that it has a nossle capable of doing shooting streams or sprays, depending on the setting. This can help you apply attractant at variable distances, or cover a larger or smaller surface area with ease.
Cost and Value
Berkley doesn't have much of a registered manufacturers suggested retail price, so when shops and resellers pick a whole bunch up in bulk and come to the table with this product, the prices will vary slightly from shop to shop, but the size of the bottle, the spray bottle lid, and the pedigree at which plays the cape to this fisherman's hero is all of the value you could ever ask for.
7

. Pro Cure Saltwater Super Gel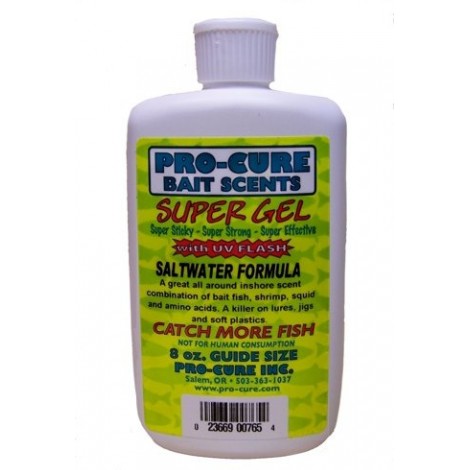 Pro Cure is another one of those tried and true character companies that have been prolific in their advancements of fishing aids, and have played a gigantic part in the bait and tackle aisles for a long while now. Their Pro-Cure attractant products have been near the top of the pile since their inception, and continue to make strides in perfecting their products.
Real Baits
Unlike a lot of other products in the scent and lure line-up all across this marketplace, only a few of them use real ingredients. The long and complicated process of engineering the perfect flavor is made exceptionally smoother and easier if working wholly with unnatural chemicals. This is why it is uncommon for companies like Pro Cure to use all natural baits and ingredients for their fish attractants, but in doing so, they ensure that they're no perpetuating a circumstance where users of their products are putting unnatural chemicals into the environment.
SaltWater Attractant
The game of developing fish attractants is a difficult one, and that intensity and work is multiplied when dealing with salted bodies of water. Scents, smells, sight, and all things act differently in salt water versus regular natural rain water sources, changing the base of the development for these attractants. The Pro-Cure team is renowned for their saltwater fish attractant.
Cost and Value
With all of the history and prowess of the Pro Cure name, and the amazing quality of their products, there is a premium price tag on this astounding saltwater fish attractant, and most people can't argue that it doesn't deserve that dollar amount.

8

. Pro-Cure Shrimp Super Gel
Pro Cure is back, this time with a heck of a lot smaller of a bottle, and a regular, unsalted water formula. As always, they've come to the counter with an amazing fish attractant, derived from all natural 100% real baits, without the use of synthetic materials or chemicals that could be harmful to the environment.
Super Sticky
A lot of fishers complain that their lure enhancements or fish attractant formulas don't really hang on to their lure for very long. If you're out fishing for a few hours, you'll have to continuously apply it to lures, or to live baits as you hook them. But the Pro Cure Super Gel is extremely sticky and hangs on tight, making for the need to reapply often dissolve into the water without the formula.
Great For The River
One thing that Pro Cure doesn't boast enough -- actually, as a criticism of the market as a whole, most of these companies are a bit rubbish at selling their products finer points -- is that their Super Gel basic formula is great at river game. You've got a strong attraction to Salmon, Steelhead, Trout, Kokanee, and many more, all from the same lure enhancing gel.
Cost and Value
Now that we're nearing the end of our guide, it's going to be easy to look back and realize that only a dollar or so separates nearly all of these products (if you do the math to make the fluid ounces purchased even across the board) so it's hard to just value in that, but the Pro Cure name comes with years of established prowess in the development and quality of their fish attractants.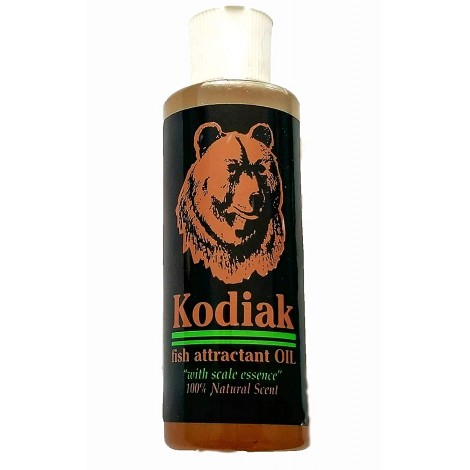 Kodiak is a relatively new face in the fishing lure bait and tackle industry, but that hasn't stopped them from developing some of the best resulting fish attractants one can find, and they provide them to their consumers in great options for carrying and delivering devices. Their line of fish attractants comes in a wide variety of flavors, and bottles, but we're going to focus on their 4oz flip-top Formula Oil.
Convenient
Though there are many reasons to want to carry around a whole vat of fish attractant -- say you're heading out on a long weekend fishing trip and expect to use a whole ton. But there aren't many great ones for the need to bring that barrel down to the water with your rods and bait book. Which is precisely why Kodiak made theirs available in a 4oz bottle. It's super easy to throw into almost any tackle box, or even your pocket if you've run out of room. Never be further than arm's reach from your bait enhancement.
Crab Walk
There is a very obvious option missing from almost all of the products we've listed above this one, and that's the inclusion of a scent designed to attract crab. This is most likely due to crabs being salt water creatures (generally), so it's really nice to see if pop up here on the Kodiak Fish Attractants page as an option.
Cost and Value
There's hardly a sliding scale for products like those found in the fish attractant marketplace. Even the bait and tackle world as a general whole isn't flush with a ton of expensive products. So you won't be shocked to find out that the Kodiak Fish Attractant Formula Oil in any flavor, isn't far off from the other products here.

10

. Crappie.com SLABSAUCE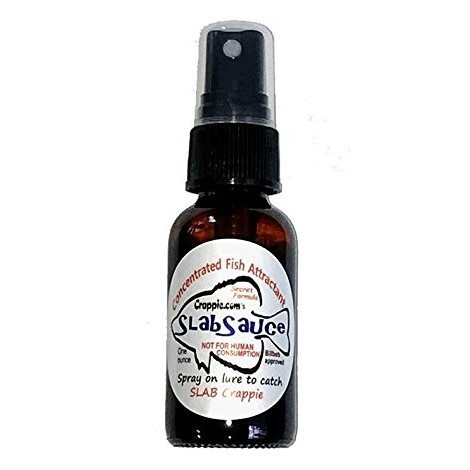 Crappie is one of those companies that will be easily recognized, especially if you just see their lure spray fish attractant bottles on a shelf. They've got a unique, brown glass, tonic-like feel to them. But their pedigree is in community and knowledge bases. They are the originators and proprietors of the online fishing forums called Crappie.com (hence the name). Their slabsauce, being their only true fishing product.
Shhhhh … it's a Secret
There aren't many sports or hobbies that do easily play along with their counterparts in theories, stories, lore, and suspense. Fishing however, is one of those things filled to the brim with tall tales, and secret fixes to any issues. The slabsause from Crappie is made with a "secret formula" that perpetuates the awesome suspension of lore in the fishing world.
Four Pack
Though there are many fabulous reasons to have small fish attractants. They are small enough to fit inside almost any tackle box on the market, or even your pocket. They are even easy to use one-handed. The biggest downside, however, is that they do not last all that long. With the tiny bottles, you will quickly run out. But luckily for all those seeking a great Attractant, Crappie sells theirs in a four pack!
Cost and Value
At little addition cost when compared to packs that only include a single bottle, these, the little tonic fish attractants from Crappie, are one of the best product options across this entire market. There are far less options with comparable value elsewhere.

Subscribe to our Newsletter