Best Essential Oil Diffusers Reviewed & Rated for Quality
last updated:
Feb 25, 2019
There are a number of documented benefits to using essential oils and dabbling in aromatherapy. When buying an essential oil diffuser, it is important to make sure that the one that is bought is the right one for your home. There are many different sizes available, and each is suited for a different kind of space. There are also many different kinds of diffusing methods. Lastly, there are many useful features that you may not have known existed when it comes to getting the most bang for your buck. This list has a little bit of everything so you can choose the best option for your home. Come down and check out the best essential oil diffusers currently on the market.
In a Hurry? The test winner after 10 hrs of research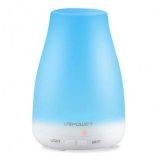 URPOWER
Why is it better?
Great price
Seven types of light
Timed and automatic settings
Durable and safe
In a
Hurry? Editors choice: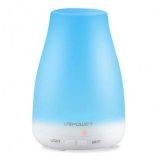 Test Winner: URPOWER

11
Researched Sources
3000
Reviews Considered
10
Hours Researching
11
Products Evaluated
Potency
Ease of Use
Capacity
Size
Style
By Default
10 Best Essential Oil Diffusers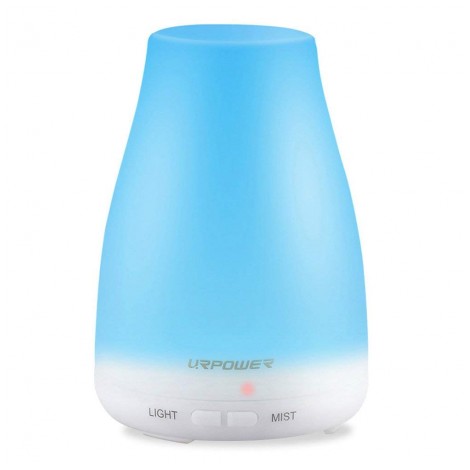 Great price
Seven types of light
Timed and automatic settings
Durable and safe
The URPOWER is an ultrasonic oil diffuser that is perfect for transforming a small room or workspace into something comfortable and relaxing.
Ultrasonic Diffusion
The URPOWER being an ultrasonic diffuser means that it is also useful as a humidifier. This diffuser has a one hundred milliliter capacity. It will slowly evaporate the water with the oil and moisten a dry room so you can breathe a little better. The capacity of this diffuser makes it a perfect fit for a bedroom or workspace so you can wake up or work with the right headspace.
Other Features
The URPOWER has some useful features so you can customize the comforting setting that it provides for you. The URPOWER can be lit up with seven different colors of light that you can choose from so you can choose the ambiance that it gives off. It also can be set to turn off and on automatically so you can come into a scented area whenever you wish.
Cost and Value
The URPOWER is a very cheap oil diffuser but has the quality of a very high one. This is the perfect choice for anyone who is looking to liven up a room in their home. It will last for around six hours of diffusion on a full tank. It will also automatically shut off when the tank is empty so you don't have to worry about burning or damaging this diffuser.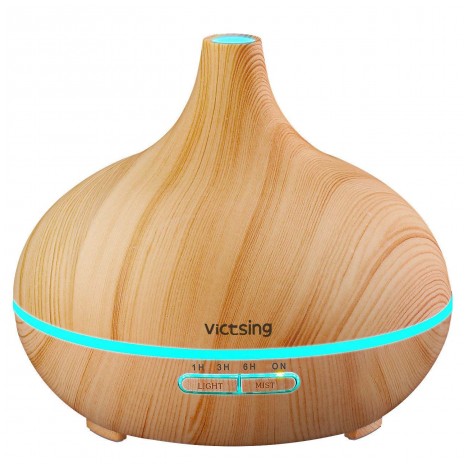 Stylish look
Fourteen LED colors
Automatic shutoff
For larger rooms
The VicTsing is another ultrasonic diffuser that is designed for larger areas and will keep your home smelling fresh and vibrant.
Ultrasonic Diffuser
This diffuser has a capacity of three hundred milliliters so it will last for a good deal of time. It is an ultrasonic diffuser so it needs water and it will give off a gentle mist that will make your home comfortable and a little bit wetter, just in case you live somewhere dry or if you need something to last through the Winter months.
Other Features
The VicTsing has some other features that exemplify its relaxing and comforting qualities. It comes with fourteen LED lights that can gently cycle for a bit of a calming light show, or you can pick your favorite. For safety's sake, the VicTsing will automatically detect when you are out of the water and almost immediately shut off afterward.
Cost and Value
This diffuser is a bit more than the URPOWER, but it has a sleek look and a larger capacity. It should last for about six to eight hours per fill up and will keep a larger room fitted with the perfect atmosphere. It can be turned on for a preset amount of time so you don't have to worry about this diffuser overdoing it.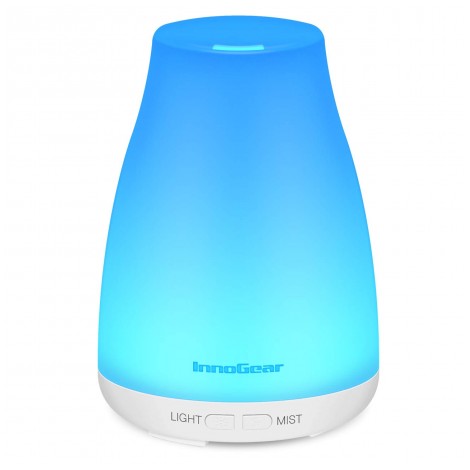 Portable size
Choices of brightness
Choice of strength
Great price
The InnoGear is a very affordable ultrasonic diffuser that has many options so you can customize how you want your diffuser to help you relax.
Ultrasonic Diffusion
The InnoGear uses ultrasonic diffusion to keep your home smelling nice and keeping you mellow. The InnoGear is great for humidifying, as well as scenting, your home. It is incredibly quiet so you will barely notice that it is there. The InnoGear will last for three to four hours when it is on a constant stream, and six to eight hours when it has been turned onto intermittent mode.
Other Features
The InnoGear's claim to fame is that it allows you many options and choices for how you want your diffuser to work for you. It has the aforementioned constant and intermittent modes so you can choose the intensity and length of the diffusion, but it has other choices for you to make as well. There are seven colors of light to complement your mood, but you can choose the brightness of those colors to better match the ambiance.
Cost and Value
This is another very cheap diffuser that will hardly break the bank. This choice is great for those who want something simple and easy to use. It is small enough that you can throw it in your purse or bag so you can bring it to the office or anywhere else you might need some freshening up.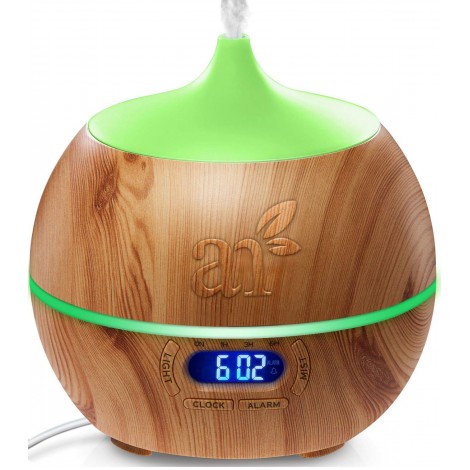 Alarm clock
Bluetooth speaker
Wake up to essential oils
Large tank
Bluetooth automatically connects to phone
The ArtNaturals diffuser takes a slightly different approach to the previous entries on this list. It has an alarm clock and Bluetooth support to go along with its ultrasonic diffusion.
Ultrasonic Diffusion
The ArtNaturals diffuser also uses ultrasonic diffusion to make your home both relaxing and extremely easy to breathe in. Use oils for all kinds of uses, be it relaxation, or focus. This diffuser has a four hundred milliliter tank so it will work in a larger room in your home. It will last for around six to eight hours of relaxation.
Other Features
The ArtNaturals diffuser is a great choice for a bedside alarm clock. It will tell you the time, and can also be set with an alarm. This means you can set an alarm, and some essential oil diffusion, so you can wake up right. Another great feature with this diffuser is that it can be connected to Bluetooth as a speaker so you can listen to any kind of music that you would like through this diffuser.
Cost and Value
Those extra features don't make the ArtNaturals cost that much more. It has everything the other diffusers have, but with some delicious bonus features. This diffuser is a good choice for those who like to wake up to the relaxing smell of essential oils. This is a great product to help you start your day right.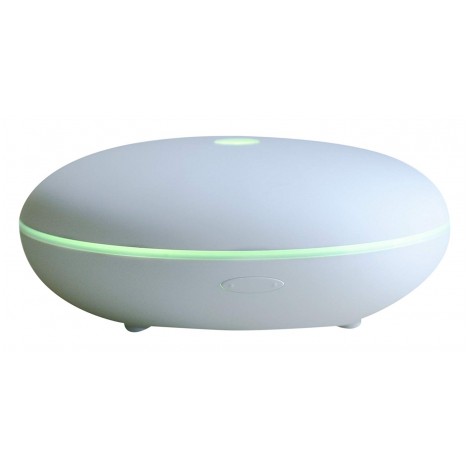 Simple design
Changing lights
Automatic shutoff
Low volume
The Smiley Daisy is an ultrasonic diffuser that keeps it simple with an interesting design and effective diffusing power.
Ultrasonic Diffusion
This diffuser also uses ultrasonic diffusion. It has a tank of three hundred and fifty milliliters. It will take around six to eight hours for that to empty. This unit is suitable for around two hundred square feet, making it perfect for apartments, or larger bedrooms. It does its diffusing at a very quiet volume so that it won't interrupt your relaxation.
Other Features
The Smiley Daisy is a great choice because of how simple it is, while also containing important bonus features. It comes with seven different colors of comforting LED lights so that you can improve the ambiance of your essential oils with the proper corresponding color. It is also a great choice because it comes with an automatic shutoff when the water runs out in your unit.
Cost and Value
The Smiley Daisy is a little more expensive than the other diffusers on this list. It is a very reliable unit that will do a great job of keeping your home smelling perfect and to your own standards. The big selling point of this diffuser is its very simple design. The rounded edges give it a zen-like look. It fits the relaxation that you are trying to achieve with your essential oils.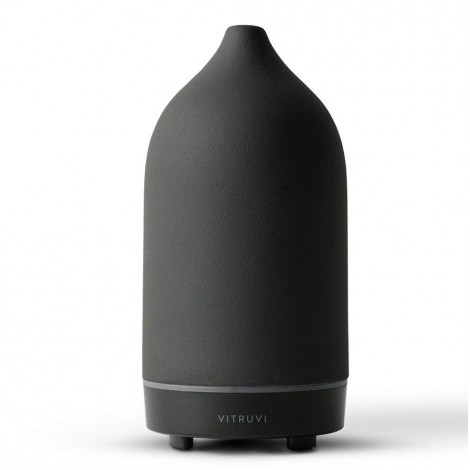 Covers a lot of space
Ceramic
Easy to clean
Durable materials
The Vitruvi is a uniquely designed diffuser that is made of ceramic. It uses ultrasonic vibrations to give you a relaxing breath of essential oils.
Ultrasonic Diffusion
The Vitruvi is another ultrasonic diffuser. It uses vibrations to gently mix and diffuse an essential oil mist. It has a capacity of one hundred milliliters and will keep and will keep up the misting goodness for three to seven hours, depending on the settings that it has been placed on. If you place ten to twenty drops in your diffuser, then it should leave a sizable room or apartment smelling great.
Other Features
The Vitruvi has some other great features that make it a good choice for anyone looking for an essential oil diffuser. The Vitruvi is made of ceramic. This makes it especially easy to clean, as well as especially durable. It comes with an option to use its calming lights to help you relax or get in the proper mood. It can also be used in both constant or intermittent modes so you can choose the intensity of your diffusion.
Cost and Value
The Vitruvi is made of high-quality materials, such as ceramic. It costs a bit more than the other options on this list, but it makes up for it with its construction. This diffuser can cover a larger amount of space than many of the other choices on this list. It is also a good choice if you haven't been sold on many of the other looks of these diffusers so far because it has a unique design to it.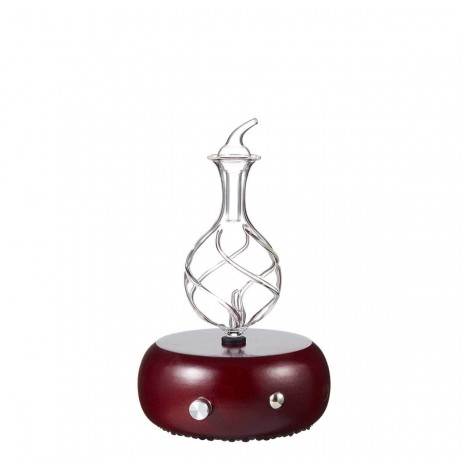 More powerful kind of diffusion
Quiet motor
Unique look
No need for water
Might be too powerful for some people
The Organic Aromas diffuser sports a truly unique design, which is complemented by being the only nebulizing diffuser on this list.
Nebulizing Diffusion
Nebulizing diffusers are a bit stronger than other kinds of diffusers and do not need any water for them to work effectively. It uses an atomizer to spray the essential oils directly into the air. They are quite a bit stronger than ultrasonic diffusers. You can be sure that you are getting the full experience with this diffuser. It works for two hours and then will turn itself off.
Other Features
This diffuser is very simple to use. You just put some drops of whatever essential oil blend you would like and then let it get to work. This diffuser does not need any water to work, and it also does not need any heat either. It uses a motorized air pump to send the essential oil flying. This nebulizer is much quieter than other nebulizers on the market.
Cost and Value
This diffuser costs a bit more than other diffusers on the list, but it may be to your liking, given its unique design. It is very easy to use, and it also has a very different kind of look. This is a good choice for anyone who likes the smell of their essential oils to be a bit extra powerful.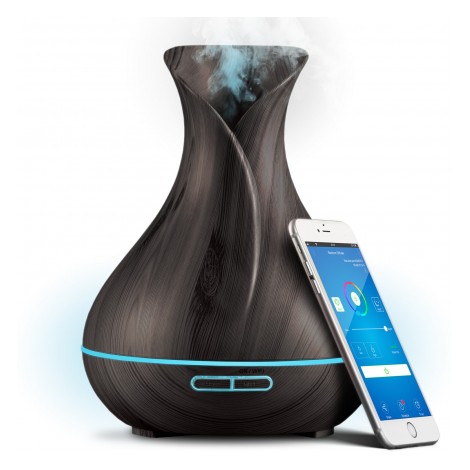 Smart device
Can schedule it for specific times
Twelve hours of diffusion
Compatible with Alexa
Sierra's oil diffuser is a bit different because it can be used with smart technologies, or your phone so that it can be even more effective in keeping you nose-deep in the essential oil.
Ultrasonic Diffusion
The Sierra diffuser is an ultrasonic diffuser that uses vibrations to evaporate the oil-infused water into your home. It will effectively humidify while it also soaks your home in pleasant scents. It has a four hundred milliliter tank that will last for over ten hours of continuous spray. You can choose the intensity of the spray so that it will last longer or shorter.
Other Features
The Sierra diffuser can be controlled in many ways, and it gives you many options for diffusion. It can be connected to your WiFi and phone so that you can choose from many different settings. It will allow you to choose the color of LED on this unit. More importantly, the Sierra has the ability to have its misting set to a schedule so you can come home to pleasant smells, or be woken up by pleasant smell.
Cost and Value
This diffuser is in the upper price range of diffusers, but it is worth it if you have been looking for the ability to better control how you consume your essential oils. The many options that you are given through Sierra's app make it worth it to choose this one, despite the price tag. It also connects to Alexa or Google Home so you can access it in the same convenient place as all of your other smart technologies.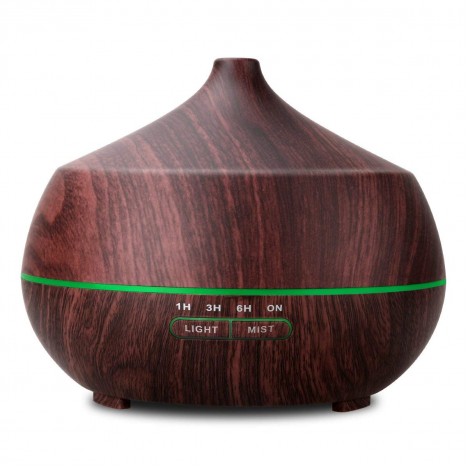 Simple to use
Lasts for a long time
Automatic shut off
Great price
Place where you put oil will stain after repeated use
The Essential Wellness diffuser is an ultrasonic diffuser that is very simple and easy to use.
Ultrasonic Diffusion
Tenswall's diffuser does a great job of keeping your home smelling the way that you like it. It uses ultrasonic diffusion, which is easy and effective to use. It will last for around six to eight hours. The tank on this diffuser is three hundred milliliters when full. It is best suited to around two hundred square feet, which makes it perfect for the bedroom.
Other Features
This diffuser has some other features that make it worth checking out. It can work on a timer, which can be set for one hour, three hours, or six hours. It also has an LED light that can set for seven different colors.
Cost and Value
The Tenswall is a very useful essential oil diffuser and it comes in at a great price. This diffuser is a great choice for anybody looking around on the market. It is effective, simple, and safe to use because of its automatic turn-off switch. The stylish look of this diffuser, and the many choices of color make it a good fit in many different settings.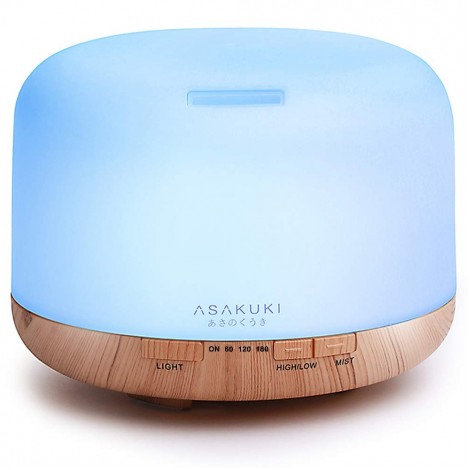 Large tank
Automatic shut off
Covers a large area
Great price
Milder smell than other diffusers
The ASAKUKI is a diffuser with an extremely large tank so that it can be used for long periods of time, and will fill up a large room with scented oils.
Ultrasonic Diffusion
This diffuser uses ultrasonic vibrations so that it can most effectively give you all the potency possible in the oil. The tank can hold five hundred milliliters of water. This diffuser also works as a humidifier for Winter or drier climates. It will work for around fifteen long hours of diffusion and will fill a three hundred square foot room.
Other Features
The ASAKUKI also has some customizable features that you might find useful in your quest for the perfect home atmosphere. It has seven different colors of LED light to choose from. It can also be switched between a constant stream of mist, and intermittent mists so that you can choose the intensity of your scents. The ASAKUKI has also thought of your safety with the use of an automatic turn off switch when the tank runs dry.
Cost and Value
ASAKUKI is a very affordable diffuser for what you get out of it. The diffuser itself is very simple, but it might be the right choice for you if you want something that lasts for a long time between uses. This is a very effective diffuser for larger areas, such as the living room of a house.
Criteria Used for Evaluation

Potency
Each of the essential oil diffusers on this have a different level of potency to their oils. There is a large difference between breathing in a strong scent of peppermint oil compared to something milder. It is the difference between feeling slightly refreshed, and feeling jolted awake. The more capacity that the diffuser has, the less aggressive the smell will be. This will be more of a personal choice for each person buying themselves a diffuser. Strong smells and weaker smells both have their own place. The amount of drops of oil that you use will also affect the potency of your diffuser. If you are just getting your first diffuser, then think about getting one of the diffusers on the list with a lower rating in the potency category.

Ease of Use
Oil diffusers are usually all about their relaxing capabilities, so it is especially important to find one that is very easy to use. It makes it easier for you to set and forget it. There are a few aspects of the oil diffusers that can contribute to a high rating in this category. It is important that the way that you turn on the oil diffuser is easy. Most diffusers just have three or four buttons at their base that make it very simple to choose what you want to do with your diffuser. If they have an app or other features, then it is important that those work very simply as well. Getting stressed out while using your diffuser is against the point. It should also be very easy to set up your diffuser. There shouldn't be too many pieces to take apart when you need to add water and oil to the diffuser.

Capacity
The capacity of your oil diffuser is important for multiple reasons. It dictates the potency of your oil concoction, as well as how long your oil will last for. Try to get a larger diffuser if you are new to essential oil diffusion, or if you want the scents coming from your diffuser to be milder, and more of a background scent. A larger tank will also allow your diffuser to last longer. Some of the tanks on this list go up to five hundred millilitres, and these tanks will usually last for up to fifteen hours without needing a refill. Only having to refill once in a while is also useful because it means less work for you. This is another category that is mostly dependant on your preferences, but a larger container will make your life easier, at the very least.

Size
The choice you make for your essential oil diffuser should also depend on this crucial factor. Oil diffusers are usually designed with a certain size of room in mind. This can range from one hundred square feet to five hundred square feet. This has a lot to do with the power of the motor sending the oils into the air. Stronger ultrasonic vibrations will send the oil further out into the room. To choose the diffuser for you, try to find all the specifications of your room that you might need. The smaller sizes that these diffusers spread to, such as the one hundred and two hundred square foot options, are usually designed for smaller apartments and bedrooms.

Style
There's a peacefulness brought on by watching an essential oil diffuser. The mist gently rising from the nozzle is almost as peaceful as the oil that the nozzle is releasing. An important thing to help keep your relaxation up is the design of these diffusers. There has been a lot of thought put into the look of many of these little gizmos, and it will make you want to use them more if you buy a good-looking one. Many of these devices come with an impressive looking wood finish. They also often come with gentle lights that let you know the diffuser is on in an unobtrusive way. Take a good look at the photos that accompany each of these diffusers and try to find one that you like the look of, as well as its functionality.
Expert Interviews & Opinions
Most Important Criteria
(According to our experts opinion)
Experts Opinion
Editors Opinion
Users Opinion
By Default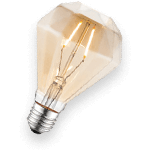 Why Invest At All?
There are so many things that can stress people out these days. There is the day to day grind of work. There are the many errands and tasks that pile up over the days and weeks. There are kids and pets to care of, and homes to keep in order. Sometimes it feels like the time left in a day for relaxing is becoming smaller and smaller. This means that it is important to make the most of that time that is left in the day. If it has become time to take your relaxation much more seriously, then it might also be time to buy an essential oil diffuser. Oil diffusers are becoming a hot commodity these days as people become more aware of the many uses for essential oils. There are so many different scents to choose from, and there are many different uses that you can get out of them.
Technology & Diffusing
Some of the diffusers on this list use the internet to make them even easier to use. Some of them use Bluetooth, which makes it very easy to connect with your cell phone through a few simple taps. There are also some diffusers which use a separate app. This gives you some extra control and the ability to use some extra features, such as choosing to have your diffuser automatically turn on so you can be welcomed home with some pleasant smells. There are even some diffusers on this list that can be hooked up to your smart home network, which is great for a few reasons. Having Alexa attached to your diffuser means that you can quickly use voice commands to turn your diffuser on from another room.
Other Factors to Consider

Features
There are some useful features to look out for when buying yourself an essential oil diffuser. One of the most important to look for is to see if the diffuser that you are interested in comes with a setting that allows you to set up a timer for your diffuser. Diffusers try to keep it simple, so this will usually be in the form of some preset options. This is a useful feature for a few reasons. It allows your essential oil to last for a lot longer. Buying the good essential oil usually costs a bit extra so it can suck if you forget about your diffuser being on until all the oil gets used up. The timer is also good because it will stop your room from becoming too inundated with smell if you leave the diffuser on for too long.

Color
This feature allows your diffuser to add to the mood that you are trying to go for when using your diffuser. Many of the diffusers on this list come with an LED light that lets you know when the diffuser is on. This is handy when you can't see the mist from far away. Besides the practicality of having lights on your diffuser, there is also the option to pick from an array of colors. There are usually seven or fourteen different colors to choose from. This lets you pick the color that puts you in the best place. There is also sometime the option to pick the brightness of the light for if you want the light to be unobtrusive. If having lights on your diffuser is not your thing, then it is as easy as turning the light off.
Frequently Asked Questions
q:

How do I use my essential oil diffuser?

a:

Using an essential oil diffuser is a very simple process. There are two kinds of diffusers on this list. There are nebulizers, which don't need water, and ultrasonic diffusers, which do. Both kinds of diffusers are turned on in the same way. You simply plug them into an outlet and turn them on. Oil diffusers try to keep it simple so that you can keep the state of mind that you are trying to achieve. Before switching the diffuser on, however, you need to put the solution inside of it. Diffusers need around ten to twenty drops of oil to get working. How many drops you want to use should depend on the intensity that you want. If it is your first time using your diffuser then aim for a lower amount of oil so you can better know what you are getting yourself into. With ultrasonic diffusers, fill the container up to the max line, and then add the drops of oil. Don't worry about mixing the liquid because the oil is actually supposed to rest on top of the water. Oil doesn't mix very well with water, anyway.
q:

How do I clean my oil diffuser?

a:

After many uses, it might be in your best interest to clean your oil diffuser. The many kinds of oil going through it can get stuck in the tighter spots, and also the scents may get stained onto the material a bit. Instead of using soap, try using vinegar. Mix a tablespoon of vinegar with a half full container of water and then let the diffuser run for a few minutes. This will get the vinegar into all the hard to reach spots. Afterwards, dump the water and then thoroughly rinse with regular water. Pat the diffuser dry afterwards and your diffuser should be as good as new.
q:

How does an ultrasonic diffuser work?

a:

An ultrasonic diffuser is an impressive piece of technology that uses vibrations to send the water and oil mix inside the diffuser out into the air. The oil rests on top of the water and is assaulted by vibrations from the diffuser. The diffuser is using a motor that causes many tiny vibrations to occur within the container. These vibrations send the water and oil out into the air in small spurts that allow them to fill your home with fresh scents and alleviate your mood.
q:

Is it safe to keep your diffuser running after the liquid is gone?

a:

It should be fine to leave your diffuuser on after the liquid has gone out into your home, but this shouldn't happen for too long. Adiffuser with no liquid inside of it will waste power and can overwork the machine because it is used to working with liquid in it. There are two features that are important if you are worried about leaving your diffuser on for an extended period of time. Try using a diffuser that comes with a timer. You can leave your timer on for up to six hours and then fall asleep without having to worry about your diffuser being left on all night. Another interesting feature being designed into diffusers is that now some diffusers will automatically shut off when there is no liquid left inside of them. This means that you can get the full dose of your essential oils and not have to worry about the diffuser turning off early, or not turning off at all.
Subscribe to our Newsletter