Best Bike Trailers Reviewed & Rated for Quality
In a Hurry? Editors choice: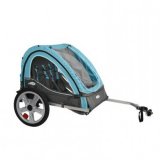 Test Winner: Instep

Whether it's taking your
child
with you, hauling your gear behind you, or simply allowing Fido to tag along, there is a
bike
trailer out there that will fit your needs. It is important to note, that whichever product you choose, it's going to add weight to your load. Many of these products weigh up to 40 pounds and you have to factor in the weight of your child,
pet
, or the cargo you want to take along with you. There are three types of trailers out there to choose from, bike trailers, pet trailers, and cargo trailers. The first thing you want to look for any of these products is safe, which leads us to the purpose of this buying guide. We have done the research, read the reviews, and come up with the top 10 best bike trailers on the market today.
Standout Picks
Criteria Used for Evaluation
Safety Hazards
When choosing the best products on the market, there are a few different criteria and metrics we used to determine what should go on our list and what shouldn't. Of course, reviews played a huge part in the decision, but there is much more we used to determine the top 10. Those things include safety, weight capacity, and more. We are also including things you should look for, such as where you plan to ride most often, how many kids you have, what you need the product for, weather, price, type of trailer, and so much more. So, without further ado, let's dive into the criteria section of our guide. Ready? Set? Go!
One of the first things we searched for when determining the best was the safety of the product itself. Determining the type of brakes, the durability and stability of the product is one of the most critical parts of the process. Your children are going to be riding in this trailer, so you want only the safest on the market. The top-rated on our list has proven to be the safest around today.
Weight
It is important to know the weight capacity of the product you are purchasing. The top-rated on our list comes in a variety of different weight capacities, ranging from 40 to 80-pound capacities. It's important to check and see if this is a combined weight total, when the product can hold more than one child, however. Not only is weight capacity important, so is the weight of the product itself. When choosing the right one for you, it's important to look at the weight of the product and then add in the weight of the children, the pet, or the cargo you are going to be pulling behind your bike as well. You don't want to be struggling to pull it, now do you.
Model
If you are looking for a trailer to be able to take the kids with you, then you have a few different choices. Standard is your normal trailer and have two wheels and a harness to hold the children in safely. They are usually designed to carry one to two kids comfortably and are enclosed to keep kids away from the weather and bugs.
Pedal trailers aren't enclosed, so they offer very little in the way of protection, but they do have pedals attached, so that your child can ride too, with you still in control of the bike, of course.
The top-rated on our list come in different types and different designs, the choice of which is best for your biking needs is entirely up to you.
This brings up to the end of our criteria section of this buying guide. Don't forget to read on below for a few of the top questions about these types of products to be answered. 
Value
As with anything else in the world, the price of the product is an important consideration. You want to find the right item at the most affordable price, but it's also important to remember that in many cases you get what you pay for. The top-rated on our list range from around $200 to $900. Remember, the more expensive ones usually have extras, that you need to determine if you need or not.
10 Best Bike Trailers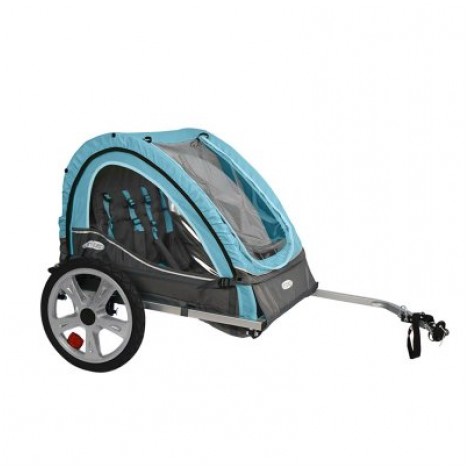 Instep combines fun, versatility, convenience, and safety all in one neat package. Designed to carry two kids on your afternoon and early morning rides, this product features extra support and padding for the precious little ones in your life. The product also features a 2 in 1 bug screen/canopy so the sun and the insects don't make your little one's miserable when you are riding. After all, as a parent, you already know if the babies aren't happy, then nobody is going to be happy. Complete with quick release wheels for fast folding and a frame that collapses for compact storage, this is one item you don't want to miss.
Holds Two Passengers
This is a tow behind that holds two passengers safely as you ride down the beach or even in town on Sunday afternoon, for a combined weight of 80 pounds. It fits most bikes and features 5-point safety harnesses as well. As an added safety precaution a safety flag for higher visibility is also included.
Comes in Four Color Options
Let your rides pop with this product that comes in four different color choices. Choose from light blue-gray, green, blue, or red. The choice of color is up to you.
Cost and Value
This product is worth its weight in gold, just because of its ability to hold two passengers at one time. After all, how can everyone have fun on your rides, if there isn't room for everyone to go. The bug screen canopy also recommends the product, as well as the fact that it folds for compact storage, to easily fit in the closet at home or the back of your car.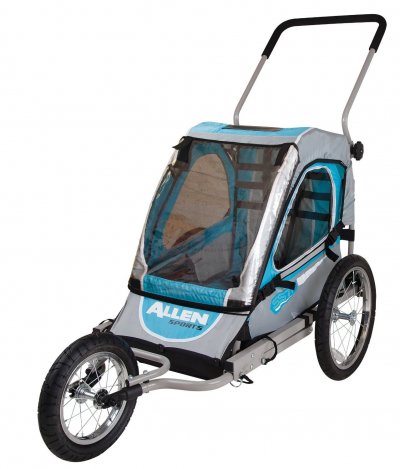 Sometimes, the materials and durability of the product are some of the most important things to you, as a parent. The Allen Sports Deluxe fits that bill with its steel construction. It's made of steel, yet is still lightweight and comfortable enough for your child to be comfortable and sleep if possible, during your rides and every parent knows that sleeping is a good thing when it comes to children. Not only is it made of steel, but it's also a 2 in 1 product, a bike trailer, and a jogger. Featuring five different color options, it is safely made to hold one child and keep them comfortable while you get in your early morning jog or ride down the beach.
5 Color Options to Choose From
Many parents like a little style with their morning jog, so this product comes in five different color options for you to choose from. You can order gray, orange, red and white, white and red, or yellow. The choice is yours, you can even order the color that matches your bike, so you and your little one match on your daily rides.
2 in 1 Product
This is a 2 in 1 product that is easy to assemble and can be either attached to most bikes or used as a jogger instead. If you are an extremely active parent, jogging in the mornings and riding with the family at night, then this is the perfect option for you.
Cost and Value
One of the more expensive items on our list, it is well worth the money spent, just because of the steel construction. It is also a jogger and a trailer, making it perfect for very active parents. It holds one child that is up to 50 pounds. This is one you are going to want to check out for sure.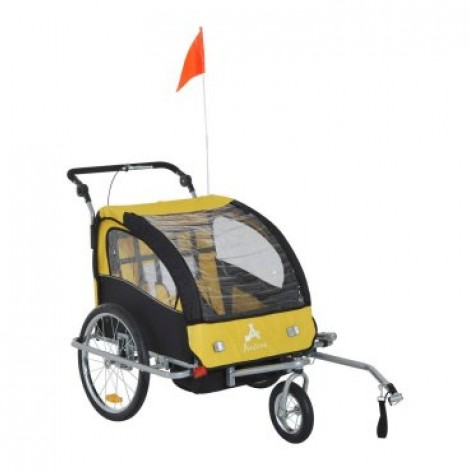 Every parent knows how hard it is to maintain an active lifestyle when you have an active, inquisitive toddler on your hands. They are into everything, but still not quite old enough to ride a bike of their own. The Aosom Elite Two has a fix for that with its 3 in 1 product. It's not only a bike trailer but a jogger and a stroller as well, making it simple for you to stay active and still have your toddler in tow. Available in four different colors, the product comes with a safety flag and fits two kids, with a maximum weight of 88 pounds.
4 Colors to Choose From
Featuring vibrant color choices, this product is made for the active parent. Choose from your choice of blue, yellow, red and black, or black and white, so you can jog, walk, or ride with your little one with you, in style.
Features an All-Weather Canop
This product features an all-weather canopy that is perfect for taking the children with you, whether it's rain or shine. It shields your little one from the sun and rain, with a mesh and plastic covering.
Cost and Value
This product comes in at the mid-price point range in our buying guide. The fact that it's 3 products in one is what recommends it. Add in the vibrant colors and all-weather canopy, and this one is certainly worth looking into during your research.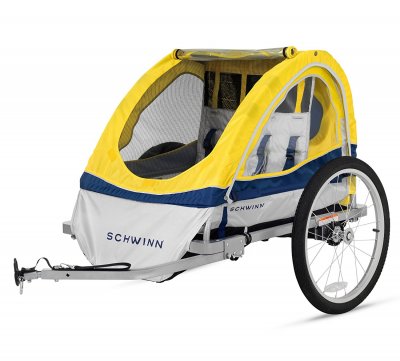 It is no surprise that Schwinn landed in the top five on our top 10 list. The company is well known for its quality products when it comes to outdoor equipment. This product is no different. Featuring a 20-inch wheel size and being foldable for easy compact storage is only a couple of the great things about this product. It is a double trailer, capable of carrying up to two kids, who weigh 40 pounds each. It also has large, side windows with mesh to let in the fresh air, but to still keep the sun off your little one when you're riding and the sun is high. It also features room for 12-pounds of gear to be stored as well, so you can take everything you need with you on your daily rides.
Fits in Cars and Closets
One of the best features of this product is that the wheels come off and it collapses easily for compact storage. You can easily put it in the car and then store it in the closet when you get home and no longer need it.
Holds up to 12-pounds of Extra Gear
Every parent has the problem of where to stash the diaper bag, water bottles, and snacks for the little ones when they are out on their rides. This product takes that worry away, with the capability of storing p to 12-pounds of extra gear in the rear of the trailer.
Cost and Value
One of the higher-end products on the list, the extra storage, and compact trailer make it worth checking into. This bright yellow trailer also features an added safety flag for greater visibility when you are out riding with your family.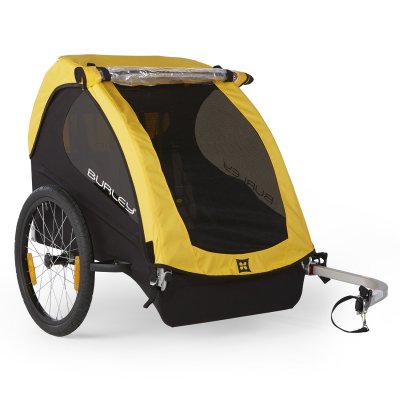 This bumble bee yellow Burley Design is what customers have come to expect from this company and their products. Capable of holding one child and features a hammock style seat as well. Also, featuring a cargo area that can hold a diaper bag and more, with room to put something else, this product is well worth looking into for your bike riding needs. The product comes in bright yellow, so it is easy to see when riding down the road or in dim light. Safety is the number one priority of this company and they prove it with this design.
Bright Yellow for Safety
As a parent, who is tucking their pride and joy into this product and heading out for some fresh air and exercise, you already know that the brighter the canopy, the more likely it is for cars to see you coming. The canopy on this item is bumblebee bright yellow for safety's sake, and it makes it super-cute too.
Folds Flat for Storage
Storing your trailer when you get home or fitting it into the car can be a nightmare. This product folds completely flats, so it is easy to put in the trunk and store once you are back at home and the little one is out for the count.
Cost and Value
While this is one of the higher cost items on our list, the product and brand speak for themselves. The bumblebee yellow color for safety and the durability of the product, make it worth what you pay to own it.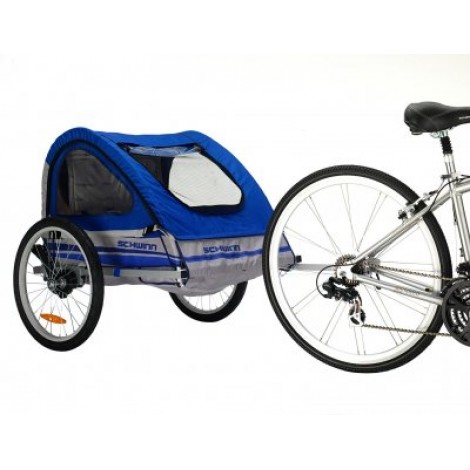 Pacific Cycle is a trailblazer that is capable of holding two children of up to 80 pounds combined in weight. It also features a two in one canopy that not only protects your little ones from the sun but keeps bugs out of their face on your rides as well. It also features a parking brake, for when the product is being used as a stroller and a padded seat for extra comfort for your little ones.
Padded Seat
No parent wants their children to be uncomfortable, just so they can get exercise and fresh air. This product makes sure that doesn't happen with its padded seat. No longer do you have to worry about your little one crying from being uncomfortable. They may even sleep while you are on your ride instead.
2 in 1 Canopy
This features a 2 in 1 canopy that not only keeps the weather and bright sun from affecting your little ones, it also serves as a bug screen, so you don't have to worry about gnats and mosquitoes when you're on your rides.
Cost and Value
One of the more reasonably priced items on the list, the comfort of your child with the padded seat, makes this one well worth the purchase.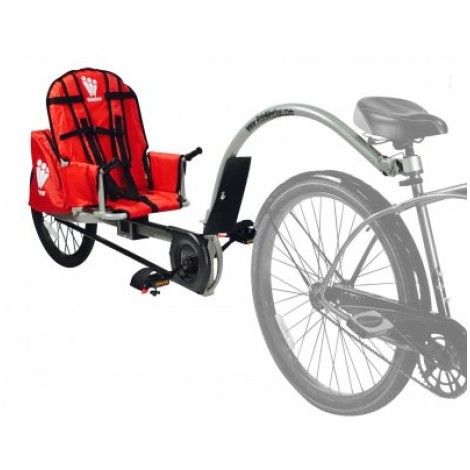 This Weehoo product is the perfect way to take your child between the ages of 2 and 9 on bike trips with you, whether it's on the beach or just around town on a Sunday afternoon to take in the sights as a family. It fits one passenger, up to 80-pounds. It's a single wheel trailer that easily attaches to most bikes and features turbo seat adjustment as well.
Fits One Passenger
No longer do you have to stay home while your spouse goes for a ride, and then go by yourself so he can stay with your child. This product fits one passenger comfortably, ensuring a melt-down free ride for all of you, as a family whenever you please.
Let's Them Pedal with You
One of the best things about this product is that it allows your child to pedal with you, let them get the feel of riding on their own, but with you being in control.
Cost and Value
Lightweight at only 26-pounds, it's truly no wonder that this little beauty made it onto our list at number seven. While it is one of the most expensive items on the list, the addition of pedals for your child makes it worth what you spend.

8

. Burley Design Tail Wagon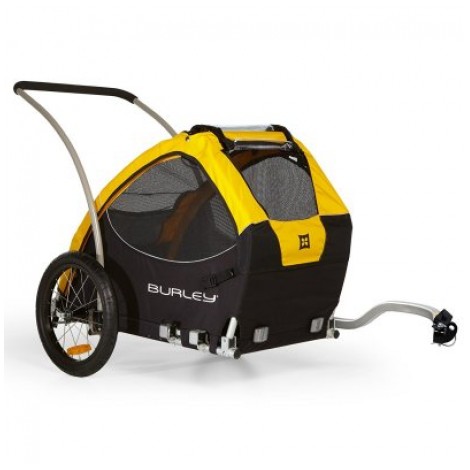 Burley Design is featured twice on our list, not only for the superior quality but because one product is for your child and the other is for your pet. The Tail Wagon is perfect for taking your canine pal along on your morning rides. After all, the dog is a part of the family too, so why should he be left at home, while the rest of the family has all the fun. This product is perfect for one big dog or a couple of small ones to go along for the ride. It also features a removable floor and a large interior for maximum comfort for your pooch. It also features an all-weather cover.
Removable Floor
Everyone knows that even the best of dogs have accidents, or if nothing else, they shed all over your nice trailer during your rides. This product features a removable floor for easy removal and clean up whenever you feel the need.
Features an All-Weather Cover
The product also features an all-weather cover that covers four sides of the trailer and makes sure your pet is protected from the rain or sun, during those long rides in the afternoons.
Cost and Value
One of the more expensive items on the list, the name of the brand makes it worth the money spent. Your doggie will be protected by the all-weather cover, and the bright yellow design for better visibility on your rides. If you are searching for the way to include your pets when riding, then this is the right option for you.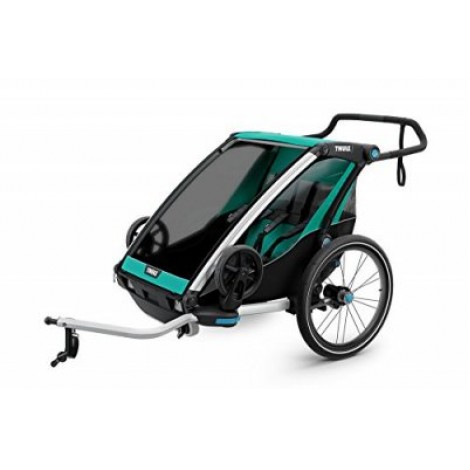 If you are looking for a product that will work as a stroller, a trailer, a jogger or also be equipped for cross-country skiing, then the Thule is the product for you. Featuring an easy click collapsible design for easy storage purposes, this is the perfect two child item for a family that is active. It also features safety reflectors and an adjustable handlebar. Switch from a four-wheel stroller to a two-wheel trailer with ease as well.
Carry Two Children
Designed with families in mind, this product allows you to carry two children with you during your active lifestyle. Its elegant style is a plus as well.
4 Products in One
Perfect for your active and busy lifestyle, this item serves as a stroller, a bike trailer, a cross-country skier and a jogger. Do it all with this product and take your family with you!
Cost and Value
While this is by far the most expensive item in our buying guide, it is by far the one that offers the most in the way of features. Just the fact that it's 4 products in one, makes it a must-have for any active family.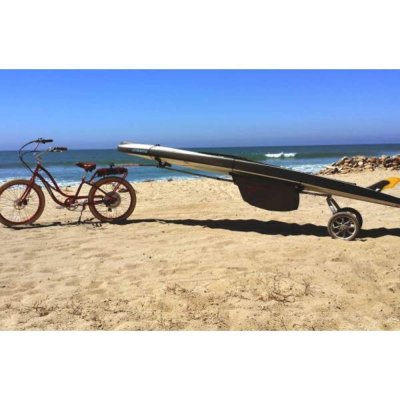 While carrying your kids and your pets with you when you go on your ride's is necessary and desired, sometimes, you just need a place to store your cargo or your surfboard in this case. Wheele Racks has got you covered with this surfer bike trailer. It can hold up to two boards at once, and also features a heavy-duty storage bag, so you can ride hands-free until you get to the ocean to surf!
Lightweight
The lightweight design of this product makes it the perfect item to carry your surfboards and get you to the ocean in record time.
Easy Attachment
This features a hinge that makes it super easy to attach to your bike as well.
Cost and Value
One of the mid-priced items on our list, if you are a surfer, then this is the perfect product for you.

Subscribe to our Newsletter