Best Dog Dental Chews Reviewed & Rated for Quality
last updated:
Jul 15, 2019
Is it important to maintain your dog's oral health? This is a very relevant question, and the answer is 'yes'. Dogs can suffer from the periodontal disease just as human's do. Your dog can have dental issues that can result in a loss of appetite, broken teeth, and it can even cause other organs in their body to be affected if the bacteria from diseased gums gets into their bloodstream. Dental dog biscuits aid with your dog's dental health by reducing plaque buildup and freshening breath. Bad breath in a dog can signal other serious issues in your dog's health beyond simply needing better dental and gum care. The following review about the top 10 dog dental Chews we found will aid you in determining the best product for the improvement of your dog's oral and overall health.
In a Hurry? The test winner after 4 hrs of research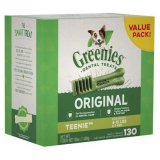 Greenies
Why is it better?
Recommended by veterinarians
Accepted by the VOHC
Fights plaque and tartar
Freshens breath
Natural
In a
Hurry? Editors choice: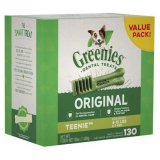 Test Winner: Greenies

Brand
Product Purity
Side Effects
Safety Hazards
Value
By Default
10 Best Dental Chews Reviewed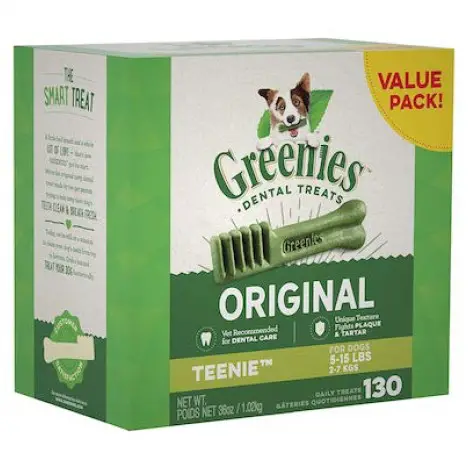 Recommended by veterinarians
Accepted by the VOHC
Fights plaque and tartar
Freshens breath
Natural
Might cause diarrhea
Only 60% digestible
Greenies make these dog nibbles for tiny dogs from five to fifteen pounds small. This pack of greenies teeny size dog delights comes in a pack of 120 treats. These natural munchies are filled with all the vitamins, minerals and other nutrients needed to keep your pal healthy.
Natural Treats
These original treats come in a 36-ounce pack. They are recommended by veterinarians and have been deemed acceptable by the VOHC—the Veterinarian Oral Health Council.
Delicious and Tasty
Your little pup is going to love these deliciously tasty treats, and you will love the freshness of your pooch's breath. No more stinky dog breath!
Cost and Value
The value of these delectable delights is going to prove to be an invaluable part of your pet's oral health. These healthy snacks are going to clean your pup's gum line by fighting off the plaque and tartar and making his or her breath the freshest it has ever been.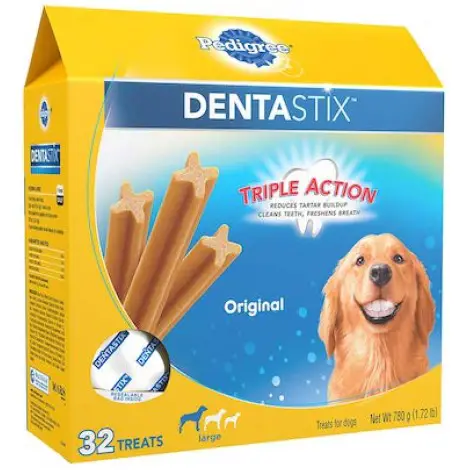 Tasty chicken flavored
Lowers plaque and tartar build-up
Ideal for dogs 30 pounds or more
Cleans your dog's gum line
Daily treat to maximize benefits
Product was stale
Not for dogs of all ages
These doggie nibblers made by Pedigree are grain-free and chicken-flavored and made for dogs that are 30 pounds or more. The treats come in a 32 count pack of 1.72-pound packets.
Triple Action
Works as a freshener for your dog's breath as it cleans their teeth, as well as lowering the amount of plaque and tartar build up.
X-Shaped Design
The special design and shape make the perfect bite-sized treat for a large dog. These treats are the ideal dog treat to clean the gum line and support the health of your dog's teeth and gums.
Cost and Value
The price of this item is not that much for what your dog is going to get. It is like your dog goes to their own personal hygienist every time they snack on one of these.
3

. Virbac C.E.T. VeggieDent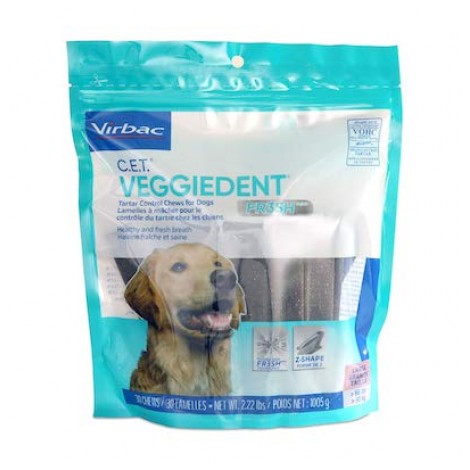 One of a kind "Z" shape
Gluten-free, non-GMO
Trusted formula
Can be used daily
Aids in good digestion
Significant price increase
May make an older dog ill
These are made by Virbac are a plant-based alternative to the rawhide ones your dog is accustomed to. Made exclusively for large dogs over 65-pounds, they are easy to chomp on and digest. There are more than 30 single units in each package.
Special "Z" Shape
This product has a one-of-a-kind "Z:" shape that allows it to easily scrape away the plaque and tartar that builds up on your dog's gum line.
Fresher Breath
Your dog can have one of these yummy snacks every day over the long haul will have fresher breath; you will notice it from the first day!
Cost and Value
You will see an overall improvement in your dog's breath and oral health when you start giving these to him or her on a daily basis. There is also a probiotic included within these biscuits that aids in digestion, making them an invaluable tool for your dog's healthy lifestyle.
4

. ARK NATURALS Brushless Toothpaste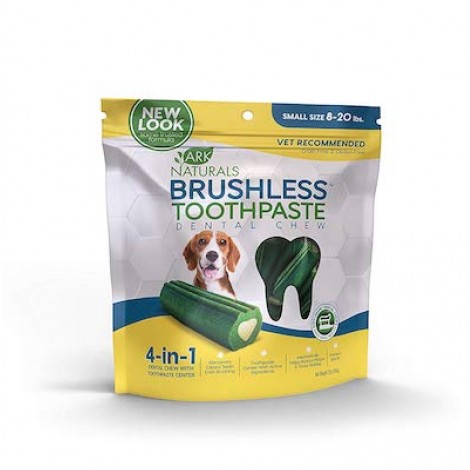 All natural brushless toothpaste
Formula is recommended by vets
Made for small to medium sized dogs
Fights plaque, tartar, and bacteria
Made in Heartland USA
They are hard as "rocks"
Has an awful smell
These doggy snacks made by Ark Naturals are recommended by veterinarians everywhere for small-to-medium sized breeds. They are virtual "toothpaste" for dogs. All natural, they help to control plaque, tartar, and even bacterial growth in your dog's mouth.
Supple Center filled with Toothpaste
There is a special patented, supple center that is filled with real toothpaste. This makes for an ideal way to fight against tartar and plaque buildup, as well as any bacteria that can result in bad breath.
Has an Abrasive Cleaner
These dog snacks are formulated with an abrasive-like cleaner that "scrubs" your pooch's teeth for cleaner, fresher breath over all. These are made with natural ingredients, such as cinnamon, cloves, alfalfa, and vanilla.
Cost and Value
Made in the USA Heartland, these natural-made products by Ark Naturals are exactly what you would expect. They are completely void of any soy, corn, or wheat, as well as have no artificial additives or preservatives.
5

. Dingo Tartar and Breath Sticks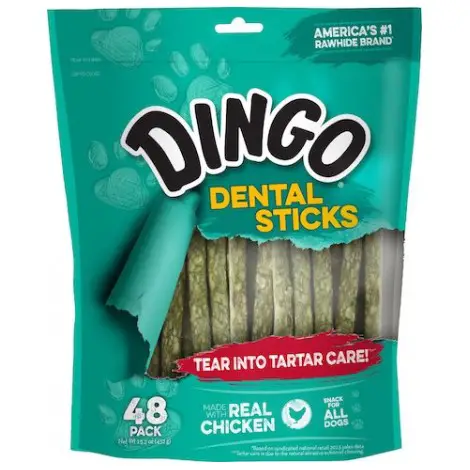 Irresistibly good chicken flavor
Chewing action "brushes" teeth
Same great taste as munchy stix
Real chicken in the middle
Scrubs teeth while massaging gums
Can make some dogs ill
Not good at freshening breath
The brand Dingo makes these chicken flavored biscuits for dogs that will not only freshen their breath but will also remove tartar and plaque from their teeth. This doggy treats come in a 48-count package, which is the best deal offered.
Same Great Taste
The original munchy stick treats afford the same yummy taste as these new sticks do, only it now has the added fresh taste of parsley seed and baking soda. The real chicken flavor gives these doggy treats an irresistibly good taste for your dog to enjoy.
Chewing Action Scrubs Teeth
The natural action of chewing these dog treats gives your dog's teeth the scrubbing they need. This also gives your dog's gums a good massage, which enhances gum life and provides fresh breath.
Cost and Value
When you purchase the 48-pack you actually get the best value for your money; however, there are other money-saving packs one can purchase of this product. You are going to be pleased when you see the results of how these biscuits affect your dog's oral health.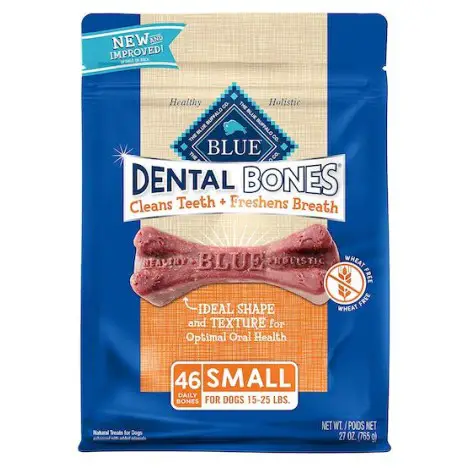 Wholesome ingredients
Healthy treats for small dogs
Enhanced with added minerals
Clean teeth and fresher breath
No added preservatives
Has a horrible smell
Makes some dogs sick to the stomach
The brand Blue Buffalo makes these delicious bones for adult dogs as a yummy snack. Only the most wholesome ingredients go into making these delicious dog treats, which will make for fresher breath, as well as maintain healthy gums and teeth.
Fresh Wholesome Ingredients
The ingredients that Blue Buffalo uses to make this item is only the most wholesome and fresh as possible. There are no chicken by-products, and they are free of corn, wheat, and soy products. There are no artificial food dyes, such as Red number 40, or any artificial preservatives.
Once a day treats
These are the ideal treats for small to medium dogs that are in need of a little extra to get their gums in better health. Give this doggy treats to your pet once a day and you will see a positive result by better overall oral health for your dog.
Cost and Value
When you purchase a 27-ounce pack of this Blue Buffalo brand, you are going to be so pleased with the results it gives you. Your small dog is going to have healthier oral health as well as an overall better physical health because of it.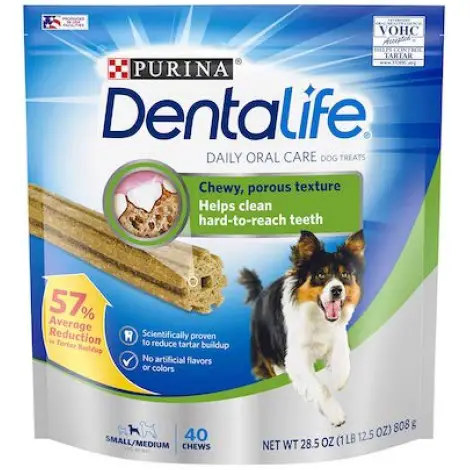 There are no artificial colors or flavors
57% reduction in tartar build up
Scientific proof
For small to medium dogs
The crunchy, porous texture
Choking hazard due to extra thick
Dogs can have difficulty chewing
These treats made by the brand Purina has been scientifically proven to reduce by 57% the bad breath and tartar that builds up on your dog's teeth. These treats are made for small-to-medium dogs, and besides cutting down on the tartar build up, they promise to also make your pooch's breath much fresher.
Scientifically Proven Results
The Tartar build-up has been proven to be lowered by 57%, which has also been proven to make your pet's breath fresher.
Eight Ridges
These treats are made to have eight diverse ridges that are proven to clean the hardest- o-get teeth all the way to the gum line. These treats also have a porous texture that enables easier cleaning of the teeth, as well, with constant gnawing action.
Cost and Value
The costs of these doggy treats are far less than the actual value. When you purchase one of these 40-count packs you are going to soon discover that your dog's oral health is on the road to recovery. The new chewy, porous design of these treats will prove beneficial to his or her overall health.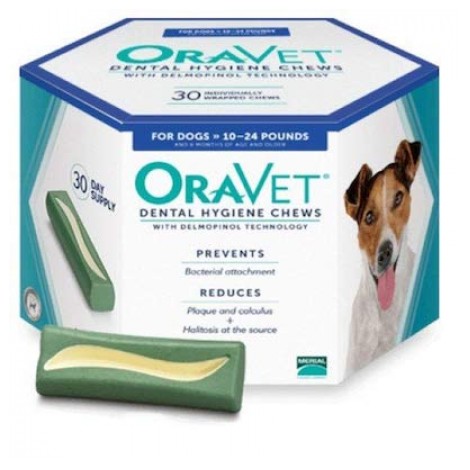 Ideal preventative oral care regimen
Gives dog fresher breath
Prevents bacterial growth
Organic dog dental chews
Complete oral hygiene for dogs
May have an adverse effect on the dog's stools
Intended for dogs older than 6 months
These OraVet hygiene nibbles are made for dogs that are 10-24 pounds in size. These doggy biscuits are what veterinarians suggest to complete your dog's oral care preventive regimen.
Offers Complete Oral Health
When given to your dog as part of the veterinarian's advice, it offers a complete regimen for better oral health. Your dog's teeth and gums will be healthier after using this product.
Natural Ingredients
These healthy treats are made from the following ingredients: parsley flakes, chlorophyll, and alfalfa. They are all you need to get your dog on the right path to a healthier mouth.
Cost and Value
The value of these doggie nibbles is far greater than their monetary cost. You will receive 30 items to a pack and they aid in the prevention of plaque, halitosis, and calculus. There is an amount of delmopinol HIC released as your dog munches. This ingredient provides a protective barrier on the teeth, coat, and tongue against bacteria and bad breath.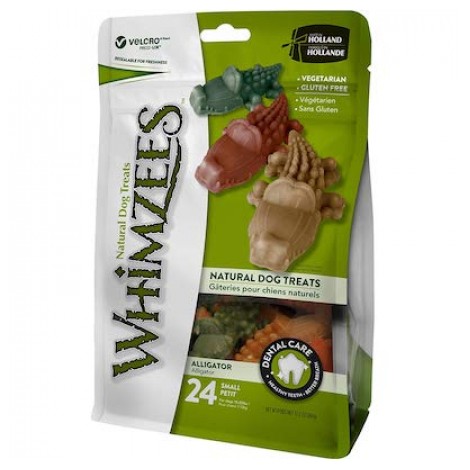 All Natural ingredients
GMO-free
Grain free
Gluten free
Unique designs and shapes
Was not that easy to digest
May cause diarrhea
These alligator-shaped doggie snacks made by Whimzees are completely natural and grain-free. This brand of treats is made to prevent the build-up of plaque and tartar, as well as to get rid of your pet's bad breath.
All Natural
These nibblers for dogs are made GMO-free, gluten-free, and grain-free. They are all-natural and have nothing artificial added to them. They are low in fat and easily digestible.
Unusual Shapes
Whimzees makes these dog snacks in uniquely designed shapes and sizes. The shapes are hollow and have spaces that permit the dog's teeth to get a good hold on it so they can bite it easier. This gives the dog the opportunity to gnaw on it for a long time, giving a better result.
Cost and Value
You are going to be pleasantly surprised when you see that the cost of 24 small biscuits is so low. However, you will also learn that cost is not their only value. These will soon be proven invaluable in how your dog's oral health will improve.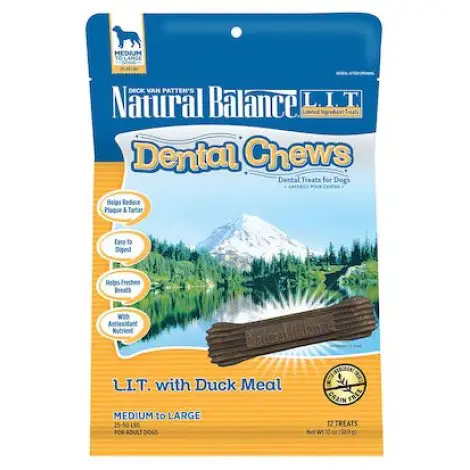 Grain free
Rounded edges and taste great
Lowers plaque build up
Freshens breath
Dogs seem to love them
Not meant for puppies or smaller dogs
Not good for older dogs
This product made by Natural Balance will make your dog feel so spoiled. They are easy to digest and aid in the reduction of tartar, plaque, and bacteria in your dog's mouth. Your dog's breath will be so much fresher from the use of this item that you will wonder why you did not start using it sooner.
Scientific Formula
These Natural Balance biscuits have been created scientifically as a means of supporting healthy gums and teeth. Your dog has a natural instinct to gnaw, and these treats are made to take advantage of that instinct to aid in his/her oral health.
Limited Ingredients
This item is made with a limited amount of ingredients. All are grain-free and have a variety of yummy flavors put together with your dog's taste in mind.
Cost and Value
The cost is minimal, yet the value is invaluable. Your dog's oral and overall health will benefit from the use of this item. For doges 25-50 pounds, feed them one per day.
Criteria Used for Evaluation


Brand
When looking for dog dental chews, there are several brands available. The brand of product one chooses is generally that of personal preference. There are three common options—Pedigree, Purina and Blue Buffalo—in which people seem to trust the most. When a brand has been around a long time, and we grow up using that brand, we learn to believe in that name and trust the products produced by the company.


Product Purity
The purity of a dog treats is important for the health of your dog. Some brands use more natural and organic ingredients in their products than other manufacturers. When looking for dog treats, ensure to buy ones that are sourced from the U.S. rather than overseas. Some of the ingredients used by manufacturers overseas can actually be harmful to your pet. In 2007 over 300 dogs and cats that died because of the tainted food they had ingested.
When you buy pet food you expect it to be made of ingredient that is safe for your pet. However, sadly enough there have been instances in which this is not the case. Thanks to new laws and a project called "The Clean Label Project" your pet's foods are now being tested and screened for potential toxins. This Clean Label Project ensures that manufacturers of pet foods and snacks list all the true ingredients. These listings are made public knowledge. Hopefully, with this new project, our pets foods and snacks will become as pure as we want them to be.


Side Effects
The side effects of a dog eating a dog treat that is not made of pure ingredients can be tragic. An example of how tragic it was in 2007 when over 300 pets died from eating pet food and treats that used poor ingredients and were poorly manufactured.
Reports have been made that fault certain companies and blame impure ingredients, which may result in death for some pets. The way you can prevent these tragic side effects is to ensure you purchase dog vitamins or supplements that are made exclusively in North America. Quality control and is much more stringent in the United States than in other countries, such as Asia. However, even the U.S. sources Asia-made products and ingredients; for this reason, it is imperative that you check all labels for the ingredients that are put into the pet treat products you purchase.


Safety Hazards
A dog can face safety hazards while munching on a biscuit or other treat. These safety hazards can take the form of an intestinal blockage or obstruction should they swallow an extra large piece of the treat. The large piece might not break down as it should and form a blockage in the digestive tract that can be the cause of other health issues.
To ensure this type of safety hazard does not happen to your dog, you need to make sure to buy only treats that are the right size. Make sure your dog does not gulp down their treats right away or break the treats up into smaller pieces or even hold it in your hand and allow your pet to nibble on the treat at the other end.


Value
When we look for value in a product we are not only looking for a quality product but one at a reasonable price. When shopping for health care items for our furry friends, ensure the product is quality made, using the finest ingredients.
It is imperative that the products you buy for your pooch have a lot of value and have been presented to the Veterinary Oral Hygiene Council (VOHC). They must pass rigorous testing to get accepted and then presented with an award known as the VOHC Seal of Acceptance. Pet products that have received this award have great value because they are capable of removing plaque and tartar from your pet's teeth in an efficient manner.
Expert Interviews & Opinions
Most Important Criteria
(According to our experts opinion)
Experts Opinion
Editors Opinion
Users Opinion
By Default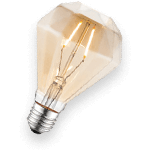 Importance of Brushing a Dog's Teeth
This might be a silly thought or idea; however, it is the best way to keep your dog's teeth free of plaque build-up. It is not necessary to brush your dog's teeth every day. You can alternate tooth brushing with the dental doggy chews. However, the more often you are able to do it, the better off your dog's oral health will be. Your dog is not going to be a willing participant in this, but you can easily train him/her, just as you had to get him/her to like the idea of getting bathed or having their nails trimmed.
The first piece of advice is to get some toothpaste made specifically for dogs. The reason for this is human toothpaste has ingredients that are potentially toxic to dogs. There is dog toothpaste on the market that is made in yummy flavors such as chicken and peanut butter (which dogs love). Next, you will need to find a toothbrush made for canines or one that fits on your fingertips snugly. Your veterinarian will be the best person to advise you where to find one of these dog toothbrushes.
Professional Teeth Cleaning
If you are not able to or feel uncomfortable brushing your dog's teeth, you might want to consider professional cleaning. This can be done by any veterinarian. You can consult with your dog's veterinarian to learn what is the best procedure to follow that will ensure any oral hygiene issues are addressed.
Professional cleaning is much costlier than the option of doing it yourself. However, it is the best way to ensure your dog's oral health is in good order. A veterinarian cleaning can also aid in the discovery of any issues that might have developed or are in the process of developing. It is also the best line of defense in preventing any future oral health issues occurring.
How to Brush Your Dog's Teeth
An important expert tip about brushing your dog's teeth is to NEVER use human toothpaste or toothpaste with baking soda. Both of these have fluoride as an ingredient, and this is a toxic chemical for dogs.
You will be able to find a good brand of toothpaste for dogs at your local pet supply store. Dog toothpaste comes in a variety of flavors; just try them out till you find a good one. When you first start brushing your dog's teeth you need to make it a fun experience. Let your dog get accustomed to the toothpaste by putting a dab on your finger and letting him/her lick it. Once you pet is used to the flavor of the toothpaste, time to bring out the brush! You can find some really good ones at the pet supply store, as well. You are going to want to find one with soft bristles or even two-sided. The double-sided versions are easier to get in between and around the teeth all over your pet's mouth. Remember it is important that you tell your dog how good they are and give them a reward (a doggy snack would be good here).
Other Factors to Consider


Color
The color of pet treats and snacks is becoming similar to the way humans use visual inspiration for their snacks. Color has always played a big part in advertising human products, and it is now becoming a big part in the advertisement for pet treats as well.
Many pet owners think of their furry friends in much the same way as they would their own children. They are spending a lot more time reading the ingredient list on the food and snacks they purchase for their "fur babies". They are also purchasing items based on the color of the product and the packaging. So believe it or not, color does play a large role in the advertising, selling, and promotion of pet food and snack items.


Effectiveness
What is the worst thing about having a pet dog? Why that would be their awful breath! One way you can combat this problem is with doggy snacks. You will know how effective they are by the freshness (or lack of it) of the dog's breath. When we purchase doggy items for our fur baby, we want to be assured that it has a high level of effectiveness.
In case you didn't know, dogs can also suffer from periodontal disease the same way we humans can. Ignoring your dog's oral health will only result in much more serious issues. Issues can be anything from a broken or lost tooth to bacteria in the bloodstream because of diseased gums. The way to prevent this is to provide them with effective treatment.


Materials
The materials or ingredients that makeup dog dental chews should be a concern of the "parent"/ owner. Many doggy nibbles are made with all-natural ingredients. It is a good idea to ensure that the treats you give your pup have very little to no artificial ingredients or dyes. This artificial material can result in serious stomach or intestinal upset that can harm your fur baby. You do not want the fact that you failed to check the ingredients be the reason your pet is ill.


Use
You may ask yourself, "do dog dental chews really work?" When you give your pet a dog biscuit, be careful to keep a watchful eye on your pet. Many dogs like to aggressively gnaw on things. This can result in them swallowing pieces that are too large to digest. Swallowing large chunks of biscuits can cause a blockage in the bowels or even cause the dog to choke. So it is the responsibility of the "adult" to carefully watch how well their fur baby crunches on a dog biscuit. You should also keep an eye out for any side effects - mentioned in the next other criteria section— "side effects".


Side Effects
Dog dental chews are a wonderful invention to pet owners everywhere. However, as with any other item your pet may ingest, there are possibilities for ill side effects.
Some of the side effects many pet owners have complained about are diarrhea and stomach upset, even vomiting. Another side effect can be choking or bowel blockages due to the dog gobbling it down too quickly. Sometimes, products can become contaminated in the shipping process, which can also result in stomach upset. Always keep a close eye out while your dog crunches on and ingests the product. If you suspect your dog has swallowed a large chunk, contact your vet right away. Also, ask your vet what are the signs of a bowel blockage so you can be on the lookout.
Frequently Asked Questions
q:

What is it that makes doggy dental chews really work?

a:

The way crunchies work is determined by how they are designed. Oral hygiene dog biscuits are normally designed to have ridges or other patterns. These function as a means to eliminate the built-up plaque and tartar that has accumulated on the dog's teeth. The way the treats are shaped also acts to give your pooch's gums a massage. This massaging will be beneficial and advance to their oral health. There are also many ingredients in the chews that aid in combating oral disease, as well as provide a fresher breath.
q:

Can you give a young puppy a dental chew?

a:

If you are going to give your young pup a biscuit for their oral health, ensure they are for puppies. Many brands specifically state they are not intended for young dogs. More than likely, the company that makes adult dog nibbles also makes them for puppies. You will notice the size of puppy snacks is much smaller than the adult versions. There are also special ingredients which are tailored to puppies' growing needs.
q:

Do doggy dental chews really eliminate bad breath?

a:

When a dog has bad breath it is the result of periodontal disease. Giving you pooch healthy treats is going to potentially reverse this disease by cleansing the gums and teeth. Often times there is spearmint and mint added; this also aids in the freshening of a pet's breath. Taking all this into account, one should be able to expect their dog to no longer have bad breath.
q:

Will giving my dog dental chews eliminate the need to brush his/her teeth?

a:

In a perfect world, the dog's parent should always brush his or her teeth after they finish with their healthy treat. Sometimes it is too hard to brush the dog's teeth. In these instances, these alone will be beneficial to the oral health of the dog. It is better than not taking any precautionary action at all.
q:

Is a dog dental chew really effective?

a:

If it is quality made, they can effectively remove plaque and tartar. They will also make your dog's breath fresh and clean. By routinely using this type of snack, you will be aiding in the health and strength of your dog's teeth and gums.
q:

What makes dog dental chews work?

a:

Dog nibbles act to preserve the overall health of a dog's mouth. When your dog is gnawing on one, the salivary glands are encouraged to create more saliva in the mouth. The antibacterial property gets rid of the bacteria and thwarts away any plaque and tartar from building up.
q:

What is so beneficial about dog treats?

a:

There are several benefits to giving your dog treats. The most obvious one is the delicious taste! They are also an excellent way for relieving tooth pain the dog may be having. Also, they are great for helping your dog to calm down when they are feeling stressed out. The natural act of gnawing will aid in advancing and maintaining the current oral health of your pet.
q:

Will a dental chew make my dog choke?

a:

Of course. Your dog can choke on any food (or another object) they put in their mouth if not careful. Always buy snacks that are the appropriate size for your dog.
q:

Are doggy snacks fattening for my dog?

a:

Anything your dog consumes can contribute to weight gain. You should switch out some of your dog's regular meal with the daily dose of dog treats you give him/her.
Subscribe to our Newsletter