Best Dog Bones Reviewed & Rated for Quality
In a Hurry? Editors choice: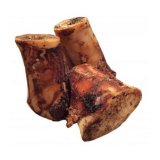 Test Winner: Lily's Choice

For those of us that love and know our
dogs
, or if you are adding a new four-legged member for your
family
, you will know that a dog's needs and requirements are not straightforward. Even when it comes down to choosing a decent dog bone. They need quite a bit of necessary equipment,
food
, and
water
bowls, a decent collar, a leash at least four feet long, a decent and practical
bed
, proper ID tag with essential contact details, a travel
crate
…the list goes on. But your pup deserves a treat. That's where the dog bone comes in. This list will help you choose the right one for your pup.
Standout Picks
Criteria Used for Evaluation
Style
A bone is a bone, right? As a descriptive word yes, but not when fundamental individual differences can be crucial to understanding when obtaining one for your dog. Raw bones are generally thought to be better for your dog, but what type?
Two such examples are long bones; usually, weight bearing so have plenty of marrow on the inside and a smoother surface with possible cartilage left attached at the ends. Flat bones are sourced from the back, ribs, pelvis, and shoulder and are generally softer than long bones and have a rougher surface.
Filled bones are becoming more popular and widely available, they are raw bones that have been filled with a nutritious flavored center that can keep a dog happy for hours. They proffer to be long lasting so can be washed and stored for longevity, and your dog will find it a rewarding challenge to get to the yummy center instead of just munching and chewing on a bone. Many filled bones have a variety of flavors to suit your dog and profess to help with dental health.
You should always get the right sized bone for your dog, it isn't advisable to give your large dog smaller bones for example because they will be able to break them down to easily and swallow chunks in one go. Likewise, it is not advisable to give a medium or smaller dogs bones which are of a small size that they too can break easily. On the safety aspect, make sure you get the right size bone for your size dog. This is also important for the dog's health internally and orally.
Safety Hazards
Another consideration to be aware of is the safety aspect of giving your dog a bone. We always think of dogs in the old sense – they are pack dogs and must be given a bone to satisfy internal conditioning. Well, this is true to a certain extent – but do we really know if bones are safe for our dog?
Side Effects
You wouldn't just eat anything yourself or feed your family anything without considering the overall healthy balance, and just the same needs to be a priority when you are feeding your dog. It is always important to give your dog the best chance for a happy, long and active life and there is no better way to encourage this by getting the feeding correct for your specific friend. It is common practice to try to include variants from six major food groups to get the right nutrients for your dog. Water, (obviously – is a prime essential), vitamins, minerals, certain fats and oils, carbohydrates and proteins.
Types of dog food often consist of either complete foods, wet foods, and dry foods. Many of us probably mix it up a bit to give our friends the variety they deserve – after all; we wouldn't like the same dinner day in and day out. Wet foods are widely available in cans, pouches, and trays, they are quick and convenient and ideally should be served at room temperature. For safety too, it's best not to leave any wet food out for longer periods of time due to possible bacteria/bug build up. (Although there shouldn't be leftovers if your dog is feeding correctly.) It isn't as cost-efficient as dry food but it is good because it gives a variety of different nutrients, textures, and flavors that are good for your dog's digestion. On that note, it is also a good practice to wash feeding and watering dishes daily.
Dry foods are often offered as a compliment or treat when given with wet food, the nutritional value in it alone is not substantial or healthy. If you want to feed your dog on dry food completely – you should always head for the 'complete' food to make sure your dog is getting everything they need to help sustain them and keep them happy. Smaller dogs should be fed mostly dry food to help with tartar buildup.
So, are bones good for our dogs? It's fair to say the jury is definitely out on a fixed verdict, but it is important to know a few facts before we go throwing any old bone down for our dog. On the plus side bones are a great source of calcium and phosphorus – two healthy nutrients that are essential in the diet, chewing is said to ease boredom and creates stimuli for the jaw.
Durability
On the negative side, cooked bones can splinter and break apart during eating and digestion – this may have detrimental effects on teeth, enamel and even on the digestive tract. Larger chunks of bone, if swallowed may get stuck inside your dog and cause painful blockages that may require specialized treatment. Not to mention the mess that can be left behind if your dog doesn't clean it all up.
Raw bones are stronger and won't splinter in your dog's mouth or insides but may cause stomach upsets with bacteria. It is commonly recognised that it is better to give your dog a large bone for about 15 – 20 minutes a day, and to keep a watchful eye as they chew and play, if you notice chunks coming away then remove them and replace the bone for one of a more substantial size to reduce the risk of choking.
Effectiveness
So, bones are good for your dog in the right proportion, under a watchful eye and when chosen well. But there are also some practical no-no's when it comes to giving your dog a bone. First and foremost, you should never give cooked bones, as noted earlier they are prone to splintering and causing painful blockages. Smaller bones in chicken carcasses should always be avoided for the same reason, they can cause damage and even choking when wolfed down by a zealous eater.
Raw bones are better with meat on them, this not only provides better nutrition but releases moisture and encourages saliva when being chewed and eaten, this helps swallowing and digestion. There are also benefits for the healthy maintenance of teeth and gums encouraged through chewing meat and bone, teeth will be cleaner and less prone to tartar buildup and potential long-term gum problems. Dogs can develop gum disease, which can be linked to heart disease. And finally, importantly – bones act as a cleaner when it goes through the system, offering a healthier digestive tract that encourages easier bowel movements and better overall well being for your dog.
Top 10 Best Dog Bones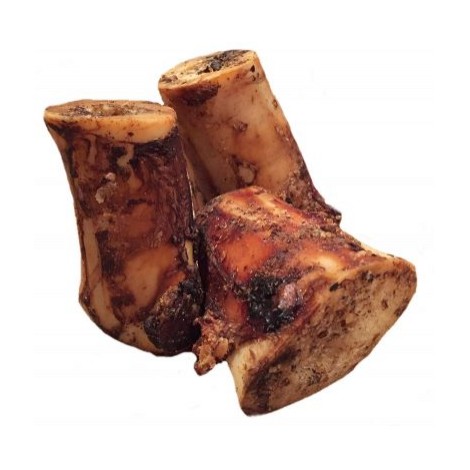 These Lily's choice dog bones have been created with aggressive chewers in mind and are available in handy pack sizes comprising a two pack, a three pack and a twelve pack. These USA made dog bones boast being both mold and crack free – verified by quality inspections before they leave the production line. The grain-free ingredients offer a tasty and wholesome treat for most aggressive chewers and are a long-lasting premium shank that is a high-quality treat.
Food safety
The bones are produced within a factory that has the benefit of having achieved a global food safety initiative certification. This gives confidence not only in the final product itself – but also in the entire production process and gives added peace of mind.
Convenient
The healthier choice these bones offer encourage chewing and saliva production that can help to reduce tartar build-up and clean both teeth and gums. They also proffer being re-fillable so a favorite paste can be reloaded without having to keep changing the bone.
Cost and value
The overall cost and value of these bones are equally reflected in terms of the certified production, the refillable quality and the confidence in the product the onsite quality control. The multi-pack size availability increases the value further through cost-cutting.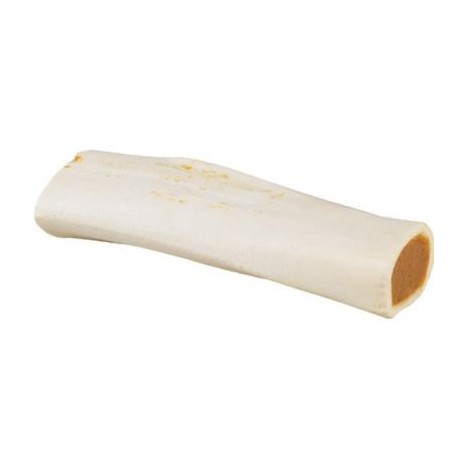 This peanut butter filled bone boasts being packed full of flavors any dog will enjoy, it benefits from being available in a variety of pack sizes; 1, 2, 3 and 5 bone packs. It measures in at six inches by 2.5 inches and will provide many hours of enjoyable chewing for most dogs, weighing in at a good eight oz size means it should last even the fastest chewer. Made in the USA, these tough peanut butter filled bones will stay fresh and enticing for hours on end.
Real bone
The Redbarn filled bones are beef bones filled with tasty flavor, they proffer not to have any unpleasant odors and so will be suitable for use within the home. The filling is thick enough to stay put within the bone until chewed out.
Practical
This bone offers great practicality in that it can be re-filled instead of thrown away and replaced, and it also offers a longer period for grinding through the toughness of the bone. They are particularly suitable for medium to large dogs due to the overall size.
Cost and value
The value offered with this Redbarn peanut butter filled bone reflects well in the price, the long-lasting bone and flavor-filled center will provide great value for the money paid. The bones are also available in 2, 3 and 5 pack sizes for greater convenience.

3

. Lily's Choice Knee Caps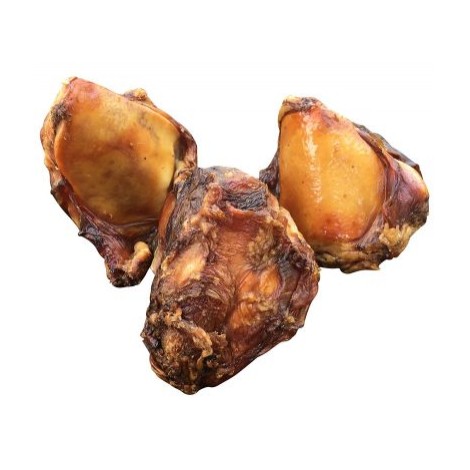 These choice knee caps are quality assured and made in the USA, with a global food safety initiative certificate. They are available in three handy, convenient sized packs; three x kneecaps, ten x kneecaps and a bounty pack of 30 knee caps for a great economic value. They boast being completely grain free and offer an exceptional treat for most dogs, they also benefit from being quality control tested before shipping to make sure they are as fresh when they are received as to when they leave the production line.
Healthy
The healthy choice of providing these treats can help prevent plaque and tartar buildup on a dog's teeth, and they help to strengthen jaw muscles through the natural chewing action. The flavor is optimized by the free-range cattle who are grass fed.
Long lasting
The full benefits of the free-range cattle are multiplied with the long-lasting chew these knee cap bones offer. The convenience of the pack sizes makes them always available and close to hand when that special friend deserves a treat.
Cost and value
The value and cost of these Lily's choice kneecaps are well balanced and justified with the combined pack sizes and natural production. The long-lasting bones are a great value, and there is greater confidence in the product with the GSFI that comes with them.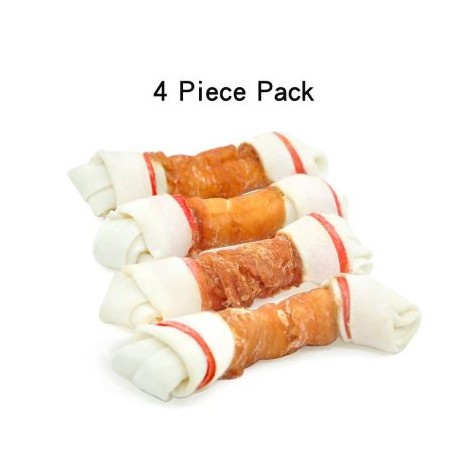 The Pet Cuisine puppy treats are designed as training snacks and are readily available in a variety of pack sizes, staring at a small 9 oz bag and small 12 oz bag, to a medium 3.5 bag, medium 9 oz bag and 12 oz bag, and a large 12 oz bag so most sized dogs are catered for. They boast being a useful training for puppies, right through to becoming a loved treat for the growing dog. The treats offer a reduction in tartar build, help to clean teeth and strengthen gums and jaws with effective chewing techniques.
Natural
The ingredients boast being 100% natural which includes high protein chicken and premium rawhide, and are long-lasting, are produced to be low in fat and easily digested which gives peace of mind when giving dogs a well-earned treat.
Quality
The dog treat production process is approved by both the FDA and the USDA, and they also have the benefit of being completely free from all additives, preservatives, artificial colors or artificial flavors. This gives greater confidence in giving healthier treats.
Cost and value
The quality of the ingredients, combined with the added peace of mind of the healthier, natural production process gives these Pet Cuisine dog treats great balance when considering both cost and value. The convenient multi-sized packs and weights add to the overall value.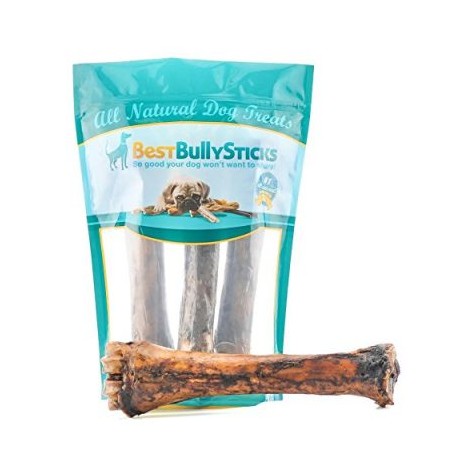 These Best Bully Sticks are jumbo shin bones boast being 100% natural and offer a source of calcium as a bonus which is good for maintenance of healthy bones and teeth, and also helps to clean teeth and gums. They are available in convenient packs of three and are suitable for medium to large dogs, their extra large size is also a great bonus for aggressive chewers and encourages jaw muscles through the natural action of harsh chewing.
Tasty
The shin bones are slow cooked and smoked which keeps in all the meaty nutrients and real flavor to keep even the fussiest dogs happy. The preservation of goodness provides not only a healthy and tasty snack, but it is also a great way to treat good behavior.
Sources
The cattle that these shin bones come from benefit from being free range and are free to graze on grass. This encourages a healthier animal and bones and this is beneficial for producing a good healthy bone full of natural nutrients and goodness.
Cost and value
The natural grazing and free-range animals this product is made from, give it a real boost in terms of value for the comparative cost. The oral health benefits it offers provides an extra bonus and the sheer size and easily digestible shin bones ensure good value for money.

6

. Jack & Pup Premium Grade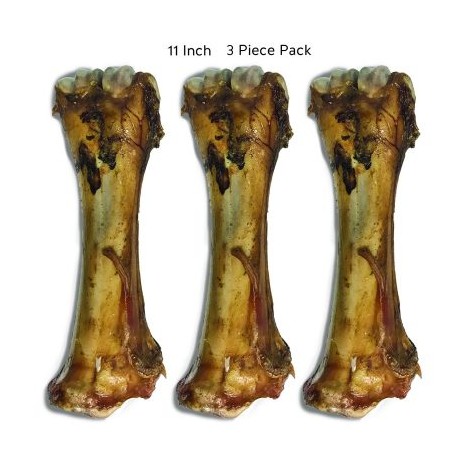 These Jack & Pup premium grade shin bones are roasted and then smoked with meat and tendons to provide a meaty treat. They benefit from being filled with marrow which has natural calcium and boasts being suitable for dogs who are aggressive chewers. Offering naturally sourced shin from free-range cattle, these premium grade shin bones have essential nutrients within them including omega 3, vitamins and minerals like calcium and iron. They proffer to increase energy and help keep a balanced immune system.
Safe
The shin bones are guaranteed to be completely safe for digestion and boast having no side effects after consumption. These treats offer a healthy, all natural snack that combines goodness and a single protein filled ingredient that will give hours of healthy chewing.
Healthy
The Jack & Paws premium grade shin bones encourage chewing which in turn helps to keep teeth, gums, and breath healthy. It boasts helping remove tartar build up and reduces the possibility of gum problems. It is also boosted by the chewing action that strengthens jaws and gums.
Cost and Value
When taking into consideration the overall cost and value of this product, it is easily well balanced and this is no more evident than in the pack quantity of three. The safety of the bones combined with the added health-related benefits ensures this is great value for money.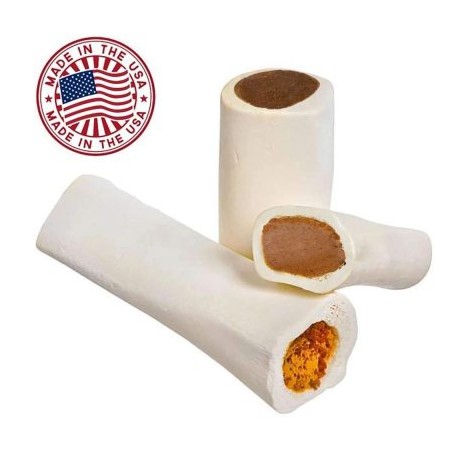 These Pawstruck filled dog bones have a great range of filling flavors including peanut butter, cheese, and bacon. They boast being USA made and are stuffed femur bones that offer a helping hand with oral care and reduce tartar and plaque build-up; as well as exercising jaws and keeping teeth clean. Each pack has a white five to six-inch femur bone filled with a variety of fillings to keep most dogs interest for a longer lasting and more satisfying chew.
Quality
The cattle used for the manufacture are free range and benefit from being grass fed for quality assurance, and this is backed up with approval from both the FDA and the USDA; a further approved inspectorate is from an outside third party.
Roasting
The production process includes the slow roasting of American white bones that helps to keep the full meat flavor locked inside, and proffers to be long-lasting and satisfying for dogs. The added bonus of improved dental care is a boost for these bones.
Cost and value
The quality assurance gained with the purchase of these Pawstruck filled dog bones, combined with the flavor variety that comes in each pack, readily qualifies and reflects great value for money and confidence in both cost and product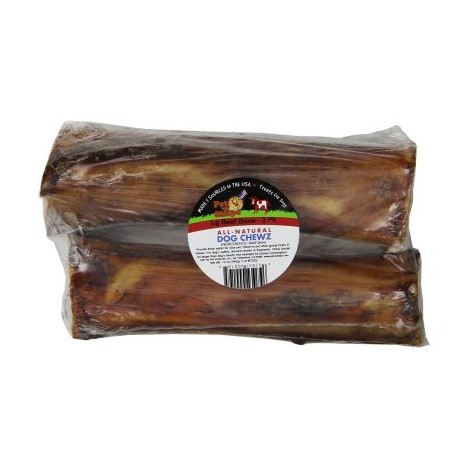 These dog chews boast being an all natural product that contains no wheat, corn or soy and also has no additives, preservatives or artificial colors. They are produced for medium to large dogs who are aggressive chewers and made to last. They are both made and sourced in the USA and make the taste better by leaving more meat on the bone for further enjoyment. Being of ample size; at 3 x 6 x 9 inches they weigh in at a wholesome 2.35 lbs per bone.
Real
The Pet 'n' Shape beef bones are real bones that are sourced from free range, grass fed cattle to ensure a heartier snack for the bigger dog. The chewy treat is available in a good variety of different sized packs to make it more economical to buy.
Healthy
The chews are produced by slow roasting techniques that aim to retain the flavor and goodness of the product, and this helps to enable easier digestion so reducing the possibility of blocking and unpleasant stomach problems.
Cost and value
These healthy and large dog bone chews are well equalized on both the overall value and the cost, the size of the individual bones gives plenty of long-lasting treat for aggressive chewers. The quality of the product and the lack of additives gives great value for money.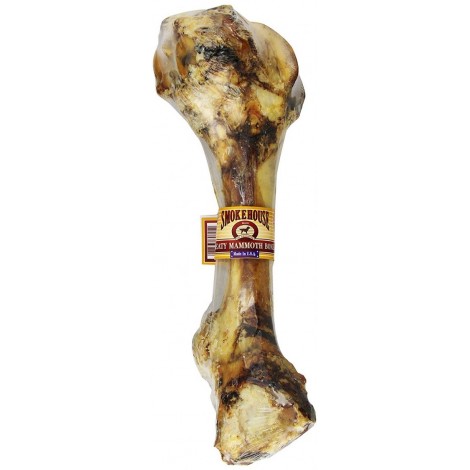 These 100% USA made smokehouse treats are completely all natural beef bone, it is perfectly slow roasted and smoked to increase the rich meaty flavor that dogs will adore. They are long lasting and are guaranteed to keep even the biggest dog happy. They weigh in at a healthy 2.95 lbs each and measure 6 x 15 x 6 inches so there is plenty of bone to get stuck into. The smokehouse treats are full of natural nutrients that will compliment any diet.
Tasty
The treats are designed for moderate to aggressive chewers and there is plenty of extra 'bits' to keep even a fussy dog happy. There is sufficient meat, cartilage, and fat to offer a well-balanced treat that is ideal for a short period daily.
Healthy
The natural ingredients in the bone are not lost in the roasting process and the flavor is enticing and irresistible. The motion from chewing boasts the ability to strengthen jaw muscles and reduce both plaque and tartar buildup that can lead to gum disease and other oral health problems.
Cost and value
When taking into consideration the long lasting bonus that these Smokehouse treats to offer, and combine that with the nutrients roasted in them, the benefits of both cost and value are well balanced and the treats really are a good value for money.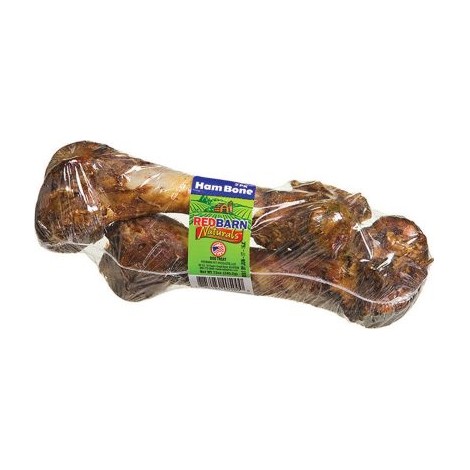 This Redbarn Ham Bone is natural and benefits oral health by encouraging strengthening jaw muscles and helping to reduce tartar build up. The pork femur bone is lightly smoked and is produced with smaller dog breeds in mind. The hard, real bone helps to clean teeth and keep gums in good shape, and the size is particularly recommended for teething puppies who are constantly chewing the leg of the priceless table, it also helps to satisfy a dog's natural tendency towards chewing.
Handy
The handy bone size makes giving a well deserved and tasty treat that little bit easier. They are available in two convenient sizes for families of all sizes and they are handy enough to fit into a bag so good behavior can be rewarded on any trip.
Tasty
The lightly smoked pork is complimented with tasty bone marrow for extra enjoyment. The nutrients provided with both the marrow and the pork give a regular treat that something special. They are individually shrink wrapped to maintain optimum freshness.
Cost and Value
Overall, the value of these Redbarn Ham Bones, when compared with the cost, is equally great and is money well spent. The different sizes make them economical to buy and the freshness provided by the shrink wrapping is a bonus.

Subscribe to our Newsletter