Best Dog Carriers Reviewed & Rated for Quality
last updated:
Oct 15, 2019
It can be tough to travel with pets and service animals, especially when going long distances. Air travel, in particular, can be an unpleasant experience for our little furry loved ones. Dog owners understand how important it is to provide your pet with the best equipment for a happy and safe trip. In these cases, we suggest that you get a dog carrier.
What follows is a list of ten of the best traveling pet carriers, suitable for dogs, cats, and other small to medium-sized pets. Most of them have been approved for use on major airlines, and they all have soft, cozy interiors that are perfect for letting your little buddy stretch out, nap, and be close to you while you travel together.
In a Hurry? The test winner after 16 hrs of research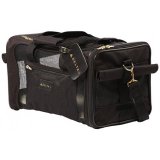 Sherpa Deluxe Delta
Why is it better?
Flexible spring-frame design won't buckle under compression
Easy to check on your pet or give them privacy to nap, as needed
Priced to fit your travel budget
In a
Hurry? Editors choice: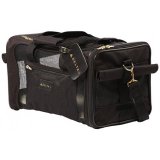 Test Winner: Sherpa Deluxe Delta

18
Researched Sources
16k
Total Readers
67
Reviews Considered
16
Hours Researching
51
Products Evaluated
Comfort
Durability
Breathability
Motion Control
Portability
By Default
10 Best Dog Carriers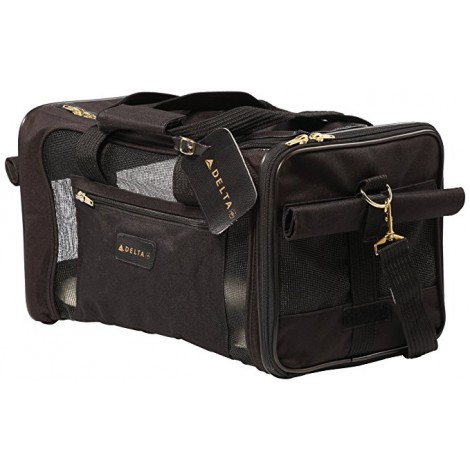 Flexible spring-frame design won't buckle under compression
Easy to check on your pet or give them privacy to nap, as needed
Priced to fit your travel budget
Looks a lot like ordinary luggage, which may be confusing
Limited color selection
The Sherpa Deluxe comes with the approval of Delta Airlines, and it's by far the most widely Amazon-reviewed product of the ten listed here. The Sherpa brand is much beloved for its quality products, and the Sherpa Deluxe is no exception: it's the best value on this list!
Patented Spring-Frame Design
The Sherpa Deluxe is designed with a spring wire frame that can be compressed several inches while remaining flexible - perfect for placing your furry little buddy under the seat in front of you while you travel!
Convenience and Comfort
With plenty of carrying straps, privacy flaps, and mesh screens for ventilation, this is a versatile, convenient pet carrier that will keep your pal in comfort and security. Additionally, the Sherpa Deluxe is designed to look like an ordinary carry-on bag, so you can coordinate it with the rest of your luggage set.
Cost and Value
In addition to being a highly rated, well-designed product, Sherpa Deluxe is also the most inexpensive item on this list. It's a super value for its cost, making it an excellent buy and a great addition to your travel or vacation gear.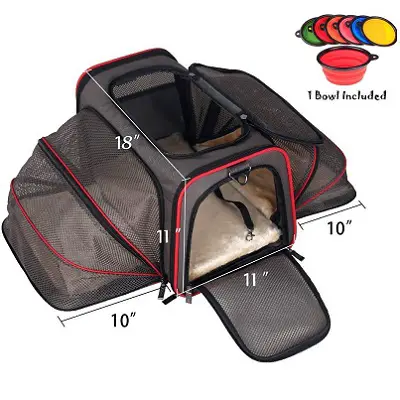 Made from eco-friendly material
Dual entry design
Features fleece bedding
Lightweight and easy to carry
Some complaints about construction
Dye may run
The Premium Airline Approved Pet Carrier by Petpeppy.com is ideal if you travel a lot by plane, train or automobile. Made of high-quality materials, it is designed for continues and long-term use. The plush bedding is removable so that you can wash it. What's more, this dog carry provides comfort not only for your pet but for you as well. It features a padded shoulder strap that makes it easy to carry without putting too much pressure on your back.
Airline Approved
Being an airline approved piece on equipment, you won't face any difficult incident while traveling. It has been tested to ensure that your dog will be safe during the whole journey.
Roof Ventilation
Because it's really important that the pet has enough air during a journey and doesn't overheat, this item features roof ventilation. This also allows light to enter and keep your pet at ease.
Cost and Value
This pet carrier it's a real bargain. It comes with a pet bowl and has extra storage space for toys. Therefore, your furry friend won't miss its favorite toys.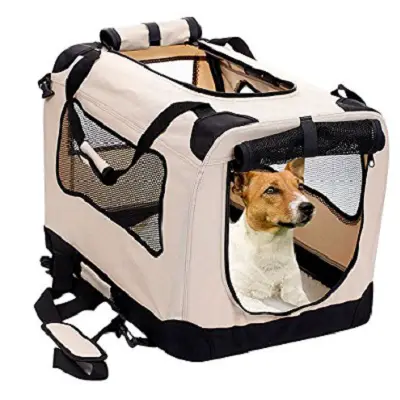 Tubing made of strong steel
Water resistant fabric covering
Lots of ventilation
Durable front zipper
Mesh may rip
Some complaints about the material
This foldable dog carrier is one of the best options you can choose from. It is perfect for bringing your pet along to different activities you don't want to exclude them from. The steel tubing provides them with a strong structure and a secure experience. This design allows you to fold and unfold it in a few second seconds. Therefore, you can easily store it when not needed. What's even better, the fabric cover and the mesh windows make you sure that the dog has plenty of air and doesn't overheat.
Washable Cover
A big plus for buying the 2Pet Foldable Crate is its removable Oxford 600D cover. So, if the fabric cover gets dirty, you don't have to worry. You can clean it by using the washing machine and it won't lose its qualities.
Mesh Windows
This dog carrier is constructed with mesh panel windows that permit your pet to see through. What's more, these windows are ideal for good ventilation. These features can make a huge difference if your pet is afraid of closed spaces.
Cost and Value
To get you 100% sure of the quality of this product, the producer offers a 1-year warranty. Moreover, if you're a pet lover, you'll really appreciate that a percentage of the money you pay will go to pet shelters and charities. Don't hesitate and make another dog smile!
4

. Snoozer Wheel-Around 4-in-1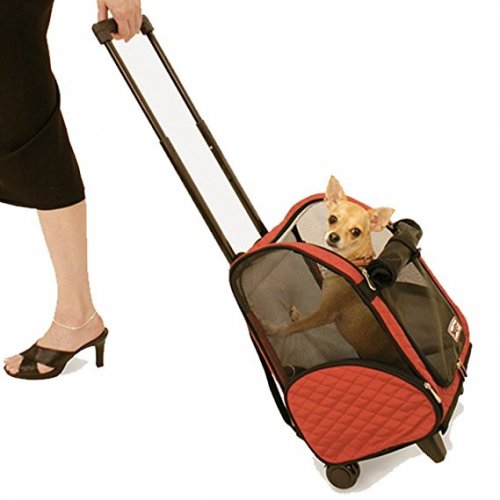 Easy To Transport Furry Friends
Rolling Carrier so Not Required to Carry
Breathable Mesh for Constant Airflow
Comfortable for Pets
Zippers May Get Stuck
Difficult to Clean Mesh with Accidents
The Snoozer Roll-Around is a handy alternative to carrying your pet in your arms or on your shoulder. Just place your animal companion inside the carrier, then extend the main handle, and you can roll your buddy along with you in the airport, at the train station, or on the go to your next layover!
Highly Mobile Rolling Carrier
This pet carrier is distinctive in its rolling suitcase-style design. You can extend the suitcase handle to tilt and roll the carrier along behind you when you're on the move to catch your flight or your train or what have you, making it much easier to move through the airport or the train station on your way to make your next connection. A carry-on item should be easy to carry, and the Snoozer Roll-Around fits the bill.
Perfect For Keeping an Eye on Your Pet
It has wide mesh windows to give your little buddy plenty of ventilation and to keep an eye on each other while you travel. Comfy and open in design, the Snoozer Roll-Around will give you peace of mind about how your animal companion is faring on your journey.
Cost and Value
This product carries the highest price point on this list, but its versatile and innovative design ensure that you receive a quality product for the cost.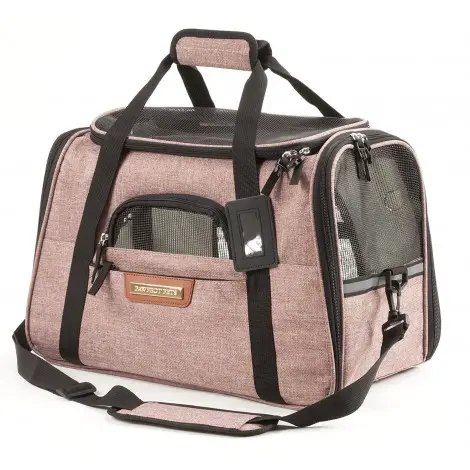 Three quick-release openings
Low in cost
Roomy interior for mature pets
Frame is not very firm; can lose its shape when carried
Shoulder strap is thin, which can cause the carrier to "flip" or twist
Some of the carriers on this list are intended for the tiniest of pets, like rodents, toy dog breeds, and juvenile animals, but not Pawfect Pets! This design is great for your adult pet, especially for house cats and smaller dogs.
Big and Roomy
This carrier has the distinction of being one of the largest pet carriers permitted on most commercial airlines, including JetBlue, Southwest, and American Airlines. It's easy to get your pet in and out of this carrier, making it ideal for journeys with multiple layovers.
Convenience in Design
It has a duffel-bag shape, mesh windows front and back, and compartments for keeping pet supplies close to hand. Three quick-release openings ensure that you can reach your animal companion when you need to, or just when they need a little break. You can give them a treat, clean up any accidents as needed, or give them pets as requested, all without having to take them out of the carrier.
Cost and Value
Inexpensive, durable, and with one of the largest interior compartments of any under-seat pet carrier, the Pawfect Pets carrier is one of the best values for its cost on this list. Consider it a "starter" travel carrier that can last you a long time to come.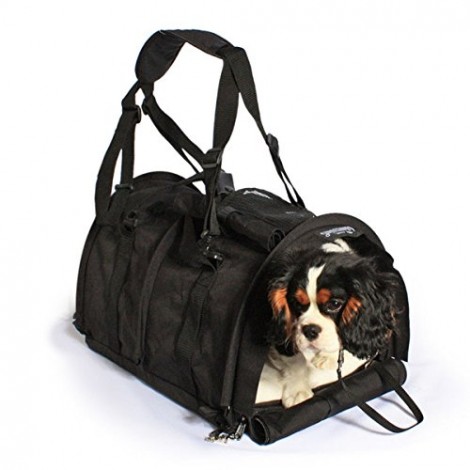 Collapses for convenient storage
Adjustable height setting
Permitted onboard most commercial airlines
Significantly more expensive than carriers of comparable size
Narrow design may make it difficult for some pets to turn around
The Sturdibag Soft Side is a convenient, easy to use carrier that's equally equipped for the car, the train, or a commercial flight. It's a snap to adjust the straps and carry it with you when it's time for you to make your next connection or you reach your destination.
Versatile Design
This duffel-bag style carrier comes with a four-point carrying strap, soft polymer and mesh materials, and a compact, comfortable size that can fit under an airline or train seat as needed. Its simple shape and unassuming design make it a pleasant addition to your luggage set, especially if you want a carrier that doesn't "look like" a pet carrier.
Large and Accommodating
With an adjustable height setting, Sturdibag Pet Carrier is suitable for pets and animal companions of varying sizes; it comes with the manufacturer's assurance that this is the largest pet carrier allowed on most commercial flights.
Cost and Value
While this carrier comes with a higher price point than most of the other items on this list, its top quality components and high Amazon rating make it a worthy purchase.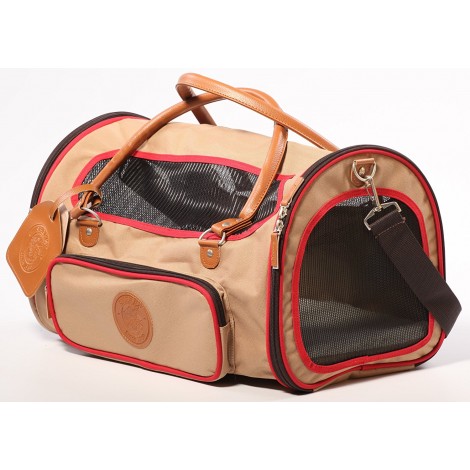 Stylish Pet Carriers
Has Breathable Material Making the Stay Cool for Your Pets
Comfortable Pad for long Term Traveling
Leather Padded Handles for Comfort
With a name that's highly regarded among pet owners, the Sherpa Element carrier is a stylish, inexpensive, and high-quality product. This carrier will last for many trips to come, and your pet will appreciate the nice new napping spot when you disembark.
Good for Most Pet Sizes
It's suitable for pets up to 20 lbs., making it great for the largest of small pets. Weight alone is not a sufficiently accurate metric of a pet's size, so as always, be sure to check the carrier's dimensions (and those of your pet!) before purchase.
Aesthetically Pleasing Design
The Element resembles a handbag more than a carrier, with several small mesh windows and comfortable leather hand straps in addition to a standard shoulder strap. Give your animal companion a comfy *and* stylish new digs to hang out in, while you appreciate the comfort and beauty of a carrier with a little bit more of a look going on.
Cost and Value
The Sherpa Element carrier is inexpensive, comes from a trusted brand, and is one of the most stylish products on this list. It will, of course, look like a pet carrier when it's got your fuzzy little buddy in it, but compared to these other carriers, it's pleasant and subtle in design and appearance.


Large mesh windows
Expandable compartments
Fits animals up to 14 lbs
One of the smallest carriers available
Only comes in gray
The Jet Sitter Expandable Pet Carrier provides lots of flexibility in design, allowing you to customize it for your animal companion's space and comfort requirements. It's great for exotic small pets, too, so if you've been searching for something special for your distinctive or unique pet, give Jet Sitter Expandable a try!
Roomy Interior and Soft Lining
This soft, cozy pet carrier has plenty of mesh windows for ventilation, plus two expandable, mesh "wings" that give your animal companion plenty of room to stretch out and say hi! It comes TSA-approved and is suitable for most commercial airlines, and its distinctive yet flexible shape gives you plenty of options once your pet is settled in for the trip.
Intended for Small Animals
Ideal for the smallest pets, including puppies, kittens, guinea pigs, rabbits, and hamsters. The Jet Sitter Expandable has an opening on the top for easy access to your buddy, and it's easy to hook it up to seat belts and luggage racks as needed.
Cost and Value
With one of the lower price-points of the products on this list, the Jet Sitter is an inexpensive, highly rated carrier that's convenient and compatible for plenty of travel situations. If you have a young pet or a small animal that's already reached its diminutive adult size, Jet Sitter is the carrier for you!
9

. Natuvalle 6-in-1 Backpack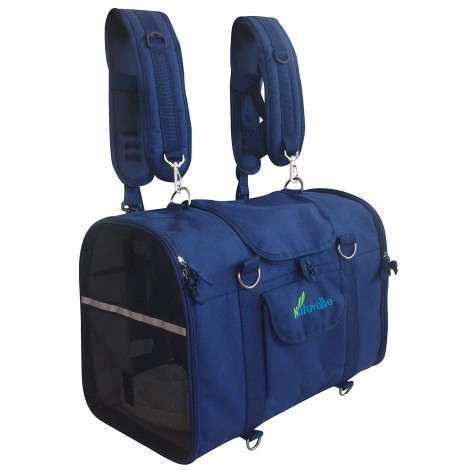 Comfort Straps for Carrying
Breathable Material
Comfortable for Pets
Easy to Clean up Accidents
Heavier Material adding Weight
An excellent mobile carrier, the Natuvalle 6-in-1 has two shoulder straps so you can bring your little buddy with you as easily as possible - instead of getting sore shoulders and neck, you'll be able to evenly distribute the weight of your animal and her carrier. Once you get where you need to go, you have a comfy space for her to lie down, relax, and join you on your journey!
Convenient, Versatile Design
This compact, convenient travel carrier for pets comes with two thick, well-padded shoulder straps, wide mesh windows, and plenty of compartments for storing treats, cleanup supplies, and other useful things. Attach and detach the straps as you prefer, ensuring that you can transport the carrier in maximum comfort.
Keep Your Little Friend Close
Ideal in size and layout for smaller pets, including toy dogs, small cats, and various exotic pets, Natuvalle 6-in-1 is a cozy comfy space for your buddy to hang out and relax while you travel, and it's easy to keep her close by with this carrier's flexible frame and cushy interior, plus two large, mesh ventilation windows to keep things cool.
Cost and Value
While this carrier backpack is one of the more expensive products on the list, its high-quality components and specialized, Small-pet-friendly design make it an excellent value for the right pet. Make sure to double check the dimensions of this design before ordering, however - it's definitely on the smaller side!
10

. Smiling Paws 4 Way Expandable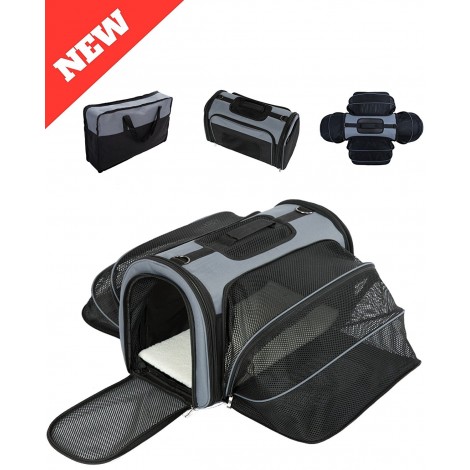 Plenty of light and ventilation for the interior
Convenient for cleaning and storage
Spacious, expandable interior
Somewhat prohibitive price-point
May be too many windows for pets who need privacy
The Smiling Paws 4-Way Expandable makes sure your buddy has room to stretch and change positions as needed: unlike other carriers, this design has expanding compartments on all four sides, making it unmatched in versatility. Smaller pets will have room to explore, and bigger animals using this carrier will have enough space to stretch out and turn around - an essential feature for long trips.
Super Adjustable
This pet carrier comes with multiple, expandable mesh compartments, allowing for plenty of ventilation and lots of extra room for your animal companion. Its carrying rings and strap will secure your pet in her carrier in the car, or for taking her on the go, in addition to ensuring she's safe and comfortable on the train or on most commercial airlines.
Once you get where you're going, you can take your pet out of the carrier without having to take them off-leash at any time.
Cozy, Soft, and Easy to Clean
Its machine-washable, fleece interior makes it a very cozy, comfortable place to nap, and it's easy to remove and clean at the end of your journey. You can remove the fleece lining and toss it in the washing machine, or hand-wash it if you have the time.
Cost and Value
While this pet carrier is one of the more expensive ones on the list, its high-quality materials and versatile design make it well worth the cost.
Criteria Used for Evaluation

Comfort
Above all, you want to ensure that your pet is comfortable inside the carrier you've chosen, and will be able to remain inside it for long periods of time.  Most airlines require you to have a carrier with at least two mesh ventilation windows, plus its bottom surface should be waterproof to ensure no accidents make their way to the floor of the cabin, and most of all, you must provide a carrier that can fit your pet's entire body comfortably and easily. Your pet's comfort depends on a number of factors: ventilation of air and heat, spaciousness, and how soft and flexible the carrier's materials are.

Breathability
Ventilation involves both a comfortable interior temperature and the flow of fresh air through the carrier. This is usually provided by mesh ventilation openings, which also admit light. Depending on your pet's napping habits and how they react to enclosed spaces, you may want to ensure that you can keep an eye on each other during the whole trip; on the other hand, a pet that needs a sense of security, especially older animals or the very young, may prefer a minimum of viewing windows, so as to nap and relax without being observed too much.

Bottom Line
Whatever your little-loved one needs most to be comfortable, be it soft and cushioned interior materials, plenty of room to stretch out and relax, or lots of convenient mesh windows for both ventilation and so she can check up on you, you have plenty of options. Enjoy your next trip with the satisfaction of knowing your animal companion is safe, happy, and comfortable in their new favorite travel carrier!
Expert Interviews & Opinions
Most Important Criteria
(According to our experts opinion)
Experts Opinion
Editors Opinion
Users Opinion
By Default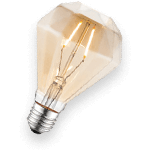 Know your airlines required measurements
Commercial airlines have a variety of requirements for pet carriers: size measurements, the number of ventilation windows, the placement of openings, even using zippers instead of snap buttons. Once you have checked your airline's carrier measurements, you should weigh and measure the pet or other animal companion you will be bringing with you on your travels. Correct measurement ensures that your pet will have enough space inside the carrier, as well as ensuring that you are able to acquire a carrier that meets your airline's safety standards and volume/weight requirements.
How to Measure Your Pet For a Carrier
For cats, you need to perform two measurements: chest to haunches, and floor to shoulder (when standing). This ensures that your cat will have enough room to lie down and ensure that, even though they aren't going to be doing much walking inside the carrier, they'll be able to move around and change position without any trouble. Your cat's standing shoulder height is especially important in a hard-top carrier when the amount of available interior space is strictly non-negotiable.
For dogs, you will need to perform four measurements:
standing height, based on the tips of your dog's ears (or the top of their head, if their ears are not erect)
lateral head width, measured from ear to ear
foreleg length, measured from the base of the paw to the knee joint
body length, measured from nose to tail when your dog is standing or sitting with head and shoulders facing forward
These measurements are important to ensure that your dog has sufficient room inside the carrier for stretching out, sleeping, sitting upright, or changing position. Leaving enough interior vertical clearance for your dog's ears will give them that important extra bit of comfort, and the longer the trip, the more important it is to be comfortable, the better to relax and not stress during the journey.
If you have a different sort of pet than either of these, you can still use the above suggestions as a rough guide, but with every pet, be sure to weigh them to get a rough idea of what carrier might be best. An animal's weight-to-size ratio will vary considerably based on its species, hair/fur length, and age, so it is far from an absolute metric. The more familiar you become with pet carriers, the easier it will become to judge the rough weight-to-size ratio of your pet and find the right carrier.
Other Factors to Consider

Size
The spaciousness of a carrier is determined by two main factors: its roof height and its area in square inches. Different designs will have their own distinct "floor plans" – varying the basic shape, the number of corridors, etc. – which means you have options for different sizes of animals, the way your animal likes to relax, and of course there are options for how easily you and your pet can "visit" each other, via see-through mesh windows and at least one airline-mandated quick release opening in the top of the carrier.

Materials
The carrier's materials require consideration, not only in terms of a comfortable interior but the strength and flexibility of the exterior structure. Some carriers are firm enough that they must be placed under a seat with sufficient clearance, but some designs come with a flexible frame that can withstand a degree of compression while retaining its shape. Nylon and polyester are two of the most common, and comparable, materials in soft-shape carriers, though it's important to note: nylon is considered to be a little more durable, while polyester is supposed to dry faster, but both synthetic fabrics are wrinkle-, stretch-, and shrink-resistant.
Hard-side carriers are generally made of plastic, and as such are firm without being brittle, and are easier to clean than fabric. The downsides of a hard-sided carrier are its inflexibility and its smaller size requirements, the latter being necessary to ensure clearance between the bottom of the seat in front of you and the top of the carrier you place beneath it.
Frequently Asked Questions
q:

What is the maximum carrier size permitted on commercial airlines?

a:

While these sizes and dimensions can vary based on your carrier, there are a couple of general stipulations you can use as a guide - for soft-sided carriers, 18''(L) x 11''(W) x 11'' (H), and for hard-sided carriers, 17.5'' (L) x 12'' (W) x 7.5'' (H). For the most up-to-date requirements, contact your airline.
q:

What other carrier stipulations do I need to worry about for air travel?

a:

In general, all pet carriers must have the following features to be acceptable - the carrier must have a waterproof bottom side, at least two sides must have mesh ventilation windows, a quick-release exit panel, it must close with zippers, not snaps (some airlines may offer zipper locks as an additional security measure), and your pet must be entirely enclosed by the carrier, so no heads or paws or tails sticking out!
q:

Is my animal considered a carry-on item?

a:

 Yes, and unless your animal is an Emotional Support Animal, you will need to pay a pet carry-on fee. This fee can be expensive - for example, Delta Airlines charges US$125 to bring your dog, cat, or household bird on as a carry-on for domestic flights, so be forewarned. additionally, American Airlines will limit the number of pet carriers aboard a single flight, so be sure to contact your airline in advance to reserve a spot for your companion. Lastly, the temperature and weather conditions can affect whether you can bring a pet on board.
q:

Are there any types or breeds of animals that aren't allowed to fly?

a:

Depending on your airline, yes. Both American Airlines and Delta have a policy against brachycephalic ("snub-nosed") for cats and dogs, including pugs, American bulldogs, and (for cats) Persians and Burmese. This policy is based on concerns that these breeds are not as resistant to travel stress and overheating, spurred by the unfortunate passing of a French bulldog on a United Airlines flight in March of 2018. Very young animals, as well as older pets, are also at higher risk of experiencing significant travel stress, and you should consider other travel options before putting such animals on a plane.
q:

Where do I get a Certificate of Veterinary Inspection, also known as a health certificate?

a:

In the event that your airline requires you to furnish a health certificate for your carry-on animal, you will need to have your animal inspected by a vet. Specifically, the goal is to ensure that your dog is in generally good health, and is not carrying any diseases that can spread to humans or to other animals while on board. Check out the USDA website to find a federally certified veterinarian in your area.
q:

What do I need to bring an Emotional Support Animal (ESA) onboard?

a:

An Emotional Support Animal is an animal companion that provides comfort to its owner or is in some other way beneficial. If you want to bring such an animal aboard, whether to help you on the flight or to help you at your destination, consider officially declaring your animal companion an ESA. To do so,  you will need an ESA letter from your doctor, explaining that you require an animal companion for emotional support or for other therapeutic reasons. When it's time to travel, it's best to have an ESA letter from within the last few months to ensure that your airline is aware that this is an ongoing necessity for your traveling comfort. Be sure to provide the airline with proof of your ESA letter at least two days ahead of your flight. Be sure to check in advance whether an electronic copy of the letter is sufficient, which you can bring up on your phone when you board, saving yourself a whole lot of hassle.
q:

Which is better: a hard-sided carrier or a soft-side one?

a:

 It all comes down to preference, both yours and that of your pet. Flexible, soft-sided carriers generally are permitted to be several inches taller than their hard-sided counterparts, making them a great choice when your animal needs lots of extra room or is on the larger side. Hard-sided carriers can be easier to carry from place to place, as they retain their shape under pressure, but soft-sided carriers generally offer more and customizable ways to carry them. If you know you're going to be using a rolling luggage cart or another, similar convenience, a hard-sided carrier can be great for making your pet feel safe and secure while moving. If you are going to be carrying your pet yourself when you disembark, a soft-sided carrier will be lighter and easier to carry, keeping your animal close and comfortable and giving you that much more peace of mind.
q:

How much ventilation is necessary for the carrier I use?

a:

Most airlines stipulate that you must have two or more mesh vents in your carrier, but if you have a larger pet, one with long and/or thick fur or hair, or you're traveling in warm weather, additional vents can help your little buddy stay comfortable. Keep in mind that if the local temperature in the cabin reaches or exceeds 85*F, you will likely not be able to bring your pet aboard at all, per most airlines' pet safety regulations.
Subscribe to our Newsletter