Best Cycling Tights Reviewed & Rated For Quality
In a Hurry? Editors choice: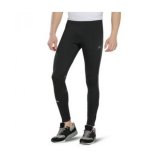 Test Winner: Baleaf Thermal

Cycling is a great way to find your freedom or to get the adrenalin rush from a longer ride or race; you are probably well used to inclement weather. If you've ridden in the cooler months or are planning to, then a good pair of cycling tights may be on your purchase to-do list. When you ride to work you don't want to be turning up to your destination with frostbite and solid kneecaps from the cold, and if you seriously ride and/or race then you will know the value and importance of
keeping yourself warm
and protected in the winter. Not only that, these
tights
may help enhance your performance. Here are 10 different pairs of cycling tights to consider for your next ride.
Standout Picks
Criteria Used for Evaluation
Use
To build on the basics for your search for the best cycling tights; you may want to peruse through these few features that can play an important part in getting it right. For starters, you should think about what conditions you will be riding in, and the specific purpose of your ride. This may sound too simplistic but in reality; it can really make a difference.
For commuting, for instance, you may need to consider the water-proofing the tights can offer to make sure you don't get a soaking on the way to work. Wind-proofing should also be a factor for you to think about; wind chill can seriously make the temperature plummet – especially when you are riding. Thermal properties should also be considered as we have noted, our muscles do not work as well as we would like them to when they get cold.
If you are a long-distance rider or take part in regular runs or indeed for the racers out there; the variety of cycling tights is quite varied; and you need to make sure the ones you have your eye on, won't affect your performance or over-all comfort. It can literally make the difference between an unsuccessful or successful ride.
Fit
The fit of your cycling legwear will vary as will your requirements, if you are looking for a quick fix on a short ride or commute, you can readily find simple water-proof and wind-proof trousers that pull up over your everyday wear. These are very practical if you are on your way to work or engagement and will enable a quick removal when you arrive.
For legwear that enhances your comfort during long runs or races a performance led pair of cycling tights are the best way to start. These are close-fitting and have the advantage of allowing your free movement without restricting you. They are offered in different lengths but for the maximum protection; they go all the way to the ankle and provide full coverage in cooler conditions.
Style
Fundamentally there are two generally available styles of cycling tights that can serve different preferences and requirements. The first is a simple tight design that fits from the waist to the ankle giving you superior coverage and allowing you free movement when you are cycling in the colder months or in the wind and rain.
An alternative available is a bibbed cycling tight set that offers an all in one style fitting that can be more comfortable due to the loss of the waistband, they are also efficient at keeping out unwelcome drafts that can instantly lower your core temperature. These bibbed cycling tights are practical and functional, but one significant negative feature of this style is the mild inconvenience you may encounter when nature calls and you need a bathroom break.
Weather Resistance
Weather specific types for different seasons may sound slightly extreme but you are better to take a little extra time planning if you want ultimate comfort. Warmer weather tights are produced using thinner materials such as simple Lycra and can even offer some UV protection, but you would be best advised to check the ratings on the product and use sun lotion as required. Also available are water-proof cycling tights that will help you to retain body heat that can be lost in wet conditions through wind-chill.
For an improved cooling feature; there are also tights that are three-quarters in length. These are between shorts length and full leg length and provide an allowance for air to flow nest to the skin for a better cooling effect. Next; with the progression of the cooler seasons and winter, there are thicker fleece lined cycling tights that offer better protection against the cold and wind-chill factor that can slow you down and make your ride uncomfortable. The basic material is thicker than warmer weather tights and often include the use of technological advantages such as wind-stopper and air-block fabrics.
Comfort
Another consideration for you to peruse is the question of padded cycling tights. The level of your riding and how long you intend to ride for may have a bearing on your decision on what type to buy. Padding comes in a variety of thicknesses and offer different levels of comfort and help you to avoid painful chafing and soreness. It may be worth remembering that your bottom is the biggest point of contact when you are riding so you are well-advised to look after it.
You can buy cycling tights pad free but if you are buying some with it included a few basic pointers will put you on the right track. Density is a bigger factor than how squishy the padding is, the squishier and softer the chamois – the faster the thickness will deteriorate and a quicker way to a very uncomfortable ride. And another thing to consider is getting a pad that is breathable and anti-microbial; this will reduce moisture build-up and create less friction when you are eating miles.
Contouring of the pad is also relevant because different gender-specific chamois will have different areas of contouring and padding thickness. The position you ride in as well should be taken into account; for example if you are a hardy racer and assume an aerodynamic stance, or if you are leisurely sit up and ride type – each position can make a difference how your padding works and if you consider these few basics before you buy; you should be well on the way to a comfortable ride.
10 Best Cycling Tights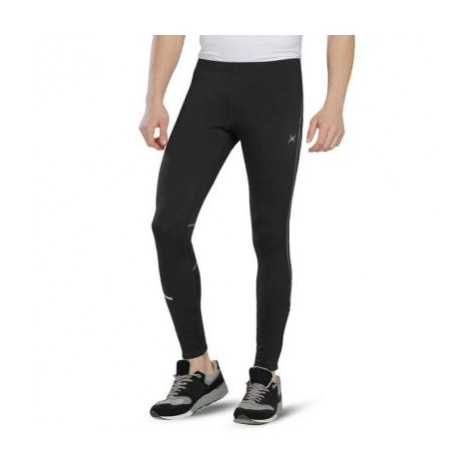 These thermal tights are offered by Baleaf and are produced using ninety percent polyester and ten percent spandex for stretchy comfortable wear that will serve well during the cooler and colder months. They benefit from being breathable and have the wicking qualities that will prolong dryness and warmth for longer periods. The versatile fit is suitable for a variety of activities to keep in welcome warmth and for added protection.
Soft Inner
The inside of these cycling tights is a soft fleece that not adds to overall comfort but maintains body heat for when the elements are biting. The reduction in moisture and sweat retention increase the possible time outside in the winter.
Practical Features
The Baleaf thermal cycling tights are fitted with handy leg zippers for maximum ease when putting on and removing, and the addition of simple but functional reflective elements mean an increased safety aspect for lower light conditions.
Cost and Value
The practicality, functionality, and versatility offered with these cycling tights give a great balance between both cost and value, combined with the fleece lining and wicking qualities – these are great overall value for money.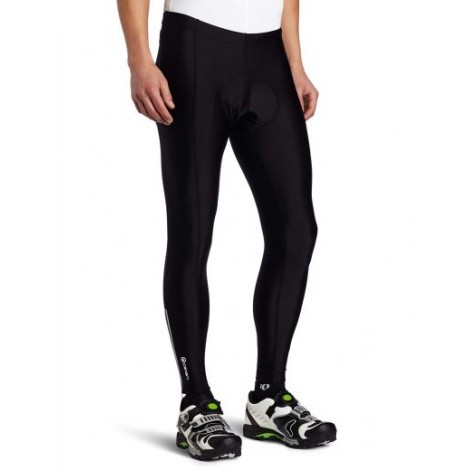 These pro gel cycling tights are produced using eighty-two percent polyester and eighteen percent spandex for comfortable, unrestricted use during riding. They boast being lightweight and professional in design and fit and offer compression to improve circulation during exercise. They are sleek and reduce wind chill and moisture build-up for extra comfort, they are available in a good range of sizes suitable for everybody who wants a professional edge on their cycling.
Comfort Features
The cycling tights have a six-panel gel pad that gives ultimate comfort where it's needed most, reducing stress on pressure points and preventing painful chaffing and sores from prolonged periods on the saddle.
Practical Additions
These tights have ankle zippers for ease putting on and removing; that have reflective elements for improved safety in changing light conditions and have a soft silicone grip around the ankle to prevent uncomfortable riding and twisting.
Cost and Value
When considering the professional features and lightweight design of these cycling tights; and adding the functional ankle zippers and reflectors too – both the balance of cost and value is reflected well in the quality and the price.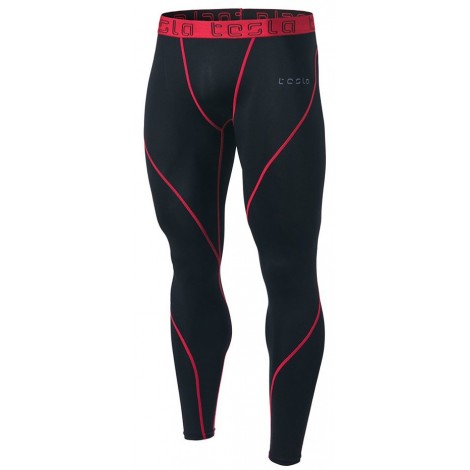 These compression tights are available in a huge variety of striking contrasting colors, they are produced using eighty-seven percent polyester and thirteen percent spandex for ultimate comfort during a variety of sporting activities as well as cycling. They are practical enough to be worn as a protective base layer and according to the size ordered; boast being either a regular fit when going one size up, or an extreme compression fit with the purchase of the usual personal size.
Functional Use
The Tesla compression tights benefit from being functional for all weathers and most temperatures; offering cooling moisture-wicking and quick-drying fabric that will reduce excessive moisture build-up and possible chaffing and sores from damp material next to the skin.
Comfortable Fit
The tights boast optimum flexibility and elasticity that won't restrict movement, bunch or twist. They also have moisture sensing and two-way circulation to further improve the comfort levels felt during any sporting activity.
Cost and Value
These compression tights are practical and functional for a range of uses, and the full spectrum of available colors combined with the all-weather fabric, and the moisture-wicking and quick drying aspects, add up to ensure these are great value for money.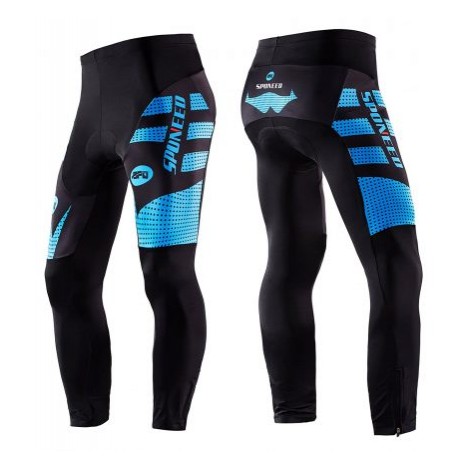 These cycling tights are available in four striking color combinations; white/black, blue/black, lava/black and green/black. The stylish design offers a material base that is manufactured using eighty percent polyester and twenty percent spandex for a comfortable fit that boasts keeping in warmth without the use of a fleece liner. They are suitable for wearing in temperatures between forty-five to sixty degrees Fahrenheit which makes them practical for a variety of outdoor pursuits.
Compression Wear
Sponeed offers these compression tights which have the benefit of a four-way performance stretch that will keep wind chill to a minimum and enable a prolonged ride in the cooler months. The design boasts not sticking to the skin even when sweat builds.
Functional Additions
The tights have a silicone ankle grip strip that keeps them in place when on the move, and the handy zippers make dressing and removing a breeze. The 3D padding is placed to reduce chaffing and stress on impact points on the bottom to give a more comfortable ride.
Cost and Value
These Sponeed 3D cycling tights are produced for performance and combine features that increase comfort for the all-weather cyclist. The relative equality between both the value and cost is well represented in these tights and they are a great buy.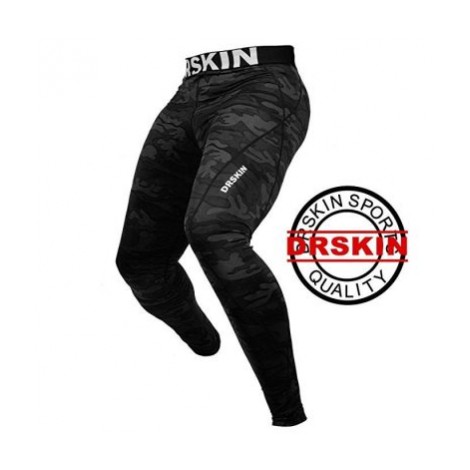 These DRSKIN tights are produced using ninety-two percent polyester and eight percent spandex for a more flexible and comfortable fit. The fabric boasts being both lightweight and feeling soft for optimum functionality. They are offered as being practical for any weather and most temperatures; as well as being versatile enough to use on a wide range of different applications and sporting activities. The improved flexibility and elasticity proffers no restrictions on movement and improves durability.
Practical Features
The fabric used to manufacture these tights boasts being moisture sensing, quick-drying and offers two-way air circulation which improves their use even in warmer or hotter climates. The moisture-wicking and dry transport is another added bonus with these tights.
Comfortable Manufacture
These tights are sewn using a unique sewing system that avoids overlapping fabric edges and therefore is more comfortable next to the skin; they offer reduced resistance against movement a proportionate drop in chaffing and sores.
Cost and Value
The DRSKIN tights are offered with practical features and a useful, functional blend of fabrics to provide the best comfort and moisture-wicking, whilst remaining comfortable for long use and remain durable for a variety of activities. Overall a great purchase for the price.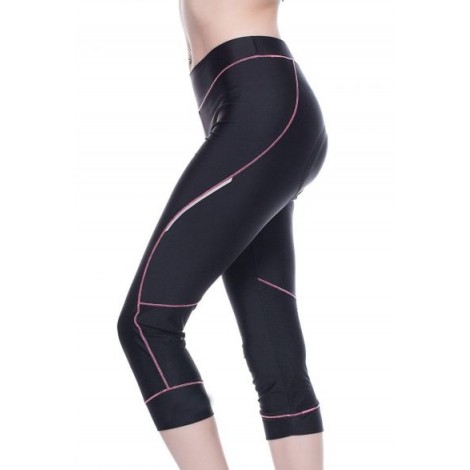 These comfortable and stylish cycling shorts are offered with two colors of contrasting piping – pink and blue. They are manufactured using eighty-two percent nylon and eighteen percent spandex that improves fit, elasticity and breathability. The design is comfortable fitting and doesn't restrict active movement with bunching or gathering, this reduces the chances of friction chafing and sores with prolonged use.
3D Padding
The cycling tights are fitted with a comfortable 3D pad that boasts using foam instead of gel for a superior level of cushioning where it is needed the most and where the most benefit can be obtained with its placement.
Practical Features
Reflective strips are added to these tights for improved safety when light conditions alter, and the compression they offer a longer use without discomfort for the active rider. And for added confidence, there is a full one-hundred percent money-back satisfaction guarantee.
Cost and Value
When considering the full balance of cost and value; and taking into account the comfortable fit these tights offer with the practical and functional features, it is justified to say that these cycling tights are a good value for money.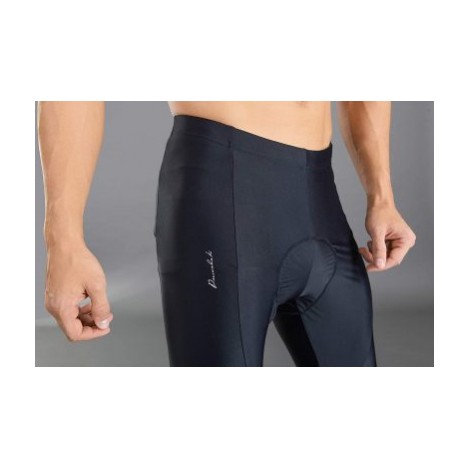 These Przewalski cycling tights boast being suitable for hot and cold days and offer a durable blend of seventy-one percent polyamide and twenty-nine percent elastane for a superior and comfortable fit. They benefit from breathability, high-level moisture-wicking and as an added bonus – are quick drying as well. The fabric is four-way stretchy and provides lightweight and durable wear for prolonged comfort in use.
Fitted Design
The fit is designed in an anatomical fashion that actively supports muscles during exertive cycling and also offers sixteen panels that boast being crease resistant which reduces the risks of bunching and scrunching causing chaffing and sores.
Comfortable Padding
The cycling shorts have an ergonomic 3D pad that is one point five-centimeter thick high-density sponge, that makes a long ride more sustainable with the increased comfort levels it offers. It benefits added wicking and breathability for a ventilated, dryer ride.
Cost and Value
The quality four-way stretch fabric these Przewalski cycling tights are manufactured in, combined with the comfortable 3D padding, ensure that these are great value for money – with features that enable tougher and longer rides.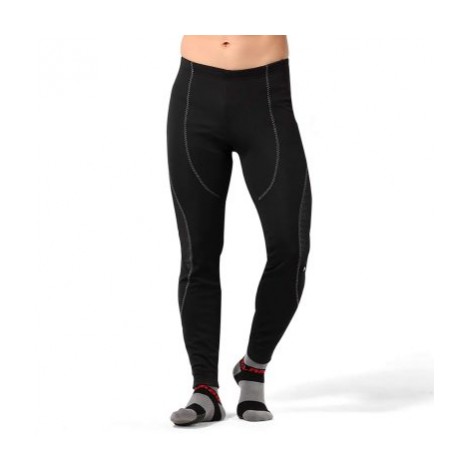 These stylish, gel-padded cycling tights are offered with benefitting sunscreen and quick-drying properties that will provide prolonged comfort over time. They utilize a mesh panel for increased breathability and added protection against wind-chill in the colder months. They boast being high in elasticity that improves comfort and reduces possible chances of chaffing and sores from bunching and twisting.
Comfortable Padding
The cycling tights have three layers of composite fabric in the front panel for increased comfort and breathability and includes a TPU inner. The silicone gel padding is placed to provide more than adequate protection from saddle sores and pressures.
Practical Features
The zippers are strong and handily placed with emphasis on offering ease of use with maximum support, and the tights are fleece lined for added protection against the winter cold; when the lighting is changeable – they have a vital reflective logo for better visibility.
Cost and Value
For a reflective consideration between both the value and the cost, the functional features that include the front panel components and the silicone gel padding; ensure that money spent on these tights is money well spent.

9

. Mava Sports Compression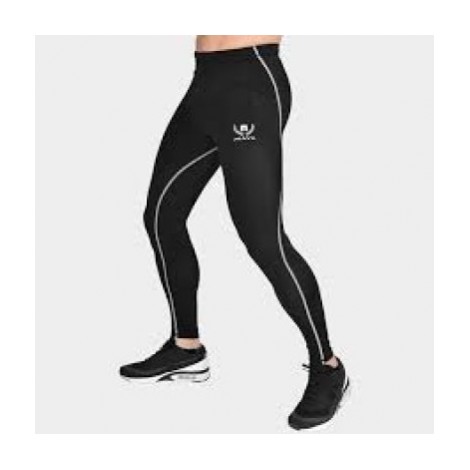 These cycling tights are offered as a support for muscles during riding and are versatile enough to be used in a variety of sporting activities when muscle protection and support is beneficial. The compression cycling tights are boosted with an all year round and all-weather application, they boast being able to keep in the warmth in the cooler/colder months and to help maintain cooler wear in the warmer/hotter months.
Practical Materials
The Mava sports compression cycling tights have the added protection that includes UVA and UVB cover as well as antibacterial protection for reducing the build-up of odors and bacteria giving a more functional garment for extreme sportswear.
Functional Features
The fabric used to manufacture these tights benefits from offering both breathability and superior moisture wicking for an overall improved comfort fit, they are lightweight and quick-drying and have the added functionality of being suitable as a base layer or on their own.
Cost and Value
The overall balance between cost and value is reflected well; with the fast drying and elastic flexibility, they offer combined with the muscle support – ensures that these cycling tights are excellent value for the price.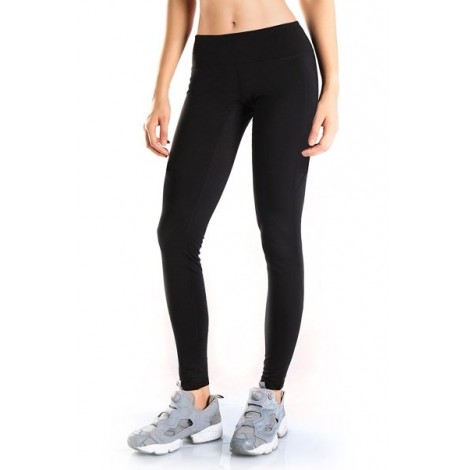 The Yogipace thermal tights are conveniently available in a variety of leg lengths; twenty-five inches, twenty-eight inches and thirty-one inches to ensure a better and more comfortable fit. They are fully fleece lined to offer a warmer ride and boast being versatile enough to be worn as a base layer in colder temperatures. These tights are figure-hugging and are made with enough flexibility to reduce uncomfortable twisting and chafing.
Functional Features
The tights have a unique elastic draw-string waist so can be adjusted to fit for maximum comfort; they also benefit from a hidden pocket on the waistband for safe storage of valuable small personal items during exercise; plus; an additional back pocket that is securely closed with a zipper.
Weather Protection
The tights offer a level of low-grade water-resistance for deflecting sprayed surface water and lighter rain. They are produced using a lightweight and practical mix of polyester and spandex for a more comfortable fit with improved flexibility.
Cost and Value
Considering the versatility offered with these Yogipace thermal tights; and combine that with the water-resistance they provide and the handy, practical pockets and adjustable draw-string waist; it is clear that these functional tights are a good value for money.

Subscribe to our Newsletter