Best Running Tights Reviewed & Rated for Quality
In a Hurry? Editors choice: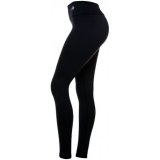 Test Winner: CompressionZ

No matter which activity or sport you are
jumping
into, it's always important to have the right gear. Running tights are an essential part of a
runner's wardrobe
and serve a number of functions. Not only do they keep your legs warm in colder climates and allow your skin to breathe in cooler ones, but they can also aid in improving circulation through compression and allow for a more aerodynamic performance compared to shorts or pants.
If you choose your
running
tights wisely, you will be better able to get the most out of your run. Some people may feel comfortable with uber-compression, while others are more concerned with a snug fit. Whatever you decide, this list is sure to offer something for everyone.
Standout Picks
Criteria Used for Evaluation
Compression
The benefits of compression for any athlete are numerous. Compression technology helps oxygenate muscles, relieves muscle fatigue and aids in shortening recovery time. Tight fitting compression garments hold everything in, reducing a loss of energy through less muscle vibration. By applying external pressure on joints and muscles, compression is said to reduce inflammation and soreness; definitely, a bonus during and post-exercise. Because compression technology is said to improve circulation, it is believed to help in making the "muscle pump" action more effective; in other words, compression is believed to make our muscles work more efficiently.  There is scientific evidence to support these claims, but not a truckload just yet, seeing as it is a relatively new technology. In any event, compression certainly won't hinder performance.
Comfort
Being comfortable throughout the course of a run is extremely important. Even if you are a seasoned runner, being uncomfortable can make you want to end your jaunt around town prematurely. Comfort and performance waistbands are a bonus because they aid in keeping your pants firmly in place without digging into you. Some people may even want to have a drawstring on the inside to ensure that there will be no slippage whatsoever. Many people also prefer a wider waistband or even high-waisted models do keep everything in nice and tight.
Fit
Some models also offer ergonomic stitching, which is designed to hug the body's natural curves as closely as possible. Another great option that allows for a snug fit is a zipper at the rear bottom of the legs; this allows the runner to insert their legs and feet into the tight-fitting garment and then zip it up nice and tight; adding to an even snugger fit. Most running tights are going to be comfortable since they are stretchy, but make sure the stitching is either interlocking or sits non-irritatingly on the skin.
10 Best Running Tights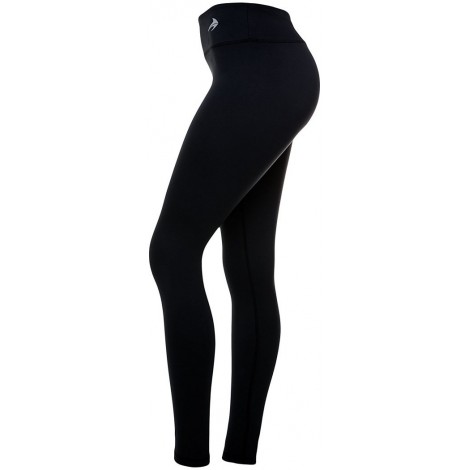 The CompressionZ tights are a great pair of running tights because the company that manufactures them actually specializes in compression gear. What better way to ensure you are getting the most benefits from compression than from a company focused on it? Unlike polyester knits and cotton, compression tights can actually ramp up your workout to get better results.
Designed for a Better Workout
CompressionZ is dedicated to manufacturing the best compression gear out there to improve your performance. Compression enables proper circulation which benefits your skin and gets the proper nutrients to your muscles throughout your body. It also helps reduce inflammation, shortens recovery time and prevents muscle strain as well as chafing.
A multitude of Color and Pattern Options
There are lots of basic black running tights out there to choose from, but CompressionZ offers an array of colors and patterns to spice up your running wardrobe. The company is always adding new looks to their line so there is no reason to stick with plain old black all the time.
Cost and Value
Athletic wear can cut pretty deep into your wallet but that's not the case with CompressionZ. These running tights are an exceptional value since you are getting a product from a company that specializes in compression performance at a price that won't break the bank.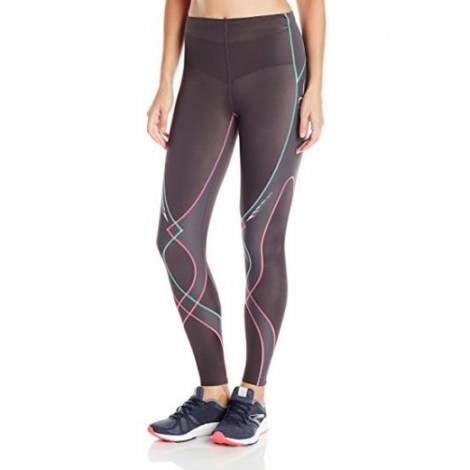 The CW-X Stabilyx offers a blend of compression support, comfort, and a flexible 4-way stretch fabric. The fabric combination in these running tights gives you targeted support where you need it, protecting you from the high impact effects of running on hard surfaces. The black tights, as well as the eye-catching bold patterned options, are also adorned with reflective logos and designs to keep you safe in darker running conditions.
Comfort and Support
Through the use of the patented CW-X support web, these help stabilize and support muscles and ligaments in the legs and knees, protecting you from common running injuries. The material also clings tightly to the lower abdominals, back, and hips, giving you more core power and support throughout your run.
Bonus Features
Running in darker or decreased visibility can be dangerous. With the CW-X Stabilyx, you can help create a safer run for yourself with its reflective patterns and logos. These running tights also include a handy zippered pocket on the back to keep identification, money, or keys.
Cost and Value
If you are looking for a high quality running tight and money isn't a concern for you, then the CW-X Stabilyx is right for you. However, if you are looking for a small to moderate price tag, these well-made tights might just be out of your price range.

3

. Tesla Compression Baselayer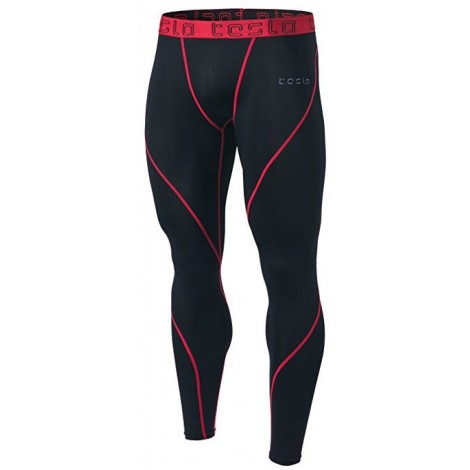 These running tights are designed with runners' needs in mind. The manufacturing of these tights releases heat and wicks moisture away to cool you down all while protecting your skin from the elements. The compression and two way air circulation will allow for a more comfortable run. The polyester and spandex combination allows for flexibility and won't restrict movement. Whether worn alone or underneath running shorts, these tights won't disappoint.
Sun Protection
These Tesla running tights will protect you from harmful UV rays with a UPF of 50+ so you can be sure you won't be getting the negative effects of the sun. We don't always think of protecting our legs from harmful UV rays and you won't have to worry about it with these bad boys.
Body Mapped Design
These running tights are stitched in a way to effectively form fit to your body. Unlike many other tights out there, the Tesla Baselayer Compression design will hug your body in a unique way. This way, you are sure to get the most from the benefits of compression technology.
Cost and Value
One of the best things about these running tights is the price tag. Tesla is a trusted brand in the art of compression so you won't be paying a lower price for a low-quality product. On the cost spectrum of compression running tights, the Tesla Cool Dry Baselayer is an incredible value.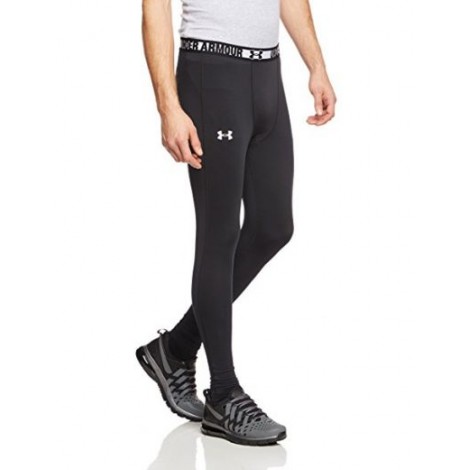 As a trusted brand in athletic apparel, Under Armour is a smart choice. These running tights are designed to deliver quality compression performance without restriction through the use of Under Armour's HeatGear Sonic Fabric. They are moisture wicking and offer a comfortable fit with their wide 2-piece performance waistband.
Anti-Odor Technology
One of the downsides of athletic wear is the fact they after a while they can develop quite a funk in the odor department. The Under Armour HeatGear Sonic Compression Tights are equipped with anti-odor technology to prevent the growth of smelly microbes.
Good for Hot or Cold Climate
Some compression tights that offer breathability and moisture wicking may not help you very much in cold weather. On the flip side, some may make you too hot due to the tight fit. Neither of those situations is the case with these running tights. They are built with what Under Armour calls a Signature Moisture Transport System to wick moisture to keep you cool but also made to keep the chill out in colder temperatures.
Cost and Value
These compression running tights offer a tremendous amount of value while not breaking the bank. Being a trusted brand with a middle of the road price tag makes these tights an excellent value.

5

. DRSKIN Compression Baselayer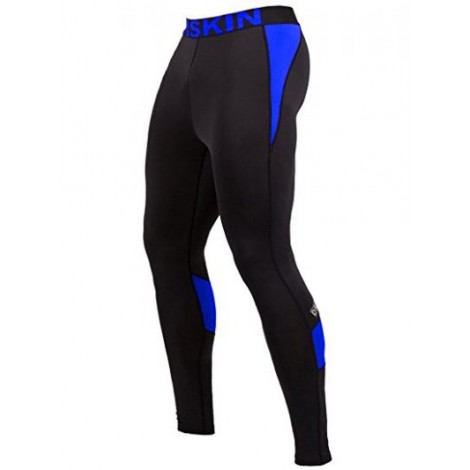 These are a great economical option for compression baselayer pants. They can be worn alone or undershorts. The lightweight, anti-abrasion fabric allows for breathability and comfort while providing compression. These DRSKIN Compression Tights will protect you from the cold and keep you warm with the Quick and Dry Transport System, a moisture wicking feature.
Lightweight
These compression tights offer a lightweight design. They are made with an ultra-soft fabric that will feel super comfortable throughout your workout. Some compression pants may feel heavy and restricting but these are made to feel like a second skin.
Waistband Stays Put
One annoying thing that running tights can do is either travel down your hips as you move or fold over if you bend. It's not fun to have to constantly rearrange your pants during a run. These running tights have a waistband that not only holds them up but also stays put when you bend over to do your post-run stretches.
Cost and Value
These are the most cost-efficient running tights on our list. They are an excellent option for anyone looking for compression and comfort but are on a tight budget.

6

. Nike Pro Training Tights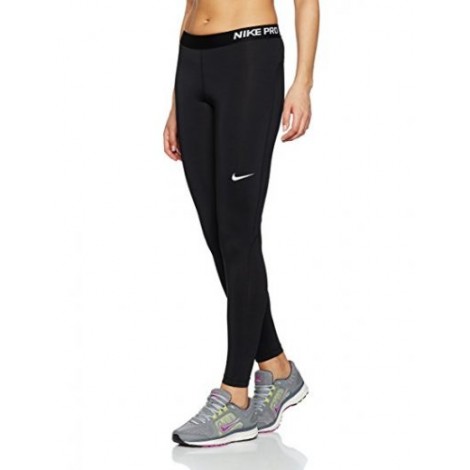 Nike Pro Training tights are made with breathable mesh panels to provide comfort and sweat-wicking fabric to keep you dry. Nike is known for their DRI-FIT technology so if you are looking to stay dry during your run, which in turn reduces chafing, then these are a great option. As a trusted brand in all things athletic, you can be certain you are getting a quality product that stands up to its' claims.
Durable
Nike manufactures these tights to withstand tons of workouts. Whether you wear them out on a long run or to the gym for some cross-training squats, these will hold up. They are sewn together using a flat seam to allow for long-term comfort and offer a triangular gusset in the middle to avoid any tearing.
Breathability
These tights offer some great breathability features. Not only do they have Nike's DRI-FIT moisture-wicking technology to keep you dry but they also have mesh panels behind the knee to increase air flow.
Cost and Value
The Nike Pro Training Tight will cost you a little more than some other running tights on this list. They are a high-quality name brand performance product that is sure to impress you. So if you are looking for quality and don't mind paying a little more, this is a great option for you.

7

. New Balance Accelerate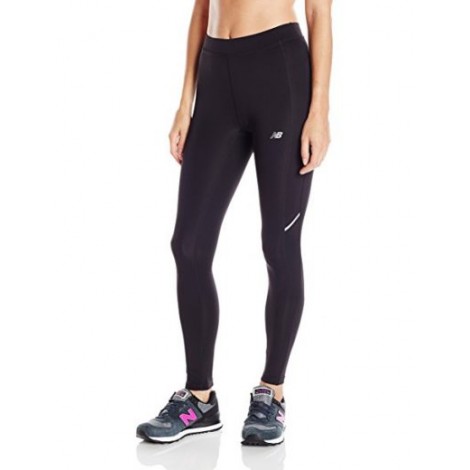 These running tights are a little different than most of the others on our list in that they don't offer compression. With that said, it doesn't mean they aren't an exceptional running tight. They offer a stretch double-knit fabric with ergonomic seaming for a comfortable form-fitting fit. The Accelerate Running Tight also has some nice options like zippers on the bottom back, a drawstring waist, and reflective accents.
Snug Fit
There are several features with these running tights that will ensure a comfortable, snug fit. They have a flexible fabric, drawstring on the inside of the flat-knit waistband, and zippers at the back lower portion. You can be sure that these will stay in place for the duration of your workout.
Versatile
These can be worn on a daytime run or safely on an evening run because they are adorned with reflective accents on the front and side. They also have a great stash pocket on the back right that will fit your phone, money, ID, or keys. Because they aren't a compression style, you can wear these for your workout or even on a quick trip to the grocery store.
Cost and Value
The price of these is pretty middle of the road for what you get. They offer versatility and comfort all while donning the trusted New Balance name.

8

. U Elite Compression Tights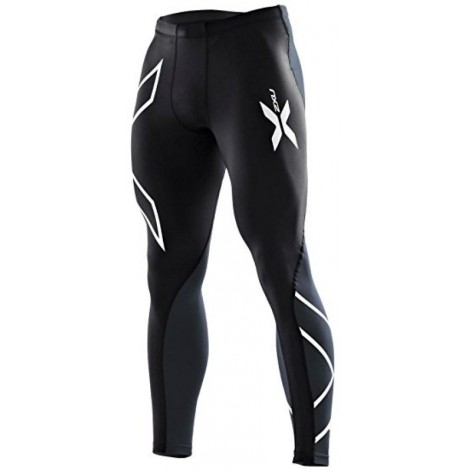 2XU is another company that focuses on compression gear. These running tights have a great blend of quality compression features that focus on graduated pressure, reduced muscle fatigue, improved circulation, and improved recovery. The 2XU Elite is an excellent choice for athletes looking for more power and increased support.
High Powered
The 2XU Elite is geared toward a tough workout whether that be a long run or an extreme gym experience. These tights boast a PWX Flex front panel and a PWX Weight in the rear panel for added calf and hamstring support. Wearing te will ensure an effective and supported performance.
Graduated Pressure
2XU offers graduated pressure technology that delivers regulated pressure giving you the benefits of compression technology during and after your workout. This technology also ensures less muscle fatigue and damage and improves circulation.
Cost and Value
These high-performance leggings are the priciest on our list but offer the most in the area of support and recovery. If you are serious about some high-intensity training, the price of these won't deter you.

9

. Active Research Compression Pants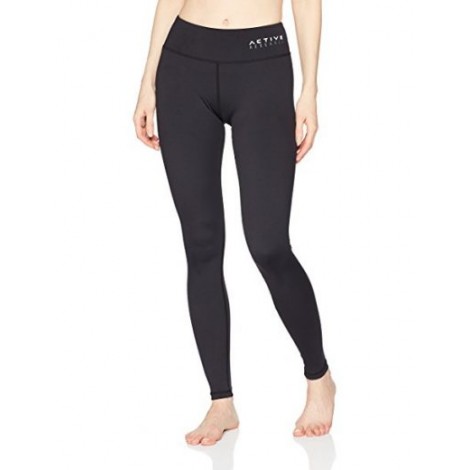 These running tights offer a great option for anyone looking for basic compression running gear. They offer the benefits of compression technology without a lot of other bells and whistles. They are moisture-wicking, comfortable, durable, and versatile. They also offer a back zippered pocket to stash your ID or keys.
Full Coverage
It's not always easy to hide "trouble spots" when you are running and everyone wants to tame the jiggle that may come along with those spots. These running tights are high waisted to hold everything in and they are also made to be see-through. With the combination of these features, along with the compression, you'll be able to keep even the slightest wiggle at bay.
Surprising Quality
Unlike some of the bigger name brands on the list, these Active Research tights are high quality without having to pay for the name. They are well made and deliver excellent compression performance and are manufactured to last a long time.
Cost and Value
These are definitely the most underrated running tights on our list. They offer superior performance at a lower cost.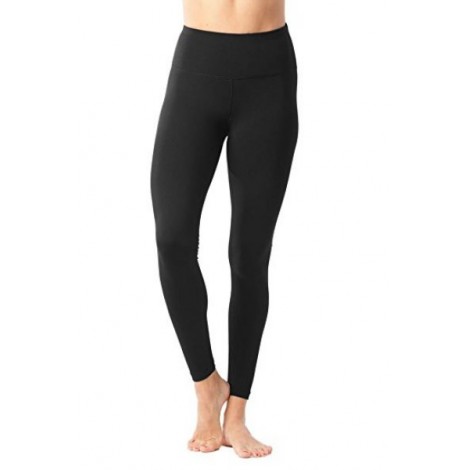 These streamlined tights are made of a super-comfortable material that is designed to withstand any workout. The interlock seams and center gusset ensure a supportive and comfortable fit that will help you look and feel strong. They are also designed to wick away moisture and dry quickly so you can head out to run errands right after your run in comfort. With multiple colors and pattern options, you can wear a different pair for every day of the week!
Keep Up With the Trends
Not only do these come in multiple colors, but the company also keeps up with the latest fitness style trends, adding them to their lines every day. It's not unusual to see an awesome pair of tights being donned by someone in a magazine and then to see them offered in a 90 Degree style.
Excellent Fit
No need to worry about sizing up or down with these. 90 A degree makes sure their tights are true to size. Not only that but this style's high waist and interlock seems will give you the assurance you want that you'll be comfortable without slippage.
Cost and Value
With so many color and pattern options to choose from, you'll be able to buy several pairs of these for the price of just one of some of the others on this list. These are a high quality running tights at a great price.

Subscribe to our Newsletter