Best Fleece Leggings Reviewed & Rated for Quality
In a
Hurry? Editors choice: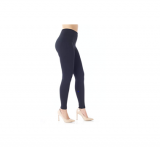 Test Winner: Conceited

As we begin to head out of summer and into fall, we don't always consider what will eventually become a rush for warmth. The nights get cooler and we enjoy the breeze, all while neglecting to realize that those chilly nights will soon be leaking into the evening, then to afternoon and suddenly we find ourselves shivering all day long. Of course, the quick and easy way to keep warm while not overdoing the clothing, in case it gets warm unexpectedly, is to have the right kind of warmth for your legs. One of the ways to cover that issue is to get a good warm pair of comfy leggings, and, all the better, fleece leggings!
Standout Picks
Criteria Used for Evaluation
Comfort
Criteria Used in Choosing the Best Fleece Leggings
Cost and Value
When it comes to leggings of any type, you want to know they are worth the money your spending. To determine this, we went over several things which can determine the value of the purchase. The first thing we looked at was durability, to know if they would outlast other brands. The second was the sizing availability, since all leggings tend to stretch there should be a wide audience that can wear them and that's where the next thing we looked at played in- comfort. You want to know the cloths you plan to wear will be comfortable the entire time you have them on. Last, but certainly not always the least, variety. Not everyone likes to ear the same color on repeat. With all of these things in mind we felt that our choices for this list definitely fit the bill, making them as valuable if not more valuable than the price being asked for them.
Durability
When picking any type of clothing you are going to want to know that it will last. One of the things we looked at was materials and seams when it came to durability. We wanted to know if the clothing was known to either run or pull apart. According to everything we researched, however, everything on our list, if purchased at the correct size and not work in activities not suited for them, are known to last you a long time. Leggings aren't meant for rougher activities, but for yoga or everyday activity wearing the ones on this list will suit you for years.
Comfort
No one wants to wear a pair of leggings that feel like they are trying to pull all your hair out or chew your skin apart. Other parts of comfort come from whether or not the material is breathable, after all, when exercising you are likely to sweat at least mildly, and if the material doesn't breathe it will start to rub you raw. With those on this list, they should keep you warm, but have enough breathability to not cause you to be sore.
Variety
Everyone has a preferred style. While some of us enjoy an all-black closet, the rest of us want to have as much color as possible. So, when choosing our list, we took into consideration just how much variety you would find for each type of pants we gave. We feel that each type has a decent variety, and those that seem lacking were simply excelling in all other ways. Check each kind out though- you may find a pair that suits your taste and comfort!
Sizing
No one likes hitting a top ten for something they are hunting for and not finding their size listed. With this in mind, we tried to make sure to include a variety of brands that offer an extensive selection of sizes. While some may not offer your size, we are certain at least a couple will carry what you need. Since the materials used to make leggings are usually able to stretch enough to have a range of sizes to a single pair. Of course, they still aren't 'one size fits all' but they do have greater fit.
Additional Information
Before purchasing anything online with clothing you should always check what sizes are available. Don't assume your size 5 is their size 5. Like with shoes, the sizing depends upon the manufacturer's origin. US sizes differ from both European sizes and Asian sizes. That being said, leggings often come in ranged sizes, so when you are looking you may have to check a full range to know where your size fits in.
Another thing to take into consideration is exactly what you are wanting to do in them. If your wanting them for layering, you may want thinner materials, but if your intention is to wear them on their own there are several things to consider. How flexible will they allow you to be? How thin is the material? Is it somewhat see-through when stretched, or do they keep everything hidden? Just because you can fit into them doesn't mean they are appropriate to wear outside. If the material is too tight to the skin, or becomes transparent in the right lighting, you may want to reconsider wearing them out.
Another thing is to consider checking all available options. You may be able to find a similar pair for less, or that are more appropriate to the activity. Whether it is a material that is more breathable, or you need something thicker for comfort, you might be able to find all that you need in a style you want simply by checking multiple places before deciding on your pair.
Look over the type of material being used, just in case something is there that you might be allergic to. While most use the same types, certain companies may add things, such as wool, that Is comfortable to some and a need for allergy meds to others. You don't want to end up buying something you simply cannot wear. For this same reason you may want to check on return policy for the brand you are looking at.
Look over the type of leggings you are considering before buying any and consider how they would look on you. If you are at the high end of the sizes, you may want to check at the next size range up to prevent the material from looking extremely unflattering. Also, how long the legs are on a pair can affect how good you appear in them. Some styles are simply not appealing on different heights and weights. You will want to look good as well as feel good when you wear anything, so in this department, size matters whether you are skinny, short, tall or larger built.
Top 10 Picks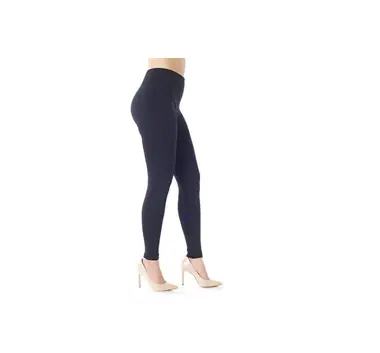 While a lot of us seem to prefer leggings for the comfort it seems like some people like them as more of a fashion statement than anything else. We enjoyed a lot of things about these leggings and we aren't just saying that because we listed them.
Color Options
While you often times have a hard time finding the leggings you like in the colors you want, we can honestly say that probably won't be the case here. We like the fact that these aren't see through either which most women know can be annoying. These are meant to be used under a skirt or the like or even underpants if it's cold enough, but with this many color options, you shouldn't have a struggle.
Satisfaction Guarantee
Knowing how much we love our guarantees we couldn't help but mention this one. If you are unhappy with your purchase the company will offer a 100% exchange or refund. In our opinion you can't go wrong with something like this, if the company is that sure of their product then we can't help but give them credit for it. Plus, it is always a good thing to know that if something ends up not being what you were looking for you won't get stuck with it sitting in your drawer.
Cost and Value
Overall these seem to be a very good buy. You can buy them singly or in threes and the color options are fantastic. They have a higher waist which is nice for a curvier figure and if you are short you can fold them down to make them more comfortable. There are different size options as well which is nice since most leggings come in one size fits most. Between the price, the options and the guarantee we think this is definitely a great option when it comes to finding those warmer leggings to wear especially with fall just around the corner.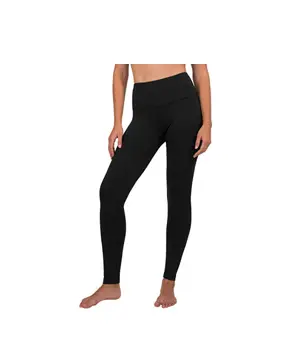 We haven't found a woman who doesn't love a good pair of black leggings, especially if they are warm and comfy. Reflex seems to have found a nice combination of form and functionality in their leggings. Once again innovation saves the day for those of us that are always looking for just the right fit.
30 Day full Money Back Warranty
Reflex has this nifty warranty in place, so if you're not happy with your leggings for any reason in the first 30 days after purchase you can return them with no questions asked. We often state how much we appreciate a company that backs its products, and this is no exception. It is always nice to know that you have options, especially when buying online without being able to try on the product first.
No Pilling
For those of us that have owned leggings, we have all felt the fury of washing them only to discover that when we take them out they are now covered in little beads of material. That was not an issue with these leggings, simply wash them on gentle cycle or hand wash and allow them to air dry. You can always touch them up in the dryer if there are some wrinkles but really, they are leggings, what are the chances.
Cost and Value
These are not the cheapest on our list, but the 90 Degree by Reflex seems to be a well-known brand with a nice following. Unlike some of their other leggings the company does suggest ordering a size up due to the lining making them thicker than normal and thus a tad tighter, but at least they tell you that. They didn't have the typical stretch of plain cotton leggings, but they were far warmer, and we loved the way they hugged us. There are definitely cheaper brands out there but if you are like some and have a love affair with this brand then we think you will find them worth the price.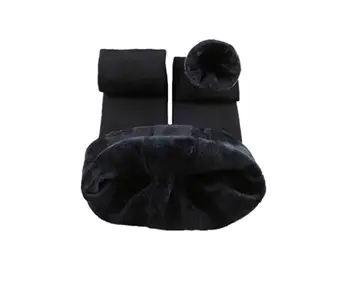 We added these because we fell in love with the super soft lining. If you are looking for a nice thick pair of leggings to keep you warm these are definitely a good pick. Warm and soft these would be a great addition to wear under shorts or a skirt for those chilly winter days. Keep in mind there is a dual seamed crotch, so you don't want to use them as pants unless the over shirt comes down to about mid-thigh but other than that just check out below to see what we had to say.
Fuzzy
A lot of the fleece leggings we found were warm but not very soft like we were expecting. These were far above our expectations it was like someone had found a way to make the fleece soft and fluffy and line the pants with them. Don't try to wear these in the summer you will melt. They were very comfortable, and soft against our skin. A nice change from some others that rubbed our thighs.
Over the heel cuff
A common problem we found with leggings was their tendency to ride up when worn. Romastory has negated this issue by adding a stretchy lightweight cuff on the bottom that can be curved down under your heel and help the leggings stay put. This is especially nice if you are wearing them with boots or sneakers since you will not have to constantly reach down to pull them into place. No ride up means a much more comfortable fit for the long-term wear or in bed.
Cost and Value
These are some of the least expensive leggings you can find. While we would have liked to have more options when it came to the size we were able to get them onto up to a size 18 thigh, so they will stretch. They are a bit like tights with the way they seemed the crotch area. It has a double seam from the waist under and back up the butt, however, if you wear a long enough overshirt or a dress that will remove the issue. Overall these are a great buy if you are a bit on the small side or do not mind a snug fit.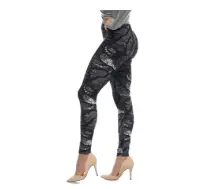 These leggings were ultra-soft. LMB has made great strides in finding ways to make what can potentially be discomforting very comfortable indeed. We really liked the way they fit and although they are one size fits most that does not mean you should be scared to try them. We had them on several sizes from a two to a fifteen and they managed to be comfortable. Even the men liked them when they went climbing and that should tell you something about how they move.
Pattern Options
Unlike a lot of the leggings, we listed there are a lot of pattern options with this one. These full-length leggings come in a plethora of patterns, everything from polka dots to unicorns. If you're looking for something to stand out we are certain you can find it amidst the scrollwork and geometric designs offered. There are even hearts and puppies for those that prefer to stick with a cuter motif.
Yoga Style Top
While we were not sure what this meant at first, we found out that it means there is a higher than regular waist which can be folded down for comfort or to work better while you are being active. If you are just wearing them as regular leggings than you can wear them all the way up for a bit of tummy control but if you want to switch into high gear just fold them down to free up your waist for a better workout that won't budge up on you.
Cost and Value
While the overall cost of these is in the lower range the value is completely dependent on what you are looking for. They looked good and wear well but are not really meant to be used in the larger sizes. This is where the one size fits most comes into play. However, as long as you keep that in mind and make use of the available size chart you should be good to go. We found these soft and comfortable and at a good length to be used in a number of ways and styles. Even the guys were able to find a few that worked for them and they were six feet tall. The end result is as long as you are fit these leggings should be just what the doctor ordered.



This one is for the men. We know it is more common to focus on the ladies for this kind of product but hey, we wanted to recognize that the men out there need good quality leggings too for their cold weather workouts. Whether you're going to the gym, a jog, a bit if tennis or rugby with the boys these leggings may be just what you are looking for. Don't take our word for it though, read below to get all the details.
High Wicking Fabric
We have found that the number one issue with this kind of item for men is the chaffing caused by too much sweat and or moisture building up during use. These are made to help with that by providing a moisture wicking material that will pull sweat away from the skin and allowing the fit to remain more comfortable. This can be especially useful when your running or playing sports as people tend to sweat quite a bit when doing that kind of function.
Compressive Fit
These leggings are made with a thermal material cut into a compressive fit. That means not only will you stay warm when out in the colder air, but it will help with the blood circulation in your legs which can help with your endurance. Your muscles will certainly appreciate the extra warmth and smooth feel while you put them to work, and if you don't want things too snug you can always go a size up for they have a bit more wiggle room.
Cost and Value
These leggings were found to have a decent price tag and some great options. They are not only available in multiple colors that seemed to be true to the pictures, but they are also available in sizes small to XX Large. This is very rare in this style of athletic wear and we were pleasantly surprised to see that most of the guys found one to fit them. Keeping in mind these are meant more for the athletic builds that will actually get a bit more use from them as opposed to the guys that are looking for something to lounge around in. These are not meant to wear while watching tv after dinner, they are meant to be used as athletic gear so please keep that in mind before you decide to give them a try. All in all, a great product at a nice price.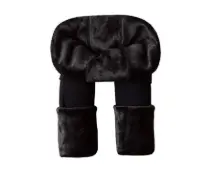 If you have ever wanted to wear that skort or maybe a pair of shorts a bit later in the season these will allow you to do just that. Ouye has come up with a full-length fleece lined thermal legging, that is sure to help you stretch those cute outfits through the fall and into the real cold weather.
Slim fit
A lot of ladies seem to have an issue with their leggings slipping and sliding once they are on. What we found was that with the slim fit that was less likely to happen. Most of the women who were looking into something like this seemed to be on the slimmer side and were trying to wear those cute short outfits for a bit longer, and the slim fit of these will go right along with you on that. They also have the open foot with a heel slip that will keep them from riding up, especially nice if you like to wear boots.
Made for layering
A lot of times leggings that we buy end up being too thick or just wrong to layer under things, but these are just right. They are lined for warmth and like most thermal style leggings have that odd seam running from front to back but that is partially because they are not meant to be worn as pants. Layer them under jeans, shorts, skirts, or even dresses for a lovely finished cool weather look without the need for 15 layers of jogging pants to stay warm.
Cost and Value
These are on the lower end of the price scale. We think part of that is because like a lot of the fleece lined leggings these are not really meant to be used in a standalone way. Meaning they are meant to be used under something else not so much for working out or with a short shirt. They will definitely keep you warm and if you are on the smaller end of the height and weight scale these would be a great pick but if you are looking for something on the curvy end of the line you may want to seek elsewhere. Overall if you pay attention to the sizing and pictures these are a nice buy.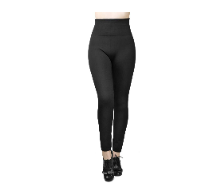 These are the leggings we were hoping to use when we went for those chilly morning runs. Moon Wood has managed to make something that is both useful and extremely comfortable. These high waisted leggings avoid a lot of the issues that tend to come with normal standard ones. Check out what we had to say below.
High Waisted
Anyone that has curves understands the use of higher waisted pants and leggings. Very often our hips or that little roll we all tend to earn about age 35 and up will cause our work out gear to begin to try and roll away. This is no longer a concern with the high waisted leggings by Moon Wood. These are done in a spanx style meaning, that not only do they come up higher, but they help hold everything in or in place, which is a nice touch as far as we were concerned.
Soft lining
The beauty of how these are lined is that you don't have to worry the seams are going to rub against your sensitive skin. We were able to wear these in comfort whether it was alone or in layers. These worked with the stretchy, smooth material and that soft lining meaning we were very warm as well. We wouldn't suggest wearing these if its warm out though, they hold in too much heat for that. However, if you wanted to attempt them at the gym to help you warm up your muscles then go for it.
Cost and Value
These are probably some of the least expensive leggings you will find. They do fall under the one size fits most category, but we won't hold that against them. Slick to put on and off, with that soft warm inner lining and a bit of a pull extension at the ankles means there is less chance for those colder drafts to sneak up your leg when you're not looking. The high waistband helps to prevent rolling and you can't beat the price. We think that these are overall a very good purchase and worth a try if you think they might be what you're looking for.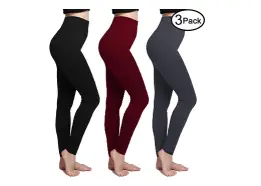 We like color options and CharmKing found some of our favorites. They have managed to find something that seems to be just what we wanted when it comes to the less straight and narrow of builds. Although these are still not for the more curvaceous figure if you follow the manufacturer size chart you should be good to go.
High Waist
Unlike a lot of the leggings, we looked at these have a high waist with a compression band to help suck in those potential middle problems while still allowing you easy movement. The band is wide and stretches with you to allow for ease of movement. We liked the fact that it didn't roll down and allowed us to work out without causing those uncomfortable painful lines at our waist.
100% Money Back Guarantee
CHARMKING guarantees that if you're not happy with your purchase they will issue a refund. Unlike other brands you won't have to pay return shipping, just contact the company and they will work it out. Easy as pie. We totally appreciate it when a company puts customer service first.
Cost and Value
These leggings are totally affordable and can be used for workouts to casual wear it even going out somewhere. They are solid with no see-through areas and very soft and warm. The high waist keeps you tucked in and there is plenty of stretch to allow for comfort. When you add on the money back guarantee we think you will be hard pressed to find a better deal out there. All in all, this is a great purchase for the go-getter looking to save some money.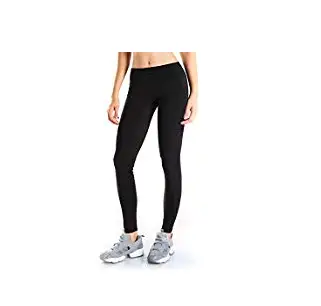 At number nine on our list, we managed to find some that we really liked. These manage to have some really great features and come in sizes most of us could handle. We liked a lot of the stuff we found these and the fact that they have a size chart is really nice. You can read below to see what else we had to say.
Water Resistant
Several of the pieces of leg gear we looked at stated they would repel any type of moisture that came their way, however, we found that when they were put to the test they didn't really live up to expectation. These however managed to do just as they claimed time and time again. Although they are not waterproof, they do manage to help water from splashing or a fine spray from reaching the skin and even running in a mild rain kept us warm and dry till we got home.
Pockets
Most of the slacks we looked at were the typical workout inspired legging. These, however, had a hidden pocket in the front part of the waistband that can hold keys and whatnot and a rear zippered pocket as well. It seems to be the perfect size for a smartphone or a debit card if you want to keep one on you. This was a particularly nice addition that almost none of the other pieces we looked at had. Let us hear it for ingenuity.
Cost and Value
Overall these are a lovely addition to any womans workout. The cost is a bit on the higher side compared to some of the other ones listed here but we found it to be well worth the cost. The pockets alone make these worth the price of admission and we loved the fact that they come in various sized from extra small to xx-large. Stretchy and warm, these are nice comfy leggings with just the correct amount of fleece to stay soft against the skin.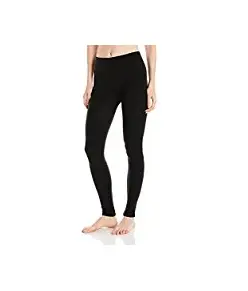 Last but not least are the HUE brushed fleece leggings. Soft and elegant they are what you look for when comfort is your main thought. We can appreciate the comfort and understand that not all the items on this list need to be perfect for a hardcore workout. The brushed texture is especially nice on sensitive skin, but if you want to know more check out below.
Color Choices
We have always stated that we loved having color options when it comes to these kinds of things. The varying colors give you the freedom to find just the shade you are looking for when running out to the store or even hanging around in the house. Keep in mind these are meant for comfort more than anything else but they are still a great buy.
Machine Wash
While there are a lot of leggings that state you can machine wash that doesn't always make it a good idea. We were pleased to find that HUE managed to make a pair that can survive in the washing machine without a lot of trouble and they had little to no shrink. You can put them in the dryer but we don't suggest it. After all the materials these are made out of are just better off hanging to dry and you will still manage to avoid wrinkles.
Cost and Value
Even though these are the last listed in our top ten that doesn't mean we didn't like them. They are extremely cost effective for someone that wants to find a nice comfortable pair of leggings for chilling around the house or running errands but are still nice enough to layer or wear under a skirt or pair of shorts. If you want a few options as far as size and color these are a good choice and you will never hear us complain about them being too tight since they aren't meant for compression like most. A good buy no matter what you're looking for.

Subscribe to our Newsletter