Best CrossFit Socks Reviewed & Rated for Quality
last updated:
Aug 03, 2021
Crossfit is one of the biggest fitness crazes currently and it is only growing in popularity as people experience the extreme gains that the WOD (workout of the day) can deliver. Joint and ankle protection are vital, and the best results are achieved with specialized CrossFit socks.
Because Crossfit delivers results and shreds that no other program can, it requires specialized gear to give your body the support and power that it needs.
While many of us may consider socks to be an afterthought, we should start thinking again. In fact, some suggest that socks are the most important part of your WOD gear, next to your CrossFit shoes.
In a Hurry? The test winner after 22 hrs of research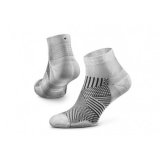 Rockay Flare Quarter
Why is it better?
Anti-stink technology
Super durable
Higher profile for ankle support
Excellent compression and stability
Replacement pairs for life
In a
Hurry? Editors choice: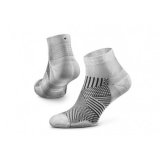 Test Winner: Rockay Flare Quarter

16
Researched Sources
12k
Reviews Considered
22
Hours Researching
10
Products Evaluated
Comfort
Compression
Breathability
Durability
Value
By Default
10 Best CrossFit Socks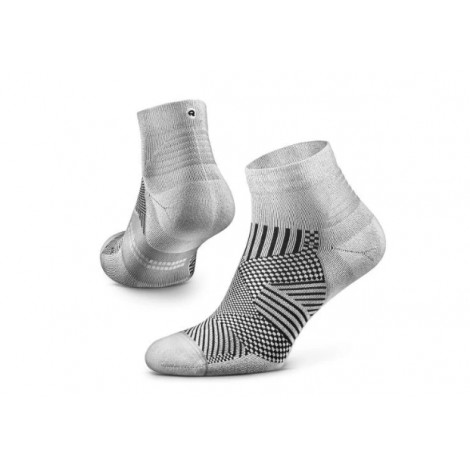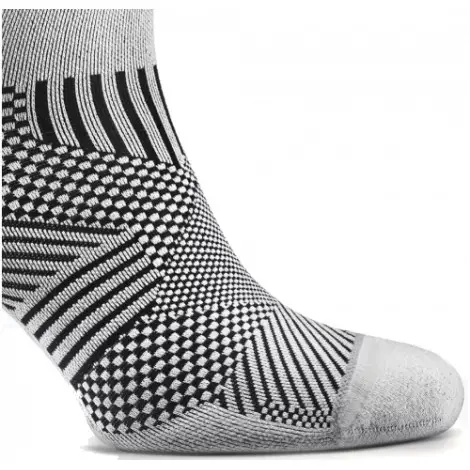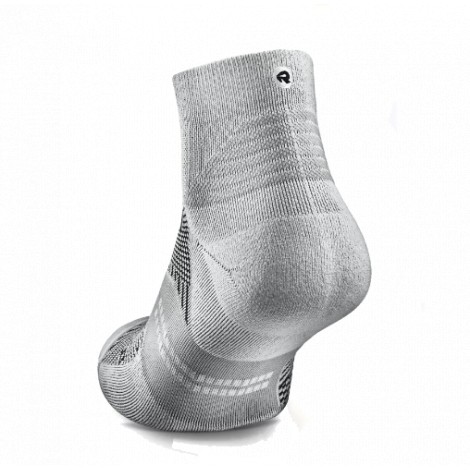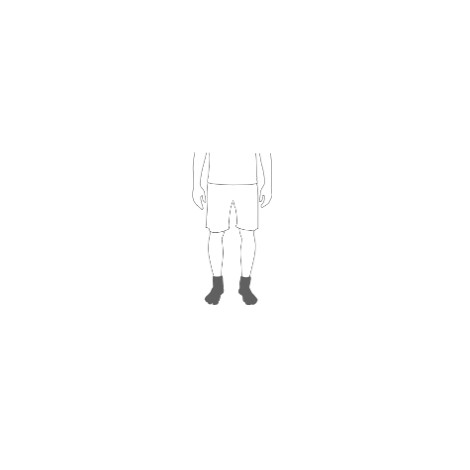 Anti-stink technology
Super durable
Higher profile for ankle support
Excellent compression and stability
Replacement pairs for life
If you're looking for the perfect pair of socks to wear under your CrossFit Nano 8s, then look no further. The Rockay Flare Quarters are some of the best athletic socks on the market and they deliver major performance-enhancing support and compression to make sure you can keep pushing for longer.
Essential Compression
The Rockay Flare Quarters really bring it when it comes to delivering the kind of support that you expect and need from a CrossFit sock.
You'll benefit from strategically placed compression zones and the specially selected fibers that work to keep your foot nice and snug so that your muscles get more oxygen to them which helps them to keep functioning at max capacity.
And while the elastane works to compress, it is also highly comfortable and combined with other fibers that make wearing these as comfortable as they are effective. And on top of that, you'll get a layer of performance cushioning that helps to take on some of those heavy impacts from jumping during your workouts.
We award points for Comfort and Compression here.
Enhanced Stability
But the Rockay Flare Quarters not only provide compression, but they also work to deliver stability to the lower half of your body as well. And when your lower half is in line--the rest of your body follows suit.
With a higher profile than a no-show sock, you'll get added support over the ankle and a snug fit up to this point. Combined with the arch support through strategic compression, you get a sock that helps to keep your foot supported and in line. This works to enhance power and keep you safe.
And you might be surprised to learn that all of this support still allows for a super breathable sock with its many mesh zones sewn in to make sure that air keeps flowing, no matter how hard you push.
We award points for Breathability and Comfort here.
Cost and Value
Perhaps our favorite part about this product is that it is built to last a lifetime. These Flare Quarters are extremely durable and can even go without getting washed each time because of special anti-stink technology. Fewer washes means longer lives. But even with washing, these will outlast the competition.
And should they ever start to show signs of wearing and tearing, Rockay promises to replace the pair for life so you never have to worry about losing your new favorite pair of CrossFit socks.


Comprised of Merino wool (organic)
Backed by a lifetime guarantee
Loaded with padding
Incredibly breathable and wicks sweat
Nice compression support
Reviewers report small in size
And coming in at a close second are the Rockay Accelerate gym socks. This product is great for both men and women, and they are especially ideal for those out there who need a product for their sweaty feet. We love how breathable these puppies are because we know you're bound to work up quite the sweat during your next WOD.
Wicks Away Sweat
These Accelerates from Rockay are comprised of South American Merino wool that is also 100% organic. Why should you care? Not only is this material ultra-soft, but it also helps to keep your tootsies from overheating and forming smelly pools in your trainers.
In fact, this wool naturally breathes (and is helped along by mesh sections in the sock that allow even more airflow) and pulls moisture out. The wool is also naturally an antimicrobial fiber, so it discourages bacteria from building up and causing unsightly odors. We give top marks for Breathability here.
Compression for Support
If you're an experienced CrossFitter, you will be able to attest to the ravages that this impact based and high-intensity workout program can have on the body--especially if you're not equipped with the appropriate gear. That's what makes this product such a valuable companion.
While these aren't knee-high compression socks, they do offer a substantial amount of compression on the entire foot, but especially at the arch of the foot where it requires the most support. We award nice marks in Compression for this feature. As a result of this, folks report these running a bit small so keep that in mind when you're purchasing.
And apart from that supportive goodness, these are just all-around super comfortable to wear. They are loaded with padding in the toes, heel, and upper to help ward off blisters, and they are also void of that pesky toe seam which has waged war on our tootsies for so long. Major ups for Comfort here.
Cost and Value
Accelerates from Rockay ring up on the higher end of our price range but we love their value because they are basically indestructible. In fact, these babies are designed to withstand the beatings delivered by super marathons without experiencing defeat, so they can definitely handle your next WOD. We award major Durability points for this.
But should you have any issues with the quality and wear of your purchase, Rockay stands behind their products 110%--for LIFE. That means they will send you a new replacement product for your old one with no questions asked. Now that is quality and value you can count on.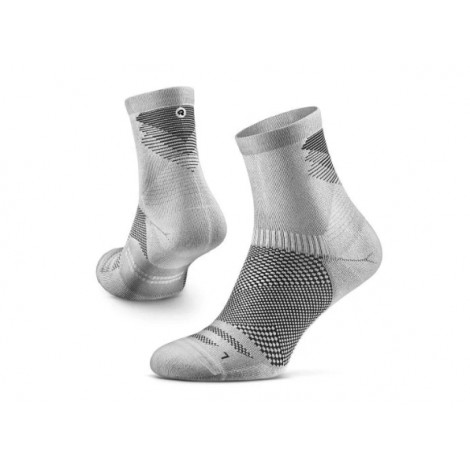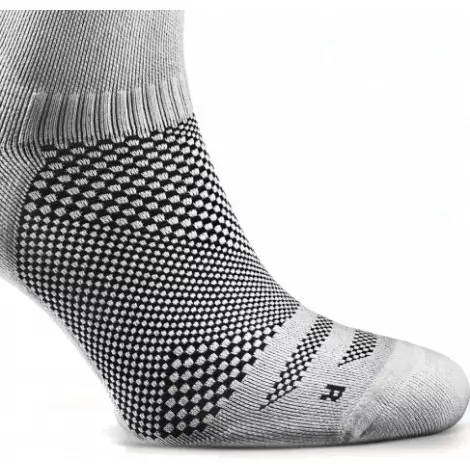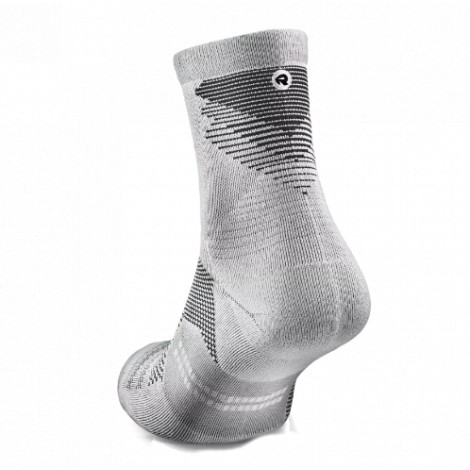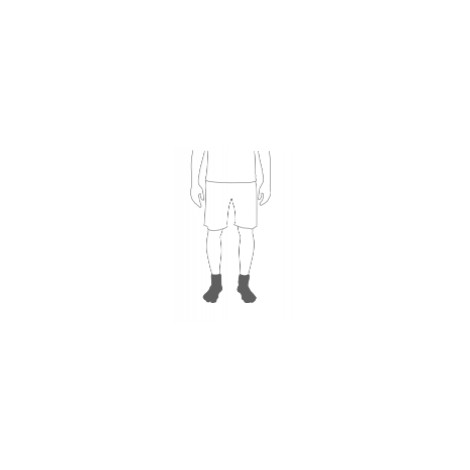 Made out of 100% recycled materials
No-wash Polygiene technology
Compression support in arches
Reduces friction with breathability
Insured for life
You won't be able to put them in a dryer
And to round out our Top 3, we give you the Rockay Razer Trails. Though these are designed to be trail running compression socks, they also prove to be a super beneficial companion when you hit the gym for your Workout of the Day. With just the right amount of support and breathability, this is gear you don't want to be without.
Tons of Support
When you're looking for your next pair of CrossFit socks, you're going to be looking for a product that offers up support where you need it most. Having the right amount of support and compression in a sock helps to keep your arches in alignment which, in turn, keeps the rest of your lower body and back in alignment as well.
That's why we love the Rockay Razor Trails. Not only are all of the fibers in this product derived from 100% recycled materials, but each fiber was also selected because of their special supportive properties. That means you can count on these shocks hugging your feet and giving extra lift, so we award points for Compression and Comfort here.
Plus, they are loaded with cushiony padding and come without a seam in the toe, so we award even more points for Comfort here.
Reduces Friction
One of the leading culprits to cause blisters is excess moisture. When your feet are sweaty and they rub against the material in the sock, friction occurs and results in painful and debilitating blisters.
With the Razer Trails, this problem is solved. These are designed with specialized mesh technology that encourages tons of airflow so that puddles and moisture don't accumulate in your shoes--ergo eliminating blister causing friction. For this, we give major points in Breathability.
Cost and Value
While the Razer Trails from Rockay come with a bit of a premium price tag, they will also outlast their competition. And they also offer up more technology and advanced features than the others as well so we think it's worth shelling out a little extra.
And even though the fibers in the socks themselves are super durable, there's more additional tech embedded in the fibers to make them that much more durable.
This product incorporates the "Stay Fresh Technology" from Polygiene that actually allows you to go without washing your socks each time you use them. In fact, you can just hang them to dry and you'll be shocked at the lack of the usual stinky gym sock smell.
This specialized coating discourages the growth of odor-causing bacterias which works to ensure that you don't have to wash your socks after each use meaning that they will last longer--and also another bonus for the environment.
For this, we award Durability points. And we also believe that you can't beat Rockay's value because they will replace any socks that wear out for your entire lifetime. That's how good these things are.
4

. Saucony Bolt Performance
Comes with multiple pairs
Machine washable and dryable
Nice compression around arch
Padding in sole
Super breathable
Issues with sizing consistency
The Saucony Bolt Performance is the first truly great budget option to make our list. But just because they are friendly to your wallet doesn't mean that they lack the support and breathability you need to power through your Workout of the Day. And you'll be able to pick between a variety of styles so that you can get the right fit for your workout gear.
Venting and Wicking
While many options on the market provide breathable mesh zones, the Saucony Bolt Performance works in two ways to ensure that your feet stay nice and dry during your workout.
With integrated mesh zones to improve airflow to your foot, plus ultra moisture and sweat-wicking technology that literally draws the wet mess to the outside and away from your foot, you will be able to experience comfort for longer than you ever thought possible. We award major points for Comfort and Breathability here.
Arch Compression
And to pack on more comfort, the Saucony Bolt Performance features a fully padded sole to help absorb nasty shocks from jumping and to keep your tootsies nice and clouded in comfort during the process. All this while still keeping a minimal profile in your shoe.
Plus, you'll get tons of arch support with the specialized compression bands that run around the arches. This helps to keep you in line and to ensure that your muscles are nice and supported. You may also experience shorter recovery times which means you can get back into the gym sooner and without pain.
We award points for Compression and Comfort here.
Cost and Value
Reviewers--literally thousands of them--rave about the quality and durability of these socks. They hold their shape and can be washed in the machine with no problems.
And we love that you'll get multiple pairs with your purchase. This means you can rotate them without wearing any one pair out. We will mention that there does appear to be some issues with sizing consistency so keep that in mind when you order.
5

. Under Armour Elevated Performance
Comes with 3 pairs per purchase
Tons of compression support
Support to arches
Speedy evaporation
Armour Block tech
Some reviewers find these very tight
No athletic sock list is complete without under armour socks, and the Under Armour Elevated Performances do not disappoint. While this is not the most technical option on our list, it does deliver compression to help fight against exhausted feet and it is also designed to fit off those stinky gym odors.
Fights Against Foot Fatigue
The Under Armour Elevated Performances are designed to ensure that your workouts can last as long as possible. These babies feature special compression and support around the arches to ensure that your feet get the stabilization that they need. This helps to keep your feet fresher for longer and to fight against debilitating foot fatigue (say that 10 times fast).
These also feature padding and cushioning in strategic placements around the product to make sure that you enjoy the comfort and shock-absorbing benefits without having the hassle of shoving your foot into your shoe with a super bulky sock on it.
We award points for Comfort and Compression here.
Armour Block Tech
Because the Under Armour Elevated Performances have a higher cotton content, they are not necessarily the coolest and breeziest of performance gear. That being said, they do still boast some technology that helps to wick away the sweat from your feet.
With the absence of mesh zones, you'll instead get the specialized Armour Dry fabric which actually works to accelerate the evaporation process. Not only does this work to wick away sweat, but it actually works to remove it entirely. So we don't dock too many points for Breathability here.
And on top of that, these come with Armour Block tech which works to fight the build-up of sticky odors so you don't end up with a stiff and unusable sock after your first workout.
Cost and Value
The Under Armour Elevated Performances are an excellent buy, and we like that they are made for both men and women. You'll get 3 pairs with your purchase at about the same price as 1 of the premium pairs on our list. And because you can rotate them out, they will last for longer.
So comfortable
Anti-slip tech in the sole
Nice profile for ankle and calf
Multiple pairs with purchase
Nice and breathable
Some issues with durability
The Nike Max Cushion Crew is another great name brand to hit our list. If you've been disappointed in the past with the amount of cushioning in your socks and you find that you always want more, then this could be just the right pair for you. With tons of cushioning and anti-slip tech, these will provide optimum comfort during your WODs.
Terry Cushioned Sole
The Nike Max Cushion Crew offers up just about the most cushioning out of any product on our list. But because this cushioning is strategically placed, you won't find that your shoes are fitting too snugly for comfort.
With terry padding and cushioning in the entire sole of the product, you will get unheard of impact protection and absorption, as well as all-around comfort, even on your off days (What? NO DAYS OFF!). This cushioning is limited to the sole so it doesn't bulk up around the side and top and cause uncomfortable pressure against your shoes. We award points for Comfort here.
Anti-Slip Tech
And while many socks with nice padding seem to slip around inside of your trainers, these are outfitted with a special fabric that offers up tons of friction to grip the bottom of your shoe. That means the sock will stay in place and you won't be sliding around and feeling unsteady in your shoes.
Plus, you'll get mesh ventilation at the top of the product, as well as Dri-FIT tech that works to keep your feet nice and dry during your intense workouts. So we award points for Comfort and Breathability here.
Cost and Value
The Nike Max Cushion Crew comes with 3 pairs to your purchase. We like the color options and that they are super comfortable to wear, which means you can get use out of them outside of your CrossFit routine.
However, some reviewers find that these are not the most durable and had some issues with fit, so keep that in mind when holding up against the purchasing price. We dock points for Durability here.
7

. Nextrino High Performance Athletics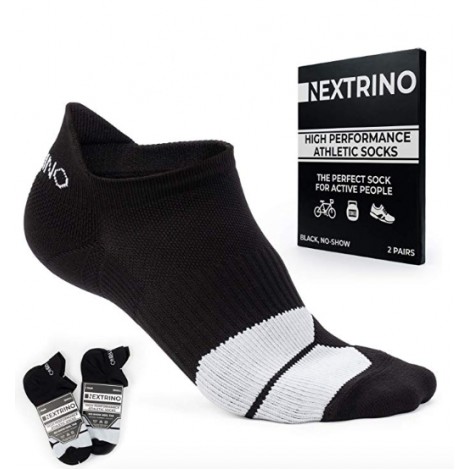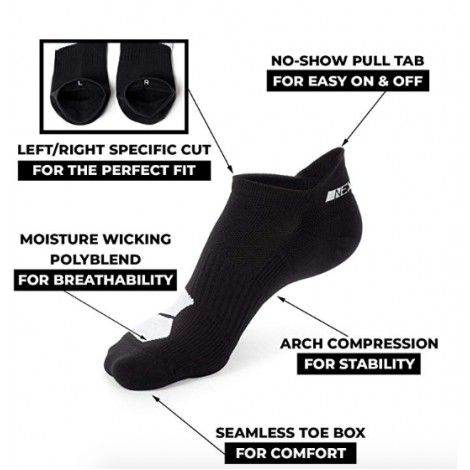 Super soft against the skin
Decent arch compression
Very slim and low profile
Nice and breathable
Left and right support design
L/R designation on inside of sock
The Nextrino High-Performance Athletics are another of the premium options to make our list. They offer ample compression and a nice low profile so that you can get tons of airflow. Plus, they come complete with left and right designations so that you can get specialized support for each foot.
Left Foot-Right Foot
The Nextrino High-Performance Athletics are bringing socks into the 21st century. While other performance socks claim to provide support, it is hard to fully accomplish this when both socks are designed to support the right foot only.
Thus, Nextrino makes specialized socks for each foot so that each of your feet gets the exact kind of support that they need to keep supporting you. We award points for Comfort here.
Luxurious Feel
The Nextrino High-Performance Athletics also feature a 200 needle count that feels luxurious against the skin. And with no seam in the toe and just the right allowance of arch support, you'll get a super comfy and low profile (and slim) product that feels like a dream.
That being said, these are not high-compression socks and they do run a little thin. While this is preferable to some users, if you're looking for compression and cushion, this sock is not your guy. We dock points here for Compression.
Cost and Value
These socks ring up on the higher end of our price range and you will only get one pair with your purchase. However, these are nice and durable and if you have issues with your purchase, Nextrino will work with you to make it right (though their policy isn't as standard and followed through on as Rockay's).
8

. Saucony Mesh Ventilating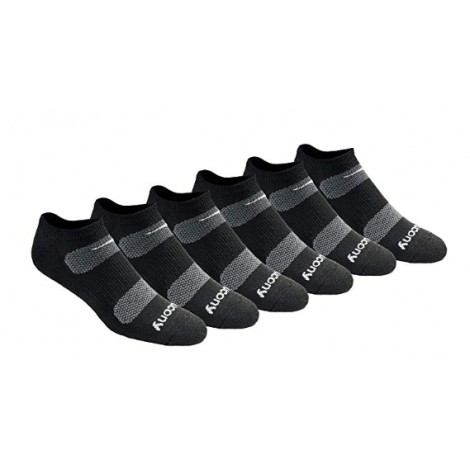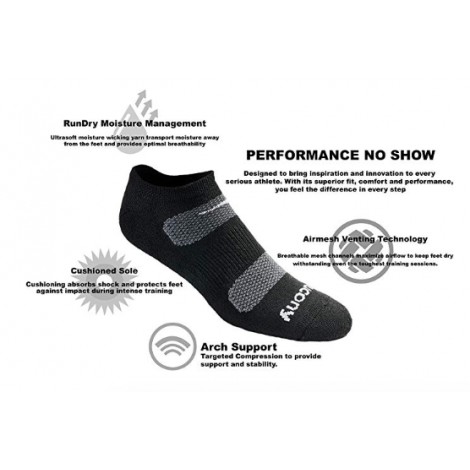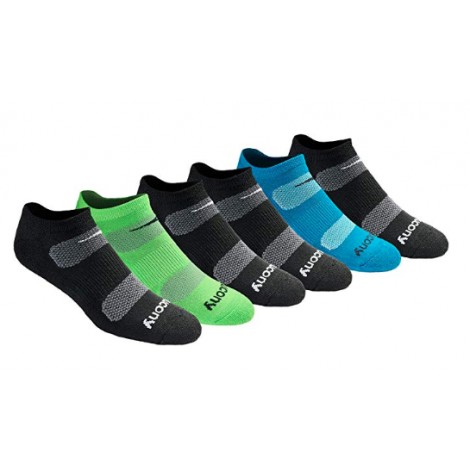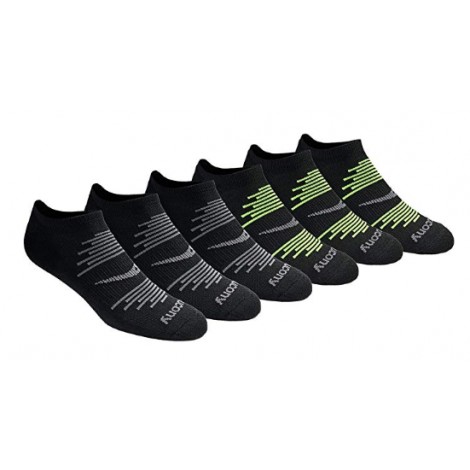 Comes with multiple pairs
No-slip grips on the bottom
Tons of breathability
Slim profile for ease
The Saucony Mesh Ventilating boast many of the same qualities as the previous Sauconys on our list, though their overall profile is a bit slimmer than those. They feature anti-slip tech to keep your sock in the shoe and are super breathable so they have a nice and light feel when you're wearing them.
No Bunching
The Saucony Mesh Ventilating come with special fibers on the bottom of the product to ensure that they grab ahold of your shoe securely to prevent slipping around in them while you are lifting tons of weight or jumping around.
That being said, some reviewers found that because of sizing issues with this product, these can tend to slip down at the back towards the heel which creates some discomfort and a potential for blistering. We take points away for Comfort here.
Slim Profile Cushioning
You will enjoy a slim cushioning profile with the Saucony Mesh Ventilating so you won't have a problem finding room for these inside of your shoe. You'll also get some nice ventilating action to help keep your feet dry, and the low profile helps with this as well. We award points for Breathability here.
You will get some arch support that does help to provide some stability, though these are not the most compression centric products on our list by far. So we dock some points for Compression here.
Cost and Value
The Saucony Mesh Ventilating ring up on the lower end of our price range and we like that you get multiple pairs with your purchase. Some reviewers found that the do not hold up as well as more premium options so we take some points for Durability here.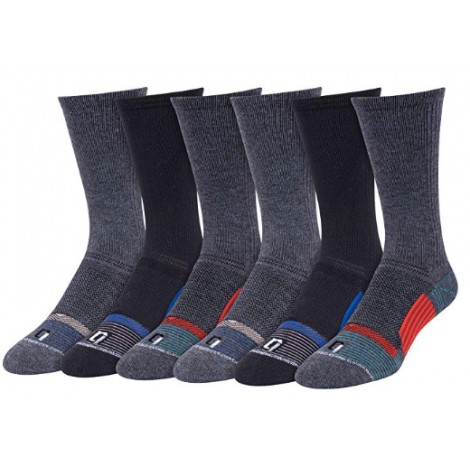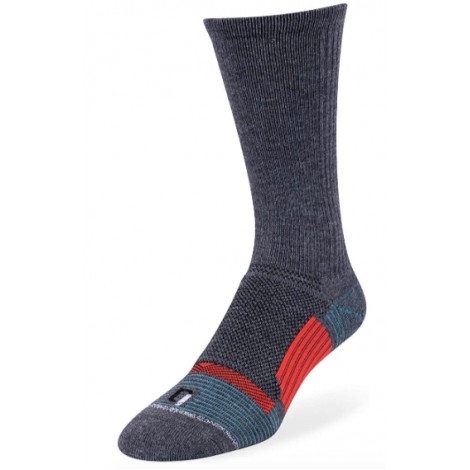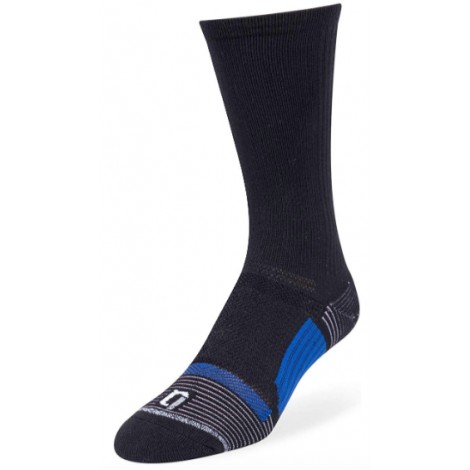 So much breathability
Moisture-wicking tech
Comes with 6 pairs
The IQ High Performance is certainly stacked with some cool features that make them a great buy. While they may not totally live up to their compression end of their advertising, they do offer some of the most breathable high socks on our list and are worth the purchase for sweating sessions.
No Sweat Tech
Reviewers rave about how cool and sweat-free wearing this product is. It comes with two layers of mesh uppers to keep sweat from happening in the first place. But once the inevitable occurs, you'll get hit with the Dry IQ tech that has its fibers wick moisture away with lighting speed. Major points for breathability here.
Massaging Channels
You'll also enjoy the massaging feel of these babies. With contoured construction, each step helps to soothe the facia in the feet which means that you can wear them for longer and that your feet get something in return in the process. We award points for Comfort here.
And while this product claims to provide tons of compression, reviewers find that there is some compression in the calf, but just a little in the arch and foot. We dock points for this.
Cost and Value
While these are the most compression centric socks, you will get 6 pairs for an incredible price so we like their value. If you want to prolong the life of these, you should avoid putting them in the dryer on super high heat.
10

. Reebok Performance Training Crew
Super padded and comfy
Comfortable toe seam
Reinforced heel and toe
Lots of stretch
If you're looking for a tried and true pair of reebok socks, then the Reebok Performance Training Crew doesn't disappoint. It provides nice cushioning and an extremely flexible feel so that the socks move with you.
Lots of Stretch
The Reebok Performance Training Crew comes with lots of stretch to ensure that you can plow through your workout in comfort. Since the fibers move with you, you won't experience blisters with frequency and you'll also get to enjoy a more natural range of motion. We give Comfort points for this.
And because the toe and the heel are reinforced, you'll be able to use these for longer and we award Durability points here. Though they do not have a lot of compression so we dock points for this.
Comfort Toe Seam
To add to their comfort, you have padding in the sole as well as a comfort toe seam. While we are generally not a fan of the toe sam and like brands that have done away with it altogether, this seam truly is comfortable so we award points for that as well.
Cost and Value
The Reebok Performance Training Crew rings up on the lower end of our price range and we like that you'll get 6 pairs with your purchase.
Criteria Used for Evaluation

Comfort
When making this Ten Best List, looking at comfort was a major consideration of ours. If you're not comfortable when you start your workout, you're not going to work out for as long.
We value products that not only start comfortable but stay comfortable as well.
When assessing a product's comfort, we look at the amount of and placement of padding. It is important to have padding strategically placed because you don't want a bulky sock that makes fitting into your shoe challenging.
We also think about fabric feel and we, of course, take into consideration the thousands of reviews about how long users can wear each product while still experiencing tons of comfort.

Compression
Because compression helps to align your body, bring more oxygen to your muscles, and cut down on recovery times, it is important to have this feature in CrossFit socks.
Since CrossFit requires such a wide range of motions that can be taxing to the body, having the right compression will keep you safe and make sure that you can extend those workouts and get back into the gym more rapidly.
We feature products with compression in the foot, arch, and even the calf for supreme performance.

Breathability
And we never want to sacrifice breathability for support. That's why we searched out products that not only wick away moisture from the skin, but that include lots of woven mesh into the body of the product so that air can flow more freely and encourage sweat to evaporate more quickly.
The power of having a breathable sock cannot be underestimated because the discomfort of sloshing around in sopping socks cannot be underlined enough.

Durability
And of course, we want to bring you products that are as tough as you are. We feature several premium products (many of which are guaranteed for life). These are definitely bound to last longer and will maintain their shape for longer.
That being said, the more budget-friendly items that we feature can be rotated out so that you won't be wearing any single one pair so much, which helps to prolong their life.

Value
We have provided a nice range of products so that you can get exactly what it is you are looking for. If you're willing to invest in one good pair, we have about 4 products that will fulfill that need. And because they are guaranteed for life, you can feel good about investing in them.
But if you're looking for multiple pairs and are not expecting to get years of use out of them, then we have a bunch of budget-friendly packs available as well.
Expert Interviews & Opinions
Most Important Criteria
(According to our experts opinion)
Experts Opinion
Editors Opinion
Users Opinion
By Default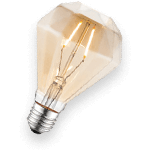 Hang Dry
While it may seem counterintuitive to treat your heavy-duty training socks like your delicate undies, treating them with some washing TLC can make them hold their shape and last longer.
Extreme heat will wear on the fibers and cause them to stretch out and lose their compression. So hang them dry if at all possible.
Think About Your Shoes
If you already have a favorite pair of CrossFit shoes, think about how they fit before purchasing a pair of socks. If you have a little room to move around in, then go with a thicker, more cushiony option. If you have little to no room, go with a slimmer profile that only features cushioning on the bottom.
Other Factors to Consider

Fit
As with all things that darn the body, sizing can be an issue. We try to report what kind of sizing to expect and whether products typically run big or small to help you with your purchase.

Materials
We focus on materials as well because the material compounds determine compression, flexibility, stretch, and overall comfort. We like to bring blends that feel soft but that act tough.
Frequently Asked Questions
q:

Does it really matter what foot I put the Left/Right socks on?

a:

While it won't feel as obvious as if you are wearing a left shoe on your right foot, it will feel a bit off. So we suggest wearing them on the correct feet. We do like this feature as it provides more specialized support. However, we find that some users get annoyed when trying to match up their socks on laundry day.
q:

Don't I need high compression socks for CrossFit?

a:

This is up to you and depends on your body's needs. If you find that you have a lack of stability in your legs and that you are experiencing pain and frequent issues recovering, then you may want to consider a full compression sock that goes up to the knees--especially if you are lifting heavy weights.

But if you don't have these pains and you aren't at crazy lifting weights yet, a low profile option with nice arch compression will work just fine.
q:

Do the anti-stinky socks really not smell?

a:

Yes and no. Eventually, without washing, they will begin to smell. The real feature here is that they keep that icky gym sock smell at bay for far longer than your average pair.
Subscribe to our Newsletter