Best Carpet Dryers Reviewed & Rated for Quality
In a Hurry? Editors choice: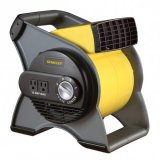 Test Winner: Lasko Stanley 655704

A carpet dryer or air mover is one of the handiest and versatile cleaning and
DIY tools
that you never knew you needed. These handy devices offer a much-needed solution to a variety of issues that arise when you
clean up
or remodel large surface areas. While they've been popular in the industrial world for quite some time, modern innovation has now created air moving devices that can be comfortably used inside the home. An air mover does exactly what its name promises. However, this device promises a more sophisticated
air movement
than a simple fan. There are dozens of uses you can find for your air mover device. Continue reading our list of top-rated products to find the device that best suits your needs and budget.
Standout Picks
Criteria Used for Evaluation
Speed
The majority of good quality devices will likely allow its user to choose between a variety of speed settings. Generally speaking, your air moving device will allow you to choose between 2-3 different speed settings depending on your selected make and model. These speeds usually range from a low to medium and high speed.
The speed of your device is measured in cubic feet per minute (CFM) and this measurement is used when referring to airflow or circulation. Low-speed settings will likely afford you u to 800 CFM, a medium setting up to 1500 and a high-speed setting can generate a CFM as high up as 4000, depending on your selected device.
The option to choose your desired speed is important for several reasons. First of all, not every project or track requires the same air moving speed. Some projects will require a slower drying process while drying carpets should be done as quickly as possible.
The ability to choose between a variety of speeds will empower you to create an optimum drying environment for your task or project to get the best possible results.
Adjustability
Traditionally speaking, air movers are often thought of as low set devices that can do little more than blowing a small breeze on the surface level. These devices could never be used for much more than drying carpets or floors after washing.
However, thanks to modern innovation, most new and reputable devices have a unique function that allows you to customize the device's airflow direction to suit your specific project or task. Any reputable device allows you to use up to three different positioning angles that allow you to direct your airflow at either 0, 45, or 90 degrees.
This adjustability is a handy feature as it allows you somewhat more versatility when it comes to how and where you can use your device. However, it is not always necessary. If you intend to use your device solely for drying floors and carpets after cleaning, you will not require this feature.
If you are looking for more versatility when it comes to drying, however, you should opt for a device that offers 2-3 positioning angles. This way you can adjust your device for tasks such as increasing air circulation, drying walls, dispelling harmful fumes, etc.
Use
Your intended use for the device will likely be one of the key elements guiding your decision-making process when you select your new air mover. Two key considerations when thinking about your intended use for your new device would be purpose and environment.
You should think about what kind of environments you will use your device most often in. Small homeowners and those who intend to use their devices in small spaces will not require as powerful a motor as those who intend to use their devices in large open spaces. In addition, users who need to operate their device outdoors at times will have to look for devices that feature a uniquely rugged and durable design.
In terms of purpose, this refers mainly to the kinds of jobs and projects that you will be mainly using your device for. If you know for certain that you'll only need your device for floor drying after cleaning, you will not need a device with immense power or plenty of additional features. Conversely, if you know that you'll need a versatile device for a variety of DIY and remodeling projects, you should lookout for a high-powered device that can be easily adjusted to suit your needs.
Safety Hazards
Safety should be the main concern when buying any new device and this is no different when it comes to air movers.
Ideally, you should lookout for a device that is ETL certified to ensure that your device is compliant with major safety regulations. However, there are plenty of other safety considerations you should keep in mind as you select your new device.
One of the first key safety feature to look out for is rubber padding at the bottom. This is essential to prevent your device from slipping on wet surfaces and will also ensure that your surface won't get damaged by the device itself. You should also ensure that the device's motor and the fan is covered by a grill that is securely in place. Lastly, any wiring should be fully insulated and be handled with care.
10 Best Carpet Dryers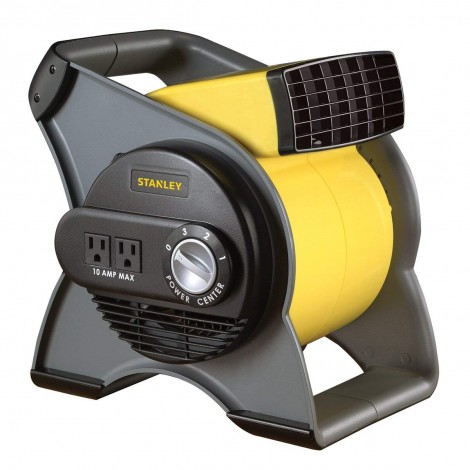 The trusted manufacturer, Stanley, has been creating tools for well over a century. This makes it unsurprising that the Lasko 655704 tops our list for its performance and versatility. This device offers three different speed settings, a rugged and durable design, and a patented airflow system. This unit can be comfortably transported and is small enough to operate in a variety of environments.
Unique Airflow Movement
The Stanley Lasko 655704 features a unique patented airflow system that allows you to optimally control your airflow direction. This unit has a unique pivoting system in place that allows you to optimally customize your airflow to suit your needs.
Multi-Functional
What makes this model stand out is its ability to operate in almost any environment. Thanks to its compact and rugged design, you can use this device wherever you require a strong airflow.
Cost and Value
This model is very competitively priced and is definitely in line with the current market value. For its relatively low price, you receive a versatile product with patented technology that does exactly what it promises to do.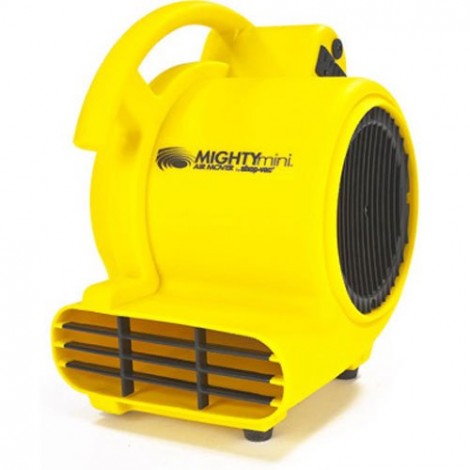 The Shop-Vac 1032000 has combined industrial-strength air movement with a compact design that will definitely delight any level of user. This unit boasts a 500 CFM motor, an added 10-foot power cord, and unique cord wraparound design for easy transporting. You can easily choose between three different air movement speeds. Lastly, the 1032000 is remarkably versatile as it can be adjusted to various positions to dry either walls or floors with optimum efficiency.
Versatile
While most air moving devices are generally designed to be used for floor surface areas, the Shop-Vac 1032000 can be uniquely tilted and positioned in various ways to allow you to dry both floors and walls. This makes it an ideal device for any DIY and remodeling in and around the home.
Portable
Despite its strong air movement, this device is compact enough to take anywhere. This unit features a carrying handle, comes with a 10-foot power cord and unique cord wraparound design, and features built-in outlets that allow easy connection.
Cost and Value
This unit is very competitively priced and offers the user a lot of power. This unit features a 500 CFM, comes with attachments, and is made from highly durable materials.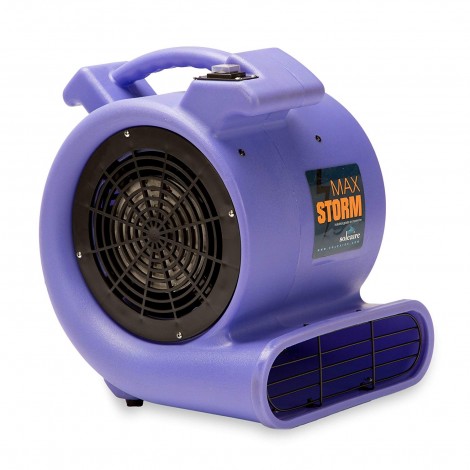 The Soleaire Max Storm effectively proves that DIY and cleaning tools can be both functional and beautiful. This eye-catching device is lightweight for easy maneuvering without compromising on air moving power. Its unique motor construction ensures powerful air moving while being energy efficient. With its 2 speed settings and 3 operating angles, you can use this device for a variety of projects. Lastly, it is available in three different colors for the discerning user.
Lightweight
This product lightweight and compact design make it unique for service professionals since it is so easy to transport. Moreover, this compact size makes it incredibly easy to pack up and store away in small spaces until your next project.
Industrial Strength
The Max Storm's powerful and energy-efficient motor makes it ideal to be used in a variety of industrial-orientated buildings and projects. In addition, this product's adjustable design and selection of different speeds make it the perfect tool for wide maneuvering of projects and settings.
Cost and Value
While the Max Storm is significantly more expensive than the majority of air moving devices currently available on the market, it offers exceptional value for money. Not only is the device powerful enough for industrial use, but it also comes with a 25-foot power cord, is energy efficient, and has a rugged and durable design.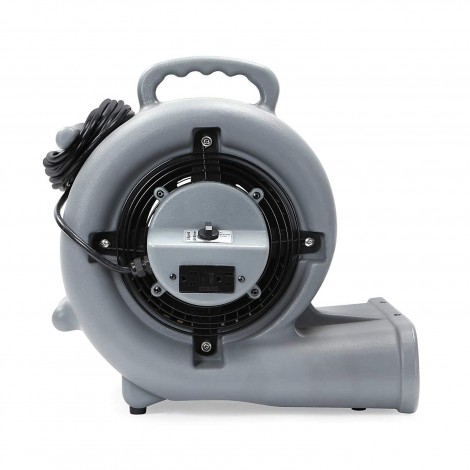 This unit has gained cult-like status thanks to its powerful 1/3 horsepower engine that operates efficiently for an industrial-strength CFM output. This air moving powerhouse is constructed using a composite that ensures durability in any environment. The user can easily choose between one of 3 different speeds and can adjust this device to a variety of positions to optimally direct the airflow.
Safety First
Because of its industrial-strength blower, the Pro Air Mover comes with a host of safety features to ensure safety and durability. The product's exterior was manufactured using a high-quality polythene composite to ensure durability. In terms of safety, this device comes with anti-skid feet and a protective grill that covers the air outlet.
Multi-Purpose Airflow
The Pro Air Mover allows you to choose between one of 3 different airspeed settings to suit your specific project needs. This product also allows you to fully direct the airflow with three adjustable positions.
Cost and Value
This product is significantly more expensive than the majority of other air moving devices on the market. However, this can easily be attributed to the fact that this unit provides industrial air movement and can be used commercially. Moreover, this unit features an optimum design for safety and durability and can be used professionally with ease.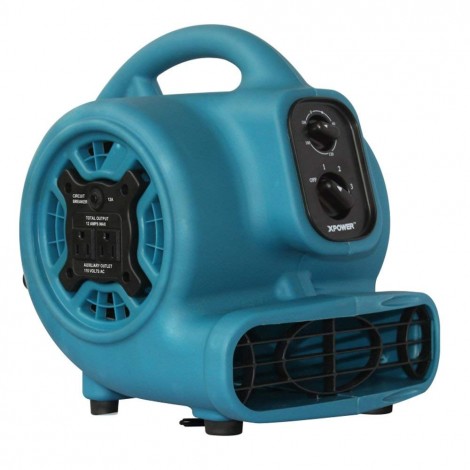 Surface drying is made easy with this user-friendly device from trusted manufacturer XPOWER. This device features a 1/5 horsepower motor, 800 CFM, and is energy efficient with drawing only 2.3 Amp even on its highest speed. You can select one of three different speed as well as one of four different positions for efficient airflow direction. What makes the P-230AT standout, however, is its unique 3-hour timer control.
Timer Control
The unique timer control function puts the power back in your hands and allows you some more versatility to tackle a variety of other tasks while waiting for your surface to dry. This P-230AT has a timer control of up to 3 hours that you can easily adjust using the control knobs located on the front of the device.
Drying Versatility
This device can easily be optimized to suit your exact project needs thanks to the speed setting and the adjustability of the device itself. You can select between one of 3 drying speeds, and arrange this device into one of 4 different settings for optimum airflow direction.
Cost and Value
The P-230AT enjoys a modest price when taking into consideration its immense value for money. This device comes with a professional-grade motor that delivers high-velocity drying power. Moreover, this device is user-friendly and energy-efficient.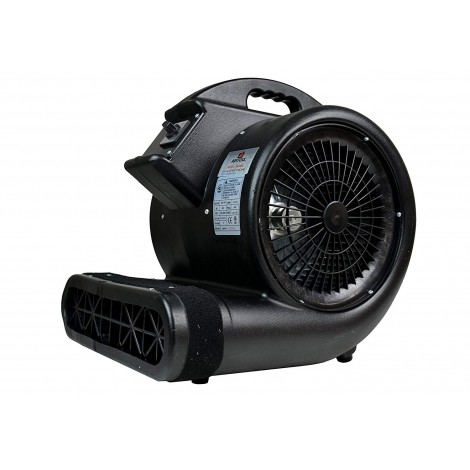 The AirFoxx AM3450a is undoubtedly one of the most powerful air moving devices that is currently commercially available. This device has a 3/4 horsepower engine that delivers up to 3450 CFM. With its several adjustable positions and drying speeds, the AM3450a is ideal for any project or task both commercial and residential. Lastly, this device's sturdy build and rugged exterior make it suited for outdoor use.
Powerful Motor
The AM3450a features one of the most powerful motors in compact dryers. This unit is available in either a 3/4 or 1 horsepower motor that can deliver between 3450 and 4000 CFM respectively. This means that you'll be able to use this device effectively in larger spaces and for heavy-duty remodeling and restoration projects.
Versatile Drying
Despite its high-power motor, this device is suited for a wide variety of projects and tasks. Thanks to its adjustable speeds and position, you can easily customize your drying experience to suit your project needs.
Cost and Value
This device is significantly more expensive than most other units available on the market. However, this is one of the few devices that are actually capable of delivering an industrial drying experience. This product has an incredibly powerful motor and has been impeccably crafted using only durable materials.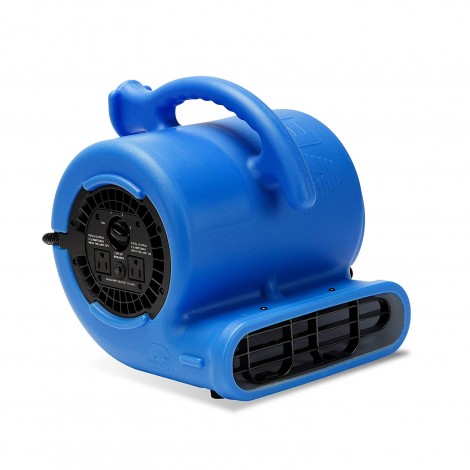 This conveniently compact air moving device is great to use in smaller spaces without compromising on its drying power. The VP-25 features a 1/4 horsepower motor, 3 different drying speeds, and an energy-efficient design. Weighing at just 11 pounds, this is one of the most compact and lightweight devices currently available on the market and works wonderfully for smaller spaces that require efficient drying power.
Lightweight
This model is uniquely compact and lightweight in design. This model features a carrying handle and weighs only 11 pounds to move easily around the house. Its lightweight design makes it extremely portable and ideal for a number of small-scale home renovations or drying tasks.
Energy Efficient
The VP-35 is significantly more energy-efficient than many other air moving devices. This devices requires a minimum electricity input of 110V and can draw anything between 1.7 - 2.1 Amp depending on its speed setting.
Cost and Value
This device is very competitively priced and definitely in line with the current market trends. While the device is suited more to residential use, it provides reliable performance, is energy efficient, and is stackable with up to 5 devices should you require more drying power for larger projects.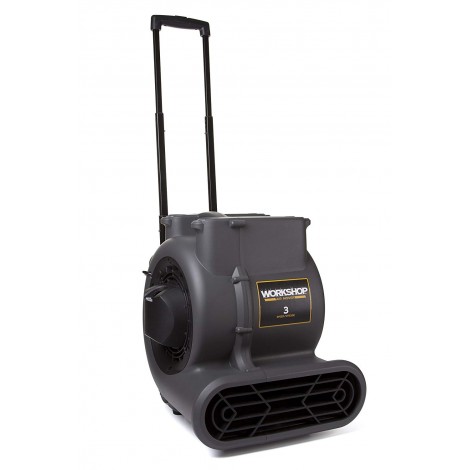 The Workshop WS1625AM is the ultimate powerhouse of air moving devices. With its uniquely powerful motor design, it maximizes air circulation in almost any space by dispersing high-velocity air. This product allows you to choose between 3 different drying speeds and 3 different adjustable positions for a fully customizable drying experience. Every product also comes equipped with a highly durable 30-foot wraparound power cable. With its retractable handle and lightweight design, you can take industrial drying power with you wherever you go.
Powerful Air Movement
This device utilizes an induction motor that is able to generate between 1650 and 2200 CFM depending on its setting. In addition, the unique design of the motor ensures that the device is surprisingly quiet during operation.
Mobile
Despite its powerful air moving capabilities, the WS126AM has been designed to be highly mobile. This product has a retractable handle that makes it easy to maneuver. This product also features three different drying positions and can be stacked for an even more powerful drying experience.
Cost and Value
This unit is perhaps one of the most expensive products featured in this article. However, this product comes with a durable 30-foot power cable for easy reach, extraordinarily high air movement power, and is covered by a 5-year warranty.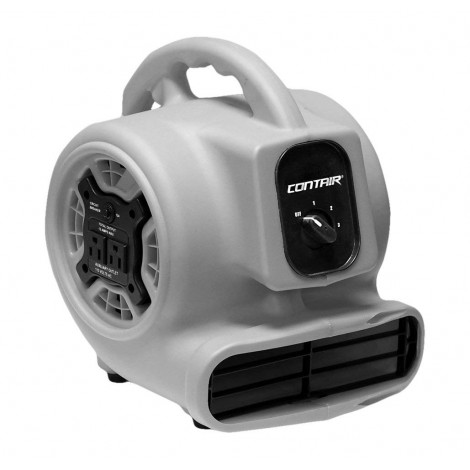 The FLO800GY delivers one of the most powerful performances for a device of its compact size. This product is capable of creating up to 1200 CFM that has a reach of up to 25 feet. You can easily optimize your air moving experience by choosing between 3 different drying speeds and device positions. This unit is also stackable for more heavy-duty air moving and has a built-in daisy chain capability.
Compact
This device is one of the most compact units in its class. The FLO800GY weighs just over 10 pounds and the exterior is made from very lightweight polypropylene. With its carrying handle and lightweight design, you can easily take this device with you to your next project.
Stackable
On its own, the FLO800GY is perhaps more suited to small spaces and simple tasks. However, you can stack up to devices on top of each other for a more powerful airflow. In addition, this unit features built-in sockets that makes it possible to daisy chain this unit with up to 5 devices.
Cost and Value
The FLO800GY is one of the most cost-efficient devices currently available. This unit offers its user a reliable drying performance from a durable device. While it may be more suited to smaller spaces, this drying device can is stackable and it is possible to daisy chain up to 5 devices for a more powerful drying experience.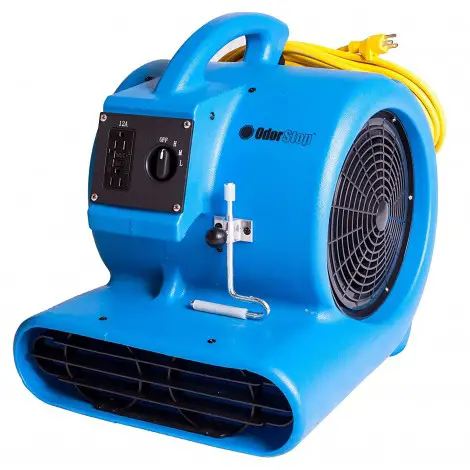 With its powerful 3/4 horsepower engine and up to 2800 CFM, the Odorstop OS2800 has more than enough air circulation power to tackle any project or task at home or in an industrial setting. The airflow has a reach of up to 100 feet and can be controlled using the speed control knob located on the device. This unit features several unique added features for easier use including a carpet clamp for easier drying and a 30-foot power cable.
Powerful Motor
This device has a 3/4 horsepower motor making it one of the more powerful devices currently available. It can comfortably generate a CFM of between 1500 and 2800 CFM depending on its selected setting that makes it ideal for a wide variety of projects including restoring water damaged areas.
Rugged Design
This device has been designed to last. The exterior has been uniquely roto-molded making it highly durable in any environment. This device also has ETL certification to ensure safety.
Cost and Value
The OS2800 is more expensive than many other products features on our list. However, this price increase is likely due to the immensely powerful engine and the device's uniquely rugged design. This device has been made to last and offers incredible value for money when it comes to effective drying.

Subscribe to our Newsletter