Best Bike Baskets Reviewed For Storage On The Go
In a Hurry? Editors choice: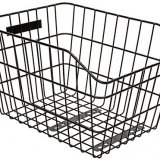 Test Winner: Sunlite Top Wire

The sun is shining, and baby birds are leaving the nest. They're taking flight and finding their wings, ringing in the summer season. While we lack the lightweight bone structure of our avian friends and therefore can't fly, there are some ways around this. Having the sun on your face and the wind in your hair is one of the best feelings in the world! If you're a fan of biking, you're all too familiar with this rush. This form of exercise gets you outside and moving around. You're able to cover far more ground than you would by walking or running, so there's way more chance for adventure. Whether you're taking a leisurely ride through the countryside, or pedaling hard on the city streets, nothing beats biking.

Now, while biking is a lovely way to spend your day, there are a few extra pieces of gear you're going to need. Going out on the town or even to the park requires some planning in advance. After all, you're making a day of it! Why not bring a picnic or some binoculars? The possibilities of what you can do during your ride are endless. Bird watching, for example, is a popular activity for folks across the board. Binoculars can be used to take a peek from afar. Perhaps you'd like to stop at a grassy area and play some frisbee or take part in another relaxing game. If you're taking your bike anywhere, you need a place to put all of those supplies! Even your water bottle needs a place to go. So, what to do, what to do? We'll tell you what to do! Get a handy, little case you can put right on your bike. Today we're going to look at the best ones money can buy so you know exactly which one is worth a buy!
Standout Picks
Criteria Used for Evaluation
Portability
A large portion of cases we looked at were fairly bulky. We attempted to choose options that would allow our readers to grab-and-go, so to speak. Some of these even double as little shopping containers! Portability doesn't just refer to the ability to transport the case without your bike, however. It also has to do with the ability of your bike to handle the weight that is being put on its front end. After all, if your bike is being constantly thrown off course by the extra weight then that's not useful in the least.
Portability means quite a bit in general to the function that these products have. You want to look at models that are light, but spacious, and also durable. That's quite a list, and not many products are able to do all three! Let's break them down a little bit and you can see what we're talking about:
Light: This, of course, refers to the weight that is put on the bike. This is important because of safety reasons, which we'll explore below. It's also important because extra drag can cause you to put in an extra effort. While this may translate into a better work-out, nobody wants to struggle their bike up the road because of an overly heavy load.
Spacious: Being large enough to tote what you need is important. However, keep in mind that you are generally trading off lightness, the above criteria, for space. Generally speaking, the larger an item is, the heavier it is. That's just physics! We do like wire models, however, for this reason. They can offer way more space for a fraction of the weight. However, they aren't always a practical option for those who want to transport loose items and such.
Durable: This ties into how spacious a product is. Generally speaking, if you want spacious and lightweight, we recommend metal. This is also going to be your most durable option! However, most people aren't going to need such a strict list of features. This is more aimed at those who use these professionally or use their bikes as their main method of transportation.
When you look at this trifecta of portability, you really start to understand the process of picking each product as a whole. We put a lot of time and effort into these guides, and we hope they're educational for you!
Safety Hazards
This may be, quite arguably, the most important piece of criteria we talk about today. When it comes to riding a bike, especially in city streets, you need to know that you're safe. Falling over at an inopportune time can spell disaster- and sometimes even death. Safety is huge, hugely important to keep your wheels on the road, and your body up high where it's safe.
We made sure to look almost exclusively at models that boast high safety ratings. This is generally due to their method of attachment. If you see a lot of reports of a case coming loose, then steer clear! This means it'll fall right in front of your bike, which means that you run right over it. If you aren't prepared (let's face it, how COULD you be?), then can end in an accident. God forbid you're on the actual road with cars in that case! So, pay close attention to reviews that talk about it coming detached while in use.
Capacity
One of the first areas you're probably going to think of when it comes to the criteria we used in evaluating all of the products is the storage capacity. This is a complimentary piece of criteria related to the overall portability of a product, but it bears mentioning by itself. Storage capacity isn't just about how much stuff your case of choice can hold. It's also about the style of the build! Does it have an open lip, or does it flare out at the bottom? Is there any way to cover it up easily to prevent flyaway items? How many pounds can it handle?
So, let's talk about a few of these features, and which ones are the best for you. First, let's look at styles of openings. This is the mouth of the model which is, obviously where you put everything.
Open Mouth: Having an "open mouth" means that the opening of the product is the widest point. This is good for transporting bulky items which may not fit otherwise, or groceries, or even pets. Keep in mind that they are a lot harder to secure. You need to make sure items you are transporting are heavy enough to stay in place!
Closed Mouth: This simply means that the mouth is smaller than the largest width on the case. Essentially, it balloons out. We love these styles because they're great at keeping your stuff safe, quite frankly. You generally don't have to worry about things coming out of the case, and you can easily throw a blanket on top and tuck it in for extra security.
That isn't all we need to think about, however. Next comes how many pounds that the product can handle! Most manufacturers will tell you what the weight limit of their model is. Pay close attention to that! This all relates back to overall portability, as well. It's really a huge picture that makes sense once you look at all the pieces, and how they're connected.
Style
Of course, we also picked products that we knew were stylish. Even the more rugged, metal ones have a certain flair that you can appreciate. There is a large range of models out there, each with its own style! Personally, we're a big fan of the lightship look, since it's so old-timey and a throwback to the "good ole' days". For messengers or delivery people, the more rugged, lightweight metal models might be a better option. They still look great, however! It's really up to personal taste, so we tried to have a little bit of everything on the list today.
How does the model attach to your bike? Are you going to be able to attach it with ease, or do some of your parts/wires get in the way? Make sure you look at how the model attaches to your bike since that will determine whether or not it's a good fit for you. Most of them attach to the Gooseneck on your bike, so make sure that the area is relatively clear. Other models attach to different places, obviously, so just keep that in mind. Always make sure that you're going with a product that you can actually use to avoid the hassle of returns, or exchanges!
Value
Cost and Value is always an important consideration regardless of the product you are researching. It is important to know which features are a priority when shopping for your next bike basket.
10 Best Bike Baskets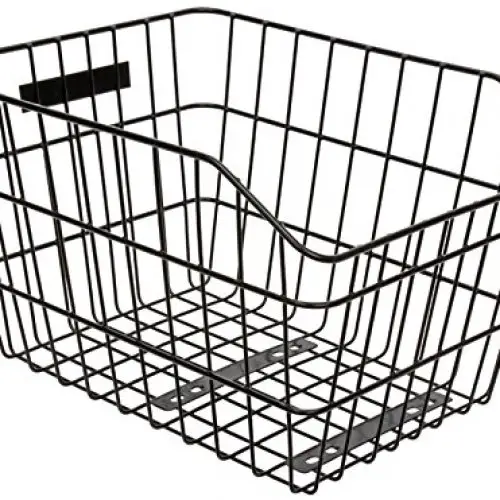 Looking for a great aesthetic that'll match any paint job? Sunlite is here to save the day, and save your style. This rustic look will add a great addition to your favorite bicycle. On top of this, Sunlite made sure to provide a roomy option for all of your storage needs. No matter what kind of gear you need to bring along, this crate has you covered. It's even great for pets! Sunlite is known for their top-quality products that keep us coming back for more. Find out exactly why we love them so much, and why we recommend them so highly, by clicking that "Expand" button below!
A Commuter's Best Friend
Many of us are choosing to take a different route to work more and more. This is due to multiple different factors. Some of us want to do our part to save the environment, and others are trying to save a few bucks on gas and car repairs. It doesn't matter why you're doing it, however. Regardless of the reason you absolutely need a way to carry your daily essentials with you. This product is a great way to keep everything you need, exactly where you need it. Namely: on your person (or, rather, your bicycle).
Bring Fido For A Ride
We know there are a lot of animal lovers here on the Gear Hunt! We're all big fans of furry friends ourselves. That's why we made sure to include a range of products that are pet-friendly. This is a very large crate that can easily fit your small-breed dogs. This is great for anybody looking to take their dog down to the local park, or give them a taste of the "high life". They'll feel on top of the world with their nose in the air, tasting every sweet scent on that warm summer air!
Cost & Value
Quite frankly, this is our favorite product on the list. It's absolutely phenomenal for everything you could possibly need! It'll fit every essential product that you need on your day-to-day missions. It'll even fit your furry friend if you want to take roofus on the road. It earned the top spot on our list for a reason! However, do keep in mind that you'll need to put a pad down on the bottom to avoid hurting sensitive paws. The spaces between the wires are moderately sized so small objects are at risk of falling through. Just keep these things in mind, and you'll be golden! This is a fantastic bargain that you don't want to miss.

2

. Wald 3133 Q-R Front Handlebar Bike Basket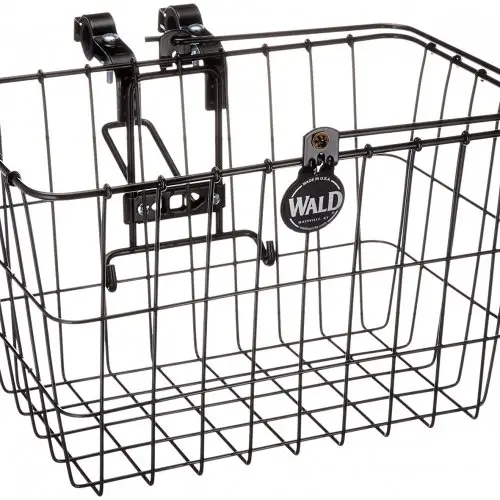 Don't let the weird mode name fool you. Wald has been bringing their "A" game since they founded their company. If you need a high-quality addition for your bicycle, then Wald is a great place to put your trust. While some attachments may come in only one color, which is generally steel, Wald offers this in two great shades. You'll never have to worry about your ability to color-coordinate on the go! This product has so many great features, and below we're going to break down two of our favorite ones.
Two Great Options
As mentioned, this is offered in two different shades: black, and white. This is an excellent feature that allows you to make sure the attachment won't look ungainly on your bicycle. Black and white are great shades because they're so easily matched across the board. If you have a dark bicycle, you may want to go with black to blend in. Or, use the white option for a pop of contrast! Whatever you choose, know that you're going with a quality product from a brand we know and love.
Won't Get In The Way
Tired of attachments that just don't seem to work with your wires? Luckily, this product is the answer to all of those problems. Wald designed it in such a way that it will easily allow enough room to make sure cables, levers, and all else won't be compromised. Not having the clearance to keep these parts of your bicycle moving freely can be a hassle. Even worse, it can impede upon your ability to properly operate your set of wheels. Don't let that happen to you! With this Wald product you won't.
Cost and Value
This model is surprisingly affordable considering all of the fantastic features it has to offer. We rate it as having a fairly high value, even though it's a little on the pricier side. While we know that it can be a hard pill to swallow, sometimes it's better to spend a little more. After all, you do get what you pay for. If you aren't looking to spend that much on a carrying crate, we certainly have other options available. If you're looking for a quality product that may cost a little extra, then this would be the pick for you.

3

. Schwinn's Girl's Lighted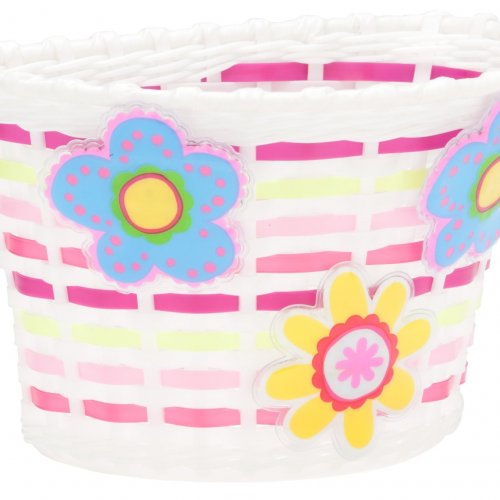 Now, this is a name we all know! From the earliest memories of your first bicycle rides, all the way up through your teenage years, Schwinn probably carried you through. This brand is one of the top sellers across the board! Most first bikes are Schwinn, and almost everybody has at least ridden one of their models. This bike case they've crafted is a fantastic addition to their children's line. You'll love the cute colors, unique details, and light-up features. Don't stop here, though! Click the expand button below and see exactly why this is a must-have for your little one!
The Cutest Pop Of Color
Who can beat a cute, little crate that your little one will love? Nobody! Schwinn put this out as an option for children who are peddling around with their parents, or even on their own. Your kiddo will love the independence they're granted by being able to carry their own gear! And hey, it's always a bonus when you can put your kids to work. Let them carry their own gear, and take a load of yourself while you're at it. .
Light Up Your Little One's Life
With this beautiful product by Schwinn you won't have to worry about visibility. The light-up flowers are activated by motion, and this means that your kiddo can be seen from a distance. While we know your child won't be biking around in the dark (or, at least we hope not), it's proven that visibility can be improved quite a bit even in daytime with lights. This is why keeping your headlights on even during the day is highly recommended! On top of this, your child will love how fancy they feel with this carrying device mounted on the front of their bicycle.
Cost and Value
As with any children's product, this is absolutely the best value for your money. Of course, this is entirely dependent on the usage. While some adults may like to get in touch with their inner child, we understand that most people above the age of ten probably aren't going to be psyched about the design. It does have a significant value in terms of money, and in terms of what it offers for parents. If you aren't a parent, we do have other products on the list that you can get on the cheap that still offer some great features.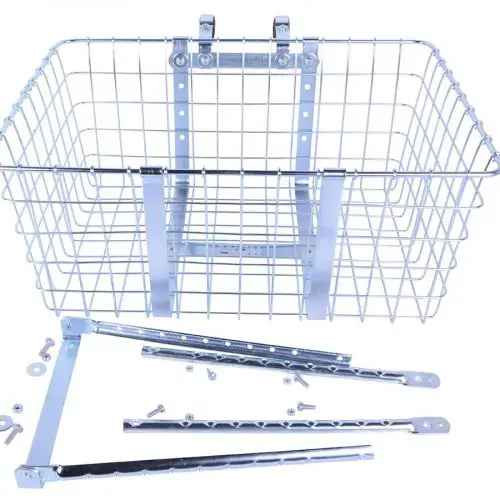 Another Wald product! Seriously- we can't get enough of this company. They have such amazing products, and we think you'll find one that you fall in love with. Maybe it'll even be this Giant Delivery model! As the name suggests, this is a great model for anybody who makes deliveries on the regular. Even if you aren't a delivery person, this still holds ample volume for your daily carry essentials! The enormous space offered is a huge plus in our books and definitely makes this a winner across the board.
Ubereats Is A Breeze
Do you deliver with a company like Ubereats, or Postmates? If you choose the bike deliveries instead of the driven ones, then this is the storage attachment for you. You can already tell by the name that this case is a prime candidate for carting around large amounts of product. Many delivery people have issues hauling big orders, so having the storage room you need is a huge bonus. Don't worry about showing up to a restaurant and seeing an enormous order waiting to go! You'll feel confident and cool when you have Wald on your side.
Reinforced To Withstand
If you're carrying a lot of stuff, you might be worried about your carrying crate coming loose. There's also the concern that it'll warp, or break, under the strain. Wald made sure to reinforce the steel they used in the construction of this product. This means that you don't have to wonder whether or not it can hold up to heavy items. After all, since it's so large that means you can fit a ton of stuff in there. You want to know that not only can it hold what you need, but that it can do so without bending or breaking.
Cost and Value
This is probably one of the more expensive items on the list, unfortunately. However, keep in mind that it's aimed towards a more professional audience. For everyday usage, you probably won't need such a large crate. We mentioned above that this is great for anybody who makes deliveries with their bicycle, and it's a huge selling point. When you're investing in a business-related product it's probably better to spend a little more. Plus, with the excellent craftsmanship, it's going to be on the higher-end of the scale. It's still an excellent value, even with the price tag.

5

. Colorbasket Adult Wicker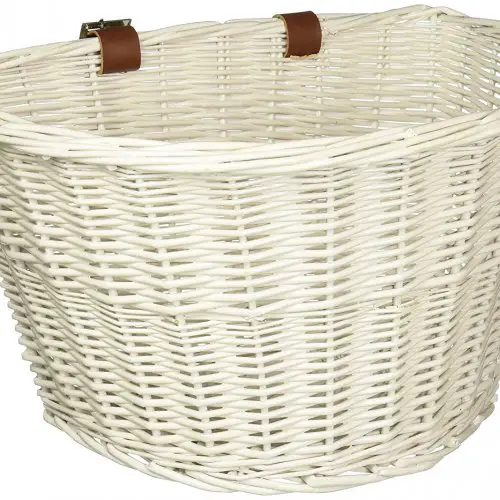 Colorcase offers you an incredible aesthetic that'll make you feel like Anne of Green Gables! This lovely, little design is a throwback to days of old when riding bikes out to the park for a picnic was commonplace. We all love the feeling of reliving those good, ol' days when things were simpler, and people spoke to each other just a little more. Technology is wonderful, and we wouldn't trade it for the world! Don't get us wrong! But reminiscing about the past doesn't mean discrediting the privileges of today. So, we invite you to think fondly of those years, and to use this Colorcase product to do so!
The Best For Picturesque
You had to have guessed that we would be waxing romantic about the look of this lovely product. We really just can't get enough of it! The woven design means that you don't have to worry about small items falling through the cracks. This traditional weave also gives you a much prettier vibe than the stark counterparts we have on the list. Although the others are great for commuting, or for bike-related business, some of us just need a cute option for leisurely use. The white color it comes in makes it look crisp and clean! All around, it just looks great.
Hand-Woven Quality
While it may be safe to assume that such a pretty product wouldn't have a high-quality build, we need you to re-evaluate! Colorcase hand-weaves each case, which is great to hear. Any company willing to put that much time and effort into their products is a company we can get behind. You just can't beat a hand-crafted design that looks this good. After all, how often have you tried to hand-weave anything? It's pretty difficult, we imagine. We say "we imagine" because… well, we've never tried it. Luckily, we don't have to, because Colorcase has us covered!
Cost and Value
Wowie, wowzers! You won't even believe that this product doesn't come at an absolute premium. We were honestly pretty shocked… and stoked, of course! The value offered by this Colorcase product is almost unbeatable. If you're looking for a casual add-on to your bike, then here's the answer to everything you need. It'll easily fit whatever it is you need for a successful trip no matter where you're headed. Not to mention, the Instagram pictures will be phenomenal. On the other hand, do keep in mind that the crisp, white aesthetic means that it's easier to get dirty. This is especially true when it's exposed to the elements. Just spot-clean when you need to, however, and things will be fine.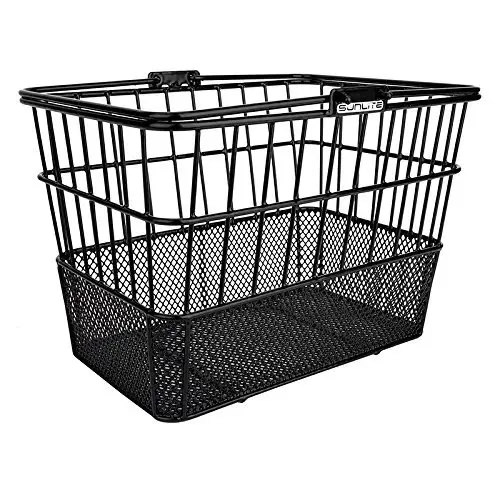 Ride onto the scene in style with Sunlite! This company crafts quality products that will blow you away in terms of both value and style. They are one of the best manufacturers of this style of attachment, and it shows with their large, loyal fanbase. The rave reviews honestly speak for themselves, so we absolutely had to have this bad boy on our list. We think you'll find that this product will not only give you exactly what you need in terms of storage but will look good while doing it. But, hey, that's for you to decide. So, keep reading to find out more, and why, exactly, you should give it a go.
A Color For Every Occasion
The sheer amount of color options available is astounding. Honestly- there is a color for literally every shade of bike out there! You'll never have to worry about maintaining the good looks of your set of wheels since you can easily match to your heart's content. In fact, there are 13 colors offered total! Each one is a unique shade that you will absolutely love. There are muted shades, such as taupe or beige, for understated style. Looking for a more "out there" option? Not a problem! Find your flashy fix with a brighter shade, like orange or red!
The Best Bottom Around
We've spoken prior about how some of these products have rather large holes in their design. Literally. Like, the holes are actually very large, and also it's a design flaw. Luckily, Sunlite crafted this design with a mesh bottom that'll keep everything where it needs to be. Namely, in the actual carrying device rather than on the ground somewhere. This is good news for pet parents, as well, since it adds an extra layer of stability if you're carting around your furry friend.
Cost and Value
Part of the reason this is such a great option across the board is because it's in the mid-tier price range. This means it isn't too expensive, but it also isn't cheap, either. The quality that went into its production is plainly obvious! It's nice when you don't have to shell out the big bucks to get a good design. That's exactly what Sunlite is offering with this excellent option that'll keep you organized, and prepared, even on the move. Tackle each task with the certainty of knowing you're ready for whatever comes your way!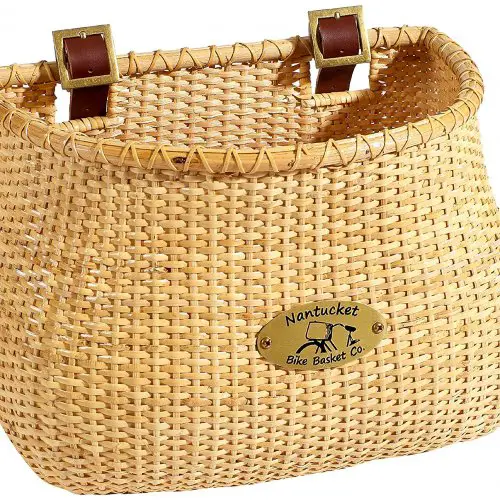 Well, just look at that! While the Colorcase model we looked at earlier offers a crisp aesthetic, we are really loving the look offered by this Nantucket product! The craftsmanship is absolutely superb, and beaten by no other option. The classic colors it comes in are sure to please, and will match effortlessly with basically any bike out there. It makes a fantastic gift to the cycling enthusiast in your life, or a present to yourself for, well, being you! No matter what you're buying it for, or who, you can rest assured that this gorgeous model will fit the bill for any and all usage.
Unique Craftsmanship
There really isn't another option that we found which can stand up to the stunning design this model offers. It's truly one of a kind! You'll stand out in any crowd with this lovely addition to your cycling ensemble. Nantucket took the design of their storage solution very seriously, and this shows from the high-quality weave to the classic buckled straps, all the way down to the bronze plate that proudly displays their insignia. And they should be proud, after all! This is truly a sight for sore eyes. The two different styles offered give you the chance to decide what aesthetic you're after, too. These are a replica of the famous Lightship designs that came around in the 1800s, which is part of the reason they look so fancy!
Ample Security
Some of the options have wide, open mouths. This can be great for storage purposes, but on more casual treks it presents a problem. Namely, your gear might fly out. This can cause damage to your belongings, or other people if it manages to hit somebody. Nantucket designed their storage model to be wide, but provided a smaller, tapered opening. Going on a picnic? Throw the blanket on top, and tuck it into the sides for a secure fit that won't leave you worrying. However, this is only the case with the first style. There is another style, the oval option, that is flared at the top instead of tapered. It's still a great option, but it might not add as much security as you'd like!
Cost and Value
If you guessed that this product would cost you quite a bit, then you guessed correctly. Unfortunately, it is a rather expensive piece of equipment. It's understandable, however, since it's just so gosh darn pretty! Honestly, if it wasn't for the high cost we would have put this product way higher up on this list. That's part of the reason we suggest it as a gift for somebody special! Sometimes you just feel a little better about spending that money on somebody else rather than yourself. Also, it'll really show some thoughtfulness in regards to the person's wants, as well as needs. No matter what, however, if you're willing to spend the money this product is sure to impress!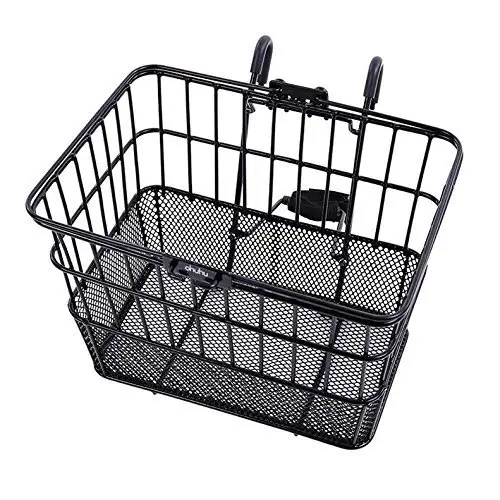 We think that this model by Ohuhu will have you saying "Oh-ho-ho!". It's a splendid design that gives you plenty of storage space. There are a few unique features that Ohuhu provided with this model. One of which is that it doubles as a case for shopping! No more reusable bags, and no more wondering how on earth you're getting your groceries home. This sleek model comes in black, and white, as the color options. Both are made of steel and are highly durable even when exposed to the worst of the worst when it comes to weather.
Great On The Go
This Ohuhu model is especially great for those of us who have gone the way of environmentalists and ditched the automotive life. Not having a car means having to run all of your errands with your bike or on foot. This gives you the ability to not only have storage on the go, but also to easily transport your groceries while you're still in the store. It's like a reusable bag, but better! Also, it ensures you'll never forget your reusable bags at home. We know that all of us have been guilty of that! It also features lovely handles that make carrying it around a breeze!
Withstands The Elements
Worried about rust? Worry no longer. Ohuhu has you covered! This model comes with a coating that makes it resistant to rust. This means that you don't have to worry about anything, rain or shine. We don't recommend leaving your bike out in the open, of course. Even with special coatings and treatments there comes a breaking point for all things. It's also just plain not good for the mechanisms. However, when you're caught out in a storm, or your bike is accidentally left outside, you won't have to worry nearly as much about the attachment being ruined.
Cost and Value
This is another mid-tier price range model that won't break the bank. While it might be a teensy bit pricey to the more frugal consumer, we think most people won't have a problem paying the price. The dual-purpose it offers is surely one of the defining features and offers the biggest value you could hope to find. Knowing that it can withstand the elements is a huge plus, as well, since it means that you have less to worry about as far as replacing this model goes. A large part of the value is how long a product will last, and we're sure this will last you a long time to come!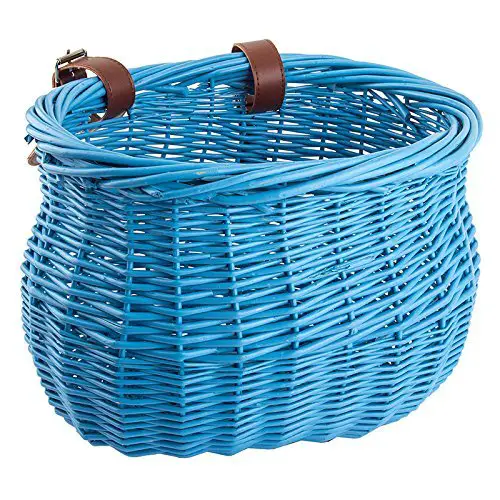 We featured a lovely model by Nantucket earlier that is a throwback to the Lightship models of days long ago. If you're feeling an 1800's vibe (who doesn't love the Victorian era?!), then this is the build for you. The generous space provided ensures your ability to bring what you need, wherever you need it. It also features a tapered top for a more secure experience. The Sunlite Willow Bushel model is sure to tickle your fancy! On top of this, there is a selection of colors to choose from. Add a pop of color and a whole lot of style!
Wonderful Willow
Willow is a great material to craft these products out of. It's a lovely wood known for its flexibility, as well as beauty. While these are stained, and so the beauty of natural willow doesn't shine through, they're still absolutely stunning. Willow is great because it's so flexible, and you don't have to worry about it cracking under the weight of heavy cargo. It provides a supple safety net that keeps all of your gear secure! Do know that this can mean this model is prone to "sagging" if you overload it. There isn't a specific weight capacity, but we suggest staying under 10lbs if you can.
An Easter Delight
It's a tradition in some families for children to get their first bike at Easter, should that family celebrate the holiday. Alright, so, maybe it isn't tradition, exactly. But it's a pretty common occurrence. The theme of the holiday is pastel to ring in the spring! This product comes in three beautiful shades that are highly complementary to that color scheme. Why not trade in one style of Easter case for another? Pop this on a tiny bike, and surprise your kiddo with the gift of their little dreams!
Cost and Value
Sunlite is actually providing a rather affordable option with its Willow Bushel model! This beauty rings in at a very affordable price that packs in quite a bit of value. However, we do not rate it as the "best" value because of a few reasons. Firstly, it is absolutely prone to sagging if you add too much weight. This means that this model looks better than it works. Of course, it doesn't mean you can't use it at all. It just means that if you have to bring heavy gear with you, this is not the right product for you. Secondly, we have definitely seen reviews where people complained about the durability of the product. While a year is a long time to last, we would definitely like to see something like a bike case lasting a little longer than that.

10

. Retrospec Bicycles Woven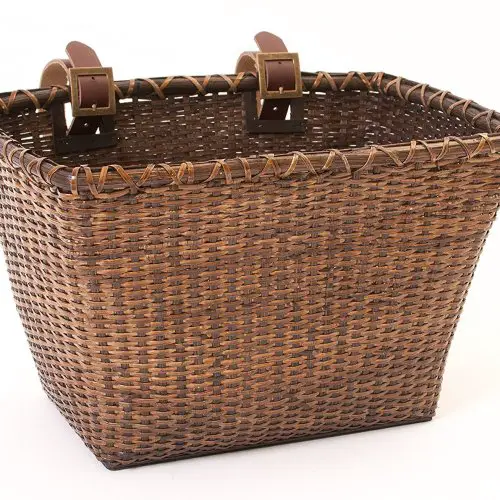 Retrospec is putting a retro spin on the great world of on-the-go cycling storage. This is another model that throws back to a century ago, providing both practicality and style. Who doesn't love both of those things? And in the same package? Unbelievable! Stupendous! We know you might need a moment to process this. Take all the time you need. But once you're done recovering from the shock, be sure to keep reading this section. We're rounding off the list with a beautiful case you won't want to miss! So, make sure that you don't. Who knows? This might even be the perfect model for you.
Massive Maximum Capacity
Retrospec recommends that you don't go over 15lbs when loading up. But, hey, that should be easy. After all, 15lbs is a helluva lot of stuff. That's like a hefty newborn after a couple of weeks Just, uh, don't actually put a hefty newborn in the case, alright, champ? Regardless of what you are going to be using this to cart around, the Toto model by Retrospec can probably haul it. We recommend maybe staying a pound or two lower than this recommendation, however. Sometimes woven cases can be prone to sag, so it's better to be safe than sorry.
A Few, Little Touches
Sometimes you have to slow it down and enjoy the little things. This throwback to the Victorian era reminds us to do just that. After all, before the invention of phones and other similar devices, it was a challenge to find ways to entertain yourself. They had to make do with what they had, and in some ways that made people appreciate the little things more. Retrospec took this idea to heart, however, with the design of this flawless product. They added some beautiful, wrap-around detailing on the lip of the opening. The color options are also not "flat", which means they have slightly varying shades blended into them.
Cost and Value
Although this ranks at the bottom of our list, there is something to be said about leaving the best for last. This may not actually be the best, but it's still a league above most other products on the market. We're weary of the reports of low durability, however, and want to stress that to our readers. Aside from this, however, we think Retrospec is providing a gorgeous option for storage on-the-go. The faux leather straps that secure it aren't nearly as ugly as some of the metal designs we've featured, for example. All in all, it's an excellent product, which is how it got on this buying guide in the first place.

Subscribe to our Newsletter