Best Badminton Sets Reviewed & Rated for Quality
In a Hurry? Editors choice: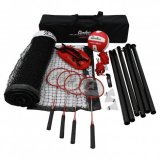 Test Winner: Baden Champions

True story: The great outdoors isn't called the great outdoors because it's just okay. It's great after all. And being out in it isn't just fun, it's good for the body, mind, and soul. And lucky for you we're constantly finding new and exciting ways to enjoy said greatness, and plenty can be cheaply purchased, and easily transported. But let's say you're playground has some open space but not quite enough for football, baseball or
soccer
. Well, let us recommend badminton sets. You don't need much space, you'll do plenty of moving, and it's an easy sport to learn and play. If you're interested step inside.
Standout Picks
Criteria Used for Evaluation
Ease of Use
Some of these badminton sets have a lot of parts. Some parts are crucial to the structure of your fun, and some aren't. But the overall build quality is essential to narrow your shopping when trying to find the best set for you. Premium build qualities on racquets often consist of carbon fiber frames, premium nylon strings, or replacement grips. Heading down to the budget end of the spectrum and you'll see recycled nylon strings, and usually steel-based racquet frames. Stating the obvious, the more you spend, and the better the materials, the longer your racquets will last and the more torture (play time) they will be able to endure. The same sort of goes for nets, though -- as you shouldn't be touching them all that much while you play -- wear from actual sporting shouldn't be a concern. The quality of the structure itself is the main focus here. You've got to find a balance within your budget that will see the strongest materials, the best nets, and the most reliable tie-downs. To save yourself some headaches, and to avoid having as many pain points as possible, putting nets up that don't have tie-downs (a common point of failure in build quality) was crucial to our list. In addition to the make and build of racquets and nets, the construction of the shuttlecocks themselves aren't really something we took into consideration, as they are easy to replace, and generally fairly evenly made across the board.
Accessories
Like we mentioned in the outro, there are a lot of different camps that you could be in when you begin shopping for more or all of your badminton needs. It was important to us to offer list items that consisted of just racquets (some with birdies, and some without), set that only offer you a net (which are a great way to go to replace your net, or if you have racquets already), and bundles of everything. The variety within those items was also key. Does the product offer something slightly left of the norm? Do they use better, or new materials? Do they offer the user an easier time during set-up (which is one of the biggest pain points in playing backyard badminton)? Products that offer solutions to problems many people don't even see themselves having are the types of variables that we were on the search for here. It may be a ranked list, but the main purpose was to absolutely offer a variety in bundle types, bundle quality, and bundle affordability.  
Application
If you spend a hundred or so buck with the intention of putting something together in your yard, or at your cabin, chances are, you'll greatly benefit from getting more than just the one use out of them. This doesn't really apply to our list items that only include badminton racquets and nothing else, but for the bundles or net sets, this matters. We chose badminton nets that aren't solely used for such a thing. Whether they are height adjustable or have variety in width, it's important to get as much out of your net as you possibly can. Tennis nets, for instance, are waist height. Pickleball and other sports are shoulder height. And volleyball is played at above head height. Getting a net that can do it all is a beautiful thing. So beautiful that we tried to ensure that all of the nets we offered here could pull it off.
Value
Here's the truth, no matter what list we make, price is going to be a factor in our decisions to include the products we put up there. The most important part of considering the price is to include a variety. The disparity in price not only gives you (reading this list, and potentially shopping for new stuff) a wider view of what's available out there because if we stuck to a specific price-range, chances are a bunch of very similar products will appear, and not everyone is looking for the same thing. If that were the case, we'd amend the title of the list to reflect a more niche audience. The cost is a direct reflection of most aspects that one would look at when identifying or solving their "what to get" problem. The higher in price, the better quality in materials you will see, and often, the more included in the bundle will be available. Lower on that price list you'll see cheaper items, with potentially less offered, but there are definitely people heading into their badminton shopping with small budgets.
Weather Resistance
No matter how hard you try you can't play badminton indoors. So, we're going to make sure that the sets we recommend aren't going to rust, bend, bleach in the sun, or otherwise become unusable in a short amount of time. Of course all things weather, but we want to make sure that you don't feel obligated to take down your net when summer moves along. Rather, we want you to be able to set it and forget it when it comes to your badminton net and be confident that it will still hold up when summer rolls around again.
Best Badminton Sets Reviewed and Rated for Quality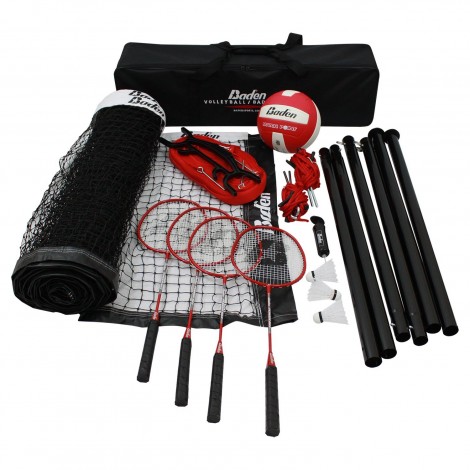 It would be mighty idiotic if we avoided choosing a number one that included everything you need to get your birdy smash on, while out and about on your adventures. The Baden Champions Volleyball Badminton Combo Set is a bundle of fun in a packed-down mobile bag. It's even far more versatile than other sets, as it can lift up beyond the height of a normal badminton net, and becomes a volleyball set.
Major Combos
The wonderful thing about indecision is that sometimes that doesn't have to be the downfall of your fun times with friends or family. Don't know if you want to play volleyball or badminton? Well, you don't really have to choose. The Baden Champions set -- with it's two included stilts -- can transform from a badminton height net to a volleyball one, in a fraction of a moment.
Quality
Everything about this badminton set screams high quality. Baden has done a fantastic job with the make and materials here. The construction of the net, the rope tie-downs, even the ball, and shuttlecock are gloriously well made. Some of these sets can lack the finer assets that make a truly quality apparatus. Whether it's the metal, or even it carrying case, reinforced stitching, premium nylon strings, the careful construction of these outdoor sets can spell the difference between half-an-hour of fun before everything falls apart, and multiple bummers of enjoyment.
Cost and Value
With everything we've spoken of thus far, it's easy to assume that the Baden Champions Volleyball Badminton Combo Set could run for an exorbitant amount of money, but it's listed under a hundred dollars. If you take into consideration that you're getting an extremely high-quality net set that can be your go-to for more than just the two sports it was made for, this is an incredible deal.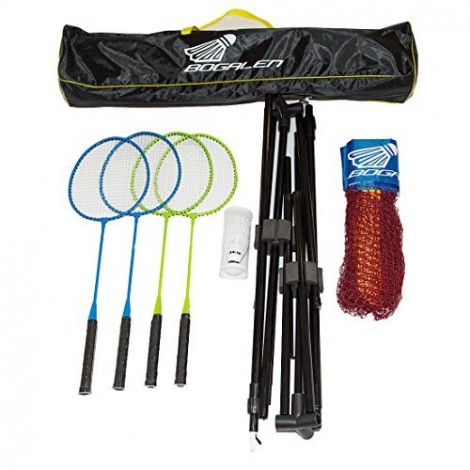 Dubbed as a multi-use portable net stand for "family outdoor games" is the best of all worlds. It's lower on the chain than other premium outdoor nets but doesn't get close to that line of low-budget. The set comes with badminton racquets and some shuttlecocks, so it's clear that it was made with that in mind, but it also adjusts to volleyball height. It deserves to be second on our list because it does everything that our top spot can do, with a few things left on the way-side of desirable, material-wise.
No Ties
The fantastic design of Bogalen Heigh Adjustable Badminton net spells out a far better time than others due to its complete lack of tie-downs. No more fussing with the annoying events that unfold around attempting to stick ground stakes into the dirt when all you want to do is play some badminton or hit the volleyball around. The bottom bar design keeps the net up-right and it supplies a great time, in a short amount of time. It's imperative that outdoor gear is as convenient to use, as it is made to be used.
All of the Sides
A true multi-use case system comes with all (or most) of the things you might need, and the tools you might need to have some fun. The Bogalen Heigh Adjustable Badminton set comes with the net itself -- a fourteen or ten-foot wide net -- three nylon birdies, a carrying case, and a fairly high-quality set of four badminton racquets. Nothing here is necessarily better quality than it would be if you were to purchase these items separately, and on their own with the same amount of funds.
Cost and Value
Corners get cut. That's especially relevant considering we're talking about a badminton set that gets awfully close to that "budget" price for all of the goods that it comes with. But they aren't cut here. They are, in fact, reshaped. Instead of the cuts, you get the awesomely tie-less Bogalen Badminton Set.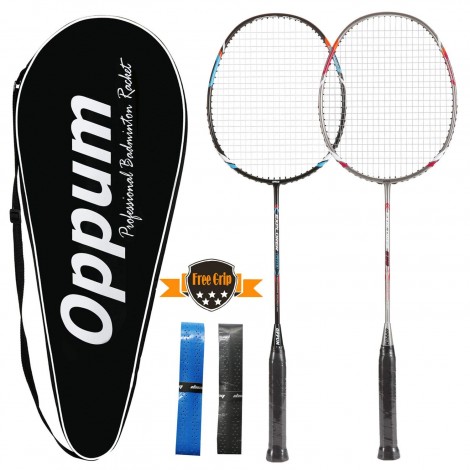 It's not often than you can find an amazing set of badminton racquets for an insanely great price, made with such high quality. The OPPUM Carbon Fiber Racquets set a great benchmark for your racquet shopping pretty high, and with a rather low price-tag. If you've got the means to find a net, or you just want to strike some shuttlecocks over a randomly chosen imaginary line, these OPPUM Carbon Fiber Racquets will do you more than fine in your times of trouble. If nothing more than to stop you from having to use your hands to smack some birdies around.
The Make of it All
There are so many things about the OPPUM "Professional" badminton racquet set that smell of quality. Let's start with the build of the carbon fiber body, which is proudly whip-like in its bend, and extremely durable. Strung up with a high-quality net, and professional grade hand grips, the OPPUM racquets are extremely high-quality.
Featherlight
If you've never played badminton before, let me inform you that the sport is a very fast, and whippy one. Nets hold firm, while birdies (or shuttlecocks) fly quickly through the air, but did you know that as a hockey stick mid-slap-shot, the badminton racquet also bends and whips quite a lot in order get the full power of the magical engineering behind these high-quality racquets.
Cost and Value
This set may not come with a net or any sort of pop-up variety, but the professional grade double racquet set from OPPUM made with 100% carbon fiber is the definition of value, in any sense of the word. For less than forty dollars Canadian, you can get two extremely competent, and amazingly made badminton racquets.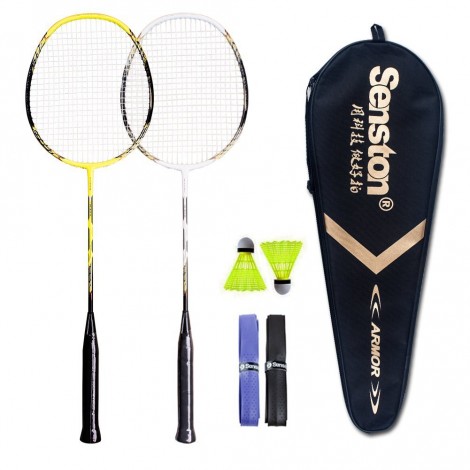 Another double set of near perfectly crafted badminton racquets, the Senston Two Player set has everything that OPPUM pair has, with a tad less brand recognition. As with many things, sporting equipment, in particular, you're the best bet is to look at as many options as you can possibly get your eyeballs on. Having two nearly identical options, and putting them so close together on our list is a tactic to ensure just that thing. These two options are fantastic, and both should be considered.
Colorways
One of the only things that are different between the OPPUM option and this Senston, is the color options. Here, you've got a few different color pairings, that will add a little bit of spice to your badminton game. Stunning yellows, crisp whites, and wondrous reds leap from the racquets and can strike fear into the heart of your great uncle who won't stop bragging about that one time in high school when he was the "best in his class".
Options on Bells (and or Whistles)
Lots of the items on this list come as shown, and without many other options. Sure you can find the products in bits and pieces if you're lucky, but Senston gives the buyer plenty of chances to find what combination of things works best for them. You've got combos that include two shuttlecocks, two replacement grips, and a carry case. There are versions of this same set of racquets that don't include birdies or don't include grips. Options are great!
Cost and Value
The full package is one of the best prices you will find around for not one, but two very well made badminton racquets. And with the previously discussed bundle options of grips and birdies, you've got some great value with the Senston Two Player set.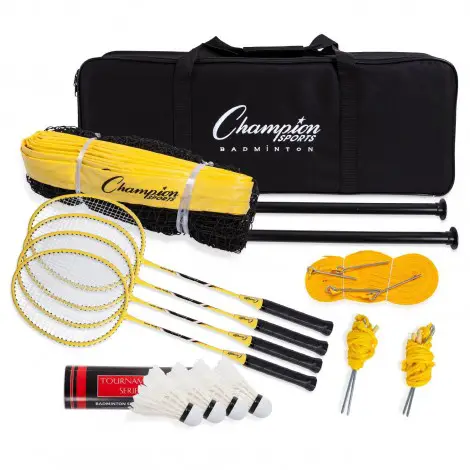 We know that you're thinking, another full set that might not be the absolute most premium quality. Well, this isn't the pros. We're not trying to set up regional championships, or showdowns for prosperity and trophies. The appeal to badminton sets like the Champion Sports Deluxe Outdoor Game Set is that isn't affordable fun, at an amateur-at-best level. Fun for you and your pals, at the cabin. Not for the glory of all badminton kind.
Everything!
The true beauty to the full sets like this one is that there is no need to "round out" your set-up in order to find the joys you're looking for in some backyard badminton fun. There's no searching for a home-made badminton net, or purchasing one. This set comes with four racquets of medium quality, a full net, "tournament quality" badminton shuttlecocks, and a carrying case.
Your Fun Needs Boundaries
An extremely easy way to ensure that uncle Benny doesn't cheat at the summer barbecue is to set some ground rules. One of those, of utmost importance, are boundaries. The Champion Sports Deluxe Outdoor Game Set comes with boundary lines that are easily run from the net to create boundary boxes with a simple peg in the ground on the far corners. Set those boundaries well, don't let uncle Benny take any of your joy. He can have a Monopoly, but don't let him take the pride of the grass courts.
Cost and Value
Can you really put a price on familial supremacy? What should bragging rights at Thanksgiving dinner truly cost you? Well, if you were to pick up this all-in-one badminton set from Champion Sports, it'll be about a hundred dollars. But considering you get nearly everything you need (family members ripe for embarrassment not included), that's a great value.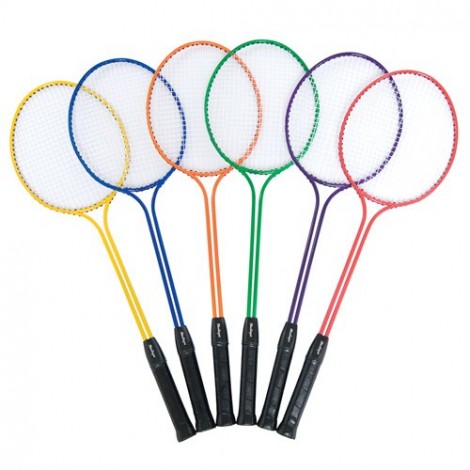 On every list, there's got to be a standout in regards to the inventiveness of solving some of the mainstays of the product in the category of the problems. With backyard badminton (or any racquet sport for that matter) the biggest drawback is the quality of the racquets themselves. A single, usually steel, the shaft that probably won't withstand the vigorous play of the backyard competitions that fuel awkward dinners with families forever.
Twin Shafts
No, this isn't a fancy muscular American-made motor vehicle. We're talking about a badminton racquet here folks. Instead of a single flimsy shaft extending from the handle to the head of the racquet double the structural integrity of the racquets themselves. Twice the shaft, twice the strength of the racquet. Connecting on from the top of the handle to two points of connection to the head of the racquet, the twin shaft design does not impede any function of the racquet.
Sixes & Styles
That's right! This pack of racquets comes in a set of six racquets. It's kind of weird. Especially if you consider that badminton is generally one versus one, or at the most two versus two. We've never seen anyone play three versus three, but who are we to judge if you want to shake things up numbers wise. In addition to getting six whole racquets, each one is a very beautiful, almost neon color, and will easily set apart all six players.
Cost and Value
Less than fifty bucks for a set of six fairly high-quality racquets is hard to beat. Add to that the unique design, and the quality nylon strings, and you've got yourself a few good full sets of badminton racquets that should do you for your need for some time to come. There are some reports on string breaking or grip wear, but if you're a fan of these racquets, we'd suggest restringing, or regripping with some higher quality stuff at your local shop.

7

. Park & Sun Sports Portable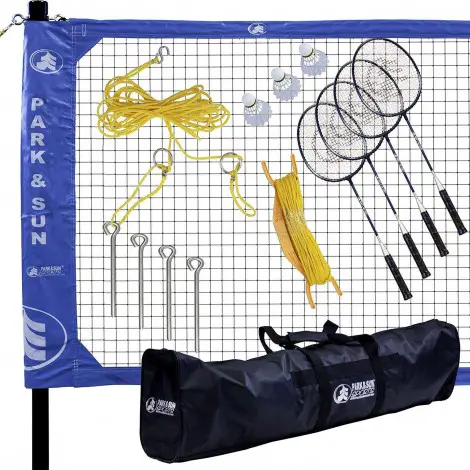 Billed as both an indoor, and an outdoor, the Park and Sun Sports Portable set is the best of the basics. The simple, yet quality, design in every aspect of this set truly set within ink a new standard for the middle-ground. You're not going to be blown away by the professional quality of any of these parts, yet you'd be hard pressed to find much wrong with them. So unless you're looking to get into the mindset of professional badminton player, the Park and Sun set is ideal.
Simple Things
An easy thing to build, and set-up, right here we've got an awesome package for fun that won't give you any headaches with overcomplicated designs, or parts. With nothing fancy, comes nothing of burden. The net props up with a single, simple pole (stick it into the ground), and two tie-downs on both sides pulling the net taught. Set-up takes only a few moments, and the build won't let you down.
Some Beauty In Regulation
Unlike almost every single badminton set on this entire list -- and extremely contrary to the opening paragraph in this entry, talking about not wanting to mimic a professional badminton atmosphere -- the Park and Sun badminton set is surprisingly regulation length. Sitting at twenty-one feet, the to league specs badminton net wouldn't necessarily be accepted into tournament play, but it sure fits the bill in regards to length.
Cost and Value
There's nothing quite like spending less than a hundred dollars for the express purpose of having a heck of a lot of fun, without the stress, and without the hassle of fancy parts. You're looking at one of the best badminton sets on the market focused on the sheer joy of playing some badminton in your yard, in the park, at the cabin. The value here is obvious but comes down to decent quality, ease of use, all for a relatively average price.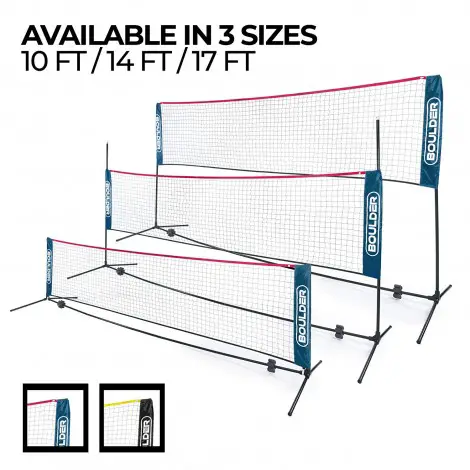 It's only right that if we have the gall to put options on this list that only offer a few racquets, and no net, that we flip that on its head and offer something that is purely a fabulous option for just the net. This, the Boulder Portable Badminton Net, is an astoundingly versatile net for almost any of your netted sporting needs. It's high quality and comes in many variations.
The Spice of Life
It's variety. Though I've been to some countries that would suggest that cumin, or allspice, is the spice of life. But maybe that's nitpicking. Here, you've got options galore. Not only can you pick between three different sizes of nets, the one net you do get is quite surprisingly moldable to your needs as well. The Boulder Portable Net can stand just above the ground for your tennis games, mid-range for pickleball or youth volleyball, and high for normal volleyball and badminton.
Stand-Alone
The best feature that the Boulder Portable Badminton Net has is that it can set up on any flat service. The stand-alone build of the net itself doesn't need any ties to the earth and works a lot like the item higher on our list. Match that with the fact that the tripod-like poles are extremely easy to set up, and you might just be stuck trying to figure out how many you need, rather than whether you need one.
Cost and Value
The premium net, with an anchorless system, and three heights (available in three different widths) is just that, a premium product. The price might be a bit above average, but even in its largest form, the Boulder Portable Badminton Net only runs slightly more than fifty bucks. It's quick to put together and build to withstand all of those accidents you might have when trying to beat your mates. The Boulder net is a fantastic value. Pair it with one of our choices for stand-alone racquet sets, and you've got some great fun ahead of you.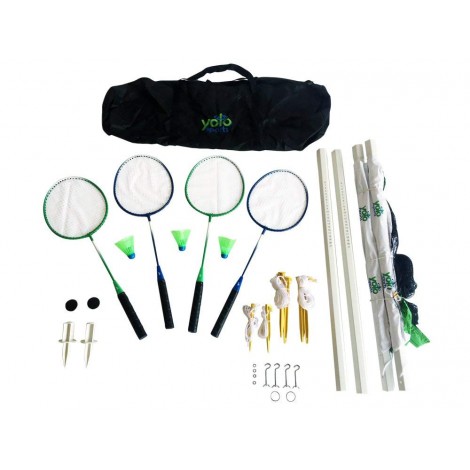 If you're wondering why we would put an item on this list that bears the name of a youthful idiom and acronym that stands for "you only live once", a phrase that is used to immaturely justify the acts of the stupid. It's important to note that while plenty of situations may call for some ruggedly built "discount" racquets and nets, you don't only play one game of badminton, so the name isn't the most fitting. Unless of course, you know pre-hand that you've only got the one game of cards to play, then why not YOLO it up.
Discounted Fun
You've got to know that often the amount of fun you are going to have isn't always tied up in how much the receipt reads at the bottom. Budget fun is just as great (sometimes funnier) than premium fun. The Yolo Sports Badminton Set is a prime example of this. For the same cost as just a racquet, you get everything you need to play the game. Granted, without the premium build quality.
No Expensive Mistakes
Cost aside, you get a whole lot of stuff in this one package. Consider yourself fully decked out to play some good ol' backyard badminton if you snatch up the Yolo Sports Game Badminton Set, and you can even invite three friends to play with you. Part of the reason it was crucial for us to throw a budget set on this list is that often times folks get a badminton set for the sake of one event -- so maybe that brand name is proper after all -- and there is very little to be found in the way of hard feelings if something were to break, or if the heat of competition were to get the better of someone, because you paid less than a meal for two at a diner for it.
Cost and Value
This entire set is the definition of cost and value. The quality is low enough to keep the cost down, and you get one (or four) of everything you need to play right out of the bag, all for under forty bucks. The value of taking the lesser product route, for the sake of some short-lived fun is often the path people take. Don't break the bank, and get something you won't be upset about when it breaks.

10

. Trained Premium Quality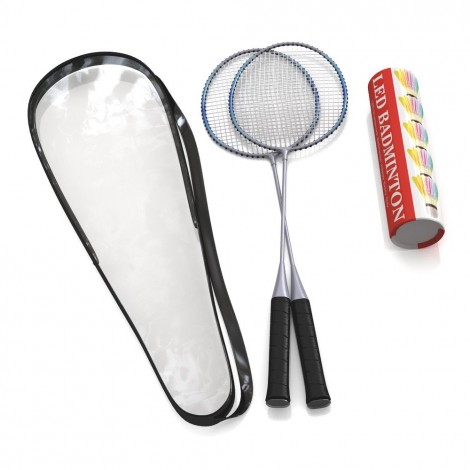 Another great discount product, the Trained brand of "premium quality" badminton racquets might not have the most accurate name, but they will do you some good in a pinch. The set in full comes with two fully strung racquets, a clear carrying bag for said racquets, and a tube of five shuttlecocks. There's not much meat on the bones here, but the shuttlecocks set this item apart from the rest, and most others on the market.
Budget Friendly
To rehash some of the concepts and thoughts from the previous list item, the Trained Badminton Set is an essential item for those looking to spark some fun, or replace some racquets and are met with a shoe-string kind of budget. At roughly ten bucks, you're not going to break into any world tour championship tournaments with these racquets, but if you need some spares to fill out your arsenal, or for the kids to use, these nearly brandless, non-flashy racquets are a killer deal.
Is It A Bird? Is It A Plane?
To say that budget-friendly products don't usually stand out is an understatement. From grocery brands, all the way to sporting goods, the cheaper they get, the less flashy they will be. So it was surprising that a ten dollar set of racquets would also come with amazing LED shuttlecocks. These bad boys whiz through the air in bright, easy to see colors and will put on quite a show for those spectating your backyard shenanigans.
Cost and Value
Whether you're looking to light up the night, with a cold beverage and some badminton, or you're looking to add a few extra racquets to your bag in case of emergencies, the Trained Premium Quality Set of Badminton Racquets and LED Shuttlecocks is a fantastic value. It even has a few colorful tricks up its sleeve in order to stand out among the budget aisle residents.

Subscribe to our Newsletter