Best Avalanche Probes Reviewed & Rated for Quality
In a Hurry? Editors choice: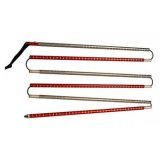 Test Winner: Demon United

If you're an outdoor adventurer, there are several pieces of gear you can't go without. For those who like to spend time snowboarding, skiing or otherwise exploring mountainous terrain, you need protection
in case of an avalanche
.
A critically important piece of gear you shouldn't adventure a mountainside without are avalanche probes. If you're snowboarding and an avalanche was to bury one of your friends, these probes are your best method of defense. They're designed to help you find the exact location of the avalanche victim.
How do you choose the best probe for your needs? That's why we're here. We've thoroughly researched the top ten options on the market today and brought them here for you in this streamlined guide.
Standout Picks
Criteria Used for Evaluation
Responsiveness
Fast, quick, and speedy reactions are all you need in case of an emergency. These probes all have advanced features that allow them to offer responsiveness. There is a pull cord for a quick "one-pull" readiness.
This is a major aspect to consider since you are dealing with an emergency. A quick response means a life is saved. On the other hand, if you are slow to respond, then you risk losing a life. The last thing you want to be doing is fumbling around while peoples lives are at risk.
You want a probe that will do its job as fast as possible. That is why you should go for one with a durable oversized tip. The tip should be able to make massive holes that will let you reach the victim quicker.
The poles should be quick to assemble in response to any casualty. The features will determine its responsiveness. For instance short and light devices are easier to bring together. A high responsive rate happens when you are able to connect the poles in real-time.
Durability
A well-made and long-lasting probe will save you money, time, and the hassle of shopping around.
What makes such an instrument durable? Many factors contribute to this. First, the material is a huge determinant of durability. Carbon and aluminum are good choices. But, steel is the most durable.
Still, it comes with its own disadvantages. Durable as it is, it weighs heavily. Steel instruments are mostly used by patrollers. Carbon is the most expensive of them all.
Durability is achieved through ferrules. They aid in fast deployment. At the same time, the detector is able to maintain high quality.
The more an item is used, the more it tears and wears. Also, the work done determines the durability of the item used. It should be able to withstand high friction and temperature.
Clearly, durability decreases with time and regular work. Keep in mind the most durable tools will save you money and time. A quality probe should be long-lasting.
Ease of Use
When choosing the one to buy, you should consider one that is easy to deploy. In an emergency situation, you don't want to waste a second when it is a matter of life or death.
Avalanche probes resemble poles that are collapsible and are joined by strings. This process is easy and understandable. If you do not know what to do, then make sure you read the instructions or watch videos ahead of your outdoor adventures.
Different ice-breaking tools have different methods of usage. This depends on the material used to construct it. There are two types used to make them: aluminum and carbon.
Experienced life rescuers use carbon choices to dig deep vertically. This requires speed during execution. They prefer shorter probes.
On the other hand, pro patrollers prefer long aluminum ice breakers. This enables them to permeate dense snow with the help of the material's heaviness.
With the right knowledge and practice, it is possible to avoid any casualties. But it needs discipline and commitment. Before settling on a probe, ask yourself how easy is it to use?
The ease of using a detector is a major criterion. What is the point of buying something if you aren't going to be able to operate in? There are manuals and instructional videos online that explains how to use them.
But still, how easy do these video explanations match the products ease of use? Most match up while others don't sync.
Size
Length is a major factor when choosing an avalanche probe. You'll never know what length you'll need to save someone.
Longer poles have the ability to go deeper. But, you will have worry about carrying heavier weight around. Furthermore, knowing the full length of a pole when it is dissembled is another factor.
The measurements are put on the shaft of the device. They will also assist you with measuring the snowpack you will use.
Size determines the efficiency. Normally, the length is rationed with height and material. None of the three works in isolation.
Therefore, when considering size, you should not forget about the material used. This adds up to efficiency and also affects how well the device works in different situations.
Always remember that long and heavy aluminum poles are good for use on tough grounds. Short and light carbon devices are good for quick digs. This means the size you choose also relies on how fast you use it.
The faster you are, the shorter of a probe you can choose. A longer size will slow down your pace. Therefore, your pace will decide whether you'll be walking around with a heavier snow pack or a lighter one.
The size is shown in numbers. You should opt for a size of around 20*4*2 inches.
Bottom Line
You may risk paying a price for being unknowledgeable or not responding fast enough. But how does your ability to react fast be a criterion for evaluation?
It is simple. If you are responsive enough, may not need to go deeper to rescue a victim. Therefore, you need a short and light choice.
On the other hand, a slower response means the victim will sink deeper before you can rescue them. Snow is quick to harden. If this happens, you'll need a heavier and longer pole.
The weight and height enable you to break through heavier and deeper snow.
You may also show your speed on how fast you assemble the dismantled joints. A pro can assemble one in minutes; ski fast, and save the victim. A longer device may take longer to put together.
Shorter poles are easier to join. This gives you more time to save the victim. Therefore, consider models that you can assemble fast. This should be enough to save a casualty when it is a matter of life or death.
10 Best Avalanche Probes


The BCA brand is regarded as one of the most popular options on the market today. The design is simple, and it can serve professionals and amateurs alike. It is lightweight which puts this particular option it ahead of several other brands out there.
In addition, it is user-friendly as it is simple and very fast to assemble. It does not feature any loose cable, and the issues of any hang-ups do not occur. Just as it is easy to assemble, it is also easily disassembled.
Decent Length
In considering probes, there are lots of things to think about before making a choice. One of these factors is the length. This one has an edge because it is long enough to perform the job. It's very easy to use because of how light weight it is.
When you consider the length together with the fact that it is lightweight, you will discover why it is essential to have. It is not surprising that something from BCA made it first on the list. It can satisfy all your requirements.
Ease of Assembly
Another critical factor that determines the value of these tools is the assembly. Users prefer ones they can put together without much difficulty. The Stealth 300 is very easy to assemble.
It is not difficult to disassemble the parts whenever necessary. Because of this, its very user-friendly. If you are looking for an effective instrument for detection, consider this one.
Cost and Value
You will benefit when you order the Stealth 300 because of its slim design. To ensure this, it is long enough to detect any type of movement. Not to mention its ease of assembly and disassembly whenever it becomes necessary.
There is absolutely everything to gain from this option! The instrument is stable and strong. In addition, it is lightweight and very simple to use.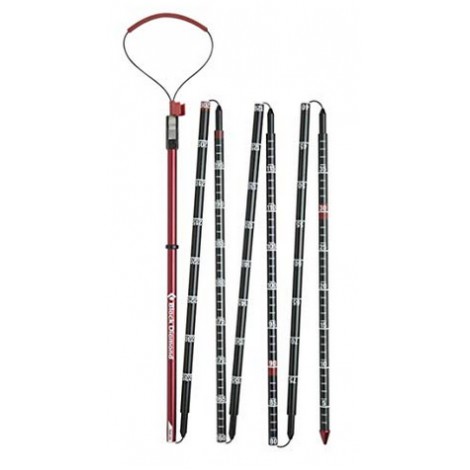 The Black Diamond detector does not have a long length. Because of its short size, it makes good for lightweight tours. To support this, the product is lightweight. It is suitable for rescue practices, and you can use it in different skiing terrains - especially those that feature a shallow snowpack.
When it comes to construction, it is durable enough because it is designed with aluminum material. This makes it strong and made to withstand many uses (though, hopefully, you won't have to).
Lightweight Tours
The Black Diamond is meant for lightweight use. This is because of the short rope length. The length also makes it easy for prompt and quick deployment. It is ideal for any skiing environment.
Durable Construction
Another outstanding aspect you should know about is its construction. One of the key features that make this devic great is the quality aluminum it's made of.
What do you expect from rope designed from stable and strong material? It is going to be highly reliable.
Cost and Value
There is hardly any other similar product that can compare when it comes to the value. You just saw that it is designed from the finest aluminum material available. It's strength, durability and reliability make it a strong contender.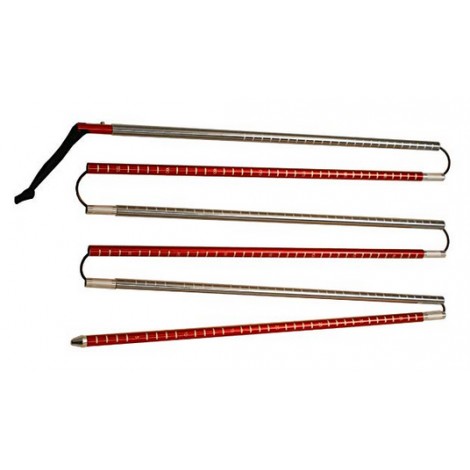 When you are looking for a great emergency probe, you can start with the Demon United because of its innovative design. It can serve at least two important purposes. If you are looking for a product you can use to measure snow depth, it is good for that, too.
Secondly, it is a great device to help search for survivors. It can help track where victims are trapped. Because of the unique design, you can easily detect the location.
Durable Construction
It is necessary that emergency gear does not fail when it is put into use. Users consider the issue of construction when recommending it. It is certain from the superior quality aluminum material that it is going to withstand the harsh conditions as it is durable.
Because of the durability, you can use it with confidence for whatever purpose you want. When it comes to searching for casualties, you know that this probe will come through for you. In addition, it is good for determining snow depth.
Easy Assembly
It is simple and very easy to assemble the parts and put them into use. There is no need for technical knowledge before you can install it.
This unit, is quick to disassemble after use. There are not many technicalities involved, making it a great option for people who want something they can assemble quickly.
Cost and Value
Every user is going to appreciate the design. It is durable and will not disappoint. If you need it to search for a survivor, you would not see this probe as a burden to carry.
In addition, you have seen that it is simple to assemble and put into use, both important features to have in a lifesaving device.



This item surpasses others in all departments. It is compact in design and is available in just one color. Because of that, it is not difficult to distinguish it from the others due to the fantastic design.
In addition to the compact design, you discover that it is light in weight. When you use this, it will not slow you down. Furthermore, storage would never be an issue as the model is regarded as one of the best collapsible detectors out there.
Collapsible
To make it easy and simple to use, the Arva is completely collapsible. This adds to the compactness, and it is not difficult to take it along with you wherever you are skiing. Its light weight makes it easy to carry and user-friendly.
This is one of the best for convenience and is highly recommended.
Quality Item
When it comes to the value, there are a few others that can compare. First, it is designed with the finest steel cable material the makers boast of. This is durable and can serve you well in backcountry terrains.
Because of the quality construction, you can use it with confidence knowing that it is not going to disappoint you when you need it most. You can use it to search, ski or do other snow activities with great confidence.
Cost and Value
Everybody wants the best, along with the quality and performance that determines the best. From the reviews and recommendations, the Arva is considered one of the best. Even if you have no knowledge of how to use avalanche probes before, you can use this easily without difficulties.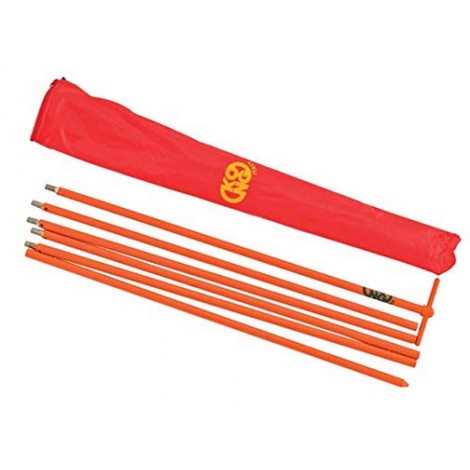 One thing that sets Kong Tech apart from several others out there is the heavy-duty alloy construction. This feature makes it perfect for those who need to engage in a snow rescue mission.
In addition to that, it is also designed for professionals who want to engage on ski patrol. It is necessary that when you engage in this kind of exercise, you do it with quality detection devices. This is designed for that, and there is absolutely nothing to be uncertain about when you put it into use.
Durable Construction
It's well constructed of heavy-duty materials. Kong Tech devices are designed with the finest quality alloy material. It was evident that the safety and security of victims were put into consideration when it was constructed.
Extra Length
The device is extra long. This is essential for the user and for the victim. Its length makes it easier to use with more assurance. Its total length is 300 cm (118 inches).
Cost and Value
It might not be the most pricey; but when it comes to performance, it is one of the top contenders on the market. There is nothing to be uncertain about when you deploy this one for your search.
When you use it, you are going to gain full value for any money spent since it does not disappoint. It's an essential piece of equipment for anyone participating in any outdoor winter sport. You will not find it hard to assemble and use.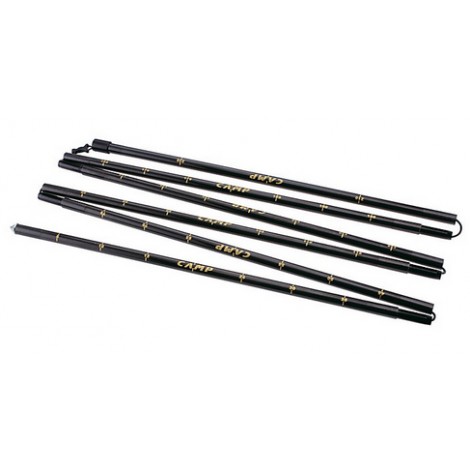 From the name, it is obvious that this emergency detector is produced from the United States of America. When it comes to usage, it is among the top recommended as it is considered the lightest of such products that exist in the market.
It can be used for different kinds of terrains such as alpine, mountaineering, skiing, and so on. This model is among the top recommended because it is safe to use. In addition, the length is good enough as it meets the international standards.
Lightweight
One of the most noticeable features is that it is lightweight, making it easy and non-encumbering to take with you. You can use it for different tracking activities during the snowy months. This is because it is also compact in design.
Multipurpose Use
The other aspect you would appreciate is that it has multiple uses. Whether you want to use it for skiing, mountaineering, or alpine, it is designed to satisfy your safety requirements. Complete with a carrying bag, this carbon fiber device is recommended for those looking for the best.
It is suitable for different purposes because of its length. It is not too tall, and it is not too short. It provides six segments infused with aluminum ferrules that fold to a length of 40cm.
Cost and Value
There is no doubt that this detector is the most valuable and is designed in such a way to satisfy the requirements. As an added bonus, it's also not the steepest in price.
The most interesting benefit is that it is light, and the length is the normal length. Just a pull of the cord will help assemble it quickly and securely.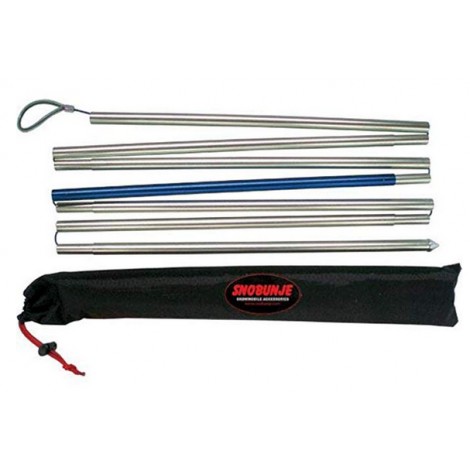 Several factors make this brand outstanding. The first thing is the size, as the product diameter is half an inch. Another factor is its quality construction.
Designed with the best-tempered aluminum, it will not disappoint when you put it into use. The length is equally outstanding at 8 feet long! This is good for any kind of winter mission you wish to undertake.
Quality Construction
The greatest aspect to consider in your search is the type of construction. The Snobunje emergency probe is manufactured using high-quality tempered aluminum. It is not going to fail you when you use it.
For added peace of mind, it is a good idea to practice using this before you head outdoors.
Ease of Use
It's very simple to use as it can latch on very fast. This makes it reliable for the task. Whether you are a novice or an experienced user, you will find it easy to assemble and disassemble whenever you want.
A nylon tote bag is provided for storage purposes.
Cost and Value
Carry this with you on your next skiing expedition. It is wonderfully designed, and it is stable when in use.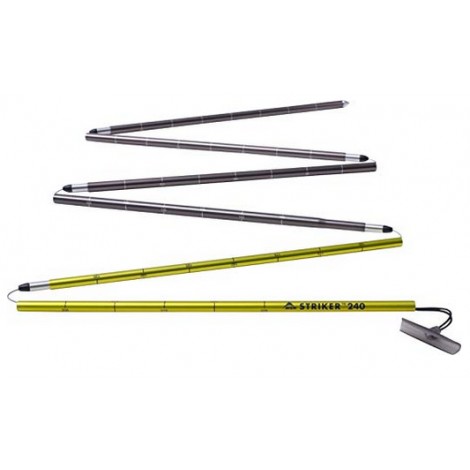 What are the features that make the MSR valuable? The first is that it's compact, making it simple and easy to transport. The second is its exceptionally light weight, making it non-encumbering to tote with you. The next aspect is that it is ultra-stiff. This implies that you are completely protected when you need it.
Compact
You will notice that this item is compact. Because of that, you will not find it hard to use. Furthermore, it makes it easy to take it with you wherever you go.
Easy to Use
This device is very durable and can be put together very fast. This helps to facilitate any searches you may have to do.
You can explore the backcountry safely with little trouble because it can latch very fast during an emergency.
Cost and Value
It is perhaps one of the best on the market for consumers because of the value they derive from the product. The features are exactly what people are looking for in an avalanche probe - lightweight, easy to use and fast to assemble.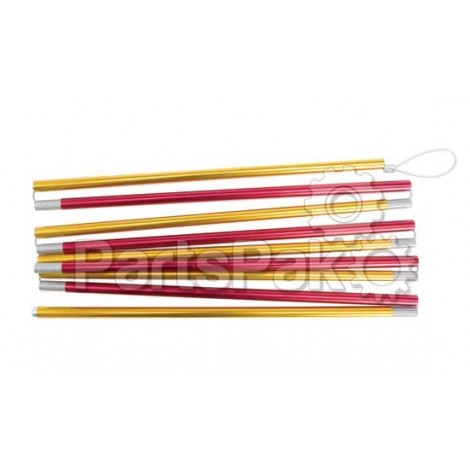 This versatile probe from SPI is designed of impact-resistant aluminum, making it a very durable option. Throw this probe in its included storage bag and you'll have something you can rely on for all your winter activities in avalanche country.
Portability
The SPI is a very portable option to bring along with you on all your snow adventure trips thanks to the included nylon storage bag. It'll fit nicely in your backpack without taking up too much space.
User-Friendly
We loved that each subsection of this probe alternates colors. Though it might not seem like a functional feature at first glance, this helps rescuers determine how far down the trapped victim is.
To use this probe, you just need to pull on the tension loop and all of the tubes will begin to fall into their couplings.
Cost and Value
This is not the most cost-effective product on our list, but you can't skimp when it comes to your safety and saving lives. You're paying for a high-quality well-made lifesaving device.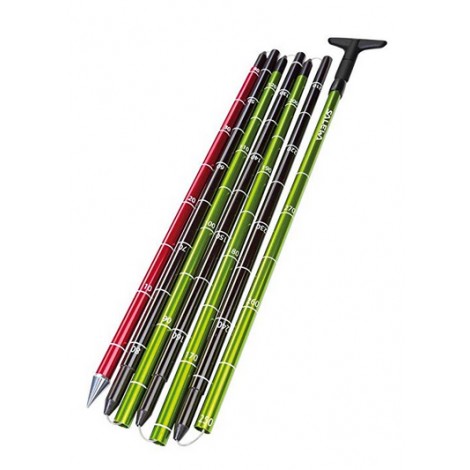 If you need quick access, you need the Lightning 320. This comes with an 8-section carbon material. The oversized cross-section gives this device maximum durability. The automatic latching and the pull grips offer quick assembly during any emergencies. Not to mention the durability assurance you get from the Salewa brand name.
Lightweight
One of the outstanding features is that it is lightweight. It is good for a simple tour. If you need it for a rescue mission, it is great for that because the weight makes it ideal for such tasks.
The compact design means that it is going to be user-friendly and simple to handle.
Easy to Assemble
When it comes to assembly, this has an edge because it is easy to put together. It features pull grips for speedy assembly.
Cost and Value
The Salewa is no doubt a useful device because of its user-friendly application. It is both lightweight and compact in design. It isn't the most wallet-friendly option on our list, but you should expect to pay more from such a high-quality brand.

Subscribe to our Newsletter