Best Apple Watch Bands Reviewed & Rated for Quality
In a Hurry? Editors choice: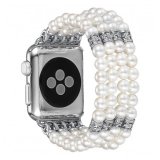 Test Winner: Fastgo

Do you own an
Apple Watch
? If the answer is yes, then you may be aware that it gives you the flexibility of changing the band and consequently its appeal depending on the occasion. For instance, you can swiftly change the sophisticated metal band you wear to work to a casual sports leather strap with just some quick fixes. The strap changes the look of the watch, and due to this, there are dozens of straps makers who are joining the industry every other day. If you are looking for a strap for your watch, you definitely want one which will match your taste and sense of fashion. But how do you chose the best in a pool of straps? Luckily we have selected a few to ensure your shopping is hassle-free.
Standout Picks
Criteria Used for Evaluation
Durability
Apple watch bands come in different shapes, sizes, and styles. They are elegantly stylish and blend well with your outfit and personality. Fancy colors, silicon, leather, bling diamonds, gold, and stainless steel are the main highlights of these adorable straps. Apple sells its watches with the bands; however, with time you may need other bands to complement your style.
There are several makers of such bands out there who are producing fancy and elegant bands that give a more sleek look. You get the satisfaction of changing different straps depending on your taste. If you are in need of a strap for your watch, quality is the first thing you should look at. Stainless steel usually is of high quality and durable; however, it should be finely polished to prevent tarnishing or coloring. If you prefer leather products, look out for those that at 100% pure leather. It cuts across all the materials since a high-quality product is likely to give you more satisfaction and save you some bucks.
Compatibility
Apple watches bands are interchangeable so long as the sizes are compatible. A strap specifically made for the 1st generation (Series 1, 2, and 3) can fit well with the new generation, Series 4. Obviously, this kind of change has an overall effect on the appearance of the watch. Compatible straps are readily available and standardized to take the market by the storm. Manufacturers of such bands are producing new products every day with improved features to conquer the market.
The consumer is thus spoilt for choice such that if you want to replace your band, you can easily order for one in the next store. Before making an order, it is vital to know the size of your casing which is indicated in millimeters (mm) and which can fit well with the band you intend to buy. Compatibility solely depends on these sizes, and as you search for your preferred choice, it's essential to make the right choice which will spruce up your Apple watch.
Value
When shopping for a band for your Apple watch, its cost is an important consideration since, without the money, it's difficult to budget for what suits you. But money is not the only thing we are looking at here, and one question we will be asking is, what value or benefit do you get from the product?
You may be interested in buying a particular strap, however, it may not be featuring anywhere in your budget due to the staggering price. On the same note, you could get a similar band for a fraction of the value and get the same satisfaction. It's much in order if your budget can allow buying a pricey product, however, the market is full of surprises and there are some high-quality products costing less. Overall, the best band for your watch is one that will give you value for money.
Color
Before choosing a band, it is essential to think about its color and whether it will blend with your style and choice of fashion. Some colors appear beautiful and elegant if they are matched together, while others would look funny and awkward, though the taste of color depends on an individual. Someone might admire a particular shade of color which they feel is beautiful only to appear funny and ridiculous to the viewer.
Although color should match with your clothing stay away from products that may make you face ridicule. For example, a checkered strap would fit nicely with plain clothes and not flowered ones. So select wisely to prevent the feeling of awkwardness and color crash. Color also comes into play when choosing something to match with the outfit. You can pick a band which is versatile, and which can match with your watch and with several shades of your outfits. Anything you choose should highlight your sense of style and fashion.
Materials
Watch bands come in different sizes and shapes, and they are made from different materials such as bling diamond, alloy, leather, stainless steel and many more. Some people are allergic to certain types of metal, and while shopping, it's essential to look out for one which is safe and gentle on your skin.
Gold does not react with the skin and silicone is skin friendly. Metallic straps may last long but could cause an allergy; however, they are of high quality. Silicone gives you an option of many colors that can complement your wardrobe. It is lightweight and blends with any watch. It also blends well with the outfit than when used in metallic casings watches. Silicone straps are either plain or stitched at the edges to give them glamour and beauty. The same applies to leather bands.
Buckles and clasps also add some charm and elegance to your watch. The design and the general appearance is what determines the value of your watch. You can wear a cheap watch, however, if you fix an elegant looking buckle, it transforms into a glamorous watch and appears expensive. Undeniably, this makes you proud and boosts your ego. A plastic buckle will make your iWatch look cheap, unpleasant and lose its meaning. Classic buckles come in two colors black and midnight blue. Modern buckle appears in five shades; bright red rose grey, brown, blue and baby pink. Always chose the right buckle for your classic watch.
10 Best Apple Watch Bands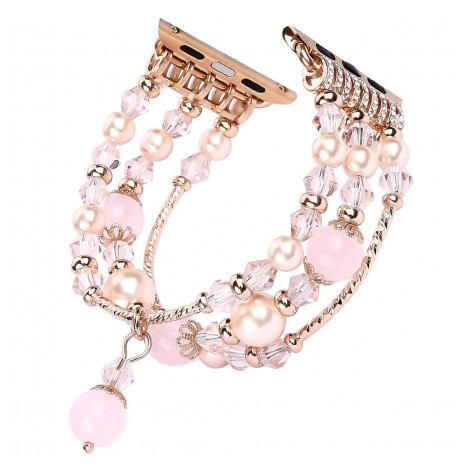 If you are looking for something fashionable, the Tomazon is exclusively compatible with 38mm size iWatch Series 3 (2017), Series 2 (2016) and Series 1 (2015). This bracelet is made from high-quality natural stone and durable elastic strap. It is perfect for women and young girls and is an ideal gift idea for any occasion such as Christmas, birthday, Thanksgiving, Valentine, wedding anniversary and much more. It simply turns your Apple Watch into a beautiful piece of jewelry you can wear for any occasion.
Elegant design
Do you love bling? Then, you will undoubtedly love this beads embellished band. It is not only practical to wear, but it is beautiful and stylish with soft colors. It will highlight your beauty and boost your self-confidence while the fancy appeal will add a touch of class to your style. It is pretty functional, and you can wear it to work, party or anywhere out and about in town.
Comfortable to wear
This band fits snugly on your wrist, and you don't need a buckle. The elastic band is smooth, super soft and gentle on your hands. It is pretty comfortable to wear, and you don't need any tools or adaptors, you simply take it on and off.
Cost and value
The Tomazon made to the top of our list since it's made of high-quality faux pearl beads which are brightly colored and an adorable elastic band. It is a super deal you can wear for any occasion, super stylish, beautiful and fits perfectly. For the price, I would give it five stars and recommend among women and young girls who are particular about fashion and beauty.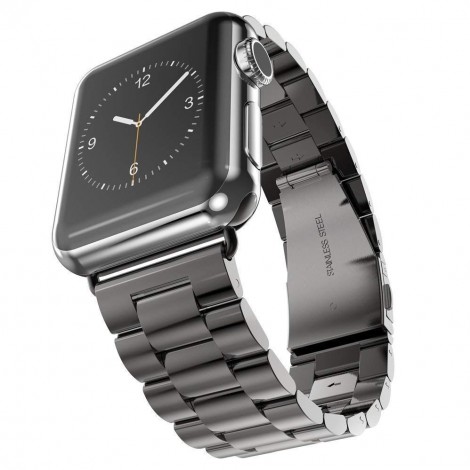 If you like the classic appeal of a metal link band, then you will fall in love with the eLander. It is a natural choice compatible with Apple Watch size 42mm, 44mm for series 1, 2, 3 and 4. It is made from classy, high-quality stainless steel, and blends sophistication, luxury, elegance, nobility, and durability into one beautiful product. It is a state of the art band and fits perfectly into your device in just one simple fix. The package comes with tools and spare crews necessary for easy setup.
High quality
If you are looking for a durable band for your device, then you have just hit the nail on the head with this one. The eLander is made from sturdy steel construction that will surely last for many years to come. It is sturdy, hard and durable with a shiny finish that highlights its appearance turning your watch into a modern and sophisticated device which will be an envy of many.
Comfortable
If you thought steel is hard, wait until you feel the surface of the eLander. It is refined with a super finish that makes it super soft on your wrists with a smooth and comfortable feeling. You can easily adjust the wrist lengths for a perfect fit and the double folding fastening guarantee safety for easy removal and take on.
Cost and value
This product is of high quality and durable yet unbelievably inexpensive. It has a sleek design, not too bulky on the hand, and the size is on point. The clasp is easy to operate and apexes the appearance if your apple watch. For the price, it is a good buy worth every penny.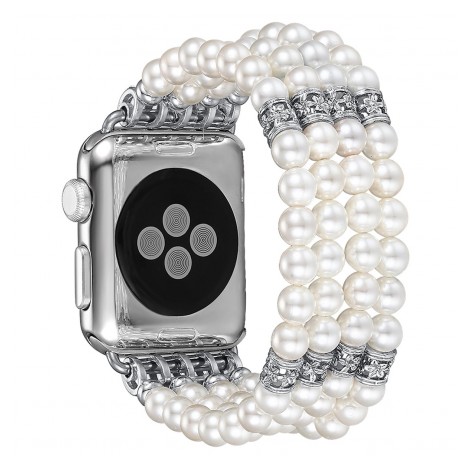 Most people with busy schedules prefer something to wear to work and out for social functions without the need to change. Fastgo is a stretchy wrist band for all occasions, classy and beautiful compatible with Apple Watch series 4, 3, 2, and 1. It is a white bracelet that transforms your 38mm Apple watch into sophisticated jewelry. It is suitable for parties, concerts or just for walks around towns. It is a beautiful strap that is also a perfect gift idea, and you can give to your loved ones on Christmas, valentine, mother's day, Christmas and much more.
Durability
This elegant bracelet is an embodiment of quality and style. It is nickel free and made of pearl beads, alloy beads, and rhinestone slide. If you are worried about bands that tarnish your wrists, with the Fastgo, it is perfectly finished and does not discolor. Additionally, it is water resistant and rust free. It is entirely sturdy and durable to last long.
Perfect size
Tired of wearing tight or loose wrist bands, the Fastgo is a good selection and favorite among dozens of women. The size is ideal and fits cozily on your wrist, it is pretty reliable, and doesn't come as a surprise that it fits close to 99% of all women and girls, which is a huge percentage of satisfied users. The band is stretchy, comfortable and gentle on the hand. It is also easy to take on and take off without the use of special tools.
Cost and value
The Fastgo is a beautiful, classy and elegant wrist band for your iWatch. It costs more than the Tomazon, however, it is a stylish product worth the money. It is quite versatile since you can wear with both formal and casual outfit and still look good.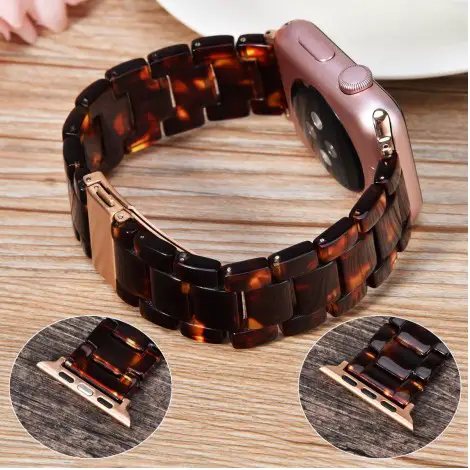 The V-MORO is a resin band compatible with Apple Watch sizes 42mm and 44mm and suitable for iWatch Series, 4, 3,2 and 1. Also ideal for Sport, Nike+ Edition, Hermes, 2015 and 2016 series. The package comes with a tool for link removal and thus makes it easy to remove or adjust the links. Also in the kit are two copper and stainless steel adapters and which installs pretty easy onto the watch. These stitches match with the resins color and the clasp.
High quality
If you are looking for something unique to wear, the V-MORO is a beautiful band, and the resins are carefully hand polished by qualified artificers. It is exceptionally light and comfortable on your wrist and has a light and comfortable design. It is high quality and durable, water resistant and thus you can wear when swimming but not scuba diving.
Elegant
The V-MORO is a stylish watch band that will blend with most outfits. It is an essence of beauty, class, luxury, and sophistication. There is something mysterious about this elegant bracelet that portrays some hidden charm and nobility. It is suitable for any occasion, and you can wear it to work, traveling or to a social event.
Cost and value
The V-MORO is a premium band, pretty expensive as compared to other straps. Part of the reason could be due to the high quality of the materials used in the construction. However, it is such a lovely strap that blends well with any outfit. It highlights your sense of style and personality and is also a perfect gift idea for your loved ones. That said, it is a fashion statement you don't want to miss in your jewelry box.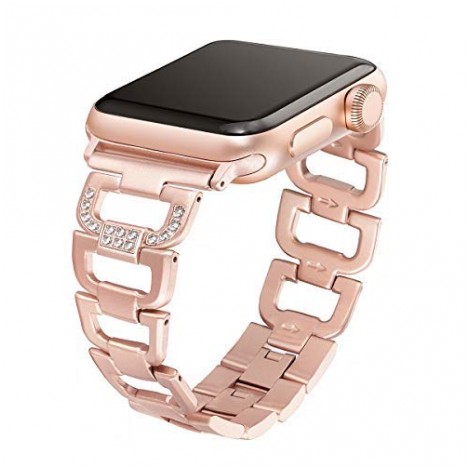 If you are looking for a more feminine and fashionable band for your Apple watch, the Secbolt is a beautiful option with its sleek design. It is compatible with size 42mm and 44mm Apple Watch for series 4, 3, 2 and 1. It is made of high quality and stainless steel and suitable for wrists sizes 5.8-8.1. You can wear it for any event and is a perfect gift idea for your loved ones on birthdays, wedding anniversary, Valentine, Christmas and much more.
Elegant design
The Secbolt is easy to fit and has diamond rhinestones that make it look stylish and elegant. You will be the center of attention, and it will give your appearance a big boost. It is a practical bracelet which is also comfortable to wear and gentle on your hands.
Adjustable
Most people with small wrists find it hard finding an adjustable band to fit and end up picking elastic ones. However, unlike the Fastgo band which is mostly elastic, the Secbolt consists of six foldable clasps that make it easy to adjust depending on your wrist size and for maximum comfort. You only need to remove one fastener to resize the band without the need for tools.
Cost and value
The Secbolt is a functional and beautiful product that will give you value for money. It costs less than the V-MORO but is made of high-quality stainless steel that is finely polished. It has highlights of diamond rhinestones that turns it into an elegant piece of jewelry you can wear for any occasion. It is a good buy worth the money.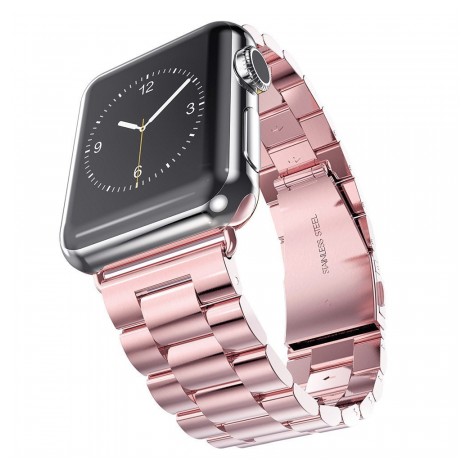 Leefrei is compatible with size 44mm and 42 mm for Apple Watch series 4, 3, 2, 1, Hermes and Nike+. It has a Rose gold color appeal that makes it an ideal choice for a classy and cultured lady. It fits perfectly onto wrists sizes 5.7" to 8.25" and is available in different shades to choose from. It has a foldable clasp design that makes it fit perfectly, and the installation is quite easy and straightforward by the use of tools. The package also includes additional links which are useful for adjusting the size depending on the size of the wrist.
High quality
Many products on the market are imitations and could be an uphill task picking the right one. The Leefrei is made of high-quality stainless steel with service and durability guaranteed. The surface has a rose gold finish that brings out an elegant appeal and makes it suitable to wear for any event since the rose gold matches any color of your outfit.
Beautiful and classy
The Leefrei is a high-class band that is super cute with elegant links. It is stylish and can be worn with any outfit for either a formal or casual event. It will blend well with your Apple watch and is easy to put on, lightweight and comfortable.
Cost and value
If you are on a tight budget and is looking for an elegant band for your Apple watch, look no further since the Leefrei is unbelievably cheap yet classy and sophisticated. It gently highlights your sense of fashion while making you stand out from the crowd. It is a good purchase that will give you value for money.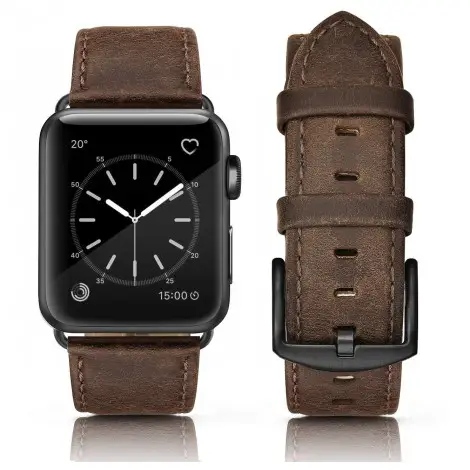 Leather bands are becoming popular each day since they blend well with most outfits for any occasion. They are also well crafted, reliable and pair well with Apple watches. SWEES is something stylish you could go for since it's compatible with sizes 42mm and 44mm for Apple watch series 4, 3, 2, and 1, Nike+, sports and edition. It fits perfectly onto a wrist size 6.1 to 8.0 inches. It well packaged into a decorative case that makes it a perfect gift you can shower your loved ones with. It is a beautiful and fancy strap that makes it look attractive and stylish. It is also versatile and suitable for most kinds of sports.
Easy to adjust
This band has an ergonomic design that makes it easy for you to adjust easily. The steel connectors make the band fix effortlessly onto the watch and are also easy to remove. The inbuilt screws ensure the strap holds tightly onto the watch with no risk of falling.
High quality
The SWEES is made of high-quality cowhide leather that is soft and gentle on your hands. It is highly crafted and available in different colors while maintaining the natural appeal of leather. The buckle is made from durable stainless steel perfectly polished to prevent tarnishing or coloring. It is also lightweight, and thus you will not feel the weight or the bulkiness on your wrists.
Cost and value
The SWEES is for the gentleman who would like to express his sense of style with a fashionable band made from high-quality leather to offer comfort, class, and durability. This has so much to offer yet it is amazingly cheap and boasts a 100% money back guarantee.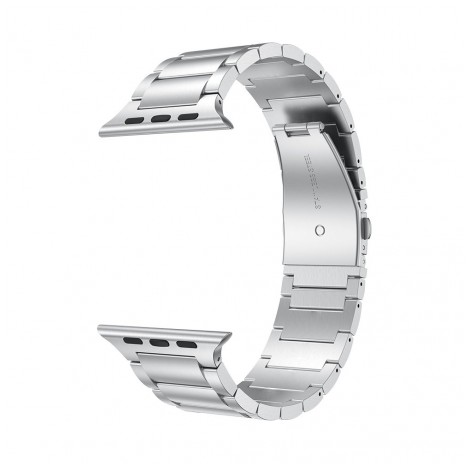 If you want something unique, you can't go wrong for picking this dazzling band. LDFAS band is compatible with Apple watch size 44mm and 42mm for series 4, 3, 2, and 1. It is silver in color and fits perfectly onto wrist size 5.9 " to 8.5 ". It provides a comfortable fit and its easy to adjust the length by use of a small tool. The two links also make it easy to adjust the size with accuracy thus providing a comfortable fit. The package comes with a user manual with clear instructions of how to fix the straps.
High quality
This band is made of premium high-quality steel and a secure buckle that holds the watch in place, eliminating the risk of falling. It also makes it easy to take off and put on and can be adjusted to fit different sizes of wrists.
Beautiful
Regardless of whether you are looking for something simple or a little bit classy, the LDFAS is undoubtedly eye-catching. It has a shiny silver look that makes it look like a beautiful trendy bracelet suitable for any occasion. It is an ideal gift idea for your loved one for Christmas, Valentine, Thanksgiving, Mother's day amongst others.
Cost and value
If you are looking for a magical band with a compelling appeal, the LDFAS is a gorgeous option that is absolutely stunning against any outfit. It is suitable for the price and obviously something worth giving a thought.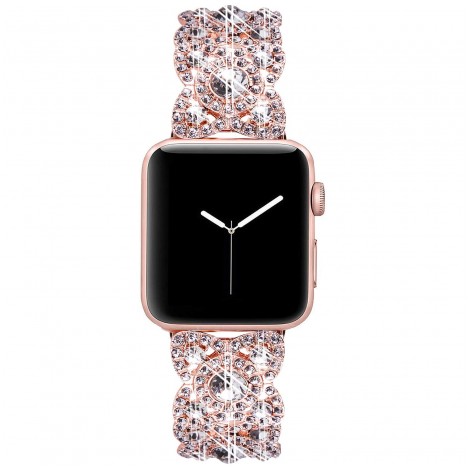 Make a fashion statement by picking the VIQIV band. This beautiful band is compatible with sizes 38mm, 40mm, and 44mm for iWatch series 4, 3, 2 and 1. It is recommended for wrist size 5.7" to 6.8" for a perfect fit. It is easy to fix by use of simple tools and the steel connector slides in quite easily into the watch links. It has a unique and sleek design for any occasion.
High quality
This stylish band is made of high-quality alloy with a blend of bling diamond rhinestones. The elastic cord is premium quality and made to last. It provides a comfortable fit that fits snugly on your wrist with a cozy feeling while wearing it. The material is rust free; however, it is advisable always to keep it dry and prevent exposure to water or moisture.
Elegant design
The elastic cords and steel connectors present to you a smart band with a bracelet appeal. Since it has no buckles it is easier to wear and remove and can be worn as a bracelet. This band is elegant, stylish and classy and a perfect choice for everyday use which you can wear during parties, office, and concerts. It is also an ideal gift idea you can give your loved ones during birthdays, valentines, wedding anniversary, Christmas and much more.
Cost and value
The VIQIV is high quality and durable band for your Apple watch, beautifully crafted and absolutely safe to use. It is quite versatile, and perfect for many occasions. For the price, this bling band is an excellent value for money.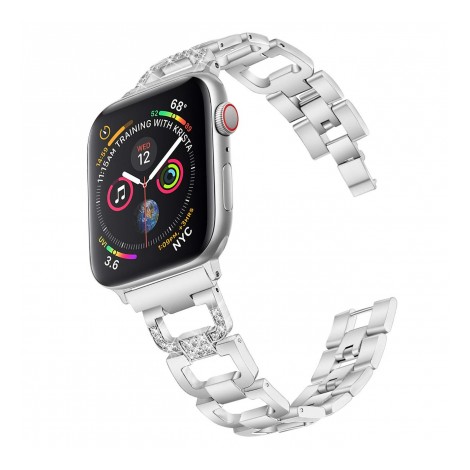 The PUGO is compatible with 40mm, 44mm and 38 mm Apple Watch for series 3, 2 and 1. It fits perfectly onto wrist size 5.8" to 8.1 ". It is incredibly lightweight and weighs just 0.12lbs and is also waterproof. You can wear it for any occasion and allows you to wear for casual and formal events.
Durability
The PUGO is made from high-quality stainless steel with rhinestones and classy buckles. The clasps are easy to remove and fix, all you need is to snap off without the use of resizing tools. It is perfectly finished with a smooth finish that is fade resistant.
Stylish and modern
You don't need a bracelet when you have the PUGO band. It is elegantly designed like a beautiful piece of high-end jewelry, quite feminine for the modern, stylish women design to blend with a variety of outfits. It is comfortable to wear and has a designer appeal.
Cost and value
The PUGO is reasonably priced and available in different colors to suit your specific need. It is of high quality and durable to last for many years. It blends with any style and will highlight your sense of fashion. You will not regret the purchase since it's a good value for money.

Subscribe to our Newsletter