Best Cold Medicine Reviewed & Rated for Efficacy
In a Hurry? Editors choice: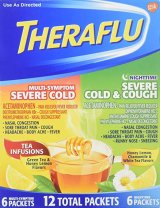 Test Winner: Theraflu

The common cold. It's so odd that one of the most harmless diseases out there is also by far one of the most stubborn. Maybe it's because it's so nonlethal, maybe it really is just that hard a nut to crack, but we still have yet to actually find a real cure for this minor disease. However, that doesn't mean we don't have the means by which to combat it when someone catches it. Cold medicine is easily the most ubiquitous form of medication out there. The common cold comes for us all eventually, whether once or twice, everyone gets the bug sooner or later. So, if you need
extra strength
, efficient cold medicine for that nasty bug who just won't go away, give one of these medicines a try and call us in the morning.
Standout Picks
Criteria Used for Evaluation
Accuracy
Assembling a list of criteria for this article was an interesting endeavor, to say the very least. At first, every one of these entries appeared the same: same effects, same side effects, the same benefits, etc. However, when we dug in deeper, we found more than enough material to work with to assemble a criteria list. So, with that said, here are the most vital criteria we used to determine who got on the list and how far up.
Medicines are basically mixed together amalgamations of various different ingredients and materials that, when brought together, create a beneficial reaction in the human body. However, as this may imply, people often react differently to the ingredients poured into these medications, which can include allergic reactions. Whether it's because of the composition of the ingredients, or the effect the medicine has on the user when consumed, the point is that allergic reaction to medication is an unfortunate reality that we don't really know how to deal with beyond trusting the buyer to stay informed about their own bodies. So, we screened each entry to make sure that, if any ingredients can cause allergic reactions, that they're at least rare.
Side Effects
More common than allergic reactions, though, are the side effects caused by the medicine. These are the ever mounting list of horrible things listed in medication commercials by the narrator, that never actually happen, but are nonetheless put in there. The reason for this is that if there is even a .01% chance of it happening, they are legally obligated to inform you. But anyway, side effects are the potentially negative, unintended effects that may come as a result of you ingesting medication. The most common side effects for cold medicine include headaches and nausea, along with a scattered bunch of other effects that are far less likely. Better yet, if you have a negative allergic reaction to the medicine, it can end up compounding the side effects, making them more likely.
Effectiveness
This is different from general effectiveness (which was the baseline for even getting considered for more than half a second for this list, so it isn't mentioned) because it's one thing to be effective, but when it's most effective is quite another. Some medicines need to be taken immediately after you notice symptoms. They won't be nearly as effective (or they won't even work at all) if you wait until the illness has fully set in and taken effect. The upside to this is that the duration of the sickness will be drastically reduced as well as its intensity.
On the other hand, you have medication that can be taken at any point in the illness but is best suited to being taken a right at the beginning. You don't necessarily have to, but it does make things easier on yourself to get out in front of the symptoms quickly.
Use
The thing about medicine is that there is no such thing as medicine that won't kill you if you gargle it down by the bottle-fulls. Overdosing is possible with all forms of medication, not just criminal drugs, and so you need to pay very close attention to the amount of medication you need to take per day, and then stick to that amount. Prolonged usage of an over the counter drug can have serious effects on the immune system in the long run. And last we checked, you were here to figure out how best to protect and improve your immune system.
Compatibility
Of course, though, not every medicine is equipped to handle the same disease. Cough syrup, for instance, is really only meant for, surprise, coughing, and maybe chest congestion as a bonus. We tried to find the cold medications that covered as much of the symptom spectrum as possible. From headaches to nausea, to lethargy, to mucus buildup, we wanted to make sure that we were packing our list with as many medicines as possible that could handle as much of your cold as possible. Because you don't just cherry pick certain symptoms and say that you want that one handled over this one. We're pretty sure that you want the entire thing handled.
Value
For the most part, you won't have to pay nearly what you would for prescription drugs than you would for OTC ones. And this is due to the fact that unlike OTC's, prescription drugs are protected and regulated by law, which of course, costs a lot of money. Meanwhile, OTC's, or over the counter drugs, are tested by health organizations, approved, then sent out to stores, usually costing about the same as a fast food meal. Which is definitely good when you consider that they're mostly used to treat simple diseases, the treatment for which are very common, such as the cold. There's no reason that cold medicine should cost more than it does, which is why they're priced the way that they are.
10 Best Cold Medicine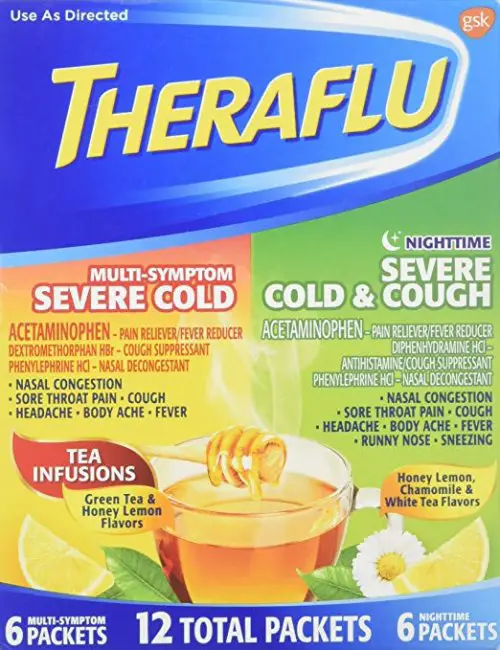 Kicking off our list right, we have Theraflu Multi-Symptom Severe Cold Relief Medicine. Theraflu are considered one of the top names in treating the cold, and their medicine has proven resilient against the disease ever since its inception. And this incarnation is no different.
Some cold medicines focus on taking out one aspect of the cold, but the common cold is a disease with many hats and fingers in a lot of your body's pies. There's always more than one symptom, so you need a medicine that will take out them all. This medicine doesn't eliminate all symptoms of the flu, but it does take out the worst ones, such as aches or pains, nasal and sinus congestion, and headaches.
One thing a lot of people look for, and a word a lot of flu companies love to toss around, is Non-Drowsy. This means that the pill will not affect your wakefulness and make you drowsy throughout the day. And sure enough, this medicine will keep you working at top speed throughout the day without messing with your ability to stay awake in the slightest.
Being an OTC (over the counter) drug, Theraflu is, of course, nothing too serious in terms of price. It's perfectly affordable, in fact, so if you need efficient cold relief, look no further.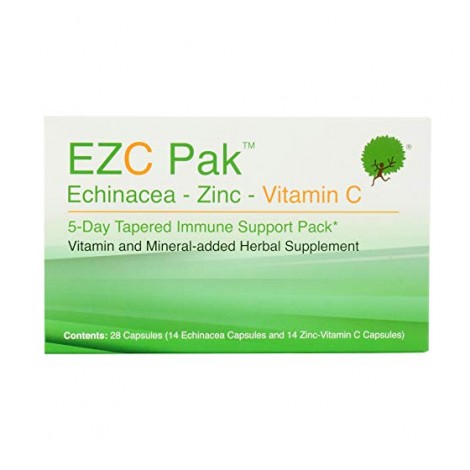 In second place, we have EZC Pak 5 Day Immune Support Boost for Cold and Flu. Rolls right off the tongue, we know. EZC is another big cold and flu company who have made many an excellent product in the past. But when it comes to effective and efficient cold and flu medication, we can't think of any better than this one right here.
This medicine doesn't just suppress the symptoms of cold and flu, it outright eliminates them. And it does it fast. Whereas other medications take a week, give or take a few days, to really get rid of cold and flu symptoms, this one does it in just five days. And while doing so, it suppresses the symptoms for good measure, so you barely even notice that you're sick while you're taking it.
EZC's biggest selling point, in general, is their preference for natural, healthy ingredients, with little to no artificial chemicals or whatnot. This medication is made from an echinacea blend with vitamin C and zinc acting as the main ingredients. This medicine gives you 4x the daily amount of vitamin C most people take into their bodies (which is a good thing).
This one is a bit more expensive than the previous entry, but it isn't by a whole lot, and if you really want/need cold medicine, then money's not going to be much of an issue for you.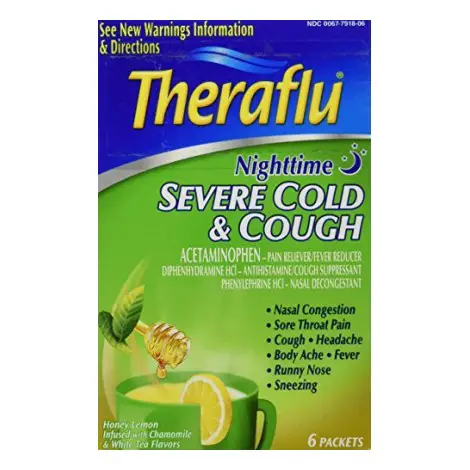 Finishing up our top 3 segment, we have another Theraflu entry, with the Theraflu Nighttime Severe Cold and Cough. Unlike the other entries on this list, you don't take this medicine as a pill or even as a liquid, but you mix it into tea or coffee and drink it that way. So, let's see how this choice benefits the medicine itself.
Though you can technically put this mix into whatever liquid you please, we highly recommend putting it in tea. Mostly due to the natural honey flavor that this medicine has, which goes great with a piping hot cup of tea in the morning. Now you can treat your nasty cold, without having to add another liquid to your morning routine.
Got a cold that's messing you up and keeping you from getting that good night's sleep? Not only does this medicine suppress symptoms like nasal congestion to help you breathe better when lying down, but it also helps you sleep better to boot. So, you can just sleep that nasty cold away.
Once again, a very modest price for this medicine, as to be expected of Theraflu. Giving you great relief for cold at night at an even greater price.

4

. Zicam Dissolving Tablets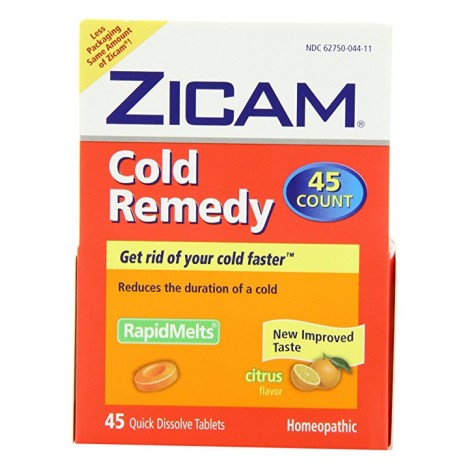 Coming in at #4, we have the Zicam Cold Remedy Dissolving Tablets. Once again, we have an unorthodox kind of cold medicine that you don't always see with this type of medicine. Although dissolving tablets are pretty common in their own right. So, what do these tablets bring to the table? Well, let's see.
These tablets are more meant as a preventative measure against a cold instead of a cure. They don't work all that well once the cold has really gotten into full swing, but if you suspect that you're getting sick, taking these will cut the amount of time that you are sick, as well as the severity thereof, down by at least half. Perfect for when you want to get out in front of that cold immediately.
There are certain times when, just when you're convinced you're cured, the cold comes right back a few days later and slams you in the gut all over again. But if you take this medicine, your immune system will remain boosted until every trace of the disease has been purged from your system.
This medicine is a good bit more expensive than the last two brands, but again, it's nothing unreasonable, and if you're looking for good preventative care for your cold, then these tablets will give you precisely what you're looking for.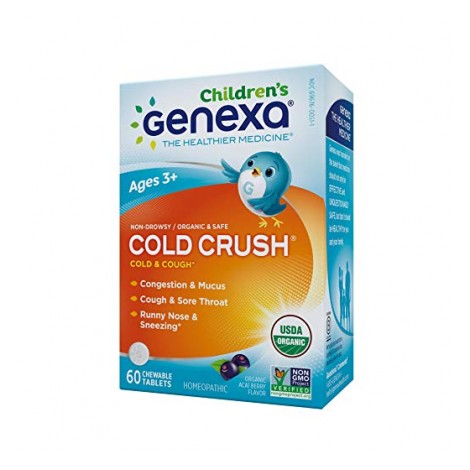 For the #5 spot, we chose Genexa Cold Crush. This homeopathic, non-GMO, completely organic medication is pretty much the only cold medication on the market (that has been proven to actually work) that is certified to be all three of those things combined. But that's not the only thing this medicine has going for it, as we will now elaborate.
Unlike other medicines that take a bit to really get going, you practically feel the effects of this medicine the minute you pop it into your mouth. And on top of that, it significantly shortens the length of your illness overall. This great combination is the secret behind this medication's success.
Again, no other medication on the market right now that's been proven time and again to be effective can claim to be nearly as organic as this one can. But through a mix of Allium cepa, belladonna, and Bryonia alba, this medicine is completely organic while also being 100% effective.
This medicine is priced rather average for a medication of its type. A bit higher than the cheaper products we've seen thus far, but not by much, so if you want good, affordable, and organic medication, this is the brand for you.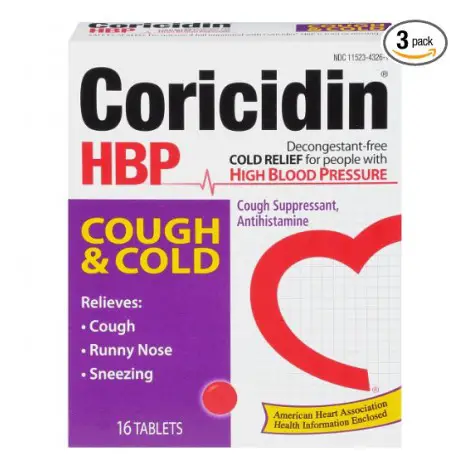 Coming in at #6, we have the Coricidin HBP Cough and Cold Suppressant Tablets. We were as shocked as you likely are to find so few straight tablet based medications on this list when we were assembling the final product. But know that the ones we did put on here got here by being the absolute best of the best. Which, of course, brings us to Coricidin.
One big problem people have with cold medication is that a lot of them raise the blood pressure. Which, for those with already high blood pressure, is a problem. Fortunately, this medication was designed with that in mind and has no effect on the blood pressure of the host's body at all. So, you can take this medicine with peace of mind, knowing that your blood pressure is just fine.
Even when the symptoms are taken care of, there's one last effect of being sick left behind: the lethargy. It doesn't matter if the coughing or headaches have stopped, your body still knows it's sick, and thus has slowed down to conserve energy so that it can better fight the disease. However, when taking these tablets, not only are the symptoms taken care of, but the energy is also returned to your body. Allowing you to get back to work and face the day just fine.
This medication is a bit more expensive than what's considered average, but for what it is, the price is actually very fair.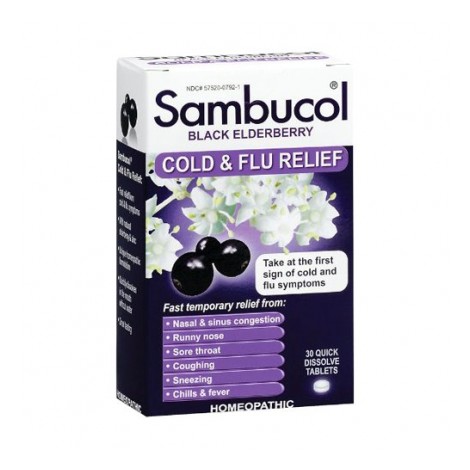 In the #7 spot, we have the Sambucol Black Elderberry Cold and Flu Relief. These quick dissolve tablets are best taken at the very start of symptoms emerging and then taken throughout the illness for maximum effect. Just how effective is it? Let's find out.
These tablets work, and they work fast on your cold. As we said, they're best taken at the first onset of the illness and then taken throughout its duration. But they provide instantaneous relief, even when things get really messy. No matter how severe the cold gets, this medicine will make quick work of it, helping you get through the day in comfort.
It's always important for a flu medicine to take on as much of the flu as possible. When people take flu medicine, they don't want to cherry pick which symptoms they're okay with and which they aren't. The idea here is to handle all of the symptoms. Which is precisely what this medicine does, in spades.
The best part about this medicine is its price. This is easily one of the cheapest OTC flu medications you can find on the entire market right now. So, if you're on a really tight budget and just came down with a cold, forget the cheap stuff, get your hands on this excellent medication.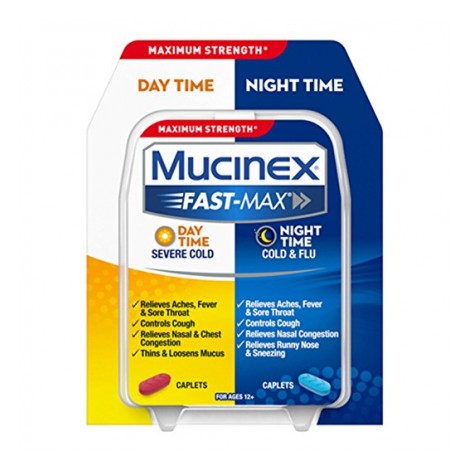 Kicking off our final three entries, we have Mucinex's Fast-Max Day/Night Severe Cold and Flu Caplets. Mucinex isn't just considered to be one of the best medications around for flu symptoms, they're considered the best around for severe flu symptoms. What do we mean by this? Well, let's read on and find out.
There are times you have a cold, and then those times you have a COLD, the kind that knocks you flat on your butt and causes you to go drift in and out of consciousness throughout the day as your body feels like it's actively rotting away from the inside out and replacing your innards with snot. If a cold has gotten that bad, then Mucinex is what you need. It hits your cold hard and fast, protecting you both day and night from even the worst cold symptoms.
Even the best medicine can potentially negatively affect your sleep cycle, causing you to stay up later than you should by ratcheting up your blood pressure. However, Mucinex runs strong and tough throughout both day and night, as long as you take both pill variants. And it allows you to have a long restful sleep every night.
For what we've shown on this list so far, the price of this cold medication is just a little bit above the average, but still perfectly affordable. So if you got a cold that's kicking your butt up and down the proverbial curb and you want to do some kicking right back, then equip yourself with some Mucinex.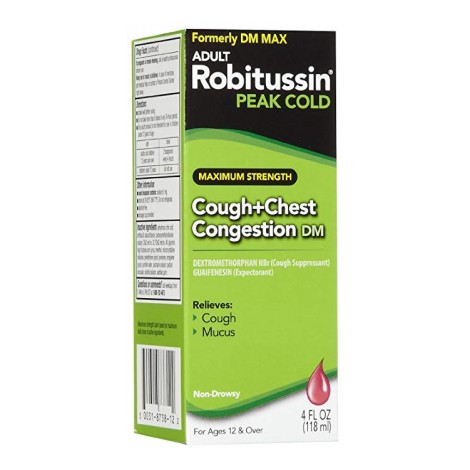 For our second to final entry, we have Robitussin Peak Cold Adult Cough and Chest Congestion. Cough syrup is not popular, especially among children. Which is ironic considering that it's by far one of the most effective forms of medicine, even to this day. Nothing more effective, after all, than just drinking the stuff directly. So how effective is this brand? Let's take a look and see.
Coughing is not a bad thing, far from it. Coughing is your throats way of trying to clear out the mucus that's blocking everything up. You want your coughs to improve, which is why this cough syrup thins out and loosens up built-up mucus, for a much more productive cough. It won't slow down your coughing immediately, but it will ensure that you get more gunk out per cough.
If your other flu medicine isn't doing enough for your chest congestion, this cough syrup will do just the trick you need. This syrup helps to relieve minor throat and bronchial irritation and chest congestion. Helping you control and relieve your coughing fits, so they don't hurt as much and don't happen as frequently.
Once again, this medicine is around the average price for cold medicine. However, the price is a bit high for this one, at least for our liking, since it only tackles coughing and chest congestion, whereas plenty of medicines that cost less tackle those and more symptoms. Still, if you have a really nasty cough, you can't go wrong here.

10

. Dayquil and Nyquil Severe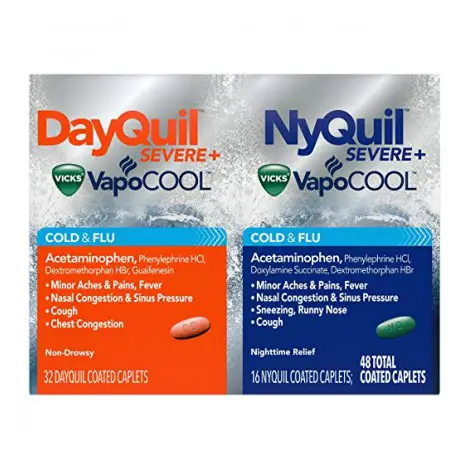 For our final entry, we have Dayquil and Nyquil Severe with Vicks VapoCOOL Cold and Flu Relief. Dayquil and Nyquil are renown as the first and last name in cold medicine, but we put them here because we wanted to showcase other brands and what they had to offer. Still, though, you have to respect craft when you see it, and this is definitely proof of their craft.
Unlike other instances with these products, you can buy both Day and Nyquil at the same time in a single bundle. Because indeed, if you need flu relief during the day, you probably need it at night, so it makes little sense to sell them any way other than together. So, this bundle gives you both clarity during the day, as well as restful sleep at night.
Vicks is known for a lot of different medicines, but among their most famous is their aromatherapy in the form of Vicks Vapours, which help to clear up sinuses. And the same principles behind that are put into these capsules. The Vicks VapoCOOL formula helps the medicine ripple throughout your senses, filling you completely with its effects.
Since these are two different medications rolled into one bundle, the price is a little higher. However, it isn't by as much as you would think, so you should be fine in that regard.

Subscribe to our Newsletter