Alaska Guide Creations Kodiak Cub
Editor's Conclusion
The Kodiak CUB Max harness is designed and manufactured by Alaska Guide Creations. They primarily design binocular harnesses and other small packs for outdoorsmen. They are a top-of-the-line brand in this space and their harness is born out of the observations of a veteran hunting and fishing guide with over 40 years of experience. They manufacture a large variety of harnesses to fit every need and binocular size imaginable. All of their harnesses are made in the USA and they stand by their product with an incredible warranty to back it.
Editor's Pros & Cons
Large and rigid binocular pocket
Fits binoculars from major brands like Swarovski, Vortex, Leica, and Zeiss.
Range finder pocket with elastic cord
Small side pockets for accessories
Small bottom pocket for storing small headlamps and flashlight sized objects
Elastic compartments on top of the harness for quick storage of small items. Works great for mouth calls
Not waterproof or weather resistant
The material takes a long time to dry
Pricey
The Rundown
Binocular Storage
Designed for 42mm binoculars, the harness can fit 8x42 and 10x42
binoculars from many brands
. Brands like Swarovski, Vortex, Leica, and
Zeiss
all fit in this harness. 8x32 and 10x32 sized binos can also fit. Binoculars can attach directly to the harness to ensure a secure attachment.
The main compartment is a rigid fabric material with a soft interior texture to keep your expensive glass optics safe and scratch-free. The compartment has a lid secured by an elastic cord and can be operated with one hand in complete silence. Perfect when needed in a stressful situation.
Rangefinder storage
The front pocket is designed to hold a
rangefinder
with an elastic cord running into the pocket. This elastic cord can be attached to your rangefinder to keep it close and secured, while also easily accessible. The elastic cord allows for the rangefinder to comfortably stretch to your eye when ranging and quickly be set aside.
However, the elastic cord is thick and can be tricky to fit. Most rangefinders have a loop hole for fitting a small sling, however, these tend to be small and difficult to fit with the elastic cord provided with the harness. Regardless. The front pocket can still fit rangefinders of many sizes.
Additional pockets
The extra side and bottom pockets allow storage of just about any time you need handy when hunting. Wind checkers, flashlights, headlamps,
mouth calls
, etc. all of these things and even duplicates of these things can comfortably fit within the harness. Additionally, for extra important items, there is a mesh pocket on the body-facing portion of the pack that can be zipped closed. This is perfect for any hunting tags or licenses you may need to carry during a hunt.
All pockets have quiet zippers with flexible rope handles. The zippers don't make a sound when being opened and are perfect for any situation that requires complete silence. The flexible rope handles make the zippers easy to grab and manipulate.
The top elastic pocket comes with no zipper but is great for rapidly storing an item when not needed. Works great for mouth calls when hunting, as a quick and convenient way to put them away without needing to mess with zippers. These elastic compartments are also large enough where they can hold a smartphone for quick access.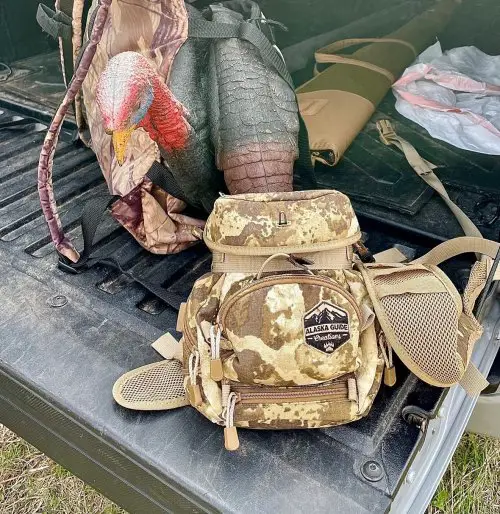 Auto-locking buckles and adjustable straps
A very simple and but incredibly effective feature. These buckles ensure that no matter what you're doing your harness stays in place and fits how you want it. The harness stays in place even when crawling or hiking through many different terrains. The harness is largely adjustable and fits great over thick jackets. Making it great in any hunting environment.
The front straps also have 3 fabric loops on each side which can be perfect for storing additional items. Something like an Esee Izula knife and sheath fits perfectly onto these straps, making a field dressing knife or even rangefinder with belt clip quickly accessible.
Multiple colors and camouflage options
The harness comes in 10 different single color and camouflage options. The harness comes in Coyote Brown, Ranger Green, Multicam, and foliage. Amongst those are famous First Lite, Kryptek, and Mossy Oak patterns as well. First Lite Cipher and Fusion are offered alongside Mossy Oak break up country and bottomland. Finally, the harness can be found in Kryptek Highlander.
Customizable accessories
Alaska guide creations offer other fabric accessories that accompany the harness well. A separate rangefinder pouch, a handgun holster, and an inline accessory pouch designed to hold handheld GPS units. All of these accessories can easily attach to the straps on the harness and be configured to your liking. Additionally, Alaska Guide Creations is a reputable name in this space that has additional third-party accessories. For example, Razco provides a custom Kydex holster that fits directly under your harness and uses the straps to keep it in place and is designed to work for the AGC harness.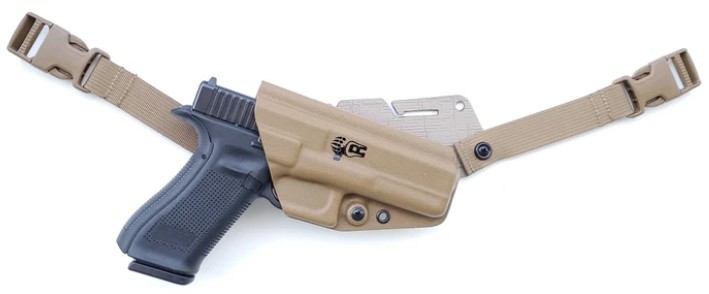 Alaska Guide Creations also offers a dust/water cover for your harness to keep your harness and all other items dry. This accessory is highly recommended because the fabric material of the harness can take a long time to air dry and can lead to condensation on your optics. The condensation can be detrimental if your optics are needed in a pinch.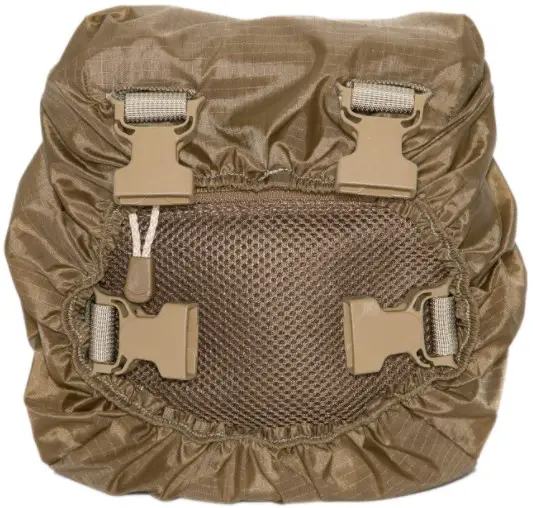 Warranty
Alaska Guide Creations stands by their product, regardless of where it was purchased. They will replace or repair harnesses sent to them and make sure your harness is in full working order. This is a difficult thing to come by in any industry and provides peace of mind. Rest assured that if something happens to your harness, they will repair and replace any damaged parts you may have.
Subscribe to our Newsletter