Sig P365
Editor's Conclusion
Sig has been edging into the sub-compact and micro-compact range for a while, but other brands, Glock in particular, have been hard to beat with their models like the G43 and G42. When Sig released the P365, I noticed many of my friends, who were die-hard Glock 43 fans, Switching their carry pistol to the 365. Small, Light, Sig performance, and easy to wear without a print letting everyone know you're carrying. What else could you want?
Sig P365 Review Facts
Editor's Pros & Cons
The slim frame allows easy printless concealed carry
Slightly heavier than the Glock 43, still light enough for all-day carry
The Sig Ant-Snag (SAS) model makes defensive draws easier to get on target from concealed carry.
Small enough for comfortable appendix carry
Limited range due to the shorter barrel length
The frame shows wear fairly quickly
No optics ready version in the micro-compact range
The Rundown
Sig released this little guy back in early 2018, intending to grab more of the micro-compact market, which is undoubtedly growing. Chambered in 9mm, with a 10 rounds mag, the P365 nearly doubles that standard capacity of the Gock 43, which is also chambered in 9mm. Roughly about the same size, the two micros have created a bit of a debate among shooters loyal to one brand or another.
Really intended as an EDC pistol, and carried as such by all levels of shooters, the Sig loyalists have really jumped on the fan club for the 365. I remember the first time I saw the gun when I was picking up a couple of spare mags for my G43. At the time, the P365 was available for pre-order, so instead of the real deal, the display had a blue gun version. Who knows... if they had the actual gun there that day, I might have picked one up to give it a try way back then.
Fast forward a couple of years, I finally got around to put some rounds down range with my Buddy's 365, and I have to say, it felt good to shoot. Even for a small frame, I was able to get a confident grip. You still get the snap as you would with most micro-sized 9mm pistols, but it felt like there was more control and reset. I had no problem getting on target comfortably.
With a barrel slightly over 3 inches, you won't get incredible range, but range isn't what this pistol is designed for. Don't get me wrong, the gun is accurate. It was great out to around 25 yards, which is about as far out as we set the targets. Close range shots from a draw were no problem. I could draw from appendix and get on target with no grip adjustment. It's just a comfortable gun. Of course, grip comfort is different for different shooters, but for small or medium hands, it's great. If you have giant hands with banana fingers, well, you might struggle with most of the "micro-compact" frames out there.
As far as accessories go, most people aren't doing much to the exterior of these smaller EDC guns, as concealability is the point. lights and rail-mounted lasers can add to the print, which you want to typically avoid with concealed carry. There is a rail, which reminds me of the accessory rail you would see on the H&K USP, which needed an extra attachment to fit accessories meant to be mounted on a Picatinny rail. So Sig must have planned for their own proprietary accessories for the P365. At a glimpse that rail doesn't seem super useful. It's really a pair of slots on each side of the frame.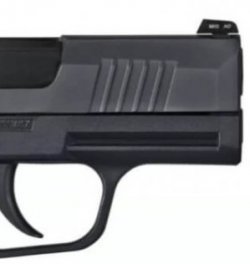 Glock didn't bother adding a rail to the G42, G43, or even the G43X. I know I'm being a little nitpicky here, the gun would be fine without it, in my opinion.
One of the big things that made me want to take a look at this gun is the brand. Sig, to me, means solid, accurate, and able to take a beating and perform as the gun is supposed to. I've put plenty of rounds downrange from the P226, P228, P320, and even that little P224. I loved them all. So it was natural to pick up the P365. In fact, several of my range buddies have traded their CCW pistols for the Sig P365. A few of them were even diehard Glock fans. I'm talking about Showing up to the range with the Glock logo on everything, hats, shirts, hoodies, you name it. Those kinds of fans...
The Conclusion
Without blowing up a bunch of hype, for a gun that is doing well enough on its own, I will leave you with this...

If the Sig P365 was available at the time I went to pick up my Glock 43, I would have had a difficult time picking one over the other. The 365 is a smooth shooter for a small frame like that, for me at least. And it got even better after the Nitron version was released, Sig also released a SAS version for deep cover. SAS stands for "Sig Anti-Snag". It basically rounds out any snag points and eliminates the traditional sites that stick out.

Instead of selling it, I will simply say that this is a great EDC gun. Small, lightweight, and accurate. If you go with the P365, it would be surprising if you came back with any major issues.
Subscribe to our Newsletter