Glock 43x
Editor's Conclusion
When Glock introduced their micro-compact G43 pistol several years ago, a lot of people spoke up almost right away about capacity, but even more so, the grip. The G43, chambered in 9mm, has a full mag capacity of six rounds in the standard mags that are included. Six didn't seem like enough. Plus, that grip on the 43 is small. I get it, the gun is meant for total concealability, but the 9mm is snappy coming out of that frame. And, people with large hands might struggle with the controls a bit too.

One of the first things I did personally was swap out the mag and slide release controls with extended Tactical versions. With just a little more grip space, that might not have been necessary. The Glock 43X is the remedy to that issue for a lot of Glock lovers who were awaiting that slim micro-compact.
Glock 43x Review Facts
Editor's Pros & Cons
Ideal for CCW
Will take a beating and perform when you need it to
Slimline frame helps reduce printing if carrying concealed
Increased capacity, up to 10 rounds, due to a longer grip than the G43
The longer grip doesn't conceal as well as the standard Glock 43
The Rundown
When Glock released the G43, at less than 6.5" in length, It was awesome. It was of course reliable, but the slimline frame meant less printing for the CCW people out there who were previously carrying the thicker framed G27, G30, and so on.
A drawback to the G43, however, was the small grip.
And I mean small.
The subcompact grip is something people have gotten used to, but now the pistol takes a single stack magazine, which means the width of the grip is almost cut in half. That's a big change to get used to. The 9mm round seemed to feel more snappy coming from the G43. If only the grip was long enough to wrap all of my fingers around...
In comes the Glock 43X. Instead of 6 rounds, you now get a
10 round capacity
, meaning a longer handle. For me, that translates into a positive grip immediately from the draw.
I can get on target faster
, cutting grip adjustment time. And even better, I can wrap my hand around the grip to have a better follow-up shot control.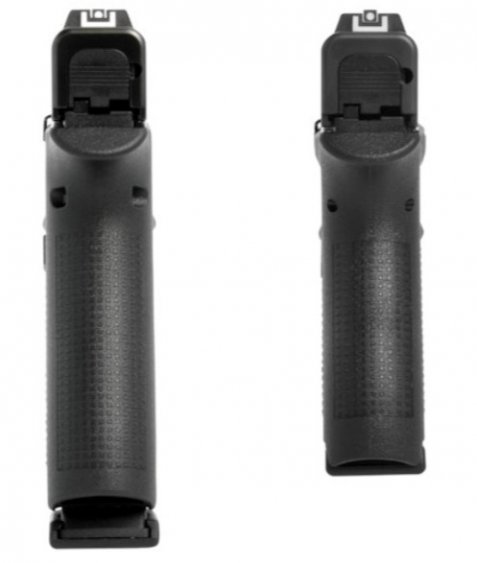 Glock 43X (left) compared to the Glock 43 (right).
The barrel length didn't change, still less than 3.5" overall, so the carry options don't change if you previously carried the G43. The only difference that really meant anything to me personally is that there is more of a handle to conceal if you're carrying as a CCW. Wear a looser shirt, or get comfortable with appendix carry.
The performance overall is what you would expect. You're not going to go for longer shots with a sub-compact. This gun is for self-defense and concealability. The max range you would need to reach out to, realistically, is around 25 yards. Most encounters requiring you to defend yourself are typically going to be up close and personal, so effective range isn't really a thing in those circumstances.
Conclusion
To keep it short, If you like the G43, The 43X is a great update. I really have nothing bad to say about this gun. It is exactly what you would expect from a sub-compact from Glock. It doesn't seem like they cut any corners as far as durability goes. You can put the G43X through the everyday torture you would put the G19 or G22 through, and this thing will shoot just fine.

That's pretty much the short and simple of what I think about the Glock 43X. If you've had any issues, or just have something to add, let us know.

Until next time, keep shooting!
Subscribe to our Newsletter