Springfield Armory Hellcat: Is It Worth Buying?
Editor's Conclusion
Someone told me that the Springfield Hellcat is basically a more compact copy of the XDs, so naturally, I wanted to find out if that was really the case or just this guy playing that gun range know-it-all. Seems like it was more talk than fact. At first glance, there are some obvious differences, the most noticeable being the lack of grip safety that you'll find on the XD series.

The subcompacts and micro compacts are everywhere. Show me a company that puts a ton of focus on handguns that hasn't yet put a tiny pistol on the market, and I'll bet you that they'll have one to offer sooner rather than later.
Springfield Armory Hellcat: Is It Worth Buying? Review Facts
Editor's Pros & Cons
Great carry pistol
Easy to reach controls
There's a rail for a light or aiming device
An optics mountable version is available
A lot of gun shops have this pistol on sale for a decent price often
Not as light as it looks
The trigger has some issues
A little expensive, compared to different classes of micro pistols
The Rundown
Springfield Armory has been around for a long time, starting production back in 1794, when the United States was young and moving ahead with its army and naval forces. Fast forward 226 years, a nice little compact pistol named the Hellcat is born.
The design isn't what we would call radical, by any means, at a glance. But seriously, how much can you really change a pistol before it stops being a pistol anyways... One thing is for sure, the Hellcat is a solid little concealed carry gun. The capacity alone beats most of the others that chamber the same round. Available with 11 round or 13 round mags, you only get 6+1 standard with the Glock 43. If mag capacity is a big deal for you, and for some people, it isn't, then that's a plus right off the bat.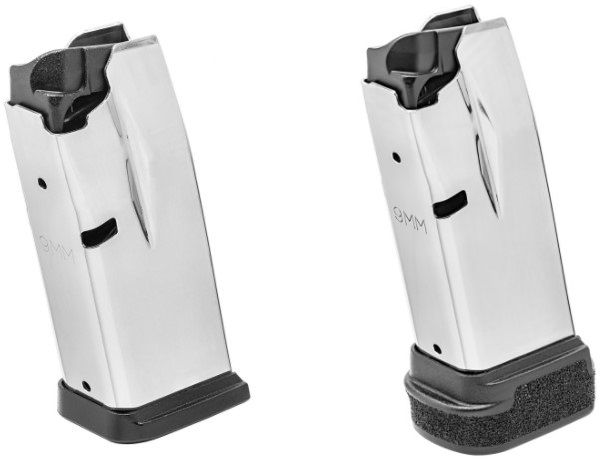 There is a rail, for you shooters who feel the need to accessorize. They did add a "full size" rail, although it seems small. But, it is a micro pistol, so we wouldn't expect it to be a long rail. It will fit a bunch of different types of light and aiming devices.
The pistol is accurate, although I wouldn't bet on ranged out targets. But it's meant for concealed carry, so close-in is the game in this case. The groups are good, once you get used to the trigger. And if you tend to be a little rougher on your stuff, you can usually beat the hell out of Springfield guns, in general, and they keep running.
The one drawback that we found was the trigger. If you spend time with higher-priced guns, or you're into more customized guns, the trigger pull might take some getting used to.
As far as ammo goes, we haven't heard of too many issues with this pistol being a picky eater. And you can run +P through the hellcat, which is another plus.
This is a solid carry gun, with a few available variants. In addition to the standard Hellcat, there is also the OSP.
The OSP
is their optics-ready model if you prefer to mount a
low profile red dot
.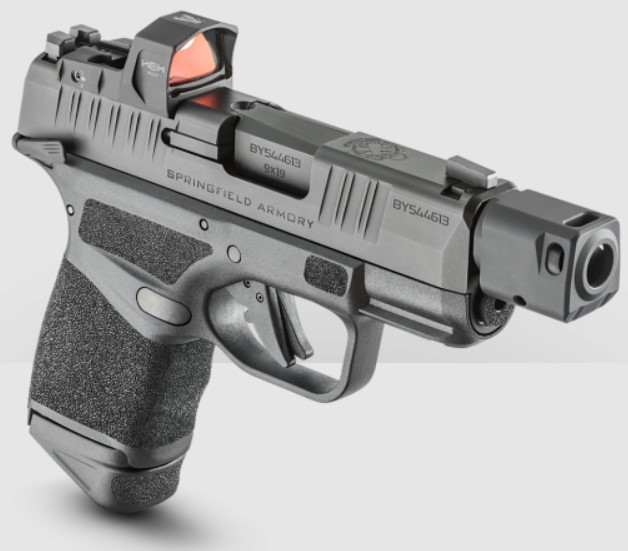 There is also the newer
RDP model
. RDP stands for Rapid Defense Package. In addition to the 11 and 13 round magazines, this package also includes a 3.8" threaded barrel, if you run suppressors on your pistols, their Tactical Rack U-Dot™ rear sight, and an improved Gen 2 Trigger. This is about as tactical as a small carry gun can get, straight from the factory. The RDP is obviously a bit more expensive than the standard and OSP variants.
Conclusion
If you were already thinking about picking one up, we say go for it. The price tag does run a little higher than what a lot of people think it should, but if you're looking for more capacity, and the ability to modify and accessorize, the Springfield Hellcat is a solid option.

It's not terribly picky with ammunition, and you can run +P defensive ammo through without issue. For a reliable concealed carry gun, this one is at the top for us.
Subscribe to our Newsletter