Best Light Therapy Mask Picks Reviewed & Rated for Quality
last updated:
Jul 29, 2019
Is it worth the risk when it comes to using an acne light therapy mask? They are said to promote blood circulation as well as collagen production but many questions arise with regard to this skincare product. Do light therapy masks work? Can LED light therapy masks cause cancer? Knowing how these items actually work can help alleviate any reservations you may have.
There are multiple designs on the market today, however, the majority of them use red and blue light to help your skin heal itself naturally and many people have been able to successfully manage conditions such as acne. Our top ten reviews will consider the best devices available and analyze how they work to your benefit.
In a Hurry? The test winner after 12 hrs of research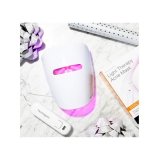 Neutrogena
Why is it better?
Clear acne breakouts
Reduce inflammation
Clinically tested
Dual light settings
Adequate for all skin types
In a
Hurry? Editors choice: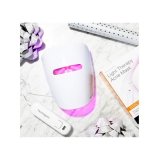 Test Winner: Neutrogena

12
Researched Sources
15k
Reviews Considered
12
Hours Researching
10
Products Evaluated
Use
Advanced Features
Effectiveness
Ease of Use
Bottom Line
By Default
10 Best Light Therapy Masks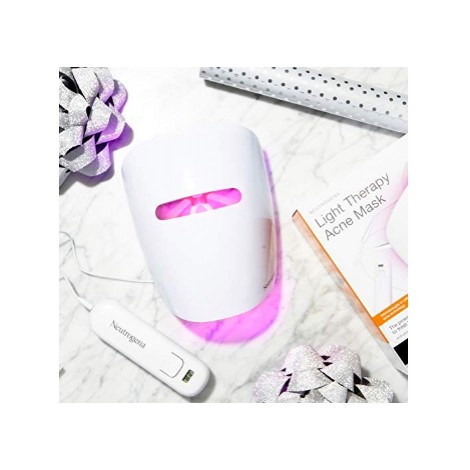 Clear acne breakouts
Reduce inflammation
Clinically tested
Dual light settings
Adequate for all skin types
Must be replaced monthly
Treatment does not exceed 10 minutes
The Neutrogena acne light therapy mask tackles breakouts and helps your skin to heal from any damage. It is clinically proven to be effective at combating acne with the technology used and approved by professionals in dermatology. Not only does this item fight acne but it also stimulates the skin to heal itself after treatment. Since this selection does not use UV light it has been deemed safe for skin and eyes.
Bottom Line
LED lights are used to penetrate in a gentle process that can be adjusted to access various depths and stimulate the skin to act in a particular way. Colors such as blue and red target specific problem areas.
Use
This item can be used to kill the bacteria that causes acne by means of the blue LED light while the red light prompts the skin to heal itself, resulting in reduced inflammation after treatment.
Cost and Value
The Neutrogena acne mask has a low price range. It has been clinically tested and results reveal fewer breakouts along with visible results that can be seen within just one week of use.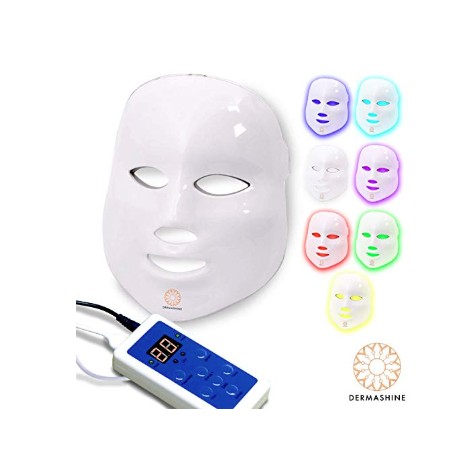 7 color options
Non-heat producing
Can be used daily
5 levels of intensity
USB power cable included
May not cover the whole face
Quality control may be low
The Dermashine Pro has seven different color treatments that are able to tackle a range of skin conditions. It caters to a range of skin conditions such as acne, scars and fine lines. Sessions last for up to thirty minutes and can be used on a daily basis if necessary. This selection uses seven different shades of natural light to effectively tackle almost anything you can throw at it.
Advanced Features
There are seven lighting options available with this design and each tackle a specific area. Colors include red, blue, green and yellow. You also have access to purple, light blue and white.
Effectiveness
With an upgrade to 150 LED users receive the most optimal wavelengths available with up to five levels of intensity to suit their needs and personal preference. There is a two-year manufacturer's warranty on this item.
Cost and Value
The Dermashine Pro color mask has a moderately low to medium price range. It allows you to adjust your treatment time anywhere between five minutes to one hour. There is a belt included to keep your item in position during use.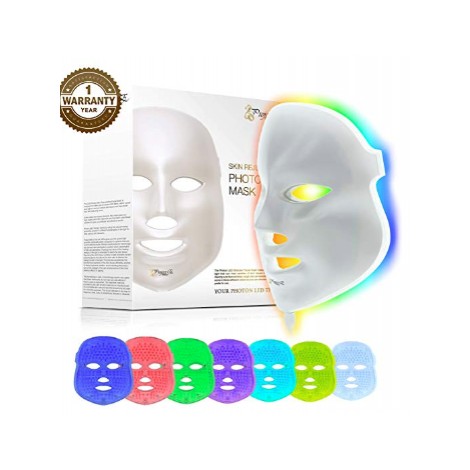 Uses natural light waves
Improves skin elasticity
10-minute sessions
Easy to operate
Highly portable
Quality control may be low
Can be heavy for some persons
The Project E Beauty 7 color light therapy mask uses natural light to help the body treat various skin conditions. This takes just ten minutes to deliver clinical results for skin tightening, freckle removal, the shrinking of pores and much more. Natural light waves are used to penetrate the skin and bring about the desired effect eliminating the need for harsh chemicals.
Ease of Use
There is a built-in timer it this selection that allows users to run this treatment for a predetermined time period of ten minutes after which, not only does the treatment end but the device is automatically turned off.
Bottom Line
Due to its size, this product is highly portable which makes it an ideal asset for persons who travel a lot and may wish to take their selection with them on trips. This helps to ensure that you always have access to your device.
Cost and Value
The Project E 7 color light therapy mask has a moderately low to medium price range. It is quick and easy to use with sessions lasting between ten and fifteen minutes and you only need to do this up to four times per week.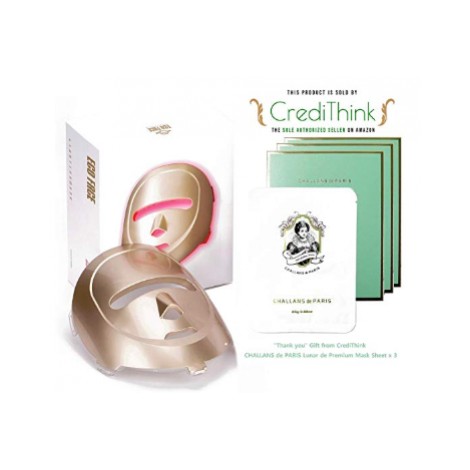 One year warranty
Prevents low-temperature burns
Comes with two-prong adapter
Eco-friendly plastic
Six areas of treatment
Quality control may be low
Can malfunction after initial use
The Eco Face infrared light therapy mask is specially designed to emit the ideal intensity level needed for health treatment. It uses just the right balance of light to stimulate the skin cells and prompt them to regenerate. It eliminates the need to use chemicals that may irritate the skin which is especially useful for individuals who may be more sensitive than others. You can get clinical results for conditions such as wrinkles and red spots.
Use
You can use this device to reduce wrinkles as well as red spots and brighten the look of your skin. These are just three of the six conditions that can be tackled using this particular selection.
Effectiveness
Clinical tests have been done to test the effectiveness of this product in areas such as texture, moisture, and elasticity. In all areas, there was a reduction in these symptoms after continued use of this product.
Cost and Value
The Eco Face infrared has a very high price range, however, it comes with both a wall charger and a USB cord which allows you to operate the device from almost any location.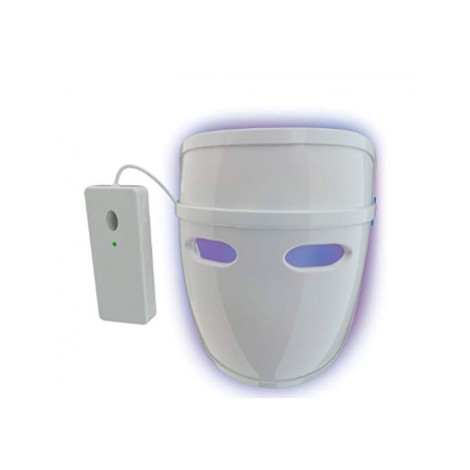 FDA approved
Ideal for acne treatment
Non UV light
Red and Blue lighting system
Safe for daily use
May not be comfortable
Goggles are separate from mask
The Pulsaderm is FDA approved and proven effective at killing bacteria that typically cause acne. It allows you to treat breakouts at home using red and blue LED technology. This clinically tested treatment is proven to kill the bacteria that cause acne and reduce the chances of future breakouts. The lack of UV makes this option safe to use on your skin and eyes.
Advanced Features
Double A batteries are used to power this device which means it does not need to be charged which can be a hassle if you are in a hurry. This also means there are no bulky chords need, ideal for traveling.
Ease of Use
Unlike some designs on the market this item does not use replacement parts so your selection is always ready to go. It lasts longer and costs less in the long run as you won't need to do a monthly repurchase.
Cost and Value
The Pulsaderm Acne light therapy mask has a low price range. It is very light weight and features goggles that can be used to protect your eyes from the light as you go through your treatment session.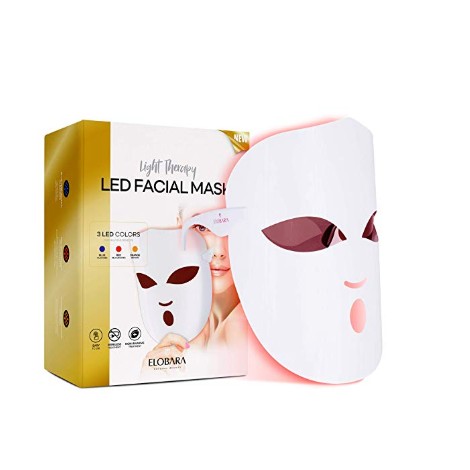 Three color options
Manual control of settings
Easy to use
USB included
Instruction manual
May be packaged incorrectly
Quality control may be low
The Elobara gives you a professional-grade performance right at home for your convenience. This light therapy mask uses the power of light to cleanse and rejuvenate your skin with professional results you can achieve at home. There are three different color types used in this selection and they work together to kill acne, reduce redness and tighten the skin. It is easy to use and works well with multiple skin types.
Bottom Line
It is important to cleanse your face before applying this type of item as it can affect the depth of penetration you receive during your sessions. You can also benefit from applying lotion to your face before placing on the light therapy mask.
Advanced Features
This selection grants you full control over the lighting features available on the device. You will also be able to control the treatment length within a specified period of time no greater than thirty minutes and no less than five.
Cost and Value
The Elobara has a moderately low price range. Your product kit includes an instruction manual that would help you to accurately navigate the settings on this selection.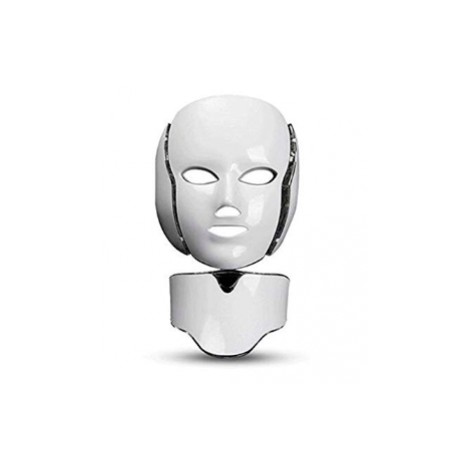 Activates collagen production
Tightens pores
Increases brightness
Accelerates detoxification
Accelerates skin metabolism
Structure can be quite heavy
Can become faulty after some time
The CSBY promotes collagen growth which helps with the texture and elasticity of your skin. This light therapy mask has seven color variations that operate on a low light intensity to ensure your comfort and safety. It comes with a remote control that allows you to adjust the settings to specifically treat different conditions you may want to treat at any given time. This includes tightening the skin and brightening its appearance.
Use
You can use this selection for purposes outside of skincare such as a detox. The light stimulation can prompt your body to release its toxins for an overall healthier you.
Ease of Use
A remote control comes as part of the package with this particular item which allows users to manually control the majority of the settings available on the device. This includes intensity, color selection, and duration.
Cost and Value
The CSBY has a low price range. It comes with a USB connector that allows you to recharge your device almost anywhere which is a huge benefit for people who travel a lot.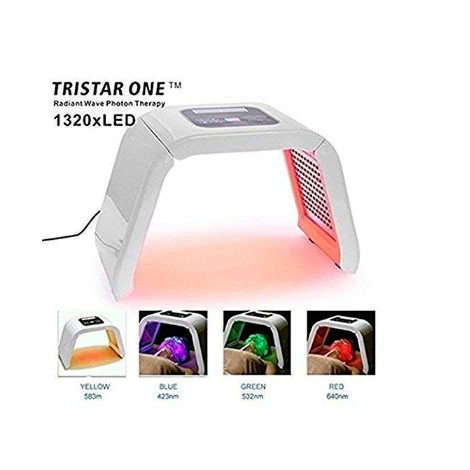 Ideal for professional use
Ships using FedEx
One year warranty
Money-back within two weeks
Four color selections
Takes time to see results
Can be challenging to use
The Hydraskincare Pro color LED light therapy mask is designed to be used by professionals at spas and similar places of employment. This option has a four-color operating system that helps to promote collagen production, fights wrinkles and improves the overall health of your skin. This is accomplished by using yellow, blue, green and red light which is ideal for a professional spa. It also comes with a warranty of one year.
Advanced Features
There are four lighting options available with this design and each tackle a specific area. The colors include red, blue, green and yellow. Each can be used to address specific skin conditions.
Effectiveness
The LED on this item is 1320x with the deepest penetration being red at 640mm. Other colors such as yellow and green penetrate up to 500 mm with blue bringing up the rear at 423mm of depth penetration.
Cost and Value
The Hydraskin Carepro has a high price range. It has been marked as one of the best with skin rejuvenation and anti-wrinkle capabilities. Shipping can be done via FedEx.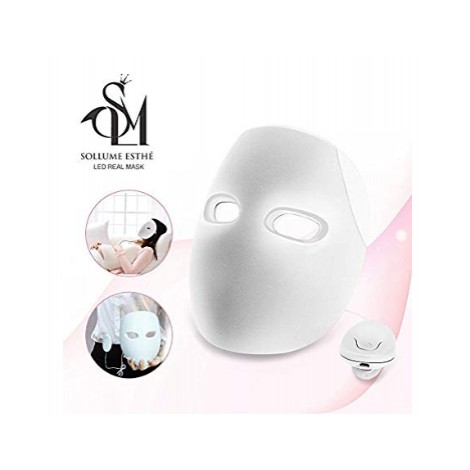 Advanced nano-light technology
Two wavelengths
Lithium battery
Automatic timer
Clinically tested
May need moisturizer before use
Quality control can be low
The SOLLUME ESTHE uses a lithium battery for powered operation with a built-in fifteen minute timer. This light therapy mask uses advanced technology such as nono-light in addition to red light maximize the effectiveness of your skincare session. It has a built-in timer that automatically turns off your device after a period of fifteen minutes. Approved by the FDA this ergonomically designed selection offers greater coverage.
Effectiveness
3D designs have been used during the construction of this product to simulate the natural curve of the face. This allows not just for a fuller coverage but increases comfort for persons with varying head shapes.
Bottom Line
It is important to cleanse your face before applying this type of item as it can affect the depth of penetration you receive during your sessions. You can also benefit from applying lotion to your face before placing on the light therapy mask.
Cost and Value
The SOLLUME ESTHE has an average price range. It comes with manual and ear tips for increased protection during sessions. You also receive a USB charging cable to power your device.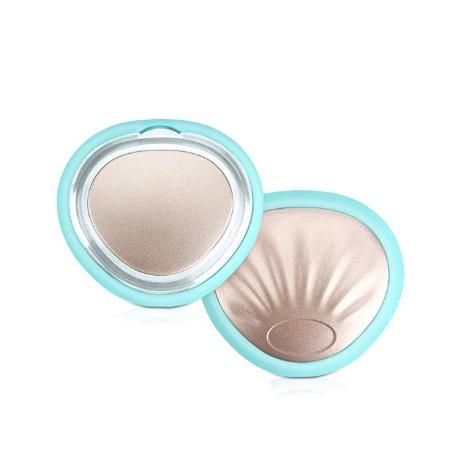 90 second treatment
Non-slip surface
Three lighting modes
Hot and cold technology
Can be used with other products
May become faulty
Low quality control
The AUTENPOO Smart is a ninety-second rejuvenating session that produces a spa-like result. It has adjustable modes which allow you to control the intensity based on your skin type. You can use this item to tighten your skin and lock in its nutrients so you are always looking your best. The material used for construction is waterproof making this selection easy to clean.
Ease of Use
You only need to apply this treatment for a few minutes counting all the way up to one minute and a half to be exact. This may seem like a long time but this selection operates in two phases, one of hot and the other is cold.
Use
You can use this device to reduce wrinkles as well as red spots and brighten the look of your skin. These are just three of the six conditions that can be tackled using this particular selection.
Cost and Value
The AUTENPOO Smart has a low price range. Each package contains a light therapy mask, charger and storage bag which allows you to transport your selection with you to any location.
Criteria Used for Evaluation


Use
On a basic level, these types of items can be used to treat blemishes such as fine lines, wrinkles and stretch marks. This is due to the red light penetration which is a standard inclusion in selections like these. Red light stimulates your skin on a cellular level and is able to treat these conditions making it an excellent alternative to chemicals, lasers and similar treatments that present more of a risk. Being able to do this in the comfort of your home is a massive benefit.
These selections are also ideal for people who may be suffering from acne and similar conditions. The blue light emitted from these devices act as an antibacterial treatment by killing the bacteria that cause breakouts. Due to the healing properties of there colors in the spectrum, this can be done without leaving scars or inflammation as the tissue will be prompted to heal itself and the added stimulation creates moisture and relieves dryness associated with acne.
Skincare is not the only benefit that can be had by using these types of items as they can provide additional benefits in various other areas. They can be used to detoxify the body as continued exposure to specific light combinations can prompt the body to push out toxic materials. It can even help with areas such as blood circulation, helping to enrich the blood flow which has a larger benefit when it comes to your overall health and wellness.


Advanced Features
Different color shades can affect your skin differently and most designs provide two basic colors in the form of red and blue as these offer results with the most common range of problems which include blemishes and scars. Some items, however, offer a wider range of colors to address conditions that may be a little out of the box. While some offer up to four colors there are quite a few that provide you with up to seven color variations to suit a wide range of needs.
Many devices come equipped with a wall charger which allows you to refuel your light therapy mask before use. There are even some designs that include accessories such as USB cords which increase user convenience as it allows them to recharge almost anywhere. It is undisputed though, that wireless is the way to go and that is why battery operated options top the list. With this feature, your selection will be ready to go at a moments notice no matter where you are.
Anything that makes our existence easier is something we are genuinely invested in and this works in most situations but not all. Having your light therapy mask operate automatically can make it easy to use and reduces the amount of effort you need to put in to get results but the option to take manual control can be beneficial. This is especially the case when it comes to selecting your color treatment, session duration and even the intensity as this has a direct effect on your results from using these products.

Effectiveness
The main goal when using this type of item is to have it penetrate the skin do a depth that is ideal without increasing the intensity to a level that can be harmful. That is the goal that some designs on this list have been able to achieve. By upgrading to 150 LED they are able to have optimal light penetration which allows you to get the maximum benefit from every session. Their selection does all this without increasing the intensity, although many products with this feature will also make intensity levels adjustable for user convenience.
A company that runs clinical tests are able to reveal tangible data that supports their product and no doubt puts their consumers at east. Some manufacturers on this list tests every aspect of their product to ensure visible results and many of them support a reduction in skin conditions listed as treated by their product within two weeks of treatment. The range of improvement varies from one brand to the next but it helps to cement in the minds of consumers the level of efficiency they are able to offer and why this product is a suitable option for them.
The 3D design used for the construction of this item is a great choice as it is able to produce an ergonomic design that holds to the natural curves of your face. This has multiple benefits one of which is being able to provide increased coverage. This is important when it comes to a thorough performance. In addition, it provides service to a wider range of persons being able to fit faces that may have a less than ordinary shape or size.


Ease of Use
Since this type of item uses light and at times covers the entire face it can be a challenge when it comes to keeping time. You never want to stay too long under a treatment like this. To assist users and make it easier for them to get the most out of their selection, many devices come with a built-in timer. These may be set to a specific automatically such as ten to fifteen minutes while others allow you to the flexibility of setting a time frame yourself before going under for a session.
Replacing parts can be a hassle especially when you don't have an extended option forcing you to refill on a monthly basis. This can lead to increased expenses and may even disrupt your treatment time due to delays in order schedules or delivery. That is why it is a huge benefit when your device is free of replacement parts such as activators which make it impossible to use your device until this insert is refilled or replaced.
Once you put your light therapy mask on it can be a challenge to see out of it and to do any type of maneuvering until your session is complete. In some cases, you even have to close your eyes depending on the color and its intensity. That makes a remote control so vital as you won't need to expend a lot of energy to operate it and the simple, easy to use controls makes operating your device a walk in the park. If there was ever an ideal option for user convenience it is this.


Bottom Line
LED lights are capable of penetrating the skin at different depths and promoting a reaction on a physiological level. Different wavelengths of color affect the skin in different ways that are specific. For example, red stimulates cellular activity which causes changes such as increased collagen production. This change can reduce conditions such as fine lines and stretch marks safely without the use of harsh chemicals.
If you have a high profile job or you travel a lot, you know the importance of looking your best at all times. Going to the spa on a regular basis is not always tangible, especially if you have a busy schedule which makes these home systems so valuable. Due to their size, companies have made it easy for you to now take your device with you whether it is at home from one room to another or traveling from one country to the next. This allows you the flexibility to keep up with your sessions as often as you need it.
At a professional spa, you may notice that before these types of treatments are applied your face is cleansed. They may even use steam to open your pores as this process gives you the best conditions under which the light can penetrate for maximum benefits from your session. When doing this at home, you may want to add some moisturizer to your face before placing the light therapy mask on to increase comfort and to protect your skin from any residual heat.
Expert Interviews & Opinions
Most Important Criteria
(According to our experts opinion)
Experts Opinion
Editors Opinion
Users Opinion
By Default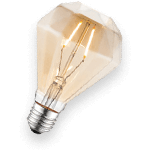 Range of Function
Most designs on the market carry the basic red and blue light sequence which offers basic but very beneficial properties such as renewal and rejuvenation coupled with bacteria-fighting capabilities. As these colors have a specific purpose, there are other colors in the visible spectrum that can be of benefit. An increase in range of function when it comes to this device simply involves an increase in color options with some items having up to seven available options.
Safe to Use
Although there are many benefits that can be had by using the light on the surface of your skin, it is important to make sure you minimize any risk. This is why some companies make it a priority to focus not just on what they include but what they exclude from their selection. One of these is ultraviolet which can be harmful to skin cells, by avoiding this hazard you can reap benefits safely. Selections that are UV, heat, and laser free are ideal for personal use.
Other Factors to Consider


Features
It is so important to pay attention to the environment and to make every effort to keep it as clean as possible. Some companies use fixtures called activators to assist in monitoring your product consumption and these may need to be changed on a month to month basis. By partnering with leading recycling companies, these manufacturers make it possible for you to safely dispose of this equipment in a way that protects the environment.


Materials
There are some light therapy masks on this list that are constructed from materials such as silicone. This is ideal, even though many designs do not use extreme heat, this material is able to withstand any that may be given off and act as a shield between the selection and your skin. It is also water-resistant which is a great feature that makes these types of products easy to clean after use. A useful feature for those designs that need to be passed along the skin.


Accessories
Some of these designs can get quite large or maybe heavier some persons than it is for others. Having to sit and hold your light therapy mask in place, especially if you have a lengthy session lasting for up to sixty minutes can be a challenge. That is why some devices come with accessories such as belts. These help to keep your selection on while you use it which frees up your hands for increased comfort and gives you the opportunity to relax and enjoy the session.
Also included in the list of accessories is a travel bag. This option is not available with many companies making it a stand out offer. It is an excellent feeling when you don't need to worry about storing your items. This hassle is eliminated by this item as you can keep your device safely stored within its carry bag. When you travel this bag comes in easy as it makes your selection high portable. Whether you are moving around rooms within your home, visiting a local friend or traveling abroad you can have your skincare covered with this feature.


Style
There are many designs available when it comes to this type of item and each has its own benefit. For example, there are some that cover the entire face which gives users an all-around treatment by providing complete saturation. There are some that are professional-grade and must be kept some distance away from the face as the intensity is much higher than others. Finally, some can go directly on to the skin to provide pointed treatment.


Protection
The location of the actual bulb within these products can make a difference when it comes to your safety. While these types of items do not use UV light they may at times, based on the intensity, give off residual heat. This can cause damage to the surface of the skin or result in burns. To protect users from this hazard, manufacturers sometimes keep the bulbs inside of the visible lighting area to ensure it is safe not just for your skin but also for your eyes.
Frequently Asked Questions
q:

Are light therapy masks safe to use?

a:

Once your selection uses LED light you can be certain it does not contain harmful rays such as Ultraviolet which makes then safe and easy to use as often as you need to. The low-intensity operation of this product reduces the risk of burns and similar injuries that may result from chemical treatments.
q:

How effective are these types of skin care devices?

a:

These selections have been clinically tested for effectiveness and have a sound reputation for results with a satisfaction rate of over 80%. The science is sound and has been used and recommended by professionals in the field of dermatology. Facts reveal that exposure to color spectrums create reactions in the skin on a physiological level.
q:

How does light therapy mask work?

a:

These items emit a low-frequency infrared light that penetrates the surface of the skin to cause it to respond a particular way based on the color spectrum being emitted. The wider the range of color selection the more conditions can be treated by the device. Just ten minutes a day can have a huge impact on the quality of your skin.
q:

How does light therapy mask treat acne?

a:

They do this by exposing your skin to blue light which acts as an antibacterial option. It finds and kills the bacteria that causes breakouts thereby eliminating the problem. It also stimulates healing so inflammation is reduced and the possibility of scarring is diminished.
q:

What does red light therapy do for your skin care regime?

a:

The red light on an LED emits at a low level and penetrates the skin causing it to produce more collagen. This process enables your body to resist conditions such as fine lines and wrinkles in addition to improving elasticity and the general appearance of your skin.
Subscribe to our Newsletter