Best Infant Life Jackets Reviewed & Rated for Quality
In a Hurry? Editors choice: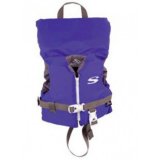 Test Winner: Stearns Classic Series

Are you looking for an effective way to ensure your brave little swimmer is protected in the water or on a boat? Infant life jackets with a tight and secure fit is the perfect way to help you stop worrying and
know that your baby is safe
when swimming in a large body of water. With their durable construction and floatation foam, these life jackets can continue to keep your baby safe season after season.
When attempting to find the right infant life vest, it is essential you know which one will be the best fit, as your goal is to make sure your child is both comfortable and safe. We have compiled a list for you of the top ten best infant life jackets. Keep reading to see which are the best.
Standout Picks
Criteria Used for Evaluation
Adjustability
To ensure the infant is safe and comfortable while submerged in the water and wearing one of our life jackets, you will want to purchase one that grants you a certain degree of adjustability. More than just an effective tool to help the little ones acclimate to being in deep water, you should aim to buy a floatation device that allows for comfortable swim time while being well-protected.
You do not want to buy an infant life jacket for your kid that is going to seize up on their necks or prevent you from being able to adjust the straps, as this will not allow you to be certain that your son or daughter is comfortable in their vest.
Features such as a shoulder harness ensure that your child is not being smothered when wearing the jacket, but they also allow you to adjust it so they cannot remove it without your help. This also helps to reduce the risk of it slipping off while they're in the water, and you will want a flotation vest with straps that can either be loosened or tightened to help secure the best possible fit for the one wearing it.
Durability
It is likely you are planning to take your child out to the water more than once, and the infant life jackets you buy for them should be able to withstand multiple uses and be sturdy enough to keep its wearer safe in the water. The materials that the product has been constructed from should be of a durable quality that is guaranteed to offer plenty of protection to help its wearer float in a lake or in the sea.
Whether you are planning to have your child wear one of the devices from our list for swimming recreationally or to keep them safe on a boat, you will need one that offers the best possible quality that will ensure the safety of the precious little one wearing it.
Some of the products we have included on our list have a soft shell and are UV resistant, meaning the quality will last no matter how often you use it. Our selections also feature a wide nylon support base or a neoprene coating and sturdy EPE foam inserts to make floating atop the water easily. When it comes to the needs of your child, you want to feel completely confident that they are protected, and to do this, you will want the materials of your flotation device to be specifically designed to meet this need.
Effectiveness
The effectiveness of your floatation jacket is tied heavily to how well it performs its job. It should be noted that while these safety devices help to keep your baby's head above water, they are not a substitute for parental supervision, and despite the protection, our selected items will offer them, you should never leave your child unattended in the water. While they cannot fully replace the need for a watchful parent, the device you purchase should keep your baby above water and enable you to retrieve them from it quickly.
Since the safety of the child wearing the floatation jacket is of the utmost importance, most of the items we have included on our list feature a convenient grab handle on the back. This allows you to simply grasp it and recover your child in the unlikely event something goes wrong in the water and you must retrieve them quickly. We have also included products that feature double clasps and chest snaps to offer further protection against the device slipping off while they're swimming in it.
Our included infant life jackets are also simple to put on, and the crotch straps and waist belts to offer further protection. When deciding on which one to purchase, always make sure it is a device that you feel confident will keep your child safe and include the protective features you predict will be needed.
Portability
Each of the baby life jacket products is lightweight and float effectively, whether they're being used for swimming in the pool, a lake, or any other large bodies of water. Despite the supportive base and floatation foam, these devices are not heavy to carry, making them easy to cart around and allowing for better buoyancy in the water. There's also no need to worry about how to take the life jacket on and off your baby by figuring out how to work a series of complicated straps, as all of our featured items are easy to slip on and off without much difficulty.
But the most crucial aspect of your infant life jackets' portability is how well it can float when it is being used in the water. Most of what we have featured on our list include a durable exterior and nylon panels with PVC backing for your convenience to assist with providing an effective tool to keep children safe while in the water. Be sure to carefully select a product that you believe has the portability you will need to keep your child afloat.
Style
While the safety of the one wearing the device is of the utmost importance, special attention should still be paid to its design. If you can, you will want to buy something eye-popping and colorful for your kid so they will be excited about wearing their stylish, new floatation jacket. A lot of our jackets come in a variety of different designs, and their patterns include images of the ocean and little fish. Be sure to browse our selection to see which style is the best fit when selecting a device for your little one.
While some kids may be fussy about having to wear a flotation device, you can help them adapt to the idea by buying them one with a unique design they are sure to like. There are a variety of different designs to choose from, but you will probably want to select something colorful and bright, as this will be pleasing to the eye and your kid can appreciate the design. Be sure to make a purchase that you are confident will receive positive attention from your child due to its stylish colors and interesting patterns.
10 Best Infant Life Jackets
1

. Stearns Classic Series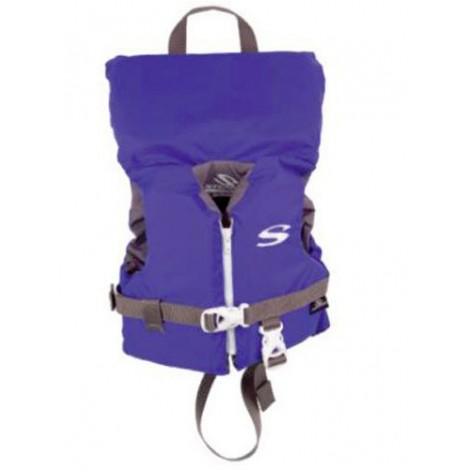 When selecting the perfect infant life jackets, you'll want to consider buying this one, as this open-sided vest has secure 1" webbing. For extra safety and security, this product also features a leg strap and a convenient grab handle.
Durable Construction
Made of a durable nylon shell, this infant life jacket will not easily fall apart and it can withstand plenty of uses.
Smart Design
The PE flotation foam is what keeps your child floating comfortably in the water, and size is not a problem. The vest can even fit infants weighing under 30 Ibs.
Cost and Value
This infant life jacket, which prioritizes your child's safety above all else, is on the market for a fair price. You do not want to pass on this US Coast Guard-approved jacket.

2

. O'Neill Wake Waterski Infant USCG Vest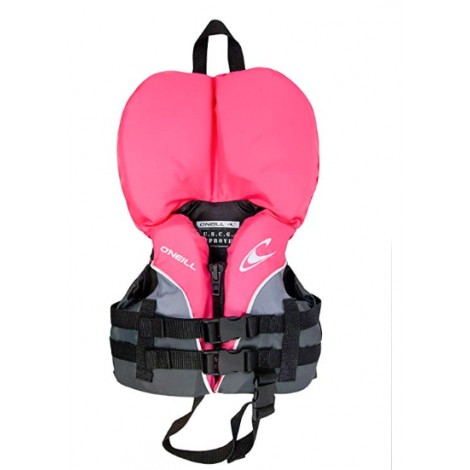 US Coast Guard Guard approved for babies with a bodyweight of up to 30 Ibs., and there is no need to worry about your child's comfort. These infant life jackets are both soft and comfortable, and it possesses a durable exterior.
Safe Floatation Device
This infant life jacket has a nylon shell on top of its PVC marine foam shape to keep the baby face-up in the water. The adjustable safety belt helps keep things secure.
Smart Design
It has a durable exterior, and this product also features nylon panels with PVC backing for your convenience. This life jacket is easy to put on and has ultraviolet protection.
Cost and Value
For such a comfortable and easy to use a floatation device, this life jacket for kids is available for an affordable price. It even has adjustable belts, quick-release buttons, and a grab loop.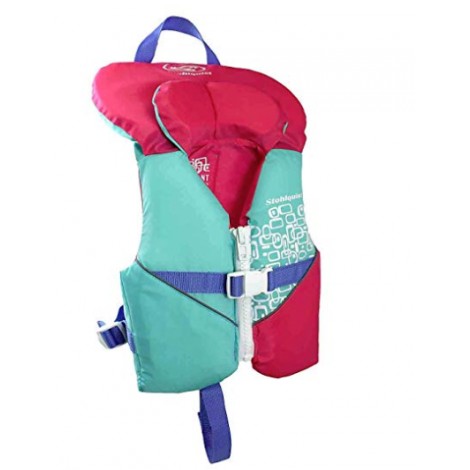 Designed to keep your child safe and comfortable, this infant life jacket is easy to slip onto your infant, and it has fully adjustable straps to keep them secure. There is even a convenient grab handle feature to make any rescues simply.
Easy Mobility
This infant life jacket will not restrict your child's movements, as it grants them full arm mobility for swimming. The double collar cradles their head but does not restrict their movement.
Safety Features
The zippered front makes it easy to take this product on and off, and the single front buckle adds an extra level of security. The box-stitched buckle adds durability.
Cost and Value
For an item with so many convenient features that help keep your child safe, it is available for a fair price. The full-size adjustable straps don't twist or tangle.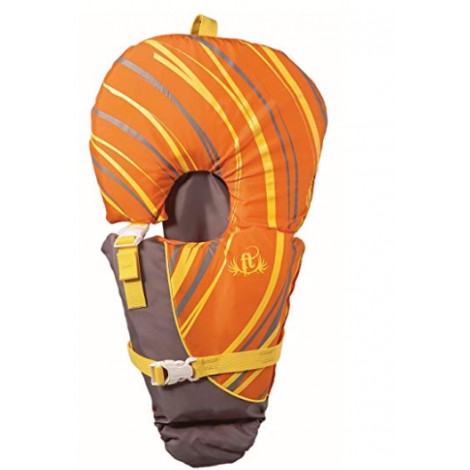 Coming in orange and grey colors, this U.S. Coast Guard-approved floatation device is designed to fit infants weighing less than 30 Ibs. and provide them with safety and comfort. The convenient buckle opening makes it simple to wear.
Advanced Features
This infant life jacket features one encircling waist belt and shoulder strap for a secure fit, and the elasticized fabric strap leg strap adds a level of comfort. The oversized collar provides head support.
Unique Construction
The Full Throttle is made of 200 denier nylon and 150 denier poly-twill. Its flotation foam is lightweight and durable, while its convenient grab strap allows for easy recovery of your baby in the water.
Cost and Value
It is currently available for a very affordable price. For a product as easy to put on like this one, you do not want to pass on the opportunity to own it.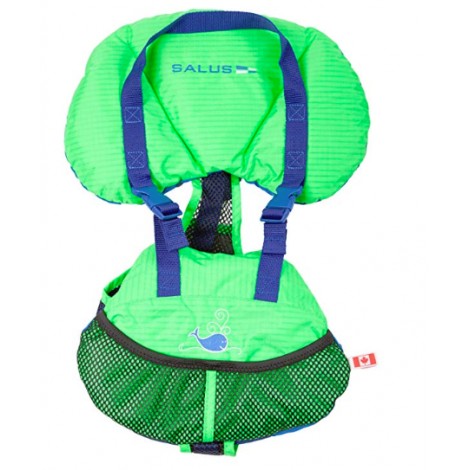 Winner of the Canadian Safe Boating Award (CSBA), this infant life jacket on our list is designed for babies that are anywhere from 9 to 25 Ibs. The adjustable mesh setting and webbing harness system provide security and comfort for your baby.
Comfort and Security
The convenient three-piece collar design cradles the baby's head comfortably when it is in use. The additional floatation features on the sides help to add extra security and comfort.
Breathability
The Dry-Lex Aerospace liner adds breathability to the device, and it provides temperature control and drainage for the baby's safety. The mesh backing helps the baby to lie down comfortably.
Cost and Value
This product that provides your child with comfort and security through its advanced features is available for a very affordable price. It also has a short front for enhanced comfort.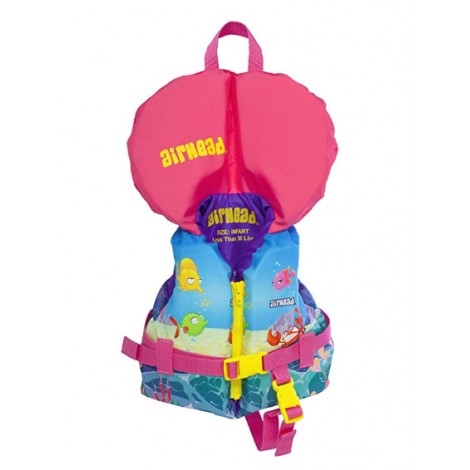 Featuring pictures of fish in the ocean, this product offers you a cute way to ensure your child is safe while swimming in the water or riding on a boat. USCG approved and designed to fit less than 30 Ibs. infants.
Convenient Features
This closed-sided vest features a front zipper with a waist belt and a convenient crotch strap to ensure safety. The lightweight Poly-E flotation is located inside for added security.
Secures Infant
The supportive headrest feature helps your infant to stay face-up in the water, and it also included a grab handle. The product is also made from a 200-denier polyester shell.
Cost and Value
For all of its features, this life jacket is available for an affordable price. Prioritizing safety, it even has a crotch strap to ensure the vest stays in place.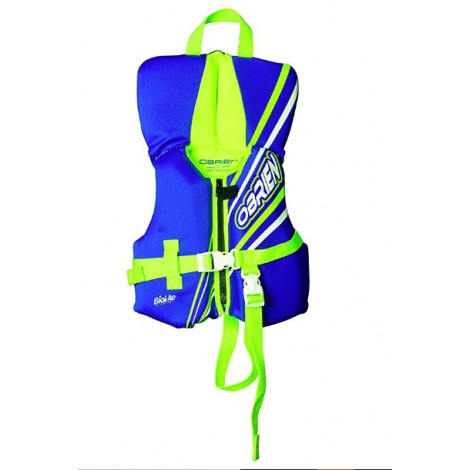 The O'Brien Infant Neoprene Life Vest is a great way to ensure the safety of your baby. It has a sharp look and a convenient one buckle and one zip design, which makes it very easy to put on your baby.
Well-Constructed Material
The easy material of the O'Brien vest allows for breathability, and its comfortable lightweight design ensures your child won't be weighed down by the vest when water skiing or wakeboarding.
Ensures Protection
The O'Brien is a great choice, as the Biolite Outer makes for an easy fit by helping to keep the weight down. The product's breathability also prevents water from being absorbed by the vest.
Cost and Value
Despite all that this product has to offer you, it has been fairly priced and placed on the market for you to buy. The O'Brien ensures both comfort and security.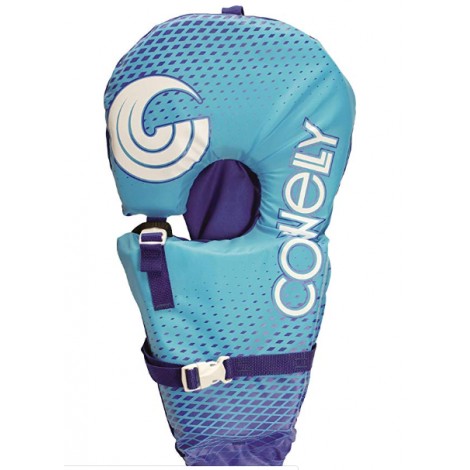 The Connelly Babysafe Nylon Vest is uniquely designed to prioritize the safety of your baby, and its careful crafting and construction are US Coast Guard approved. The convenient zip-front style allows for flexibility with the growth of your child.
Well-Crafted Design
Made of pure nylon, nothing but the utmost attention has been paid to every detail when it comes to protecting your baby. The adjustable straps help by adding extra security.
Easy Buckles
Suiting your child up is a simple task, as this item on our list has been designed to ensure putting it on is stress-free with its easy, quick-release buckles.
Cost and Value
For all it offers, this product is inexpensive and available for an affordable price. Its nylon support base is conveniently large with comfy elastic on the legs for added security.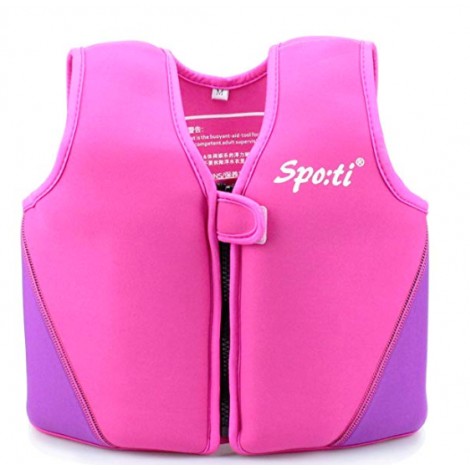 Made from polyester foam, the Genwiss Swim Vest can fit babies weighing 28-38 Ibs. and children that are 3-4 years old. It aims to provide your infant with a secure fit with its full-front zipper and its EPE foam inserts.
Excellent Buoyancy
Stepping into the water for the first time can be a scary experience, but this infant life jacket is designed to help. Its extra buoyancy boosts confidence and helps with practicing strokes.
Smart Design
The hand-consolidated foam blocks keeping your kid up in the water have been designed to provide security and durability. The neoprene coating means that this product is built to last.
Cost and Value
The Genwiss Swim Vest is inexpensive and fairly priced, so there's no excuse not to buy it. This functional float vest is a great tool to help with practicing swimming.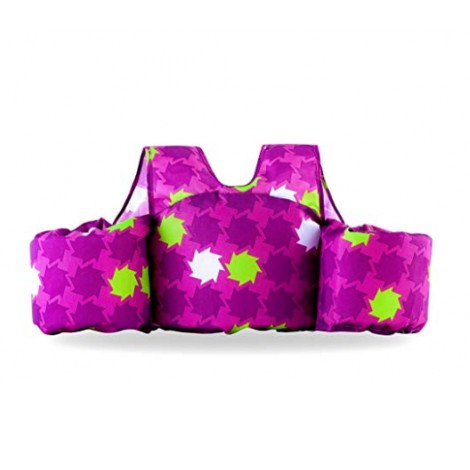 Designed with a fun and unique style that kids are guaranteed to love, this swim vest can fit children weighing anywhere from 30-50 Ibs. It can be used for swimming at the pool, a lake, or even the sea.
Double Clasp and Adjustability
The adjustable double clasp snap in the back ensures it will not come unclipped while the product is in use. The chest snap can also be adjusted from 23 - 29 inches.
Extra Security
The shoulder harness feature allows parents to feel secure in knowing their child cannot remove the vest without their help. This also ensures it will not slip off during use.
Cost and Value
This item we have selected to be featured on our list is available for a very affordable price and can easily fit kids from the ages of 2-6 years old.

Subscribe to our Newsletter