Osprey Exos Backpack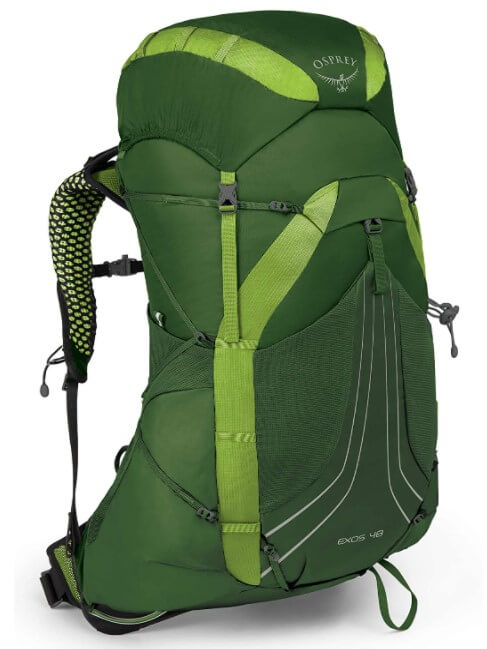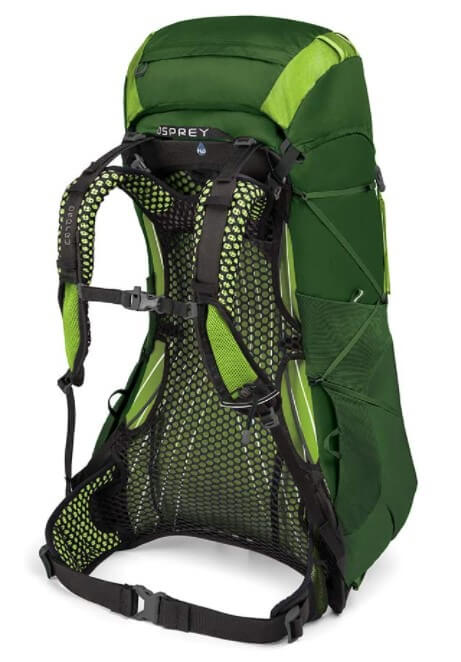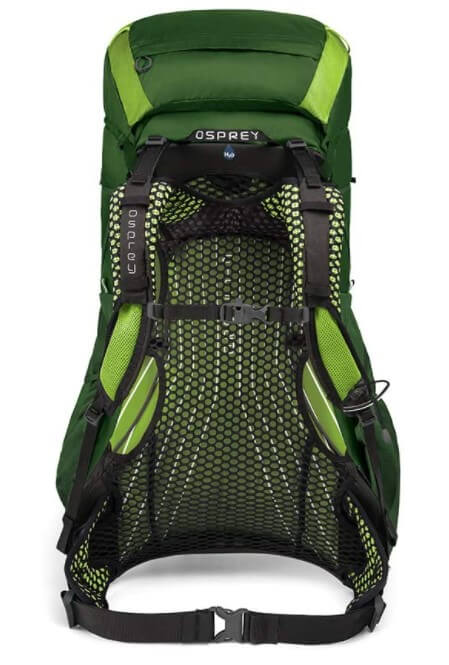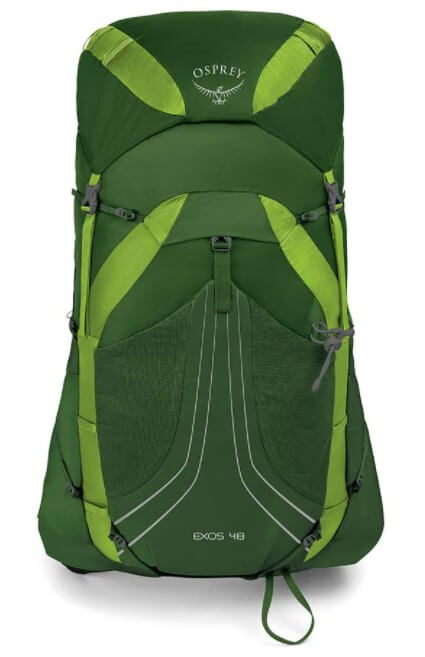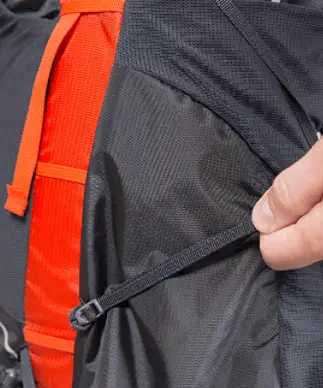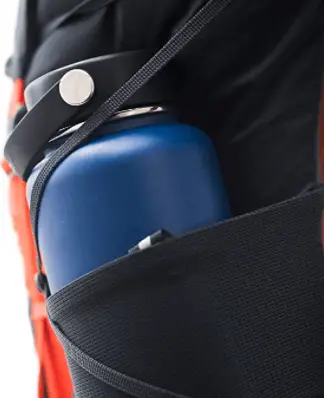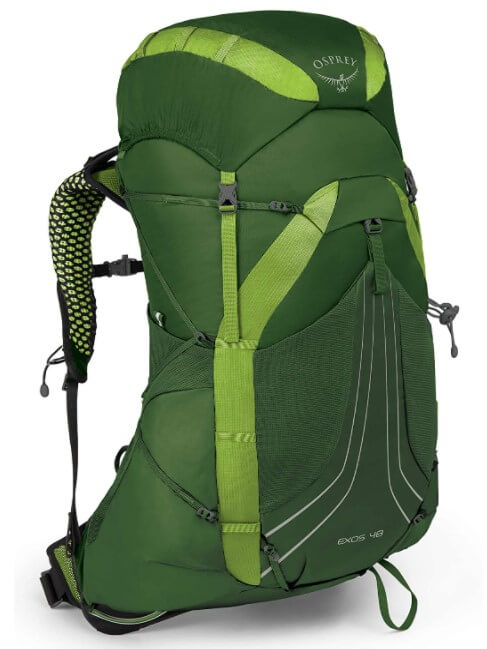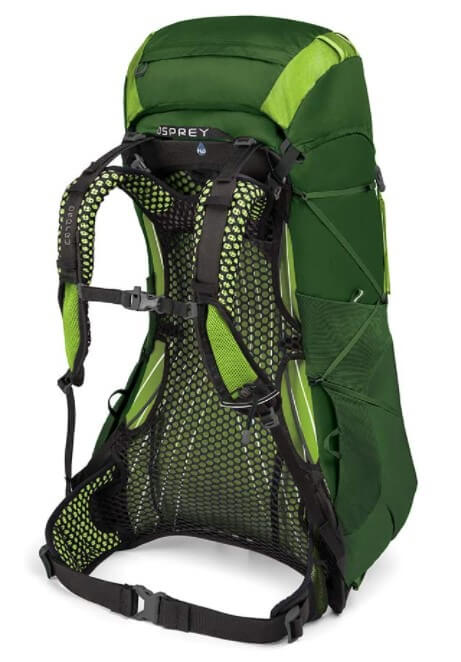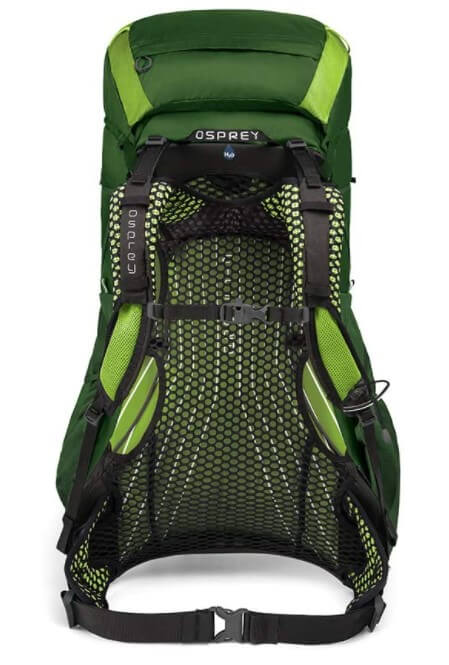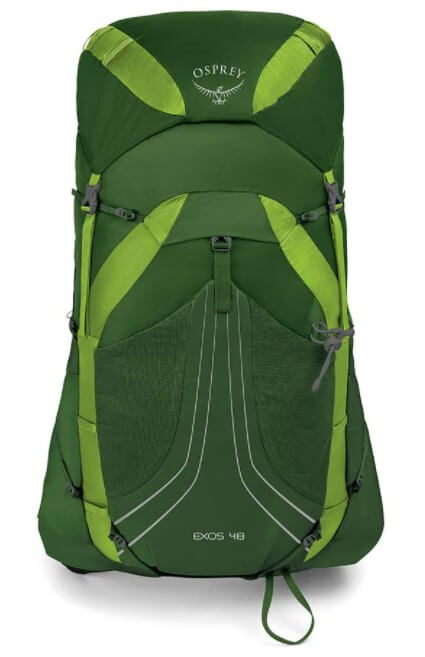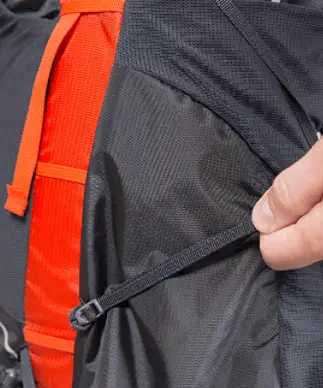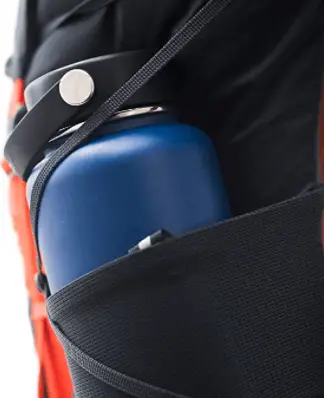 Our Conclusion
The Osprey Exos 58 Men's Backpack is as nearly
ultra-light
as you can get without losing features and performance. 
For hikers intent on toning down how much gear can be carried while still using a pack capable of being supportive and comfortable. The pack provides a frame while being so close to feeling like a frameless light pack.
This backpack works in all commonly encountered backcountry hiking environments and weather conditions.
Pros & Cons
Adjustability ( focus on choosing best FIT )
Key Features
Key Features
Snap Shot
AirSpeed suspension

Removable floating lid

Integrated FlapJacket ( for use when removing the floating lid )

Trekking pole attachment

Ice ax attachment

Side compression straps

Internal hydration reservoir pocket (purchased as separate)

Load range: 20-40 lbs

Weight 2.65 lb

Good For:

All hiking terrains
Most weather conditions

Features

The features are designed to make the pack user-friendly. The mesh beaver-tail is a stretch pocket that allows easy packing of various differently shaped gear, which would take up space in the main compartment. This pocket also will enable you to carry equipment that you need to access quickly. Stow on the go feature is useful for attaching poles securely.

Another great product we reviewed is the Osprey Talon 6 Lumbar Hiking Pack, so make sure to check it out as well.

The pockets at the waist belt are suitable for storing any quick at-hand gear such as a phone, camera, energy bars, keys, or other handheld equipment. The lid has a small pocket designed above a good-sized mesh pocket. The pack is a single access design. The pack features an ice loop, and at the bottom, you get an attachment strap for securing gear, such as a foam pad.

Suspension

The Aluminum frame works well for providing a comfortable level of suspension. The design targets combining suspension with ventilation. The pack has a perforated rear panel and shoulder straps which resembles netting for breathability during hot weather hiking.

Comfort

Comfort is designed in and practical for a model of this weight and size. The shoulder straps feel comfortable due to extra padding where it is most needed. The hip belt is made from a comfortable fabric that is securely comfortable and reduces pressure. The material brings down the potential of hot spots.

The pack has an aluminum frame and comfortably carries 30-35 pound loads while feeling as light as a non-frame pack. Users point out that above 35 pounds, functionality is still in play, but a change in comfort is notable. The back panel and shoulder straps are perforated to provide good ventilation in warm weather.

FIT and Adjustability

Adjustability is limited, and when aiming for FIT, you get a choice of three sizes. Unless you are shorter than around 5ft 3 inches or a lot taller than 6ft 3 inches, choosing the right FIT and size is relatively easy.

Ease of Use

In combination with the right design in features, the basic design works fine for ease of use. If you want to reduce the pack, the lid is removable. This model features buckles; using them requires a little practice.

Weight and Durability

This weighs 2.7 pounds, is very light, and includes an aluminum frame. The pack gives excellent performance and comfort. They are designed to be lightweight and not feature the number of robust materials found in heavy-duty gear.

If used a lot in challenging conditions/weather, you have to expect less durability than you would find in more robust heavy-duty all-purpose packs. This is not to say that durability is low. Durability is good when this is used within the purpose of design.

Value For Money

The price tag for some may feel a little high. When you factor in versatility, comfort, and performance, you get a good deal.
Verdict
Even though the pack is impressively light the frame offers a level of support which puts it ahead of most comparative options. The designed in features are all targeted at comfort and performance. Justifying this pack as a light weight high performer.

Easily carrying a load up to 35 pounds which for a small pack is absolutely impressive. Adjustability is as expected for a pack this size and the buyer friendly price.

Attention to choosing the best FIT for you and this is a really good addition to your hiking gear.
Comparison to Previous Models
This pack works well for men who are looking for a light high performing pack.
For lady hikers, an excellent comparative option which is heavier because more features are designed in is The Osprey Aura AG 50 Women's Backpack.
This option for ladies works in all terrains and weathers and is an excellent addition to hiking gear for those who regularly hit the back-country trails.
Comparative Snap Shot
Anti-Gravity suspension
Adjustable harness
Fit-on-the-Fly hip belt
Removable floating top lid
Front stretchy mesh pocket
Top lid pockets (Zippered)
Dual ice tool loops
Bungee tie-off's
Load range is 25-40 lbs
Weight 4.1 lbs

Subscribe to our Newsletter