Best Weed Wackers Reviewed & Rated for Quality
In a Hurry? Editors choice: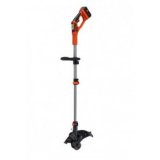 Test Winner: Black & Decker LST136W

A weed wacker goes by many names. They are called line trimmers, strimmers,
weed eaters
, string trimmers, and even weed whips. They all get the same point across though and that is that you are
cutting down weeds, or grass
, by using a string. While they can vary widely in price and style, they all have the same basic design and are ultimately used for the same task: cutting down
blades
of grass and weeds to make your yard just a little bit fancier. There is something about the look of a beautifully groomed yard and you won't realize just how much of a difference having and regularly using a weed wacker can make. With that in mind, we offer you this list of the top ten weed whackers that'll make your lawn look as good as those lawns on TV.
Standout Picks
Criteria Used for Evaluation
Size
Another important thing to consider is how much you want your weed eater to be cutting. There isn't a ton of variability, but when you are talking about 12 inches vs. 17, it can make a big difference and mean one more or less pass. As a general rule, the electric units, whether battery or corded, have smaller swaths while the gas ones tend to be bigger. If you are strictly using it for trimming or edging, then you should be just fine with the standard 12 or 13 inches. However; if you want to do more serious jobs with it, you should strongly consider getting something just a little bit bigger.
Advanced Features
Are you looking for simply a weed whacker? Or do you want a tool that can do more than one job? The good news here is that every single one on this list functions both as a trimmer and an edger while some even boast more functionality than that. The base model is one that will trim and edge, but if you're willing to spend a little more here, you'll likely save a little later. You can get options that add in a mini mower or even support attachments to make it capable of everything from tilling to pole sawing.
Brand
If you do opt to go with a battery powered tool, then the rewards can be even greater. Most batteries will power almost all power tools within the same line. This means that your leaf blower can share the same battery as your trimmer and your chainsaw may even be able to get in on the fun. Most of the major brands featured here have full lines of tools that can support the same battery. This will help you save money in the long run as you don't have to buy a battery for every tool. It also helps to ensure you have backups so that if you need to go for a long time, then when the battery runs out you can simply change it with a fully charged one and move on with your life.
Ease of Use
No one wants the fuss of trying to figure out a tool that is complicated. If figuring out how to use or operate a tool takes a long time and energy, then it's no longer being helpful for you. That's why we made sure that the ones that made it on this list are understandable and designed so that almost any adult is able to utilize it.
Effectiveness
No one wants to spend hours and hours going over the exact same spots of their lawn because their weed wacker isn't very effective. If the blade or string isn't doing its job to get rid of the weeds, then what is the point? That's why we made sure that our list has weed whackers that are going to be effective for you to get the job done. If the weed whacker is too heavy or requires multiple swipes past the weeds, then it's not the most effective tool and therefore not helping you use your time and energy wisely. At that point, you'd be better off on your hands and knees digging them out yourself.
10 Best Weed Wackers
1

. Black & Decker LST136W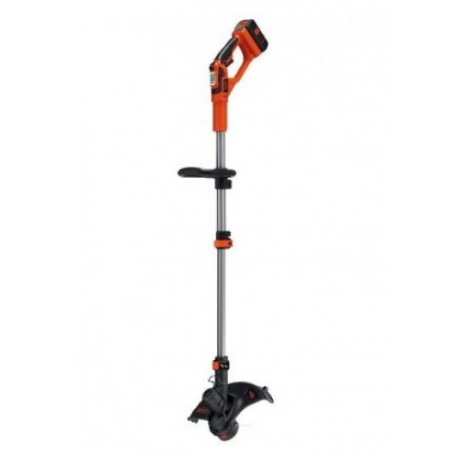 The perfect way to finish off a nice clean lawn look is with this Black and Decker trimmer. It has a 40V lithium battery which can either give you a long life or a powerful trim, depending on your preference. It easily switches back and forth between trimmer and edger. It also has an automatic feed spool which will make sure that you can work continuously.
Trimmer and Edger
This weed wacker easily switches from a trimmer to an edger. All that you have to do is push a button and turn it 180 degrees. This allows you to have the functionality of two tools in one, which further makes this worth your purchase. Weeds and messy edges won't stand a chance in your yard with this tool!
Pick Your Power
A neat feature around here is the ability to pick your power. You can either choose to have a longer battery life or more power for a shorter amount of time. This is perfect for getting the job done - no matter what your yard looks like and allows you to pick exactly what is best for you.
Cost and Value
This unit does come with a battery, which is almost half the cost. You can choose to get it without if you already have a Black and Decker 40V lithium battery though. Either way, you are getting a great deal and will be the ultimate master of your yard with this tool in hand.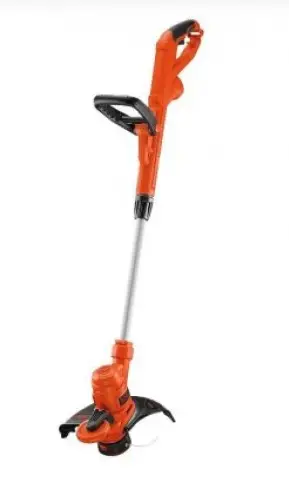 This is a corded electric unit that can trim a 13-inch wide strip to make your work go quicker. It is powerful and lightweight and the high torque transmission won't get bogged down. To use it as an edger as well, all you have to do is turn it and go. Your flower beds, sidewalks, and the edges of your lawn will thank you for this purchase.
Ergonomic
This product design has the consumer in mind. It is comfortable to hold and use and would get great marks in an ergonomics test. It is lightweight and has an adjustable height handle that also pivots so that the user can hold and carry it in a way that best suits their body. It works well for even smaller individuals that may have a hard time lifting and moving a heavier unit.
Corded
While having a cord comes with pros and cons, the good definitely outweighs the bad here. This weed wacker is able to be lightweight and compact but packs a powerful punch. You don't miss a single beat by having a cord. You'll wonder why you've been mixing the perfect oil and gas combination for so long when you can get equal power here.
Cost and Value
This is one of the cheaper units on our list. It doesn't have a battery which instantly cuts the price significantly. It has a lot of power and with the right extension cord, can go a long way. It is almost hard to not keep going once you've started.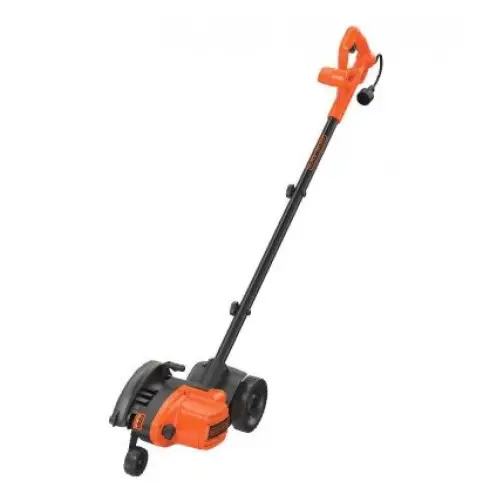 This machine functions as both an edger and a trencher. It has a high-torque 11 amp motor that will give you all the power you could want. It is a corded unit and has cord retention to that your extension cord will stay secure and not unplug while in use. This unit is also easily interchangeable between hands so that both left handed and right handed people can use it easily and effectively.
Easy to Use
This unit is easy to assemble and just as easy to use. Setting it up initially is a tool-free and minimal hassle. One of the more irritating things when buying a new toy is having to fight with it before you are able to use it. That is not the case here and you'll be good to go in no time.

Edging and Trenching
A little different than the others we've talked about thus far, this one is an edger and a trencher and conversion between the two is a breeze. That means it will trim your edges beautifully and keep your flower gardens and sidewalks looking pristine and it will also help you to dig and shape them. The trencher is also good for digging trenches for things like invisible dog fences, and sprinkler lines.
Cost and Vthe alue
Falling just about the middle of the pack price wise, this unit is absolutely worth every penny. It has a powerful motor and because it is corded, will not feel like it is lacking power at all. If you are big on landscaping and appreciate everything looking pristine, then this should definitely make your short list.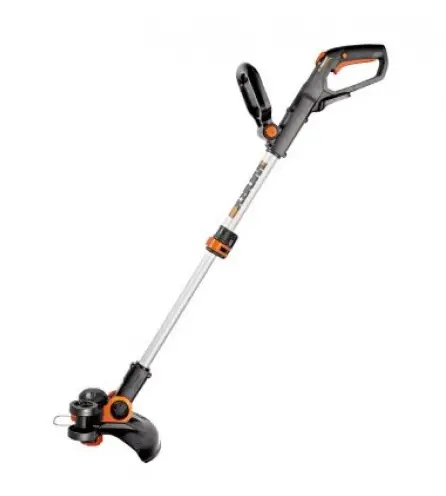 This is a great little power tool that will have all the edges and hard to reach spaces around your yard in pristine shape in no time. It is powered by a 20V battery and has a cutting diameter of 12 inches. It has a flower spacer guard to help protect your flowers while you are edging all around them. It is easy to operate, easy to switch between modes, and is very light - weighing in at just over 5 pounds.
Two Batteries
With the busy landscaper in mind, this unit comes with two different batteries. This way, you can have one charging while you are using the other. When the first battery runs out, you simply switch them out and continue on your merry way with minimal time lost. Additionally, if you have any other Worx 20V power tools, you can share the batteries with them.
Command Feed
This Worx unit comes with a wonderful Command Feed feature. It is an innovative and delivers line feeding on demand which keeps you moving along smoother for longer. The line is easy to feed. You simply pull out what you need and get going.
Cost and Value
Considering the fact that you can get the machine itself and two batteries for less than the cost of most units listed here it is safe to say that you're getting a screaming deal. This tool comes to you at a very cost-effective price point but also carries the functionality and longevity that you can expect from other, more expensive units.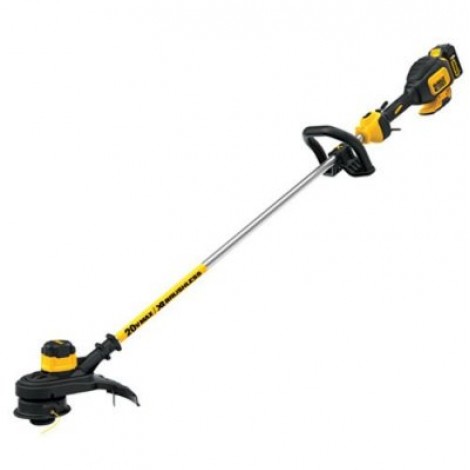 This cordless powerhouse will get the work you need to get done, done! Easily and quickly. Its powerful battery will make sure that you can cut through anything from weeds to larger twigs and bushes.
Lithium Ion Battery
Rechargeable lithium ion batteries are the way to go. They're lightweight and pack a punch so you know this Dewalt will not only keep going strong but also have enough charge to get you through your entire yard.
Variable Speed Trigger
A really nice addition this variable speed trigger lets you vary your spin speed to match the job you're trying to get done. This helps to conserve battery strength but also lets you don detail work, that some of our other offers don't allow.
Cost and Value
The price on the Dewalt is in the mid-range, you can buy this without the battery but go all in if you want to get the best value for your dollar.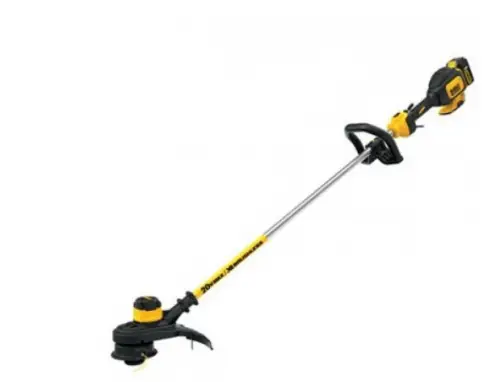 This powerful weed wacker is cordless and functions on a 20V battery. It is incredibly lightweight at just about 5 ½ pounds and also has an ergonomic design for comfort while using. It has a single line feed with no bump that cuts a 12 -inch diameter. It is easy to use and you will last you a long time.
3-in-1
Are you looking for one tool to satisfy several needs? This may be the one for you! It functions as a Trimmer, Edger, and also a Mini-Mower which is great if you have a very small yard or areas that your standard mower just can't get to. It quickly switches from trimmer to edger with no necessary tools and has already attached wheels for when you need it to be a mini mower.
Ergonomic
Something about carrying a tool all around your yard just sounds like it is going to hurt your back at some point in the process. Worx has addressed this and made their unit as functional as possible. In addition, it is very lightweight so just about anyone can carry it.
Cost and Value
You are getting a great deal for your purchase here. This power tool as 3-in-1 capabilities which will prevent you from having to buy further power tools. That being said, it still falls about the middle of the line amongst those on this list. If you want a multipurpose tool that you can get several jobs done with but don't want to break the bank look further into this one.

7

. Black & Decker LSTE523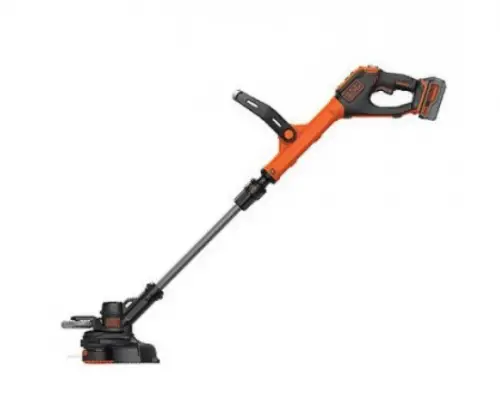 Like many on this list, this weed wacker is an edger and trimmer combo. It easily does the work of both and is switched back and forth in a matter of seconds with a simple push of a button. It has a powerful transmission, speed control, and is run by a 20V battery - that can be either 1.5Ah or 3.0 Ah.
2 Speed Control
The speed control offered in this unit allows you to choose a longer run time with less power or a shorter run time with more power. That way you can preserve your battery when you need to, but also have increased power when that is more important.
EasyFeed
As part of the POWERCOMMAND Black and Decker tool family, this unit features EasyFeed, Powercut, and Powerboost. We already minimally discussed the power boost, but the easy feed is what really makes your life easier. All that you have to do to advance the line is push a button and it'll go! That means no bumping and less frustration for everyone.
Cost and Value
While there can be a variety of cost variations with this one depending on if you get a battery and what level of Ah battery you get, all versions are worth the money. The tool itself is great and will last you many cuts and the batteries are good too, you just need to do your best to get the one that is right for you - whether that means spending more money upfront or not.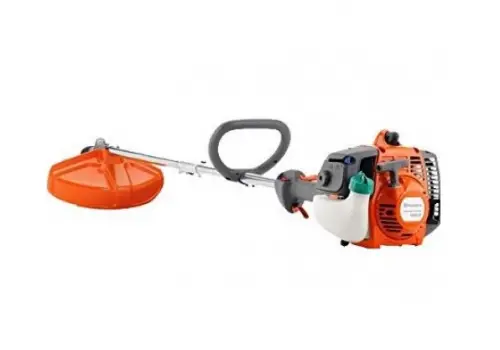 As the only gas unit to make our list, this one is sure to catch at least some people's attention. It has a lot of power and can make quick work of almost any job you throw at it. It is relatively lightweight and includes an easy start feature. It has a 28cc engine and cuts a width of 17 inches. It means business, and hopefully, you do too.
Easy Start
Because this unit is gas, it will never start as easily as of the electric models do. However; for a gas motor, this one is quite easy to start. It features a stop switch for auto return. What that means is that when you are finished with a job, it will send the switch back to the start position so it's ready to go again. But, the part that you don't see is that it is purging the air from the carburetor and the fuel system so everything is ready to go.
Multi-Task
Weed trimming is not all that you can do with this tool. It is uniquely designed to be able to hold a number of different attachments and can be anything from a trimmer to a pole saw to a tiller all with the same engine base unit. Attachments click on for easy use.
Cost and Value
As is almost always the case, this gas unit is more expensive than the electric and battery powered options on our list. The motor is much more complicated and powerful which means a greater price. However; you will get much use out of this weed wacker. It is very versatile and will have a long life making your purchase more than worth its price.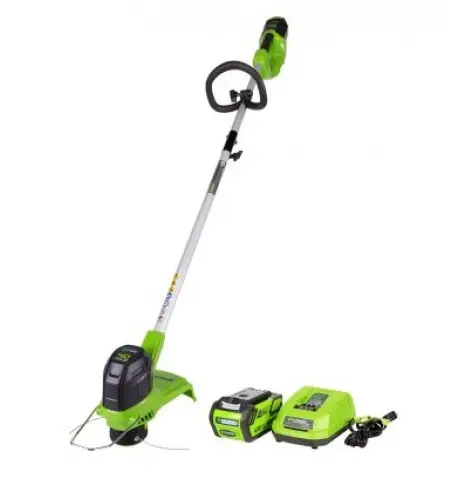 This is a battery powered string trimmer that has a commanding charge from start to finish. On a single charge, you can get up to 60 minutes of powerful run time. It is ergonomically designed and comes with or without a battery or charger and can even come with different size batteries.
Bring on the Power
If you are looking to get a lot of power out of your weed eater, then look no further than this Greenworks model. It will rip through anything in its path - so take care to aim well or else you'll be sorry. The 40V battery carries a powerful punch that will have you very pleasantly surprised and ready to ditch your gas models forever.
Share the Battery
One of the best things about buying products all from the same manufacturer line is that you can share the batteries. That is absolutely the case here. It can be used in any Greenworks product in the 40V line - which includes over 40 different tools. In addition, after the initial charge the battery charges completely in about half an hour - meaning that by the time you've used one up completely, another one will be fully charged and ready to go.
Cost and Value
The first shocking thing you'll experience when you own this unit is the power that it packs. The second thing you will notice is the fact that you paid very little to get such a powerful machine. This is one of the least expensive on our list, but consistently gets some of the best reviews for power. That's saying something for a battery powered unit. The value of this unit far exceeds its cost and likely any expectations you had set for it.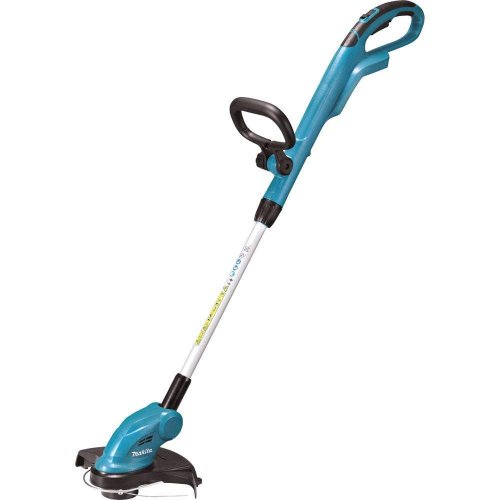 Here is a selection that allows you to use the same battery for most of the tools the manufacturer makes. It boasts being easy to travel through the lawn with. While cutting down the time it takes to get your yard looking great.
Lithium-ion powered and cordless
The Makita is designed to work for you, not against you. It is a versatile solution for any landscape cutting and trimming. It also does not function from gasoline or a cord. Instead, it has a lithium-ion battery-powered motor that delivers 7,800 RPM. This means faster cutting speeds and performance without having to charge the thing for a long time.
Well designed body
The Makita has an adjustable arm so that you can get the optimum length for the cutting you want to be done. It is an ergonomic, well-balanced, lightweight tool, so you won't feel so fatigued after using it. It also is compact for precision cutting. Lastly, as if all of those features weren't attractive enough, it is a cordless tool. So, you won't be held up by a cord and confined to one space at a time, or accidentally yank it out of the socket.
Cost and Value
This Makita weed whacker is a very affordable price. In fact, it's one of the lowest on this list. With this model, you get quality and very functional weed wacker without a huge hit to your wallet.

Subscribe to our Newsletter