Best Hedge Trimmers Reviewed & Rated for Quality
In a Hurry? Editors choice: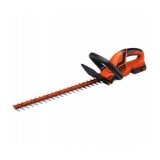 Test Winner: BLACK+DECKER LHT2220

Sometimes a single tool can change your whole world. It can make such a difference that you actually find yourself looking forward to
yard work
(really!). Instead of a fight with your bushes, hedges, and shrubs that inevitably ends in a pile of sweat, twigs, and frustration you can at least eliminate one of those variables! Enter the Hedge Trimmer. It won't
solve the cleanup problem
that accompanies laying waste to your overgrown shrubbery but it will
make the actual work significantly easier
, especially if you were doing all your trimming by hand. We've broken down the top ten here. 
Standout Picks
Criteria Used for Evaluation
Power Source
The age-old debate with all landscaping tools is whether or not you want gas or electric. Everyone has their own opinion on this matter, and you likely do or will too once you own or use some of both types. There are certainly pros and cons to either type so let's go over a few of those now.
Gas-powered units always have more power. Even the best battery powered or corded options don't quite live up to the umph that comes from a gas unit. If that is your number one requirement, then gas may be your best bet. They are also very portable, can be used in damp weather conditions, and simply cut faster. However; they are also typically more expensive. They tend to be heavier and require more maintenance. They are more of a hassle to start and you have to mix gas and oil to properly fuel them.
Electric units come in two different flavors. You can get them corded or battery powered. Corded units have a big disadvantage of requiring attachment to an outlet. That limits your range and you have to dodge a cord and do your best to not slice right through it. However; they tend to be the cheapest and lightest options available. You don't ever have to worry about charging a battery or mixing gas, you just have power when you want it! If you have a smaller space in which you want to trim hedges and shrubbery, this really is a great, practical option.
Battery-powered units do a good job of bridging the gap between gas and corded models. They offer all the portability of gas and some models can even come close to the power output. They have minimal maintenance and startup very easily. Across the board, electric models are quieter and offer no emissions.
However; you do have to worry about charging a battery. While most are fairly long-lasting and charge relatively quickly should you have more work than your battery can handle, it is still a hassle. They may not be the best option for big, tough options but do a wonderful job on the residential side of things.
Size
The size of the job will largely help to determine the lengths of your blade. While most, indeed all on this list, has dual-action blades, hard stainless steel of some sort, and a decent cutting range. However; the one thing that varies more than any other is the blade setup. This is not a one-size-fits-all kind of deal.
Generally speaking, the smaller the blade (for example a 16 or 18-inch blade), the smaller the job it is suited for. Long story short. If you have a smaller yard you are okay to go with a smaller model. The bigger your yard and the work you need to do, the bigger of a blade you will need.
Safety Hazards
As with any power tool, safety is of critical importance. It becomes even more important when your power tool has many small blades protruding from it. Most offer safety features such as dual hand run, on and off lock functions, and some even come with sheaths. Make sure that you access your life situation - kids, pets, storage situations, etc. before you make your decision.
Ease of Use
We're on the lookout for plug and play models, in all sizes and shapes. We don't want you worrying too much about how these trimmers work and how to adjust them, we're just looking for the tools that work best, and make your life easier.
Value
Looking for products that won't put too big a dent in your wallet is always on our mind. But then again, you get what you pay for, you can count on us to walk this thin line between cheap.. and well cheap. As well as offering some really high-end models for those folks for whom gardening is an obsession, not just a weekend have to do the chore.
Best Hedge Trimmers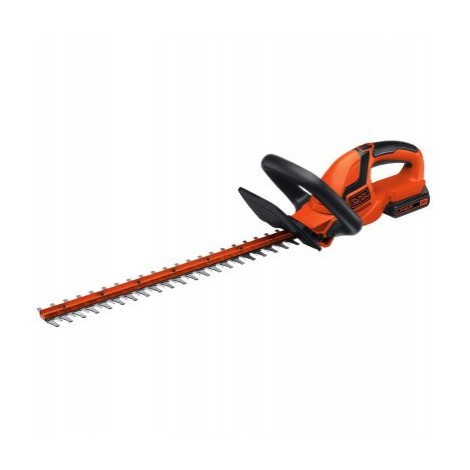 If you are looking for a hedge trimmer that means business, this may be the one for you. It has a 20-volt lithium battery, provides up to 3,000 square feet of hedge trimming per charge, and will quickly and easily cut branches as thick as ¾ of an inch. It is comfortable and easy to hold, comes with a 2-year warranty, the battery itself, and an energy star charger to boot.
Wrap Around Handle
Because you need the job of cleaning up your yard to be as easy as possible, Black and Decker have added a full wrap-around handle to this unit. It is easy and comfortable to hold from any angle and will allow you to go get holds and into spots that you may not have been able to otherwise.
Dual Action
The blades found here are 22 inches long and dual-action. They cut branches quickly and easily, but that is not all. They also significantly reduce vibration - up to 40%. That means the job is more comfortable for you to do, won't tire you out as quickly, and will allow you to get more done at a time.
Cost and Value
The price here is a very reasonable one. For the cost that you'd pay a landscaper for a couple of trips to your house, you'll have paid for it. That ultimately makes it a good purchase because you will get a lot of use out of it. It is durable and long-lasting and will really keep your hedges in check. You'll be the talk of the neighborhood once you own it.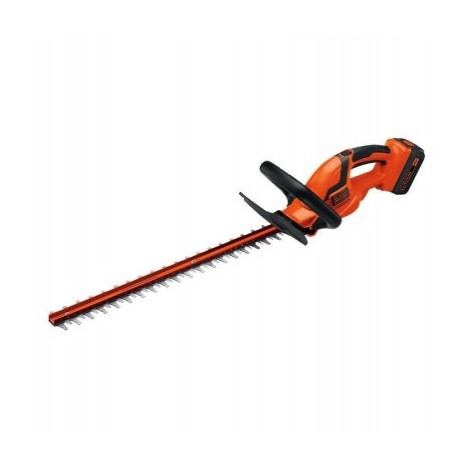 If you have lots of land to trim, need a powerful unit to keep it in shape, and don't have time to worry about charging then look no further. It has a long, dual-action blade that measures a full 24 inches. It is easy to use and the battery is long-lasting. It handles branches ¾ of an inch thick without even noticing and also includes a wrap-around full handle on the front.
Better Battery
The battery found on this unit is a 40-volt battery. While that does mean it is about twice as big as the standard 20-volt battery, it also means that it also lasts twice as long. It will cut up to 6,000 square feet which equates to a lot of hedges. Your yard will be clean and tamed easily on one charge. However; if you do need another charge this battery is both fast charging and interchangeable with other batteries from the same Black and Decker family.
Cutting Power
The power drive transmission outfitted on this unit will impress you from the get-go. It is exclusive to Black and Decker, powers the long blades with ease, and will give you twice the cutting than other models will. Additionally, it is dual-action which results in less vibration and fatigue than you get with single action blades.
Cost and Value
If the first one on our list came at a good price, this one has an even better price. It has most of the features of the last one but has a bigger battery which mostly results in longer life and more time between charges. However; the added price is very small and is very much worth it if you have a big yard with lots of plants that need to be trimmed.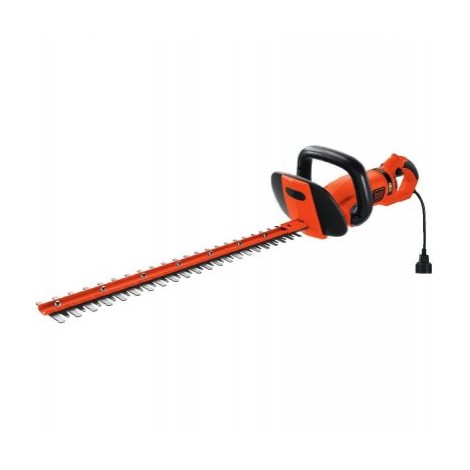 What if battery-powered isn't your jam? Enter this electric, corded unit. It is powerful and effective and has all the perks of the previous two, just switches out the battery for a cord. The blade is 24 inches long, it cuts ¾ inch branches with ease, and will go for as long as you want it to thanks to the lack of a battery or gas.
Lock On, Lock Off
Since turning this unit on and off is as easy as pushing a button, there are included features to help make that less bothersome. There is a lock on the switch which allows for continuous running while you are working, but there is also a lock-off switch so that you, or anyone else around, doesn't accidentally turn it on when doing so would present a safety hazard.
Even Distribution
A big perk found here is how even the weight is distributed. Even distribution of the weight makes for easier management of the unit. That means more cutting of your hedges and less messing around with trying to hold and balance your machine.
Cost and Value
When you take the battery off of a power tool, it only does good things for the price of it. This is a powerful tool that will work for as long as you want to and does its job well. If you don't mind the cord your money is very well spent here and it more than lives up to the price you pay for it.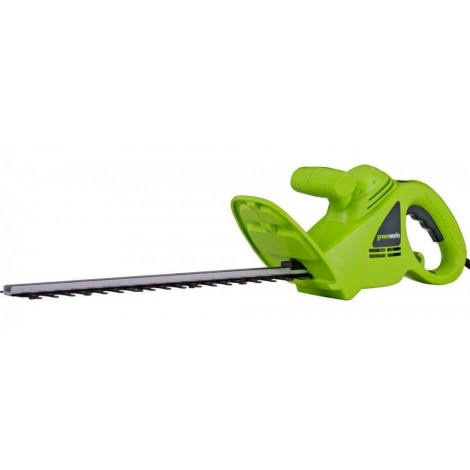 In the land of power tools, bigger is not always better. What is better is something that is size and power appropriate for your yard and needs. If you have a smaller yard with only smaller shrubs, then this 18-inch corded model is exactly what you need. It will deliver unlimited power for as long as you need it as long as the cord can reach.
Lightweight and Compact
A big part of getting a power tool is getting one that you can hold and use effectively. It does no good to have a big, bulky unit collecting dust in your garage. This one is perfect and lightweight and good for all of your little jobs. The blade is a little shorter than most, but ultimately that makes it easier to move around and get into the spaces you need it most. Additionally, this means it is less wearing on you and you can keep going longer with less fatigue.
Cord Lock
Conveniently, this hedge trimmer includes a cord lock. That means that you will be able to lock your cord into place and it won't be getting unplugged while you are in the middle of a job. That results in less frustration with fixing your cord and more time saved.
Cost and Value
The great thing about most Greenworks power tools is that they come very reasonably priced. They're near the bottom of our list price wise and that rings true for almost all of their power tools. They work well, last a decent amount of time, and are constantly on top ten lists. You absolutely get a great deal here and if you have a small yard, it's hard to get a much better price.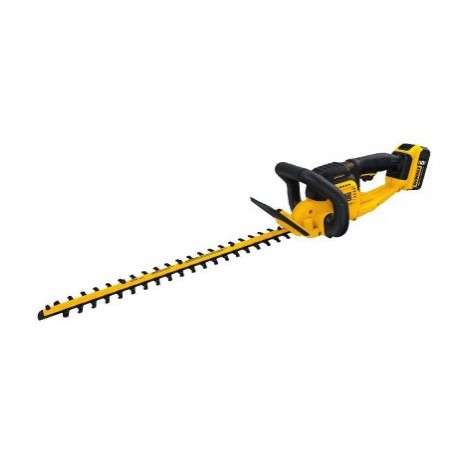 This unit will have you excited to get out and start taming your yard. The days of dreading yard work are over and you'll almost enjoy using this hedge trimmer. It is powerful, cordless, and has a 5ah battery which means that it lasts a long time. It is a low hassle, less maintenance, and easy to start. It comes with the type of quality DeWalt is willing to stand behind, and they do in fact warranty it for 3 years.
Cutting Ability
If you have thick hedges and plants with branches up to ¾ of an inch thick, this is the only tool you will need. It has 22-inch blades that are sharp and provide a laser-like cut. They are sharp and perform heavy-duty tasks. Additionally, both sets of blades move and reciprocate each other making for a smoother, better cut.
Battery Pack
This item specifically comes with a 5ah battery. Standard 20V batteries are typically only 3 or 4ah and while you can definitely tell the difference here, it is only in the life of the battery, not the weight. It feels just as lightweight as any standard 20V battery pack, it just lasts a lot longer. You'll get quality, lengthy performance and even be able to use other 20V DeWalt Batteries from the same family as well.
Cost and Value
Quality doesn't come cheap, and that is certainly the case here. Not only is the unit itself well built and very sturdy, but it comes with a souped-up battery to boot. This makes it rank among the most expensive on our list, but if you're willing to pay in order to get significantly higher quality, then you will be happy you did here.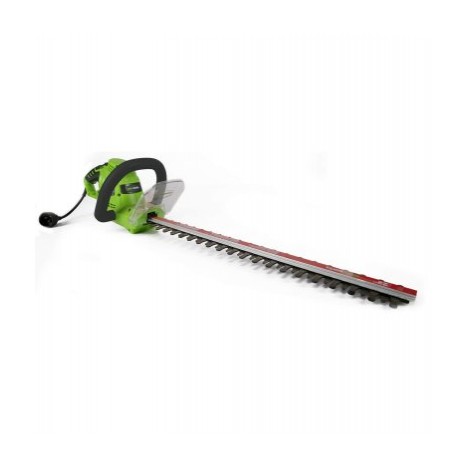 This is a convenient little trimmer that will more than satisfy you. It is reasonably lightweight and compact, has 22-inch blades that are dual-action, and very effectively chews up any vegetation in its path. It will cut plants up to ⅝ of an inch thick and even comes with a plug lock to help prevent any accidental unplugging.
Rotating Rear Handle
Conveniently, the rear handle of this hedge trimmer rotates. This allows you to really get into the hard to reach areas that you may often find yourself thinking "if only I could rotate my hand this way…..". That is now your reality and feel free to rotate your hand and handle into the direction that you want and need in order to get work done.
4 amp Electric Motor
There are certainly good sides to a corded unit and this one performs them all brilliantly. You never lose power, nor does it fade throughout your job. As long as you have an extension cord that will get you there, this unit will powerfully cut through whatever you have waiting for it.
Cost and Value
Greenworks is known for their value and this is no exception. This is a hearty tool that performs well and will leave you more than satisfied with the price that you spent on it. So much so, that you'll likely be recommending it to all of your fellow homeowners and encouraging them to buy one themselves as it comes at a very small price and consistently performs big jobs.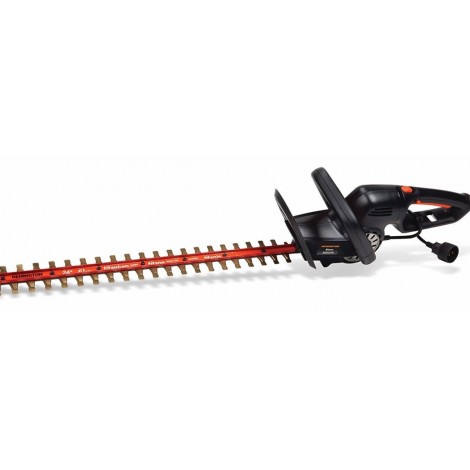 With a power that is equivalent to that found in a gas power tool, great maneuverability, and razor-sharp dual-action blades this Remington is the answer to any hedge or bush problems. It will quickly and easily cut through any bush with branches up to ¾ of an inch thick that you can throw at it.
Long Functional Blades
The blades are nice and long at a full 24 inches. They are coated with titanium which makes them just that much sharper. The coating also helps them to maintain their durability and maximize cutting performance. They are dual-action which helps to ensure a smoother cut and puts off less vibration. Even the toughest jobs will be easily handled with these blades on your side.
Comfort and Maneuverability
The unit really is built with the user in mind. The grip is ergonomic and cushioned for maximum support and a comfortable hold. That alone makes it easier to use for longer. Once you throw in the fact that you can also rotate the blades a full 180 degrees, you can ensure that every job you have will get done faster and more regularly. Get out there and enjoy your yard work for a change!
Cost and Value
It is hard to believe how little this hedge trimmer costs. There are very little, if any, negatives about it and it provides high power and a sharp cut. If you want something that will last you a long time, cut through anything you want it to, and not make a huge dent in your pocket, then go for this unit.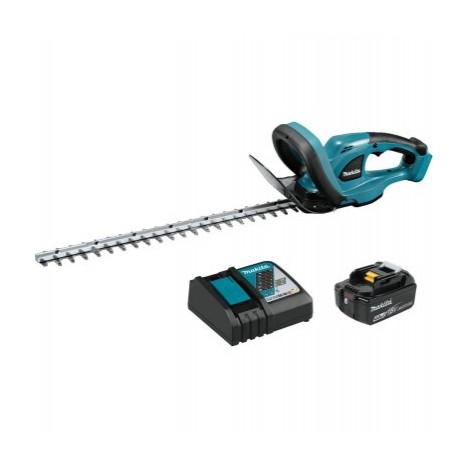 If you want a positive hedge trimming experience, this tool will provide it. It has soft, comfortable hand grips, is lightweight at only 7.4 pounds, provides less user fatigue, and makes less noise than many of its competitors. The motor is only activated when the top handle and the switch are engaged which serves as a great safety feature. Additionally, a single charge will last up to 120 minutes and should you need to recharge it and go again, it charges quickly.
Less Noise
Nobody likes a noisy tool. While a little bit of noise is inevitable and unavoidable, it doesn't have to be excessive and overpowering and this Makita proves that. At only a mere 87 decibels, it is considerably quieter than other units which is a difference you will surely notice.
Anti-Vibration Design
One of the biggest causes of user fatigue is the vibration that is produced by simply using the tool. Makiga goes a long way to minimize that by adding in 5 separate cushions in the motor housing. This will reduce the vibrations you feel, ultimately making for a better and longer-lasting experience for you.
Cost and Value
While you can get this unit both with and without the battery and charger, its price either way still rings in as one of the more expensive listed here. However; Makita is known for their quality and this tool provides a lot of neat features and comfort measures that make it well worth the upfront cost you end up paying.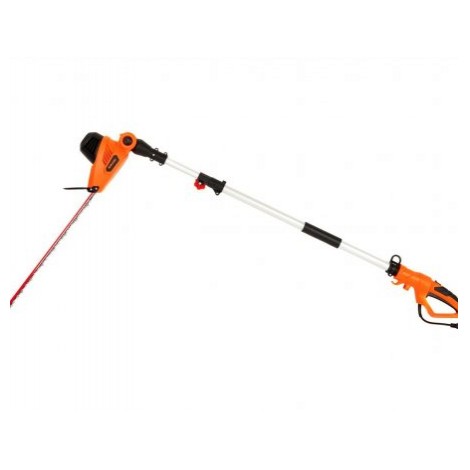 This hedge trimmer is somewhat unique on this list. It is a pole trimmer which means that it can reach high up into the trees or along the top of your tall branches. It has a multi-angle pivoting head and the blades will cut most branches up to ¾ of an inch thick. The blades themselves are 20 inches long, diamond cut, and laser ground to ensure ultimate sharpness and performance.
Telescoping Pole
All hedges and bushes will meet their match with this hedge trimmer. The pole starts at an already long 7.1 feet which in itself provides incredible height. However; it will telescope up to 9.2 feet to ensure that you will rarely if ever, need a ladder. Be the master of even your tallest hedges.
Multi-pivoting Head
Since this is a telescoping pot unit, it is hard to have a rotating handle or blade to allow maneuverability. That is compensated for by having the head pivot. It will pivot and lock through 6 different positions so that you can come at your bushes at any angle, as well as height.
Cost and Value
Surprisingly, this unit isn't that much more expensive than the mid-range units found on this list. It would be logical that the pole would demand a higher price, but that price really isn't too much more - and absolutely worth it if you have taller shrubs. Its performance and durability easy make it a good purchase.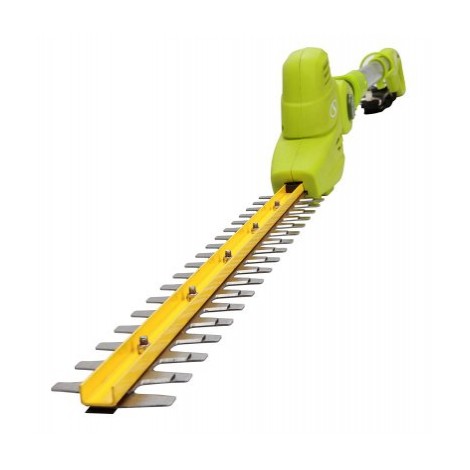 Another telescoping trimmer that will cut down your unruly tall hedges and shrubs without you having to get on a ladder. It has a powerful engine, has a reach of up to 12 feet total, assuming you are around 5 feet tall and has a cutting capacity of 0.7 inches. This unit with it's pivoting head is the perfect option for the homeowner who wants to take care of their own landscaping.
Blade Performance
This blade is built to cut well and last longer. It is 18 inches long, made of hardened steel, and combined with the telescoping pole will make quick work of all your tall shrubs. Additionally, the blade is rust-resistant and with proper maintenance, will live a long life.
Power and Performance
You can feel free to expect a lot out of this unit. It has a powerful 3.8 amp engine, is corded and never runs out of energy, and even has built-in safety features. Like the one above, it also features a pivoting head so that you can get every high up angle that you need too without having to climb a ladder or stand in awkward positions. This also makes it great for using in small, hard to get spaces.
Cost and Value
Another company known for making quality products for a small price, Sun Joe does it again here. This is one of the cheaper units on the list overall despite the fact that it also includes a long, telescoping handle. It is great for at-home use and if you are willing to put in the effort, will serve you well. This is a tool that lives up to its cost without question.

Subscribe to our Newsletter