Best Dartboards Reviewed & Rated for Quality
In a Hurry? Editors choice: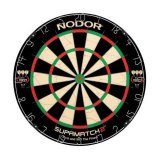 Test Winner: Nodor SupaMatch2 Bristle

Are you in the market for a dartboard? Did you play on one at the bar or at a friends house and fall in love and now you need to have one too? They really do provide an
excellent source of entertainment
. Not only that, but they can help improve hand and eye coordination for both children and adults. It is a great way to let off some steam and sharpen your senses all at the same time. If you add in the scoring element, then you are really challenging your mind as well. Overall, playing darts is a
great way to pass the time
and stimulate your mind - as well as your children's! Here are the best dartboard on the market right now.
Standout Picks
Criteria Used for Evaluation
Model
One of the very first questions you should ask is what type of dart do you want? There are a few different options and type of dart ties in very much with what type of board you end up getting.
When dart boards originally became a thing, they were made of wood and meant to be soaked so that they would hold the dart. However; ate Britain's Elm supply as devastated by Dutch Elm Disease, a plan B had to be created. This plan is what became the sisal bristle board we know today. It is made of compressed sisal fibers that are bound together by some sort of metal. This design allows the board to self-heal after you pull the dart out. This also means that your board lasts for a much longer time because it doesn't develop a series of holes every time you use it. Couple that with a moveable set of numbers and you can rotate it every so often, which further extends the life of your board. Sisal boards are the tournament standard and are typically what you will find in bars and pubs. Most of the dart boards you find on this list are sisal dart boards, with only a few exceptions.
Another option that is more recently gaining popularity is the electronic dart board. This is neat for a few reasons. First off, it takes away the element of scoring because it will do all of the calculations itself. You can plug in handicaps and your players and simply throw your darts. No need to calculate. Secondly, they use soft tip darts. The surface itself is made up of many tiny holes for your darts to slip into. These kind of boards are replacing the industry standard in many places. But, wait, why aren't there any on this list? That is because they come with very mixed reviews. Some people love them and swear by them. They are great for beginners and tend to make the game easier and help you while learning. If you are a true lover of dart play, however; it's just not quite the same. They'll likely continue to improve in quality over time, and at that point, we'll likely include some on our list.
The last option is one that is featured on our list. It is magnetic dart boards. These are built mostly for children and safety purposes. You won't get any real scoring or intense play here, they are more for fun than anything - which is still a great thing! The darts are magnetic and stick to the magnetic board. It can be hard to get the magnet strength right, but ultimately it will save your child and your walls from many pokes along the way and is perfect if that is what you are looking for.
Advanced Features
Another element we are going to discuss is whether you want to get a cabinet or not. Cabinets are great because they give a nice clean look. If you are wanting to put one in your game room or something similar, having it in a cabinet definitely adds an element of class. It also gives a place to hold all of your darts and scoring paraphernalia in one place. That way you can always locate everything you need when you're ready to play a game of darts. It is clean and orderly.
There is also a safety element. Cabinets provide a decent sized shield around your wall should you have people playing who don't have the best aim. It will catch most stray darts and prevent unnecessary holes from happening. They also tend to be relatively easy to install.
Most cabinets come with boards already. However; they are typically standard sized so are easily replaced if you don't like the board they come with. Additionally, they will likely outlive the board and if you want to get a replacement year down the road, there is no need to replace your cabinet.
The downsides of having a cabinet are that it obviously costs more as an upfront purchase. If you're looking to spend less on a dart board but still want good quality, it may be in your best interest to splurge a little more on the board and not worry about a cabinet at this point. They also make it a little harder to move your dartboard around. If you plan on moving it, it is a much bigger pain to move an entire cabinet rather than just a board.
Size
Size plays a huge role in any games, gear or product you decide to buy. Whether you are looking to place your dartboard in a designated area in your home or you want to transport it with you to friends or relatives house, you want to place close attention to the size of it. Additionally, sizing plays a role in how many players can play at once. While darts can be played by multiple people simultaneously, if your board is too small you might be subjected to only being able to play with 2-3 people at a time. You want to purchase a board that is big enough to be played by 4-6 people even if you have a smaller group of friends. Doing so allows you to have enough room to play multiple rounds while giving you the flexibility to add additional players.
10 Best Dartboards
1

. Nodor SupaMatch2 Bristle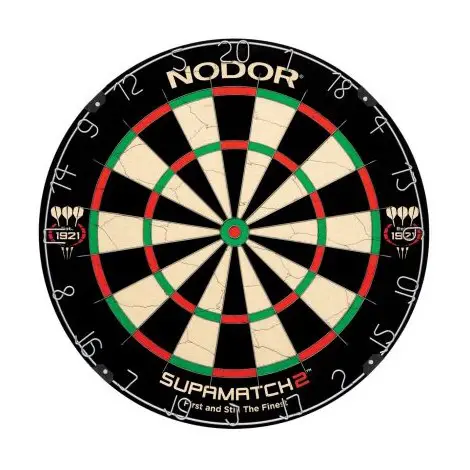 This is a regulation size dart board that is actually the official board of the American Dart Organization. It is completely staple free and features a razor ribbon wire spider that minimized bounce outs. In addition, this board has a moveable number ring.
Super Dense Sisal
Norod uses super dense sisal that will prolong the life of your dartboard. It looks great and will hold up to heavy use. It will stand the test of time and is the perfect dartboard for a casual, tournament, or casual play.
Virtually Eliminates Bounce Outs
You will find a razor ribbon wire spider on this dartboard. It is completely staple free. Both of these things will help to minimize bounce outs and give an improved scoring area.
Cost and Value
This dartboard ranks right among the top of our list as far as simply dart boards go. It is commonly used in bars and taverns which means that it has to be durable and long-lasting. Because of that, it is really worth the price. You should be willing to pay a little more for a board that will last a long time and that is what you're getting here.

2

. Winmau Blade 5 Bristle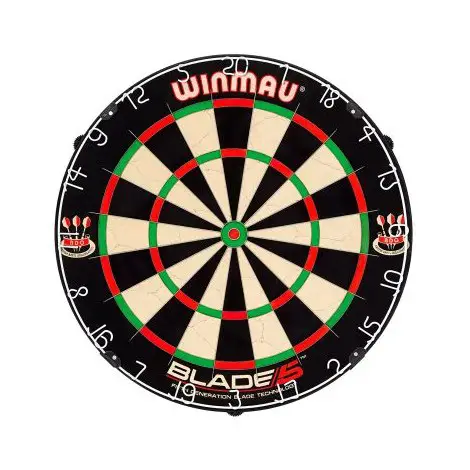 If you are looking for a professional grade dartboard, it's hard to beat the Winmau Blade 5 Bristle Dartboard. It's obviously a bristle board, which is tournament standard, it has exclusive BDO endorsement, and it also has a lot of little details - things like increased scoring area, reduced bounce outs, and increased durability thanks to carbon diffusion technology - that really raise the bar on dart boards.
The RotaLock Advantage
An important part of setting up your dart board is the ability to get it locked and leveled - and have it stay that way. This Winmau comes with a triple wheel lock and level system that makes for easy setup and rotation. You can get perfect leveling on virtually any surface and lock it in place once you get it just right so that it will stay that way.
Sharper Angle Wiring
This latest version of the Winmau Dartboard has a 30% sharper angle on razor wiring which helps to deflect darts into the scoring and also helps decrease bounce outs. It also allows for greater ability to score as there is less radial wire for your dart to run into.
Cost and Value
The Winmau Blade 5 Dartboard has a lot going for it. They paid great attention to little details in its production and did their best to maximize your ability to play the game and enjoy it. As such, it does cost a little more than your standard dartboard. The extra features are well worth the increase in pay though.

3

. Ignat Games Professional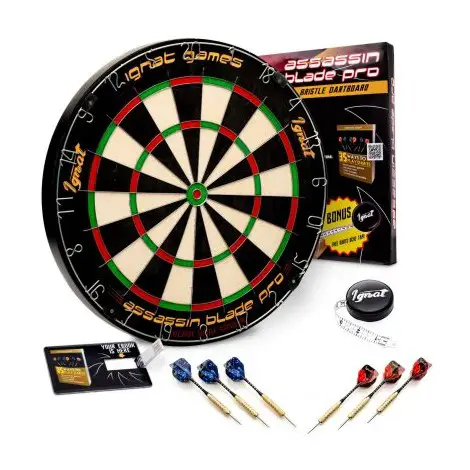 This official tournament size dart board comes with training darts and a book that has 35 different dart games in it. It will help you learn how to play and give you the perfect template to practice on. It has ultra thin segmentation and is staple free to help reduce bounce-outs and maximize scoring potential.
Built to Last a Lifetime
Ignat makes this dart board out of high-grade Kenyan sisal bristle fibers. Because this board has super dense bristles, it has the ability to self-heal and comes with a movable numbers ring. This means that you get the ultimate use out of your board and have the ability to move your numbers around if needed.
Ultra Slim Segmentation System
The segments on this board are 65% thinner than the conventional round wire system. There are also no staples to be found in this board. This maximizes your scoring potential and helps to reduce bounce-outs as there is less for your darts to deflect off of.
Cost and Value
You are getting a lot of value at the price you pay for this Ignat Bristle Dart Board. Not only do you get the board, but you also get 6 steel tip darts, dart measuring tape, and a complete mounting kit. All of this at a smaller price than most on this list. If you are looking for a complete kit to get you started playing darts at a great price, this is it.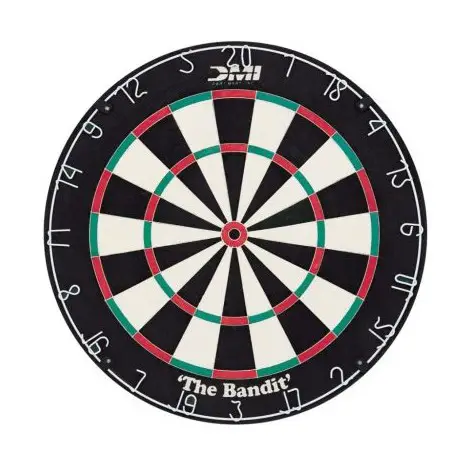 This DMI Sports Bandit Bristle Dartboard is the official board of the World Cup and has been since 1999. That is a great sign that it is a quality board. It's sisal fibers have vivid and distinct colors. It also features a staple free design which greatly helps to reduce bounce outs.
Steel Segment Dividers
Somewhat unique to this board is the lack of a spider. In its place, you will find interlocking thin, steel bands embedded in the bristles for all segment divisions. These steel bands are incredibly thin and leave very little to deflect the dart. This ultimately leads to about 10% more playing space than other boards which goes a long way towards reducing bounce outs.
Powder Coated Numbers
Numbers can greatly contribute to a boards durability. Sometimes they are hard to read or rotate but almost every brand has a solution to improve the quality of the numbers. What you will find here is powder coated numbers. This increases their durability and lifespan ensuring that you have good numbers for as long as you have the board.
Cost and Value
This dartboard is a high-quality board that is designed to last for many years. It is, after all; the official World Cup Dartboard. That kind of clout demands quality materials to back it up. As such, it will cost more to produce and more to purchase this dartboard than others. It definitely ranks among the more expensive boards on our list that don't come in a cabinet of some sort.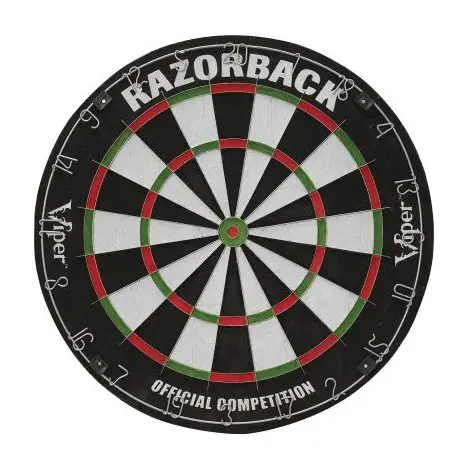 This is a tournament size dartboard made of the highest quality sisal bristle fibers that are held together with a compression band for years of durability. It has a staple free spider with razor-thin wires to minimize bounce back and increase surface area.
Accommodates Steel Tip and Soft Tip
Not many dart boards will accommodate both a steel tip and a soft tip. This Viper does and that allows you to choose which style you prefer, or mix it up depending on what you're looking for.
Moveable Number Ring
A neat feature on this dart board is the movable number ring. What it allows you to do is rotate your board but still maintain the numbers where you want them to be. It extends the life of your dartboard by making the rotation a breeze.
Cost and Value
This dartboard is pretty middle of the pack cost wise. You do have to spend some money on it. Afterall it is good quality and constructed of solid materials. Ultimately, you will get a good dartboard that comes with mounting material for a very reasonable price.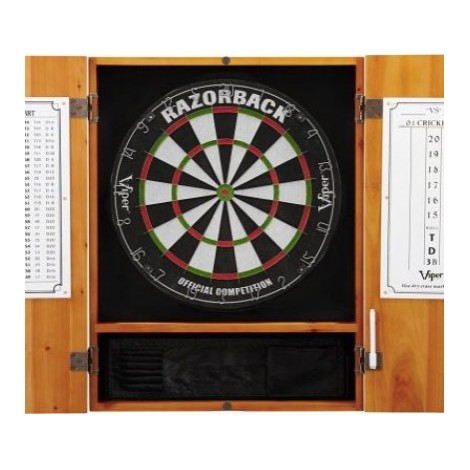 When you make a purchase here, you are actually getting far more than just a dartboard. It includes a high-quality cabinet so that you can really get your game room started. It also comes with 6 darts and whiteboard scoreboards. The dartboard included is a high-quality sisal bristle board that is completely staple free.
Laser Throw/Toe Line Marker
One of the neat items included with this dartboard is a laser throw/tow line marker. This allows you to clear your game room of clutter and anything on the floor but still know where you need to be standing in order to throw your dart. It offers a modern approach to a very basic need when playing darts.
Viper Razorback
The dartboard that is included in this starter kit is a Viper Razorback. It is a sisal bristle brush that is made of very compressed fibers that will ensure longevity in the life of your dartboard. It is also self-healing and is constructed in a completely staple free manner.
Cost and Value
This dartboard cabinet set is much more expensive than the other one that is included on this list. Most of the price difference comes in the quality of the cabinet, and not so much the included dartboard. The wood is made up to a much higher standard and the cost reflects that perfectly. Ultimately, if you want a nice cabinet and dart board to hang in your game room and are willing to pay a decent price to do so, you really can't go wrong here.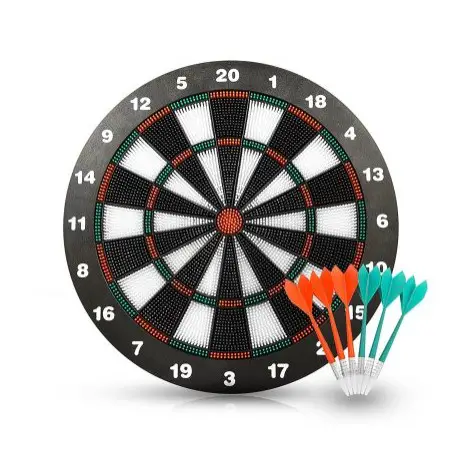 If you are looking for a great dart board for kids, but don't want to get a magnetic board, this soft tip board may very well be your answer. It is nearly the same size as a normal bristle board but has plastic bristles and uses blunt, plastic darts.
Plastic Bristles
While plastic bristles will never play the same as sisal bristles do, this is a perfect option for the kids in your life who want to play darts just like the adults do. It mimics the look and feel of a standard dart board but is a lot safer. The blunt plastic darts will stick right into the bristles just as a real steel dart would.
Easy, Versatile Play
It is very easy to get this board set up and ready to play on. It can be mounted to the wall with the reinforced nail support hole or it can simply be used for tabletop play with the included metal support bracket. This also makes it easily transportable if you want to take it along for family vacations and the like.
Cost and Value
As this is not meant for tournament play or even standard play but is made specifically for children, it does come at a smaller price. It is a tiny bit more expensive than the magnetic boards but is well worth the extra cost as you won't have to deal with too strong or too weak magnets. It is absolutely worth its value and you may find yourself buying some as gifts.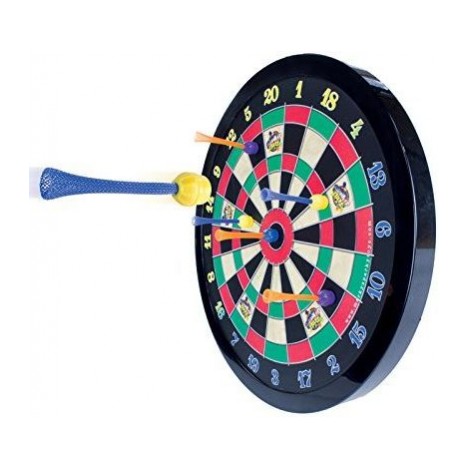 Are you in the market for a dart board but worried about having real, sharp darts lying around your house for whatever reason? If so, this Doinkit Darts Magnetic Dart Board is a great option. It has a very authentic look and feel to it, but the board and the darts are both magnetic which allows for much safer play for your children and your walls.
Neodymium Darts
This dart board and the darts that come with it are made from neodymium magnets. They are strong, balanced, and virtually indestructible for optimal dart performance and flying accuracy.
Family Fun Option
If you love darts but have smaller children in the house, it can be worrisome when it comes to playing the game. You don't want anyone to get hurt or the chance to even exist. With this dartboard, the darts are magnetic and despite being small, are very safe. They won't be poking or hurting anyone or anything.
Cost and Value
This is not the same quality that you will get from a standard, bristle dartboard. It is not meant to be as it uses magnets and nothing sharp. As such, the price is quite a bit lower than the others on this list. If you are expecting to get a dart board and darts that will perform with the same accuracy as a bristle board you will be disappointed. However; if you are looking for something fun for you and the kids to play with without having to worry about safety, you will be more than happy with your purchase.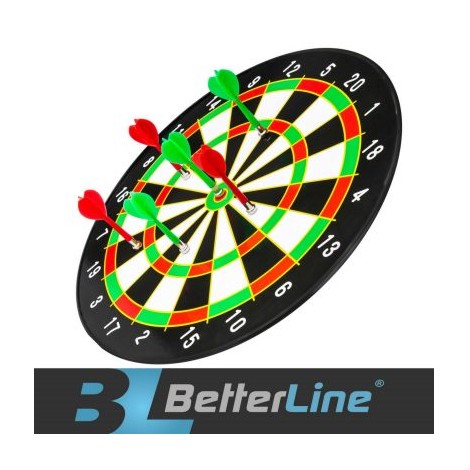 This magnetic dart board is the perfect substitute if you want to avoid using sharp steel darts. It comes with six very strong magnetic darts the hold true to the board. They are well shaped and fly well. It is easy to install, safe enough for kids, and still true enough to the game for adults to enjoy as well.
Complete Package
This kit includes everything you need. It has a 16-inch dart board, comes with 3 green darts and 3 red darts, and includes a keyhole slot on the back so that all you need to hang it is a screw or a nail. The package is neat and has all the instructions that you need in order to get a good game of darts going. You will absolutely appreciate this if you are just starting out playing darts.
No Sharp Points
While having sharp steel points definitely gives you an edge in your dart game, it isn't necessarily the most practical thing to have around your home if you have small children or simply can't aim well. This dartboard addresses that issue and makes it completely safe for children 6 and older and your walls will no longer suffer the consequences of your poor aim.
Cost and Value
This is priced almost exactly the same as the other magnetic dart board on this list; though this one does a little bit of a better job catering to adults as well as children. It is substantially cheaper than a standard dart board but still offer a fun game with a slightly safer environment. Overall, this is a good buy that you will enjoy.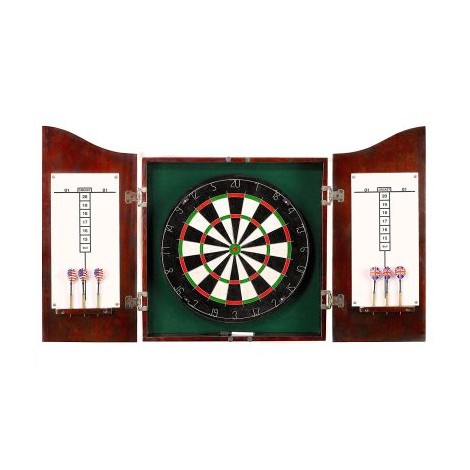 This is another dart board that actually comes as an entire set. It has a dart board, 6 darts (3 with the American Flag, 3 with the British Flag), a scoreboard and even the cabinet. The dartboard is a regulation size bristle board with a removable outer ring.
Cabinet Included
One of the biggest holdups in getting a bristle dartboard that requires sharp, steel darts is that fact that you can very easily and very likely damage the wall around your dart board. Hathaway has addressed this problem by selling their dartboard with a cabinet. That way it should catch almost all of your stray darts unless you have really terrible aim. It also gives you a nice, neat place to store all of your supplies.
Rounded Target Frame
LIke all good dart boards, great lengths have been taken to help reduce the number of bounce outs that you have. Here that is addressed by utilizing a rounded target frame.
Cost and Value
This product is right near the top of our list. However; it is not just a dartboard. Because it comes with a cabinet, scoreboard, and 6 darts in addition to the dartboard it is well worth the extra money. You would likely be buying darts anyway and will appreciate having a scorecard and cabinet enough that you will have forgotten all about the extra expense as soon as you start using it.

Subscribe to our Newsletter