Best Spreaders Reviewed & Rated for Quality
In a Hurry? Editors choice: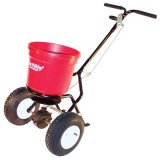 Test Winner: Earthway 2150

Every spring it begins: yard warriors come out of hibernation and gaze upon their lawn, preparing to begin anew their another seasonal quest for the perfect lawn. This is a dream that's sometimes so difficult to realize it just ends up an unchecked box on the bucket list of life. To make the dream real a fertilizer spread is probably going to have to make its way onto your path towards yard perfection. Lawn care products should definitely fall into the "set it and forget it" category and all too often spreaders can be all about the jams, the settings, and uneven spreading, and that's a great way to throw a hitch in a day of yard work. Our list will hopefully keep you moving and help you move towards the kind of lawn that will have neighbors stopping by for advice.
Standout Picks
Criteria Used for Evaluation
Effectiveness
With the large variety of spreaders on the market, today finding the right one for the job is a critical part of choosing the best product for your needs. In order to ensure we could find the best spreader for your yard's needs, I selected products that would be capable of spreading over the smallest and even some of the larger yards. The spreaders on this list are capable of spreading seed or fertilizer between 2,500 and 18,000 square feet. This area of effect will allow you to cover anywhere from a quarter acre up to a full acre of land making them nearly ideal for household or light commercial use.
When choosing a spreader you will need to determine the rough area in which you need seed and consider how you will access the area. A wheeled spreader will need to be able to roll over the area without impediments that can affect the distribution. Handheld spreaders, however, are more accommodating to tight spaces or smaller areas in which a full-sized spreader may not be capable of covering. After you've determined the area you will need to estimate the amount of seed or fertilizer you will need for the area. Wheeled spreaders can generally hold a substantially higher amount of seed or fertilizer and are well suited to larger areas. Handheld spreaders usually reach a 20-pound capacity and this added weight makes them better suited to smaller jobs. We included both options on this list and rated them based on their capacity.
A key performance trait of any spreader is how evenly it can distribute the seed or fertilizer. Many fertilizers are very particular about the distribution as too much in a single area can cause your soil to become "hot". This means that there are way more nutrients than your plant life can reasonably intake and it can cause your plants to go into shock and blister the leaves. Similarly, should you be planting new grass or patching a dead spot the distribution of the grass is very noticeable after growth and the change in density is very noticeable which can be counter-intuitive to the original purpose? Many of these spreaders have a control panel or use another drop method that will funnel the seed or fertilizer in a way that distributes it evenly ensuring to maintain the density you desire.
Ease of Use
With some of these spreaders holding in excess of 45 pounds of seed or fertilizer it is important that you are capable of easily manipulating the spreader without having to exert a substantial amount of force. The way a spreader is designed can go a long way in assisting your handling of a fully-loaded spreader. The use of rubber wheels, steel arm handles, and sometimes even a breaking handle will greatly increase the control you have over the spreader during its operation. Some of these spreaders have all of those wonderful additions while others are intended for either handheld use or can be mounted much as a hunting backpack would.
Equally as important as where you want to use your spreader is where you don't want to use your spreader. Should you be spreading fertilizer being conscience of the nutrient requirements of your plants is critical to success. Generally, most plants need the same three basic nutrients to ensure they are properly fed ( Nitrogen, Phosphorus, and Potassium ) and overexposure of these nutrients can be harmful. Furthermore, should you have any plant life that requires a different ratio of these nutrients than another plant you will need to be able to accurately spread your fertilizer? A few of the spreaders we selected use a guard that is adjustable and will allow you to control the direction of your spread.
While it may not seem like a very common occurrence the weight of your spread and uneven terrain can lead to your spreader becoming damaged. Generally, this happens when a wheel is misaligned or your spreader becomes jammed. Regardless of how it happens to be able to easily replace a part on your spreader can save you time and money and keep you from having to purchase another spreader. Nearly all of the spreaders we selected did have an outlet in which you can find replacement parts to keep your spreader running smoothly.
Part of using a spreader is being able to calibrate the flow of your spread. This will make sure your spread is applied in an even manner and will work to keep your spreader from clogging. Additionally, the type of fertilizer or seed will determine how you calibrate your spreader as each one has a unique size, shape, and weight. Calibrating your spreader is a multi-step process and will need to be done each time you swap fertilizers or seeds. Many of the spreaders on this last use a quick calibration panel or another way to make the simple and small adjustments you will need in order to ensure you're getting even distribution.
Durability
Like nearly anything you could potentially build, spreaders included, the foundation is a critical point in the structural integrity. These spreaders use either rubber or plastic wheels and each has its own unique set of advantages and disadvantages. Rubber wheels provide exceptional control and will not be affected by the presence of light dew or another water contact. However, rubber wheels also need to be refilled with air and can be popped should a sharp item penetrate their membrane. Plastic wheels are highly durable and will not be affected by sharp objects or require any out of the ordinary maintenance. Unlike rubber wheels, however, the plastic options operate poorly with the presence of water and they are more difficult to control. We chose to include a few that used both types as each would be better suited for different scenarios.
Year in and year out these spreaders can get some mileage and part of picking a durable product is determining the products used in its development. Of the wheeled spreaders, we tried to select products that used a more durable plastic trough that would be capable of withstanding the weight of your spread. For the handles, we picked spreaders that used steel or other highly durable metal that wouldn't bend or break during use with a heavier load. The handheld and carrying models we selected spreaders that used straps and bands that will allow you to hold them much like you would a backpack and wouldn't be capable of holding more than 20 pounds of spread.
Part of keeping a spreader in proper working order is performing regular maintenance on it to ensure its running smoothly. While this takes the extra time it's one of the best ways to ensure your purchase will last you for some time to come. Generally, the maintenance on these spreaders is quite simple and usually entails clearing the trough of leftover spread and refilling rubber tires. Additionally, we tried to identify any upkeep cost these spreaders could potentially cause and found that aside from buying the spread and unforeseen damages there is little to no upkeep cost associated with these spreaders.
When using fertilizer often times it will tend to clump up and this can and will cause your spreader to jam. Should you not notice that your spreader is jammed early enough this jam can even damage your spreader. As a common issue, many companies introduced an agitator that will work to break down your fertilizer prior to it funneling out to your rotary or other distributors. Many of the spreaders we selected to use an agitator and should you be experiencing clumping issues those spreaders will likely become your new prized possession.
Features
First time user or annual expert the ease of use was a very important aspect in which we made a focal point when selecting these products. Spreaders come in all shapes and sizes and are even used in large-scale farming operations and those can have multi-functions and can be much like operating heavy machinery. While these aren't on this scale some of the smaller spreaders can be confusing to use. Each of the spreaders we selected is relatively simple to use and with a little time and effort can be mastered by any user.
One of the features we needed to balance perfectly was the weight of these products. Trough style wheeled spreaders in particular need to be lightweight because should you have excess fertilizer or seed more commonly than not the only way to save your expensive spread is generally to upend the spreader. The handheld and strapped models also needed to be lightweight because the spread you use can be quite heavy and you will feel each extra pound with every step you take. The spreaders we included weighed between 1 and 27 pounds. The heavier spreader would be better suited for commercial use.
Some of the spreaders on this list are capable of maintaining a swath of up to 16 feet. While this is an amazing accomplishment this may not be a great size for your standard quarter acre lawn and a smaller alternative size would probably be the better bet. Perhaps you like the model however and want the same functionality in a smaller package. A few of the spreaders we chose do have different size options which ensure you can get the same performance on a smaller scale.
A huge part of what makes a great spreader is finding one that is produced by a company that lives by its product. Aside from including multiple features and a diverse line of products the best manufacturers stand by the craftsmanship employed to make the best possible product. A manufacturer's warranty speaks volumes about the quality of the product and will surely help to ensure you have the highest level of satisfaction when purchasing a spreader. Many of the spreaders we selected use a "No Quibble" money back guarantee and will refund you no matter the reason should you be unhappy with your spreader. So if these are specific to an item and not the entire company it is critical that you read all disclosures before making a final decision.
Value
Older spreaders or ones that use a poor design would generally start spreading your seed or fertilizer the moment you start pushing your spreader. While it did the job you often will experience some waste this way unless you begin in the exact position you intended to start. That means you either would have had to carry your potentially heavy bag to your spreader or push your spreader there and seed or fertilize areas you may not have intended to. Newer models and the ones that are quite well designed now use an application handle that will prevent your spreader from dropping seed or fertilizer until you activate the handle and many on this list use this valuable addition.
A major part of using a spreader is determining the effective swath that your spreader possesses. The swath is the area of effectiveness that is measured and established on each side of the spreader then combined into the total area of coverage. Knowing your swath will help you to determine the spacing you will want to use and help you to choose a spreader that will work best with the area in which you intend to use the spreader. Of these spreaders, the most common is a 180-degree swath and a 10-foot area of effect. While this varies from product to product and will change depending on the seed or fertilizer, testing the swath yourself is the best way to make this determination.
Whether you're working on a budget or just prefer the products you buy to be priced reasonably we took the time to do a comprehensive cost analysis across these different spreaders to determine which products had the best value. We started by identifying the key traits of each spreader and took into account any additional products or potential bundles that were included. With each those that came in at a lower price but had more features or additional items were placed higher than those with a higher cost and fewer features.
10 Best Spreaders Reviewed & Rated for Quality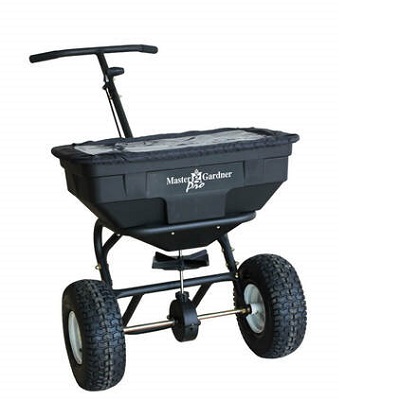 A sturdy workhorse the Master Gardner spreader has a few special features like real tires, and a large capacity that makes it a solid entry into our list. It's adjustable and can easily handle both huge commercial jobs to small yards. Real wheels are an added bonus, and the rain shield helps keep products dry if it decides to rain on any yard warriors lawn care parade.
Rugged Construction
Sturdy tires and simple construction make this a spreader to stand the test of time. Its minimal construction makes the controls intuitive and easy to operate.
Removable Mesh Screen
A nice addition, the removable mesh screen helps stop clumps of product from jamming the spreader, but making it easily removable just adds more flexibility and customization.
Cost and Value
In the mid-range on high-end spreaders. You'll lay out a bit of cast for this product but its sturdy construction makes it a long-term purchase and it's reliability make it a good investment and likely to stick around for a long time.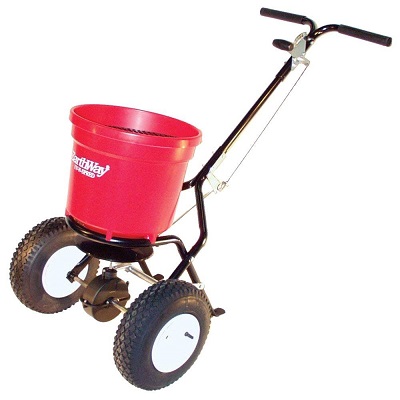 The Earthway is the 4-wheel drive of spreaders. Real tires, and a huge hopper that can hold up to 50 pounds of material that will cover over 13-hundred square feet of the ground. The patented EV-N-Spread system makes it easy to get an even spread of material, and allows for quick easy shut-off.
EV-N-Spred Technology
This three hole system does two things, it allows for a quick shutoff of product flow and it ensures an even flow of whatever it is you're spreading on your lawn or sidewalk.
Debris Screen
A simple but necessary feature that breaks up clumps of fertilizer, seed or salt and does a great job a reducing jam in the spreader and inhibiting the shut-off system.
Cost and Value
It's not cheap, but the sturdy construction, pneumatic tires and huge capacity set this product apart from the cheaper entries on our list. An anti-clumping debris screen, heavy duty construction and the ability to cover a lot of ground are the justifications for the Earthways price tag.

3

. Ev-N-Spred Earthway 3100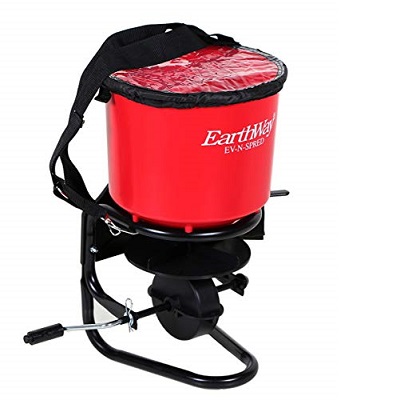 Earthway's entry into the shoulder-mounted spreader category is a solid product for the homeowner who just doesn't feel like pushing one more wheeled contraption around the lawn. This shoulder-mounted spreader can hold up to 40 pounds of product and comes with a rain cover and easy to use shut off and spread controls for even distribution.
High Capacity Hopper
This sturdy spreader can hold about 40 pounds of product, and that's a lot for shoulder mounted product. But well-designed shoulder straps help distribute the weight and not make carrying this spreader too much of a burden.
Heavy Duty Gearbox
Well-designed gearbox and easy to use controls mean this will work with all kinds of seeds, fertilizer or de-icer seamlessly. Direction controls also allow the user to focus on special areas in a 180- degree arc.
Cost and Value
At the high end of shoulder mounted spreaders but if you can handle a 50-pound weight this spreader allows users to get a lot more done before having to head back to the garage to reload. Well designed direction controls and access to all areas of the yard also make this a solid entry in the shoulder mounted spreader market.

4

. Scotts Turf Builder Classic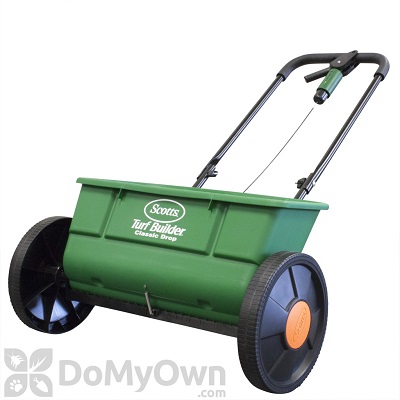 This is what you need for big jobs. This Scotts holds enough fertilizer, seed or salt to cover 10 thousand square feet of territory. And it's built to handle the work with a heavy duty frame and a spreader that spins out product nearly two feet in any direction. A big spreader for big jobs.
Huge Capacity and Range
22-inch spread capacity can handle the big jobs and a hopper that can handle 10 thousand square feet of whatever needs spreading. A great choice for big yards.
Sturdily Built
The Turf Builder Classic comes fully assembled, pre-calibrated ready to use out of the box with a heavy-duty frame to keep the high capacity hopper stable.
Cost and Value
As big hoppers go the costs put it in the mid-range, but it's large hopper and high spread capacity make the few extra dollars worth the cost if there's a lot of yards to cover.

5

. Solo 421 20-Pound Capacity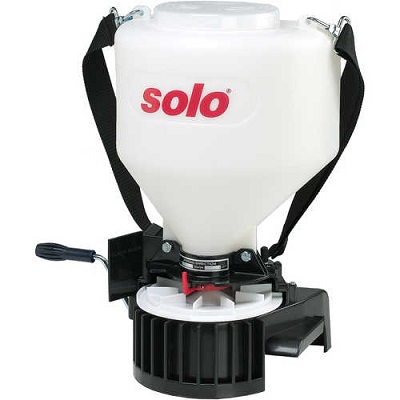 The second entry in our shoulder-mounted hand-cranked spreaders. The Solo has a 20-pound capacity but a comfortable shoulder strap makes lugging that kind of a more comfortable proposition. It also has a large top opening which makes the filling and cleaning a lot easier than some of its competitors. It also looks cool, and let's face it, that's hard to find in a spreader.
Screw on Cap
A unique and thoughtful extra. Fertilizer can be nasty stuff and since hand-held spreaders operate fairly close to your face, keeping dust and flying excess out of your eyes and nose with a cap can make a big difference when it comes to comfort while working in the yard.
Polystyrene and Metal Construction
A strong polystyrene hopper that will stand up to the elements along with a fully enclosed stainless steel gearbox makes this a spread that will last for the long haul.
Cost and Value
This is great value but less money, in this case, doesn't mean cheap parts and shoddy construction. Stainless steel and thick polystyrene make this a spreader that will stand the test of time and take the worst that weather and hard work can throw at it.

6

. Scotts Turf Builder EdgeGuard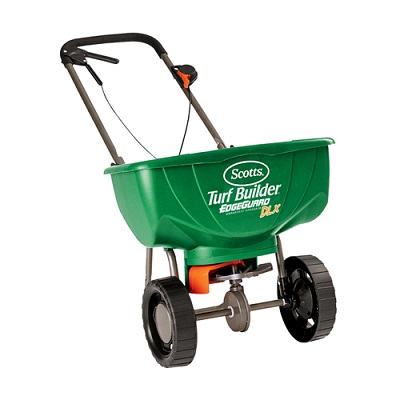 The Scotts Turf Builder is as good as its name. This workhorse is our pick for a go-to product that will get your lawn work done efficiently, professionally and without too much of a hit to the wallet. With nearly 20 different settings it's easy to get a perfect spread on your seed, or fertilizer, and It can also do double duty as a salt spreader during the winter.
EdgeGuard Technology
A simple but effective add-on, this technology allows you to restrict the spread of seed on the right side of the spreader. This keeps seed and fertilizer off of sidewalks, driveways or neighboring lawns.
Accurate Coverage
Nearly twenty different spreader settings ensure that you're putting the exact amount of product on your lawn during the summer or driveway or sidewalk during the winter.
Cost and Value
A lot of bang for the buck here. It acts as a top end product but doesn't cost like one. Highly rated and with lots of bells and whistles it can stand up to comparisons against some of the more expensive entries in the market.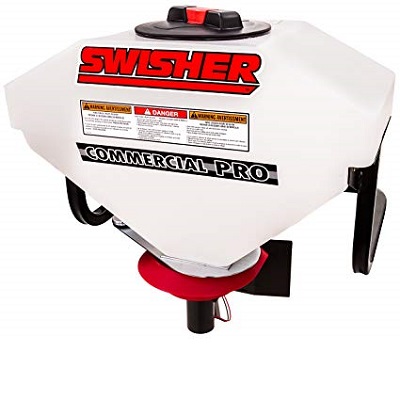 A special entry for yard warriors who need a fertilizer spreader to mount on the back of their riding mower or ATV, the Swisher is a high capacity spreader that gets the job done. Its giant hopper holds up to 150 pounds of product and it can spread anything thrown at it. It's got a universal mount that lets it fit onto almost anything and even though it's mounted on your ATV there's a flow controller that is easy to reach and use even while driving.
Universal Fit
Easy to use slide bars ensure that this spreader will find a home onto whatever mounted ATV is moving around the lawn. And once it's attached it's built to allow users to control the flow, and shut off controls while driving.
Moisture Resistant Sealed Lid
150 pounds of product is a lot and the sealed lid allows the Swisher to do double duty as a product storage device as well as a spreader to help make room in a cramped garage.
Cost and Value
A big spreader for big jobs this is a high-end product with dollar signs to match. But for commercial or constant use, or if there's just a huge amount of yard to cover, an investment in a high capacity, high-end spreader like the Swisher makes sense.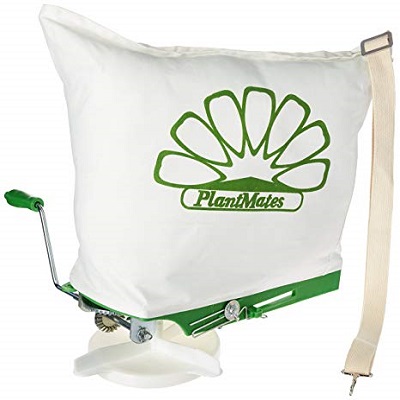 Simple, cheap and effective are the trifecta of adjectives that come to mind when describing the Plantmates spreader. It is shoulder mounted so it's particularly helpful on uneven, rough or hilly landscapes. It holds 25 pounds of product which is enough to get the job done but light enough to not be too much of a burden. The hopper is a canvas bag, an interesting departure from the avalanche of plastic found in most lawn products so it's a nice entry for anyone worried about the planet as well as their lawn.
Simple Flow Rate Adjuster
A simple metal hand crank controls the speed and allows for easy shut-off, and a plastic and metal tab that pulls towards the user makes it easy to control the flow rate.
Earth Friendly Construction
The hopper is made of sturdy canvas with a zip-top, and the strap is made of man-made fiber and the parts are mostly metal making this the choice for someone who's trying to manage their environmental footprint.
Cost and Value
One of the cheapest entries on the list the Plantmates spreader has a lot going for it despite its cheap price tag. Sturdy metal construction and a focus on using less plastic make this a great choice for the earth-conscious homeowner.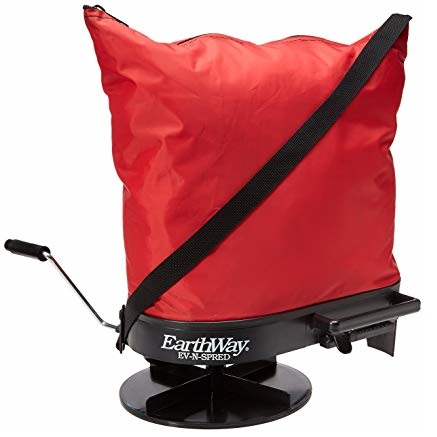 For the gardener that doesn't want to push a cart around the lawn, this is the perfect product. The 25-pound bag holds plenty of seed and the hand operated spreader gives complete control over the amount of product that's going on the lawn. And a well-designed shoulder strap keeps backaches at bay.
Smooth Operation
The Hand-operation and high RPM gearbox along with a special automatic shutoff ensure exact control over when and where the product is going.
Space Saver
Easy to store and easy to transport make this hand carried product a good choice for gardeners with big ideas but not so much storage space. But don't let the small size fool you, there's room for 25 pounds of product.
Cost and Value
Without the added cost of wheels and metal framing, this product comes in on the cheaper side. But this means all the money goes into making the Earthway work right. It's a good value and gets the job done.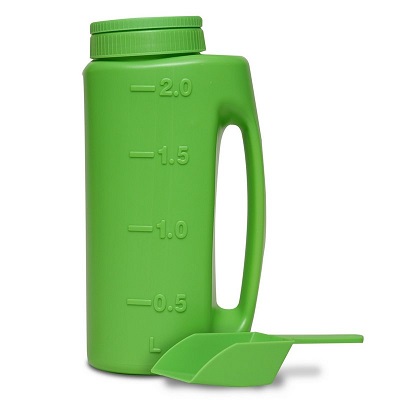 Don't let the small package fool you. There's a fair amount going on here in this hand-held fertilizer spreader. The adjustable top actually serves as a flow adjuster making it easier to control how much fertilizer is spreading. Large easy to read measurement markers on the outside and a wide top make it easy to get to work right away.
Adjustable Top
The outlet holes are large, but just like the adjustments on a larger spreader this simple to use top can adjust the amount of product you're shaking on the lawn.
Resilient Construction
There's nothing flimsy about this product, it's made of plastic much thicker and more durable than other spreaders of its kind. And large easy to read measurements are stamped in large easy to read letters on the outside of the spreader
Cost and Value
This simple to use hand spreader will have little or no impact on the wallet. But considering its solid construction it doesn't' feel or work as a cheap plastic product.

Subscribe to our Newsletter