Best Kitchen Chairs Reviewed & Rated for Quality
In a Hurry? Editors choice: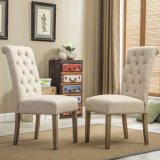 Test Winner: Roundhill Wood Tufted Parsons

Let's face it - not all family meals are eaten together at the kitchen table. When we do eat together, we often sit in front of the TV instead of interacting with each other. However, there is a strong push to bring back family dinners, at least once a week, to catch up with our loved ones and truly enjoy the immersive dining experience, practicing mindful eating,
enjoying each other's company
and being truly present in the moment.
There are a wide variety of fabulous kitchen chair sets available on the market. From contemporary to traditional, wrought iron to upholstered, whatever your decorating style is, you will undoubtedly find a set you love if you do a little digging. Let's take a look at 10 popular kitchen chair sets. Hopefully, you will find something that inspires you and
will look right at home
in your kitchen.
Standout Picks
Criteria Used for Evaluation
Comfort
Of course, the comfort of a chair is paramount. For millions of Americans, lumbar support is an issue. However, most chairs designed to bolster orthopedic support are not considered fashionable or chic. The ideal chair is comfortable and supportive in a subtle way; providing a rigid enough back paired with a well-cushioned seat. While shopping online is incredibly convenient, it is worth it to visit a furniture store to try out various types of chairs in person. That way, you will get the best idea of what sort of chair is most comfortable for you.
If you have back pain or struggle with maintaining your posture, then certain styles of chairs might be better for you, with a supportive structure that is somewhat malleable, conforming to the curve of your spine in a comfortable way. There are a multitude of ergonomic kitchen chairs on the market that provides superior lumbar support. The most important thing to look for is a chair with a supportive, firm backrest. The chair should have comfortable padding which encourages good posture. Additionally, chairs with armrests can provide more comfort and support than the majority of side chairs. If you are someone who struggles with back pain, you might benefit from speaking with a professional about selecting the best dining chair for you. Things like the angle of the chair and the height of the table come into play.
If you are interested in a more unusual look, you can opt for bench seating, a trend ever growing in popularity. Bench seating with leather upholstered seats is great if you have children; they're convenient and easy to keep clean.
Style
Kitchen chairs, like any furniture, reflect your personal style and decorative taste. Chairs can transform an entire room. They can add energy and lightness with bold colors. They can add elegance or provide contrast. Fortunately, the majority of chairs can be customized with different slipcovers and cushions so that you can regularly experiment with your kitchen chairs, constantly reinvigorating your personal style.
Also, bear in mind that you do not need to have four matching chairs. You can place two sets of different chairs around your table, or even opt for four different varieties. Gone are the days of the rigid rules of decor. Having a variety of chairs is not considered poor taste; rather, it's an eccentric way of adding a bit of interesting flare to a room. What matters is that you choose chairs that you love.
There is a vast multitude of different style chairs, from upholstery to design era to motif, so why stick to just one? Pick a design scheme that's as unique as you are, and make it work. Go ahead and experiment with everything from shabby chic to art deco, transitional, Scandinavian, French country, minimalist, modern and more. Most people blend different design styles and do not stick to just one. Remember, you don't need to follow any of the "rules" of interior design when decorating your home. Pick and choose, mix and match until your space is truly yours.
Materials
Tufted, plush linen chairs are absolutely gorgeous, especially in off-white or beige tones. However, imagine the horror of spilling red wine or spaghetti sauce on one. You would be terrified to actually use your new kitchen chairs, thus defeating the purpose. Materials need to be kept in mind when purchasing chairs. How difficult will it be to keep it clean? Can it be easily wiped off, or do you need to make a mad dash for the seltzer of something accidentally spills? For this reason, many people opt for styles made with smooth fabrics or hard surfaces that can be cleaned with a sponge.
Versatility
The more versatile a set, the better. That way, if you need two chairs for a small breakfast nook, for example, you can use the other two elsewhere in your home. Also, you may want to steer clear of options that are way too modern or way too classical. Your personal design tastes may change. You may be into futuristic, round styles right now, but you may want French country style shabby chic in a year. Your best bet is to find an option that is customizable with cushions and slipcovers.
Additionally, do not feel pressured to choose traditional dining room/kitchen chairs. Side chairs that work in a bedroom or even an office might look fantastic around your table. Choose chairs that you find stylish and comfortable, rather than rigid and formal. Of course, that is not to disparage traditional straight-back dining room chairs, it's simply a reminder that you can think outside the box when it comes to decorating your home, and you will undoubtedly be happiest if you add a touch of your own personal flare.
Value
Of course, value goes beyond just the price tag of a chair set. Furniture is an investment. So, it is important to consider how long a chair set will last, how much use you will get out of it, how comfortable the chairs are, etc. Like most furniture, chairs can be expensive; it's worth it to do your research and shop around to get the best value for your money. You can snag a fabulous set of chairs online for a fantastic price if you look carefully; chairs just as nice (if not nicer) than what you would find at a high-end, expensive boutique. Forget about the old adage that you get what you pay for. In the era of online shopping, this is simply not the case. By eliminating things like commission, overhead costs and so forth, you can find an excellent product at a great price. Instead of worrying about a piece of furniture being "cheap" because of a relatively inexpensive cost, check out the customer reviews and reputation of the seller.
Additionally, dining together as a family is absolutely invaluable. A fantastic way to make your dining experience even more of a pleasure is by selecting a new set of beautiful, comfortable kitchen chairs. With some new, bright, lovely chairs, not only will your kitchen look amazing and updated, it will be even more inviting. You, your loved ones and your guests will truly enjoy dining together in an elegant, comfortable, pleasant set that will take your dining experience to the next level.
Whether you are encouraging your family to dine together at the table more often or you are simply doing a little redecorating, there is no time like the present when it comes to upgrading your home. New kitchen chairs can transform the entire room, whether by adding a splash of color or adding a new element to your overall decorative theme.
10 Best Kitchen Chairs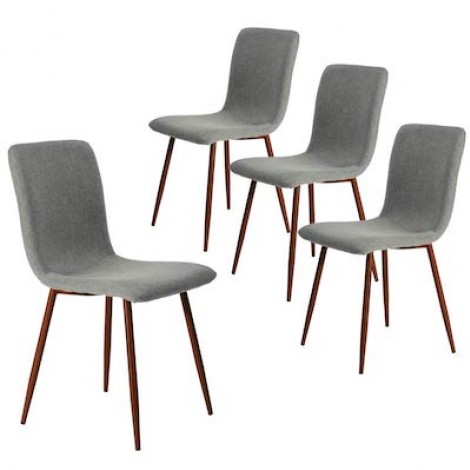 The Coavas dining chairs are basic in design, comfortable, neutral and sturdy. They are also fairly priced, making it affordable to buy extra side chairs. They are modern and would look handsome in a contemporary kitchen or dining room. They are cushioned and ergonomic for extra comfort and support up to 250 lbs. The chairs are armless and bend-resistant, promoting good posture. The chairs are a good mix of fashion and function and would look great in a variety of decorative themes. They would match with nearly any color scheme. The Coavas chair sets earned the number one spot on this list based on customer reviews, high ratings, and the seller's reputation.
Simple
The chairs are minimalistic in design with a gray fabric cushion and back. They would look great in a dining area with neutrals and other furnishings that are contemporary, cool and functional. The legs are metal with wooden transfer printing. The wooden appearance prevents the chairs from looking too utilitarian and gives them a touch of warmth.
Easy to Clean
The fabric is waterproof and easily cleaned. If you have small children who are spill-prone, you do not have to worry about your chairs getting stained or discolored. Rather, spills are easily removed with a sponge and will not be absorbed by the material, keeping the chairs looking brand new. Keeping your chairs neat and clean looking is easy.
Value
The chairs are sold as an affordably-priced set of four. They are handsome, well-built, easy to keep clean and popular. They are a great value and come highly recommended; an ideal purchase for someone looking for a nice, comfortable set of chairs that will last.

2

. Roundhill Wood Tufted Parsons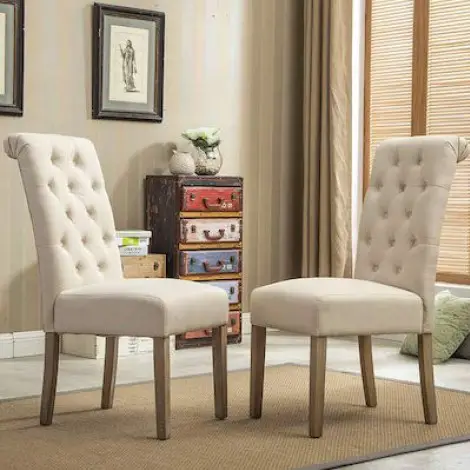 Roundhill offers a beautiful set of two upholstered chairs sold in a warm tan shade. The chairs are tufted and elegant, adding a touch of class to any room. The upholstery is luxurious, with a velvety texture. The chairs would look great in a modern or contemporary home and are quite versatile in appearance.
Tufted Upholstery
The tufted upholstery is elegant and the chairs would look great in virtually any room, in addition to looking fabulous around a dining room table. The chairs are inviting looking. The cushioning is tufted with matching cream buttons for an overall upscale appearance. The fabric itself is linen-lock. Bear in mind that tufted upholstery can be tricky to clean. You may want to invest in slipcovers for the Roundhills to avoid a disaster if a spill strikes. Tufted upholstery looks gorgeous, but it is not the most practical of materials for a kitchen chair.
Whitewashed Legs
The wooden legs are whitewashed and complement the chairs' light upholstery. The solid wood chairs are sturdy, made with fine materials and built to last. The legs can be stained a different color by the customer if so desired.
Value
The chairs are sold in sets of two, so customers looking for a complete set of four dining chairs would obviously need to order a quantity of two sets, which does drive up the total cost. That being said, the customer reviews are by and large excellent and enthusiastic. They are well worth the cost; an exceptional value.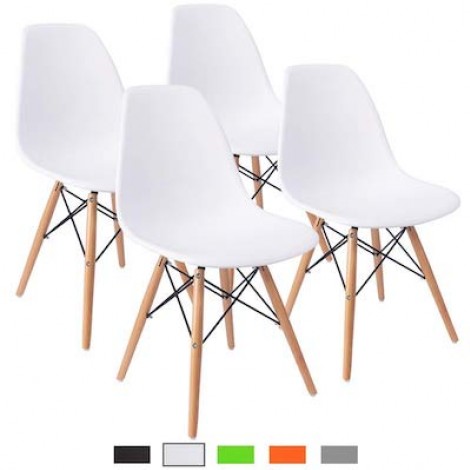 Furmax presents a set of four bright, modern chairs suitable for dining and beyond. The chairs are bold, sturdy and Scandinavian in design. They are very affordably priced and are overall a good bargain. If you like space-saving, almost futuristic looking modern decor, look no further than the Furmax.
Ergonomic
The chairs have a utilitarian look which belies their surprising level of comfort. Constructed with durable plastic, the chairs are uncushioned. However, they are curved and designed to provide excellent lumbar support. Sitting in a Furmax for hours on end is surprisingly pleasant, with no stress or strain on the lower back.
Simple
Assembly requires just one step, making it a pleasure to put the chairs together. They are easily cleaned; the plastic just needs to be wiped off in the event of a spill. They are stackable, sturdy and long-lasting. Also, they are lightweight, making them easy to move.
Value
Furmax's set of four chairs is an excellent value sold at a very low price. Customer reviews are stellar; the manufacturer is reputable and the chairs themselves are quite versatile. They are inexpensive but not cheap by any means; a rare find.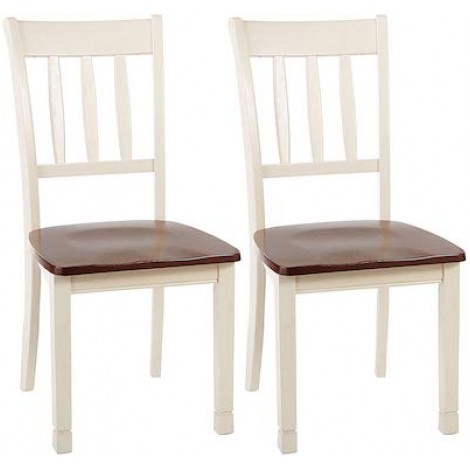 Ashley Whitesburg offers a set of two classically-designed dining chairs. They are two-toned with a white ladder-style back and dark wooden seat. The chairs are moderately priced and generally well-received by customers. If you're furnishing a country-inspired home and like a certain vintage-inspired look, the Whitesburg is a nice choice.
Two-Toned Design
The wooden ladder-style back and legs are painted white. The contrast against the dark wooden seat results in a striking appearance. The chairs are elegant and would fit in a formal or casual dining area. They could be customized with cushioning and covers or kept as is.
Classic Appearance
The Whitesburgs are classic in design, with a vintage cottage look. The chairs are customizable, and could be easily dressed up with slipcovers and cushions or distressed for more of a shabby chic appearance. They would work well in a formal dining area.
Value
The Whitesburgs are sold in sets of two, so the cost to purchase four chairs would be considerable. Overall, the chairs are handsome, classic and clean, but they are considerably more expensive than the majority of chair sets reviewed here.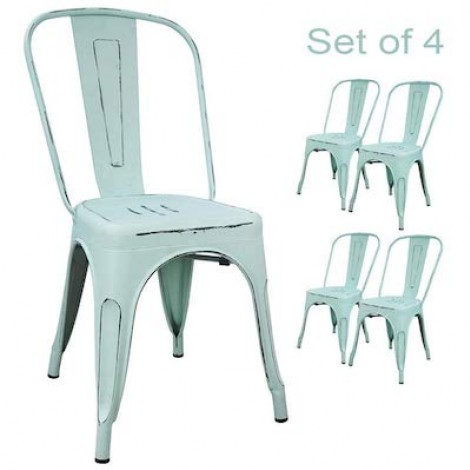 Devoko presents a set of four indoor/outdoor dining chairs in "dream blue." The versatile chairs are modern industrial in design and are corrosion resistant. The chairs are stackable and utilitarian while still being stylish and attractive. If you are a fan of an almost art-deco look, you will enjoy Devoko's chairs.
Modern Industrial
Devoko's chairs are a striking style that is not for everyone; it's unusual, bold and eye-catching. They are metal, painted blue with a distressed look. They are bold and unusual, utilitarian yet inviting. They pair well with a classic patio dining table or wrought-iron piece, providing an interesting design contrast.
Indoor/Outdoor
The chairs are treated for indoor and outdoor use. They are waterproof and corrosion resistant, yet still elegant enough to look fantastic indoors. The chairs' modern design can be played up in a contemporary household or on a patio; a great alternative to wicker or plastic outdoor chairs.
Value
The chairs, sold in sets of four, are an excellent value offered at a low price. While modern industrial furniture is not for everyone, if this particular style appeals to you, this set is an absolute must-have.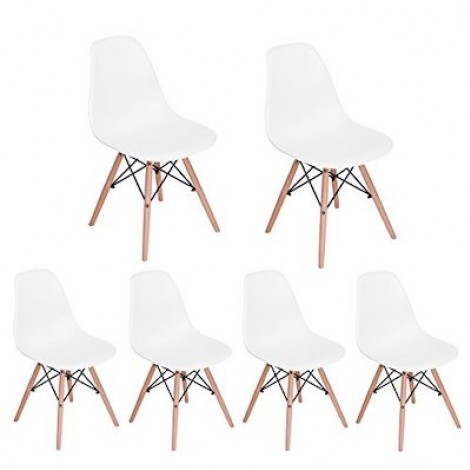 The HOMY CASA Eiffel Mid-Century side dining chairs are cheerful, modern pieces sold in sets of six. They are durable and intended for regular use. The price is right, assembly is easy, and the reviews are great across the board.
Bright
The Eiffels are light, bright and whimsical in design. They would add instant energy to any room with their modern, simple design, inviting nature and simplicity. They would darken up an otherwise dreary dining area or bring extra sunlight to a special breakfast nook.
Six Chairs
The Eiffels are sold in sets of six, offering a complete dining set with side chairs or otherwise. The chairs are versatile enough for use anywhere within a home. They are modern and contemporary, with nods to Scandinavian design. The six chairs are sold at a very budget-friendly price, making this set ideal for someone furnishing a new house or apartment. Gone are the days of starting out with mismatched chairs and hand-me-downs.
Value
As previously mentioned, the chairs are sold in sets of six at an excellent price, making the Eiffels an excellent value. For anyone furnishing a modern/contemporary home, this set is fantastic; a true gem.

7

. Ashley Furniture Stuman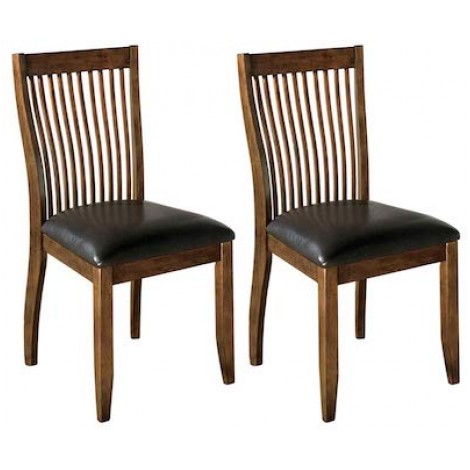 The Stumans are simple, elegant and sophisticated dining chairs. They are solid wood construction with plush cushioned seats. The chairs are handsome looking, stained a dark brown shade that pairs well with the deep cushioned seats. They are easy to clean and maintain, and assembly is also a breeze.
Faux Leather
The seats of the Stumans are a comfortable faux leather that is easy to clean and take care of. Spills can be easily wiped up with a cloth, with no damage done to the dark, rich appearance of the chairs. The seats are padded and the chair backs provide excellent lumbar support, making the Stumans a pleasure to sit in.
Strong
The chairs can comfortably accommodate weight exceeding 300 lbs. They do not look utilitarian whatsoever, yet they are strong, reinforced and built to last. They could even be called delicate in appearance, but in reality, they are anything but.
Value
The Stumans are sold in sets of two and are moderately priced, right in the middle of the market. The customer reviews are generally good to excellent. The chairs are not exceptional in any way, nor do they have any glaring shortcomings. Overall, they present a decent value.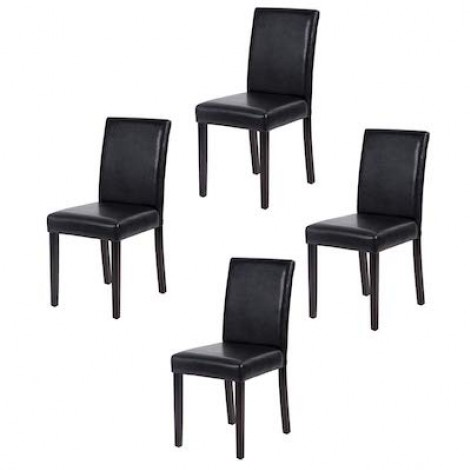 The Urban Style Leather Dining Chairs are a curious combination of synthetic materials including rubberwood, blended leatherette and high resilience sponge. The chairs themselves are modern in design, armless and black with a sleek silhouette. According to the majority of customer reviews, they are comfortable and serve their purpose.
Versatile
The chairs could be used in a lounge area or bedroom. Their design is contemporary, modern and urban, as the name suggests, so they would not exactly work in a country home. That said, with the right design scheme, the chairs could look hip and trendy.
Comfortable
The chairs are upholstered with "leatherette" fabric covering high resilience sponge filling. The chairs are generally described as comfortable, with decent lumbar support. The synthetic materials reportedly are resistant to cracking and ripping.
Value
The chairs represent a purchase of average value. The price tag is decent, and they are sold in sets of four. However, the majority of reviews are mediocre at best. There is an overabundance of critical reviews, indicating that the chairs are flawed.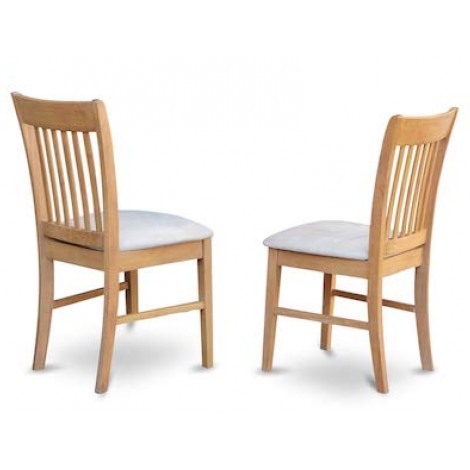 East West presents a set of two sturdy, solid wooden chairs. They are light oak with matching beige cushions. They are perfect for dining at a kitchen table; not too formal, not too casual. They are nice looking and functional.
Sturdy
East West's solid oak chairs are sturdy and resilient. They are designed for regular use, made with high-quality materials and strong construction. They are also bright, attractive and comfortable, making them popular among customers.
Easy Assembly
According to customer reviews, the chairs are very easy to put together. The instructions are simple to follow. All of the required hardware is included. The entire process reportedly only takes a few minutes.
Value
The chairs are moderately priced, sold in sets of two. They are a good value; long-lasting, attractive and well-built. The chairs are also comfortable and ergonomic, making them an overall good find.

10

. POLY & BARK Wadsworth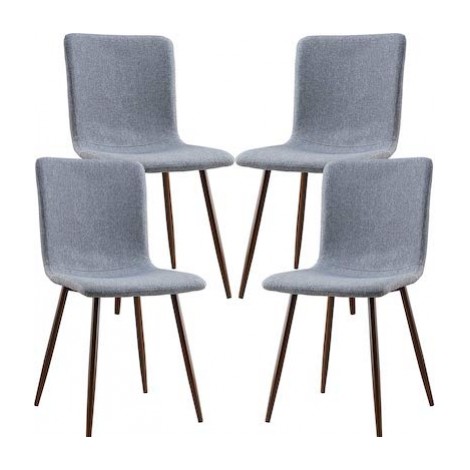 The Wadsworths are clean, sleek, mid-century modern dining chairs. They are moderately priced and sold in sets of four. They are upholstered with walnut-colored fabric and have wooden-covered metal legs. The chairs are heavy, sturdy and versatile.
Walnut
The walnut-colored fabric adds a touch of warmth to the chair's mid-century modern design. The Wadsworth would work well at home or in an office; it is versatile and can be dressed up or down. The rich walnut fabric is comfortable and easy to clean.
Exceptional comfort
The Wadsworths receive glowing reviews for comfort, ergonomic design and lumbar support. Reportedly, it is a pleasure to sit in a Wadsworth for an extended period of time, whether for a meal or a business meeting. They are stylish and well-designed, and homeowners love to show them off.
Value
The Wadsworths are on the more expensive side of the spectrum and, by all accounts, are well worth it. They are comfortable, stylish and versatile. They also last and should be viewed as an investment. The Wadsworths are an excellent choice for any space.

Subscribe to our Newsletter