Best Running Medal Holders Reviewed & Rated for Quality
In a Hurry? Editors choice: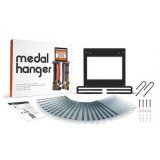 Test Winner: Flybold Sports

It used to be that only top place finishers received medals at the end of long, grueling races but with the interest of 5Ks, 10Ks, mud runs and marathons on the rise, race organizers have found a way to keep people interested in participating in their events - the ever-popular finisher's medals. Every time you pass that finish line, you will be greeted with a smiling face dangling a medal around your neck to celebrate your achievement. Naturally, you will want a place to store this new bling you worked hard for. This article discusses 10 different running medal holders, all of which are great options to choose from so that you can proudly display your running medals in a manner that reflects your personal style and taste.
Standout Picks
Criteria Used for Evaluation
Durability
A medal display rack must be strong enough to serve its load-bearing purpose. A rack that holds from 20 to 50 medals has to carry a heavyweight; as such, the rack needs to be constructed with strong, reliable materials. Otherwise, a rack is likely to fail and can eventually become detached from the wall, causing damage to the wall, the rack, and the medals. A display rack must be able to withstand a heavy load without putting too much strain on the screws that hold it in place. The correct hardware, the right materials and assembly instructions that are easy to follow (correctly) are paramount.
Ease of Use
A common complaint that often comes up in customer reviews is that some racks require complete disassembly in order for additional medals to be added. That is, the rack needs to be unscrewed from the wall, removed, put back together again and reattached. Ideally, a rack should be constructed so that the medals and bibs can be moved and rearranged easily. It should not be an arduous task to add/change the medals, and it certainly should not be difficult to assemble the rack itself.
Size
Finding a medal display rack that is the correct size depends on several factors. The first, and most obvious is the amount of space available. If you live in a small apartment, for example, with little room on the walls, then an expansive display rack may not make sense. Moreover, the weight of the rack is important. The rack must be light enough to easily attach to the wall without causing any damage to it. However, it must be heavy enough to support the weight of the medals, which can be considerable. Size, materials, and weight are all factors that come into play when you are determining what size medal display rack to purchase.
Value
The value of a medal display rack is not simply determined by its cost. Attractiveness, clever design, customer reviews, customer service, the materials used to manufacture the product, the rack's durability, product warranty and ease of assembly are all taken into consideration. Value is better described as a return on investment. Yes, the old adage of "you get what you pay for" is sometimes true, but that does not mean that there are not some great bargains out there if you just do a little digging, and it certainly does not mean that the higher the price, the better the product. Value and price are not always interchangeable.
Accessories
A basic medal and bib display rack is just fine if that is what you are looking for. That said, many sellers include extra goodies and accessories with their purchases. For example, Urban Active is a seller that regularly includes bonus items with its medal racks. These include e-books with tips on running, locking laces and even scarves. Other brands make sure to send their products out in gift boxes for an impressive presentation. Additional accessories such as extra PVC sleeves and expansion bars are great accessories that can make a medal rack special.
10 Best Running Medal Holders


The Flybold has earned the top spot in this list for several reasons; it includes well-designed, sturdy hardware, easy assembly, an attractive look, and an overall attractive appearance. Flybold makes it easy to stylishly display medals and bibs in a neat, organized manner.
Sturdy Hardware
The Flybold includes two metal bars and a holder that securely affix to drywall. All of the hardware is included, including drywall spaces, plugs and hooks. The Flybold will securely stay in place without doing any damage to the wall, and can easily be removed and/or relocated. A common problem among display cases is that their heavy weight can cause the cracking and failure of drywall, requiring patching and repairs. This is particularly true when the holder is not properly designed to be load bearing. The Flybold easily supports 40 medals with no problems whatsoever, yet has the look and appearance of a delicate, unobtrusive piece of decor.
PVC Flip Pouches
The Flybold's 20 PVC flip pouches are another nice touch which makes this model special. Every bib is preserved without fear of wrinkling or tearing. You can flip through the pouches like the pages of a scrapbook, reviewing the history of your running achievements. From your first 5k to your most recent half marathon, you can save these important mementos, displaying them proudly next to your rack of medals.
Of course, the PVC pouches are not just for bibs; you can also use them to store photos or other memorabilia. This is a real-life Instagram you can build for your accomplishments; images, medals, bibs and certificates that you can feel and touch. Your items will be kept clean, organized and properly preserved for years to come, serving as a reminder of your hard work. If you would like additional PVC pouches, they can be easily ordered from Flybold and held nicely in place without resulting in an overcrowded appearance.
Cost and Value
The Flybold falls at the median price point of similar medal holders/display cases. It is reasonably priced, and certainly offers a great value for the low cost. For a fair price, a high-quality product is delivered that will display your medals, bibs, photos, and memorabilia in a tasteful, organized manner without doing any damage to your wall. In the event you move to a new home, the Flybold can be easily removed and reattached. The high-quality hardware truly makes a difference, making this a high-value item and a smart investment for any runner.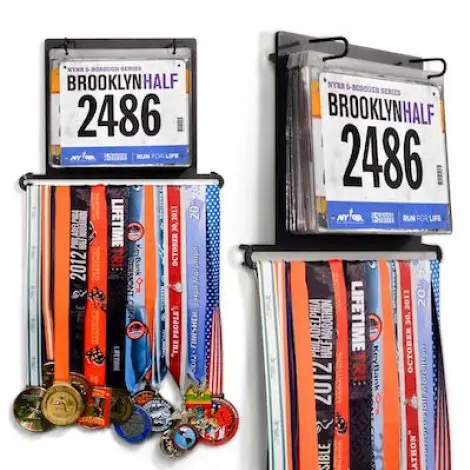 The Urban Active (UA) No Limits BibFOLIO holder was given its name for a particular reason. The amount of medals and bibs it holds is virtually limitless. If you have a large (and growing) collection of medals and running bibs, the UA No Limits is the right medal holder for you. Fashionable and functional, the UA No Limits is reliable, resilient and will not bend over time. Its appearance, however, is elegant and chic, giving you the best of both worlds, and displaying your running achievements as they should be.
Matte Black Finish
The UA No Limits is neat, efficient and sleek. One feature that sets it apart is the handsome matte black finish that gives the medal holder a sophisticated, stylish appearance. The display holder would look fantastic in virtually any room in your home; the matte black finish adding a touch of class. The finish does not chip easily, even if exposed to a few dents and dings. Additionally, the matte black finish covers high-grade industrial steel as opposed to plastic or other inferior materials, bolstering the strength of the holder.
120+ Bibs
In addition to easily accommodating an impressive 60+ medals, the UA No Limits holds an astonishing 120+ bibs without looking cramped, overcrowded or disorganized. This particular medal holder allows you to proudly display over 120 sleeves holding your favorite bibs, photos, bracelets, certificates and so forth. Each sleeve is designed to protect its contents as the "pages" of the holder are flipped through as you write the history of your athletic career.
Cost and Value
The UA No Limits is moderately priced; well-justified by the quality and craftsmanship of this product. Chic and stylish, yet sturdy and strong -- the UA No Limits will not bend or break over time, no matter how many medals and bibs you earn. The UA No Limits includes lots of extras and bonuses, including an attractive, unisex scarf that comes in handy when running on a chilly day. It is important to note that a portion of the profits of each sale benefits the American Red Cross and UNICEF. These claims have been independently verified with each respective organization. Therefore, by purchasing a medal holder from Urban Active, you are getting a great product and a portion of your money is going to a good cause, adding extra value to this particular medal holder.

3

. Urban Active Sports Complete Bundle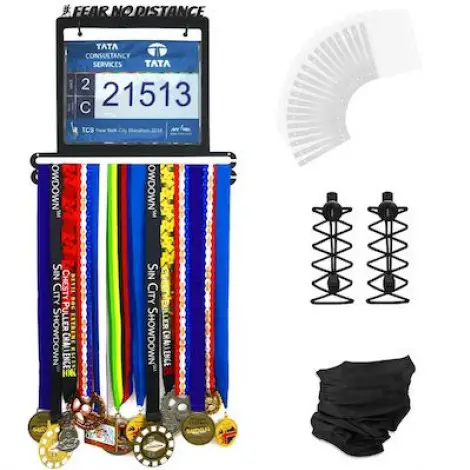 Like its predecessor (the No Limits model), the UA Complete Bundle is made to hold over 60 medals and 120 race bibs. The hardware, fashioned from industrial strength metal, will not bend or break. The overall look is sleek and minimalistic, focusing the attention on what's being displayed rather than the display itself. For an added dose of motivation, the UA Complete Bundle displays a motivational quote to keep you inspired, striving to meet your next goal.
Urban Runner's Guide
Included with the purchase of the UA Complete Bundle is an acclaimed e-book, the Urban Runner's Guide. This e-book is full of helpful tips, tricks, strategies and suggestions for city-dwelling and suburban runners to follow. The Urban Runner's Guide is all about runner safety, and offers useful advice for safely navigating the city streets, finding a safe route where you can run with minimal traffic and maximum enjoyability.
Locking Laces
UA is noted for loading its purchases with goodies, bonuses and extra accessories. Included with the UA Complete Bundle is a set of locking laces. Locking laces are no-tie devices which securely fit to your running shoes, reducing the risk of tripping and falling. Your daily jog will no longer be interrupted due to an untied sneaker. Easy to follow instructions are also included so that you can attach your locking laces to your running shoes with confidence.
Cost and Value
Like the UA No Limits model, the Complete Bundle falls right in the middle of the market in terms of price; competitive, fair and reasonable. To reiterate, a portion of the proceeds of Urban Active gear benefits the Red Cross and UNICEF, an extraordinary value in and of itself. By purchasing a medal holder from UA, you are giving back, while receiving a high-value, well-built, handsome fixture loaded with accessories.

4

. GFAR She Believed She Could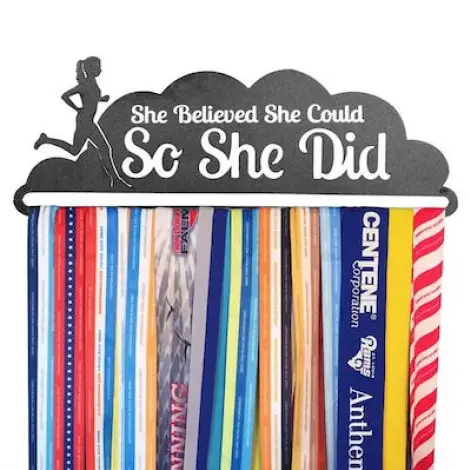 The She Believed She Could Medal Hanger by Gone For a Run (GFAR) is all about taking pride in your accomplishments, proving to yourself that your goals are achievable, and that you've reached well-deserved success. Emblazoned with the motivational phrase "She Believed She Could," GFAR has designed a medal holder that will help you to keep your chin up and believe in yourself. The design is unique, featuring the silhouette of a runner enhanced by the motivational script. Your medals will be displayed the way they should be; neat, organized, colorful and beautiful, providing you with a sense of pride every time you look at the display.
Unique Design
The medal hanger is unique in its design. It features the silhouette of a female runner next to the motivational text, which adds a touch of artistry to the overall look of the holder. The hanger is made from strong, sturdy metal with an attractive, powder black finish. The black finish provides a nice contrast to the colors and designs that your medals will add, resulting in a great-looking display that is enjoyable to look at. Between the chic design, motivational text and colorful medals, looking at the display will give you an overall sense of well-being and pride, knowing how far you've come.
An Unusual Seller
GFAR is a small, family-owned business based in Connecticut. All of GFAR's products are made here in the US. Special pride is taken in the manufacture and creation of each piece. GFAR takes pride in its customer service, and in doing so has earned a wonderful reputation. In the event a customer is dissatisfied with one of its products, the team will go above and beyond to repair or replace the item, no questions asked. GFAR's excellent customer service makes the company overall a pleasure to do business with.
Cost and Value
This medal holder is one of the least expensive models reviewed here. However, the price in no way indicates an overall decrease in value. To the contrary, this particular product is unique in its design, well-built, easy to install, looks fantastic and is sold by a company with a reputation that cannot be beaten. Overall, this is a great medal hanger at a fair price..

5

. Urban Active Fear No Distance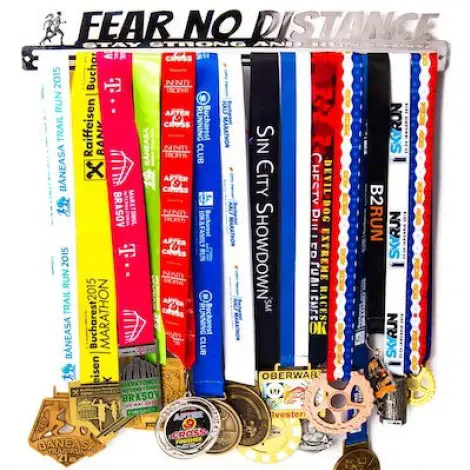 UA's Fear No Distance display rack is an affordable, motivational medal display holder that features a bold, no-nonsense design. Designed with a minimalistic approach, the Fear No Distance puts the focus on the medals and not the holder. That said, the holder is simple, sturdy and small, designed not to take up too much space, while still displaying your medals in a way that does not appear cluttered or crowded.
Fear No Distance
The metal rack is emblazoned with the text "FEAR NO DISTANCE, STAY STRONG AND RUN STRONG" in bold text. The holder also features the silhouettes of a pair of runners (male and female) running side by side, making this holder a gift for anyone. The overall look of the holder is neither masculine nor feminine; rather, it focuses on strength and spirit. The Fear No Distance is simple and straightforward, making it an appealing choice for runners who do not want to display their medals in an ornate or ostentatious manner.
Small But Mighty
The entire display is relatively small; measuring 15.7 x 0.1 x 2.2" and weighing in at just 7 ounces. However, despite being small and lightweight, the metal rack is strong. It will not bend or break over time, and is built to last, securely holding up to 30 medals. The rack's small size makes it easy to install, requiring little more than a drill and a screwdriver.
Cost and Value
The Fear No Distance is the least expensive model reviewed in this article. Inexpensive, yes, but cheap, no. It is a no-frills, well-built, minimalistic medal rack made to last. It is a small fixture that keeps your medals organized and attractively displayed, while featuring motivational text to keep you going. Overall, the rack offers a great bang for your buck, a budget-friendly purchase that will not disappoint.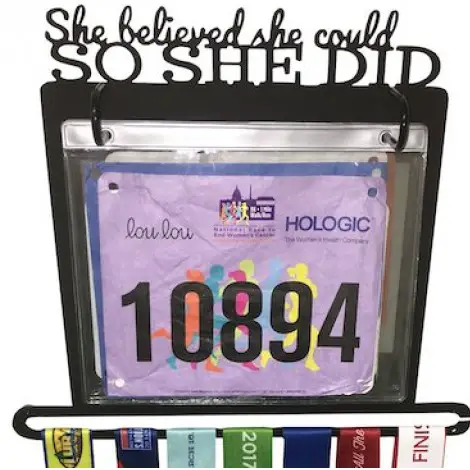 This medal hanger, fashioned of solid metal is, to put it bluntly, beautiful. Featuring the motivational phrase "She Believed She Could, So She Did," the hanger stylishly displays racing bibs in protective PVC sheets, which are held above the array of running medals that are placed below. Available in black or silver, this medal hanger simply looks amazing, tasteful, neat and organized.
Stylish Design
The overall appearance of the race bib and medal display cannot be understated. Available in silver or black, the hanger allows you to beautifully display your bibs, medals and accomplishments underneath a motivational saying etched in metal. The display would look great in a home or an office, with its organized appearance giving it a professional touch. Whether at home or at work, you will enjoy looking at the medal holder every time it catches your eye.
Exceptional Customer Service
The customer reviews of the race bib and medal display are overwhelmingly positive. It is important to note that more than one customer reported that the seller reached out to them to find out if they were satisfied with their purchase. It is this kind of customer service, positive, unexpected yet very welcomed, that makes a customer feel good about what they've bought. If there are any issues or problems with the bib and medal display, the seller is reportedly prompt and responsive.
Cost and Value
This particular model is the most expensive race bib and medal display reviewed here. That said, the price is not exorbitant or unreasonable; rather, it is a special item that commands a few dollars more than its competition. Why? It looks fabulous, it's durable, well-built, and will fill you with pride every time you look at it. Its appearance is neither cheap nor opulent; it is pure class. Understated yet attractive, well-built yet unobtrusive, it's something special.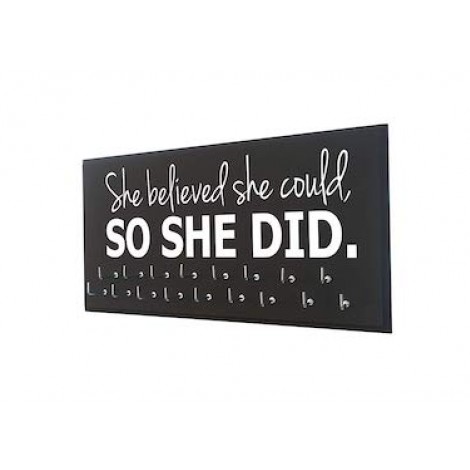 This medal hanger features a solid metal display rack mounted on vinyl-covered recycled wood. The vinyl backing features the motivational quote "SHE Believed SHE Could, SO SHE DID." The text is written in two different feminine scripts; the fonts adding to the overall uniqueness of the display.
Contrast
The overall appearance of the medal hanger is quite appealing. The wooden backing is rectangular and covered in solid black vinyl. The motivational phrase is written in two different feminine scripts with bright white lettering. The contrast of the white lettering against the black background is modern, fashionable and stylish, and would look fantastic just about anywhere. The feminine script and bold lettering are a great symbol of feminism and female empowerment - the representation of a woman's strength.
Mindful Manufacturing
The medal hanger is manufactured here in the USA. The manufacturer uses recycled wood to fashion the backing of the display and uses sustainable, locally sourced materials whenever possible. This particular model is perhaps the greenest, most eco-friendly model reviewed here. The manufacturer successfully found a way to design a strong, durable product made of recycled materials as opposed to cheaper, synthetic alternatives that might drive down the price, but would certainly come at a high environmental cost.
Cost and Value
Overall, this medal holder offers a product of exceptional value. It's well-built, solidly constructed, and most importantly, made of recycled wood and other environmentally-friendly materials here in the USA. The price falls right in the middle of the market, which, to be frank, is surprising, considering the high quality of the materials used, the fact that the medal holder is made in the USA, and the overall pleasing appearance. While this product could command a much more expensive price tag, the seller chose to keep it at a reasonable cost, making it a budget-friendly item of high value; a truly rare find.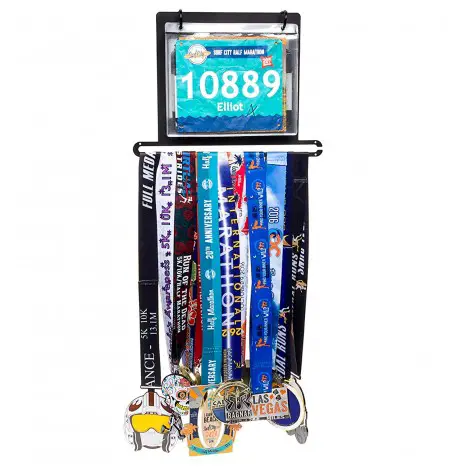 This wall-mounted option from Lish is available in two different color options - black or gold - to ensure that consumers get to choose the color that speaks to them the most. This two-tier design is both minimalist and stylish for the more design-conscious runner.
Easy to Install
This product arrives at your door with everything you need to install it which means you're saved from a trip to the hardware store when your display rack arrives in the mail. The package comes with wall spaces and anchors that will ensure that this product won't destroy your walls.
A Complete Set
Every runner knows that there are a number of keepsakes from each and every run they participate in - the t-shirt, the finisher's medal, and the race bib. Though this display rack isn't going to be able to display your t-shirt, it will be able to hold up to 24 of your precious finisher's medals as well as all of your bibs.
Cost and Value
Though this isn't the cheapest display holder on our list, you are likely to love how stylish this product is. It's less gawdy than other options on the market and with the color options to choose from, we think you'll love what this has to offer.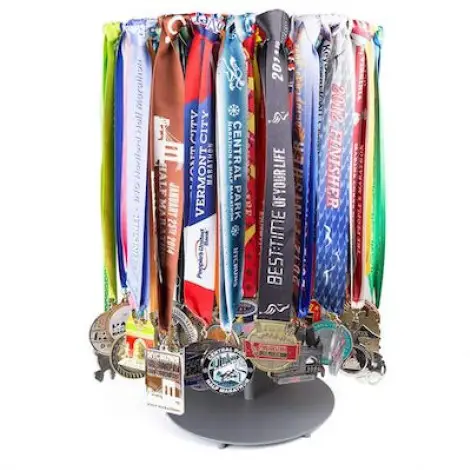 The GFAR Tabletop Running Race Medal Display is the ideal showpiece to display your wide array of running medals on a table, desk or other surface. Organize and display your medals chronologically, by color, or at random, and you will be delighted with the results. No matter how you choose to organize your medals, with the tabletop medal display, they will look fantastic.
Illuminated
An incredibly unique feature of this display is that it is also a lamp. Your medals will be illuminated and lit up to set the spotlight on your well-deserved accomplishments. As a lamp itself, it works quite well, making it a great addition to your desk at work or at home; a useful bonus.
60+ Medals
The display easily holds over 60 medals. It does so while still looking neat, organized and stylish. The careful design ensures that the display does not look overcrowded, cramped or messy. Even when at full capacity, it still looks great. Everything is in its right place.
Cost and Value
This model is on the more expensive end of the spectrum. Is it worth the price? Absolutely. Sustainably made in the USA by a small, family-owned company, stylish and chic, strong enough to hold over 60 medals and also a functional lamp, the Premier Tabletop Display is extraordinary. It would make a great gift for the runner in your life this holiday season, or for any occasion.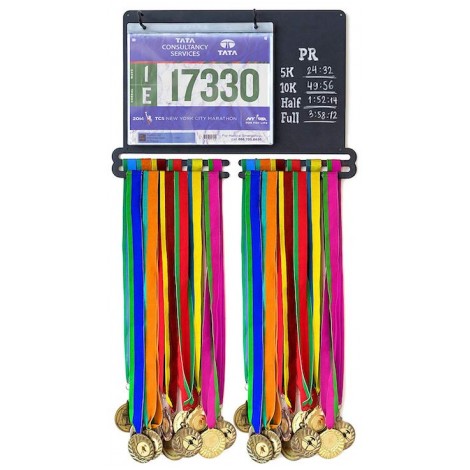 The Powerfly is a unique, unusual, tasteful and fun medal display rack. More importantly, it is diverse; suited to show off a variety of medals beyond running. Sports of all kinds can be showcased here, with this exquisite piece designed by the team at Powerfly. The display rack is a great, enjoyable way to display your athletic achievements, and have fun while doing it.
Versatile
The display rack is perfect for runners, swimmers, dancers, skiers, equestrians, tennis players, soccer enthusiasts, boxers and so forth. A wide array of up to 24 belts can be neatly displayed. Also included are PVC sleeves for bibs, awards, certificates, or other related items so that they can be protected, preserved, enjoyed, and looked at regularly, rather than sitting in a drawer. Proudly display everything from your Taekwondo Belts to your game tickets; any sports memorabilia that is important to you can be accommodated.
Customizable
One of the best features of the Powerfly display rack is a chalk note area. Stats, scores, personal bests and motivational quotes can be written and erased as the owner pleases. This allows the owner to truly personalize the display to his or her liking. Whether it's celebrating a recent achievement or setting a personal goal, you can write it down in chalk, making it a display that's truly reflective of your personality.
Cost and Value
The Powerfly is a relatively expensive display rack. However, with its unique design, chalk area, versatility, sturdiness and consistent positive reviews, it is worth the cost. Yes, you might be paying a little extra to purchase it, but you are getting something truly special.

Subscribe to our Newsletter